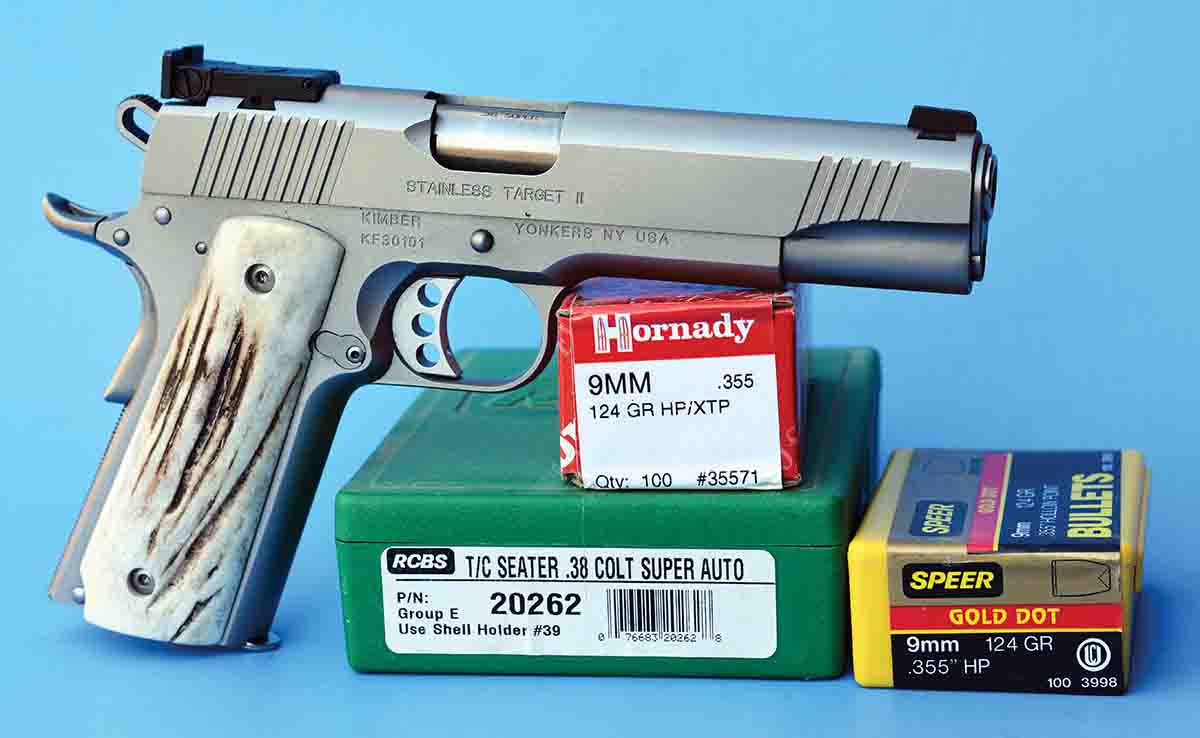 Q: I have a question regarding .38 Super bullet diameter. I have found jacketed bullets for handloaders that are listed in both .355 and .356 inch. I also have a reloading manual that lists the bullet diameter as .355, .356 and .357 inch. Are all of these numbers acceptable? I normally purchase bullets that are listed specifically for the .38 Super and are .356 inch. Any insight that you can offer will be appreciated.
B.I., via email
A: You raise a great question. The .38 Super is specified to use bullets of .356 inch. However, today, most modern pistol manufacturers that chamber this round use 9mm Luger barrel stock, which makes it suitable to be used with .355-inch bullets. It should be noted that Hornady offers .356-inch bullets specifically for the .38 Super in its HAP competition line of bullets, as there are still many guns that are best served with bullets of the correct diameter. Regarding .357-inch bullets; they can be used but they will cause pressures to jump and may require a reduction in powder charges. Most .357-inch bullets (designed for the .357 Magnum) do not have the proper nose profile to function perfectly in autoloading pistols. If they are deep seated to compensate for the incorrect nose design, powder charge weights will need further reduction.
.44 Special +P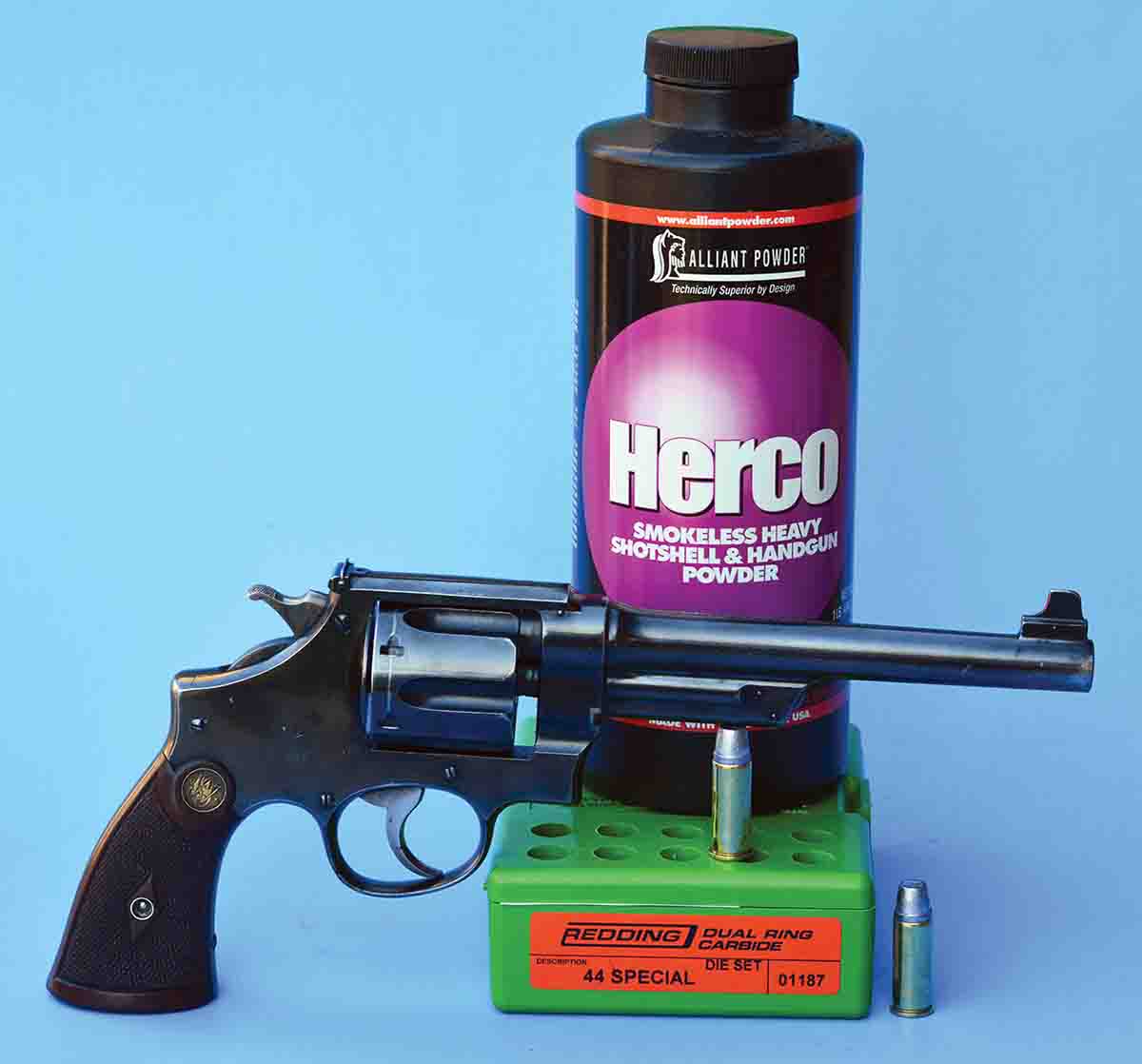 Q:
I have a question regarding your data published in
Handloader No. 312 (February-March 2018)
in "Pet Loads .44 Smith & Wesson Special +P." I have a Smith & Wesson Model 624 with 6½-inch barrel, which you list as suitable for your "Category III" handloading data that has a maximum of 25,000 psi.
I would like to know how and when these loads were pressure tested? Many of them are obviously old loads that have been tested many times, but others are not. Were these sent to a laboratory? Do you test them with personal pressure testing equipment, or is it a combination of sources?
Lastly, it would seem that Alliant Herco would be an ideal powder for the Category II loads based on its burn rate and bulk density. Herco was listed by you in Handloader No. 236 (August-September 2005) in a Category II .44 Special load at 22,000 psi, but you did not include it in the Handloader No. 312 Pet Loads article. Was this because Herco was found to be deficient in some way? The burning rate of Herco is slower than both Unique and Power Pistol. You list loads with those two powders with 8.5 grains or more, which is the maximum charge listed with Herco in your earlier article. Was Herco further tested and not published?
I appreciate this article very much. There are many useful loads in that article and it demonstrates the practicality and utility of the venerable .44 Special in the right revolver even today. Kind regards from a fellow handloader.
A.G., West Harrison IN
A: You have many questions, so I must be brief with my responses. Most of the .44 Special handload data was either pressure tested by reputable labs, or by myself. Some of these were tested up to 20 years ago, but others were tested specifically for my Pet Loads article. Loads that were not pressure tested (which is very time consuming and expensive) had their pressures estimated using baselines (previous pressure tests) along with much experience.
Alliant Herco is a good powder; however, it is more popular as a shotgun powder than for pistol and revolver cartridges. There are many newer powders designed specifically for handguns that offer excellent overall performance and therefore, were used in my data rather than Herco. Magazines have limited space and I cannot include all good loads.
So that readers are more familiar with your question, the .44 Special load that I originally published (and that you are referencing) consists of 9.5 grains of Herco with the 200-grain Hornady XTP-HP bullet, capped with a CCI 300 primer, which reached between 1,091 to 1,127 feet per second (fps) from sixguns with 4¼- and 7½-inch barrels. Nonetheless, it is a good load or I would not have included it in the first place.
While this is not a part of your question, but the Smith & Wesson Model 624 is a tough, reliable and accurate sixgun. While pressure should always be of interest to handloaders, the handload that you are inquiring about is well below the 22,000 psi category that it was listed at. You should not have any concerns with using this load in your sixgun. Good luck shooting!
.45 Colt
Q: First, I don't have the words to describe how awesome Handloader magazine truly is! I always anxiously await each issue and then read it cover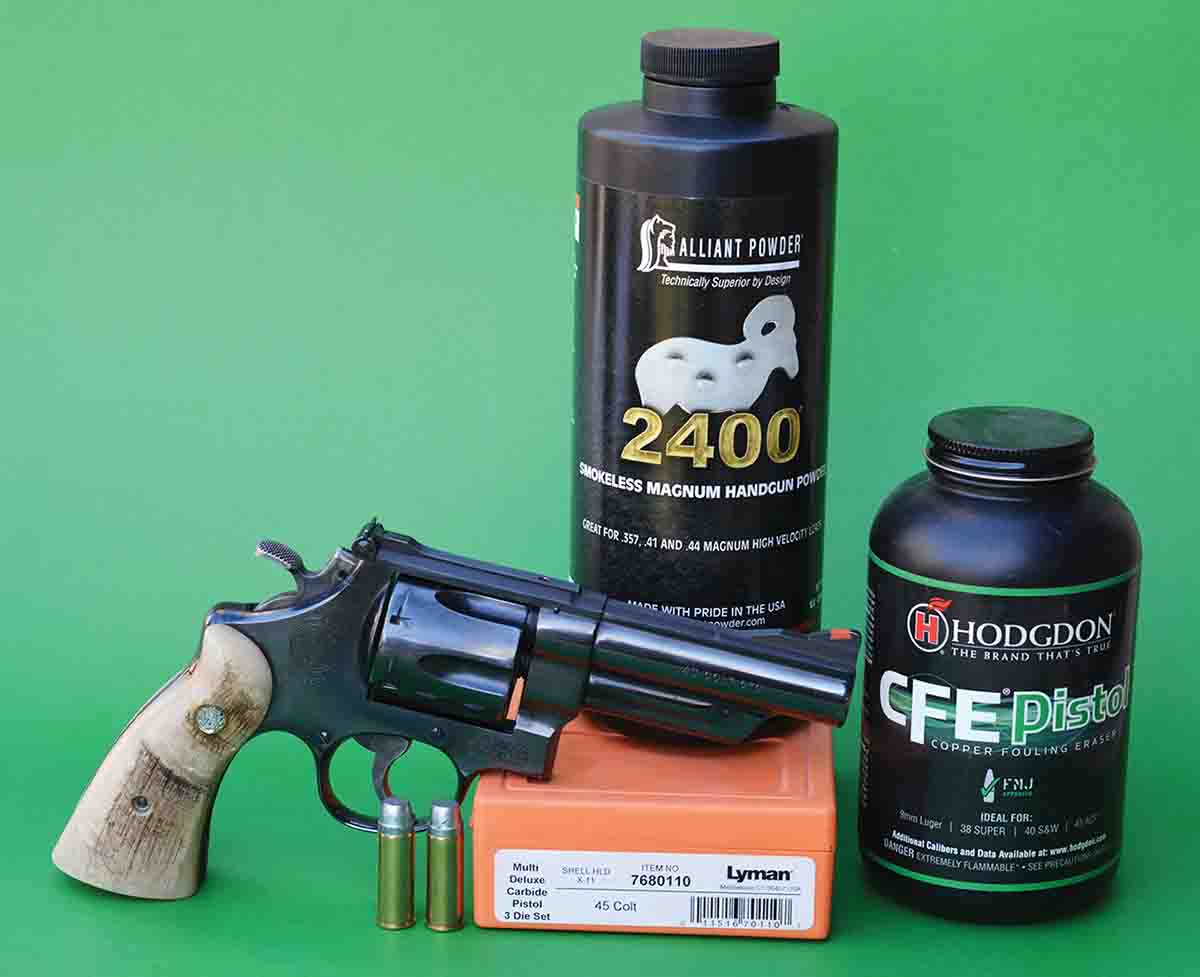 to cover. I consider your Pet Loads for the .45 Colt article in
Handloader No. 320 (June-July 2019)
phenomenal.
This brings me to my question. I have a Smith & Wesson Model 25-5 and a Ruger Redhawk, both in .45 Colt. I know that in the past you have suggested that the Smith & Wesson can handle loads of 23,000 psi. I have a quantity of the Oregon Trail 255-grain SWC bullets, and I purchased the RCBS mould 45-270-SAA. Can you suggest load data for my Smith & Wesson with these two bullets using Hodgdon CFE Pistol and Alliant 2400 powders?
Thanks to you and your entire staff for the fantastic work that you do!
D.M., via email
A: First, thank you for your kind remarks. It is always fun to have a reader that is so pleased with the data and information that we provide in Handloader magazine.
In regard to the .45 Colt data that you are seeking, I suggest using cast bullets from your RCBS mould 45-270-SAA that usually weigh 280 to 285 grains depending on alloy. For loads that are generating 23,000 psi, I would suggest 18 grains of Alliant 2400 powder, which will give around 1,100 fps from most sixguns with barrel lengths of 5 to 6 inches.
The widely popular 255-grain SWC Oregon Trail bullet that you reference features a bevel base and will generally give best results when velocities are held from 800 to 950 fps. I might suggest using 8.5 grains of CFE Pistol for around 860 to 875 fps in most revolvers. Naturally, both of the above loads should be ignited with a standard large pistol primer such as the CCI 300 or Federal 150.
High Pressure Loads
Q: I have encountered a problem in handloading my .30-338 Winchester Magnum. I have been using the Sierra Rifle & Handgun Reloading Manual when loading this cartridge. Many years ago, I purchased a quantity of Nosler 180-grain Partition Protected Point bullets. Through the years, my load consists of CCI 250 primers, 67.3 grains of IMR-4350 powder and overall cartridge length is 3.290 inches and cases are trimmed to 2.490 inches.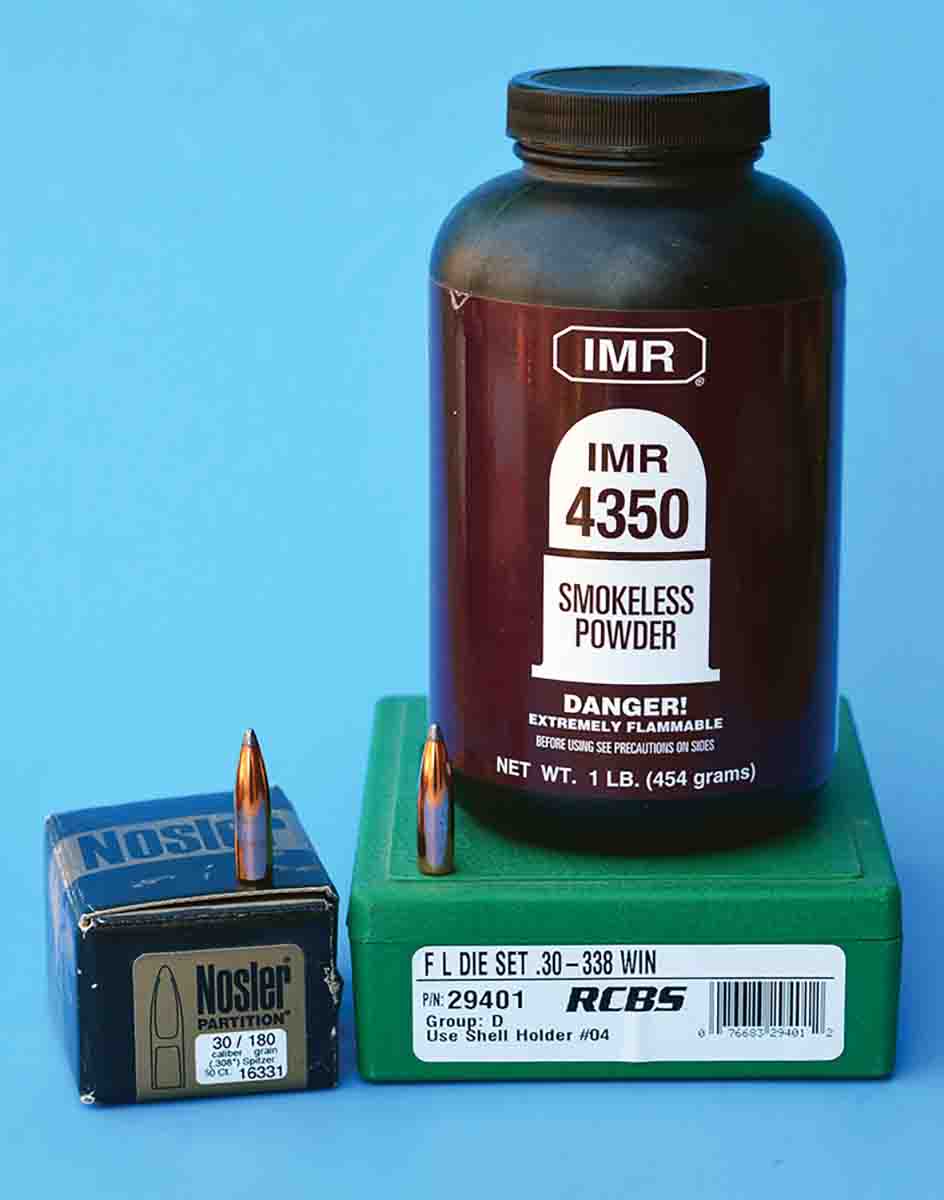 I have never encountered any pressure issues with this load, which according to the Sierra manual is not a hot load as they list powder charges from 63.1 to 69.3 grains.
A few years ago, I purchased a quantity of Nosler 180-grain Partition Protected Point bullets. When I used my initial quantity of the same bullets, I opened the new boxes and immediately noticed that they had a cannelure, whereas the previous bullets did not. I loaded 40 rounds with my exact recipe as listed above; however, I did notice that the length to the ogive was some .011 inch less.
I went to the range to verify my rifles zero before an upcoming hunting trip. I fired a number of my original loads and bullets without any issues. But when I fired bullets without a cannelure, boy was I surprised! I immediately noticed additional recoil, the bolt was difficult to open and cases had an ejector mark on the bottom of the case head. Apparently, pressure went out of sight.
I contacted Nosler and they seemed to think that my bullets were overruns. I asked for load data, but they could not offer any.
I am hoping that you can explain why my loads have become so hot. I am pretty sure that the powder came from the same can of my previous loads and the primers are from the same lot number. Any information that you can provide will be greatly appreciated. Incidentally, I subscribe to both Rifle and Handloader magazines and very much enjoy both of them. Thank you.
R.P., Tyler TX
A: While bullets without a cannelure can potentially cause an increase in pressure (but not always), it would not be a huge increase as long as the rest of the bullet is of the same design and construction, which is the case with the two variations of the Nosler Partition bullet. I would be very interested if you could access a chronograph to determine velocity changes with the old bullet versus the new bullet, which would help in solving this puzzle.
I have developed handloads for the .30-338, and I don't believe that your loads are excessive; however, with wildcat chambers, several factors can cause pressure to appear prematurely. Nonetheless, I would suggest going back to the bench and double-check a few fundamental rules of handloading. You might want to check the accuracy of your scale using a Lyman scale weight check set, review your powder charging methodology to assure that charge weights are correct and uniform, check the case neck specifications of your newly-formed brass and weigh the bullets in the event that someone (at a gun show or elsewhere) inadvertently put 200-grain bullets in a box labeled as 180-grain bullets. If these items check out okay, you will need to reduce the powder charge until normal pressures (and velocities) are obtained.