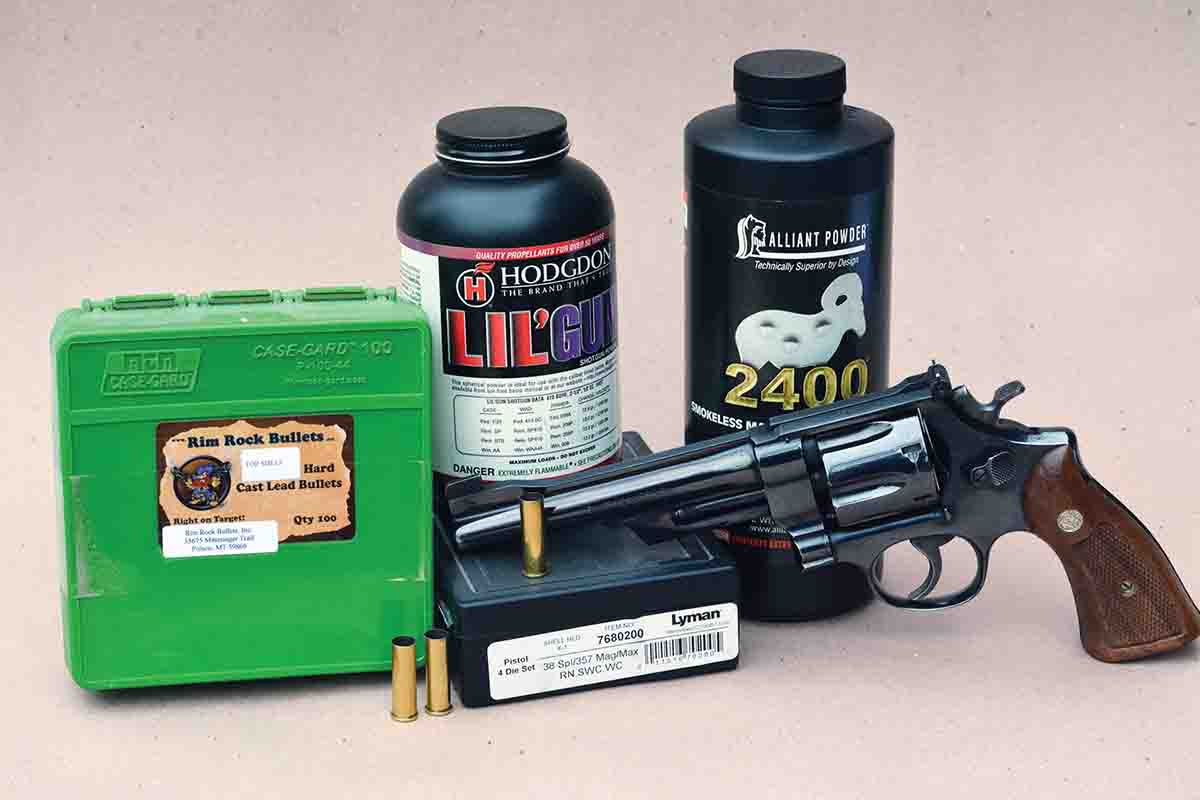 Q:
With ammunition shortages over the past couple of years, within the last year I have taken up an addictive habit…handloading! I have been shooting and collecting guns for more than 30 years, but this new venture has taught me so much more about my guns and especially ammunition. I am invigorated and am greatly enjoying it. I have been steadily adding dies and new equipment to advance my new hobby. One of the forums was discussing some of your handload recipes for .357 Magnum, .32 Magnum and .44 Special, which in turn introduced me to
Handloader
magazine and your fine articles. I anxiously await each new issue.
I have a ton of questions that I would like to ask you, but I better limit it to just two. Years ago, I purchased a quantity of Buffalo Bore .357 Magnum ammunition that contained a 180-grain cast bullet. That load was powerful and shot extremely well in my Smith & Wesson Model 27-2. I would like to duplicate that load through handloading. Can you tell me about a source for that bullet and can you suggest a powder type and charge weight? Thank you in advance for your advice and keep up the great work. Handloader is truly a remarkable magazine.
P.B., via Facebook
A: The bullet that you are referencing is offered by Rim Rock Bullets (rimrockbullets.com) and is listed in their Gas Check product line as 180-grain LBT-WFN. It is a great field bullet and has proven accurate in my tests. Using 15 grains of Hodgdon Lil'Gun powder will more or less duplicate the factory loads that you reference. It is suggested to use a small pistol magnum primer with this powder, such as the CCI 550 or Federal 200. From a 6-inch barrel, muzzle velocity will be around 1,300 feet per second (fps). Another worthy load includes 12 grains of Alliant 2400, which will reach around 1,200 fps and is especially accurate. However, to keep pressures within limits and lower extreme spreads with 2400 powder, it is important to use a standard small pistol primer, such as the CCI 500 or Federal 100.
Thank you for the compliment and welcome to Handloader magazine!
---
Loads for a Remington Model 14
Q: I have a very old Remington Model 14 that belonged to my grandfather. It came with a quantity of vintage Remington/Peters ammunition that shows signs of corrosion. I would like to shoot it, but a local gunsmith tells me that the old pump-action rifle is not strong enough to handle smokeless powder loads. The gun is in good condition and retains around 95 percent of its original finish. The bore is perfect. Can you verify the strength of this gun? My second question is; can you suggest loads that are safe for this rifle?
B.S., Meadville, PA
A: The .35 Remington was introduced in 1906 and first chambered in the Model 8 auto-loading rifle. It was a smokeless-powder cartridge from the very beginning. By around 1912, Remington introduced the Model 14 chambered in .35 Remington and others, which evolved into the Model 14A in 1919 and in 1935 became the Model 141 (along with a few changes). There were never any issues with the above slide-action rifles offering proper strength for the .35 Remington cartridge, with the Sporting Arms and Ammunition Manufacturers' Institute (SAAMI) currently listing with a maximum average pressure of 33,500 psi, or formerly at 35,000 CUP. One of the important roles that SAAMI brings to our industry is the standardization of cartridge specifications and pressures. In other words, ammunition that is within specifications, either handloads or factory loads, will work perfectly in your rifle or any rifle so chambered.
You don't offer any idea of what bullet, or bullet weight that you want to use, or what powders you have on hand. Hornady and Sierra both offer a .358-inch, 200-grain roundnose bullet that is designed specifically for the .35 Remington, which has been the traditional weight and profile for this cartridge for more than 100 years and are profiled for period chambers. I would suggest using 36 grains of IMR-3031, 38 grains of IMR-4895, or 41.5 grains of Winchester W-748 powder. Use a standard large rifle primer and reduce the above charge weights of IMR-3031 and IMR-4895 powders by 5 to 7 percent for your starting loads. After watching for signs of excess pressure, work up to the above listed charge weights. Loads containing Winchester W-748 powder should be used exactly as listed.
You have inherited a classic, well-made rifle that I am certain you will enjoy shooting.
---
Hawes Western Marshall
Q: I am a fan of the .45 Colt cartridge and have several revolvers, both double and single actions so chambered. I handload my ammunition to different pressure levels to match each gun. One of my guns is a Hawes Western Marshall that I have never heard or read anything regarding its strength or suitable loads. The gun is accurate and locks up tight. Any information that you can provide about this gun would be great. And to what pressure level would you suggest that I load it to?
S.C., via Facebook
A: The Hawes Western Marshall (along with sub models such as the Silver City Marshall, Federal Marshall, Deputy Marshall, Chief Marshall, Montana Marshall, Texas Marshall, etc.) were made in West Germany by the well-known firm J.P Sauer & Sohn and imported by Hawes Firearms from the early 1960s through the 1970s. A couple of other companies imported variants including Herters and Hy Hunter. These guns were not modestly priced and neither were they especially handsome; rather, they were an option for those wanting a fixed-sight, single-action sixgun and was most popular in .357 and .44 Magnum. They were offered before the popular Italian imported Colt SAA clones that we enjoy today. While their back strap, trigger guard and ejector-rod housing were constructed of sintered alloy, the cylinders and barrels were constructed of a European chrome-moly steel that was comparable to USA 4140 chrome-moly series steel. Dimensionally, their cylinders are very similar to the Ruger Blackhawk .45 Colt (as built on the Super Blackhawk .44 Magnum frame).
However, I am unaware of any scientific tests that fully prove the strength of the Hawes Western Marshall. For these reasons, I am going to be conservative and suggest that you limit your handloads to 23,000 psi, which is the same pressure level that I recommend for the Ruger New Model Blackhawk .45 built on the .357 50th Anniversary "medium" frame.
---
Failure to Feed
Q: More than 20 years ago, I purchased a Bushmaster Model XM15 chambered in .223 and 5.56 NATO with 16-inch barrel and non-threaded barrel. I have mainly fired it with 55-grain FMJ profile bulk factory loads from Federal Cartridge and Remington UMC and it has been fairly reliable. However, I wanted to use it as a backup to my favorite bolt-action rifle on two upcoming varmints shoots (more specifically prairie dogs). I purchased a bulk quantity of 40-grain fluted crimp-style hollowpoint bullets and loaded those using 27.5 grains of Ramshot TAC powder in commercial cases. Cases were full-length sized with a small base sizer die and bullets are crimped in place using a Lee Factory Crimp die. Cartridges chamber normally when they are loaded directly into the chamber, but they fail to feed about half of the time when loaded in standard steel magazines. I purchased some Winchester 40-grain hollowpoint factory loads and they do exactly the same thing. Do you have any suggestions to make my handloads work?
J. H., Butte, MT
A: It is hard to fully evaluate your problem from your letter, but there are multiple items that you might change. I am guessing (based on the era of your rifle) that it features the 45-degree feed ramp that is causing the hollowpoint bullets to hang up upon feeding. In short, AR-pattern rifles, such as yours, that feature the short M4-style forearm results in much greater cycling speed or bolt velocity when compared to AR rifles with the long or traditional length forearm. This combination results in some bullets hanging up during feeding. To remedy this problem, Colt developed a 52-degree feed ramp for its M4. After the patents expired during the Federal Assault Weapons Ban (1994-2004), other manufacturers began offering guns with the same specification. The point is that the problem is largely solved with most AR-style rifles manufactured for the last 20 years.
A gunsmith that specializes in AR-pattern rifles should be able to correct this problem. If you do not want to have your rifle modified, or don't have time before your next varmint shoot, I would suggest trying 40-grain tipped bullets such as the Nosler Ballistic Tip or Hornady V-MAX pushed with 27.5 grains of Ramshot Tac powder.
One other item that you might change is your magazine. The MAGPUL Pmag features an anti-tilt follower that might completely solve your feeding problem. They are inexpensive and I would suggest trying one before modifying your feed ramp or changing your load.
Good luck on your varmint shoots.