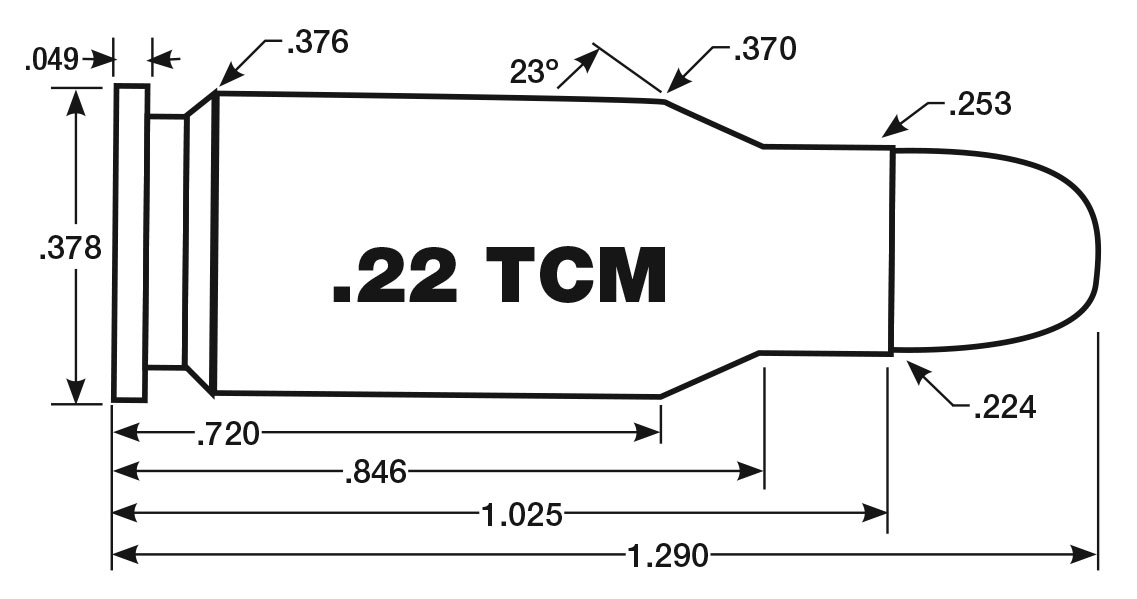 The .22 TCM was developed by Gunsmith Fred Craig of Pahrump, Nevada, who originally called it the .22 Micromag. When officially adopted by Armscor International in 2012, and offered in a high-capacity version of the 1911 pistol built by Rock Island Armory (RIA), the name was changed to .22 TCM. It is basically a drastically shortened .223 Remington case necked down for .224-inch bullets and shoulder angles are the same. Unprimed cases at Graf & Sons are priced (at press time) at $40 for 200, $114 for 600 and $180 for 1,000. I suppose the case could be formed by shortening .223 Remington cases, but all that squeezing, chopping, reaming and annealing would be a rather laborious process.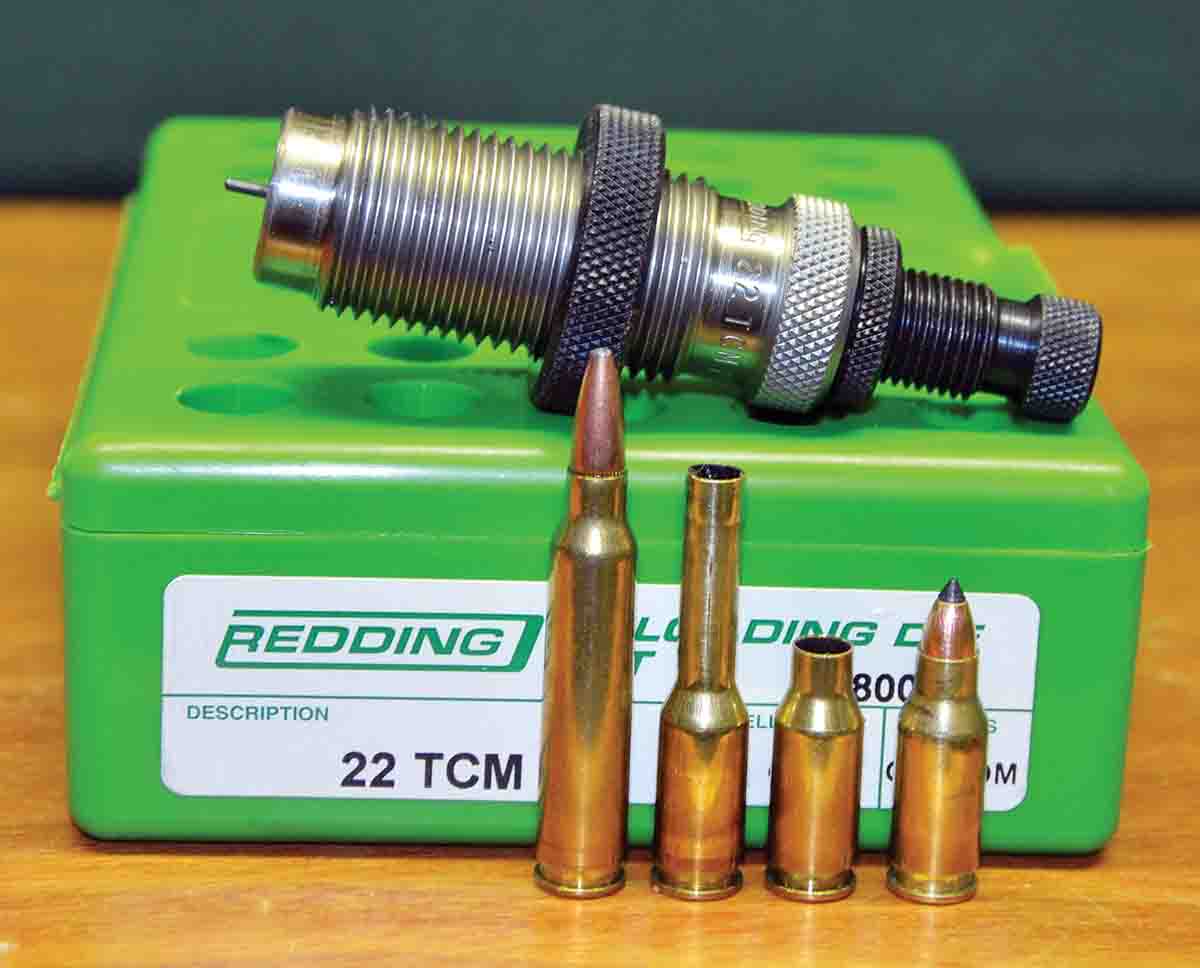 The .22 TCM originally appeared in two versions, one with a 40-grain jacketed hollowpoint with a small meplat and the TCM9R on the same case but with a shorter, roundnose bullet for more reliable feeding from the 9mm Luger magazines of some Glock pistols. Published maximum overall lengths were 1.290 inches for the former and 1.150 inches for the latter. Velocity from a 5-inch barrel is in the neighborhood of 2,000 feet per second (fps) and yes, there is some muzzle flash. The maximum average pressure was set at 38,500 psi. This is quite close to the 37,500 psi of the 10mm Auto for which the 1911 also handles quite well. Among various cartridges developed for autoloading pistols. The FN 5.7x28mm is a close competitor to the .22 TCM and is capable of sending a 40-grain .224-inch bullet from a 5-inch barrel at about the same velocity.
In 2015, RIA began offering the .22 TCM in an inexpensive, knockabout-grade, bolt-action rifle called the M22 TCM. According to an Armscor official, it was originally called the Model 1500 and was in .22 Winchester Magnum Rimfire (WMR). The firing pin was repositioned for the centerfire cartridge while making the bolt and receiver of Type 4140 steel increased action strength. The advertised velocity of Armscor .22 TCM ammunition from the rifle was 2,800 fps, indicating a velocity gain of approximately 46 fps per inch compared to the 5-inch barrel of a pistol.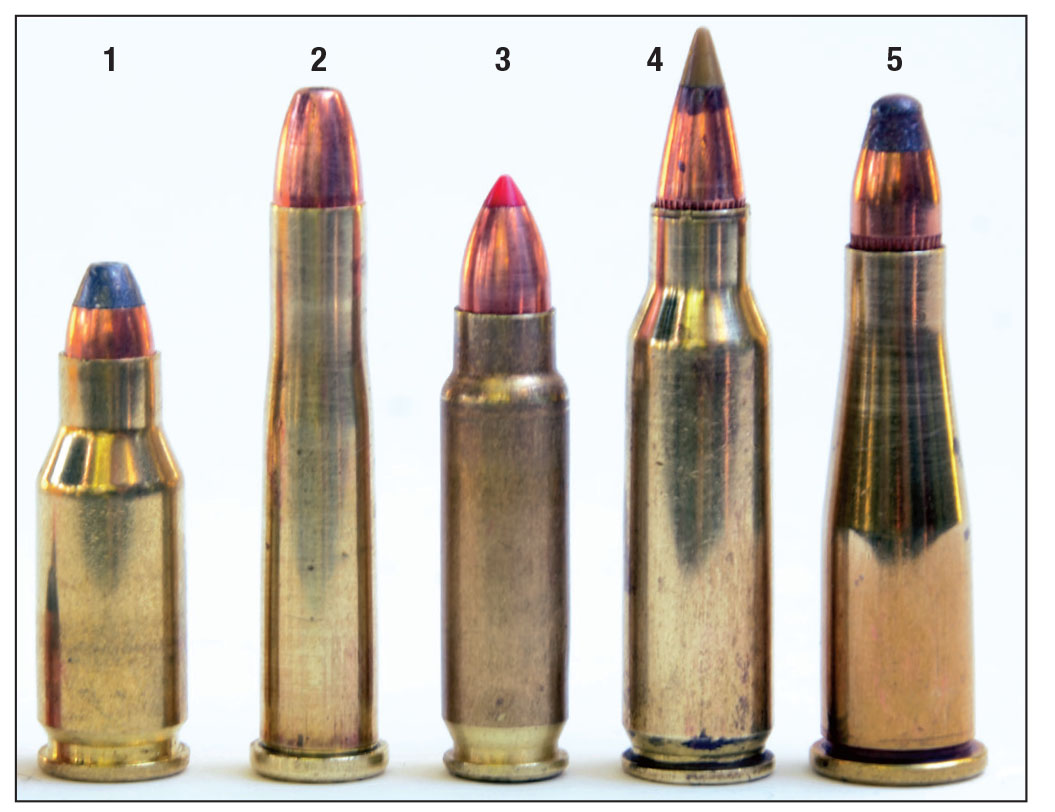 The receiver of the M22 TCM rifle was modified for a five-round, double-stack magazine and it also accepts the 17-round magazine of the RIA wide-body 1911 pistol. There are no front-located locking lugs, so partial lockup is handled by bearing of the root of the bolt handle against its clearance notch in the receiver. An adjacent lug opposite the bolt handle engages a shoulder in the floor of the receiver when the bolt is rotated to its locked position. The receiver has no recoil lug. Instead, the rear end of its bottom metal rests against the interior of the inletting in the stock. The trigger pull is without creep and while there is some overtravel, it breaks at 5.5 pounds and is not bad for a rifle in its price range.
My rifle arrived during 2015 with a two-digit serial number indicating very early production. From bolt face to muzzle, the medium-heavy barrel measured 221⁄4 inches. The average velocity of Armscor factory ammunition loaded with a 40-grain jacketed hollowpoint was 2,777 fps. Fired case extraction ranged from quite sticky to a dozen or so light raps on the bolt handle required to break them loose. The Armscor load contained 10 grains of extremely dense, gray-colored spherical powder. Little did I know that ballisticians at Western Powders had been tasked with selecting a propellant for the cartridge and it would eventually be introduced to the canister trade as Accurate TCM. Factory load accuracy for five, five-shot groups at 100 yards from my rifle ranged from 2.28 to 4.30 inches for an average of 3.08 inches.

Pressure-tested load data was unavailable, but a comparison of capacities revealed that the case held a bit more powder than the .22 Hornet case and a bit less than the .218 Bee case, both from Hornady. When this was mentioned to Craig, he suggested W-296/H-110 as a possible propellant for .22 TCM handloads. In my rifle, maximum charges of W-296 and bullets weighing 33, 35 and 40 grains produced respective average velocities of 2,932 fps, 2,915 fps and 2,664 fps. Accuracy for five, five-shot groups at 100 yards was 5.19, 2.16 and 1.98 inches. Due to light firing pin strikes, I experienced several misfires with the Federal 205 Small Rifle primer and since factory ammunition had Small Pistol primers, I switched to the CCI 550. No more misfires, but velocity spread doubled, accuracy got worse and fired cases emerged from the chamber with a thick coating of fouling. I cleaned the rifle and put it away for another day.
That day came when the decision was made to feature the .22 TCM in this column. Unlike during my first go-around with the cartridge, pressure-tested load data with Accurate TCM, Accurate 4100, Accurate 11 FS and Ramshot Enforcer had been published in 2017 in the Western Powders Handloading Guide. Since those companies were later purchased by Hodgdon, the same data appeared in that company's 2022 Annual Manual. Maximum pressures listed range from 37,137 psi to 38,473 psi. Respective maximum velocities from a 5-inch barrel with bullets weighing 35 and 40 grains are 2,095 fps and 1,958 fps. Both are with TCM, although the other three powders were quite close behind in bullet speed from Hodgdon's pressure gun.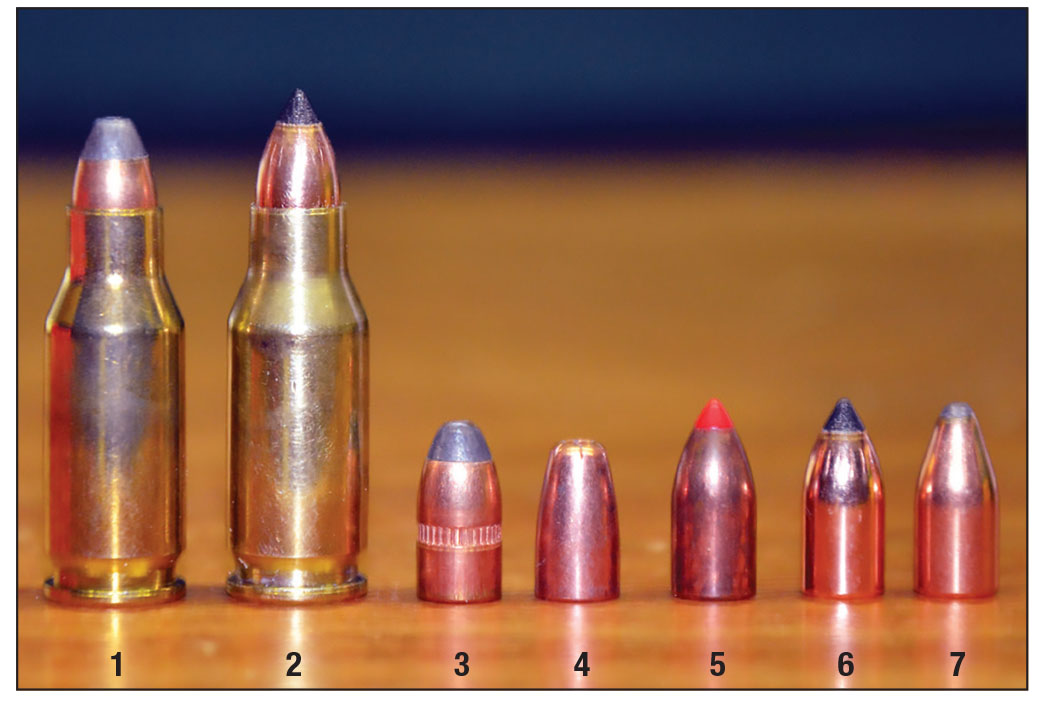 Since the .22 TCM was originally designed to feed in a 1911-style pistol, maximum overall length was set at 1.290 inches for magazine compatibility. The overall lengths of 10 cartridges selected from a box of Armscor ammunition loaded with the stubby 40-grain jacketed hollowpoint ranged from 1.243 to 1.251 inches. Due to the short cartridge length along with a case neck length of only .165 inch, not a single bullet in my loading room could be loaded to a cartridge length that was compatible with the magazine of the rifle. Due to an extremely short ogive, the 40-grain bullet in Armscor ammunition is only .469 inch long.
The Speer 40-grain Spire Point, my long-time favorite for the .22 Hornet, is .505 inch long. When it is seated for a cartridge length of 1.290 inches, the mouth of the case is positioned over its ogive with virtually no contact between its full-diameter shank and the inside of the case neck. Cartridge length for it has to be 1.355 inches. Moving to plastic-tipped bullets, respective lengths of the Hornady 35-grain V-MAX and the Nosler FB Varmageddon of the same weight are .514 inch and .513 inch. They require a cartridge length of 1.360 inches.
When finding the Speer 33-grain Hornet to be a bit shorter than the Armscor bullet, I thought it would be a magazine-friendly candidate for the M22 TCM rifle. Visions of emptying 17-round magazines while defending my position from hoards of angry chipmunks immediately leaped to mind. It was not to be as the Speer bullet requires a cartridge length of 1.300 inches. On a positive note, the chamber throat length of the barrel allows single feeding with the four bullets seated to their required cartridge lengths.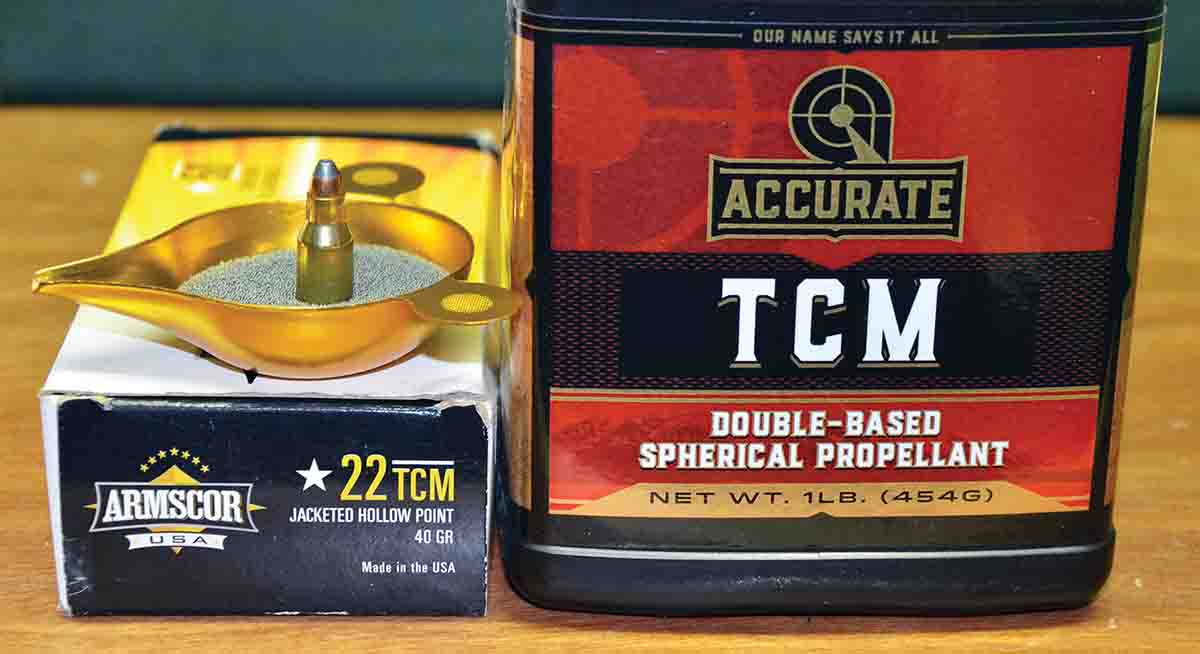 Are the issues experienced with my rifle typical? A shooting buddy bought a M22 TCM a couple of years after I got mine and after extensive load development, best-load average accuracy for five, five-shot groups at 100 yards was 2.67 inches. Armscor ammunition was too hot for his rifle as well. Here is what I think is going on there. The .22 TCM was developed specifically for the recoil-operated 1911 pistol which, depending on the cartridge, has proven to handle pressures approaching 40,000 psi. While I do not believe there is a safety hazard in firing the hot Armscor ammunition in the Rock Island Armory rifle, momentary receiver stretch and bolt compression of its rear-locking action is such that ammunition has to be loaded to lower pressures in order to consistently enjoy smooth case extraction.
It appears that Armscor officials have gotten the message and responded accordingly. Not long back, I bought several boxes of .22 TCM ammunition at a gun show and compared its performance with the ammunition shot back in 2015. Velocity from that same rifle was 65 fps slower and that along with no sticky case extraction indicated a reduction in pressure.
Considering that the .22 TCM is a descendent of the .222 Remington, which once held all the accuracy records in registered benchrest competition, it should be capable of excellent accuracy.