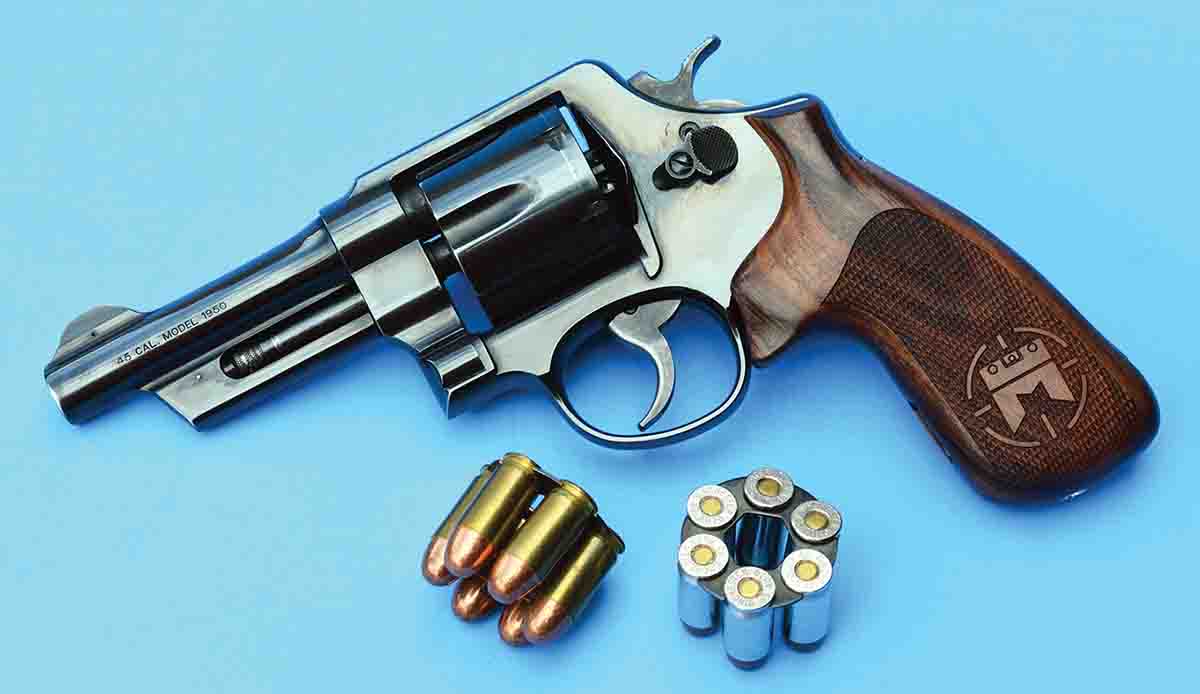 Big-bore, double-action sixguns are worthy choices for personal defense and many other purposes. One notable example includes the Smith & Wesson's Model 22-4 chambered in .45 ACP, which is also known as .45 Caliber Model 1950. It boasts of being built on the N-frame, with fixed sights, tapered barrel and a square butt grip frame. It is chambered for the fine, old .45 ACP that is a proven and versatile cartridge that offers comparatively modest recoil, which allows for fast follow-up shots. It also readily accepts .45 Auto Rim cartridges, eliminating the need for half- or full-moon clips for ejection, but it also permits a roll crimp when handloading bullets designed for sixguns (rather than for auto-pistol cartridges).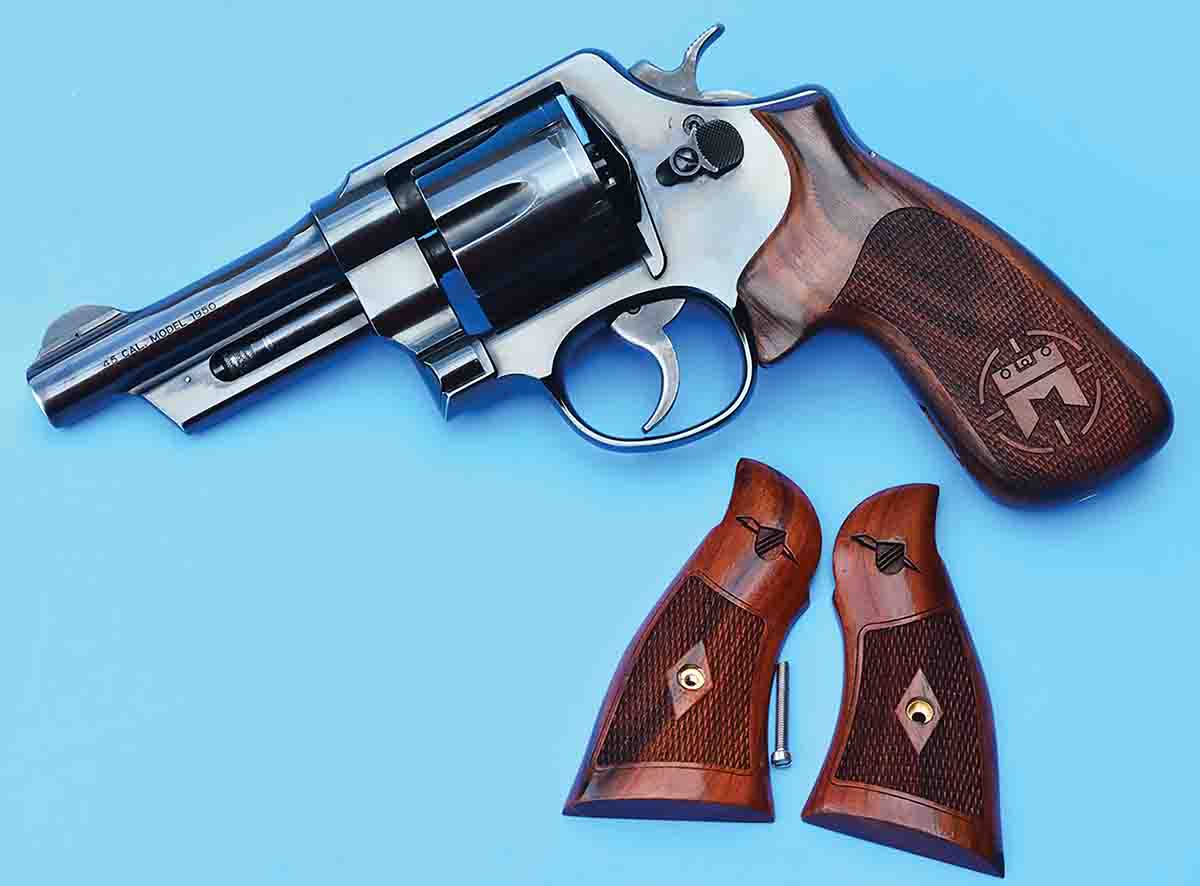 The original .45 Caliber Model 1950 revolver was introduced in 1951 and was an updated version of the Smith & Wesson Model 1917, but with the prefix "S" serial number that indicated the addition of a slide-action hammer block and the short, throw-hammer action. It became the Model 22 in 1957, but was discontinued around 1966. Production numbers were not high and collectors have grabbed up available guns.
With trends toward concealed carry or even open carry in many states, shooters are rediscovering the virtues of a big-bore sixgun with fixed sights that don't snag or drag and are ultra-reliable. Smith & Wesson responded to this demand by reintroducing the .45 Caliber Model 1950, or commonly known as Model 22-4, with updated features and engineering. This gun was initially produced in conjunction with Thunder Ranch with limited production, but there have been additional production runs with a nickel finish, etc. Demand continues to grow for this model, and a contact at Smith & Wesson stated that the gun will be back in production as soon as manufacturing can make a run. In the meantime, the Model 625-8 is readily available. It is constructed of stainless steel and features adjustable sights. The quality and function of these two guns is identical and today's general comments apply to both models.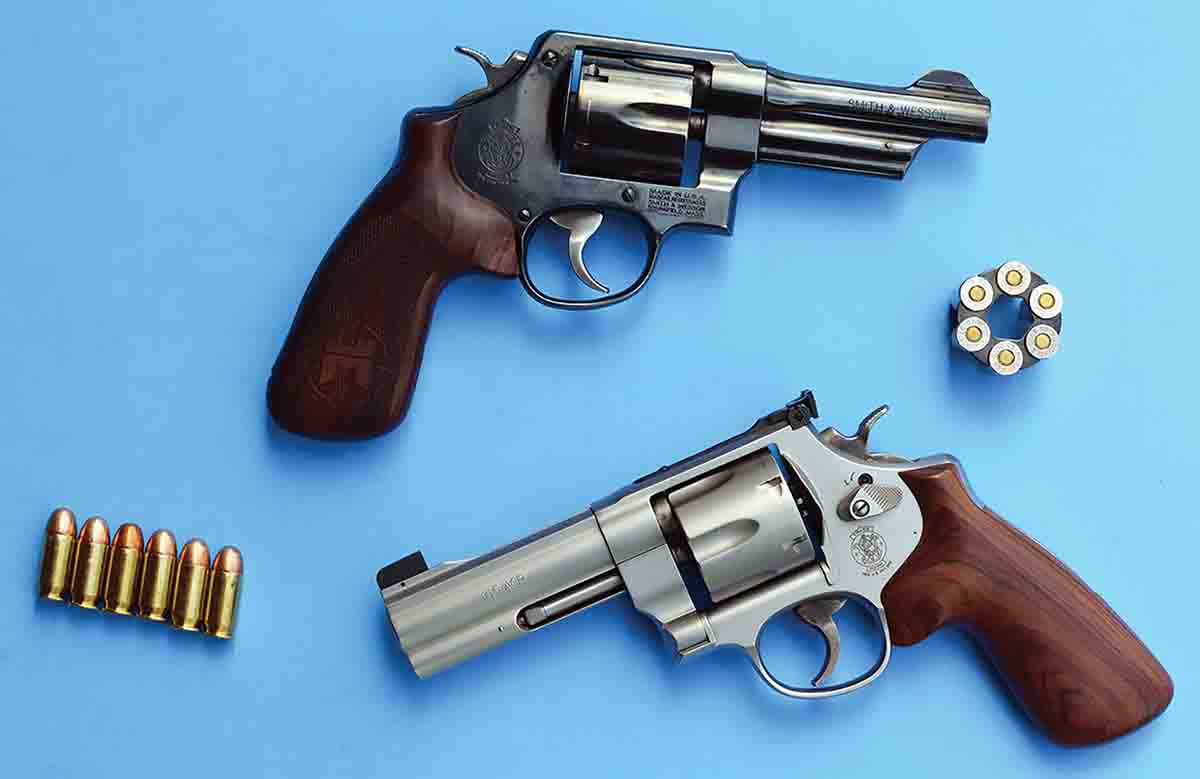 The frame, along with other major parts, are fully CNC machined with tolerances being held to minimum specifications. The trigger and hammer are standard (i.e. non-target profile) with the former being smooth. The front sight features a rounded post (.125-inch wide), while the rear sight is notched. Like most other Smith & Wesson revolvers produced the past two decades, there is a key lock located just above the thumbpiece (aka the cylinder release latch). Another new feature included the frame mounted firing pin. While this feature can be controversial, it is generally trouble free. However, for those that have an action job performed, the mainspring strength must remain strong enough to assure reliable primer ignition. The rifling is created using the Electrical Discharge Machining system. The stocks are Magna-style, while the butt is square.
Beginning in 1988, and fully designed and implemented on production guns by 1990, Smith & Wesson developed the "radius stud package" that increased the frame stud strength and overall durability. Naturally, the Model 22-4 is updated with this feature and should offer many years of trouble-free service, and in fact, it carries Smith & Wesson's lifetime warranty.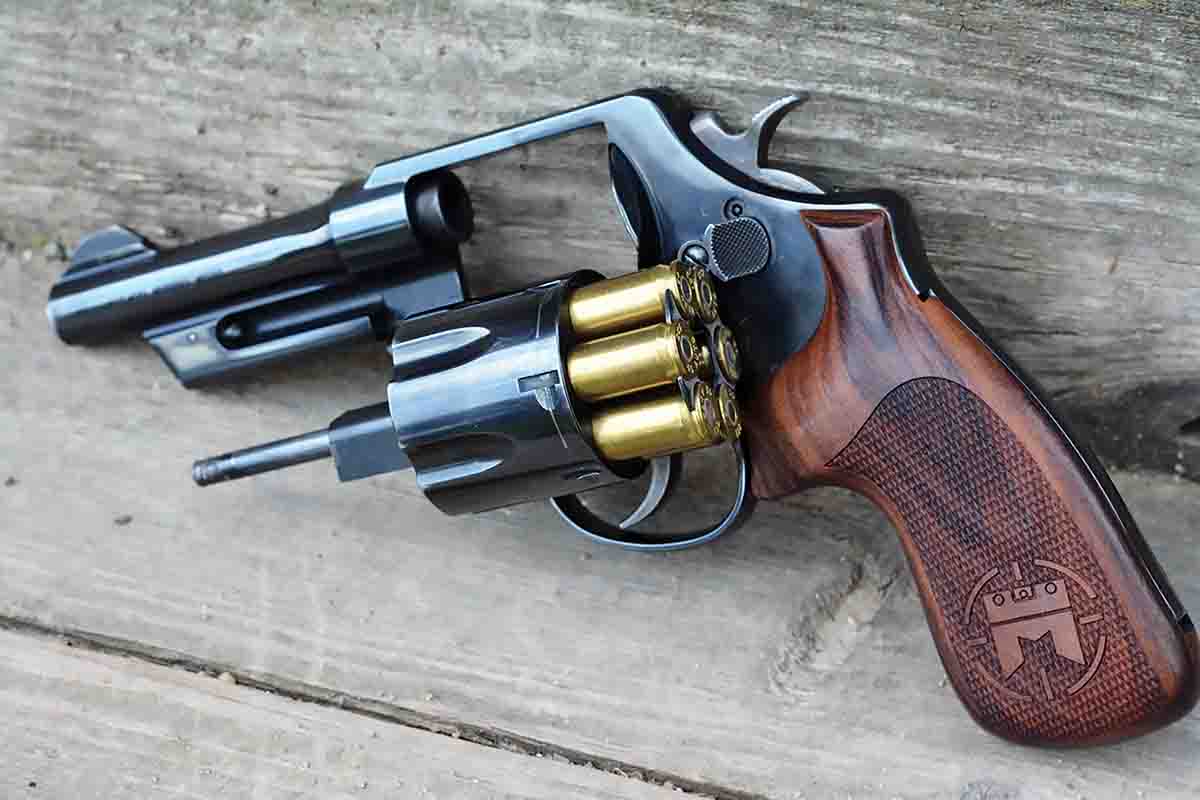 A few specifications that should interest shooters include that the single-action trigger pull that broke cleanly at 3.75 pounds, the barrel cylinder gap measures .008 inch, which is a bit more than I would like to see, but is certainly within industry specifications. The throats measure .452 inch, which is conducive to good accuracy and the total weight (empty) is 38.1 ounces.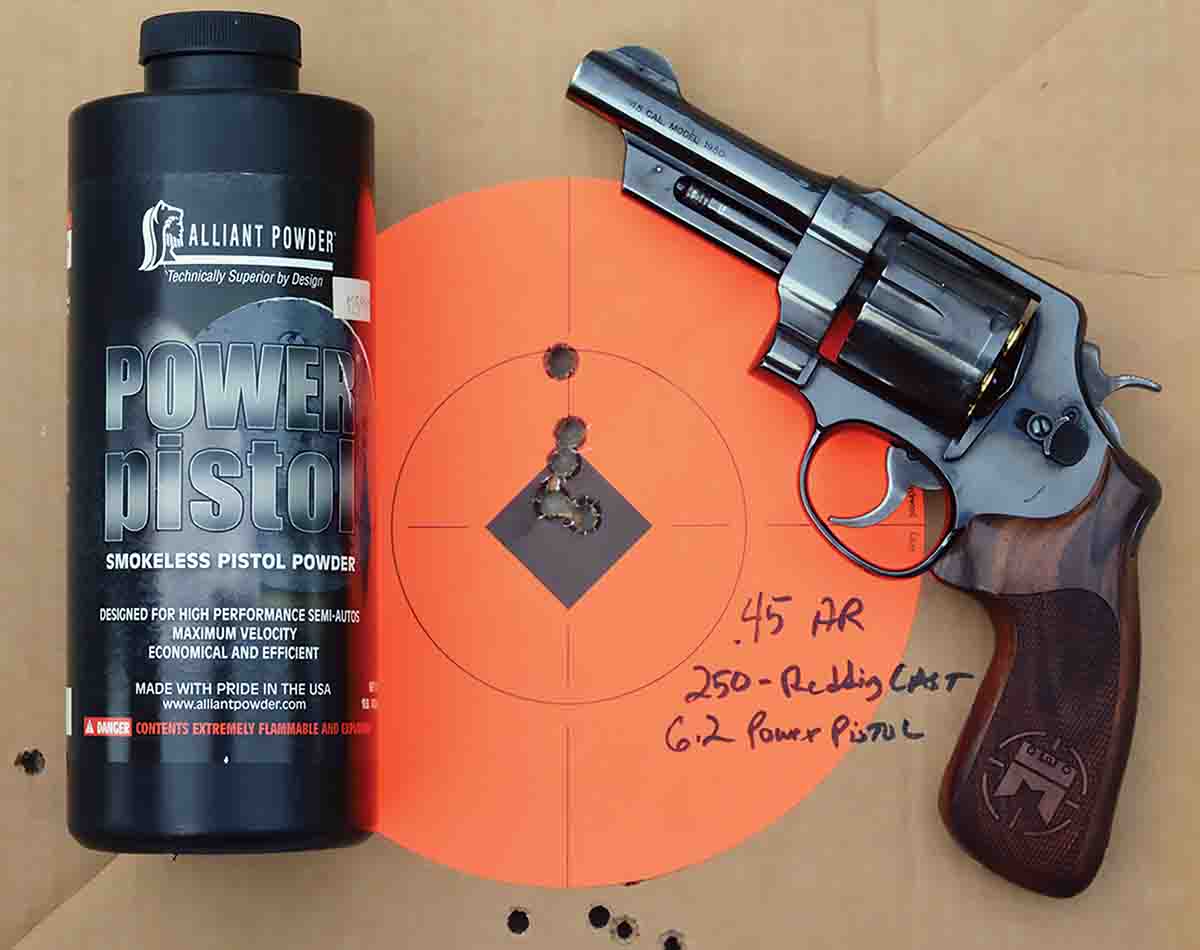 When Smith & Wesson originally produced U.S. Model 1917 revolvers chambered in .45 ACP to meet wartime demand, it was designed for moon clips that allowed easy ejection of the rimless cases. But the moon clips were not required to make the gun operational. In other words, cartridges could be chambered and fired without the moon clips, but not ejected with the ejector system, rather, they were pulled out with a finger nail or some other means. The .45 ACP headspaces on the case mouth and revolvers were chambered accordingly. Subsequent Smith & Wesson guns produced prior to World War II (as well as guns produced by Colt) were likewise chambered to provide reliable headspace on the case mouth. However, in the post-World War II era, a new generation of engineers at Smith & Wesson eventually chose to change chambers, which compromised positive headspace control. They believed that shooters would always use moon clips that provided positive headspace control and that the original dimension (as specified by the military) was no longer necessary. As a result, cartridges that were placed directly into the chamber and without a moon clip were prone to occasional misfiring, which is unacceptable! I worked on this issue with Smith & Wesson extensively. While I have no idea if I had any influence on engineers, but chambers were soon changed to provide correct headspace control that results in no misfires if cartridges are loaded without moon clips.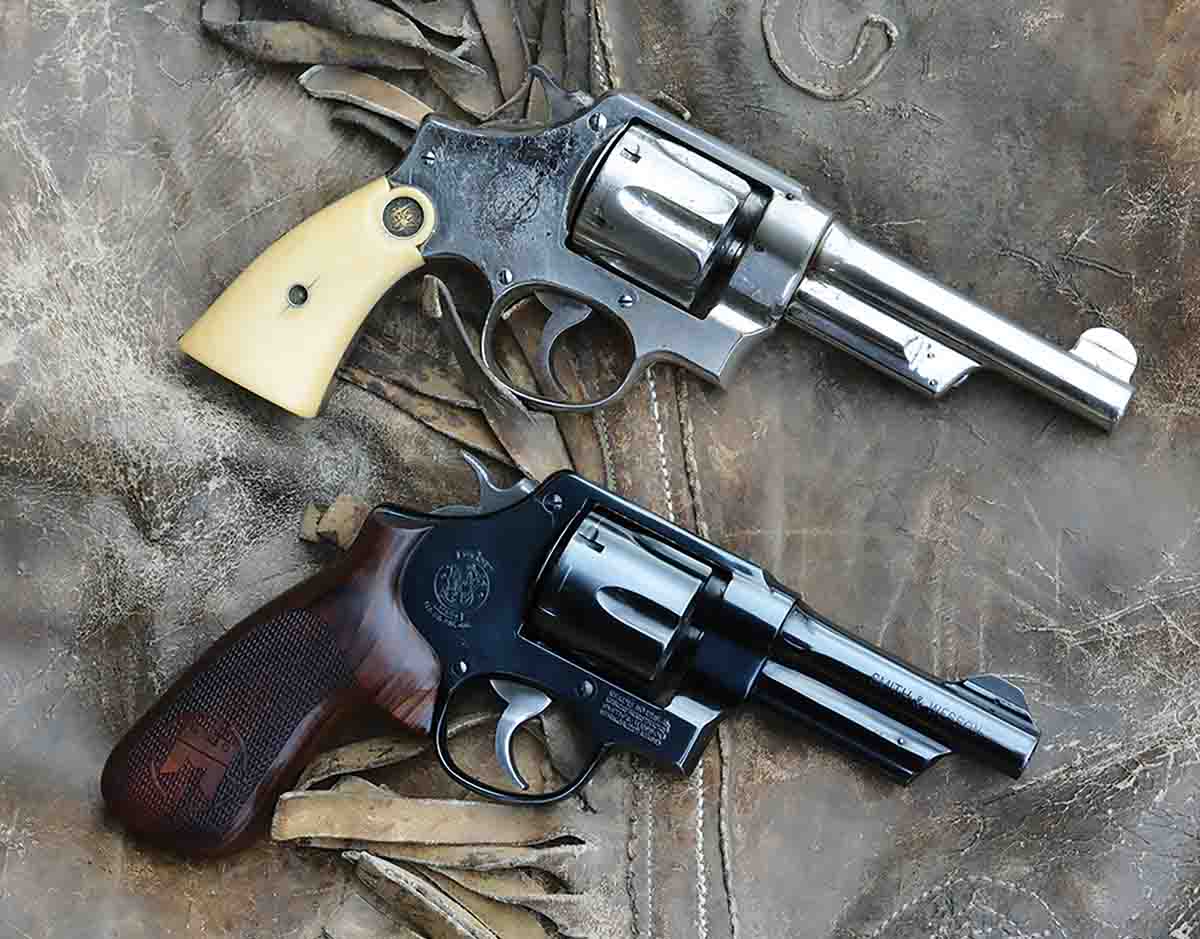 Many years ago, noted world record speed shooter Jerry Miculek forwarded stocks for a Smith & Wesson N-frame that he designed and sought my opinion. As expected, they are well designed and are a top choice for double action work when matched to Smith & Wesson revolvers. For this reason, I elected to use a new and updated set of Miculek stocks on the Smith & Wesson Model 22-4, which has been further improved from the original stocks forwarded to me many years ago. In addition to being constructed of attractive walnut, they are checkered, trim and minimize slippage when firing fast in the double-action mode, which is a discipline that should be practiced with this sixgun to take full advantage of its design.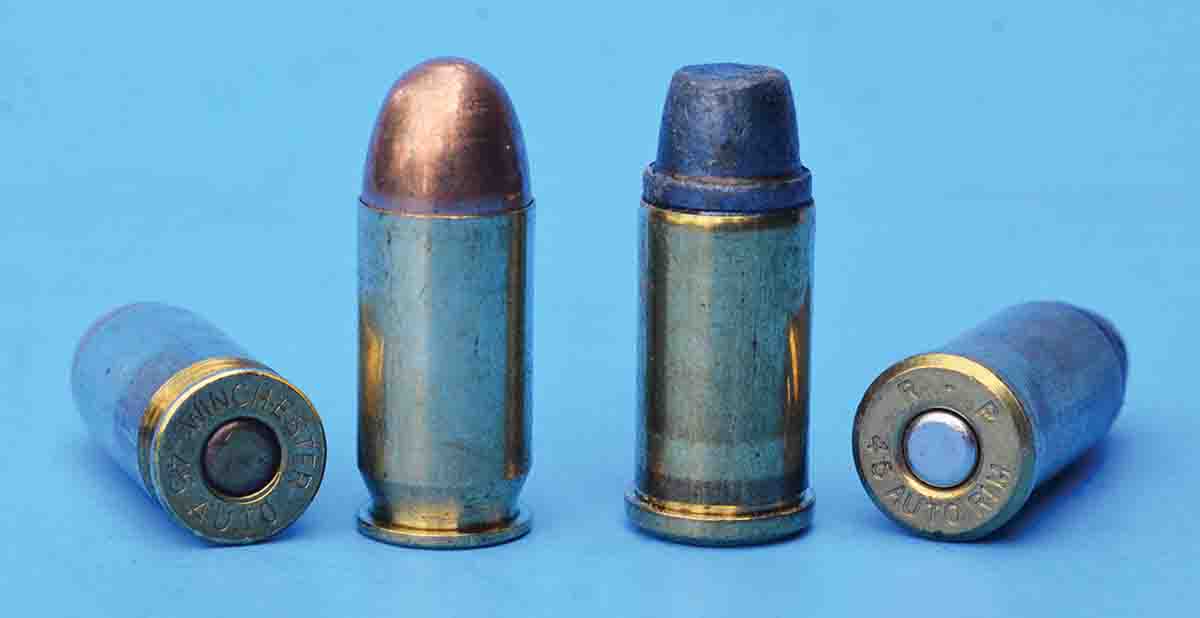 Checking the Smith & Wesson for accuracy with factory loads, along with the help of a bench and sandbag rests, 25-yard groups often placed five shots into 1.5 to 2 inches. For example, using the Hornady Custom 230-grain XTP load at 908 feet per second (fps), three groups averaged 1.80 inches at 25 yards. Incidentally, most 230-grain jacketed loads shot pretty close to the point of aim at 25 yards.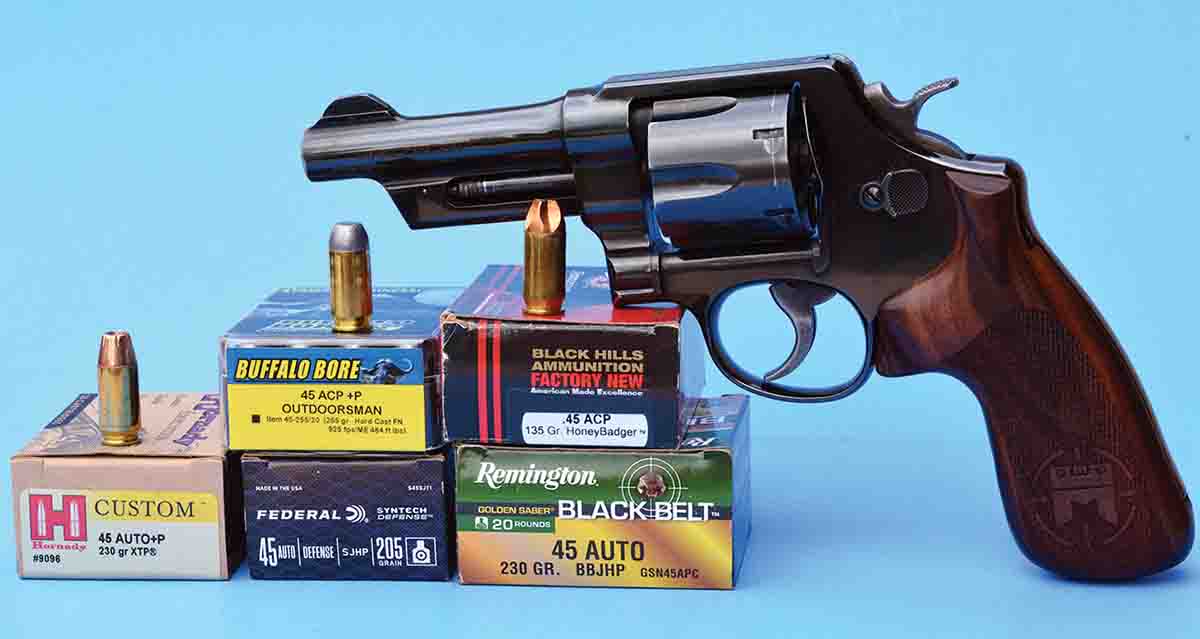 Moving on to .45 ACP handloads, it was easy to duplicate factory load velocities and their accuracy. For example, using 8 grains of Alliant Power Pistol powder with the Speer 230-grain Gold Dot HP bullet yielded 1,018 fps and groups consistently hovered under 2 inches. However, a flier opened the three-group average to 2.20 inches. Switching to the Nosler Sporting Handgun jacketed hollowpoint 230-grain bullet, 7.5 grains of Alliant BE-86 powder produced 956 fps and groups measured between 1.40 to 1.80 inches.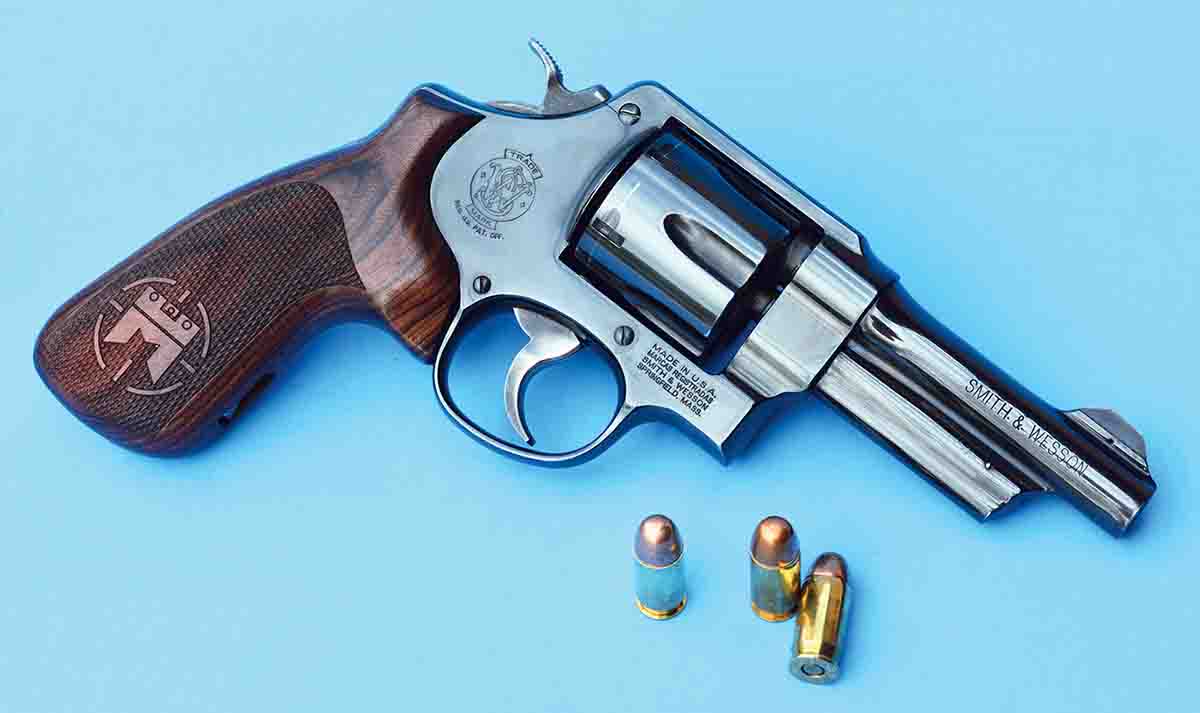 The .45 Auto Rim was first developed around 1921 by the Peters Cartridge Company, which was essentially a .45 ACP case with a special rim to offer positive headspace control and allow case ejection without using moon clips, which can be a nuisance. It is a true revolver cartridge rather than an auto-loading pistol cartridge. Furthermore, due to the positive headspace provided by its rim, traditional revolver bullets can be roll-crimped in place.
Two .45 Auto Rim handloads were tried that included the 250-grain roundnose flatpoint bullet from Redding mould 45424 with 6.2 grains of Alliant Power Pistol powder for 810 fps (which is not a maximum load). This load shot slightly high at 25 yards, but was dead center, with groups averaging 1.85 inches. A great load for those who want a heavyweight bullet includes the 285-grain Keith-style bullet from RCBS moulds 45-270-SAA, which is a great choice for field use, including hunting. Pushed with 6.5 grains of Alliant Power Pistol powder, velocity was 865 fps and groups hovered just over 2 inches.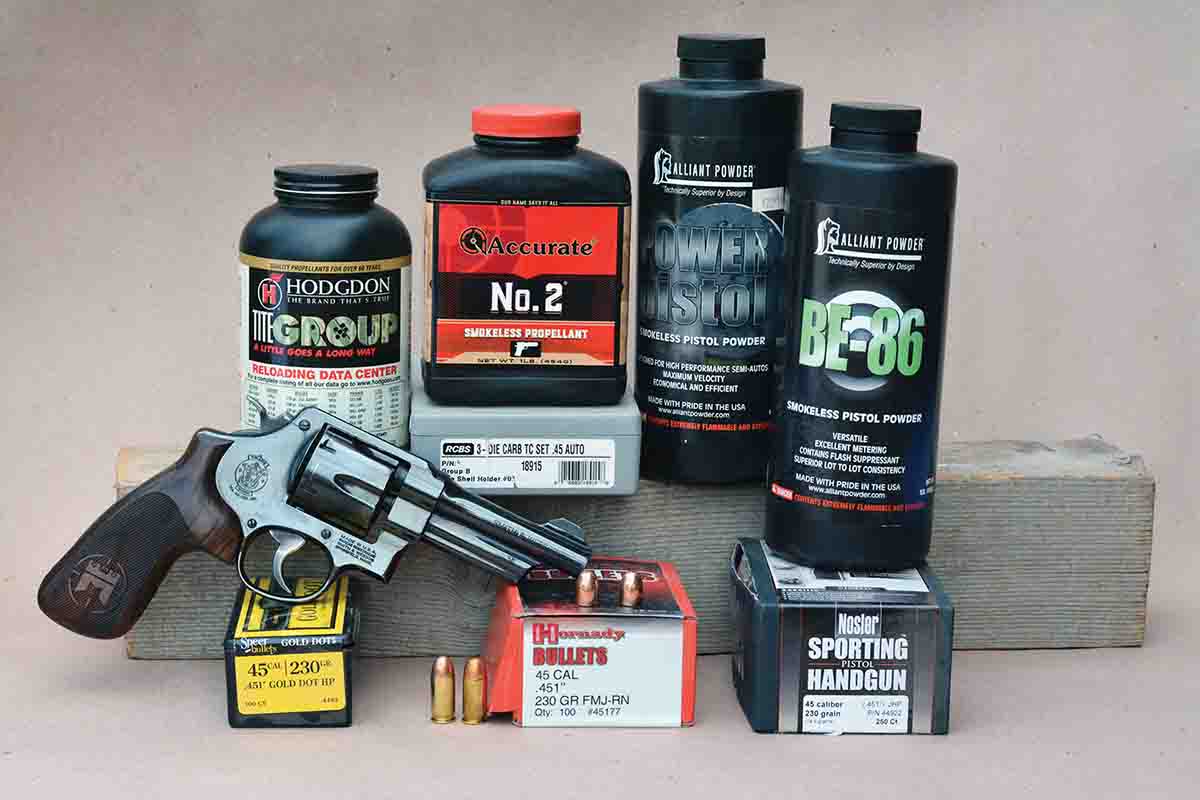 Hopefully, by the time this article is in print, another run of Model 22's will be available. If not, you can contact Smith & Wesson and encourage them to hurry production along. In the meantime, the adjustable sight Model 625-8 is readily available and is an excellent option, as it allows precise sight-in with all loads and with bullet weights that range from 185 (and even lighter) to as heavy as 285 grains. This feature probably makes this model better suited to hunters and target shooters. Function with factory loads and handloads was flawless, while overall accuracy was good. After 115 years in continuous production, Smith & Wesson's N-frame has indeed earned classic status.