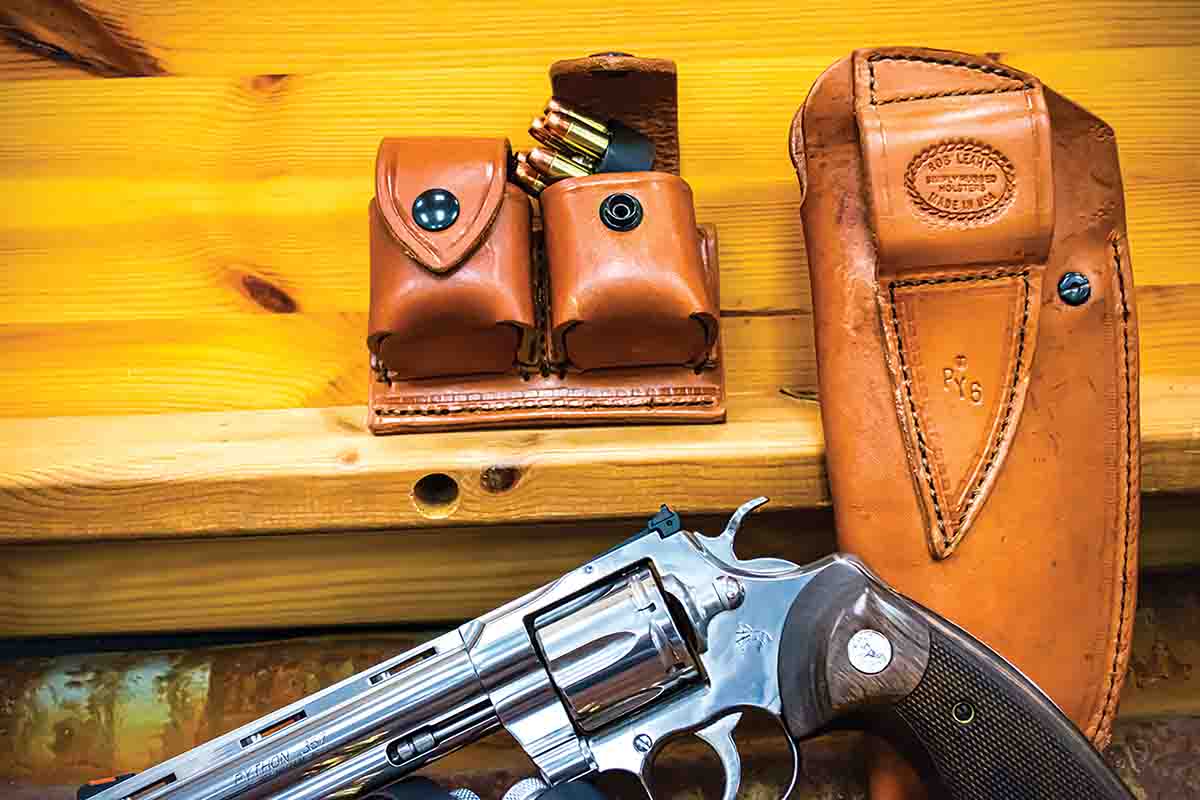 Every handloader should keep good notes as it's a hard and fast rule that each of us should follow. Once we find a load that we like, whether for velocity, accuracy, or combination of attributes desired, it must be recorded. While my library is not as large as some, when it comes to "pet loads," it is something to constantly improve upon. This is a good attitude to have with life in general as there is always more to learn and to quote Jerry Miculek, "You can't fossilize." We truly never stop learning. As handloaders, we are constantly trying to find the best possible load for a given rifle or even set of circumstances. Always trying to improve our handloading through learning, education and good, old-fashioned tinkering.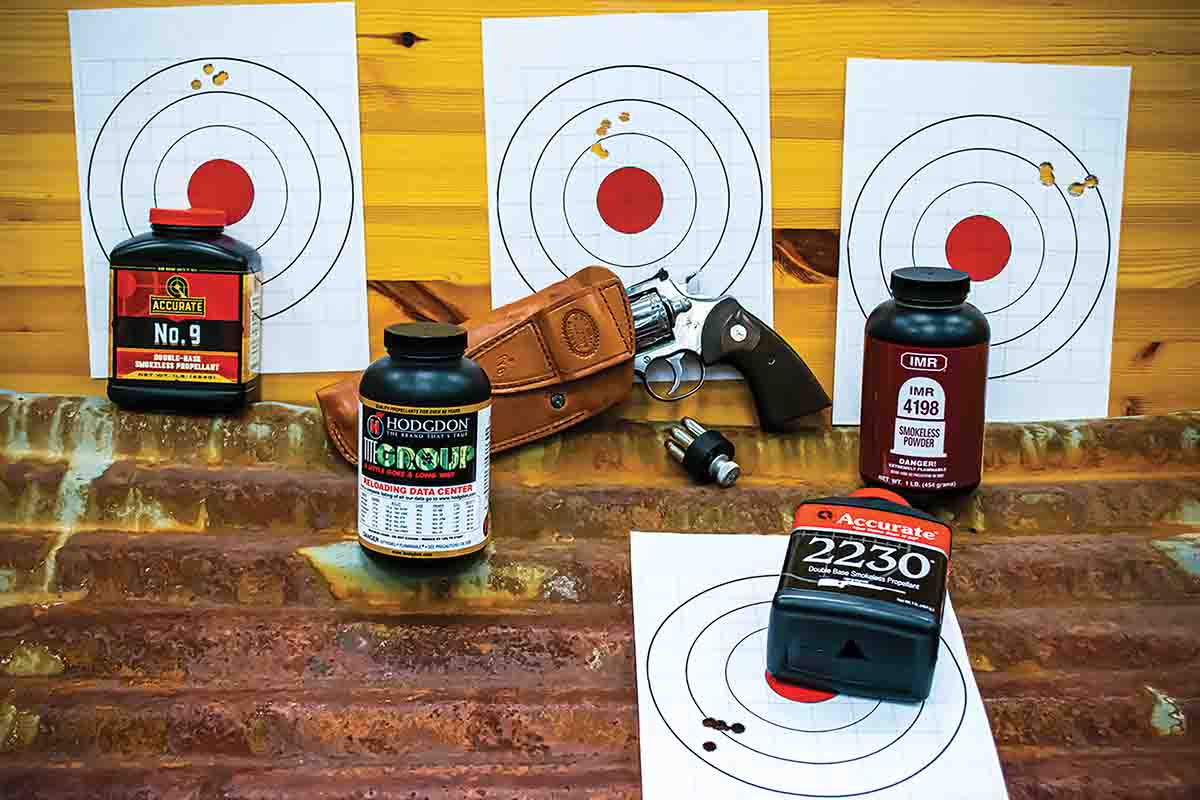 Recently, an invitation to attend a media shoot at Gunsite Academy appeared in my inbox. The event was sponsored by Simply Rugged Holsters, Skinner Sights and others. With the opportunity to attend a world-renowned gunfighting school and to continue to hone skills and educate myself, I promptly accepted. I was instructed to bring 250 rounds for each gun if I wanted to shoot a lot, along with eye and ear protection. Since the Gunsite Academy is close to where I live, this presented a unique opportunity for me to bring my own guns and ammunition. Of course, being a handloader, it seemed like a perfect time to test a series of pet loads in various scenarios and circumstances.
Excited to attend, the next step was to select firearms for this shoot with the main focus being on revolvers and leverguns. If time permitted, we would also be doing some work with scout rifles as well. A Colt Python in .357 Magnum, a Cimmaron 1873 lever action in .45 Colt, a Marlin 1895 SBL in .45-70 and a Cimmaron Single Action Army in .45 Colt were all selected. With the variety of cartridges selected, the next step was to get ammunition. From a handloader's perspective, this was a simple task of consulting notes and data that was recorded for each of these firearms. Some of the data was even developed during filming for Handloader TV. After much time at the bench, the ammunition was carefully loaded to the exact specifications from the notes. All loading was done on an Area 419 ZERO Reloading Press, the precision and repeatability of this press comes in handy for such situations. You can see all the loads that I used and how they were developed in the accompanying table. I decided to run the same .45 Colt load in both the rifle and the sixgun to simplify things. Now, it was time to take all the ammunition that was loaded and test it at Gunsite to see how well it stacked up in real-world situations. More importantly, with the ammunition variable known, to see how well the shooter would perform and highlight what techniques and skills need more work.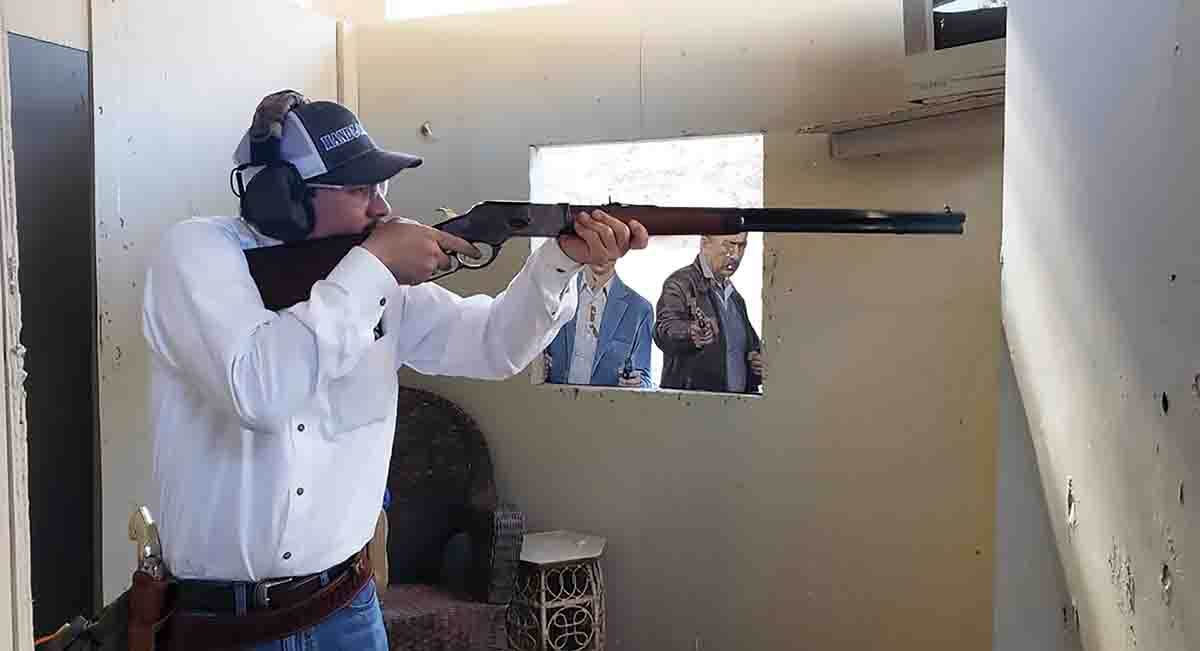 The next three days were nearly a blur, obscured by muzzle flashes and gun smoke. The first day was dedicated to handguns. First up was the Colt Python, and the array of .357 Magnum handloads I had set aside for it. Most of the work was done from the holster and for that, I had a Simply Rugged 240, the name of the company defines the holster perfectly. Being a connoisseur of fine leather from my cowboying days, I can appreciate the thickness of the leather and the quality of the product. I was especially grateful for it since my leather-working expertise would be more akin to crude and ugly. In addition to the handloads, some Double Tap .38 Special ammunition was provided and promptly used in the Python. After expending lots of ammunition and reflecting upon the shooting at the end of the day, there were a few takeaways, including things I normally overlooked during load development. How bullet shape can affect my speed reloads, the differences in powder charges can make in your shooting cadence and recoil management among other things.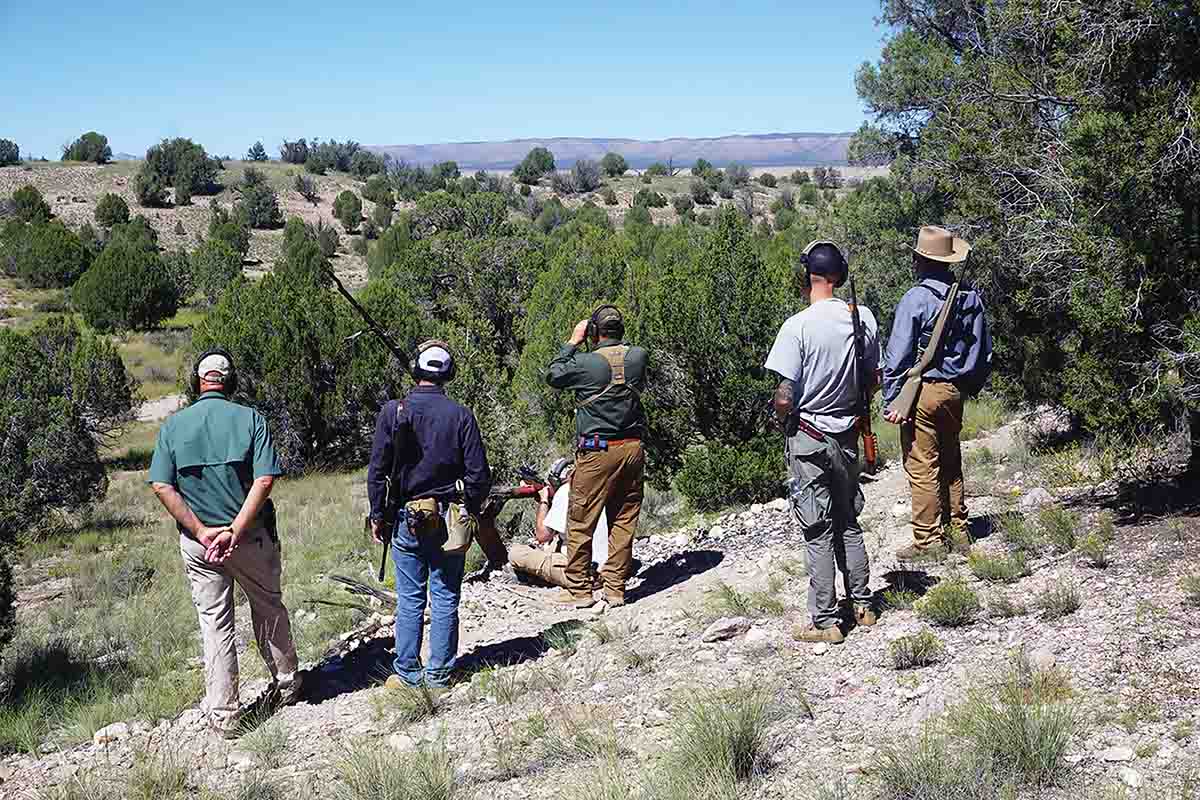 The second day of the three-day event was reserved for leverguns. Zeroes were established and the Marlin 1895 was unveiled from its case to make its range run. The selected loads were not light, wanting to see how the recoil would affect shooting offhand and if a flinch would develop. Admittedly by the end of the day, it was a struggle and much thought was required to squeeze or press the trigger to keep from jerking the trigger and sending a round low on paper. It was also interesting to see how the recoil made me modify my stance slightly putting one foot further back than what was normal. With the modified stance and advice of the instructors, the follow-up shots could be placed surprisingly fast.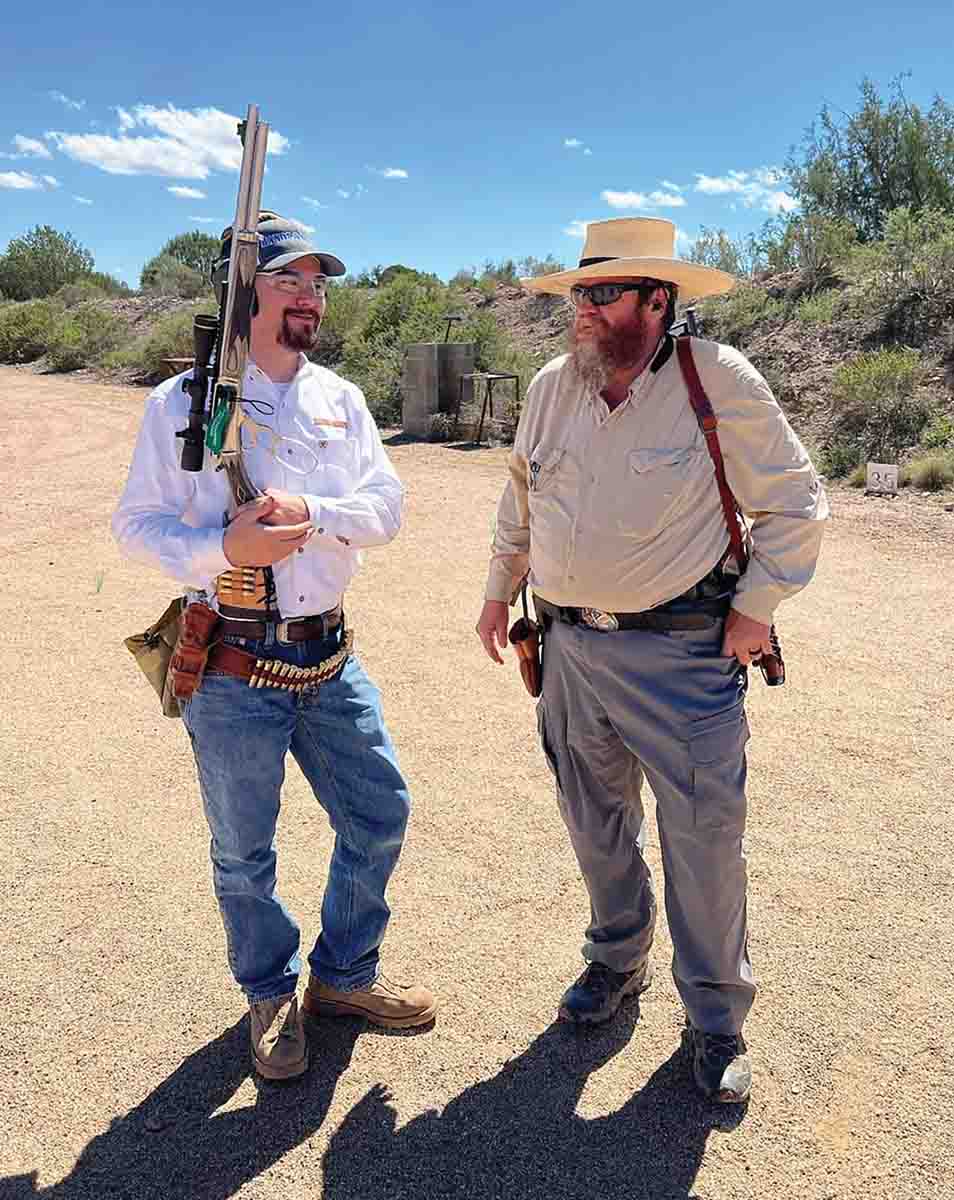 After spending some time on the flat range, we were informed it was time to move to more dynamic situations. For this, I opted to get out the Cimmaron 1873 chambered in .45 Colt. Hindsight being 20/20, this may not have been the best choice. The first event was a shoot house, and if you have ever tried to clear a house with a 24-inch barreled lever action, it presents a few challenges. The next range we stopped at was called the Donga, and for this, the long-barreled levergun made little difference. At the end of the second-day, performance was once again self-evaluated and notes were made on what needed work or refinement. The ammunition performed very well and the loads that were developed proved to be accurate and reliable. It pays to have a load that works well in my sixgun as well as my rifle. At some point, I will have to gather chronograph data for the rifle along with exact group measurements for this load.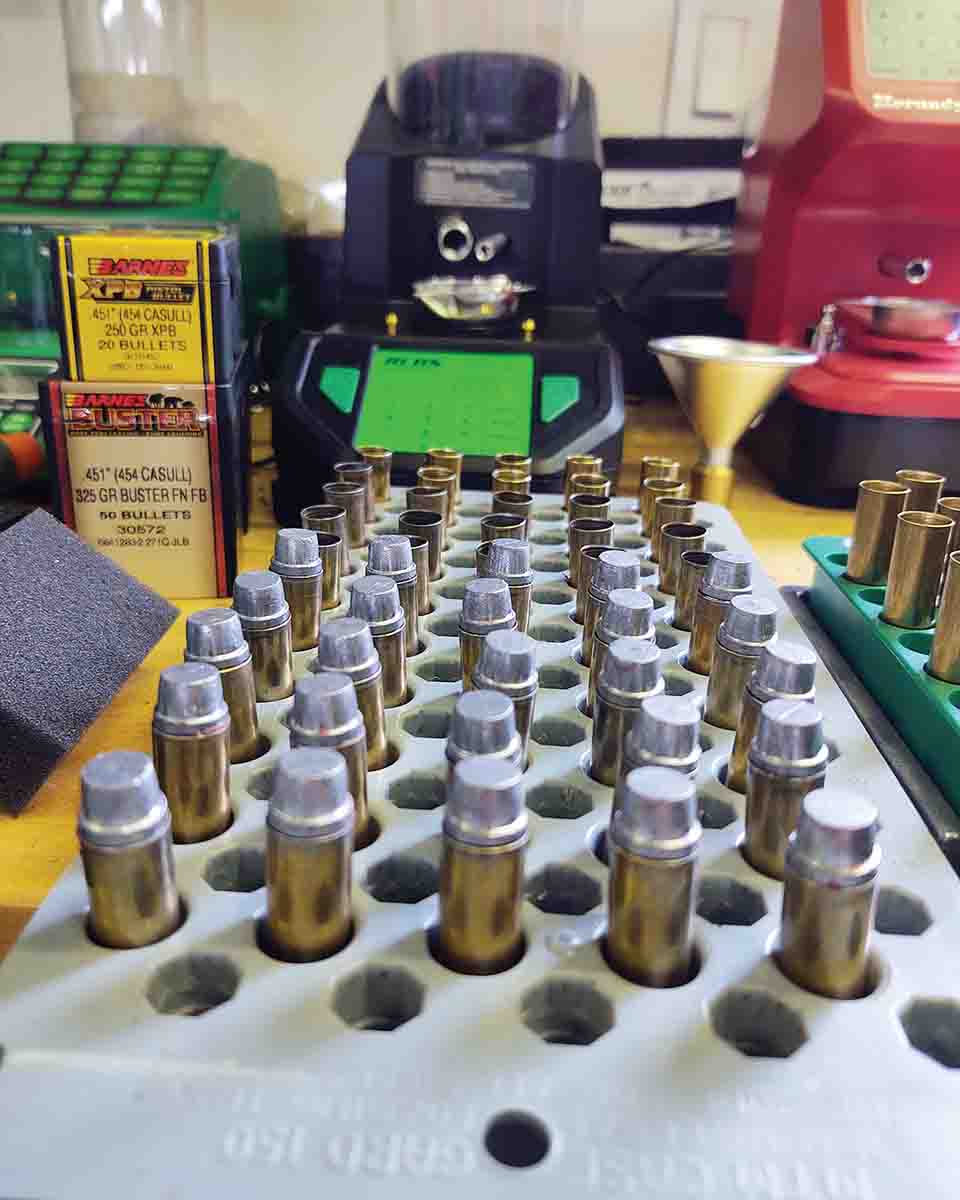 The third and final day was spent shooting scout rifles and running through various other scenarios together as a group. Many lessons were learned here. Shooting from various positions while on the "military crest" exercise was eye-opening on how important it is to build a solid shooting position. My performance here by far needed the most improvement.
Overall, the experience was worth its weight in gold and I am looking forward to returning sometime soon. Had it not been for already having good loads worked up I would not have been able to shoot as much as I did. This highlights the importance of keeping good notes, so a handloader can duplicate their work on demand. After three days of shooting, the repeatability and reliability of the loads is without question. It is also interesting to test handloads in different environments, away from the bench. Things that are often overlooked such as the amount of flash or smoke for a given propellant or how the recoil impulse changes not only with powder but also bullet weight. As for the shooter, I still need some work, but just like with handloading, the learning never stops. If you would like more information on the event, check out our online exclusives at HandloaderMagazine.com. If you would like more information on the load development for some of these rifles and cartridges, go to our YouTube channel Handloader TV.