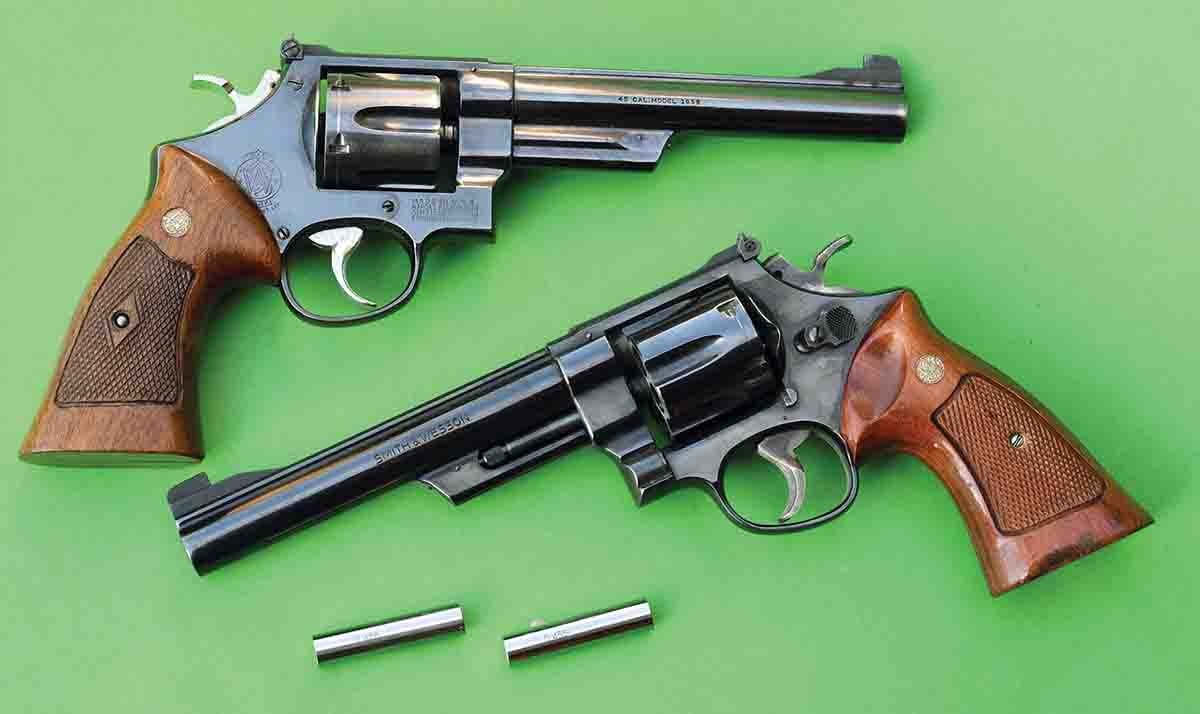 Q:
I love
Handloader
and look forward to each issue, as no other gun-related magazine can compare. I am hoping you can help me with a dilemma. I have a Smith & Wesson Model 25-2 with a 6½-inch barrel chambered in .45 ACP that I purchased slightly used about 1979 or 1980. At that time, I shot it briefly using various factory loads and then put it away. I thought that it shot okay, but now, more than 40 years later, and with much more experience and skill with handguns, I recently discovered that it really is not shooting all that well. My Smith & Wesson Model 29-3 .44 Magnum is much more accurate, but I want to use an N-frame chambered for a cartridge that is a bit more mild. The barrel of the Model 25-2 is in perfect condition, the chambers align with the bore and I am not seeing any reason that it should not be shooting better. I have tried my handloads containing cast bullets from Hensley & Gibbs No. 68 mould at around 900 feet per second (fps) and 230-grain Hornady FMJ-RN bullets at about 850 fps (both using Hodgdon Titegroup powder) and several factory loads, but they all shoot mediocre at best. I like the gun, as it is beautifully made, has a velvety-smooth action, perfect trigger pull, excellent sights, etc., but I wish it were more accurate. Any suggestions that you can offer will be appreciated and please keep all of your amazing information coming!
L.K., via Facebook
A: During the era that your Smith & Wesson Model 25-2 was produced (1961-1976), as well as most previous post-World War II variants, they commonly featured throats that measure .454 to .456 inch, although some early guns have been found with .451-inch throats, but others have measured as large as .458 inch. As you know, .45 ACP ammunition is generally loaded by factories with bullets that measure .451 inch, as are most jacketed bullets offered to handloaders. But bullets in plated or cast configurations will often measure .452 inch. Regardless, either bullet size will tend to tilt as they are fired and pass through the large throats and then enter the forcing cone and barrel. This can cause bullets to deform slightly, but they essentially remain out of kilter as they pass through the barrel and then downrange. This bullet wobble robs accuracy and is probably why you are not thrilled with the accuracy of your gun. (This is much more than a theory, as high-speed cameras support this description.)
One of the advantages of handloading is to custom tailor ammunition to your gun. In this instance, you can substantially improve accuracy by using oversized cast bullets that measure .455 to .456 inch. As bullets pass through the throats and enter the barrel, they will be pretty close to straight and then will swage down to groove diameter as they enter the barrel. This is a less than perfect solution, but it will permit your gun to produce respectable accuracy without costly modifications. Generally speaking, heavyweight bullets that typically weigh 250 to 280 grains are longer and offer a greater bearing surface that limits tilting in the throat and often give top accuracy. Incidentally, many custom cast bullet companies offer larger bullet sizes as an option, or you can cast them yourself and size accordingly.
If you want to use jacketed bullets, the options are much more limited. However, various .451 inch, 230-grain JHP bullets from Hornady, Speer and Nosler are designed for the .45 ACP and have a longer bearing surface than traditional FMJ-RN designs. They tilt less as they pass through the throats and will offer improved accuracy. Another option is to use 240- and 250-grain, .452-inch bullets designed for the .45 Colt that feature an even longer bearing surface. However, their velocities are generally rather low and they fail to expand.
The best solution will require the aid of a custom sixgun smith and requires fitting a new cylinder chambered in a subcaliber, and then rechamber it to .45 ACP with a throat dimension of .4515 to .4520 inch. This can give marvelous results, but will cost much more than you paid for the gun in the early 1980s. I hope this helps.
Blue Bullets
Q: Hey Brian, I hope life is treating you well. I am loading a Blue Bullets 158-grain SWC bullet in the .357 Magnum. The diameter is .358 inch. Do I need to reduce loads somewhat, like a half grain? Thank you, sir!
P.M., via email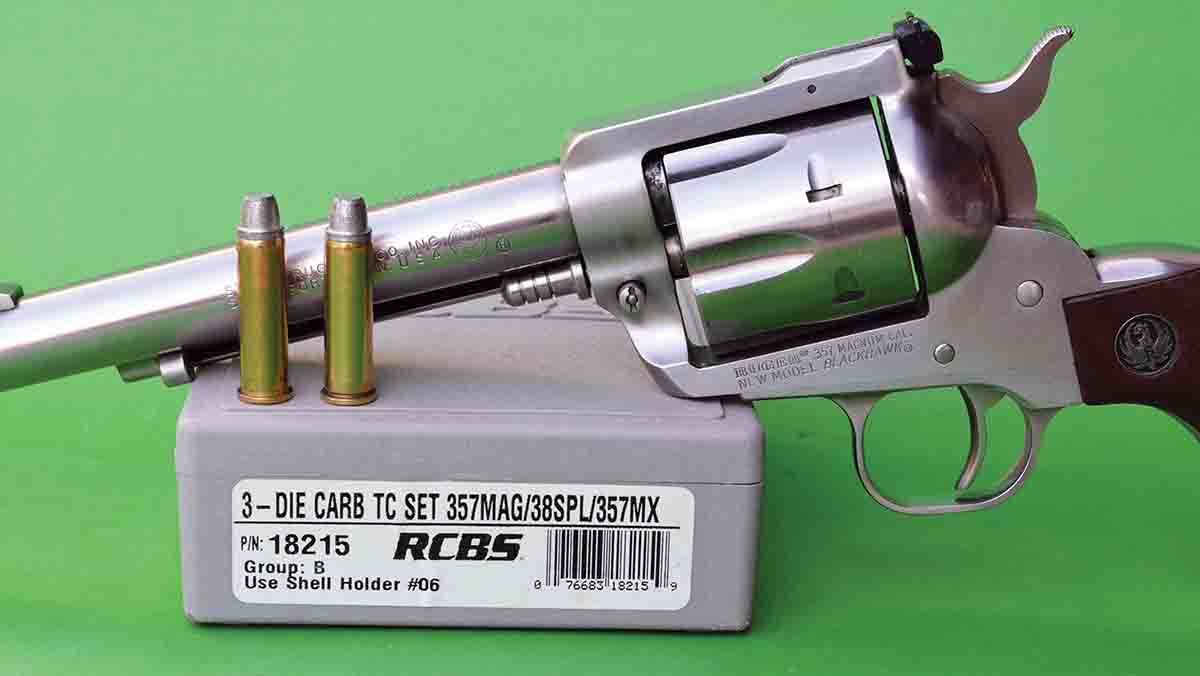 A:
Blue Bullets is using what they call a "proprietary polymer liquid coating" that is reported to be very thin. It is doubtful that the coating is going to change pressures to any important degree when used in a straight wall sixgun case. Considering that peak pressures will occur before the bullets exit the case, the .358-inch diameter bullets probably will not change pressures to any important degree unless your sixgun has tight (.355- to .357-inch) throats. The single most important factor that is going to change pressures is how deeply the bullet seats (as compared to a jacketed bullet), or in other words, the overall cartridge length and the resultant powder capacity. If the bullet seats deep enough that it reduces powder capacity to any important degree, then the charge will need to be reduced.
You did not state what type of powder or the charge weight that you are using. Just keep in mind that many magnum revolver loads developed with spherical (or Ball) powders should not have their charge weights reduced. On the other hand, if you are using an extruded powder, it is never a bad idea to reduce published data by 5 to 7 percent for starting loads.
IMR-4895 Alternative?
Q: I greatly appreciate Handloader magazine and the experience that most of your writers offer. I especially enjoy your columns and outstanding "Pet Loads" articles.
Now, I am seeking your advice. Powder is still very difficult to find here in Arizona, at least in the more rural area where I live. I have used IMR-4895 powder for many years in both the .22-250 Remington (my favorite coyote rifle) and .308 Winchester, but have not been able to replenish my supply for a couple of years now. Recently, I found an 8-pound canister of Accurate A-2495 powder. I was told by the gun store owner that it has a similar burn rate to IMR-4895, but he suggested that I seek out data, but I have found none. I am using the 55-grain Hornady V-MAX bullet in the .22-250 and the Nosler 165-grain Ballistic Tip bullet in the .308. I would like to duplicate the velocities of my original loads. Any insight that you might offer will be greatly appreciated.
D.T., Springerville AZ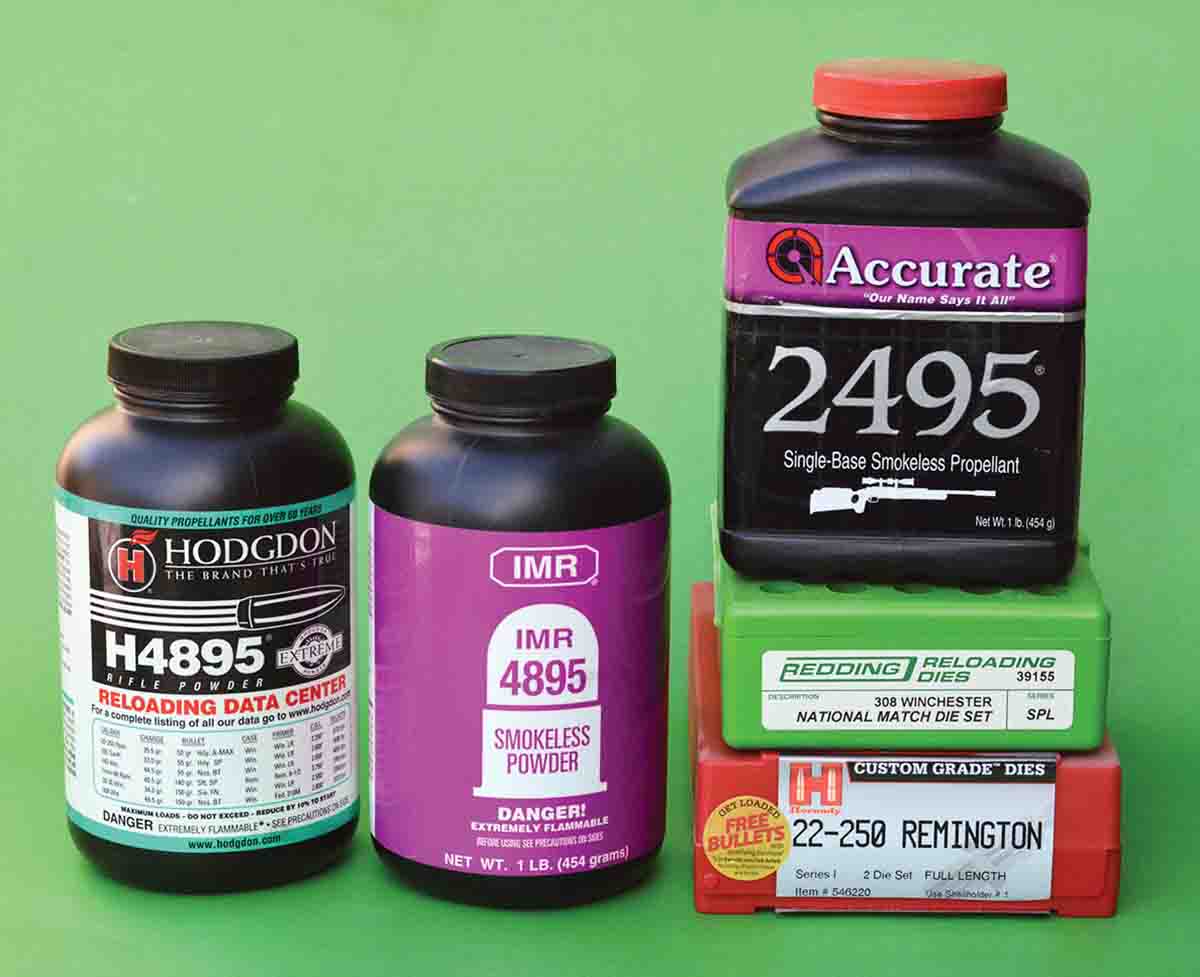 A:
Accurate A-2495 is a single-base extruded powder that is manufactured in Canada and produced in the same plant as IMR-4895. While A-2495 has a burn rate that is very similar to IMR-4895, it is slightly different. Please note that not all sources agree on powder burn rates, but Hodgdon lists H-4895 as the fastest followed by IMR-4895 and A-2495 being the slowest. But the technical differences are very minor. I would suggest reducing your chosen powder charges containing IMR-4895 by 5 percent, and then work up to your original charge weights while watching for signs of excessive pressure. At this point, a chronograph would be a great aid in duplicating your proven loads. However, you will probably reach your existing velocities by using around one-half to 1 grain greater powder charge in both cartridges. Please note that I would offer more specific data, but you did not mention your powder charge or the velocities that your original loads were producing.
Thank you for the compliments and I hope that your coyote hunting goes well.
Primer Pressure
Q: A year-and-a-half ago, I worked up a .243 Winchester handload for my Savage Model 10 with 24-inch barrel. The load consists of the Hornady 87-grain V-MAX bullet, Federal GM210M primer and 44 grains of Alliant Reloder 17 powder for over 3,400 fps. The overall cartridge length that was giving the best accuracy was 2.643 inches. My rifle will consistently stack five bullets into a single ragged hole that hovers around ¼-inch.
Satisfied with my new load, I started with 300 new Federal cases, prepared and primed them, then charged each case with a weighed powder charge using an RCBS Chargemaster. Soon thereafter, winter set in and I began regularly hunting coyotes with this load. I used almost half of the 300 rounds, which were super accurate and gave no issues in my rifle and accounted for more than 70 coyotes. Nearly a year has passed and I recently started getting ready for another winter of coyote hunting, but when I checked my rifle for zero with the remaining cartridges, it was blowing primers. Not just piercing primers, but pressure was high enough that fired primers were falling out of the primer pocket. Why has this happened? Nothing has changed and the load is now showing signs of excess pressure. Any help that you can offer will be appreciated.
P.K., Idaho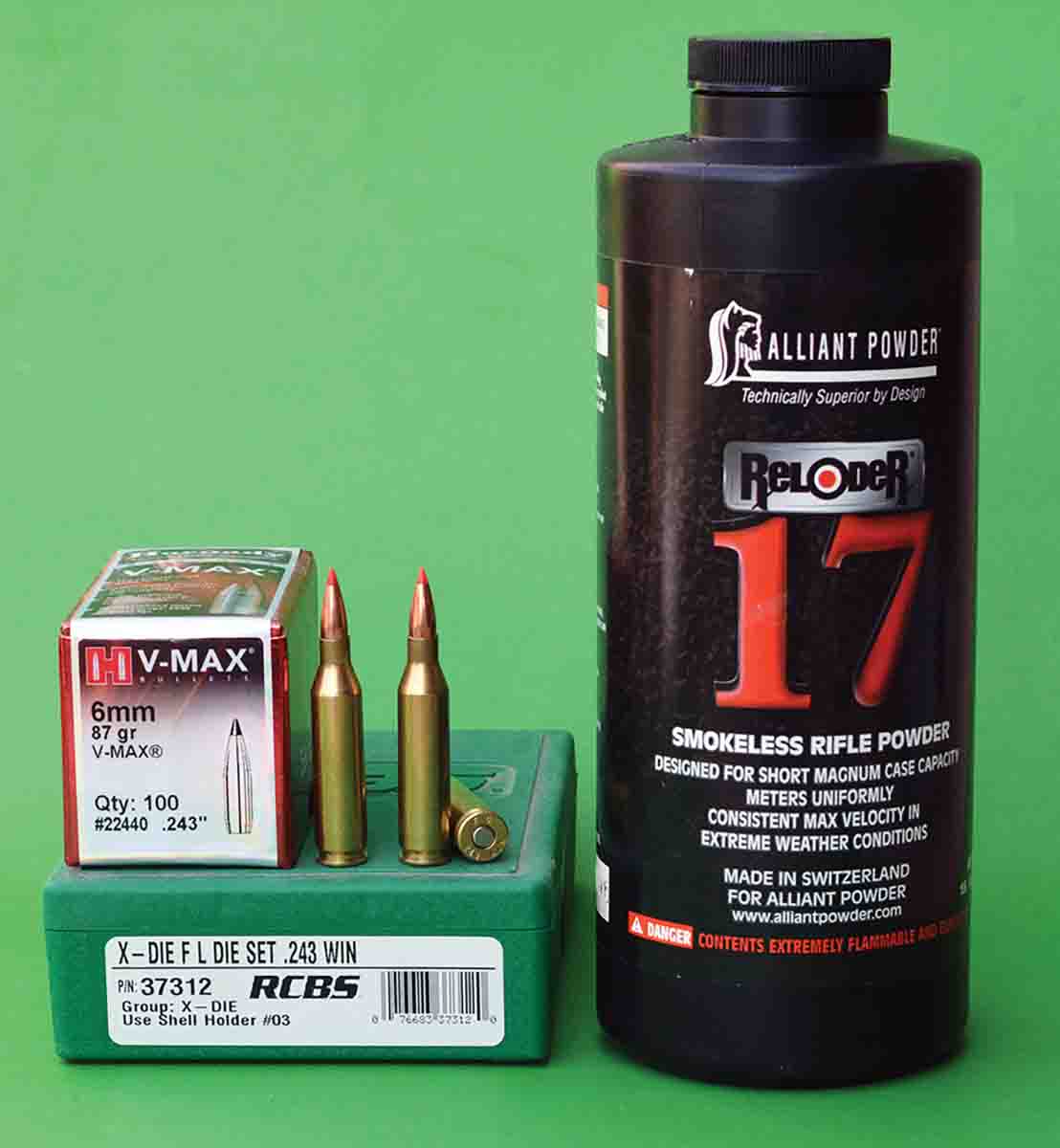 A:
There are a couple of items that come to mind. First, you don't mention what type of case you used to work up your loads. If you used a different brand of case, such as Winchester, it is possible that it offered a greater powder capacity and therefore less pressure. When you switched to Federal cases that have comparatively reduced capacity, pressures jumped. However, since you were shooting during an Idaho winter, the cold temperatures probably served to reduce pressure just enough to prevent primers from blowing. The next fall, when you checked your rifles zero, the temperatures were warmer and pressures were high enough to cause primers to blow.
It also appears that your load is at least 1.5 grains above maximum, so it is suggested to reduce the powder charge by at least that amount, or maybe even 2 grains. It is always best to give up a small amount of velocity to obtain perfect reliability, stay within pressure guidelines and increase case life. I hope you have a great winter coyote season!