We often choose cartridges to serve various purposes, such as hunting big game, versatility or self-defense. We may have preconceived notions about such cartridges regarding accuracy, energy downrange, velocity or any number of individual factors. For example, the .32 Auto being insufficient for self- defense, or the .243 Winchester being inadequate for game much larger than deer. It seems the handloading and shooting world is very diverse when it comes to opinions. If I ask 100 handloaders how to handload, I'll get 101 answers. It brings me back to the days of my youth and learning about horsemanship and all the advice and wisdom that was freely given out to those willing to listen. Some were good and genuinely helpful, others were simply given out because some folks like to talk. The same can be said about shooting and handloading, like with horsemanship, there is generally more than one way to skin the proverbial cat. Provided one can overcome these preconceived notions and echoed stories of old and open their mind to test these things for yourself. Oftentimes, we learn more by trying it ourselves, rather than giving into pre-established opinions.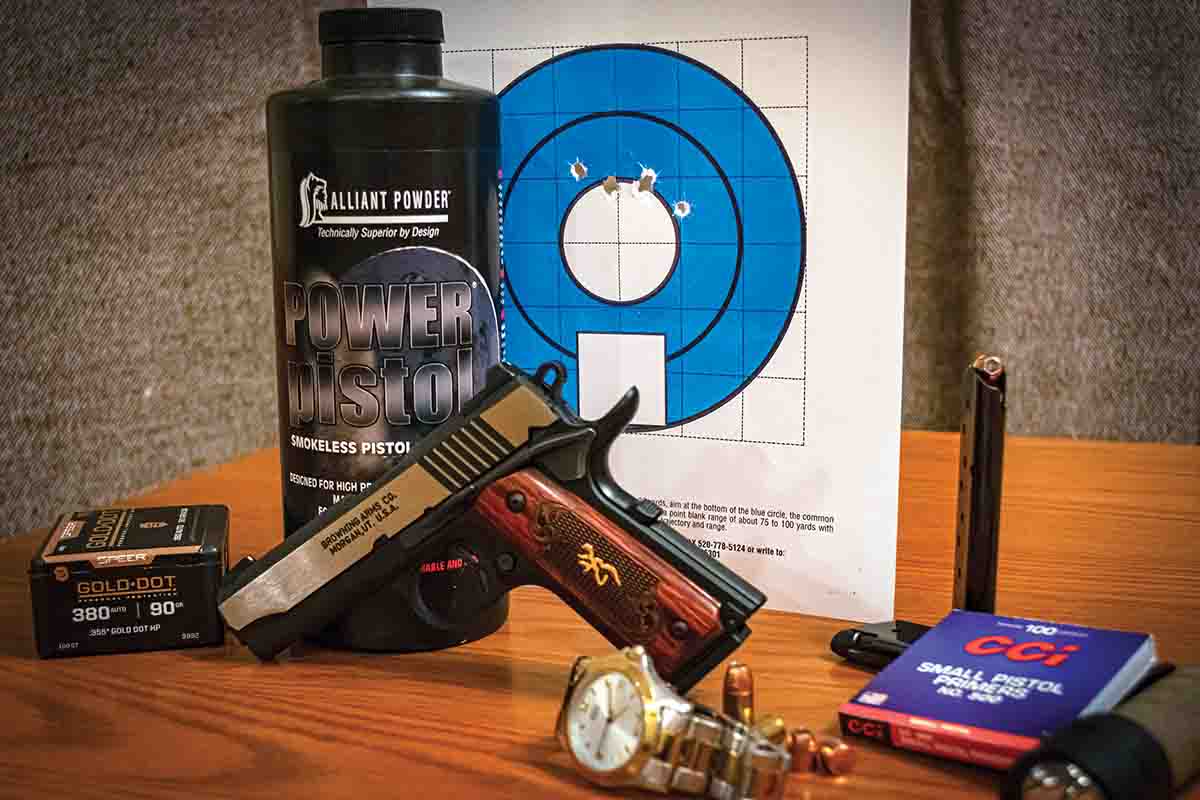 Admittedly, I am guilty of falling into this trap myself, such was the case with the .380 Automatic (.380 Auto). The first thoughts of this cartridge are not usually of accuracy, reliability or merits worthy of praise. Rather, most seem to have a mediocre view of the cartridge, myself included. However, upon testing and handloading for a new firearm, it changed my perception and provided some interesting insight into the virtues of the .380 Auto. As usual, the data will be presented to you the reader and you can come up with your own conclusions.
The official model I purchased was a Browning 1911-380 Black Label Medallion Pro Compact. A compact 1911 chambered in .380 Auto. The first impressions were good. Out-of-the-box fit and finish were good with rosewood grips and checkering on the mainspring housing and front strap. It weighed in at 17 ounces unloaded, thanks to the polymer frame and aluminum subframe. Its compact size was noticeable, about 15 percent smaller than a standard compact 1911. It features a 3.6-inch barrel and three-dot combat-style sights, it field strips just like a standard 1911 but slightly easier, due to less spring tension. In examining the pistol, checking tolerances and part fitment, two things immediately stood out. The firearm has a magazine disconnect, meaning the firearm will not fire without the magazine. The second item noticed was that the guide rod was plastic. Many handguns chambered in .22 Long Rifle have plastic guide rods but I was surprised to find one in this 1911.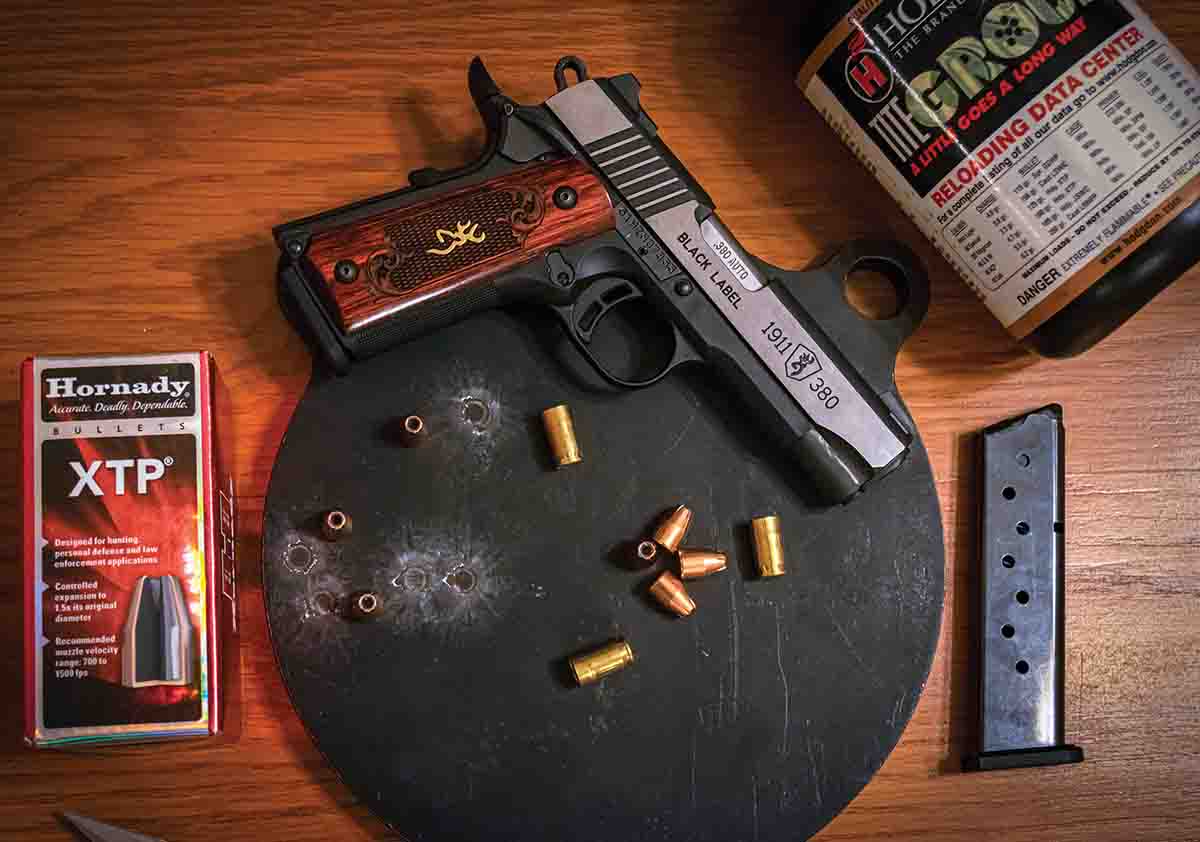 An initial trial period consisted of about 200 rounds of Winchester 95-grain full-metal jacket (FMJ) ammunition was fed through the firearm without a hitch. The firearm felt good and proved itself to be accurate, printing group sizes averaging about 1.85 inches for five shots at 15 yards. This was a stark contrast to my previous experience with other firearms chambered in .380 Auto. However, up until this point, all the firearms I have tested chambered in .380 Auto, have been little, crappy pistols. Throughout all the testing conducted, the handgun never malfunctioned, even with hollowpoint bullets of various designs. This is most likely thanks to the continuous feed ramp.
The next part of this endeavor was to assemble handloads for the little Browning. After reviewing LoadData.com and QuickLOAD, components were assembled using Starline cases, various powders, CCI 500 primers along with various bullets. Using an RCBS die set purchased from Bucky O'Neill Guns for an affordable price, loads were assembled. Handloading for .380 Auto is a relatively simple process and similar to loading any other straight-walled case. Sizing is easy enough, flaring or expanding the case mouth does require some care though. Users should ensure to flare case mouths enough to seat the bullet straight, but not so much that the case wall fails to provide adequate tension on the bullet. Cases were chamfered and deburred using a Frankford Arsenal case prep center. Priming was done on the Redding T-7 Turret Press, a technique using my index and middle finger to actuate the priming arm. While the thumb operates the press handle, which provides a balance of speed and feel for seating primers. Charges were weighed on an RCBS MatchMaster scale and bullets were seated and crimped in a separate step. All this care was taken to ensure that the handgun had every chance to perform its very best.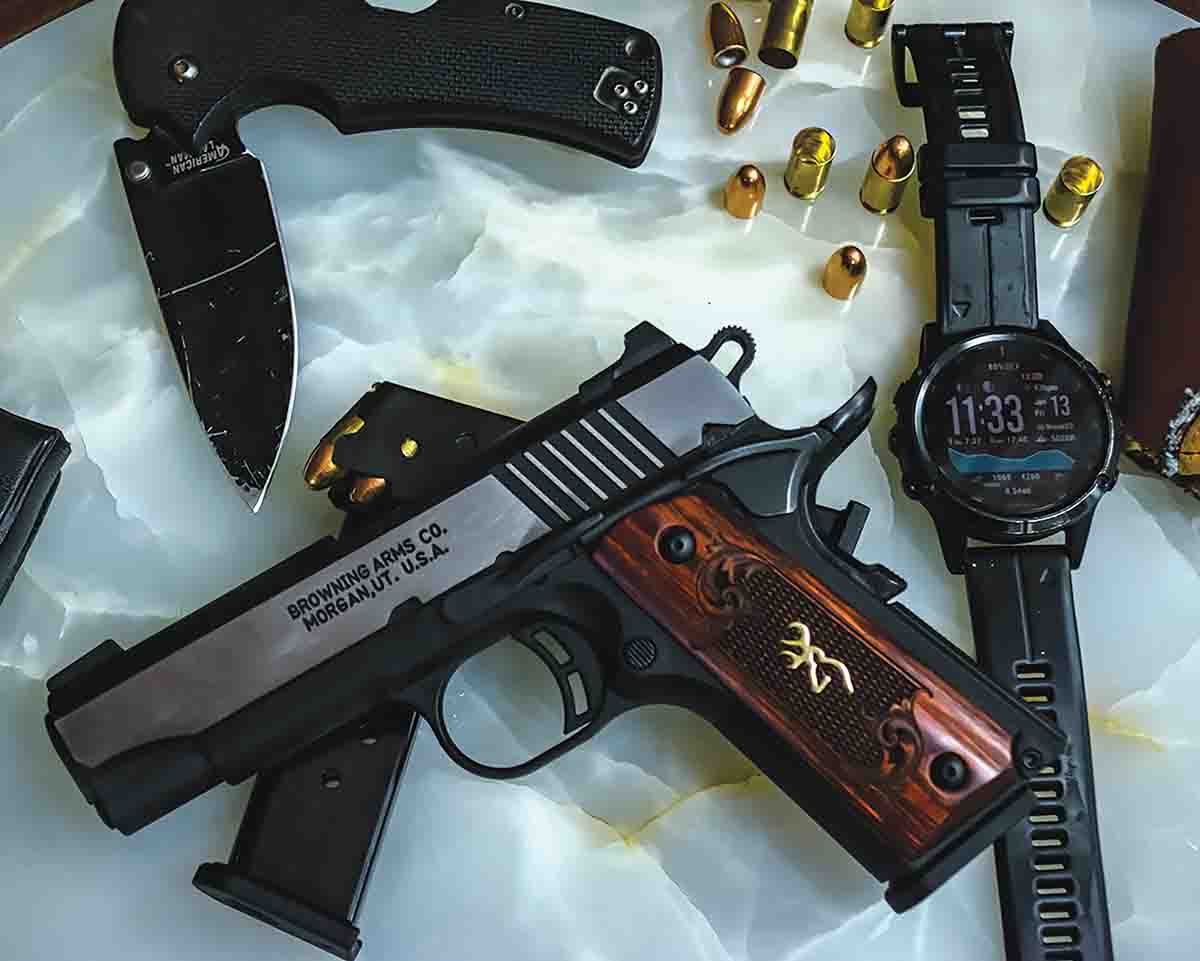 As can be seen in the accompanying table, the handgun did perform quite well with select loads. The care taken in each step of the loading process and the extra time it took to assemble all loads seem to have paid off. Using the Hornady 90-grain XTP bullet and a maximum charge of 3.1 grains of Titegroup, the sights were aligned on a steel plate at 50 yards from the bench, where the firearm was rested on a Ransom International Multi-Cal. Steady Rest. Five shots were fired and five satisfying pings were reported back from the steel plate. The impressive results were certainly "photo-worthy" and shows the zero that the gun had from the factory. No adjustments to the sights were made throughout testing.
Overall, the firearm performed very well, much better than the preconceived notions I had about the cartridge. The little Browning would make for an excellent compact-carry gun for those concerned with size and or weight. If you fall into the "two is one and one is none" category, to quote Clint Smith, this handgun would also make a good backup gun. Personally, I would have the magazine disconnect removed before considering it for self-defense, but this is purely a personal preference. The handgun proved to reliably feed the wide array of hollowpoint bullets, including the Lehigh 75-grain Controlled Chaos and Speer 90-grain Gold Dot. Both would be excellent choices for self-defense with the .380 Auto.
If you are looking for a quality handgun to plink with and enjoy a day at the range, this seems to fit the bill nicely. These days, when powder and ammunition are expensive, the handloader can take advantage of cheap 9mm bullets. Using the Winchester 115-grain FMJ and burning a mere 3.6 grains of powder per round, accurate loads can be assembled. These are capable of hitting a steel plate at 50 yards consistently with minimal recoil. While it may not be what people think of when they hear .380 Auto, the testing conducted here showed that with a well-built handgun, the .380 Auto is a capable, accurate and economical cartridge. Of course, how practical it is, is ultimately up to the individual to decide for themselves.
---
Publisher's Note:
Bob Hodgdon recently passed away. He was a true friend and will be missed. I know I will see him again and we will rejoice at that time.
– Don Polacek
Publisher/President

* * *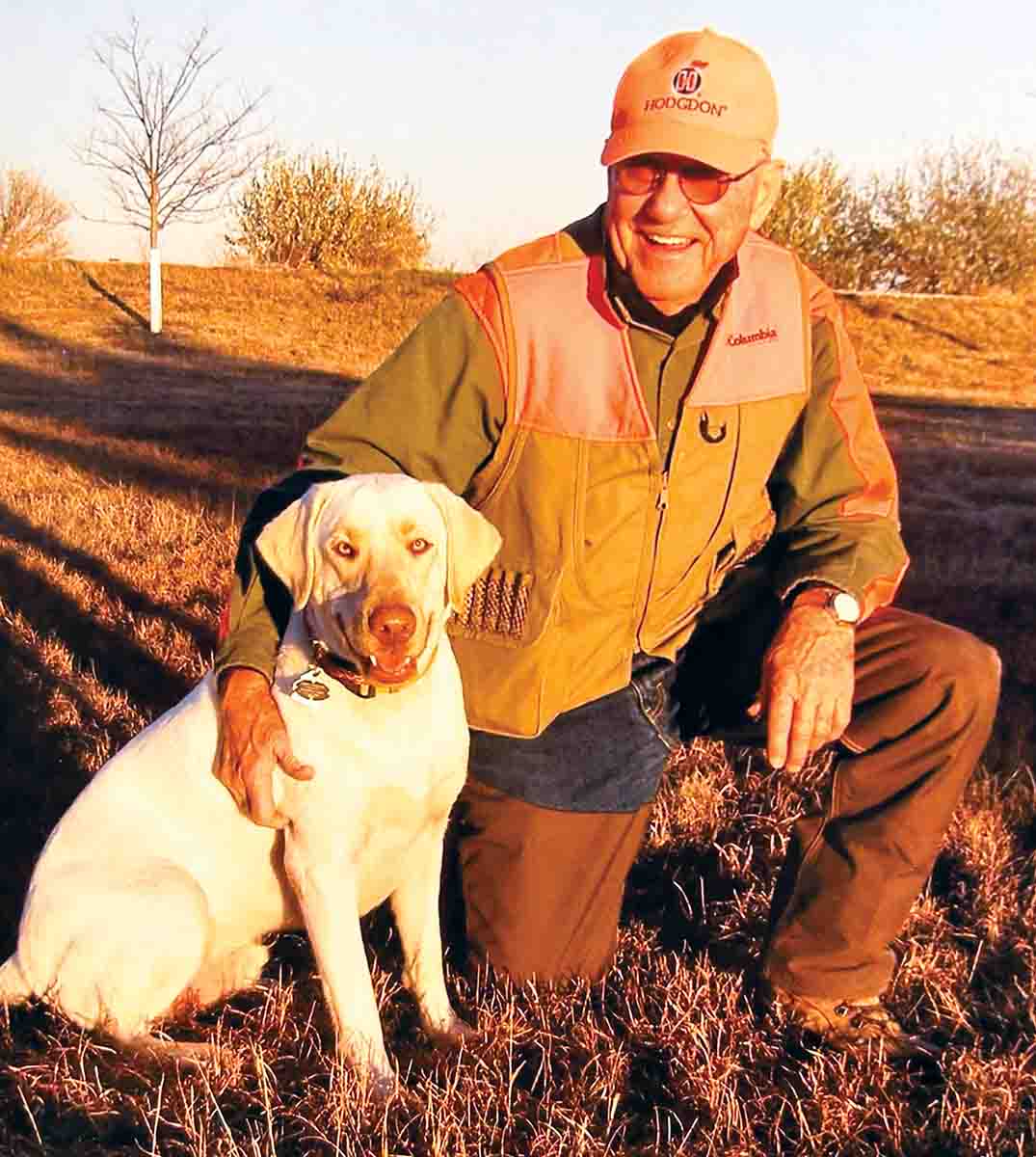 Robert "Bob" Hodgdon
Robert Eltinge "Bob" Hodgdon went home to be with his Lord and Savior on Friday, January 13, 2023. Bob was born in Kansas City, Kansas, on August 19, 1938, to Bruce and Amy Hodgdon. Bob grew up in suburban Kansas City and was extremely active in his hometown community. He attended Baker University in Baldwin City, Kansas, before graduating Summa Cum Laude from the University of Kansas in 1961. Bob also served in the United States Air Force and the Air Force Reserves from 1957-1961.
Bob's personal and professional life was intertwined with the Hodgdon Powder Company his parents founded in 1947. From his earliest age, Bob and his brother J.B., were instrumental to company operations - Bob often told the story of weighing and loading gun powder into retail bags in the family basement. Throughout his 70-plus year career, Bob served in multiple positions at the company, but notably served as president from 1976-1997 and board chairman 2014-2017. He was voted as board chairman emeritus in 2017. He also assisted with the design
and led the team constructing the Pyrodex Plant in Herington, Kansas, in 1979 and helped to design and build The Bullet Hole, a 44-station indoor shooting range in 1967.
Bob was a loving father to four – Chris (Adele) Hodgdon, Heidi (Erwin) Rodriguez, Stacie (Bryant Larimore) Hodgdon and Alisa Hodgdon – and grandfather of 11 and great-grandfather to eight.
In addition to his professional pursuits, Bob consistently invested his time and finances into his community. He served as volunteer to many civic organizations, such as Volunteers in Prison, Christian Sportsmen's Fellowship, Cross International, Pastor Serve and the National Christian Foundation. Bob was also a member of the Westside Family Church in Lenexa, Kansas, where he served on the Pastor Advisory Team and led Divorce Care and Crown classes.
Along with his work at the Hodgdon Powder Company, Bob was very active in the hunting and shooting industry. He served as board member for the National Rifle Association, a board member and trustee of the NRA Foundation, a founding member of the National Shooting Sports Foundation, a member of the Kansas State Rifle Association and a founding member of the Kansas Sportsmen's Alliance.
Bob was kind, generous and passionate about the causes he believed in and was devoted to. His leadership of the Hodgdon Powder Company, through some very difficult transitions, resulted in the company achieving a level of success that could not have been imagined by the previous generation. Many people benefited from Bob's good works over the course of his lifetime and he will be missed.