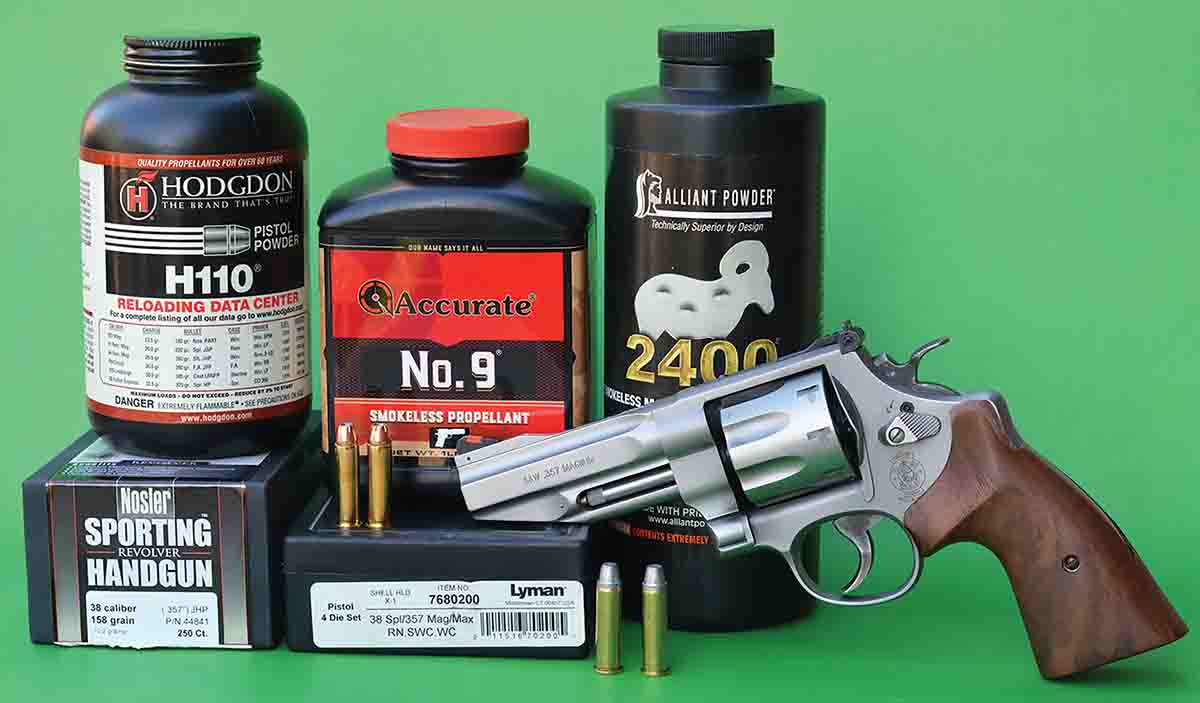 The best place to begin this story is in 1930 when Smith & Wesson (S&W) introduced the .38-44 Heavy Duty (fixed sights) and .38-44 Outdoorsman (target sights) sixguns chambered for .38 Special and built on the 44 N-frame (thus the ".38-44" nomenclature). Winchester and Remington introduced special .38-44 high-velocity loads designed specifically for the above guns. While these special loads were intended to improve the .38 Special's performance for law enforcement and for the outdoorsmen, they were not recommended for use in light-frame guns such as the S&W K-frame. However, they did not generate such high pressures that they would blow up
when
they found their way into those sixguns. As a result, there was much greater performance potential in the N-frame sixguns that was discovered by handloaders and experimenters, which soon lead to the development of the ".357 Magnum" (aka .357 Registered Magnum) first offered commercially in 1935, which was a factory-built custom sixgun. The cartridge was codeveloped by Smith & Wesson and Winchester (not Remington as is often stated) and advertised to push a 158-grain lead bullet at more than 1,500 feet per second (fps) from a sixgun with an 8¾-inch barrel. (Incidentally, early loads featured a large pistol primer and contained 15.3 to 15.4 grains of Hercules 2400 powder.) In spite of this first magnum revolver being comparatively pricey and introduced during some of the worst days of the Great Depression, it sold very well.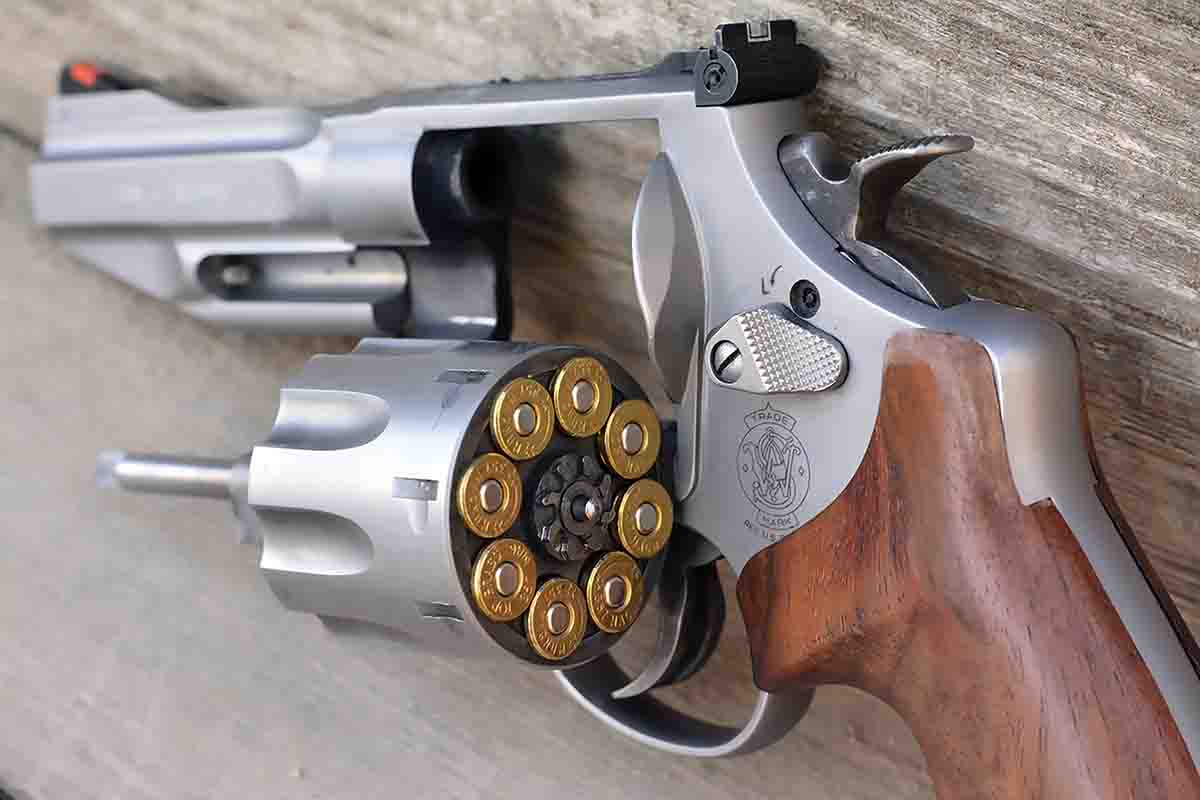 During the post-World War II era, Smith & Wesson redesigned its proven double-action sixguns to shorten hammer travel (aka short action) and added an internal hammer block to further enhance safety and prevent accidental discharges if the gun was dropped. Following the war, "The .357 Magnum" model was reintroduced in 1948, but it became the Model 27 in 1957 and enjoyed great popularity for many decades. The no-frills Highway Patrolman was introduced in 1954, which became the Model 28 in 1957. In 1955, "The .357 Combat Magnum" was introduced on the K-Frame, becoming known as the Model 19 in 1957. This also became very popular; however, it did not offer the same level of strength and durability as the proven and widely popular N-Frame .357 Magnums, especially when used with a steady diet of full-power magnum loads.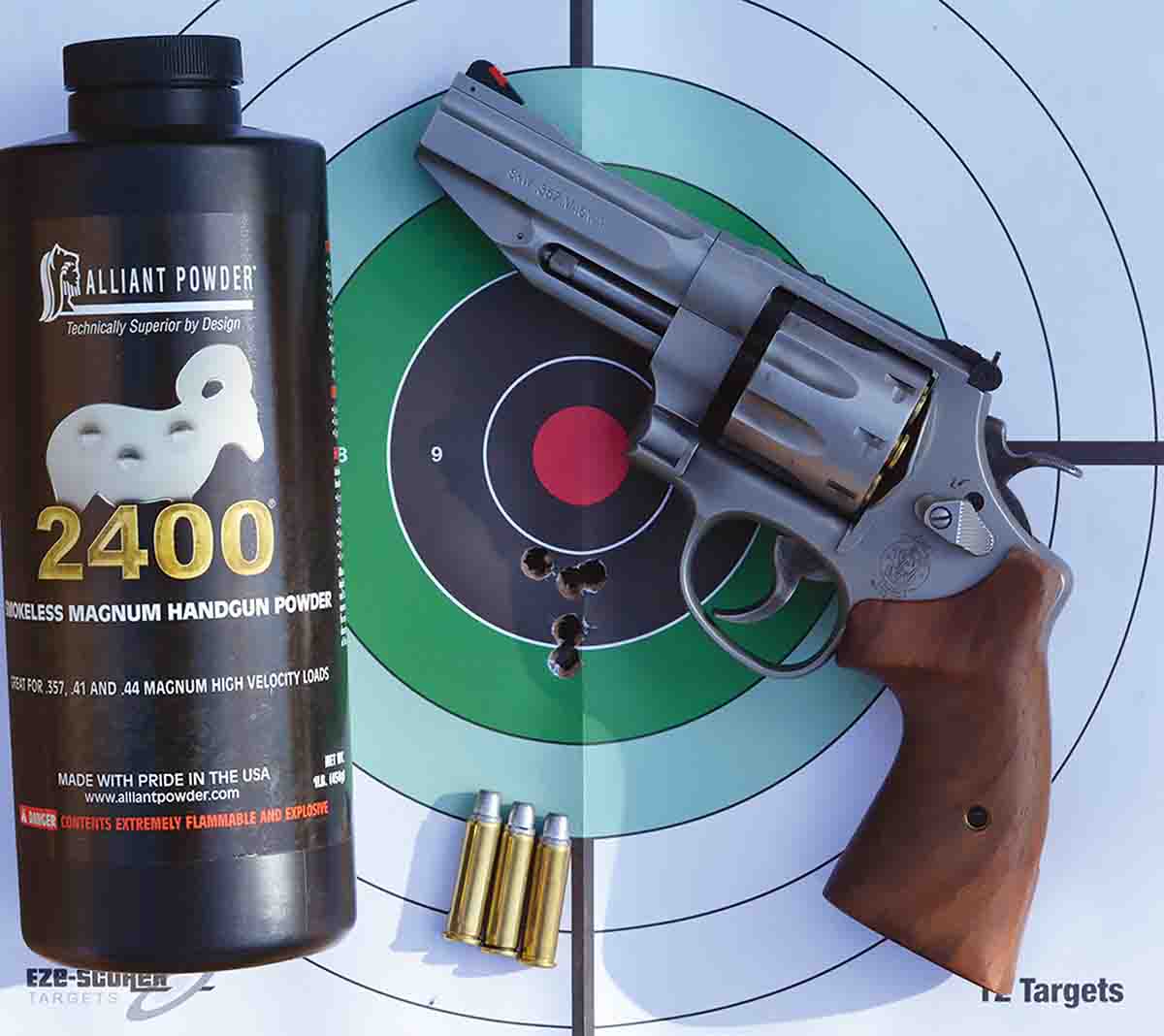 The latest Smith & Wesson N-frame .357 Magnum is the Model 627, that offers strength and durability like its predecessors, but features an eight-shot cylinder, while major component parts are constructed of stainless steel that is finished in low-glare matte. Like most Smith & Wesson revolvers produced the past couple of decades, it features EDM rifling, while action parts are produced via MIM methodology. While these features serve to keep production costs in check, it is my opinion, obtained from testing and experience, that the gun would offer better accuracy with a cut-rifled barrel and the action improved if it featured fully machined lock-work parts. Nonetheless, this gun has shot in excess of 2,000 rounds and has proven reliable, accurate and has performed flawlessly.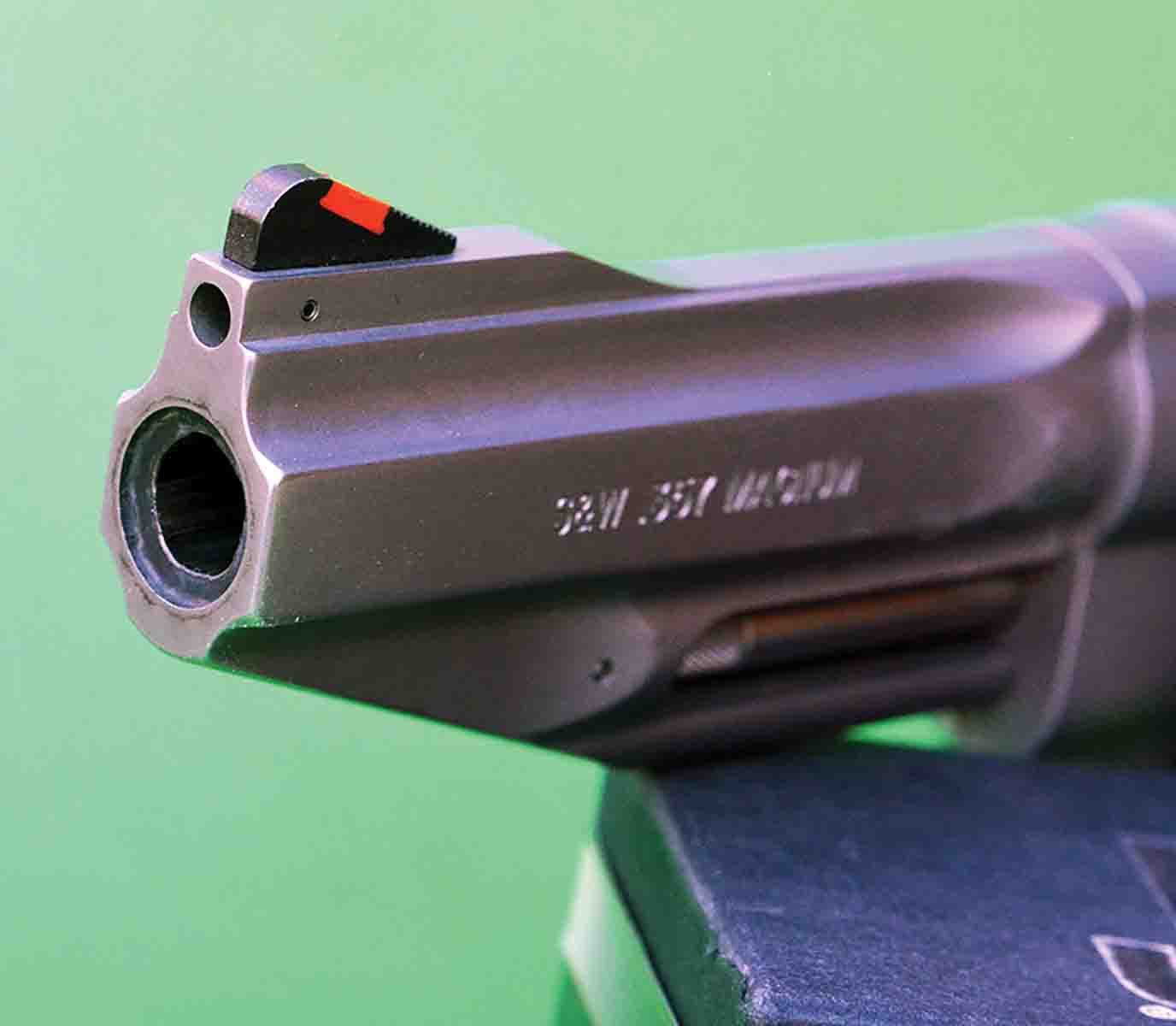 Other noteworthy features of the Model 627 include a round butt frame and finger groove Hogue rubber stocks. The firing pin is frame mounted; the trigger is a smooth target-style while the hammer spur is also the large-target style. Personally, I would like to see these parts in standard width configuration, as this offers a better feel and is much better suited to fast double-action shooting, but I digress. The front sight is interchangeable, while the rear sight features the excellent click micro adjustments with white outline blade. The barrel is unique. Rather than featuring the graceful round taper of vintage guns that served to keep weight down and was pleasing to the eye, the 627 barrel is lightened by a combination of flat machined sides and flutes, which gives it a futuristic appearance.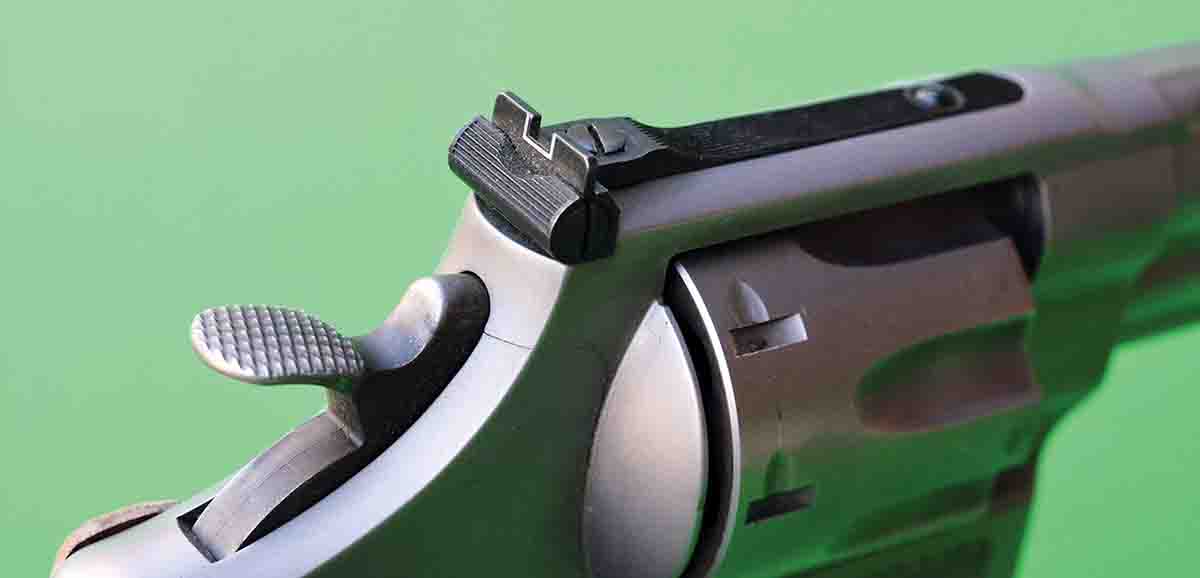 With the eye of an experienced sixgunner the important dimensions were scrutinized. For example, the barrel cylinder gap measured .007 inch, and with the aid of a Brownells Range Kit, it was determined that each chamber ranged perfectly. The throats measured .3575 inch and the forcing cone was cut smoothly at what appears to be 11-degrees. Cylinder end-shake was minimal, just enough to assure uninhibited cylinder rotation and reliability. The timing and lockup are correct.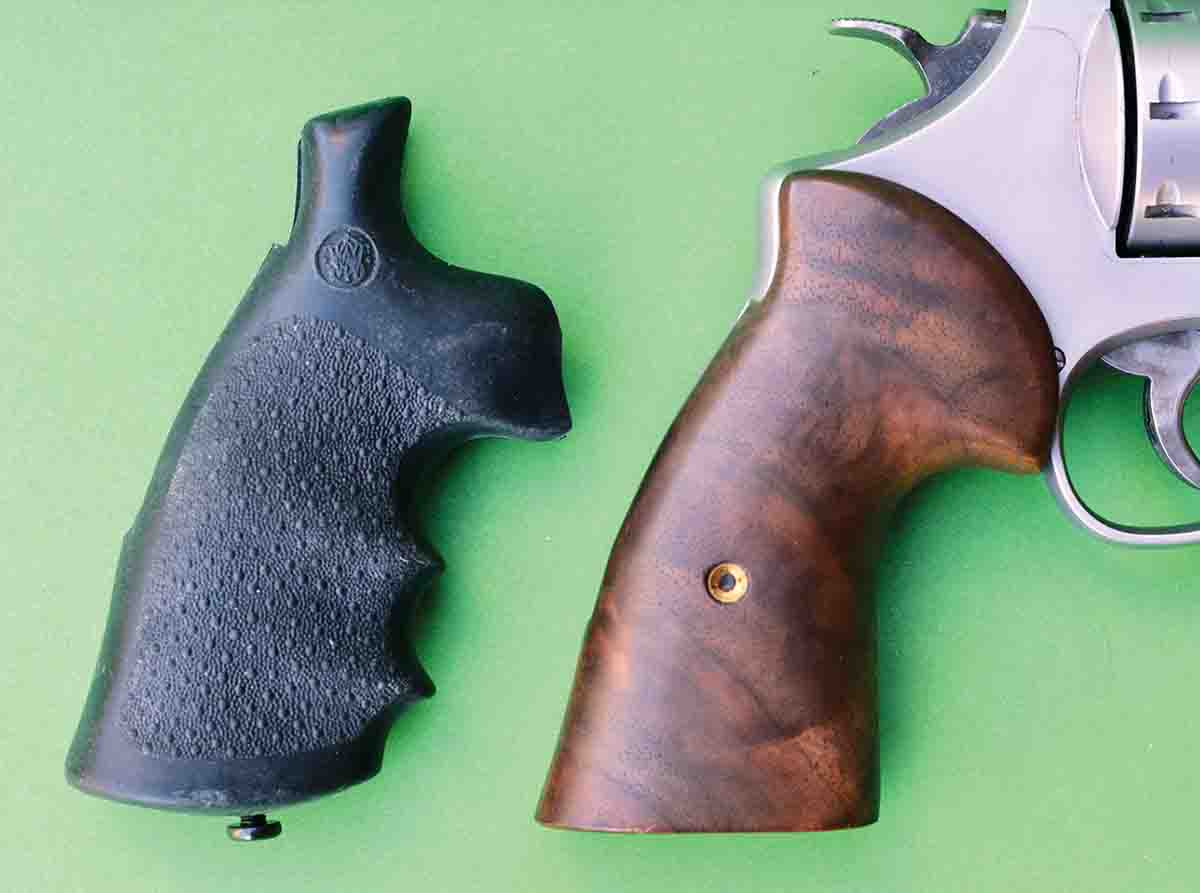 The double-action trigger pull was around 11 pounds, while the single-action pull broke crisp at 3 pounds, 14 ounces. For what it may be worth, EDM rifled barrels usually don't offer top accuracy with cast bullets and can be prone to leading. However, proper barrel break-in will serve to help smooth its surface and reduces leading, but it is still preferable to use a bullet featuring a gas check that is cast fairly hard with a Brinell Hardness Number (BHN) of at least 15 when firing magnum loads. Furthermore, EDM barrels tend to produce lower velocities than Smith & Wesson barrels that feature cut rifling.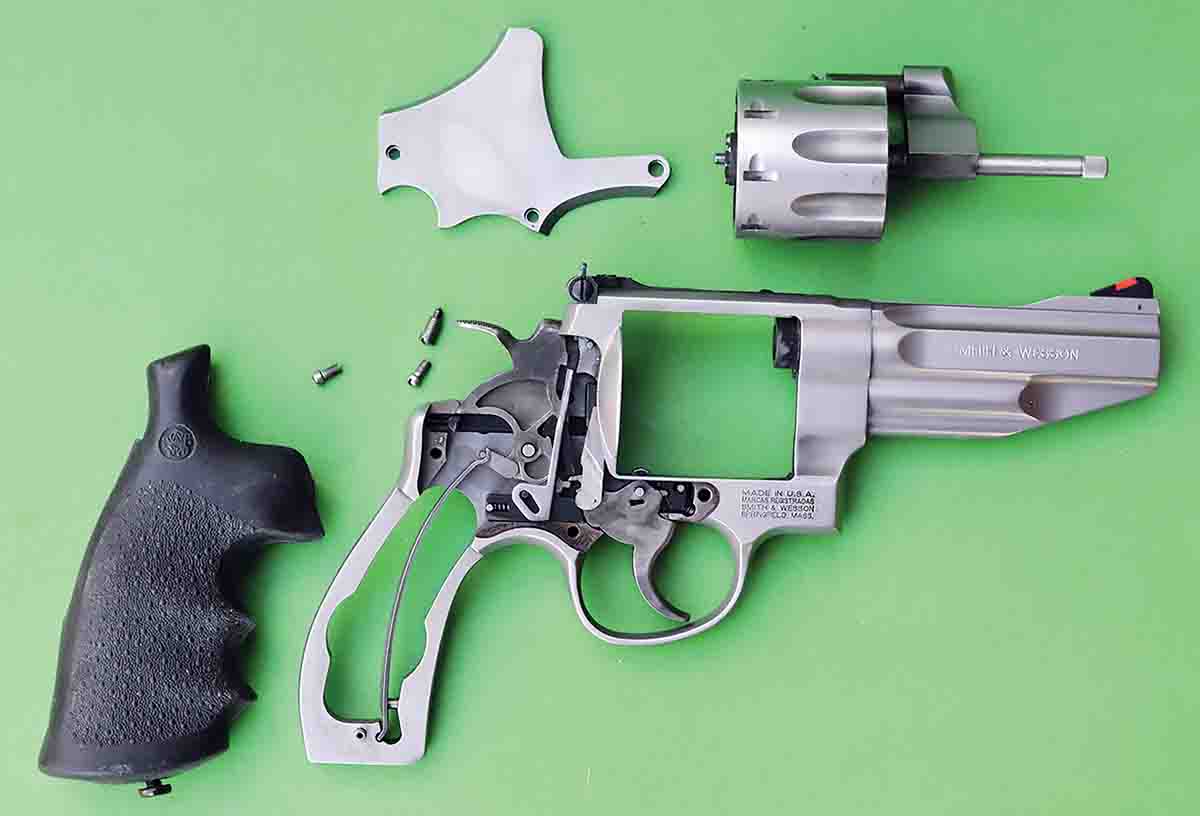 In an effort to better fit my hands, a Herrett's Stocks Roper-style stock constructed of fancy walnut was installed. With the aid of a sandbag rest, the gun with factory loads was checked for accuracy at 25 yards, with five-shot groups measuring from around 1½ to 2¼ inches. The Hornady Custom 158-grain XTP load produced a three-group average, five shots each, that measured 1.55 inches and clocked 1,212 fps. The Buffalo Bore Magnum 158-grain JHP load reached 1,355 fps and produced an average group size of 1.80 inches.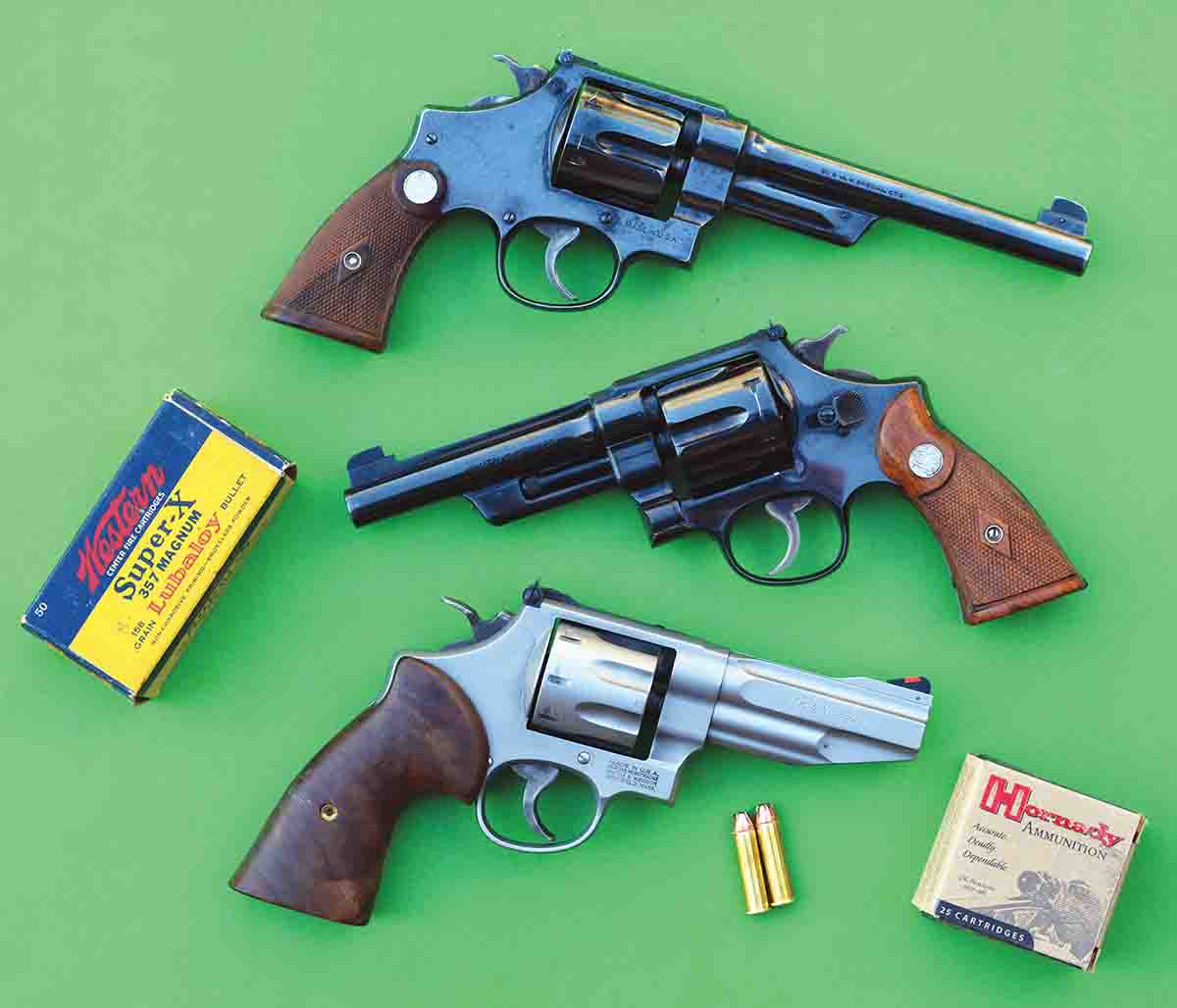 Moving on to handloads, accuracy was improved. For example, using new Starline cases, the 140-grain Hornady XTP bullet was pushed to 1,251 fps using 15.5 grains of Accurate No. 9 powder, ignited with a CCI No. 500 primer, average five-shot groups were 1.10 inches. Another notable jacketed bullet load included the Nosler 158-grain Sporting Handgun JHP bullet pushed to 1,210 fps using 17 grains of Hodgdon H-110 powder ignited with CCI No. 550 Small Pistol Magnum primer, that produced average group sizes of 1.20 inches.
As can be seen in the accompanying table, using 162-grain cast bullets from Lyman's classic mould No. 358156 with gas check, 14.5 grains of Alliant 2400 powder reached 1,361 fps and produced an average group size of 1.25 inches.
With new loads and much improved bullets, the .357 Magnum is unusually versatile and has become widely popular. The Smith & Wesson Model 627 is as modern, and just as useful, as the original Smith & Wesson .357 Magnum was 88 years ago. While it cannot match the fine, hand-fit polish and luster found on the original Smith & Wesson Registered Magnum revolvers, it is durable, accurate, boasts of an eight-round capacity and can be purchased with a street price of around $1,000.