In the spring of 1975, after delivering my grandparents to their home in Van Lear, Kentucky, I took a swing through nearby Prestonsburg to check out gun stores. In one, I found a Colt SAA with a 4¾-inch barrel marked ".38 W.C.F." Although brownish/gray in finish, it functioned fine mechanically. It was legally an antique as evidenced by its so-called "black powder frame," in which its base-pin retaining screw angled in from the frame's front. All SAAs of that frame style in 1st Generation production had been made prior to the ATF's (Bureau of Alcohol, Tobacco, Firearms and Explosives) antique cutoff date of 1898. Happily, I was legally able to buy it – my first of many Colt SAA .38 WCFs.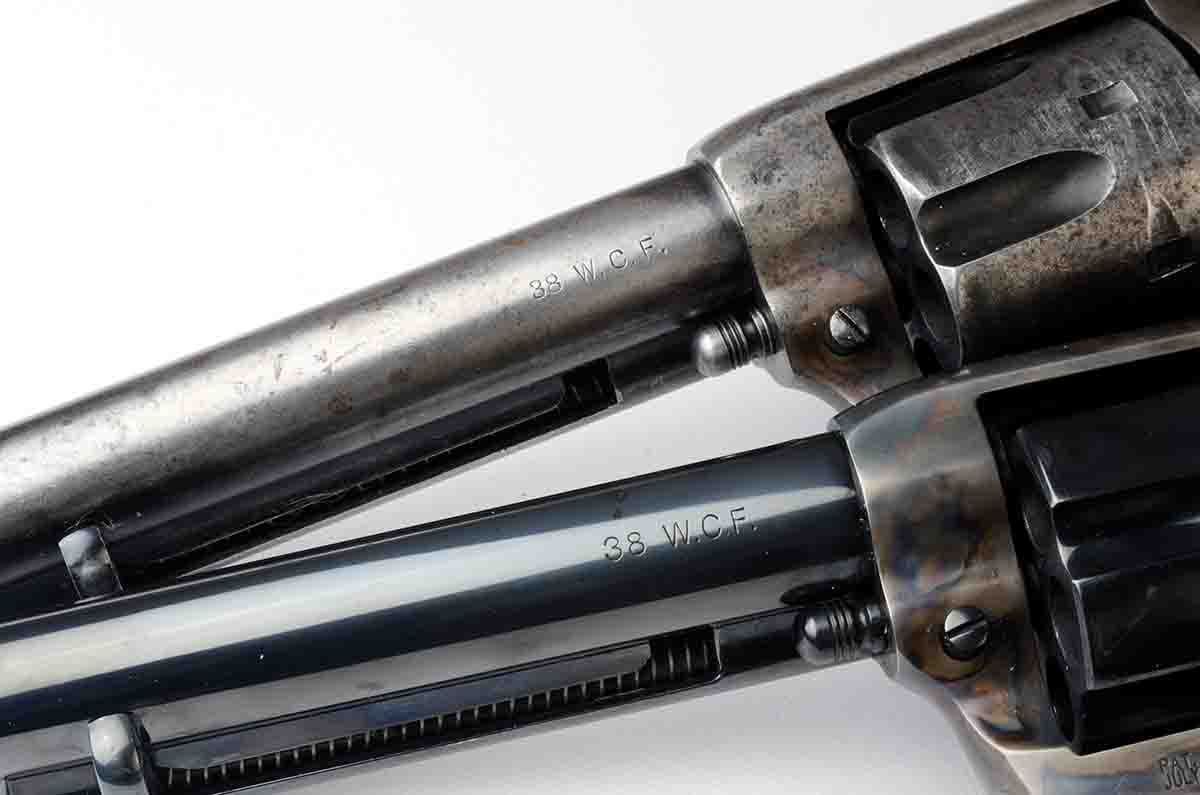 Although not introduced in the Colt lineup until 1884, by 1941, .38 WCF was its third best-selling chambering at a bit over 50,000 (including standard SAAs, target models and the slightly weird appearing Bisley version). Speaking of weird, so is the .38 WCF's name. In no way shape, form or dimension is the cartridge a .38. Its bullet diameter is nominally .400 inch and a 1922 Colt specification sheet rates its barrel groove diameter as .401/.402 inch. Somewhere along the way in the late 1930s, Colt stopped stamping its SAA barrels ".38 WCF" and switched to the now more common ".38-40" moniker. I've only encountered one so marked.
In 1993, Colt deemed the .38-40 as worth reintroducing in its 3rd Generation production and continued until some point into the twenty-first century. If Colt ever made 1st Generation .38 WCFs/.38-40s in barrel lengths other than 4¾, 5½ and 7½ inches I've never seen one. (I'm not saying that they didn't, I've just never been able to document one.) However, besides the standard three barrel lengths mentioned, I know that in 3rd Generation they made special order .38-40s in 3½- and 4-inch lengths. I have one of the latter.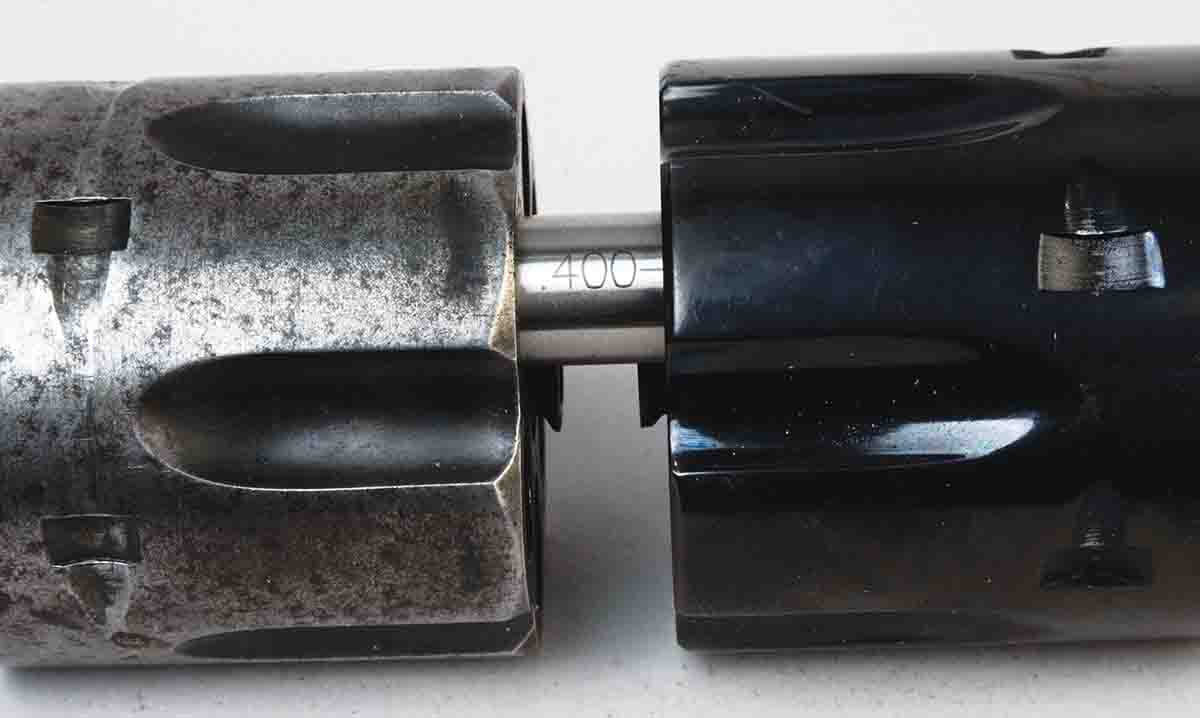 Returning to my first SAA .38-40, I shot a few hundred rounds, luckily not harming it or myself because in my ignorance I used smokeless powders. Colt didn't warranty any of its SAAs for smokeless propellants until 1900. Of course, ones made later in the 1st Generation and all from 3rd Generation are perfectly suitable for smokeless powders so long as reloading manual guidelines are followed.
That brings us to my latest handloading project. Noting that I had two .38-40s with 5½-inch barrels; one factory lettering as shipped to a hardware store in St. Louis in 1904 and the other shipped to a firearms distributor in Alabama in 1994, it seemed that comparing them via chronograph and pistol machine rest was fodder for an article. Interestingly, my new 3rd Generation SAA was caliber stamped ".38 WCF" as was done in earlier years, yet that marking was likely custom ordered in the new production. To my surprise, the cylinder chamber mouths matched at .400 inch for all 12, but the barrel cylinder gaps did not. The 1904 revolver had a large, .011-inch gap, while the 1994 one's was normal at .005 inch. Slugging both revolvers' barrels gave a measurement of .400 inch for the newer one and .401 inch for the early one.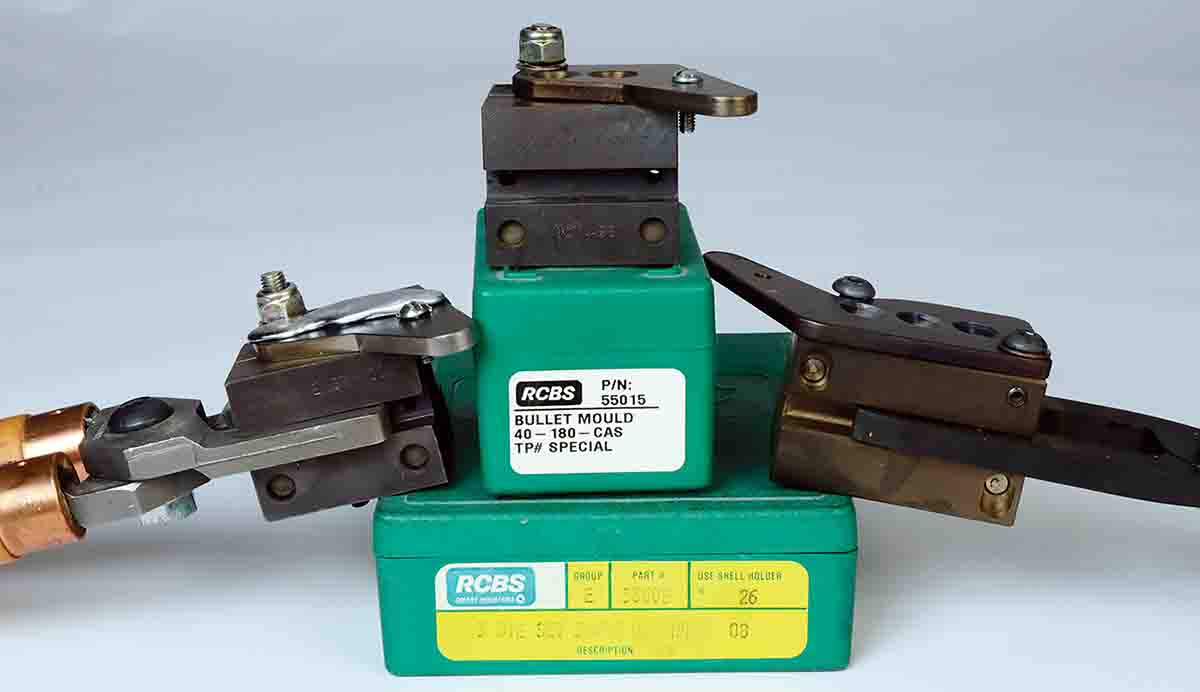 Back in the 1990s when Colt first reintroduced SAA .38-40s, I got an irate phone call from a reader. His .38-40 handloads would not chamber in his new revolver and Colt would give him no satisfaction. I asked him if factory ammunition chambered. It did. So I said, "The problem isn't with Colt. They have done their job. The problems rest with your handloads." That didn't please him but it was the truth. In my experience, when a handloader has problems with his .38-40s, it's due to reloading dies. Their dimensions can be all over the map. Mostly, the problem can be traced to resizing dies not returning fired .38-40 cases to factory load dimensions. In my experience, case shoulders are not set back far enough. This is especially true of .38-40 cases that have been fired in rifles/carbines, which in my experience, have more generous chambers. A local fellow bought a set of RCBS .38-40 Cowboy Dies right after they were introduced in the 1990s. Most of his resized brass would not chamber in both 1st and 3rd Generation Colt SAA revolvers. My advice was to have someone machine or grind a sixteenth of an inch off his resizing die's base. Now he's the most avid .38-40 shooter I know.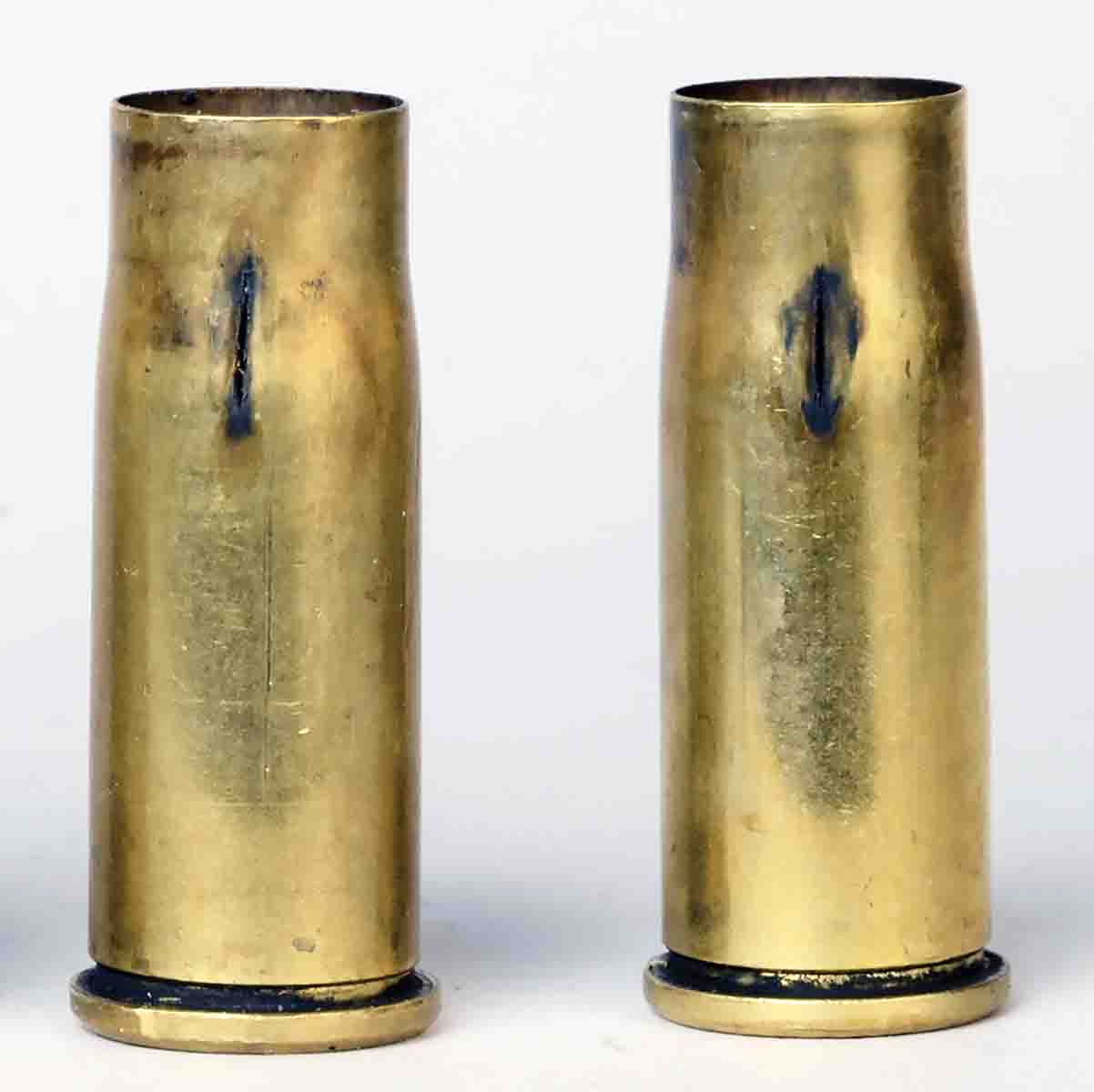 Another possible bump in the .38-40 handloading road is crimp. There must be one. After the .40 S&W was introduced, a fellow said to me, "I bet you're happy about the .40 S&W because all its new bullets will work in your .38-40s." Nope. They won't. Jacketed and cast bullet diameters are proper, but dedicated .40 S&W bullets lack crimping grooves or cannelures. The truth is in the reverse. Most .38-40 jacketed and cast bullets are suitable for .40 S&W but not vice versa.
My very first .38-40 mould acquired in 1975 was Lyman's No. 401043 nominally for a 170-grain roundnose/flatpoint. Its design dated from the nineteenth century, i.e. when black powder was the only propellant. From the dozen-plus .38-40 revolvers I've owned, it has always given superlative accuracy. Not until I began reloading .38-40s for leverguns was a flaw discovered when loaded over smokeless powders. There are two grease grooves but no crimp groove. I was just crimping over the top driving band, which worked well in revolvers. However, put those rounds under the spring pressure of a tubular magazine and they will all pop down to the powder charge when the first shot is fired. That bullet was designed back when there would be a full case full of black powder under it. I've noticed in Lyman's 2022 literature that mould No. 401043 is no longer cataloged.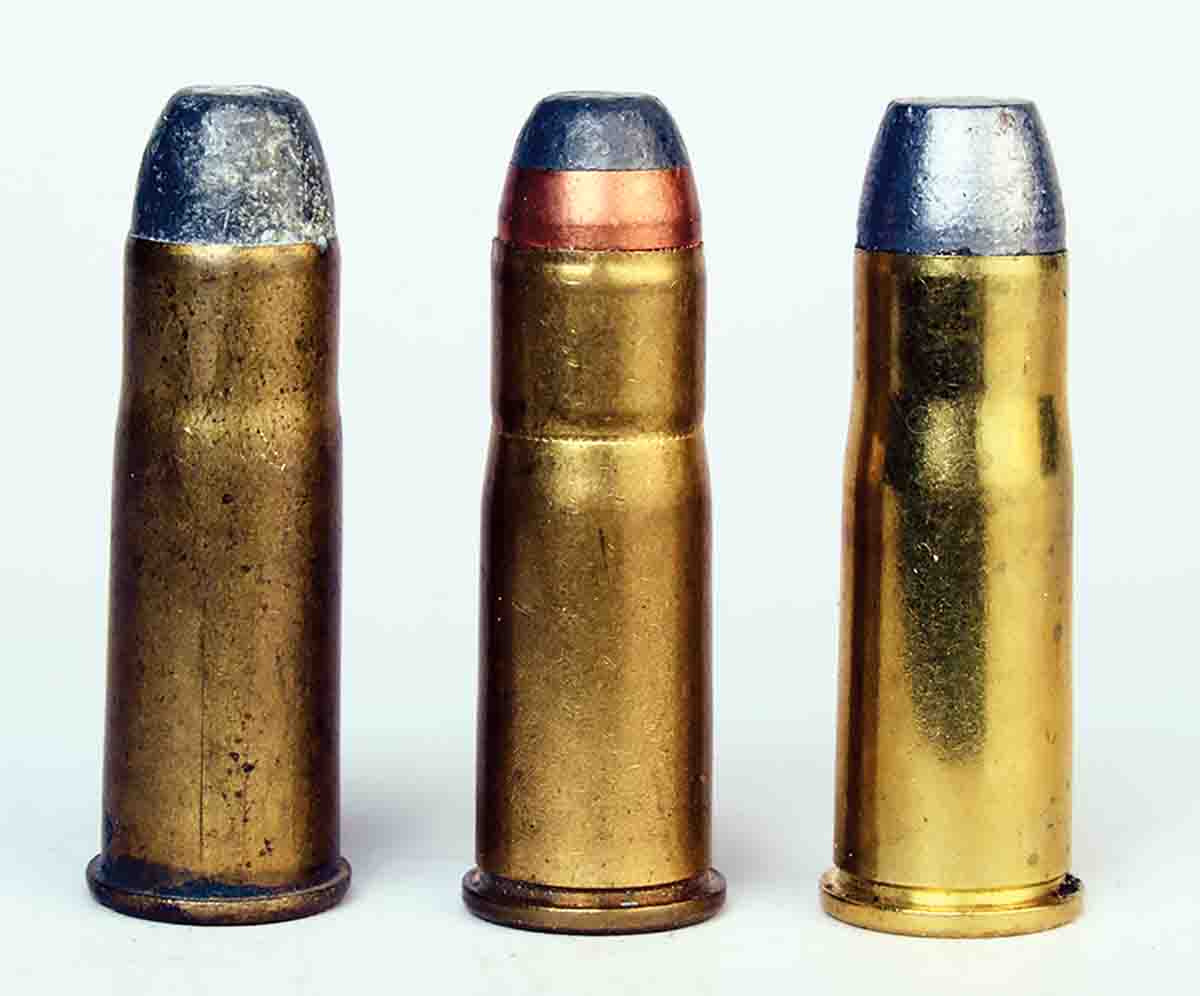 Other crimping problems can be the fault of reloading dies. The fellow mentioned above who had to machine or grind the base of his sizing die is an example again. Once he mentioned that his .38-40 SAAs had much unburned powder and sometimes, if he pressed his loaded rounds against his bench, the bullet would pop back into its case. I looked at his handloads and sure enough, there was just the bare vestige of a crimp applied. He said his seating/crimping die met the shellholder solidly but that's all the crimp it would give. Once more, I advised him to carefully grind the die base. We have shot together many times since and his .38-40 handloads are working well in revolvers and long guns.
Lost to history is whatever happened to the .38-40 reloading dies I used between 1975 and 1983 when a second .38-40 came onto my loading bench. That set from RCBS has been my mainstay to this day. The resizing die forms fired cases back to factory shape and its seating/crimping die works perfectly. It has one particular problem. Long ago, I purchased Lyman's mould No. 401452, dropping a nominal 196-grain semiwadcutter. The seating die's channel was too narrow for the SWC's sharp shoulder. That caused bullets to seat erratically with no two seating to the same depth. This never happened with roundnose flatpoint bullets. There is one other problem; albeit easily solvable. That is liquid case lubes gather in the die where the case neck meets shoulder. The dents it causes ruins brass for they will fail at that crease in another firing or two. Unless I carefully wipe each case neck almost dry, this happens even with the die's interior cleaned often. A less messy solution is to pretreat the lube pad with Lee's Case Lube, so it is allowed to dry into a white powder. Then, case dents don't form.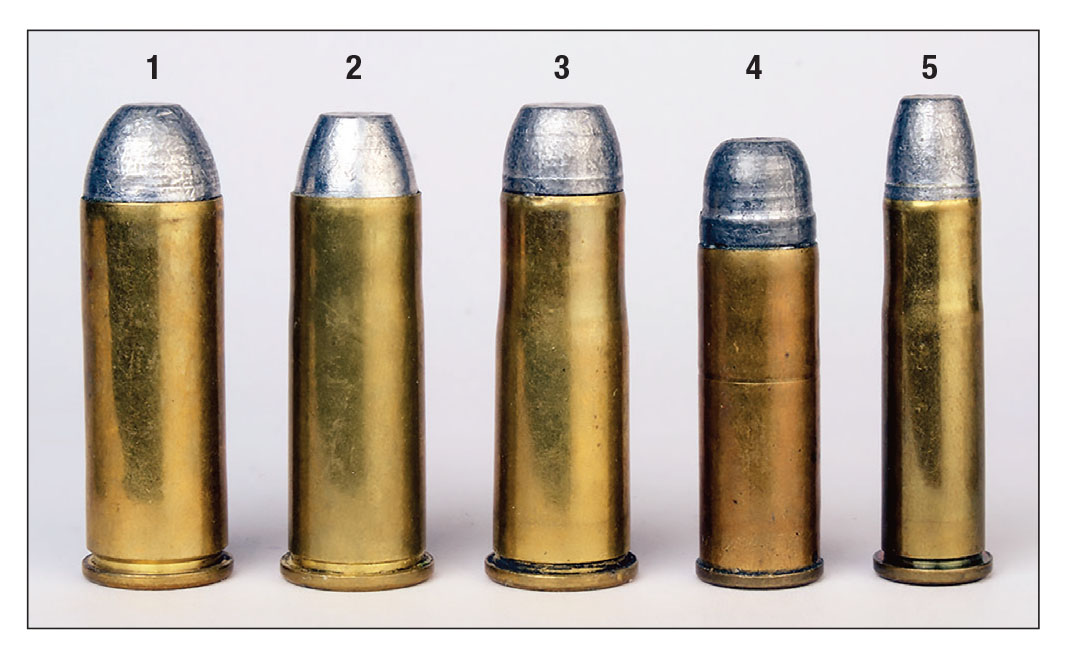 Now let's consider .38-40 bullet designs available off-the-shelf in well-stocked gun stores. If Lyman No. 401043 is gone, among mass-produced bullet moulds, there is only RCBS No. 40-180CM for a 180-grain roundnose flatpoint. Its only flaw in my experience is RCBS pistol-caliber moulds are only two cavity. Magma Engineering has No. 3840-180, which is the bevel base design commonly used by many commercial casting outfits. My mould dropped them at 183 grains from my favored 1:20 alloy. On special order, I asked Magma to cut one of its moulds so the bevel base portion is omitted. That reduced weight with my 1:20 tin-to-lead alloy from 183 to 162 grains. Both of Magma's versions are also roundnose flatpoint.
Magma moulds come from the factory ready to install in its Magma casting machines. However, I wanted to use these moulds in hand casting and found kits available from Accurate Molds of Salt Lake City, which make this conversion possible. Their cost is reasonable. While on Accurate Mold's website, I perused their list of more than 700 cast bullet designs. There, I took note of those for .38-40 and right away ordered No. 175H for a 175-grain roundnose flatpoint with flat base. I ordered it made of iron (They also offer aluminum and brass.) with three cavities. My above mentioned alloy brings these bullets in at 180 grains. Also noteworthy is that the RCBS and two Magma moulds drop bullets of .401 inch give or take a mite but the Accurate Mould 175H was ordered to drop them at .402 inch minimum of 1:20 tin-to lead alloy. Mine measured .403 inch as dropped from the mould.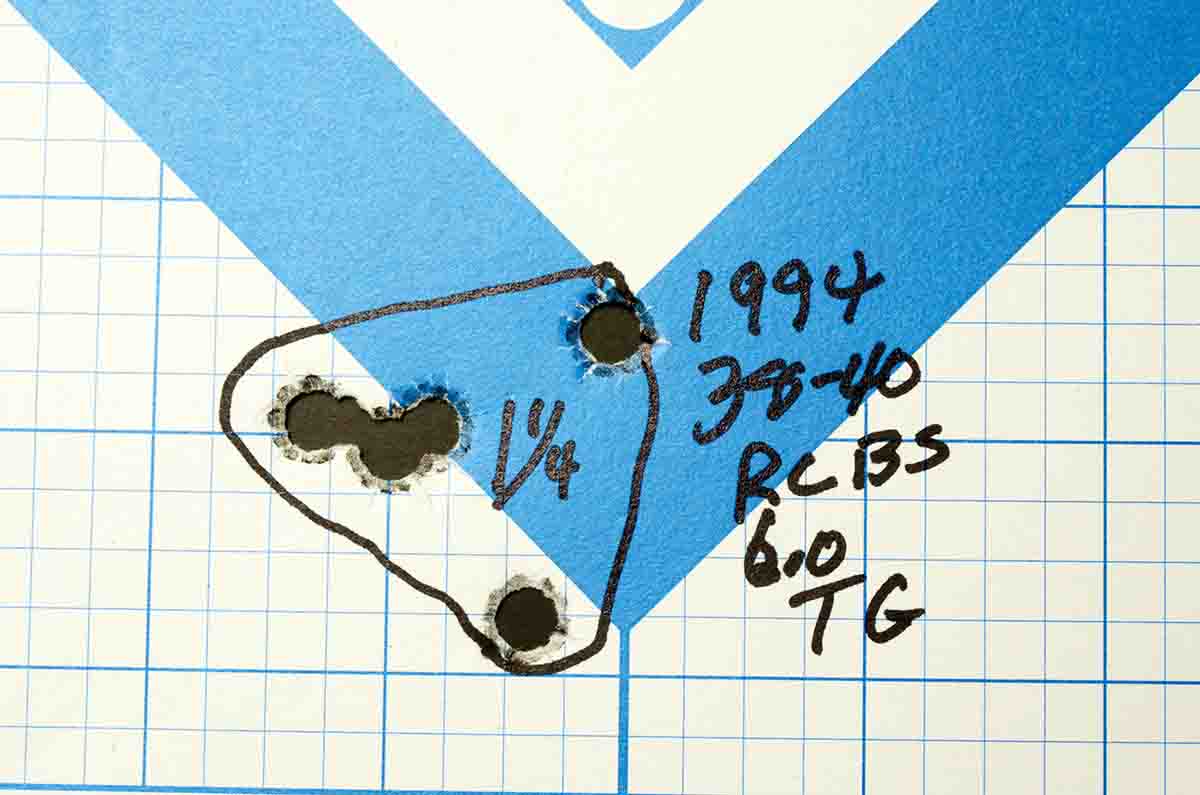 Reloading manuals change over the years, especially in regard to obsolete cartridges, which may be fired in antique guns. Data for .38-40 by Lyman is a good example. Back in their
Lyman Reloading Handbook 45th Edition
(circa mid-1960s), its manuals listed a starting load of 7 grains for Unique with a maximum of 10 grains with a 172-grain cast bullet. The revolver used was a Colt SAA with a 7½-inch barrel. By the
Lyman 50th Edition Reloading Handbook
(copyright 2016) with the same bullet, their starting load of Unique is 6.2 grains with 7 grains as maximum. This time, testing was done with pressure reading equipment using a 7½-inch barrel.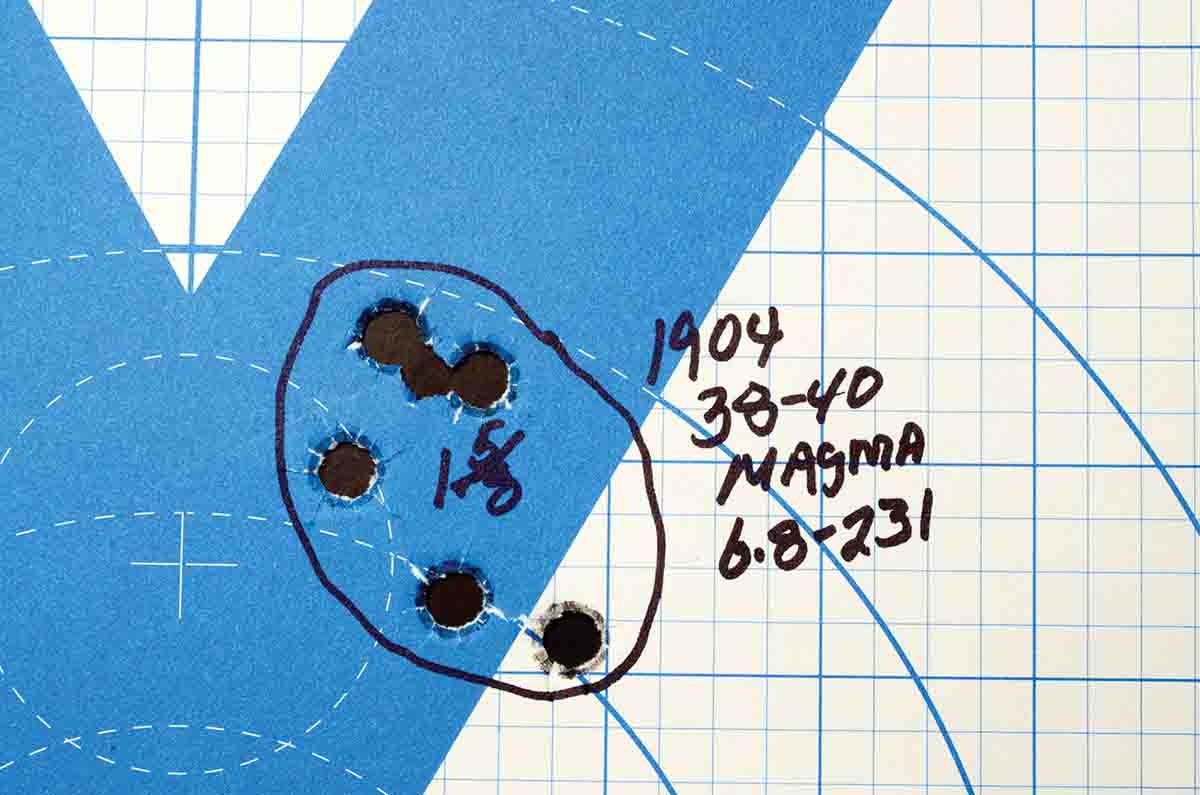 For my little project, four smokeless powders were chosen: Trail Boss, W-231, Titegroup and Unique. Guidelines from Lyman's 50th edition were followed for all but W-231. Data from
Speer's Reloading Manual #14
was used for it. Lyman's 45th handbook listed velocities exceeding 1,100 feet per second (fps). I see no reason to try making a magnum out of a 140-year-old cartridge designed for black powder. With my loads, the 1994 SAA broke 900 fps several times with 180-grain bullets. However, the 1904 SAA lagged behind up to about 100 fps; obviously because of its .011 inch barrel/cylinder gap.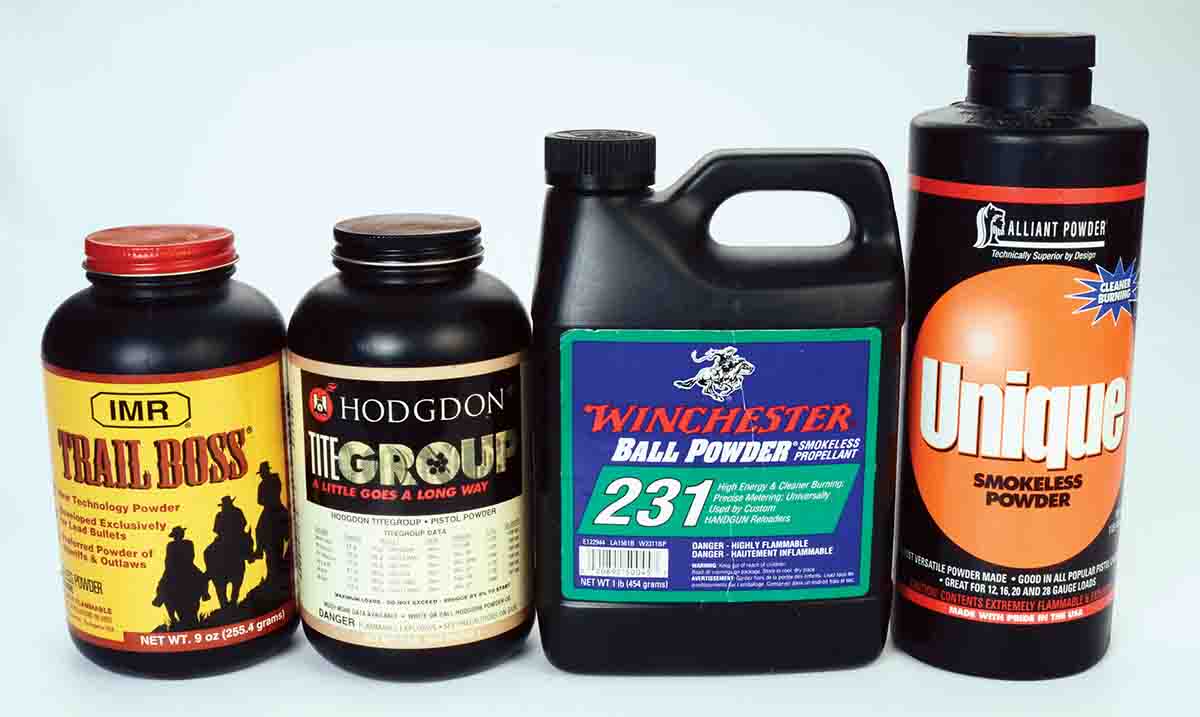 There were a few anomalies in comparing results from the two revolvers. One came with Accurate Mold's bullet No. 175H. The newer Colt liked it well with its four groups running 1.25, 1.25, 1.50 and 1.63 inches. However, the same loads in the older Colt were 2.00, 2.63, 2.75 and 2.88 inches. Compare those results with these for RCBS No. 40-180CM bullet. My Colt from 1994 gave 1.25-, 1.50-, 1.63- and 1.88-inch groups, but the 1904 Colt gave .88-, 1.13-, 1.50- and 1.75-inch groups. All the pertinent details can be found in the accompanying table. My averages of 17 groups per revolver are 1.54 inches for the new SAA and 1.87 inches for the elder one. By the way, that 1904 Colt has a good but not perfect bore.
Regarding revolver and ammunition sales, the .38 WCF/.38-40 never set records and never will. A friend, not a handloader, once told me that he inherited a Colt SAA sixgun but being from the smokeless powder-era, he had it converted to .357 Magnum for factory load availability. That I can understand. Luckily, he saved the original parts in case someone else gets it down the road. If that someone is an avid handloader, a .38-40 sixgun will make him a darn fine shooter.