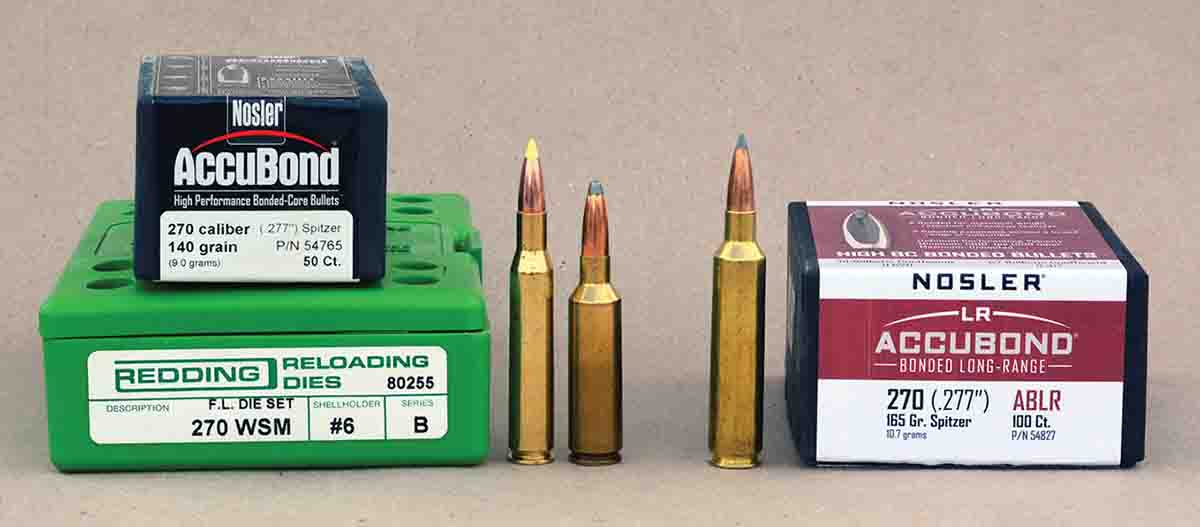 Q:
I enjoy your articles and anxiously await each issue of
Handloader.
My family enjoys a long history of being hunters with many great stories, and the 270 Winchester has always been a family favorite. It was a special favorite deer and antelope cartridge of my great grandpa, grandpa, my dad and my brothers. I first started using the 270 in a Remington Model 700 when I was 14. But when the 270 WSM was announced about 20 years ago, I purchased a Winchester Model 70 Classic that has a beautiful classic walnut stock with outstanding figure. It's been a good, reliable rifle and is consistently accurate with my handloads.
I generally use either the Nosler 140-grain Ballistic Tip or AccuBond 140-grain bullets pushed with 70 grains of Hodgdon Retumbo powder (a load that I obtained from you). Groups usually hover between .70 and 1 inch (depending on wind speed and how well I'm shooting that day). I do like the added velocity of the 270 WSM over the 270 Winchester, which helps to flatten trajectory.
After reading your articles, first on the 27 Nosler and then the 6.8 Western, I decided to venture out and try some of the new high ballistic coefficient (BC) bullets in the 270 WSM that I thought would offer enough velocity to handle the heavier bullets. I tried the Nosler 165-grain Ballistic Tip Long Range bullet with Retumbo powder. There were no signs of excess pressure, so I increased the charge by 1 grain, and then bumped it up by 2 and then 3 grains. Accuracy didn't improve. In fact, groups seem to be growing and were measured in inches. Next, I experimented with bullet seating depth, but again, group sizes didn't change. I resolved that my rifle just didn't like that bullet and stayed with my old proven load using the Nosler 140-grain Ballistic Tip bullet. But when attending a gun show, I found a quantity of bulk packed Winchester/Browning 175-grain LR Pro Hunter bullets and decided to give them a try. I will cut to the chase; the results were nearly identical with the Nosler 165-grain AccuBond Long Range bullet. Any coaching that you can offer would be helpful.
D.L., Golden, CO
A: Your problem stems from the fact that the 270 WSM features a 1:10-inch twist barrel, which fails to offer proper stabilization for the long, heavy-for-caliber, high BC bullets that you are using. For comparison, the 27 Nosler features a 1:8.5-inch twist, while the 6.8 Western is specified to have a 1:7.5 to 1:8 inch twist. Incidentally, Nosler lists the .277-inch, 165-grain AccuBond Long Range bullet to be used with a 1:9 or faster twist.
The good news is that this is the perfect excuse to purchase a new rifle. After all, you have all those excellent bullets and it would be a shame to see them just collect dust! I hope that helps and thanks for taking the time to read our magazines.

---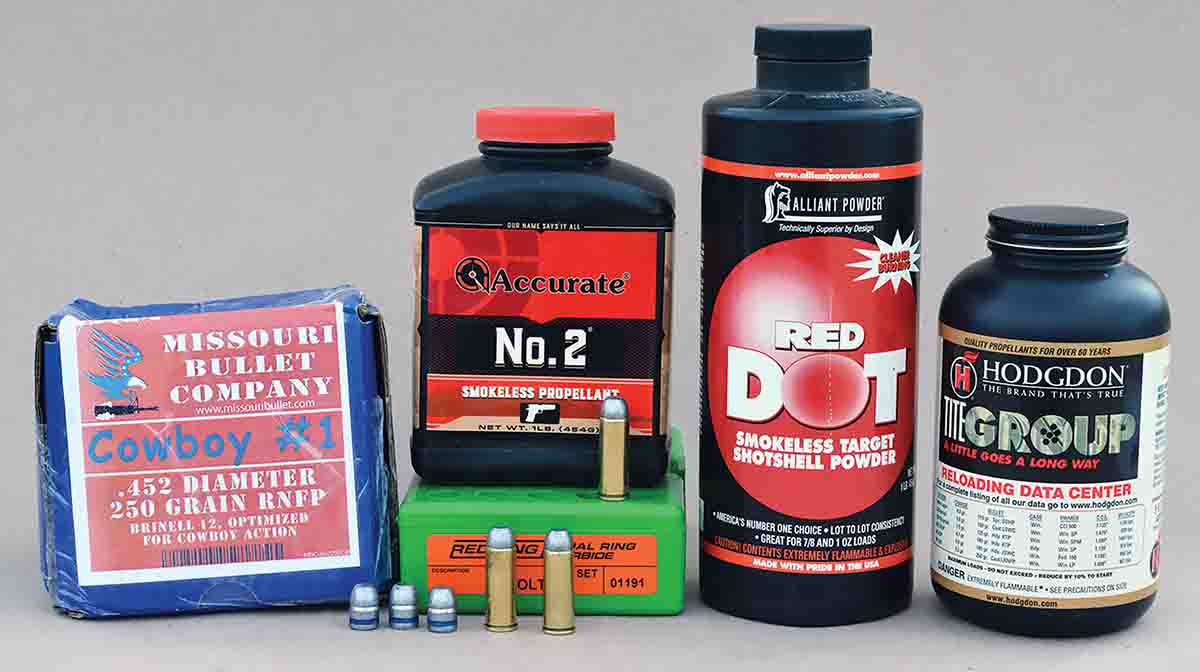 IMR SR-4756 Replacement
Q: I have been handloading for over 50 years and have been an avid reader of Handloader magazine since the middle 1970s. I have saved most of those issues dating back to 1975. I must say that Handloader magazine has only become better and better with time. I still look forward to each issue and continually learn from the excellent articles.
I mostly handload rifle cartridges, but I do load for the 357 Magnum and 45 Colt. In the 357, I use Alliant 2400 powder, with my loads typically using 100 percent plus of the case capacity. But in the 45 Colt, I have used IMR SR-4756 for many years, which I realize is now an obsolete powder. Many years ago, I inquired to the staff of Handloader magazine for 45 Colt data with that powder using 260-grain cast bullets from Lyman mould No. 454190. One of the staff writers responded to my question and suggested that I use filler in an attempt to take up some of the excess air space within that large case. As he explained, by using the filler and holding the powder to the rear of the case, consistency would be improved. For many years, I used 8 to 8.5 grains along with several different types of fillers and 250- to 260-grain cast bullets. As of late, I have not been casting my own bullets; rather, I use the 250-grain RNFP bullets from Missouri Bullets (MissouriBullet.com). I have now depleted my supply of IMR SR-4756 powder and am looking for a new powder and load that will produce cowboy load velocities. I would also like to know your thoughts on using fillers in the 45 Colt.
A.R., via email
A: For several reasons I do not recommend fillers in the .45 Colt. Admittedly, IMR SR-4756 was a very position sensitive powder, but we have much better powders that are not position sensitive and using a filler will only be detrimental, not to mention very slow and time-consuming in the reloading process.
You do not specify what velocities that you are trying to reach, but cowboy loads are generally listed with 250-grain bullets at around 725 fps. A top-notch load will include 5.2 grains of Hodgdon Titegroup powder. Other top choices include 5.5 grains of Alliant Red Dot, 6.3 grains of Bullseye or 6 grains of Accurate No. 2. Any of these loads will offer notably better accuracy than your previous load combination.
---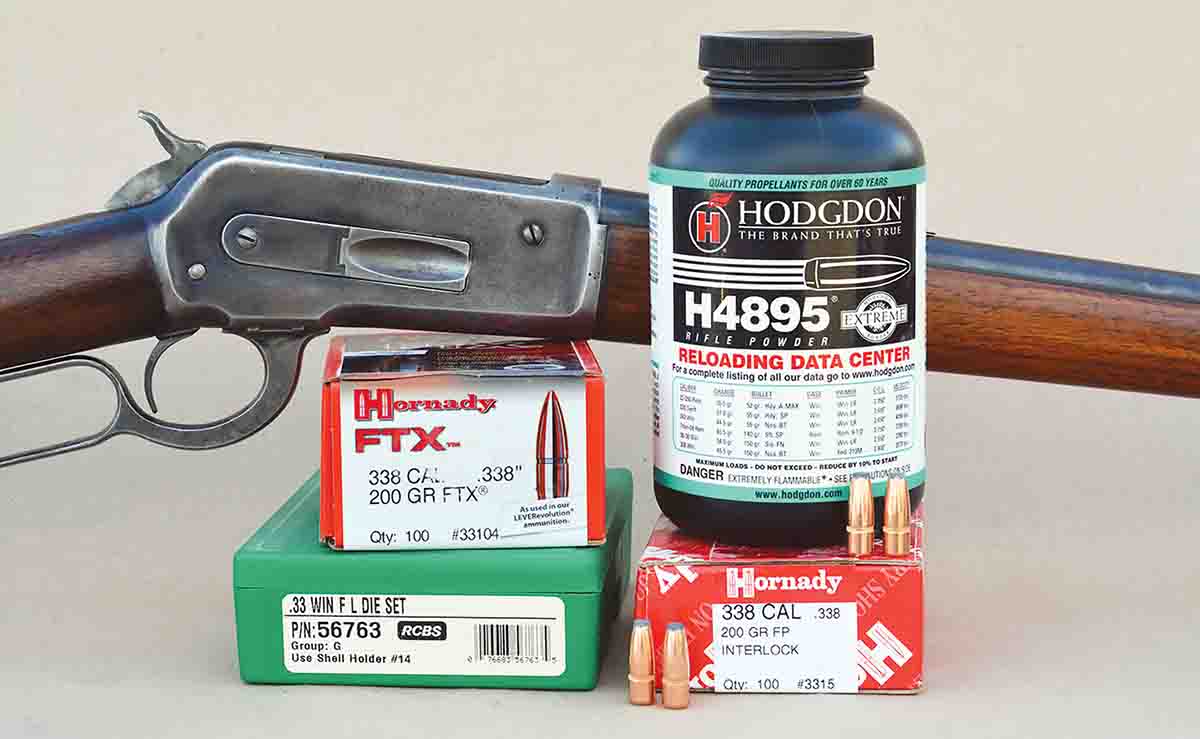 Handloads for the Model 1886
Q: I have a family connection with the history of the Winchester Model 1886 rifle and its development and have been trying to obtain high-condition examples of each caliber that it was produced in. I finally have one in each caliber, but the very last one obtained is chambered in 33 Winchester. It is a special order take-down lightweight variant with high-figure walnut stock. The only two Model 1886s that I shoot are chambered in 45-70 and 45-90. The more that I hold and handle this 33 rifle, the more it begs to be taken afield to hunt deer. As I'm sure you know, finding 33 Winchester ammunition is not easy. So, I obtained 100 pieces of Bertram brass, several boxes of the Hornady 200-grain FP bullets and RCBS dies.
My first attempt at developing handloads did not go well. I was using a ball powder, with the charge weight being straight from a reputable reloading manual. I experienced fairly regular ignition problems where velocities dropped to very low levels and the sound of the load was very odd. This was very worrisome at the time and I didn't even fire all the handloads that I had assembled, rather, I returned home and pulled the bullets to start over. The second problem was my fault, as bullets were deep-seated into the case due to the pressure of the magazine tube spring. I would like a load that is reliable and duplicates period loads so that it regulates with my rifles express sights. Any load suggestions would be very welcome. There is no other magazine that provides the information that is offered by Handloader. Thank you for sharing your experience and your excellent articles.
R.B., Afton, WY
A: Spherical powder (aka ball) can pose problems when used in applications where pressure is too low, which results in hangfires or very high extreme-velocity spreads, which seems to be the case with your loads. Depending on handload recipe particulars, your powder choice did not support the base of the bullet, which was a contributing problem with your handloads deep-seating the bullets.
A classic extruded powder in the 33 Winchester is H-4895 that will perform flawlessly at proper pressures. I would suggest using a standard large rifle primer, preferably a CCI No. 200, and 43 grains of Hodgdon H-4895 powder for 2,230 fps that is very close to duplicating original Winchester factory loads that listed a 200-grain bullet at 2,200 fps. This load will offer some support to the bullets base, but you should be certain that cases are uniform in length and then apply a heavy roll crimp after bullets are seated. This combination should solve the deep seating issue you are experiencing.

---

32-20 Handloads
Q: I enjoy the details that you provide in your articles. Many years ago, you wrote an article on handloading 32-20 in revolvers, but I can't find that particular issue of Handloader. I remember you discussed different primers, but I didn't really understand why you brought up this point until recently, when I obtained a Colt Single Action Army and began handloading for it. When firing that gun with my handloads, the cylinder freezes up about half of the time due to the primer flowing back around the firing pin. My handloads are above standard 32-20 pressures, but they are not hot. I am using the Lyman 116-grain cast bullet from mould No. 311316, along with 6 grains of Hodgdon Longshot powder and Remington 1½ primer, which according to your data is traveling close to 1,100 fps. I chose that primer because with only 6 grains of powder to ignite, I thought that it would offer adequate ignition. Cases extract easily and often fall out of the chambers. In firing Winchester factory loads (about five years old), even those cartridges will occasionally cause the cylinder rotation to hang up. Do you have any suggestions?
A.C., via Facebook
A: I believe that you have a combination of two problems. First, your firing pin and firing-pin hole are probably not well matched. In other words, many old Colt Single Action Army revolvers have had the hammer changed, firing pin changed (with an incorrect style), or the recoil plate (containing the firing-pin hole) is worn and has become excessively large or egg-shaped due to dry firing. This can result in a combination that has excess space around the firing pin, which can result in the primer flowing backwards and deforming, which makes it difficult for the cylinder to rotate due to the primer dragging on the recoil plate area. The reason for my suspicion is that the low pressure Winchester factory loads should not be deforming primers.
Depending on how bad this firing pin/firing-pin hole gap is, you might be able to prevent excess primer flow by changing to a small rifle primer with a thick cup, such as the Remington 7½ or Federal No. 205. Neither of these will so readily deform upon firing. Yes, it will bump pressures, but not enough to pose any concerns. If this does not solve your problem, you will need to change your firing pin to one that better corresponds with the firing-pin hole. One other possibility is that your mainspring could have been replaced with one that is too weak, which will allow the primer to push back into the firing-pin hole and results in cylinder rotation hang up.
Incidentally, by the time you read these words, there will already be an updated "Pet Loads" article on 32-20 sixgun loads. I hope this information helps.