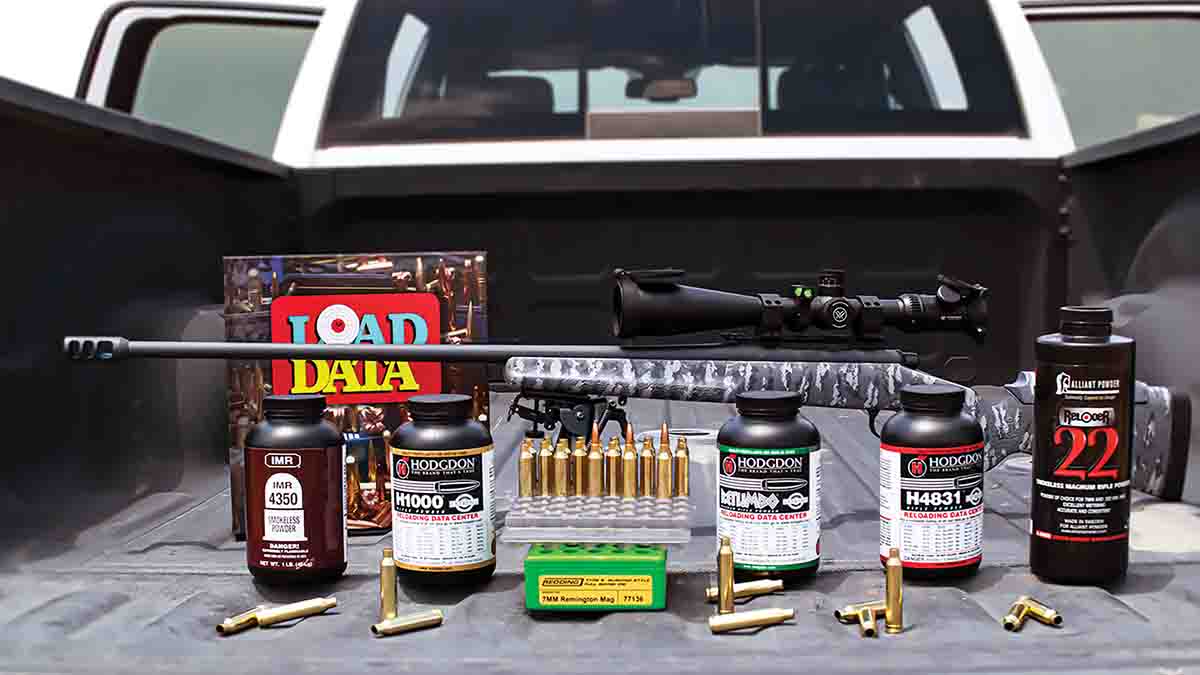 When it comes to 7mm cartridges, there are many options to choose from these days, as things become more and more refined, the improvements seem to be more gradual. Some are eager to embrace these changes and others tend to cling to older, more established cartridges claiming they are "just as good" or "do the same thing." While there is some truth to these statements, they are generally blanket statements and when facts and/or ballistics are closely examined, some differences can be found. As with most things, your mileage may vary, when discussing the ballistics there are many variables to take into consideration. Introduced in 1962, the 7mm Remington Magnum (7mm Rem Mag) remains a popular 7mm cartridge to this day.
An opportunity to test a Remington 700 chambered in 7mm Rem Mag arose when a friend offered to loan it out in exchange for working up loads for his particular rifle. I readily accepted the offer and opportunity to tinker with a cartridge I had no previous experience with. This seemed an ideal time to record some data for a longstanding favorite of hunters and long-range shooters. The 7mm Remington Magnum has a long and well-deserved reputation for being an excellent all-around cartridge. It is capable of utilizing 7mm (.284-inch diameter) bullets with respectable ballistic coefficients (BC) and launching them at respectable velocities while generating enough energy to be sufficient for any game animal in North America with proper bullet selection.
One limiting factor for the 7mm Remington Magnum is the twist rate and not being able to stabilize some of the new, longer and heavier projectiles. At least not without switching from the standard twist rate of 1:9.5 to a barrel with a twist rate of 1:8 for those projectiles everyone seems to be talking about these days. How significant these factors are is still a hotly debated topic and of course, depends upon the desires of the end user and the goals one wishes to achieve. If one is looking for the best load (most accurate with the least amount of wind drift), it could matter quite a bit. If one is not concerned with the highest BC and is not concerned with minimizing wind drift, then all of this is relatively unimportant for such goals. That said, the handloader in me is always tinkering and tweaking things to see how much performance one can achieve.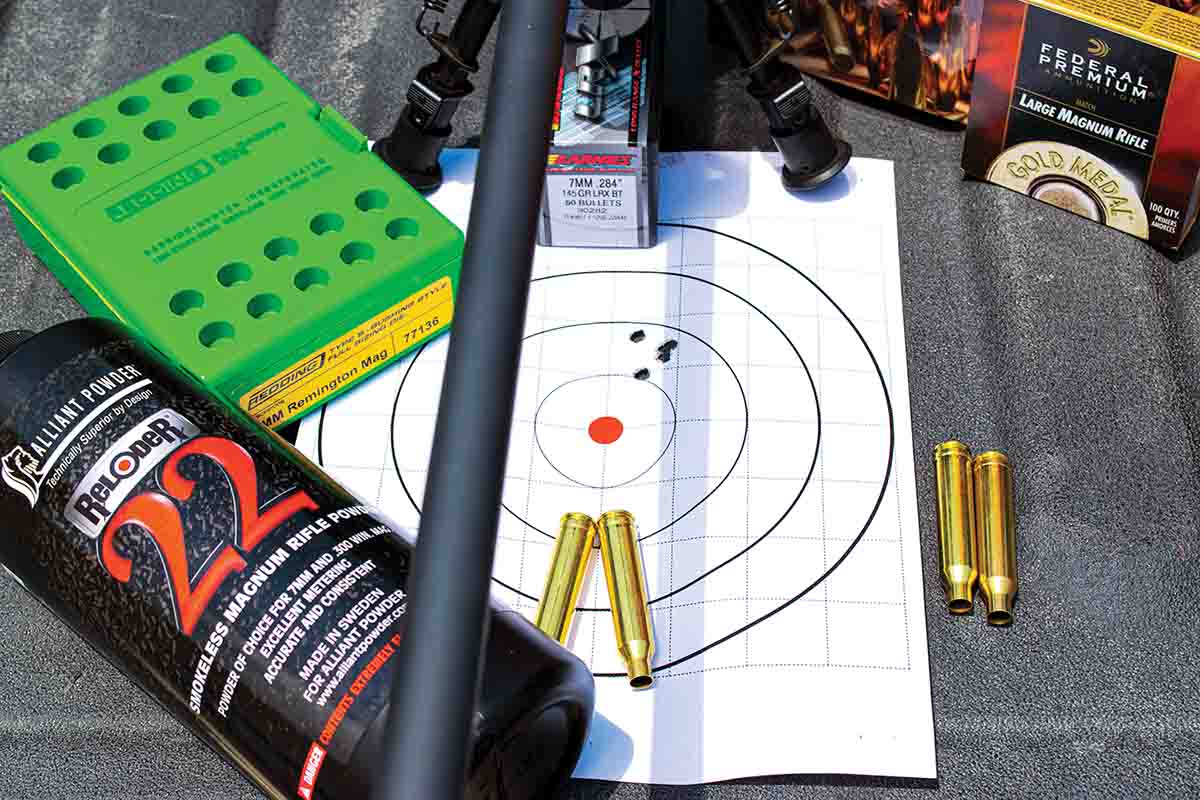 Upon examination of the rifle, it was clear that a lot of work was put into this Remington. It was customized with the factory action, bottom metal and barrel being the only remaining original parts. A McMillan A3 Sporter stock was bedded to the action by McMillan. A cheek riser was later added to the stock and the factory trigger was replaced with a Timney trigger that broke at 2 pounds, 12 ounces, on a Wheeler Engineering trigger pull gauge. The bolt was skeletonized and an oversized bolt handle was added, the barrel was threaded and a Holland's Radial Baffle Muzzle Brake was timed and set in place. To top it all off, a Vortex Viper 6-24x 50mm scope was secured in Vortex rings atop a Seekins Precision 20 MOA Rail. A bubble level affixed to the scope aids in ensuring the shooter is not canting the rifle. All in all, this setup would make a great, budget-friendly long-range setup. The total weight of the rifle is right at 10 pounds with a Harris bipod attached. Certainly not light, but also not too heavy for field use either.
The time quickly came to assemble loads for this cartridge. It was decided to stick to bullets with high BC and those useful for hunting situations. A couple of exceptions would be made to this rule, to compare and contrast some classic bullet and powder combinations to some utilizing new bullets and powders. To assemble loads, Norma cases were assembled and a set of Redding competition dies were screwed into the T-7 turret press. With the expander ball still installed, a .309-inch bushing was installed into the sizing die and lube was applied to the cases. Using this bushing, neck tension was set at .002 inch and no crimp was applied. The full-length sizing die was set to bump the shoulders of the cases .002 inch.
The next step was to remove all the lube from the cases and prime them using a Frankford Arsenal hand primer, this allows the handloader to roughly set the seating depth of their primers that was set at approximately .003 inch below flush. This ensured that the anvil was seated against the primer pocket, but was not crushed. All cases were then charged using an RCBS Matchmaster powder dispenser and bullets were seated using the Redding Competition seating die. Concentricity was excellent without a single round exceeding .005 inch of total indicator reading (TIR). With most rounds having less than .001 inch TIR. A lot of extra care was taken to ensure that everything was perfectly in spec and the loads were uniform in every way possible.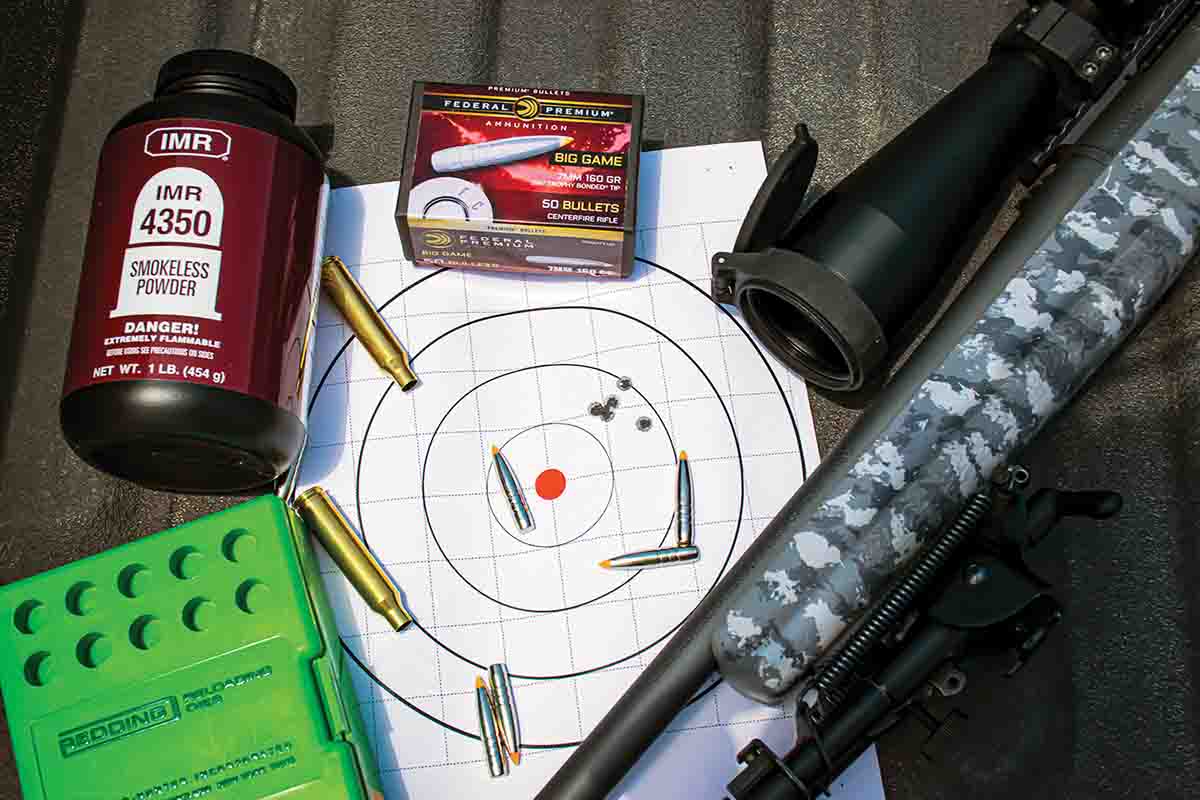 Upon returning from the range and measuring targets, it was time to crunch some numbers and see just how the 7mm Rem Mag of 1962 performed. Taking a look at the classic load that contained IMR-4350 powder and a Federal Trophy Bonded Tip bullet with a G1 BC of .520 as advertised. It reached a peak velocity of 2,896 feet per second (fps), when switching over to another classic bullet design and a relatively more modern powder, Hodgdon H-1000. I saw that it reached a peak velocity of 2,950 fps, thus gaining more than 50 fps by simply switching to a modern powder. This was using a Hornady Interlock BTSP with a similar advertised G1 BC of .514.
However, things really get interesting when I started to input the information contained in the accompanying table into a ballistic calculator such as the Hornady Ballistic Calculator available for free on its website. Comparing these two loads, I found that with a mere 50 fps difference, it shaved off an inch of bullet drop at 400 yards. This isn't very much but when comparing the Hornady 162-grain BTSP at 2,950 fps versus the newer, sleeker, 150-grain Nosler AccuBond long-range bullet, it shaved off nearly 3.5 inches at 400 yards. Holding the center of the vitals on a deer and calculating for a 1-MOA rifle that could be the difference between hitting the vitals or missing the vitals and wounding an animal, especially when factoring in the shooter variable. The further away the target is, the more pronounced this difference becomes.
A shooter must know their limits as well as know their cartridge and rifle limits as well, being able to add up all of these stacked tolerances can be important in determining just how far you can accurately hit a target. This is even more important when one is considering how far the shooter can shoot when hunting. These are things that should be established on the range prior to leaving for deer camp and certainly not in the heat of the moment.
Overall, the rifle performed very well and proved that it was capable of maintaining groups of around .6-MOA upon further verification of the loads in this table. Select loads were able to repeatedly group into .5-MOA. This would not have been possible without load development and verifying these groups repeatedly. Perhaps the best feature of the rifle was the stock. It seemed to fit like a glove and was comfortable in any shooting position. The only downside to the rifle was its weight at roughly 9 pounds without the bipod. Concerning the loads and the bullet performance, it seems like the sky truly is the limit and I personally believe that 7mm cartridges will remain very popular in the coming years. I don't see the trend of longer, higher-BC bullets going anywhere and we can see that even old cartridges can benefit from such projectiles in practical shooting situations.
For more information on this cartridge or rifle, watch the video on our YouTube channel Handloader TV.