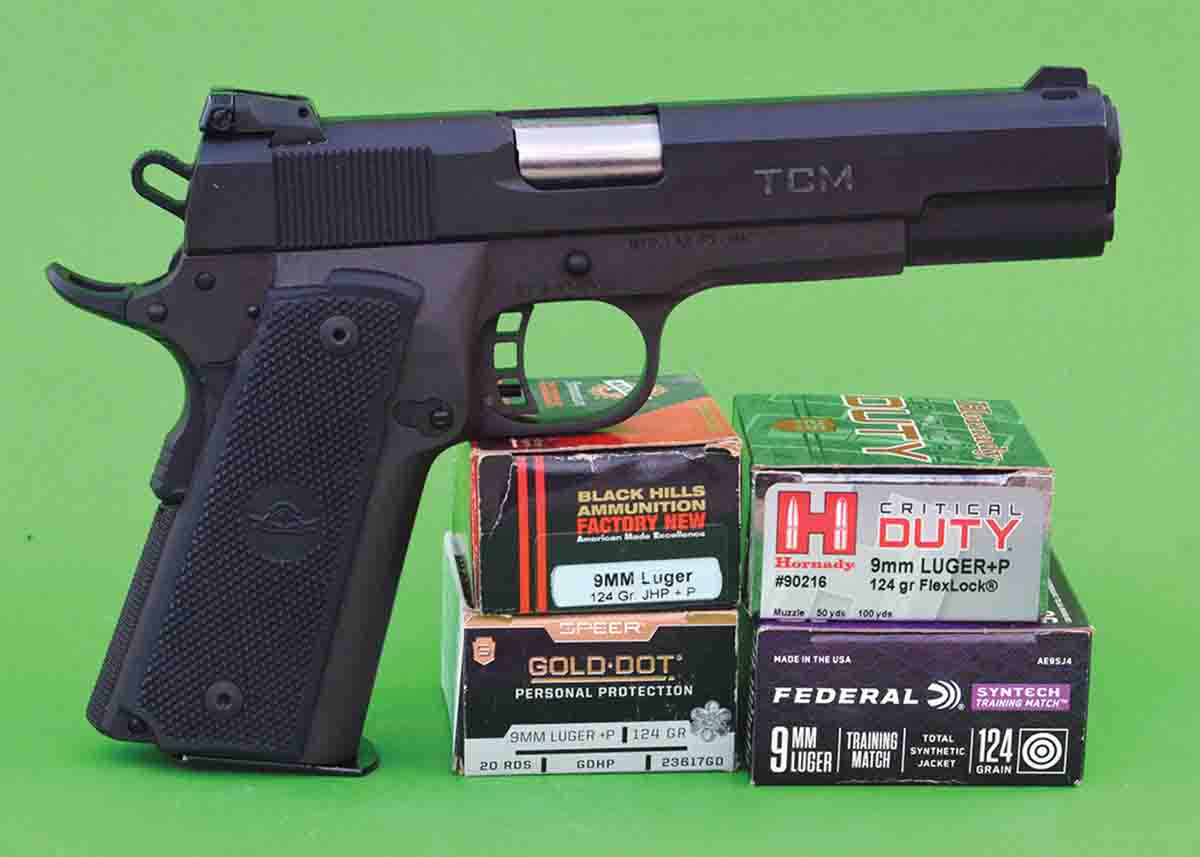 The Model 1911 45-caliber pistol, originally designed by John Browning and first produced by Colt, remains a timeless design that boasts of worldwide popularity and for good reason. In spite of polymer striker-fired pistols gaining huge acceptance the past few decades, the 112-year-old 1911, generally made entirely of steel in Government Model configuration, remains in high demand and is still the preferred pistol of choice among many professional soldiers and elite combat units, tactical law enforcement, personal defensive trainers, professional shooters and savvy handgunners. Countless companies, both foreign and domestic, have produced copies. This brings us to the Philippine-manufactured Armscor Model 1911 A2 as imported by Rock Island Armory. While this company offers more or less exact copies of the original 1911 45 ACP pistols at attractive prices, today's variant is a unique combo pistol chambered for 22 TCM and 9mm Luger that features a double-stack magazine for 17+1 cartridge capacity.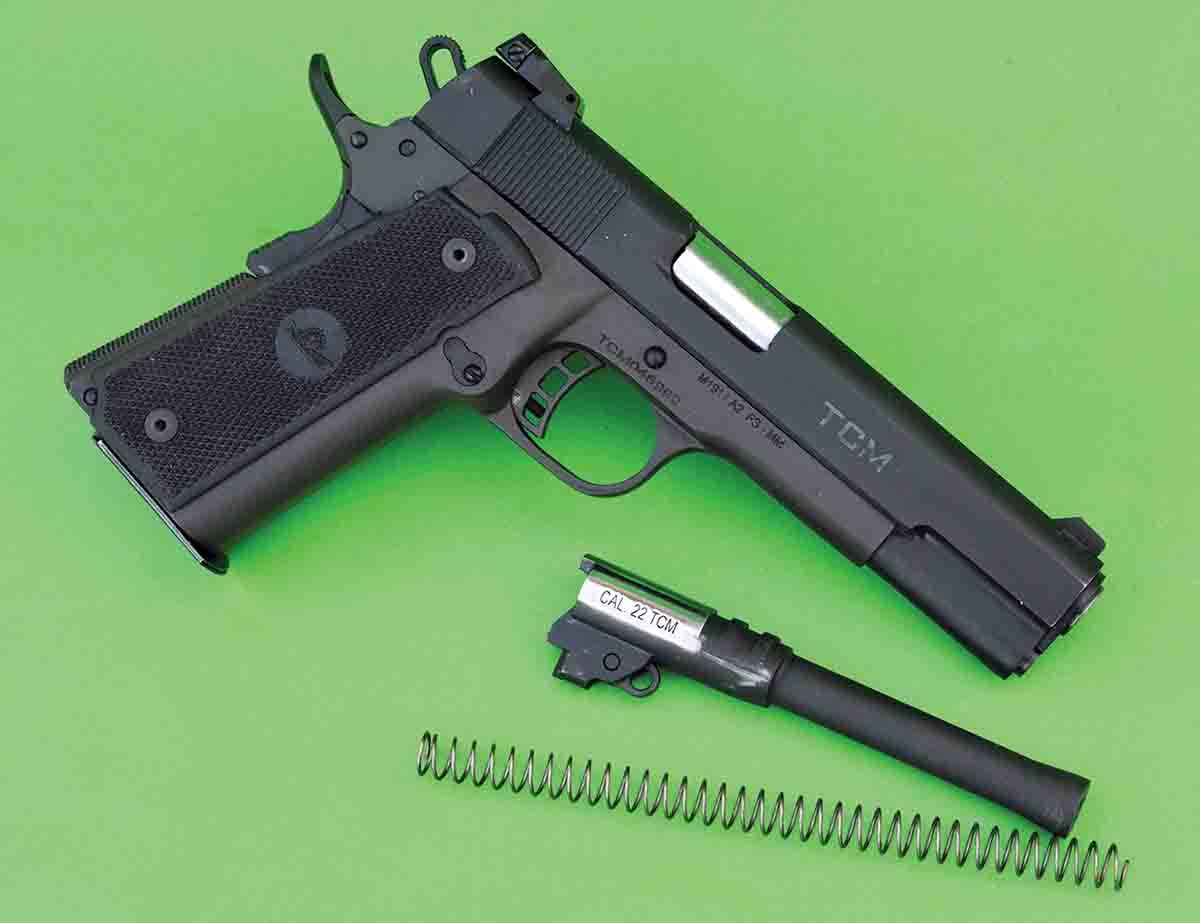 The 22 TCM is an Armscor proprietary cartridge that is well-designed and pushes a 40-grain bullet to around 2,070 feet per second (fps) from a pistol with a 5-inch barrel (or 2,800 fps from a rifle barrel). It is based on the 223 Remington case, but shortened and necked with a 23-degree shoulder. The case length is around 1.025 inches and the overall cartridge length is 1.265 inches. As of this writing, I have been unable to obtain factory ammunition. To be clear, ammunition is available, rather it has just been hard to find on dealer's shelves due to current demand. However, brass and dies have been obtained and at some point, handload data will be offered within these pages. As a result, for today's purposes, this 1911 A2 Combo gun will be reviewed in 9mm Luger only. Incidentally, changing calibers takes just a few seconds and only requires changing the barrel and the recoil spring. Both cartridges utilize the same magazine.
My first impressions of the Rock Island 1911 A2 are positive. Overall machining is good, parts fit properly, the slide to frame relationship is good and both barrels fit firmly within the solid barrel bushing and lock correctly at the breech. It is constructed primarily of 4140 chrome-moly steel, or the foreign steel equivalency. The finish is black matte, which serves to keep the overall cost down, as a little metal prep work was performed prior to the matte finish being applied. Both barrels look good; they are straight and the bore finish of both barrels is bright and shiny, the cut rifling is sharp and clean.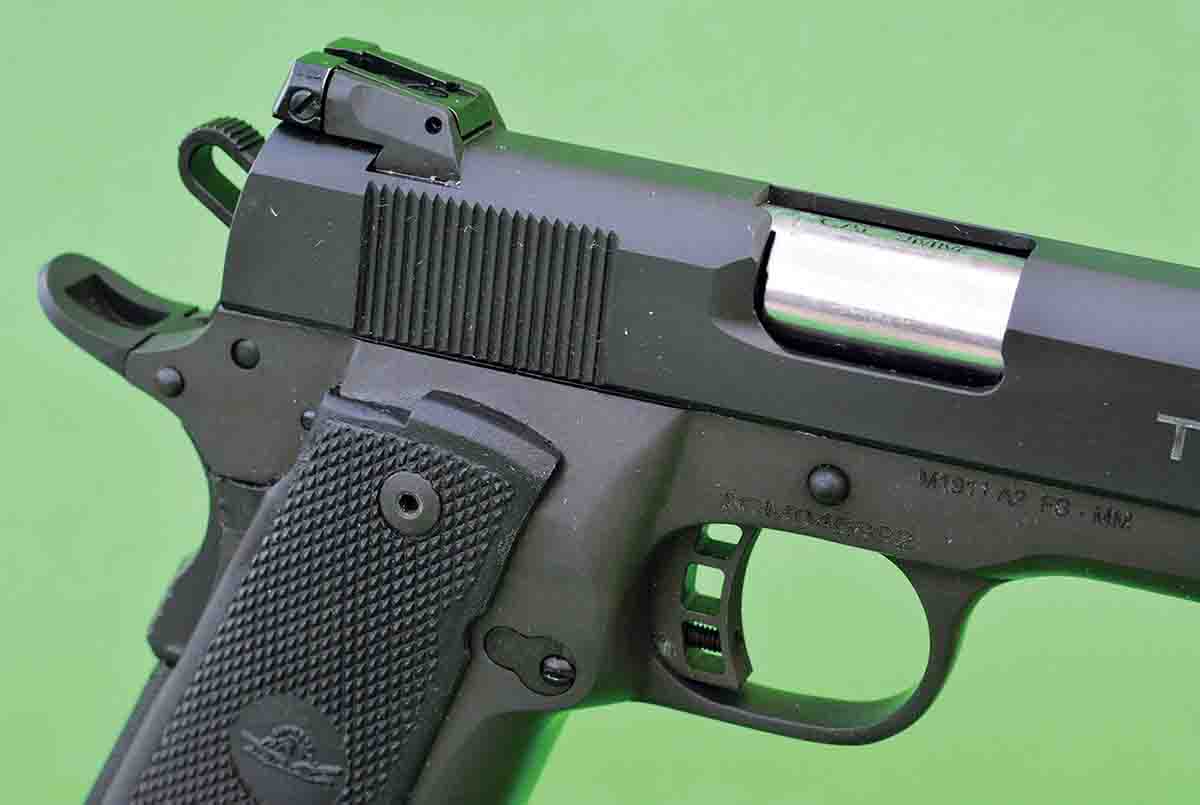 Additional features include a fully-adjustable rear sight (probably required to get both cartridges to sight-in to the point of aim), while the ramped front sight is dovetail mounted into the slide. The ejection port is lowered and angled to aid with the proper ejection of fired cases and help with overall reliability. The beavertail-style grip safety offers a high hand position and features a memory pad. The hammer is elongated and slotted, while the trigger is skeletonized. Incidentally, right-out-of the box, the trigger broke cleanly at exactly 4 pounds. The mainspring housing is flat. Due to the staggered high-capacity magazine, the grip profile is comparatively large, as it measures 5¾-inches circumferentially. Some shooters with smaller hands may struggle to get a proper grip to achieve proper hand and arm alignment with the barrel. A thin set of stock panels would serve to trim, or make smaller, the grip profile. The thumb safety is standard government model size and is for right-hand operation only.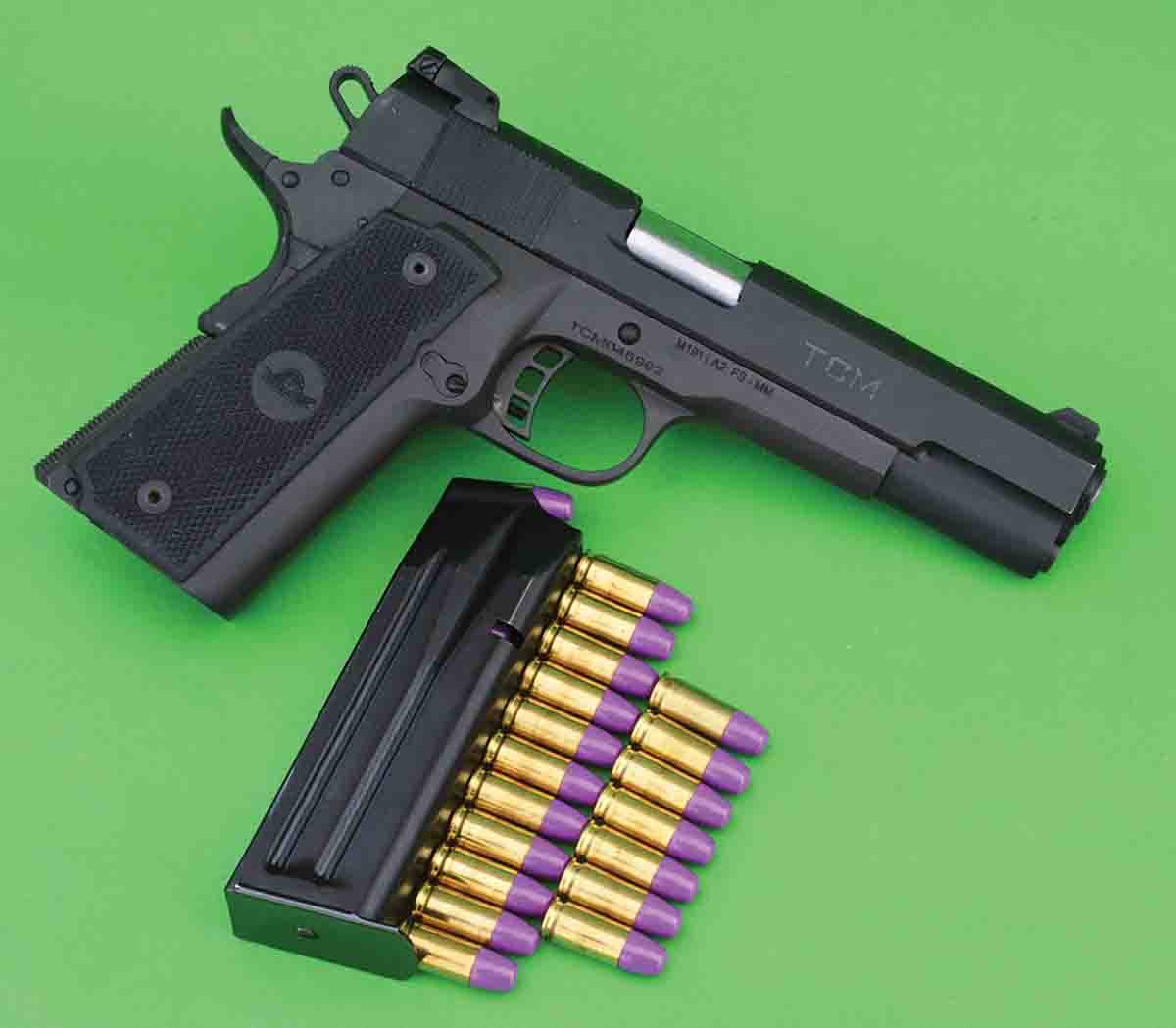 Internally, the slide is Colt pattern pre-Series 80, or better said, is void of the firing-pin block safety that is so common on many modern 1911 pistols. However, it does feature a full-length guide rod. Small parts, such as the ejector and extractor are fully machined from high tensile chrome-moly steel, which is a proven and durable material in Model 1911s.
Using CCI Blazer Brass factory loads containing the 115-grain FMJ bullet, 200 rounds were fired prior to evaluating the accuracy of additional factory loads, which gave the pistol a chance to settle in. At 25 yards, this load produced five-shot groups that measured just over 2.5 inches.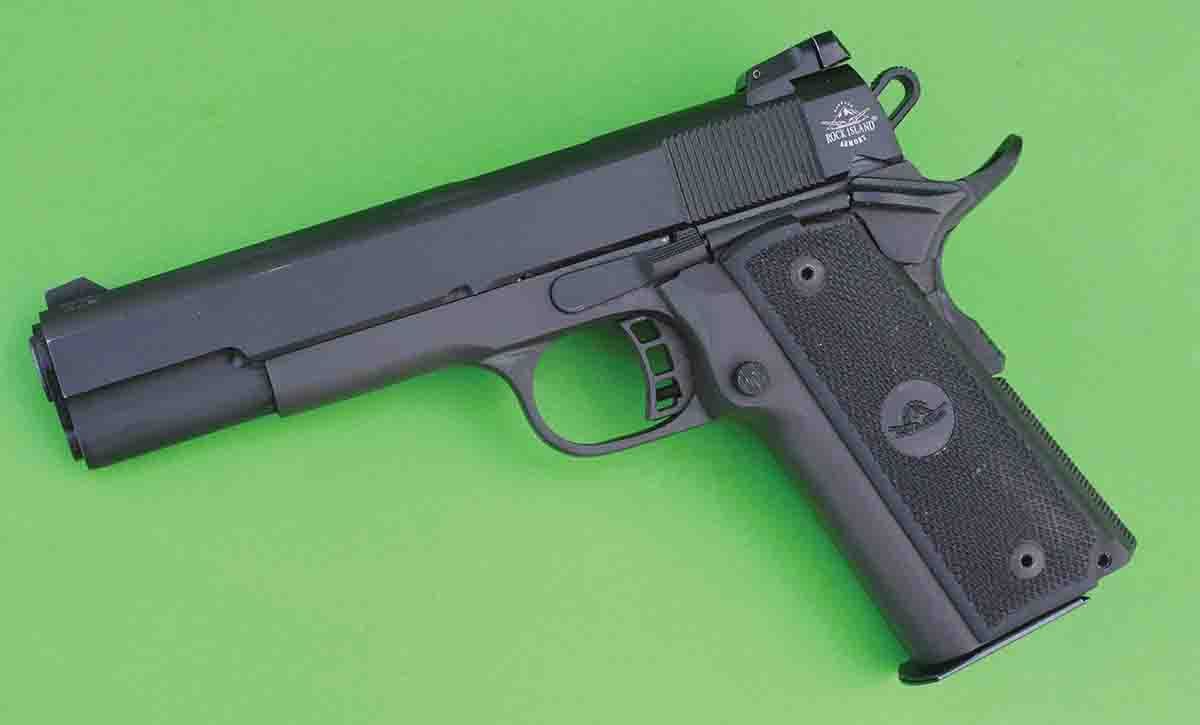 At 25 yards, several factory loads produced groups that measured under 2 inches. For example, using Black Hills Ammunition 124-grain JHP +P, velocity clocked 1,244 fps and three groups averaged 1.70 inches. The 124-grain Speer Gold Dot HP Personal Protection +P load clocked 1,133 fps and grouped into 1.60 inches. The tightest groups (just barely) came from Hornady's 124-grain Critical Duty Flexlock +P load that clocked 1,188 fps and produced an average group size of 1.55 inches.
Moving on to handload data, three JHP-style bullets were selected, including the Hornady 115-grain XTP, the Nosler 124-grain Sporting Handgun JHP and the Speer 124-grain Gold Dot HP. All are excellent bullets that functioned and performed flawlessly throughout testing. All loads were assembled in new Starline cases, which were first full-length sized, neck expanded, primed using CCI No. 500 primers and powder charges were dispensed. Bullets were first seated to their respective overall cartridge length. Then as a separate step, the taper crimp was applied measuring .372 inch at the case mouth.
Using 6.3 grains of Alliant BE-86 powder, the 115-grain Hornady reached 1,369 fps and produced an average group size of 1.55 inches. The Nosler 124-grain bullet was pushed to 1,222 fps using 5.5 grains of CFE Pistol powder, which produced two, five-shot groups that averaged just under 1.70 inches, but the third group opened the three-group average to 2.05 inches. The 124-grain Speer Gold reached 1,301 fps using 6 grains of BE-86 powder and groups averaged 1.75 inches.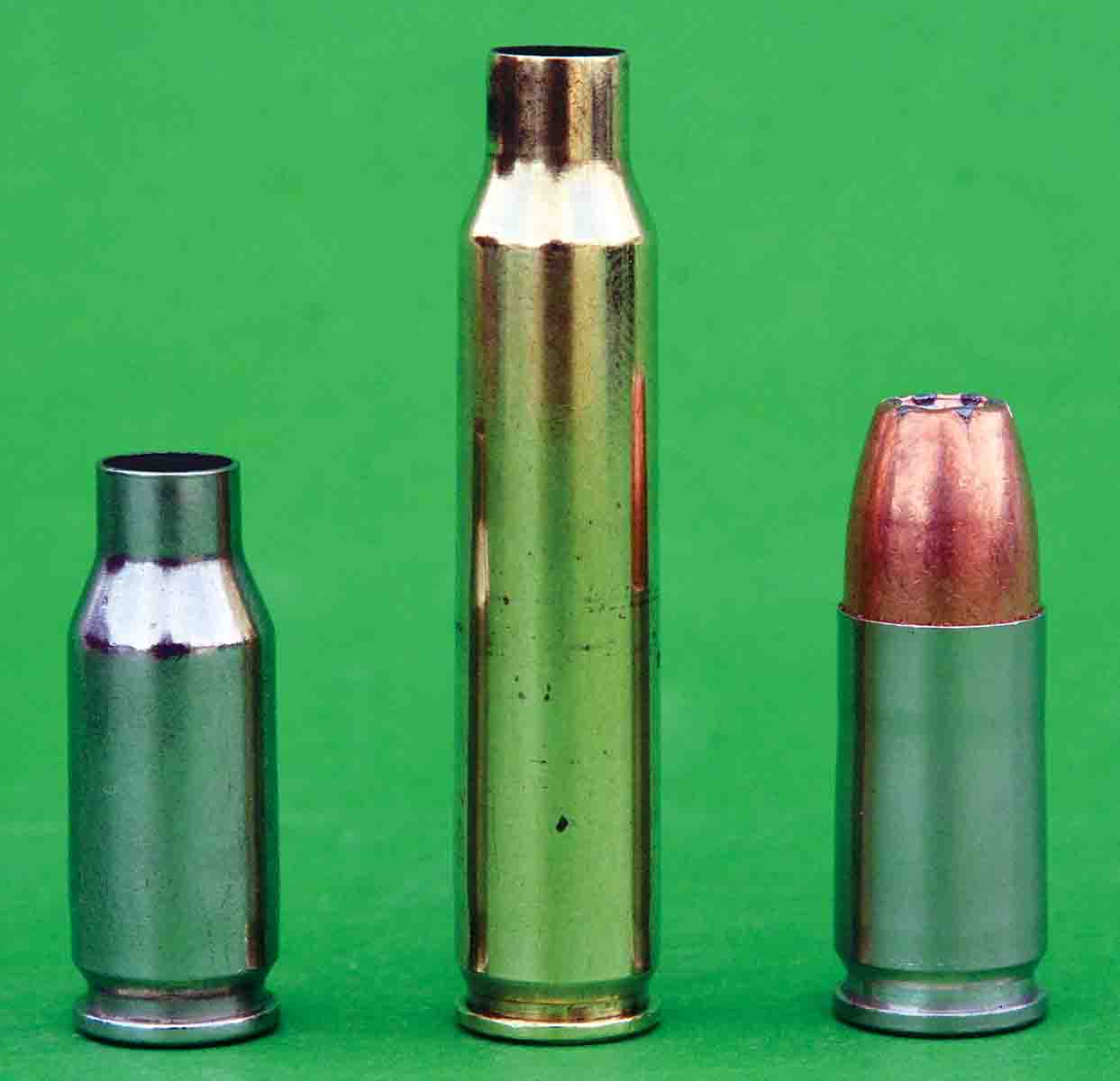 Naturally, all of the above loads were fired with the aid of a sandbag rest. The Rock Island 1911 A2 performed without a hitch, as there were no malfunctions of any sort with either the factory loads or the carefully developed handloads.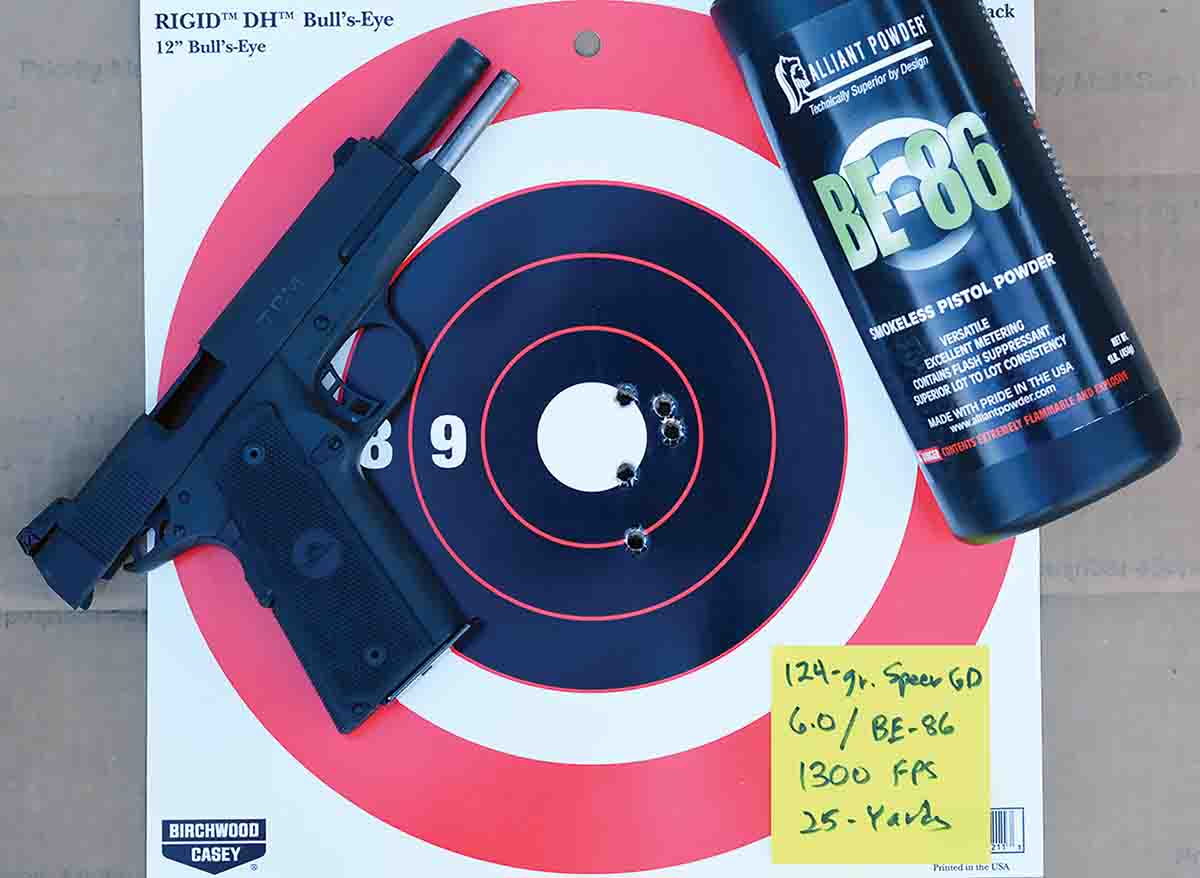 Prices are running around $600 to $650 for the Rock Island 1911 A2 Combo pistol, which makes it competitive even with many polymer pistols. In spite of its modest price, it is a quality gun that functioned flawlessly and proved accurate. It is offered in the worldwide popular 9mm Luger, while the 22 TCM offers some especially interesting ballistics.