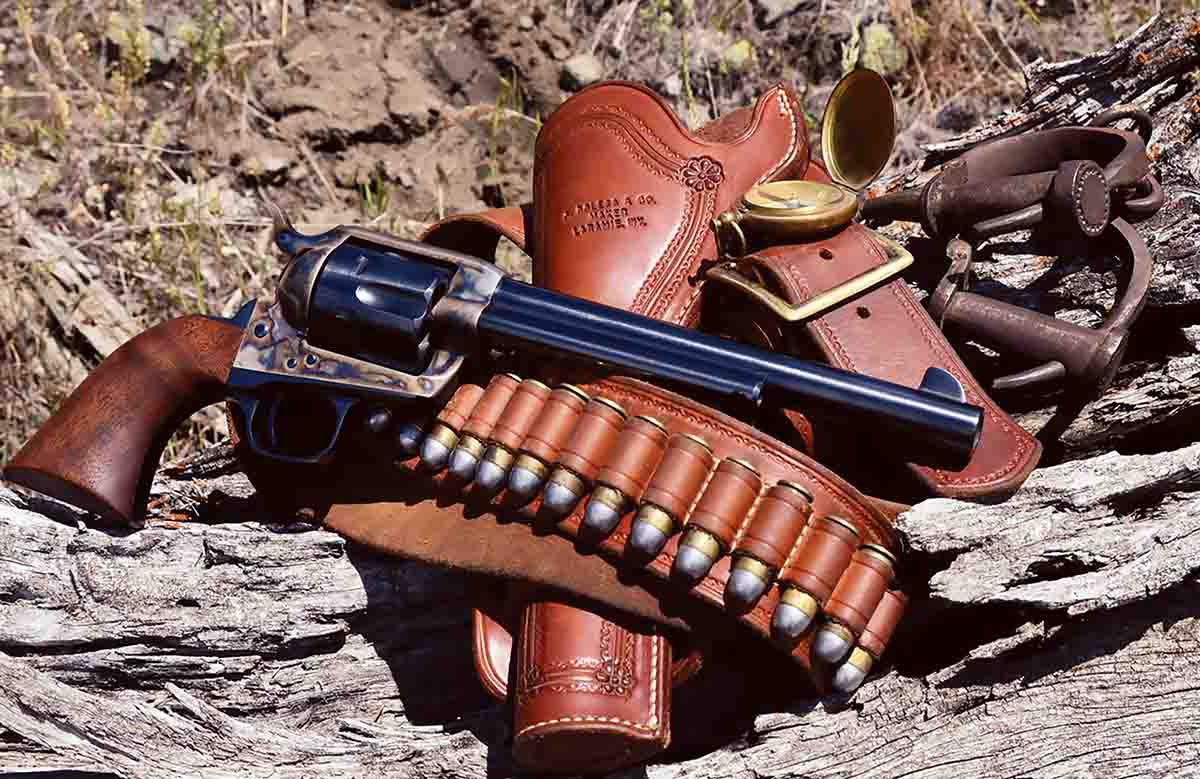 Firearms-oriented periodicals will carry features covering "150 Years of Colt SAA" throughout 2023. I'm going to take a different tack in this column. Of those 150 years of that world famous revolver's existence, I'm going to talk about my 55-year involvement. By actual count, I've now owned more than 100 Colt Single Action Armys (SAA). What I've learned about handloading with them has helped with many other types of revolvers. One such thing has been mating bullets to cylinder chamber mouths instead of barrel groove diameter. Another is that softer bullets are usually much better than harder ones in revolvers until magnum pressures are reached.
My first SAA came in 1968. It was made in 1964, with a 5½-inch barrel and was chambered for 45 Colt. I was 19 years old and it was used; albeit in fine condition, except for a set of faux pearl grips. My most recent Colt SAA arrived on December 29, 2022. It is also a 45 Colt but with a 4¾-inch barrel and factory ivory grips. It is far from pristine condition for it was made in 1919, but not shipped from the factory to a Houston, Texas, hardware store until 1921. I paid 40 times more for it than my first 45 Colt.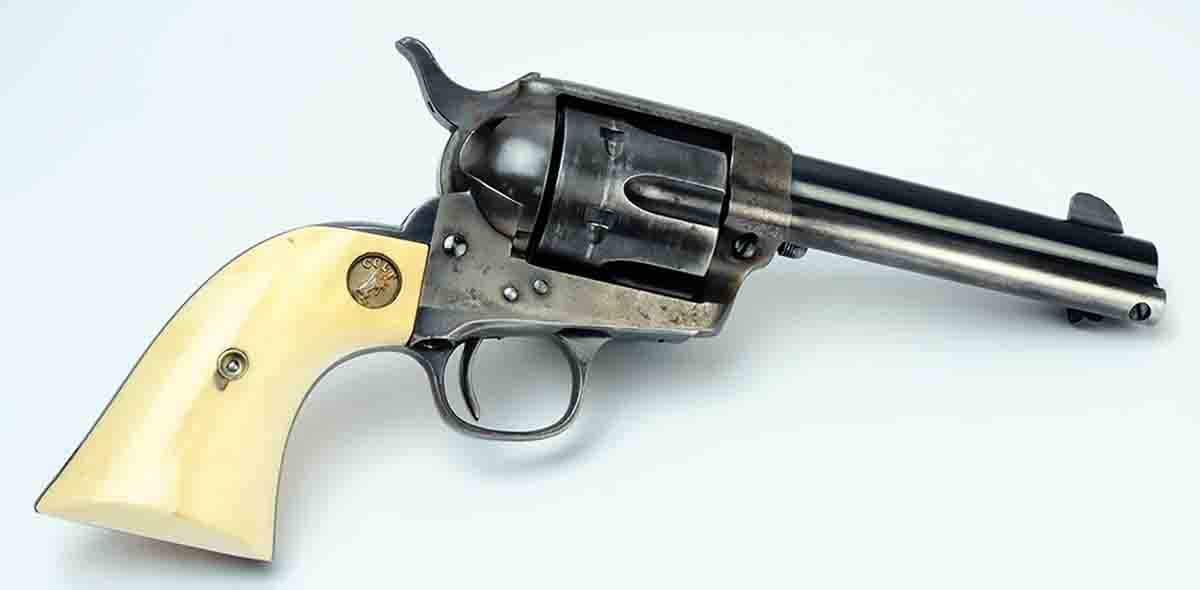 In between those two 45 SAAs, I've owned (and still do) ones chambered for 32-20, 38 Colt, 38 Special, 357 Magnum, 38-40, 41 Long Colt, 44 Special, 44-40 and 45 ACP. Yes, that's correct – one actually caliber-stamped ".45 ACP." Made circa 1995, it has a 4¾-inch barrel and is the first I've ever seen with the Automatic Colt Pistol acronym. (It also came with a 45 Colt cylinder serial numbered to it.)
Also owned during my 55 year near obsession with SAAs have been barrel lengths of 3, 3½, 4, 4¾, 5½, 7½ and 12 inches. Standard finishes for Colt SAAs from 1873 to current times have been a color-case hardened frame with the rest of the revolver blued, fully nickel-plated and full blue finish on special order. Along the way, hammer finishes have been color-case hardened or blued-top with bright polished sides. Nickel-finish SAAs wear nickeled hammers. Grips began in 1873, as one-piece wood, except for special order ivory or some other exotic material and segued to hard rubber – NOT plastic – unto this day. Colt SAAs are handguns that owners take pride in by dressing them up. Extra special grips are commonly seen as are both factory and aftermarket engraving. I have samples of everything mentioned in this paragraph and more.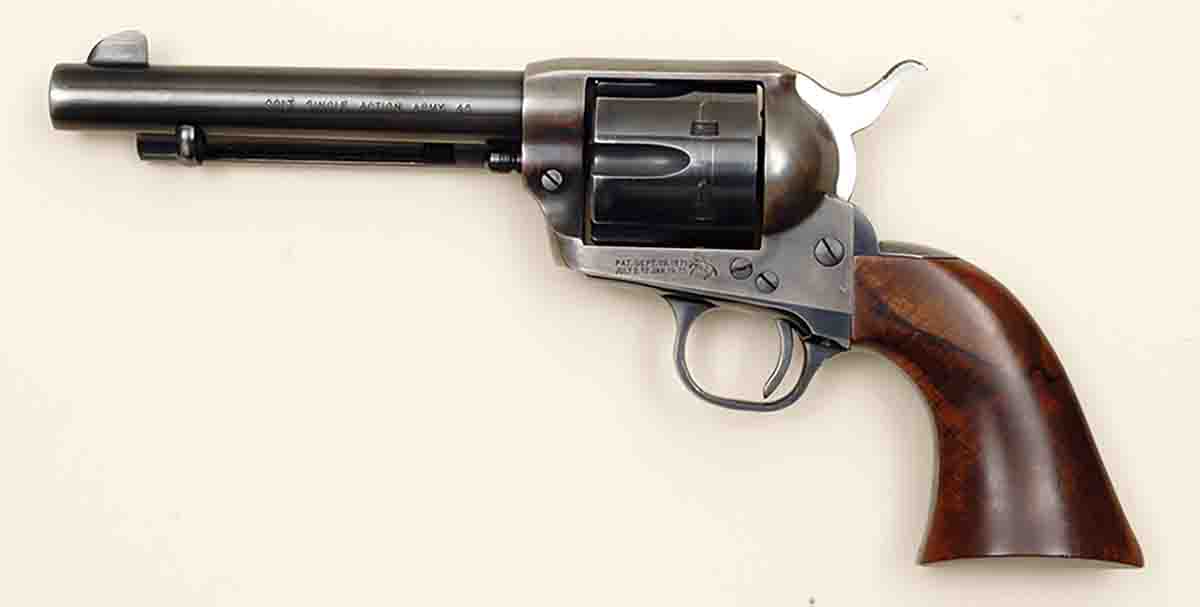 But what do I actually prefer? That's tough! Back in my horseback hunting days, I often carried an SAA with a 4¾-inch barrel chambered for 44-40 or 45 Colt. It was needed several times to finish off wounded game. For the Cowboy-Action game, which I participated in for 20 years, I preferred 7½-inch barrels, almost always 44-40s due to ammunition convenience as rifles and carbines so chambered were my preference. We have rattlers around our Montana home, so quite often in warm months, my back pocket holds a 3-inch barreled SAA 44 Special loaded with five shot loads. To my dismay I have needed it several times.
Discounting collectability, the best SAA now owned is a 45 Colt customized by the late Eddie Janis doing business as Peacemaker Specialists. I sent him a stock, 2010 vintage, 7½-inch 45 Colt with the so-called black-powder frame that was standard from 1873 into the 1890s. Colt returned that frame style as a custom shop option in the 1980s. Janis returned to me an SAA appearing as one from 1880. That included different hammer-spur checkering, beveled-cylinder flutes, color-case hardened hammer, old-style caliber stamp on the barrel, a set of beautiful, fancy walnut one-piece grips and the smoothest, slickest action I've ever experienced on any revolver. Plus, it shoots to the point of aim at 25 yards using 250-grain bullets at 750/800 feet per second (fps).
Now in my senior years, my use for SAAs (except the "snake gun") is purely recreational. For an afternoon of fun in decent weather, I take three to five SAAs to my shooting house. They're picked at my whim and used for plinking at steel targets ranging from 33⁄8-inch reactive spheres to large torso targets, all placed at 25 yards. After 100/200 rounds or so, I'm relaxed and happy to have had a good day.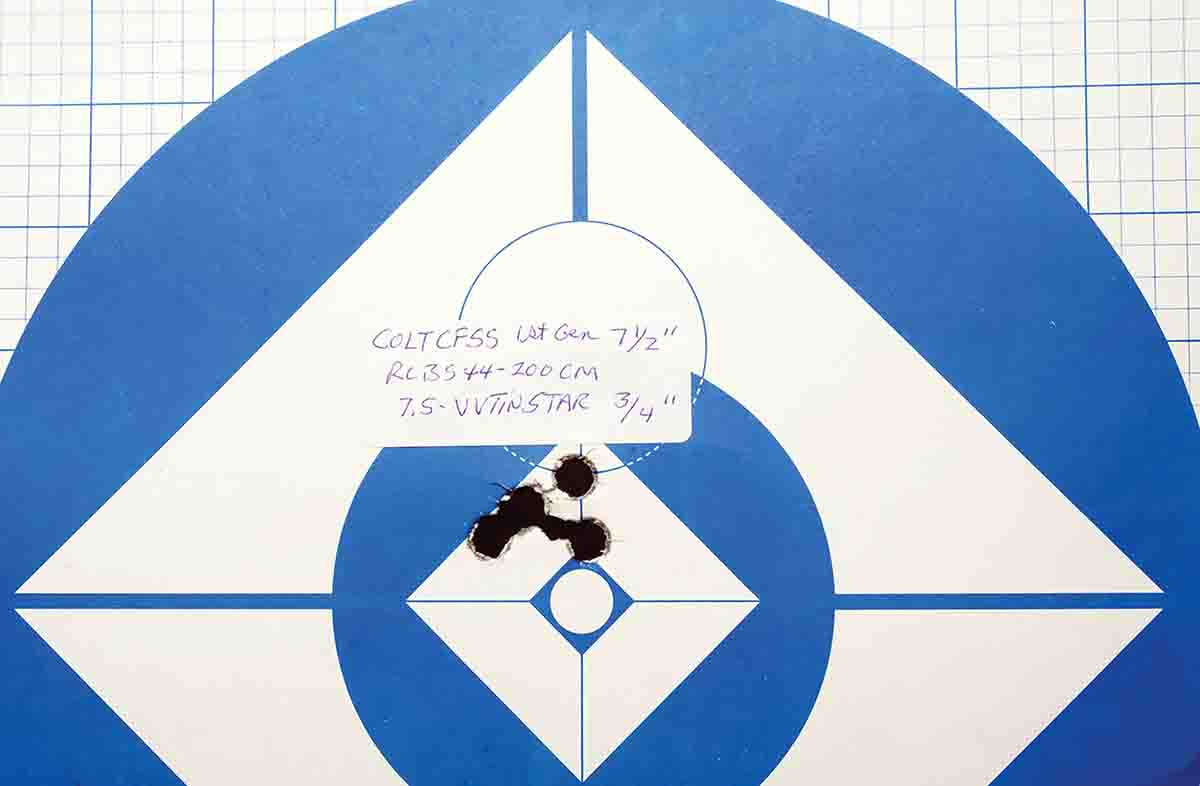 There are certain things pertaining to my handloading for all Colt SAA calibers that are now standard – more or less – as based on experience. One is bullet alloy and bullet type. When cast by me, roundnose/flatpoint bullets are most common, for I also have 32-20, 38-40 and 44-40 leverguns and one 44 Magnum, in which 44 Special handloads are fired. Alloy for all is 1:20 tin-to lead. It casts beautifully and with soft SPG or DGL lube, seldom is more than a speck of lead fouling found during clean-up. As part of my handloading regimen, bullets are sized more to mate with SAA cylinder chamber mouths than with barrel groove diameters – again learned from experience.
As for primers, any will suffice and, in this day and age of shortages, that's a good thing. However, there always has to be an exception. My SAA 32-20s' firing pins (I have five) tend to puncture small pistol primers. Small rifle primers cure the problem. Most of my SAA shooting now can be done with Hodgdon's Trail Boss. It fills cases to the point double charges are nigh-on impossible without overflowing the case. It's also "gentle" for lack of a better word as in its muzzle report is milder than some other propellants. As said, there are always exceptions. In a recent SAA 44-40 project, I found Vihtavuori's Tin Star propellant to give the best group averages.
At my age, it's doubtful that I will ever buy another handgun – except for Colt SAAs. I am not finished with them.