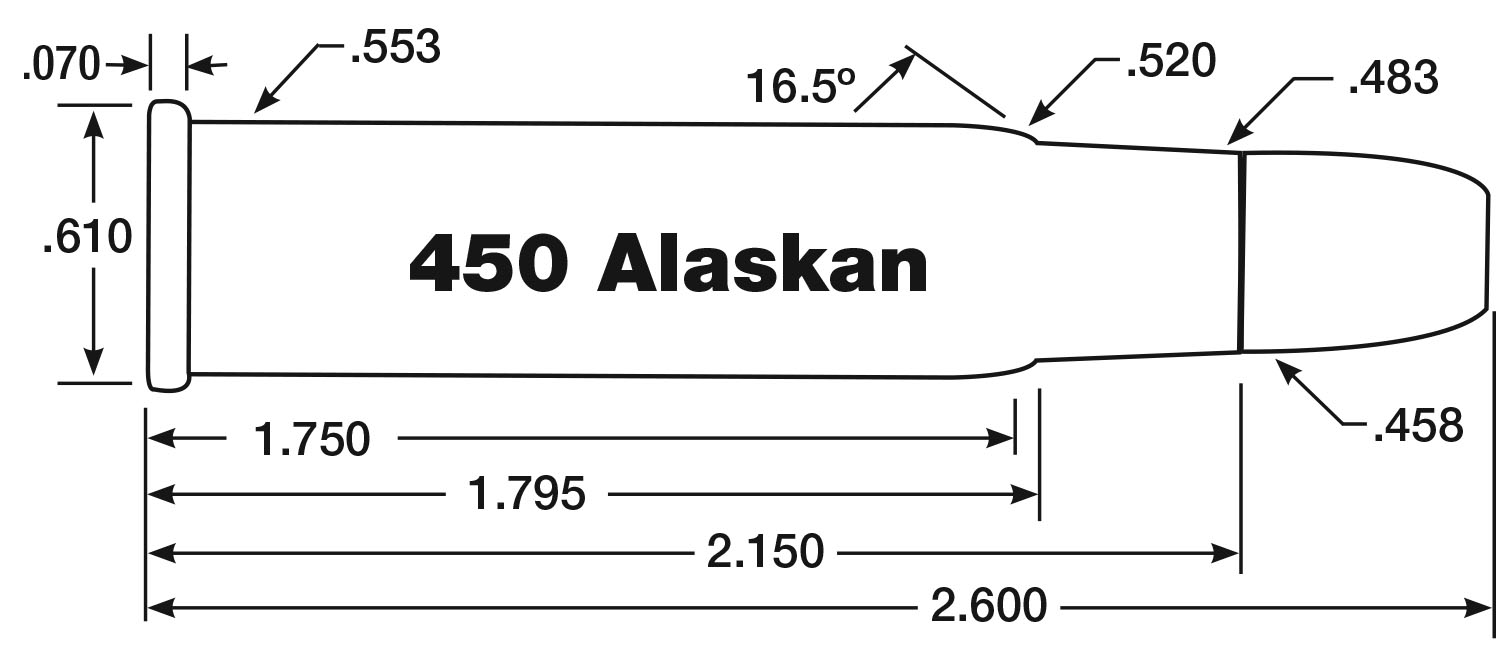 The 450 Alaskan was developed during the early 1950s by Gunsmith Harold Johnson, who had a shop in Cooper Landing, Alaska, called "Johnson's Kenai Rifles." He picked up a few extra dollars by guiding other hunters and his intent was a cartridge and rifle combination suitable for quickly stopping a wounded brown bear wounded at close quarters from escaping.
Thinking other hunters might also be interested in his cartridge, Johnson ran a small advertisement in the May 1955, American Rifleman. He charged $185 for a complete Winchester Model 71 rifle in 450 Alaskan or $85 for converting a customer-furnished Model 71. To put those prices into perspective, in that same issue of American Rifleman, Bruce Hodgdon was peddling 100-pound kegs of military surplus H-4831 and H-4895 for $47. During my email exchanges with Harold Johnson's son, Jeff, he mentioned that his father also converted Polish F.B. Radom 1898 Mausers in 8x57mm Mauser for the 450 Alaskan.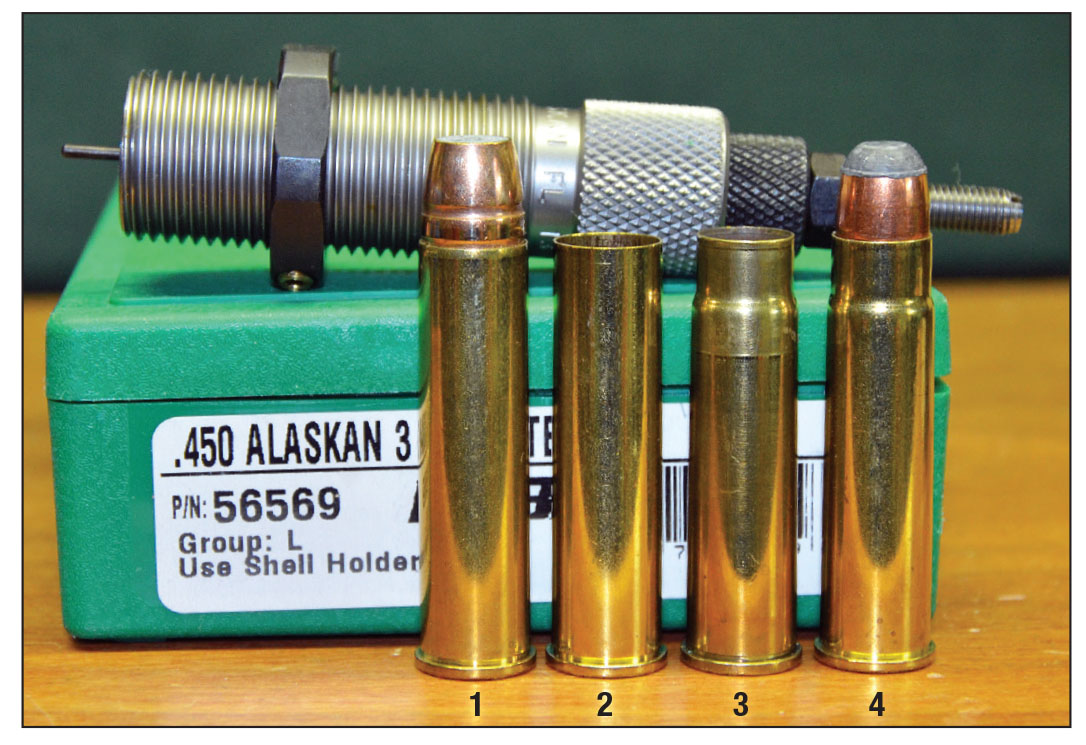 The 450 Alaskan case was formed by necking-up 348 Winchester brass and fireforming to less body taper and a shoulder angle of approximately 16.5 degrees. Johnson used barrels made by John Buhmiller and chamber reamers were ground by Bill Fuller, who worked in the Cooper Landing shop at the time. The barrels of rifles were marked "JKR" for Johnson's Kenai Rifles. The 400-grain bullets made by Frank Barnes were available with jacket thicknesses of .032 inch and .049 inch. According to Jeff Johnson, one of the first rifles in 450 Alaskan built by his father was sold to Alaskan Carl Williams who used it to take a "tremendous" number of brown bears.
Nominal length of virgin 348 Winchester cases made by Winchester and Hornady is 2.250 inches. Necking-up and fireforming reduces the length to about 2.150 inches. Neck length is .350 inch. The Starline 50 Alaskan case is 2.098 inches long and necking it down increases it to 2.120 inches. That puts neck length of 450 Alaskan cases formed from Starline brass .030 inch shorter than from 348 Winchester brass, although I have not found it to be a problem. A firm roll crimp, along with a powder charge that requires a bit of compression during bullet seating, prevents bullets in cartridges in the tubular magazine from being pushed more deeply into the case during recoil. The advantages to using Starline cases are availability and no fireforming is required. Should the slightly shorter neck be a concern, 450 Alaskan cases made by Quality Cartridge are 2.145 inches long with neck length about the same as cases formed from 348 Winchester brass.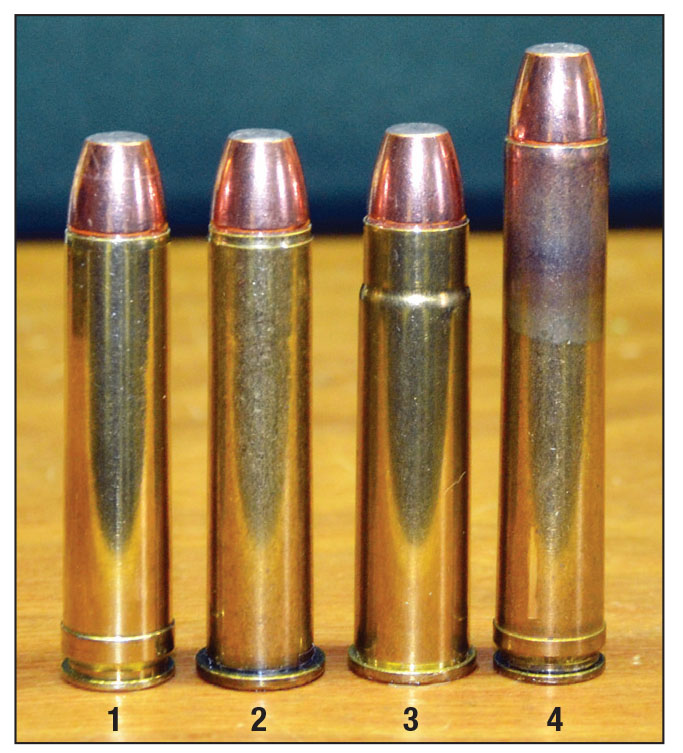 Virgin 45-70 Government cases range from 2.100 to 2.110 inches. While the 450 Alaskan case is a bit longer, the cannelures of most jacketed bullets made for the 45-70 are positioned correctly for seating to overall cartridges lengths compatible with the Winchester Model 71 and new Marlin Model 1895 rifles. An exception is the Hornady 325-grain FTX. While the 45-70 case can be shortened, the required .060 inch for use of that bullet in the Marlin rifle, the neck of the 450 Alaskan is a bit short for doing so.
Bullets weighing 300 grains from Nosler, Hornady and Speer should be excellent choices for use on deer. The Speer 400-grain FNSP is deer and possibly black bear worthy, but having used it in the 45-70 a great deal through the years, I consider it a bit too soft for sufficient penetration on larger game such as moose and elk. Back when Remington offered a 405-grain softpoint for handloading, I used it on game up to the size of caribou and found it to be of tougher construction than the Speer 400-grain bullet. For taking animals larger than deer, the Hornady 350-grain flatnose bullet with its thicker jacket is a good choice. It has performed nicely on elk and Alaskan-Yukon moose. The roundnose version of the Hornady 350-grain bullet should not be used in a rifle with a tubular magazine.
Of the bullets I have tried in the 45-70 and the 450 Alaskan, the Swift 350-grain A-Frame is the best all-around choice for all game those cartridges are suitable for. Expansion is sufficient to plow an impressive wound channel through game as light as deer with enough penetration to end up expanded against the offside hide of moose and elk. Unlike Harold Johnson, I have not hunted brown bear with his cartridge but should an opportunity to do so someday knock, the cartridges in the magazine of my Marlin will likely be loaded with the Swift bullet at a velocity of 2,100 feet per second or so. Alternating cartridges loaded with it and the Barnes 400-grain Buster is an option that comes to mind. Leaving jacketed bullets at home and using a heavy, hard-cast bullet such as the Rim Rock weighing 430 grains might be the best plan of all.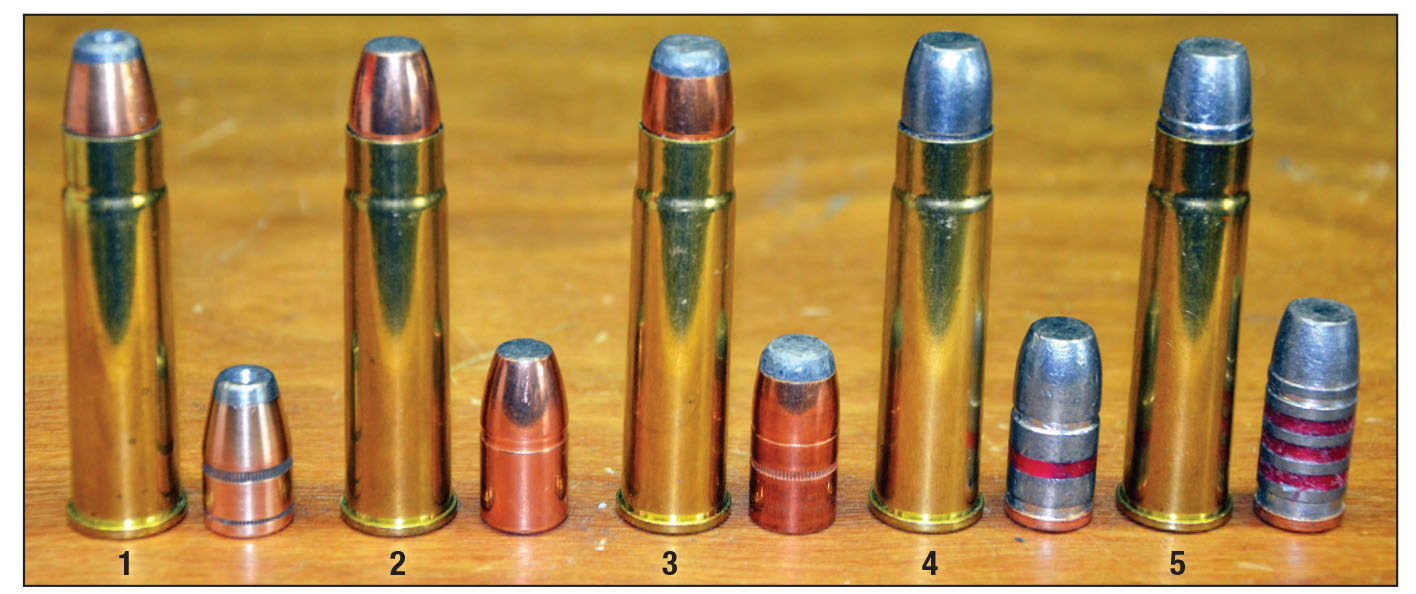 I compared net water capacities of the 450 Marlin, 45-70 and 450 Alaskan by seating Swift 350-grain A-Frame bullets in unprimed cases at overall cartridge lengths that allow crimping into its cannelure. Cases used were Hornady for the 450 Marlin, Winchester for the 45-70 and Starline 50 Alaskan cases necked-down for the 450 Alaskan. After weighing them with bullets seated, I inserted the needle of a hypodermic syringe through flash holes, filled them with water and weighed them again. Net capacities were 52.6 grains for the 450 Marlin, 56.8 grains for the 45-70 and 65.4 grains for the 450 Alaskan. With that same bullet, the Winchester 458 Magnum case held 68.3 grains of water. While only small differences exist in the capacities of the 450 Alaskan and 458 Magnum cases, the latter is faster because it is commonly loaded to a chamber pressure of 53,000 CUP for modern bolt-action rifles. When loaded for the new Marlin Model 1895, 450 Alaskan pressure should not exceed the 40,000 CUP as recommended in the Hornady and Hodgdon manuals for the 45-70 in that rifle.

Most powders commonly used in the 45-70 work equally well in the 450 Alaskan. When seated for crimping into its cannelure, the base of the Hornady 300-grain hollowpoint is aligned with the juncture of the neck and shoulder of the case. Protrusion into the powder cavity of the case for other bullets is as follows; Hornady 350-grain flatnose (.120 inch), Swift 350 grain (.160 inch), Speer 400 grain (.180 inch), Rim Rock 405 grain (.320 inch) and 435 grain (.410 inch). Powder charge compression with most bullets is just enough for uniform ignition. That along with trimming cases to the exact same length for uniform roll crimping should prevent recoil-induced bullet push-back of cartridges in a tubular magazine.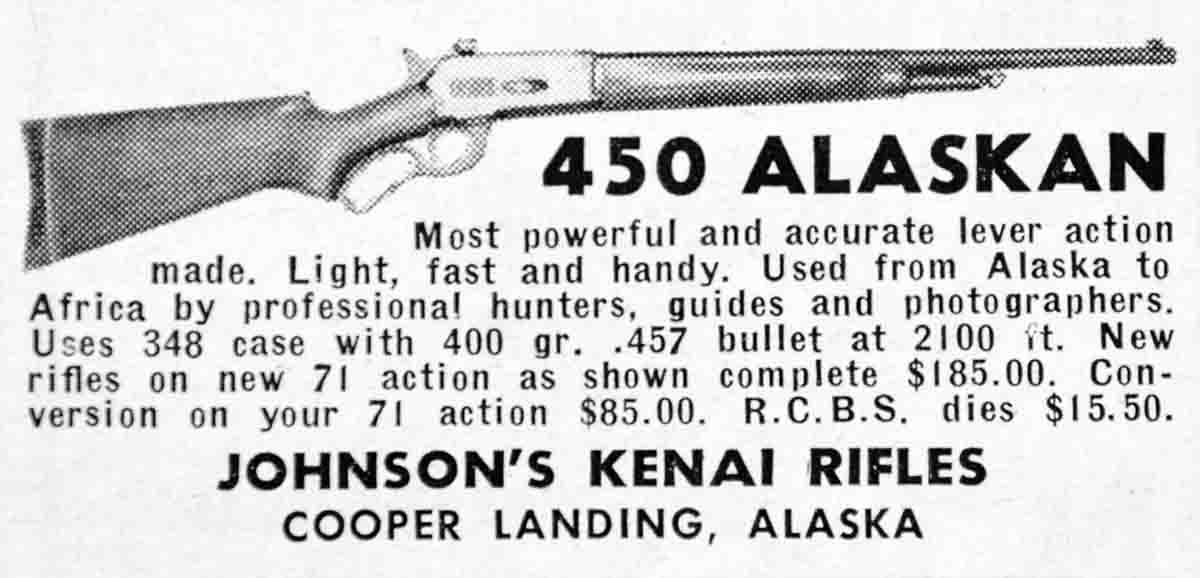 Gunsmith Harry McGowen, who had a barrel-making shop in St. Anne, Illinois, built rifles in 450 Alaskan and 50 Alaskan for more than 40 years. In addition to the Winchester and Browning Model 71 rifles, he converted the new Marlin Model 1895 and military surplus Siamese Mausers. My Marlin has one of his 22-inch barrels with a rifling twist rate of 1:18 inches. It has a muzzle diameter of .730 inch and weighs 8¼ pounds with a Williams Foolproof receiver sight and a thick recoil pad. The rifle does not drive tacks but its groups are a lot smaller than the vital area of a moose. Harry converted far more Marlin 1895 rifles because the Model 71 was more expensive and not as easy to find. The Winchester will feed the 450 Alaskan loaded to a slightly longer cartridge length, but the Marlin handles cartridges loaded with most bullets designed for use in the 45-70 Government.
In his book, Asian Jungle-African Bush (1959), Colonel Charles Askins wrote about using a Winchester Model 71 in 450 Alaskan while hunting in the bamboo thickets of Vietnam during the early 1950s. The game he took included gaur, a giant bovine measuring more than 6-feet tall at the shoulders and said to weigh as much as 2,500 pounds. His use of the Barnes 400-grain bullet with a .032-inch jacket rather than the .049-inch jacket on such a large animal proved to be less than a good idea. Completing the job required eight shots at distances as close as 30 feet.
Today, SSK Firearms (formerly SSK Industries) converts new Marlin Model 1895 and Winchester/Browning Model 71s to 450 Alaskan and 50 Alaskan. They built my Marlin in 50 B&M Alaskan and in addition to functioning with total reliability, accuracy is quite good and overall quality is superb. My column on that rifle and cartridge was published in Handloader No. 312 (February - March 2018).