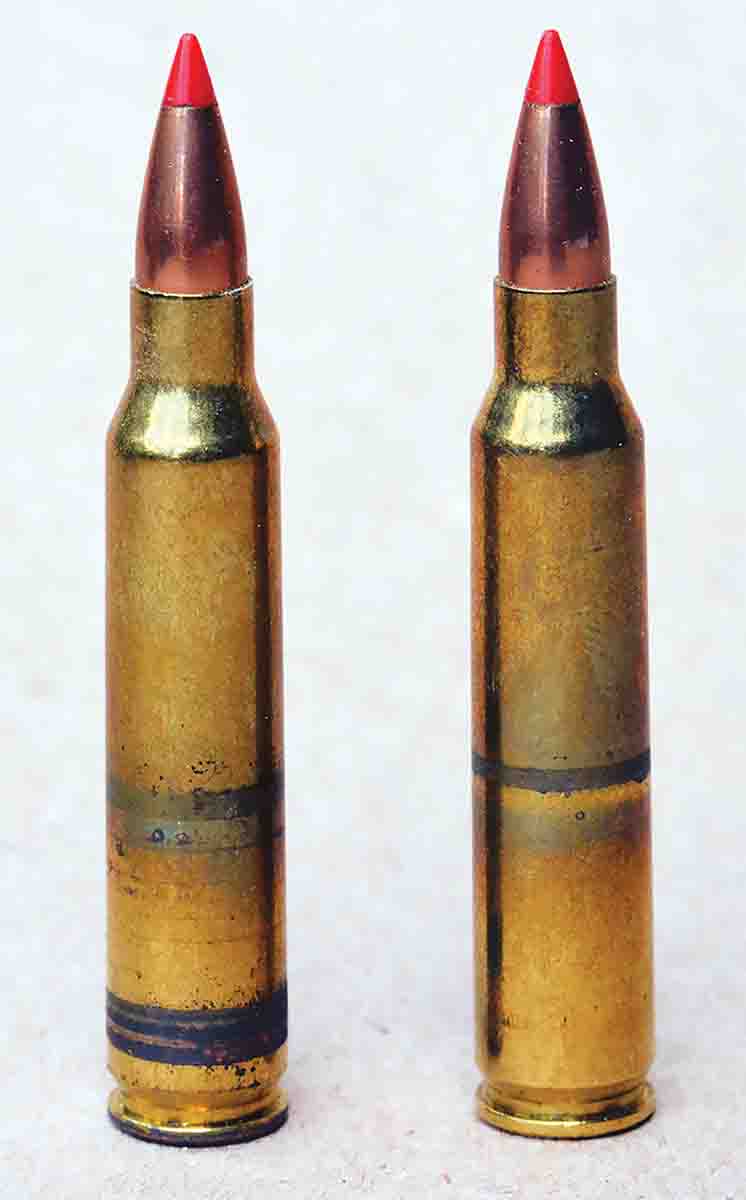 Q: I appreciate the information and knowledge that you and the Handloader staff provide. I always look forward to each issue and usually read it from cover to cover.
I had a very odd thing happen; about 20 years ago, I purchased 1,000 rounds of USA-manufactured 223 Remington ammunition. The load contained a 50-grain Hornady V-MAX bullet that shot extremely well in my Cooper Arms Model 21 rifle. I fired around 500 rounds on a varmint shoot, which worked perfectly. I set the other 500 rounds aside for later use. I used the 500 empty cases to develop handloads that performed more or less the same as the factory load using the 50-grain V-MAX bullet.
Recently, I was invited to join some friends on a varmint shoot in June. Being short on time to reload for the hunt, I decided to use the original 500 rounds of factory loads. But to my dismay, when I went to the range to double-check my sight-in, about half of the rounds exhibited some green corrosion just above the head. A few rounds showed the green corrosion around the neck and shoulder area. I elected to not fire them, rather took the time to sit down and handload ammo using a load that I got from you using Hodgdon Benchmark powder with the 50-grain Hornady V-MAX bullet that is incredibly accurate. I am now ready for our varmint shoot. The corroded ammunition has always been stored indoors in a dry atmosphere and in controlled temperatures.
This experience has me concerned. I have U.S. military surplus 30-06 ammo from the 1950s that does not show any signs of deterioration that I fire regularly in my M1 Garand. I have been handloading for over 40-years and have stored ammunition for 20-plus years without any signs of deterioration. So my question is why would this 223 Remington ammunition go bad so quickly?
Any insight will be appreciated.
J.J., Santa Fe, NM
A: In examining the samples that you forwarded, it seems that the problem you experienced with factory loads is becoming more common, but is still rare. However, it is most prevalent with European powders that are specified to have a shelf life of 10 years. Many European powders will last much longer than this, but regular rotation of powder and ammunition is highly encouraged. And yes, many U.S. ammunition companies are using imported powders. You should find it of interest that once powder is loaded into a cartridge, rather than being stored in a large bulk quantity, the likelihood of powder deterioration is greatly reduced, but it can still occur as you have experienced. SAAMI does not specify powder life.
It is always a good idea to keep powder and ammunition rotated and as fresh as possible to prevent the problem that you experienced. I hope you have a great varmint shoot.
---
Ruptured Cases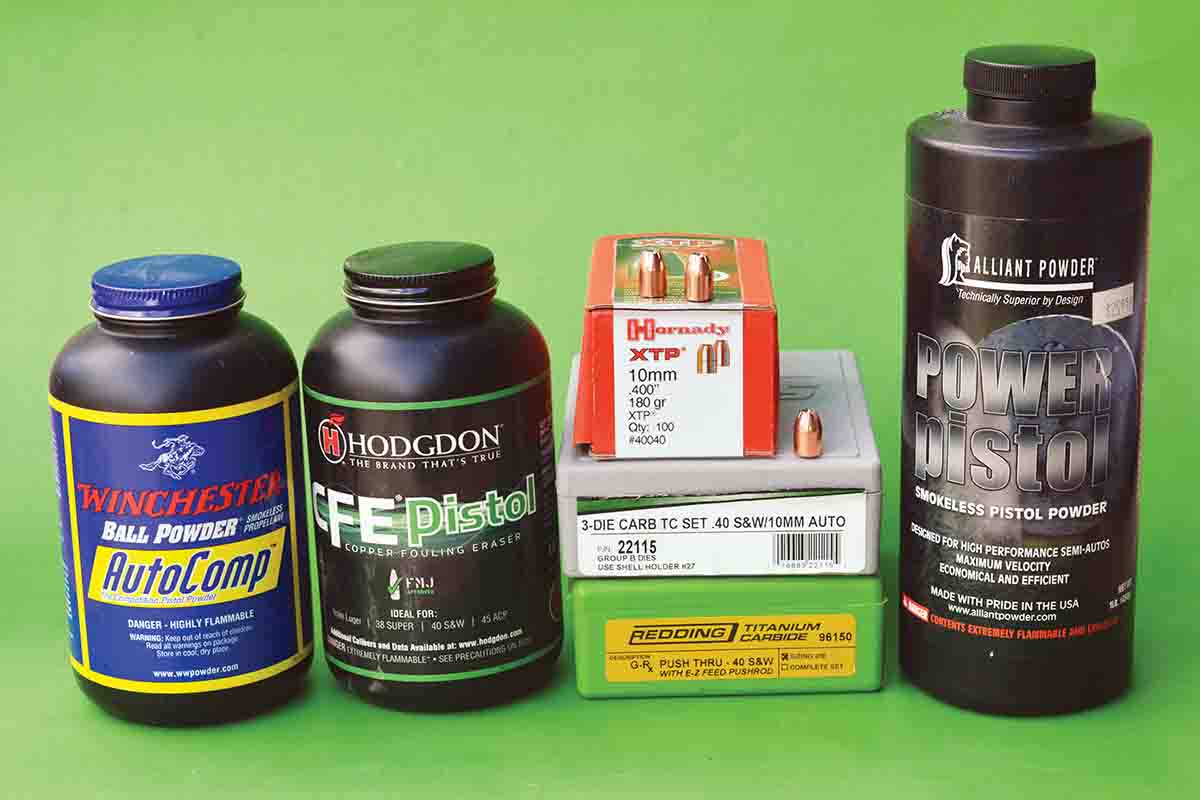 Q: I have two pistols chambered for the 40 S&W that include a Kimber 1911 and a Glock 22. I am relatively new to handloading for handgun cartridges, but have a couple of concerns. I have been told that the 40 is prone to rupturing cases and should not be used with handloaded ammunition; others say that I must keep pressures very low. I would like to use cast bullets, but Glock says no. Any insight that you can offer will be appreciated. I have several different powders on hand, but am willing to purchase whatever you suggest. Can you offer a load with the Hornady 180-grain XTP? And can you suggest a medium velocity load using the Rim Rock 180-grain cast bullet in my Kimber? Thanks in advance and thanks for providing such a fine magazine.
H.J., via Facebook
A: You can assemble loads that fully duplicate factory load performance. Just be certain to use credible data and be exact with powder charge weights. Also, use identical components as tested to seat bullets to the proper or "tested" depth. In other words, a bullet that is seated .050 inch (or more) deeper than tested can cause pressures to increase substantially.
Your Glock can work very well with cast bullet loads; however, the problem is that many commercial cast bullets will build up some lead just forward of the chamber in the leade area. If this is not removed prior to firing jacketed bullets, and few shooters ever do, pressures can spike. This has been known to cause cases to rupture due to the lower chamber design of the Glock pistol.
There are many excellent powders that will offer top performance with the Hornady 180-grain XTP bullet. I would suggest trying 7 grains of Alliant Power Pistol for 1,050 fps, 6.3 grains of Hodgdon CFE Pistol for 1,030 fps or 6.2 grains of Winchester AutoComp for 1,040 fps. For the Rim Rock 180-grain cast bullet, try either 5 grains of Power Pistol for 875 fps, or 4.5 grains of Winchester 231 powder for the same velocity. These loads were assembled in Starline cases and capped with a Winchester Small Pistol primer.

---
45 ACP Handloads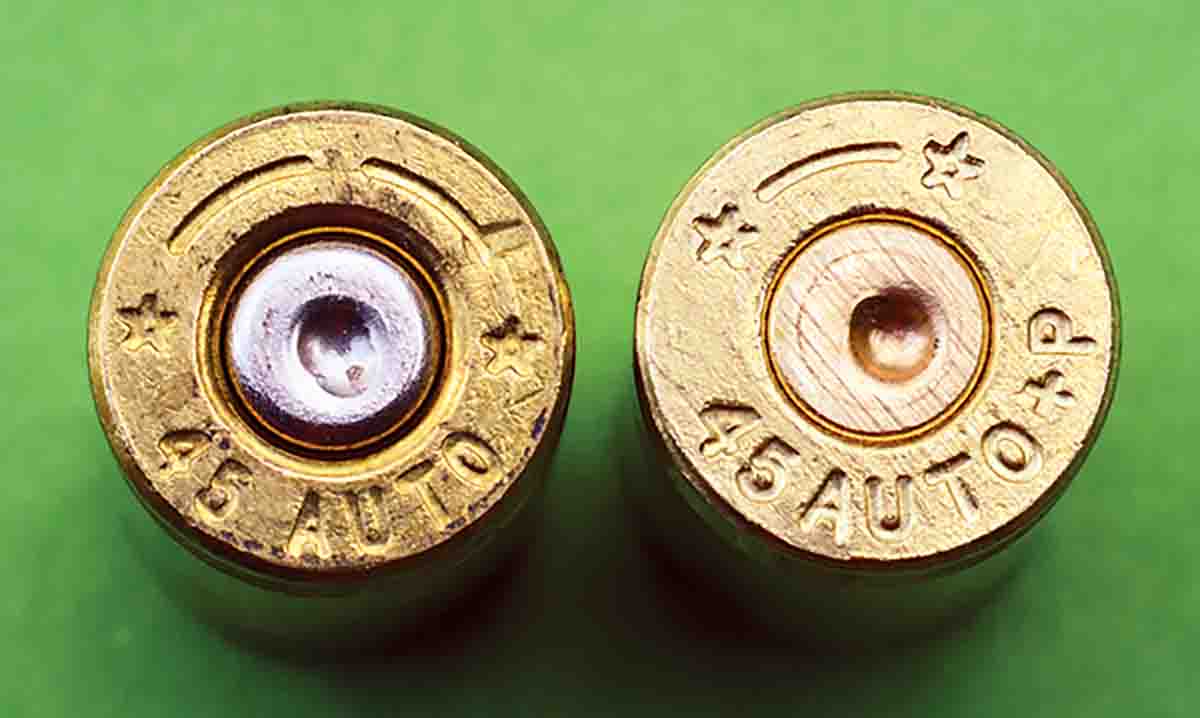 Q: I enjoyed your article on the Les Baer 1911 Custom Carry 45 ACP. However, it did raise a couple of questions about your handloads. I would like to duplicate your loads. You specified that you used Starline cases, but did not indicate if they were standard 45 ACP or 45 ACP +P cases. You used 8.2 grains of Alliant Power Pistol with the 230-grain Hornady XTP bullet, which you list as a +P. I have Starline 45 ACP cases on hand. Can I use them with the above load?
F.C., Amarillo, TX
A: I used new Starline cases with "45 AUTO" headstamp to develop standard pressure and +P handloads. Other than the headstamp, these cases are identical to the Starline "45 AUTO +P cases. The +P designation is for the sole purpose to better identify and differentiate handloads (as well as the many commercial ammunition companies that use Starline cases). Incidentally, virtually all 45 AUTO and 45 AUTO +P cases from other manufactures are likewise identical.
Thanks for taking the time to write and for reading our magazine.
---
35 Whelen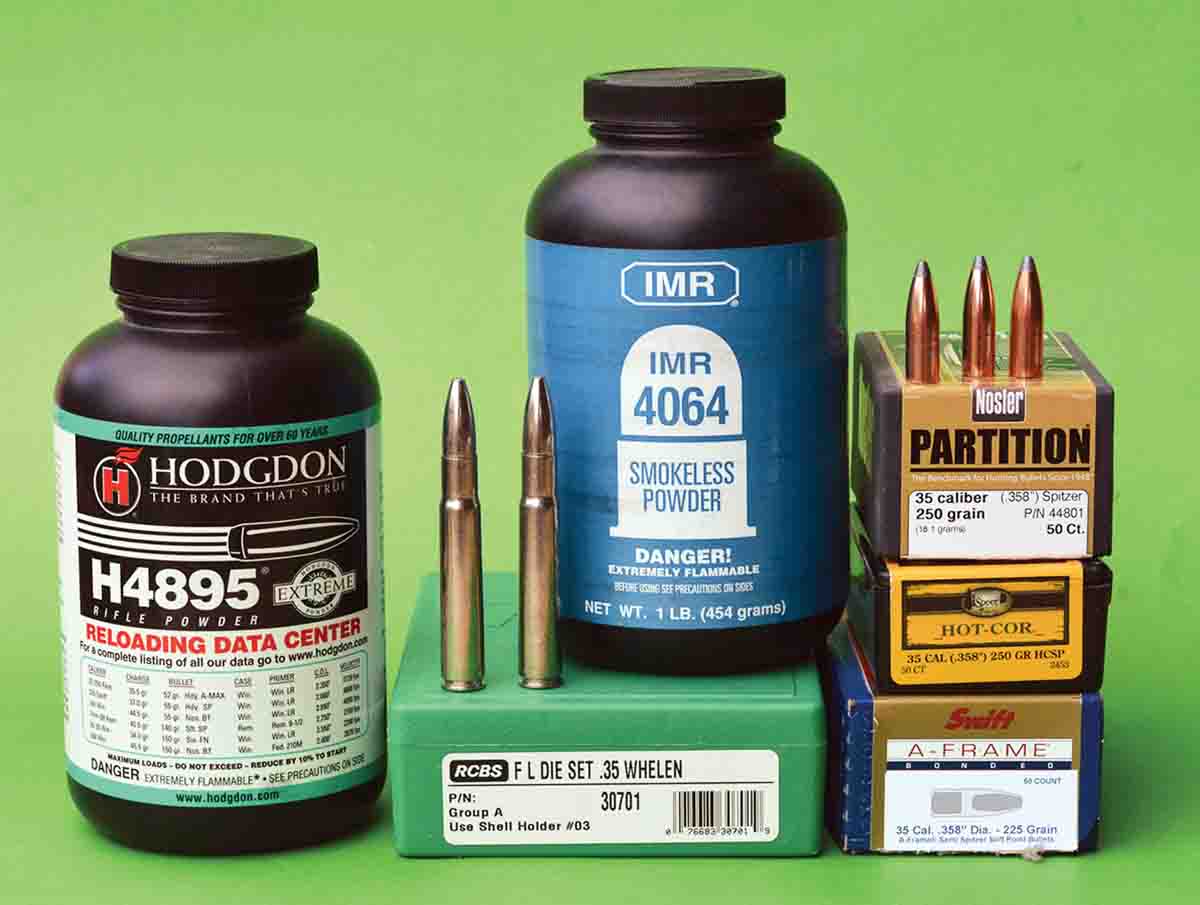 Q: I own two rifles chambered 35 Whelen. The first one that I purchased more than 40 years ago is an exceptionally nice, profusely engraved, cased, R.F. Sedgley Springfield that appears unfired and is going to stay that way as long as it is in my collection. But, when Ruger offered their M77 Hawkeye Stainless Steel a few years back, I purchased one, as it will make a great field rifle for larger species such as moose that I will be hunting this fall and I will feel guiltless using it. I have some period load data using IMR-4064 powder with 250-grain Speer Spitzer SP bullets that I have been loading in Remington cases, but those loads are blowing primers. I also have some 250-grain Nosler Partitions and 225-grain Swift A-Frame bullets that I would like to try.
So my questions are; are my loads excessive or do you think there is a problem with the rifle? Perhaps you can offer load data for the 250-grain bullets and the 225-grain Swift A-Frame bullet? I would like to reach the maximum velocity potential for each bullet.
H.T., Dexter, ME
A: I deliberately omitted your powder charge that you provided in your letter because it is way excessive and explains why your load is blowing primers. Clearly, your rifle is not the problem. Much of the old data for this cartridge was never pressure tested and those that were wildcatting and developing data wanted to get maximum velocity, so high pressures were often ignored. Furthermore, you are using Remington cases, which often have less capacity than other manufacturers. As a result, this can further increase the pressures of your loads.
Using the Speer Spitzer Hot Core 250-grain bullet or the Nosler Partition 250-grain, reduce your charge to 55 grains, which should give around 2,450 fps from the 22-inch barrel of your Ruger rifle. If you are willing to change powders, try 55 grains of Hodgdon H-4895 for 2,530 fps, which will also give top-notch accuracy.
Switching to the Swift A-Frame 225-grain bullet, try 58 grains of IMR-4064 powder, which will give nearly 2,700 fps from a 22-inch barrel. The above loads were developed with standard large rifle primers. As a reminder, start at least 5 percent below the above charges and work up to maximum loads while watching for signs of excess pressure.
I hope that information helps and good luck hunting.