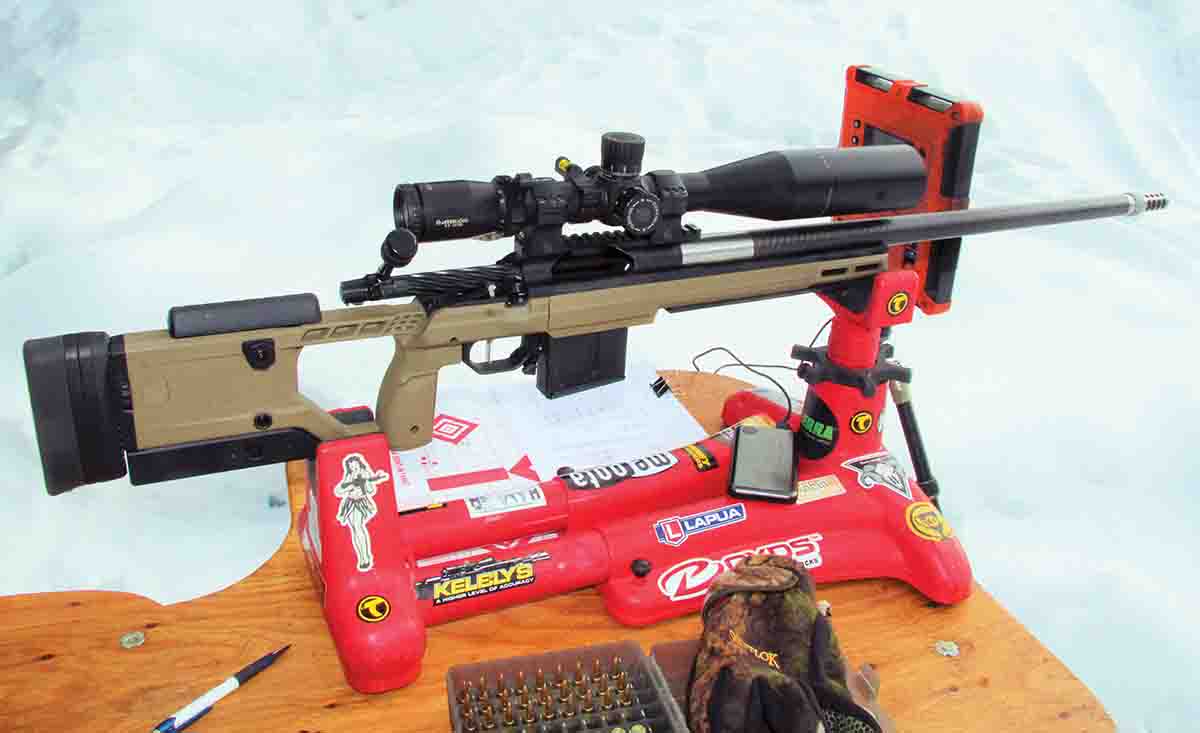 Justin Stout, operations manager for Rocky Mountain Reloading in Lewiston, Idaho, first made me aware of the 224 Grendel. I'd stopped by to pick up some of the company's new 3 Gun Hunter (3GH) 75-grain bullets (included in this test). Justin is a hard-core, long-range shooter, with hardly a summer weekend passes that he does not compete in an organized competition. He is also an avid varmint shooter, so our talk naturally turned to the agonizing wait for spring and the upcoming varmint-shooting season. On that subject, the 22 Creedmoor entered the conversation, a cartridge I consider the ultimate long-range rockchuck and coyote medicine.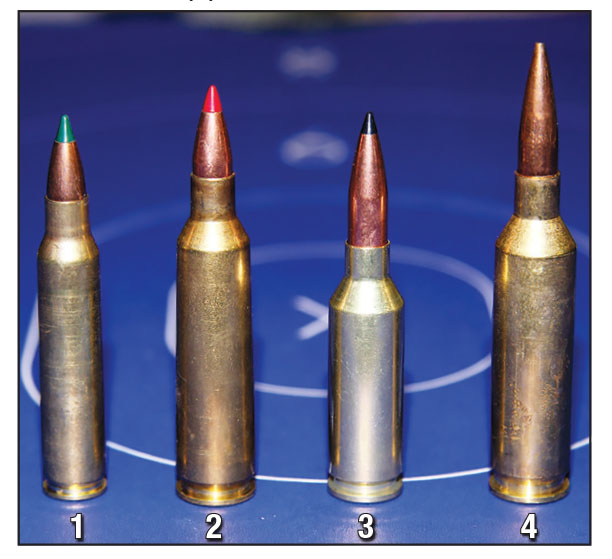 Stout insisted he had found something better – the 224 Grendel – a cartridge promising improved efficiency and especially longer barrel life. He claimed to be sending high ballistic coefficient 90-grain bullets at 2,900 to 2,950 feet per second (fps), or just a bit slower than my much larger 22 Creedmoor. Stout sent 3,600 rounds of what he termed abusive shooting through his first 224 Grendel barrel until velocity began to erode. He expects to get 4,000 rounds out of his newest barrel. He also noted the cartridge, and his rifle made by Upriver Precision Arms in Santa, Idaho, was incredibly accurate.
I was certainly intrigued! My first call was to Jack Allman, co-owner of Upriver Precision Arms, which resulted in a two-hour conversation involving rifles and cartridges, and a lot of talk about one of my favorite subjects, shooting long-range varmints. Allman related that his quest for the ultimate PRS/long-range varmint cartridge led to the 224 Grendel. He admitted he was not the first to experiment with the cartridge, but he has certainly become one of the cartridge's biggest advocates.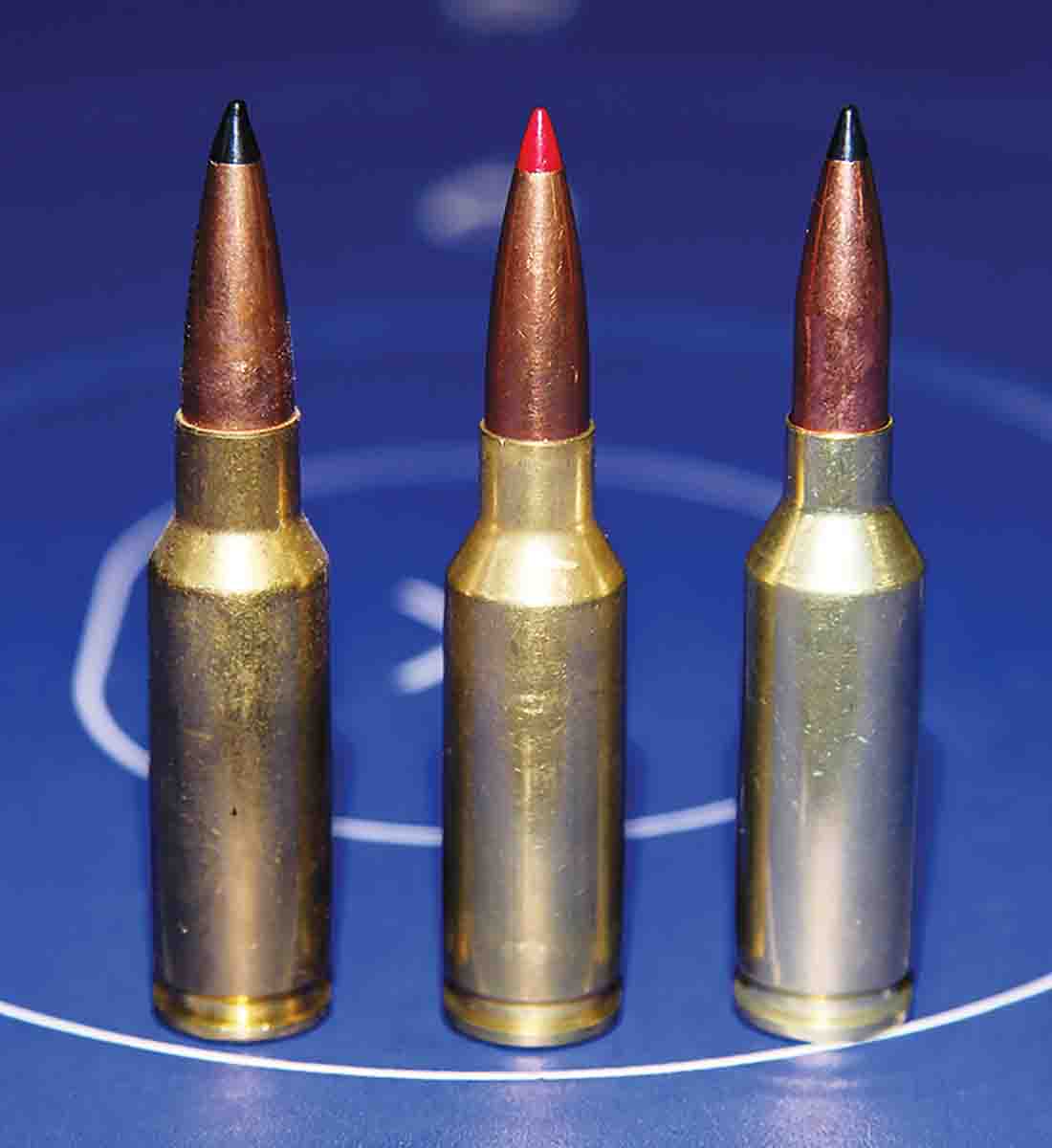 It wasn't long before the two of us got together, Allman and Stout arriving with the rifle, handloading dies, brass, and load data insight for this project.
The 224 Grendel was created by necking down the 6.5 Grendel and retaining the 30-degree shoulder. The obvious question is how the 224 Grendel differs from the long-established 22 PPC. The 22 PPC case includes an overall length of 1.515 inches, a base-to-shoulder length of 1.230 inches, a .285-inch length neck, a .059-inch-thick rim, a .441-inch case head, and a 30-degree shoulder. The 224 Grendel case included a slightly longer body length of 1.516 inch and a shorter .26-inch neck, with all other dimensions quite similar. Obviously, the two cartridges are quite close in stature. The most glaring difference is the 224 Grendel's 1:7 rifling twist used to stabilize bullets up to 90 grains, contrasted against the 22 PPC's 1:14 twist used to propel bullets up to 55 grains.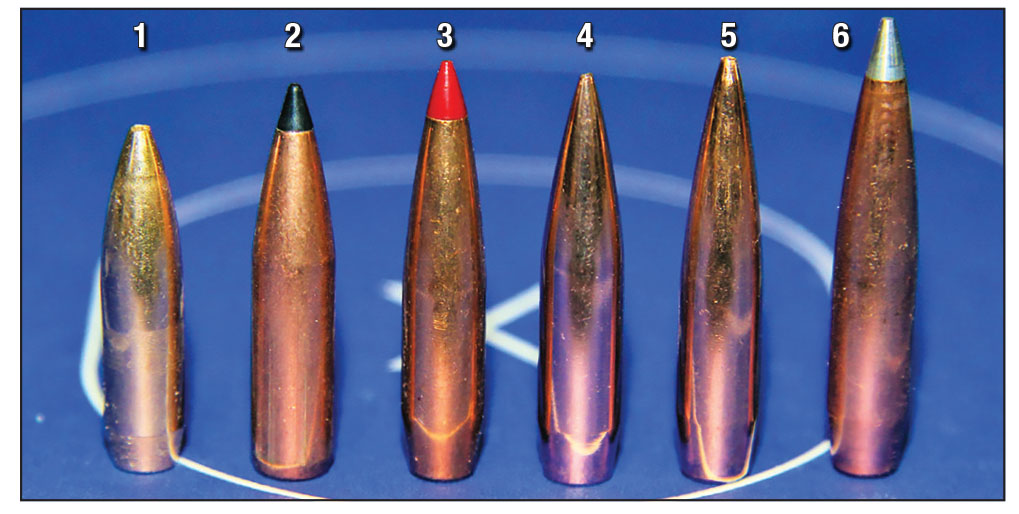 The rifle Allman delivered was one of Upriver's creations, including a Kelbly Atlas Tactical action, MTU Carbon IBI barrel, TriggerTech Flat Diamond trigger and a KRG Xray chassis. Atlas Tactical actions are cone nosed for improved feeding, making it compatible with the short stature and sharp shoulders of the 224 Grendel. It included an extended bolt with an oversized bolt knob, and a simple two-position, Remington-style safety and left-side rocker bolt release. The spiral-fluted bolt included dual opposing lugs, AR-style extractor, and kidney bean-shaped ejector. Rounds were fed from a 10-round MDT detachable 6mm ARC magazine, dislodged through an ambidextrous magazine release, located at the front edge of the trigger guard. The MTU barrel was 26 inches long, measured 1 inch in diameter at the muzzle and included a fast 1:7 rifling twist to handle long-for-caliber bullets with high ballistic coefficients (BC). It held an Upriver proprietary muzzle brake with a reverse-thread locking collar that makes it tunable. The TriggerTech Flat trigger was ultra crisp and broke at 1 pound with no overtravel. The KRG stock was made in Idaho, a chassis design that offers a high degree of function at an affordable price. The stock included an adjustable comb, length of pull and butt cant, plus a soft recoil pad. The chassis is milled aluminum over-molded with polymer to eliminate pings associated with some chassis stocks. It held an ARCA rail on the forearm. The rifle, with the scope mounted, weighed 14.93 pounds.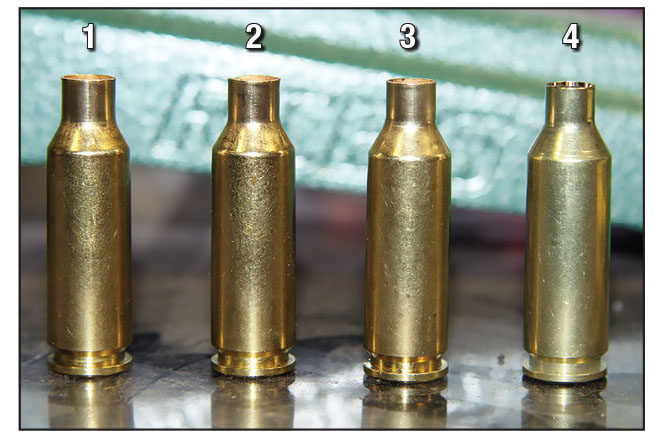 The rifle was topped with a front focal plane Athlon Ares ETR 4.5-30x 56mm scope. This is an affordable but high-quality optic with exposed elevation and windage turrets including 0.1-mil corrections. The movement was positive and tactile. A 25-yard-to-infinity side parallax adjustment was part of the package, as well as an illuminated reticle controlled by a side knob stacked atop the parallax knob. Illumination included nine intensity settings, with "0"s between each to extinguish illumination while also keeping a desired brightness level handy. The optic was mounted in beefy six-hole MDT rings atop a Picatinny rail. Jackman had added a bubble level and extended throw lever.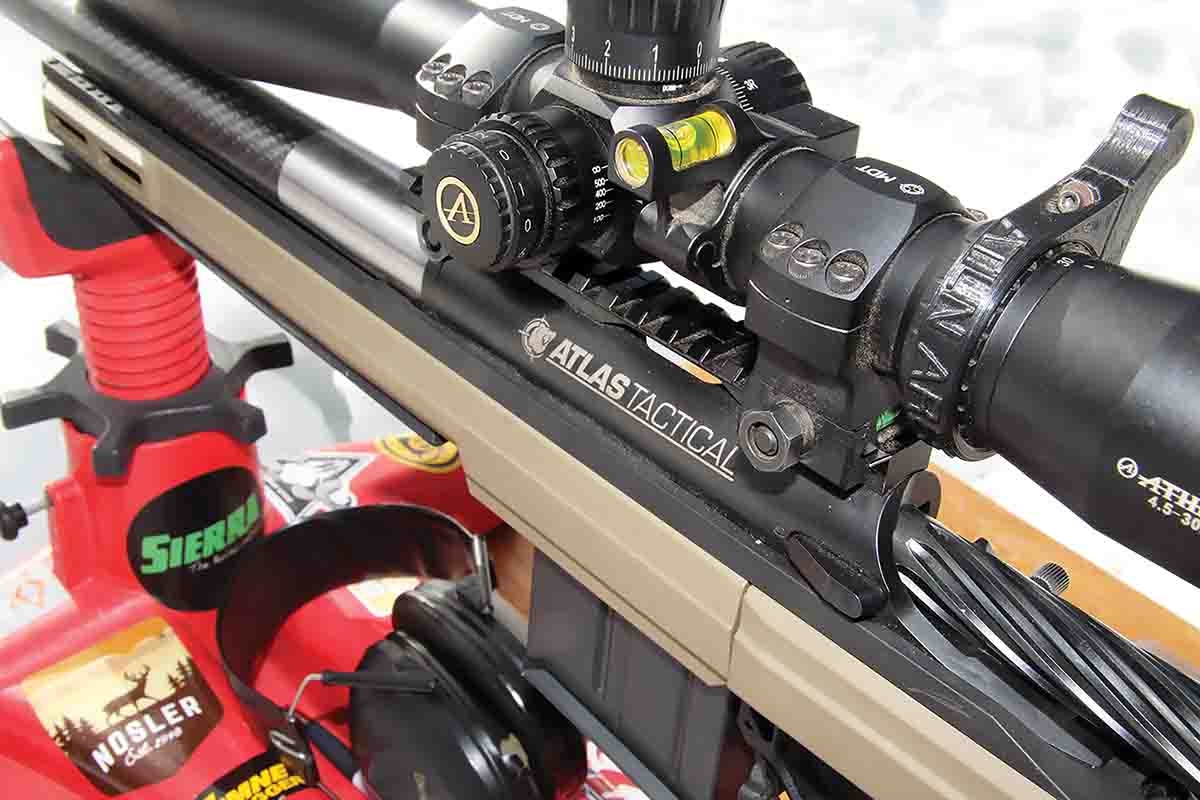 Allman's dies were made by Redding (sizing and mandrel) and Forster (seating). These included a 6.5 Grendel bushing die with titanium bushings. Creating 224 Grendel cases from 6.5 Grendel brass is fairly simple, a process Allman has streamlined to minimize steps and eliminate the formation of neck/shoulder junction donuts. He starts with the Redding 6.5 Grendel bushing die, stacking a .276-inch bushing beneath a .265-inch bushing and locking down tight, adjusted to push to the neck/shoulder junction. Final necking is conducted by replacing the .276- and .265-inch bushings with a .251-inch bushing, tightened and then backed off a half turn to allow the bushing to float. After this step, the case is run through a Redding 223 mandrel die to create ideal bullet tension. Allman recommends a carbide mandrel, as it requires no neck lube. Bullets were installed with a beefy Forster 22 PPC seating die.
Allman prefers Starline 6.5 Grendel Small Rifle primer brass because they include thinner walls than many other brands. Trimming each case to 1.51 inches is the final step after sizing. Allman and Stout recommend CCI No. 450 Magnum Small Rifle primers, as they have found them most consistent with this cartridge after trying many options. Remington No. 7½ – if you can find them – is their second choice. My first round of loading, using the Winchester WSR primers I had on hand, resulted in ho-hum accuracy (for this rifle) with the 3GH 75-grain bullets, though they proved compatible with the Swift Scirocco II 75-grain bullets. In fact, they produced the best groups I've witnessed with that controlled-expansion design from any cartridge. Ultimately, I secured some CCI No. 450 primers and started again, but left the WSR/Scirocco II loads alone.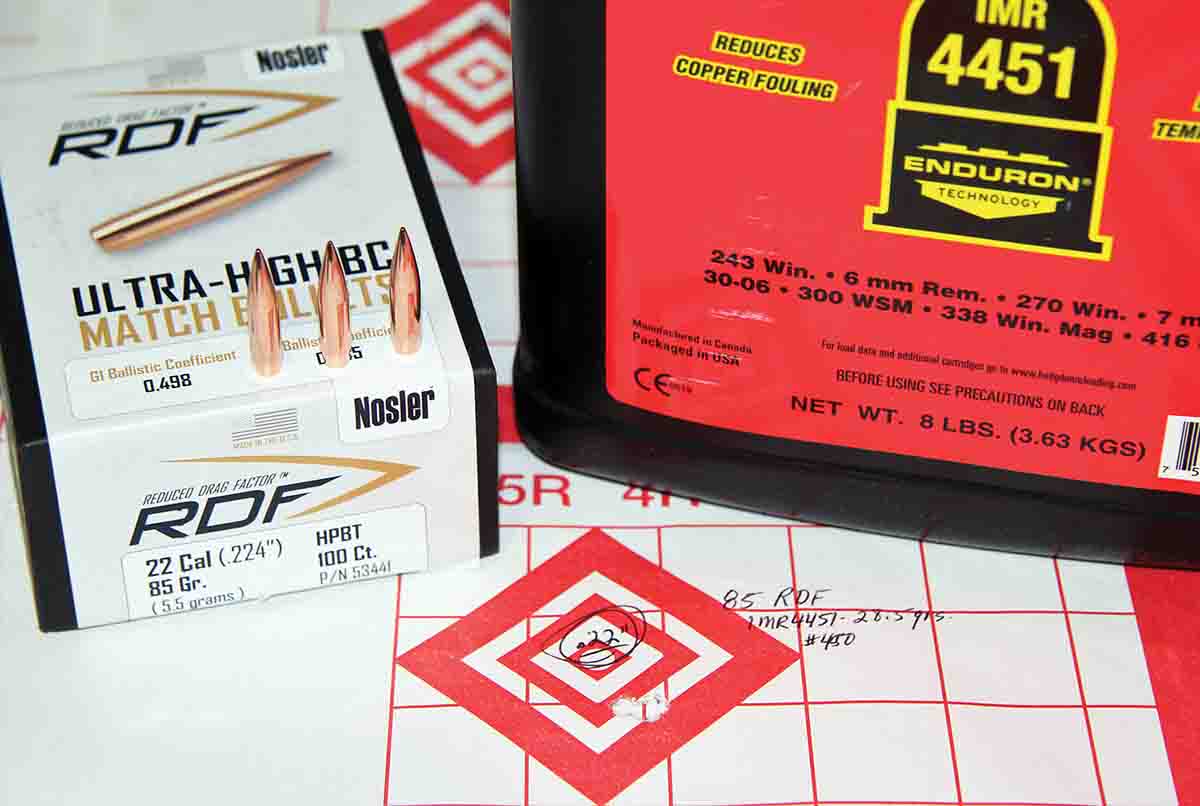 The 224 Grendel makes an exceptional long-range varmint cartridge, but for initial testing, five bullets were chosen with long-range, PRS-style target shooting in mind; the Swift bullet was added for hunting big game such as hogs or deer. Included were Rocky Mountain Reloading's (RMRBullets.com) 75-grain 3 Gun Hunter, Swift Bullet Company's 75-grain Scirocco II, Hornady's 80-grain ELD Match, Nosler's 85-grain RDF, Berger's 85.5-grain Long Range Hybrid Target and Hornady's 90-grain A-Tip Match. Powders tested were in the medium-fast burn range, including a mix of those recommended by Allman and Stout, and some newer or compatible powders were chosen in an effort to expand on those proven loads. Allman and Stout's favorites included Vihtavuori N540, Hodgdon Varget and H-4350, Shooters World Precision Rifle, IMR-8208 XBR, Ramshot Big Game and Alliant Reloder 16. New additions, and until now, untested options, included IMR-4451, new Alliant Reloder TS 15.5, Winchester StaBALL Match and Accurate 2700.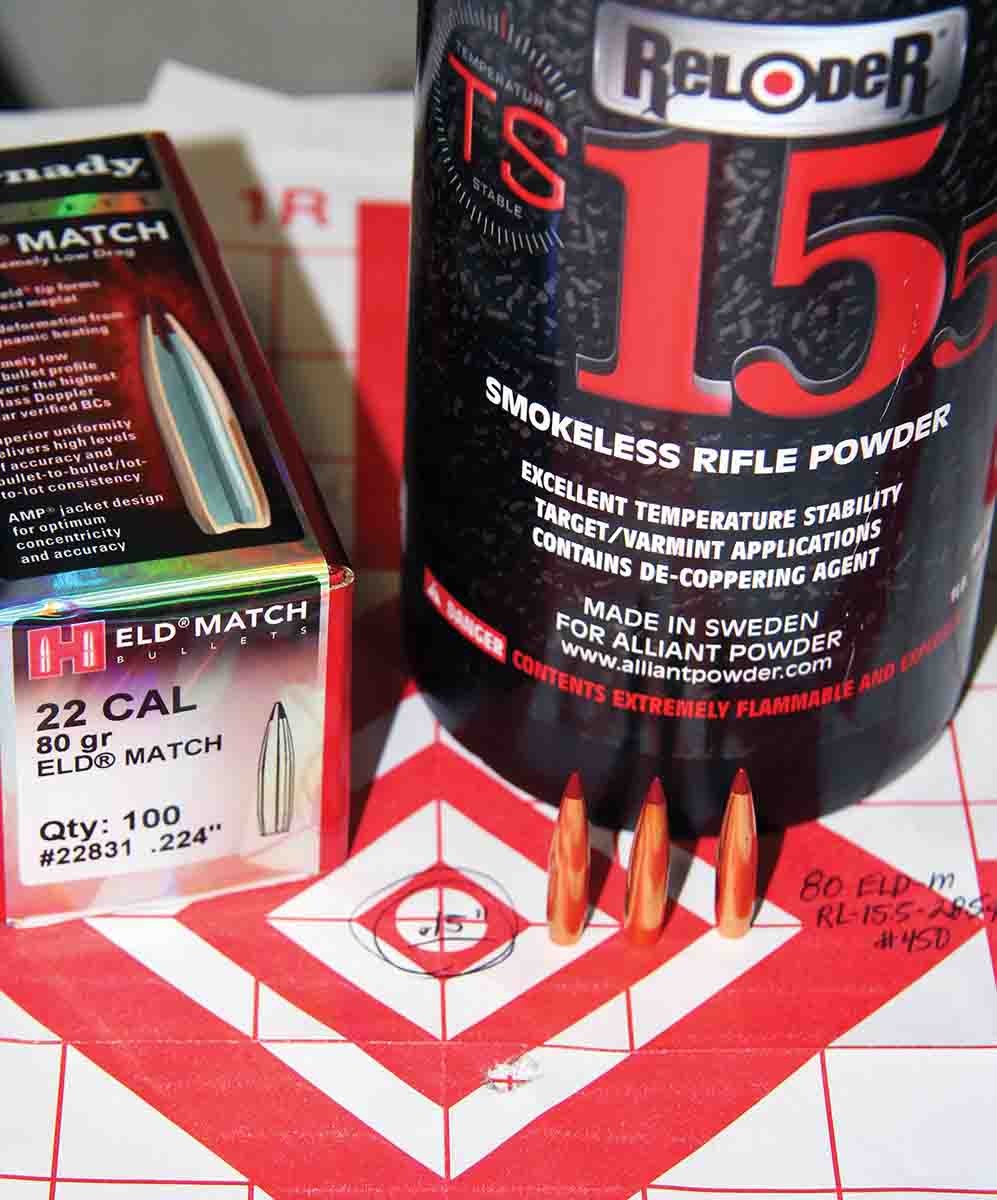 Shooting the 224 Grendel was predictably pleasant. Sitting atop an MTM Case-Gard K-Zone Rifle Rest and solid bench, the rifle moved very little when fired. In general, the cartridge was touchy regarding seating depth, and produced the most consistent results firing heavier bullets and near-maximum loads.
The Swift Scirocco II 75-grain was chosen specifically for Texas wild hogs. Its controlled-expansion design was created by a thick tapered jacket and bonded core allowing it to retain a high percentage of starting weight even following major bone hits. The design makes it somewhat long for weight. The black polymer tip and boat-tail profile give it a decent .419 G1 BC for bucking wind or ensuring energy retention at longer ranges for which this cartridge was designed. Vihtavuori N540, Hodgdon Varget and Shooters World Precision Rifle powders were recommended by Stout and Allman. Two sets of loads are shown in the accompanying table, the first using the Winchester WSR primers, the second set using CCI 450 Magnum Small Rifle primers.
Rocky Mountain Reloading's 75-grain 3GH is a highly affordable hollowpoint boat-tail bullet including a .370ish G1 BC. Unlike many target bullets, these bullets hold up well on targets such as average-sized hogs and deer, though they also make a great 3GH or steel-banging option. The 3GH was paired with IMR-8208 XBR, Alliant Reloder TS 15.5, and Winchester StaBALL Match.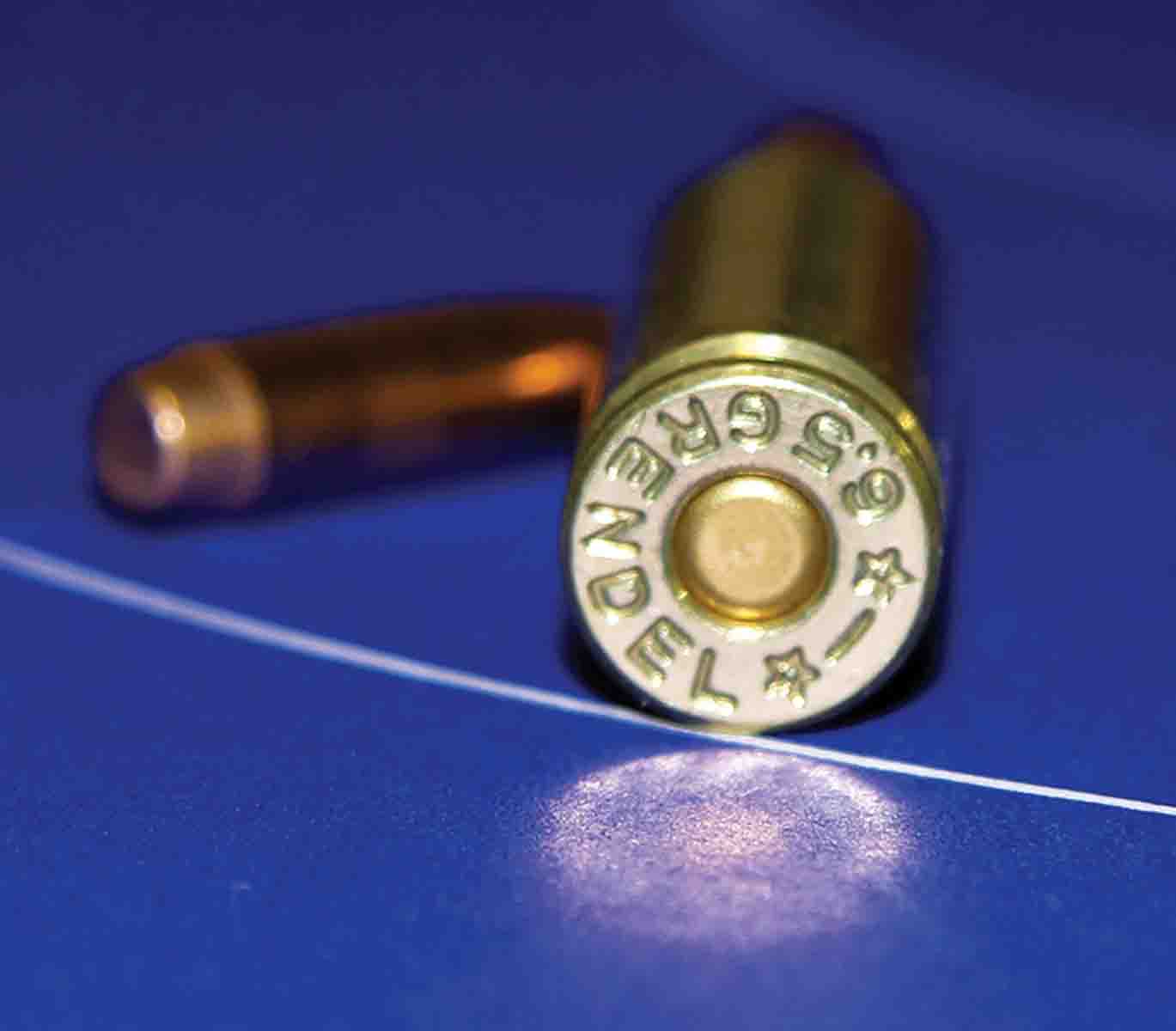 Hornady's 80-grain ELD Match entered true long-range territory, a red Heat Shield polymer tip and sleek boat-tail created a phenomenal .485 G1 BC. In my experience, these bullets expand sufficiently for burrowing rodent work, and I have used them from my 22 Creedmoor to take decent-sized hogs. Varget and H-4350 were Allman's choices, Reloder TS 15.5 was added to test the new powder's capabilities in this cartridge.
The Nosler 85-grain RDF is a true long-range target bullet, including a spear-like ogive and perhaps the smallest meplat in the business, plus an elongated boat-tail that created a .498 G1 BC that provides minimized wind drift and drop at extreme ranges. All loads were powder experiments, using new StaBALL Match, A-2700 and IMR-4451.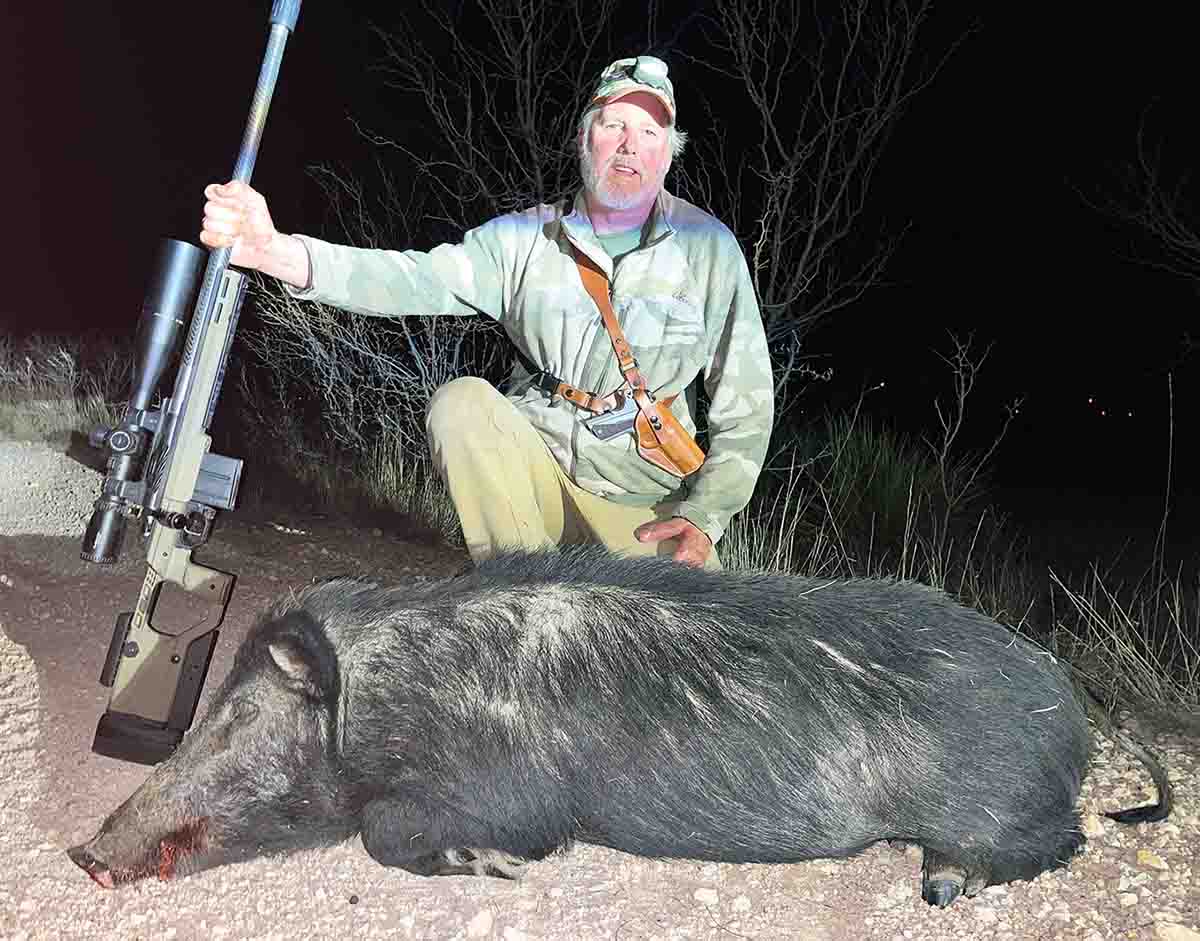 Berger's 85.5-grain Long Range Hybrid Target is one of my favorite long-range rockchuck bullets from my 22 Creedmoor, providing not only exceptional accuracy, but dismantling expansion on small varmints. Allman is also well acquainted with this bullet, recommending N540, Varget and Precision Rifle for maximum accuracy.
Finally, the Hornady 90-grain A-Tip Match is the pinnacle of long-range .224-caliber bullets, a sharp milled-aluminum tip and streamlined boat-tail giving shooters a best-in-class .585 G1 BC. The aluminum tip initiates decent expansion on small varmints. On Stout's recommendations, H-4350, Big Game and Reloder 16 were used with this bullet (he typically uses Sierra's 90-grain MatchKing).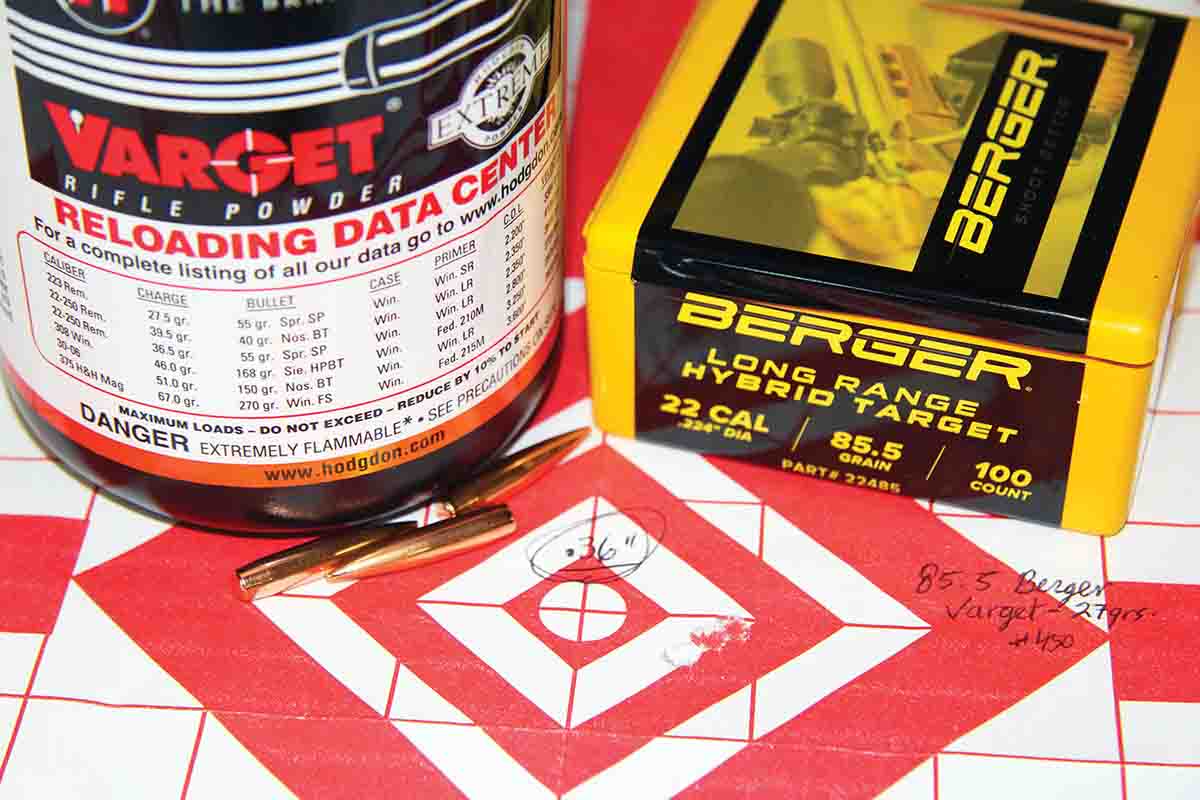 Discussing 224 Grendel accuracy is an exploration of compatible powders. Going down the load table, looking at only loads printing .55 inch or smaller, Vihtavuori N540 did poorly with the lighter bullets, but turned in a great group with the Berger 85.5 Long Range Hybrid Target. Shooters World Precision Rifle turned in the best group with the Swift Scirocco II 75-grain, and another small group with the Berger, while IMR-8082 XBR did well with the 3GH 75-grain. Winchester StaBALL Match turned in one excellent group with the RMR 3GH 75-grain, but could likely have been pushed harder. Hodgdon 4350 did best with the Hornady 80- and 90-grain bullets (ELD Match and A-Tip Match, respectively), while Accurate 2700 managed a good group with the Nosler 85-grain RDF. IMR-4451 produced two great groups with the Nosler, one of them the smallest 85-grain group, and Alliant Reloder 16 was responsible for the best 90-grain group.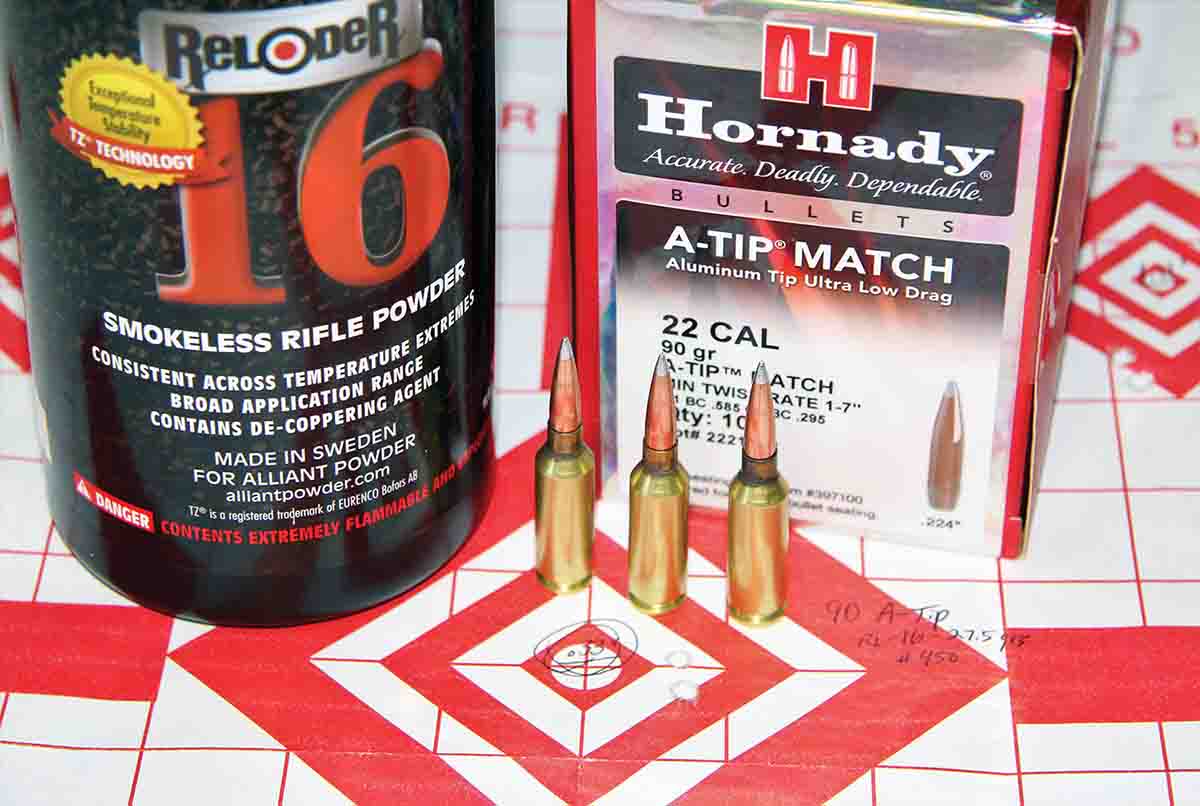 That leaves Hodgdon Varget and Reloder TS 15.5, which turned in the highest number of sub-.55-inch groups, making them obvious choices for this cartridge. Varget produced the smallest groups with the Swift Scirocco II 75-grain (with WSR primers), and again with the Berger, plus seven total sub-.55-inch groups. Reloder TS 15.5 was a wild card in this test, but it proved its worth. Of the four sub-.55-inch groups resulting, two of those were also the smallest groups produced, including the RMR 3GH 75-grain and Hornady 80-grain. Precision Rifle, IMR-8082 XBR, Reloder 16 and IMR-4451 obviously deserve more attention.
The listed loads represent excellent starting points. As the 224 Grendel is a low-capacity cartridge, .1-grain adjustments to powder charges can equate to big gains in accuracy. The same can be said of seating depths. Don't be afraid to tweak seating depths slightly to discover a true sweet spot and find those groups measuring in the .1s and .2s and including low extreme-velocity spreads.