I first became aware of the 257 Kimber cartridge during a telephone conversation with Greg Warne in early 1985. Greg and his father, Jack, had founded Kimber of Oregon about six years earlier and their first rifle was the beautiful little Model 82, first in 22 Long Rifle and later, also in 22 WMR and 22 Hornet. In 1984, the Model 82 was joined by the Model 84 in 223 Remington. As mentioned in my column in Handloader No. 340 (October-November 2022), Greg Warne immediately began to shop for a close- to medium-range deer cartridge small enough to squeeze into the magazine of the Model 84, and soon after I recommended the 6x45mm, it became a standard-production chambering at Kimber. That cartridge is easily formed by necking up the 223 Remington case with no other change.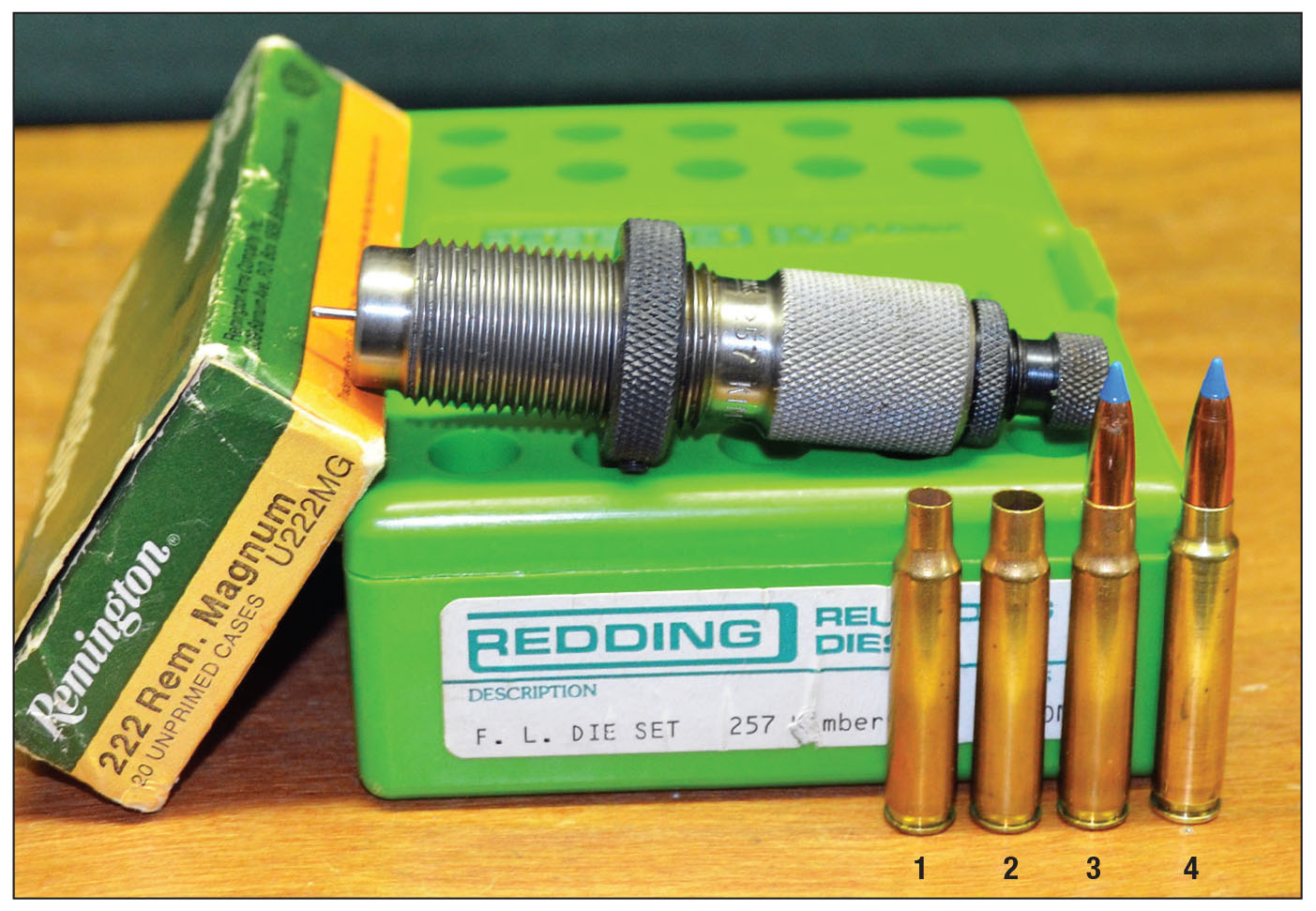 The 257 Kimber was designed by avid deer hunter Mike Hill of Washington state is not as easily formed, something I will get into that a bit later on. Mike's goal was to duplicate the velocity of 250-3000 Savage factory ammunition in a smaller package and he came quite close to doing just that. I first saw the cartridge while on a western hunt in October 1985. Mike was hunting out of the same camp and he had a pair of experimental Kimber Model 84 rifles serial numbered 257KX2 and 257KX3 chambered for it. Larry Hayes, and his son, who were long-time friends of Mike Hill, were also in camp and both had scheduled a later pronghorn hunt in another state.
A plan soon came together for rifle number three. After the Hayes team bagged their pronghorns with it, they shipped it to me for additional load development and accuracy testing. Prior to receiving the rifle, I ordered the second 257 Kimber reloading die set made by Redding (Mike Hill already had the first set). The dies failed to arrive before a hunt for whitetail deer and Rio Grande turkey I had booked at the Y.O. Ranch in Texas, so Mike shipped a few of his handloads loaded with an 87-grain bullet. The ammunition and I arrived at the ranch on the same afternoon. Good friends and fellow firearms writers Hal Swiggett and Jack Lewis, publisher of Gun World magazine were also there. While checking out our rifles at a 100-yard benchrest it was agreed by one and all that the little 257 Kimber was accurate enough. Two, three-shot groups, fired during rather windy conditions measured .410 and .396 inch.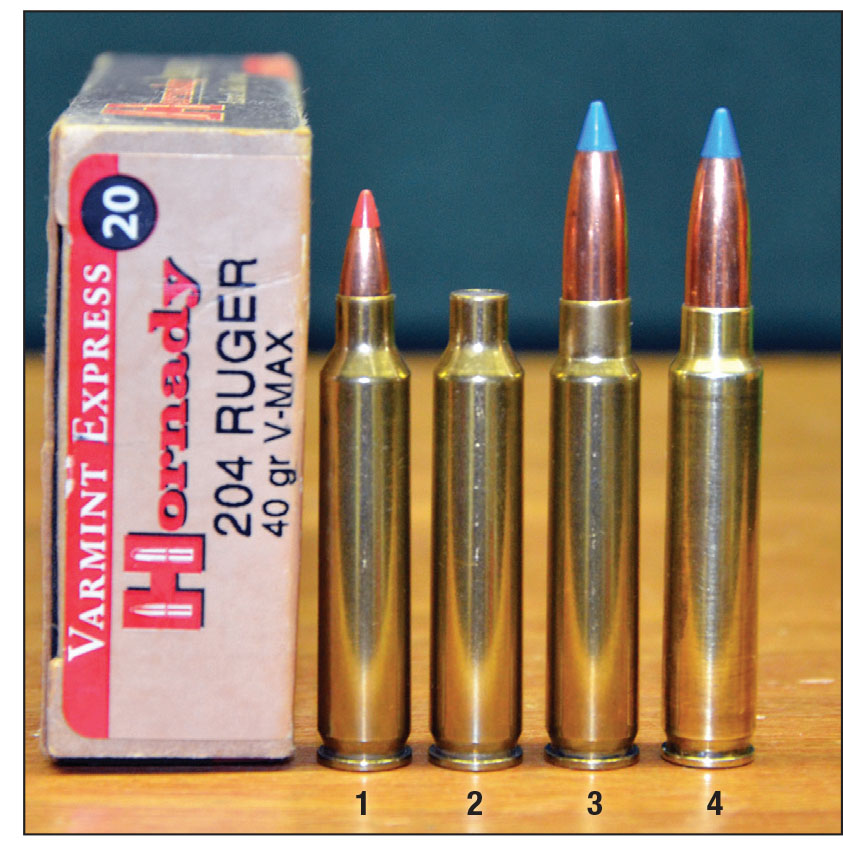 Whereas the 6x45mm mentioned earlier is on the 223 Remington case, the 257 Kimber is the slightly longer 222 Remington Magnum case necked up and fireformed to an improved shape. Additional powder capacity was achieved by reducing the body taper of the case, increasing the shoulder angle from 23 degrees to 40 degrees and moving the shoulder forward about .100 inch. Due to the increase in headspace dimension, the case cannot be formed by simply necking up the 222 Remington Magnum case and firing it in the 257 Kimber chamber.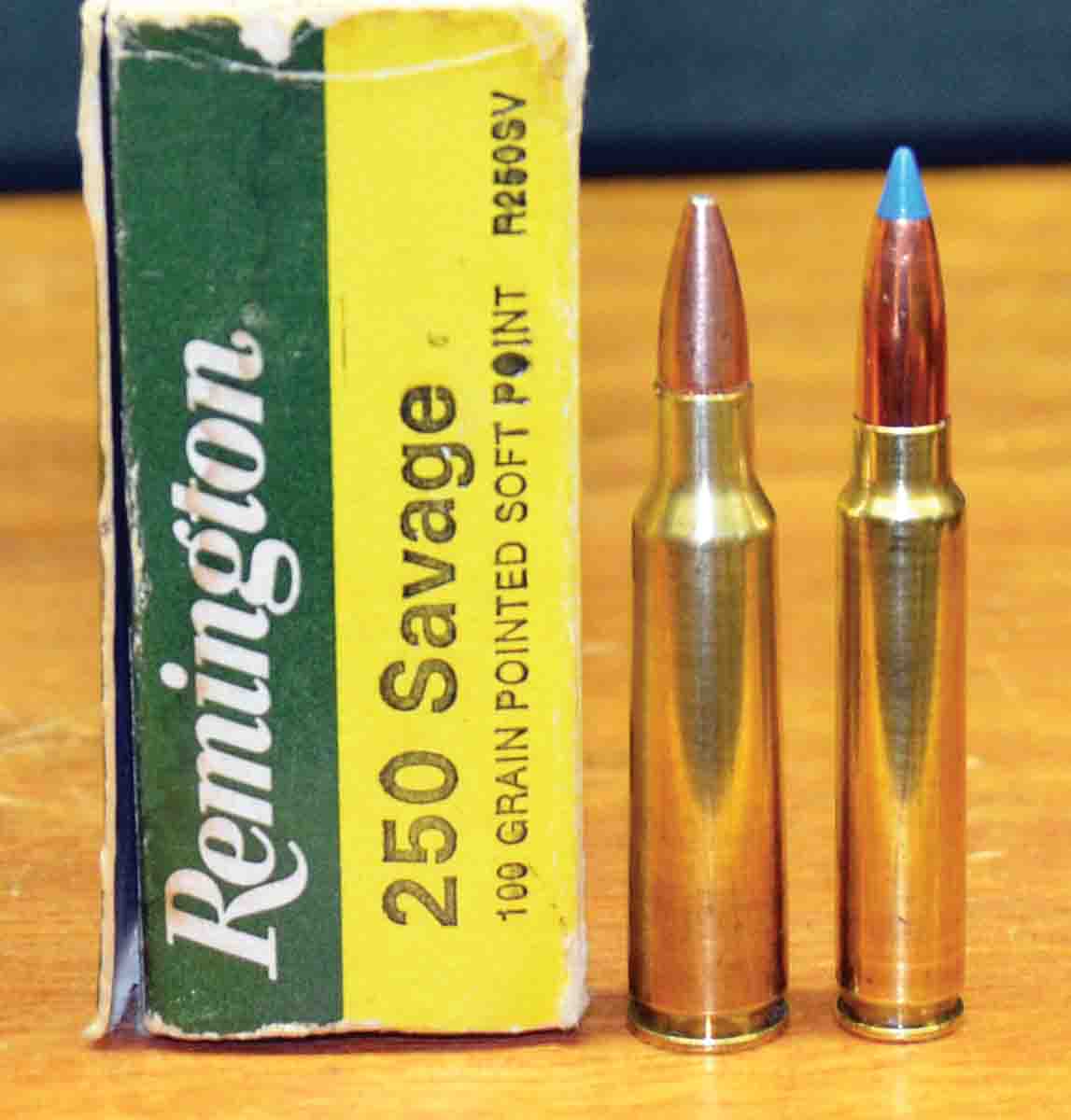 The job can begin by necking up the 222 Remington Magnum case with a tapered 7mm expander and then necking it back down with the 257 Kimber sizing die but with the die backed out enough to leave a secondary shoulder for a crush fit in the chamber during bolt closure. After the primed case receives an 85-grain bullet and 22 grains of IMR-4198, it is fired in the rifle. An easier way is to run the 222 Remington Magnum case through the 257 Kimber sizing die with its tapered expander, prime the case, drop in the same charge of IMR-4198 and seat an 87-grain flatbase bullet with its base forward for firm contact against the rifling as the bolt is closed and locked. Firing produces a fully-formed 257 Kimber case.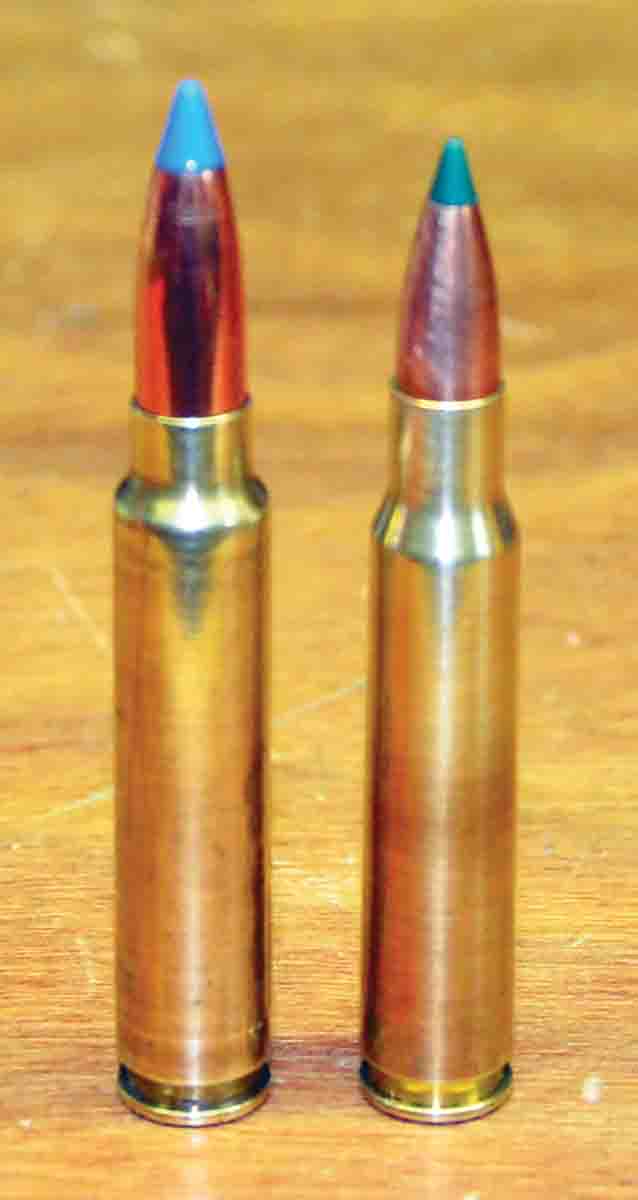 This wildcat can be skinned another way as well. The 204 Ruger case is nothing more than the 222 Remington Magnum case with its shoulder moved forward and necked down for .2045-inch bullets. Except for differences in neck diameter and shoulder angle, the 204 Ruger and 257 Kimber cases are so much alike I would not be shocked to learn that the designers of the Ruger cartridge had several of the Kimber cartridges in hand. Whether or not this is true, we will never know, but I do know that beginning with 204 Ruger brass rather than 222 Remington Magnum brass requires less drastic alteration of case shape during fireforming. Better still, for a new rifle build is to chamber its barrel with a 25-204 Reamer available from Pacific Tool & Gauge. That one appears to be the same as the 257 Raptor cartridge offered by Gary Reeder Custom in Flagstaff, Arizona.
I took quite a few feral hogs with the 257 Kimber, but only five whitetail deer with most standing inside 200 yards when shot. The Hornady 87-grain bullet was quite effective on both and I am sure the Nosler 85-grain Ballistic Tip would be equally effective. The Nosler 100-grain Partition accounted for the last two deer taken with the little cartridge and its performance left nothing to be desired. Regardless of the bullet used, W-748 was preferred then and would likely be so today as well.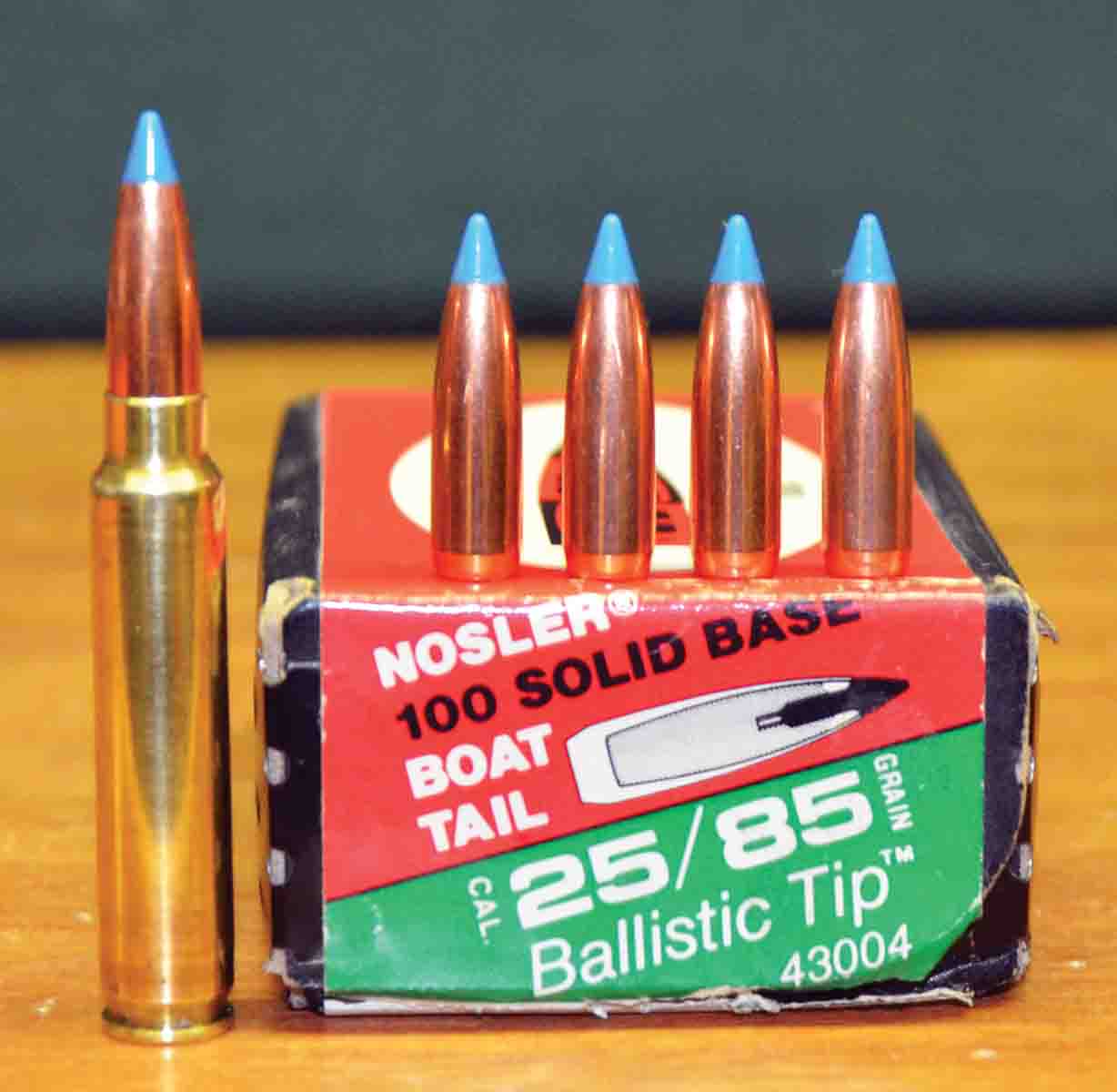 When the Kimber Model 84 was chambered for the 6x45mm, its action remained the same as when it was chambered for the 223 Remington. For that reason, it sold fairly well. The longer 257 Kimber required lengthening the ejection port, magazine box, follower and bolt throw and due to the increase in production cost, not many of the rifles were built. But the cartridge did eventually become mildly popular among Texas deer hunters who built rifles for it on the short Remington Model 700 action.
In some ways, the 257 Kimber reminded me of the 25-222 Copperhead created by my friend, John Wootters, who did a wonderful job of writing for Handloader and Rifle for many years. The 222 Remington case necked up, it pushed 60-, 75-, 87- and 100-grain bullets along at 3,396, 3,189, 3,072 and 2,455 fps, respectively. John's short-barreled Sako L461 had a Mannlicher-style stock and he mostly used it on hill country bobcats and coyotes with the occasional javelina thrown in for good measure. I once had the pleasure of spending an entire day with John, and his lovely wife, Jeanne, in their Texas home. When our conversation turned to rifles, I expected a Winchester 88 in 308 that had earned the name "jumper" to be the first rifle John would show me. Wrong. It was that little snub-nose Sako in 25-222 Copperhead.