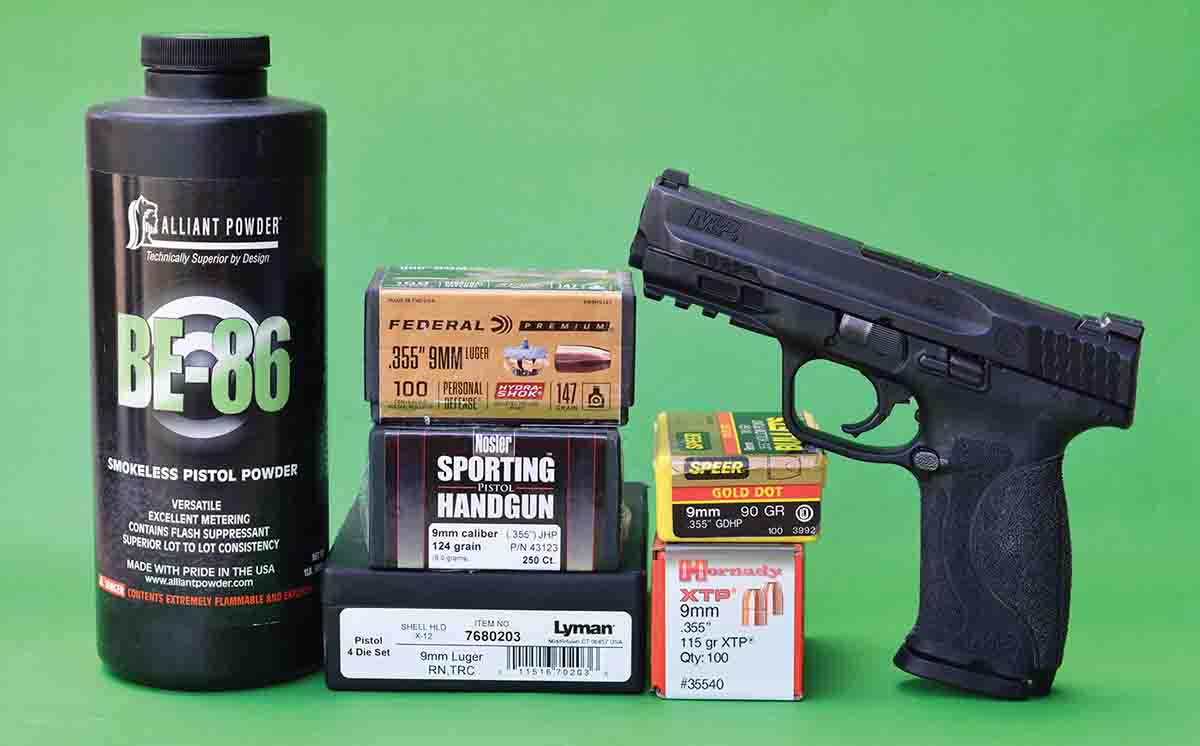 After considerable research and development, in December 1954, Smith & Wesson began shipping a totally new autoloading pistol chambered in 9mm Luger that was given the model number 39 in 1957. The gun was truly innovative and was the first U.S.-manufactured 9mm double-action/single-action pistol. It proved accurate, reliable and was highly successful in spite of the 9mm cartridge not being widely popular with American handgunners – at least during that era when there were only full metal jacket (FMJ) roundnose-style loads and literally no ammunition that was suitable for self-defense or police use, but I digress.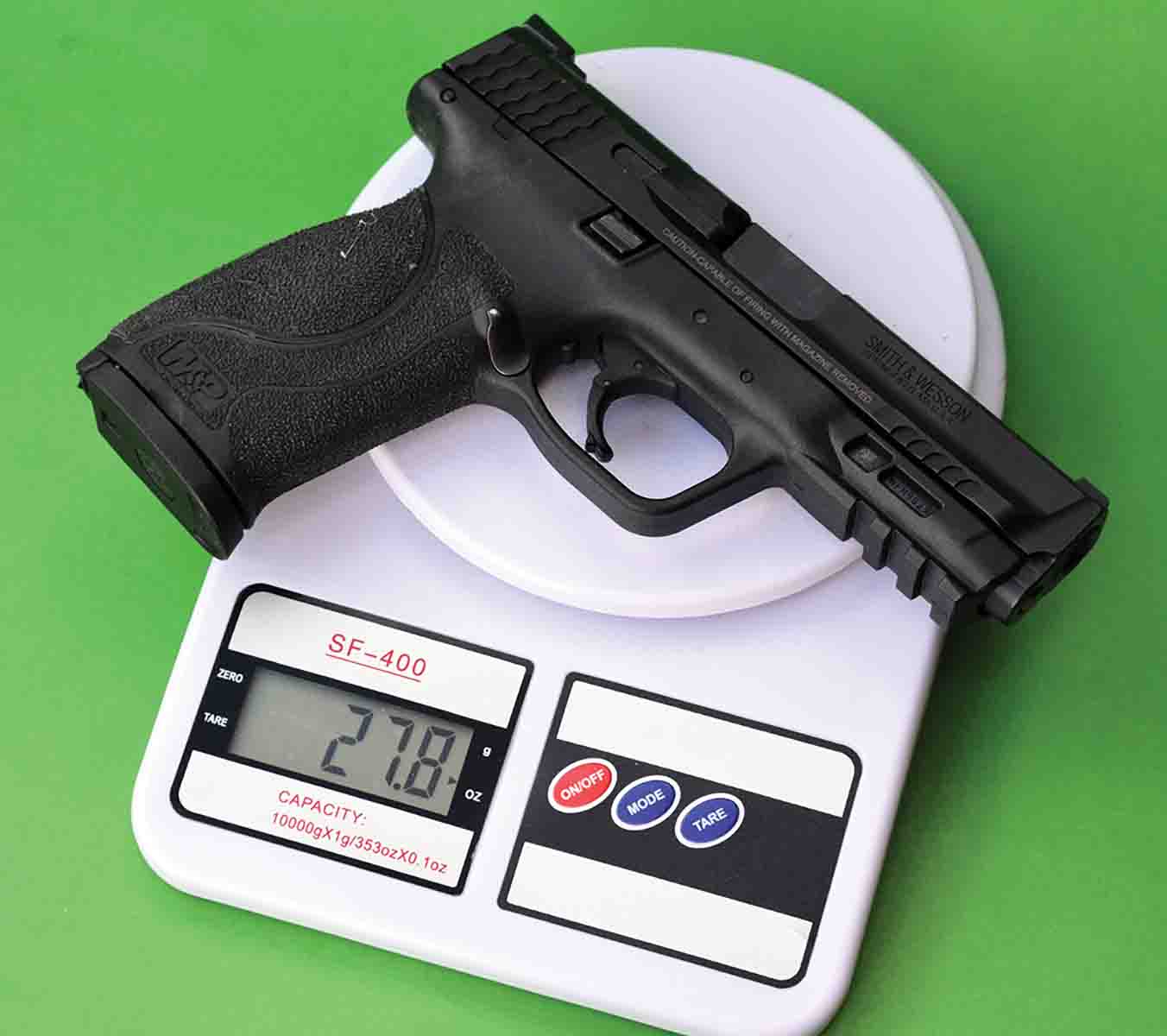 Many savvy gun writers gave praise to the Smith & Wesson, including Elmer Keith, but he naturally wanted the gun offered in 45 ACP, but that variant did not appear until the 1980s. Eventually, the Model 39 platform was expanded to many variations, especially during the early 1980s that are commonly known as second and third generation guns.
As pistols with polymer frames started to become popular, Smith & Wesson began offering variations of the Sigma series in 1994. Beginning in 2005, the M&P pistol series was offered, which proved highly reliable and offered excellent ergonomics and many other notable features. In spite of a very crowded field of competing striker-fired, polymer-framed pistols, they earned a very loyal following.
In 2017, Smith & Wesson introduced the M&P M2.0 pistols that boast of further improvements. A couple of notable features include four different sizes of back strap inserts that allow almost all shooters to find the size that is just right for their hand. Sights are Novak and dovetailed into the frame and feature three white dots. There are updated external changes that include additional machining on the slide that lightens it and offers a distinguished appearance; however, it is slightly wider than the original M&P. The stainless chassis has been extended to increase the frame strength and there are three cross slots in the rail for positioning options of various accessories.
The grip angle is 18 degrees that points naturally, while the stippling pattern on the front of the grip frame and the back strap insert has been upgraded to prevent slippage in the hand while shooting. The beavertail area has been redesigned to allow a higher grip, but still provides comfort and protection to the web of the hand. This change also serves to decrease muzzle rise and has proven to allow faster follow-up shots. The hinged trigger remains; however it has been reshaped for greater comfort. But the take-up has been shortened and the reset is more audible, which is a significant improvement over the original. The trigger pull is outstanding when compared to most striker-fired pistols, with the test gun breaking at just under 5½ pounds and is comparatively crisp. Internally, there are additional changes that serve to further improve reliability and durability.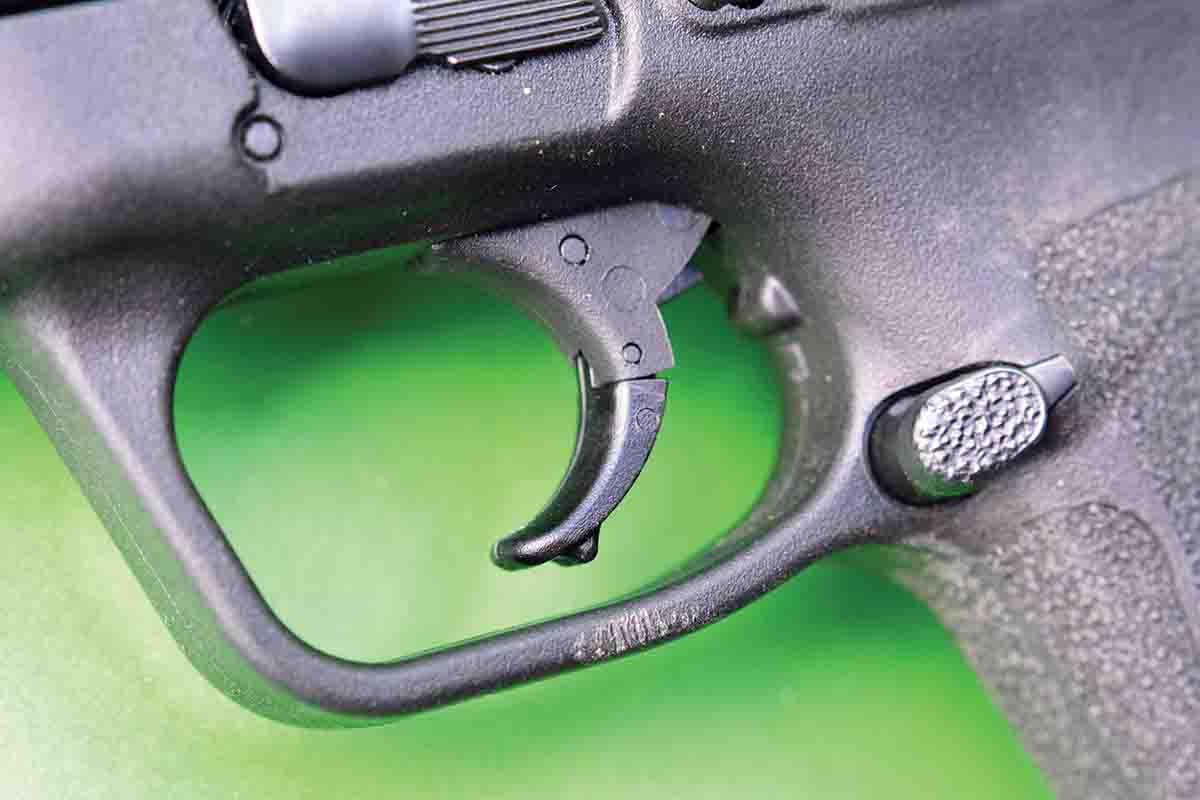 The M&P M2.0 is offered in 9mm Luger, 40 S&W and 45 ACP and with different barrel lengths. The version selected herein is chambered in 9mm Luger, with the 4.25-inch barrel and came with the black matte Armornite finish, however, Flat Dark Earth (FDE) is an optional color. This gun features a stainless-steel barrel with 1:10-inch twist and is supplied with two, 17-round magazines. The weight, with a magazine installed, is 27.8 ounces. The manufacturers' suggested retail price is currently $629.
I had a variety of factory loaded 115- and 124-grain FMJ ammunition on hand, which was fired in an effort to let the gun settle in prior to accuracy testing. A total of just over 200 rounds were fired, which all functioned flawlessly in spite of some loads being ridiculously low in pressure and velocity.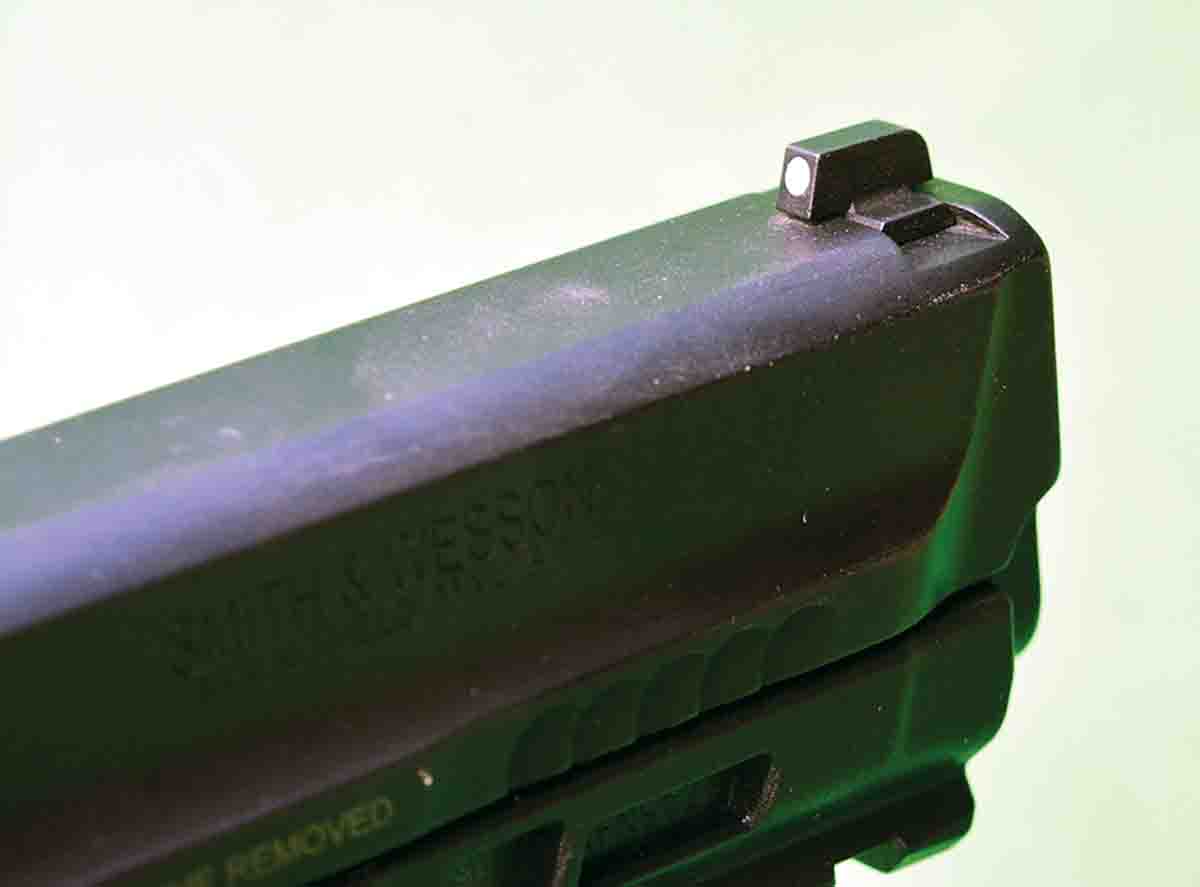 Next, several premium self-defense factory loads were checked for accuracy and function. Black Hills 124-grain +P JHP was first up that is listed with a muzzle velocity of 1,200 feet per second (fps), but actually clocked at 1,222 fps. Several five-shot groups fired at 20 yards measured from 2.35 inches to just over 3 inches with the average being 2.70 inches. As can be seen in the accompanying table that contains additional loads from Federal, Hornady and Speer, this level of accuracy is representative of this pistol. It is certainly good enough for its intended use. But in spite of average accuracy, the pistol is relatively easy to shoot well due to its ergonomics and good trigger pull that is far better than most striker-fired pistols.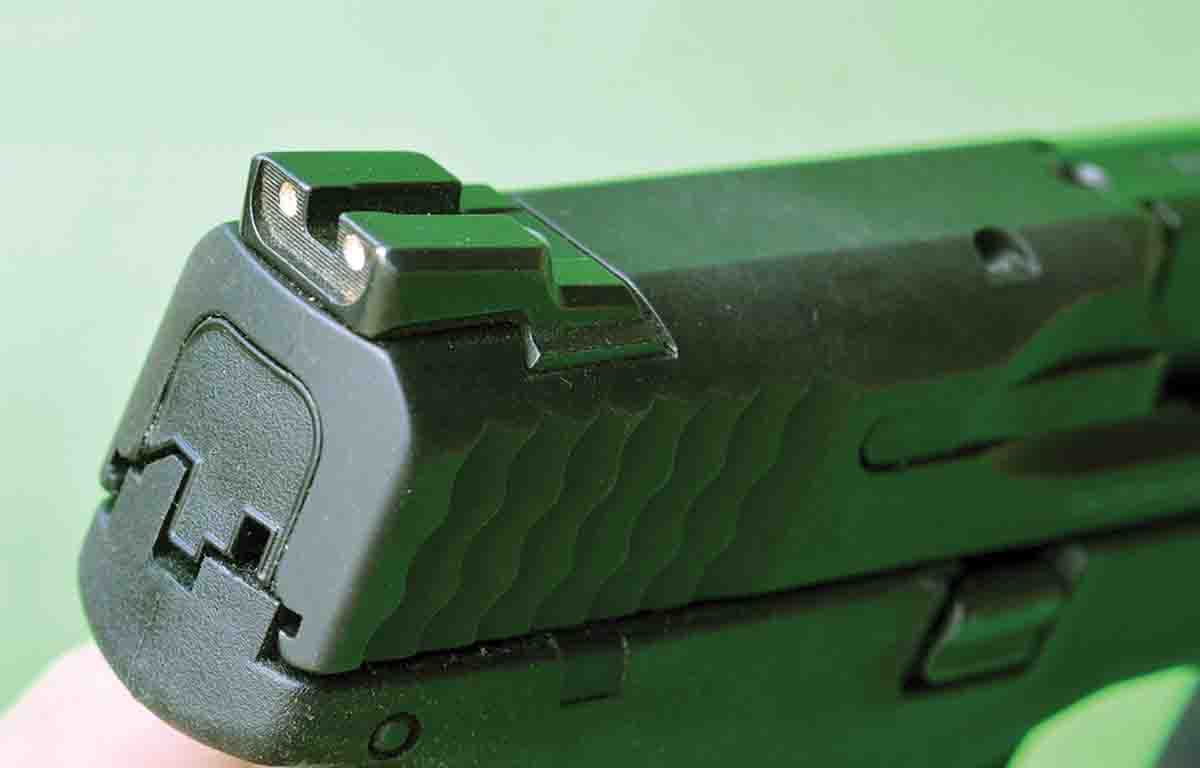 Moving on to handloads, new Starline cases were sized, prepared and primed with CCI No. 500 Small Pistol primers. After throwing powder charges and seating bullets to specified lengths, the cases were taper crimped to .372 inch. Using 6.8 grains of Winchester AutoComp powder, the Speer 90-grain Gold Dot HP reached 1,451 fps and groups averaged 2.85 inches at the previously mentioned 20-yard distance. The Hornady XTP 115-grain bullet was pushed to an impressive 1,340 fps using 6.4 grains of Alliant BE-86 powder. This was the most accurate handload tried that grouped into 2.10 inches, but the average of five groups was 2.45 inches, which was better than all factory loads tried. Changing to the Nosler JHP Sporting Handgun 124-grain bullet, 7.7 grains of Accurate No. 7 powder produced 1,240 fps, which is impressive velocity for the 9mm Luger. The average group size was 2.80 inches, which again is plenty of accuracy for a home-defense or personal-protection pistol. For a subsonic load, the Federal 147-grain Hydra Shok JHP bullet was pushed to 1,043 fps using 5 grains of Alliant Power Pistol powder and offered an average group size of 2.65 inches.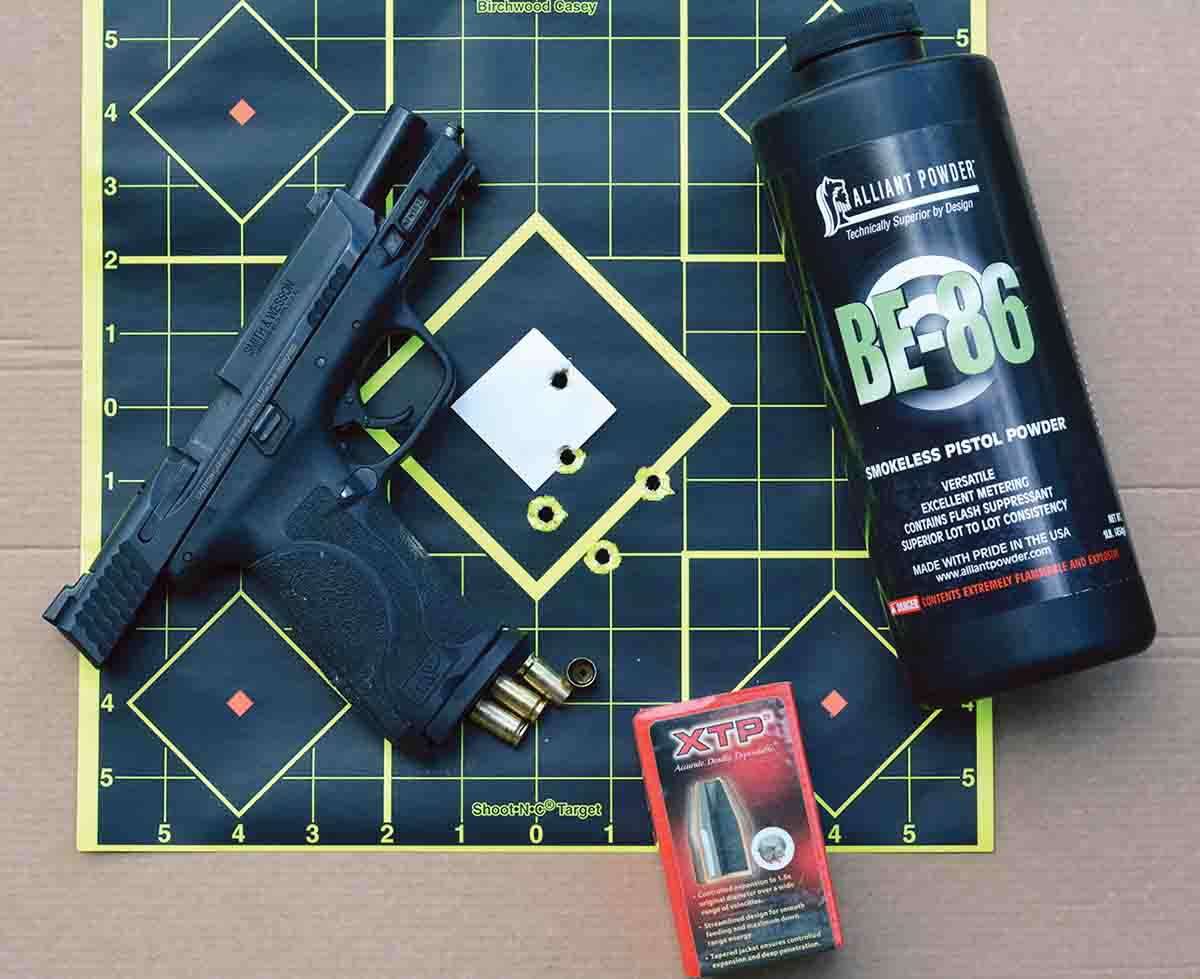 All in all, there were around 500 rounds fired that contained roundnose- and JHP-style bullets and there were no malfunctions or failures of any sort. The Smith & Wesson M&P M2.0 is an outstanding pistol that offers excellent ergonomics, fits a variety of hand sizes, offers a great trigger pull with minimal reset, respectable accuracy, high reliability, high magazine capacity and is priced modestly. In addition, it boasts of nearly 70 years of history, experience and engineering and is made in the U.S.