Handheld portable reloading tools first appeared shortly after the development of centerfire metallic cartridges and became popular during the 1870s. The most common was the tong-style tool, which proved important to hunters, ranchers, explorers and lawmen during the frontier era. Those early tools had certain limitations that included case sizing, and they required special dies or were caliber specific.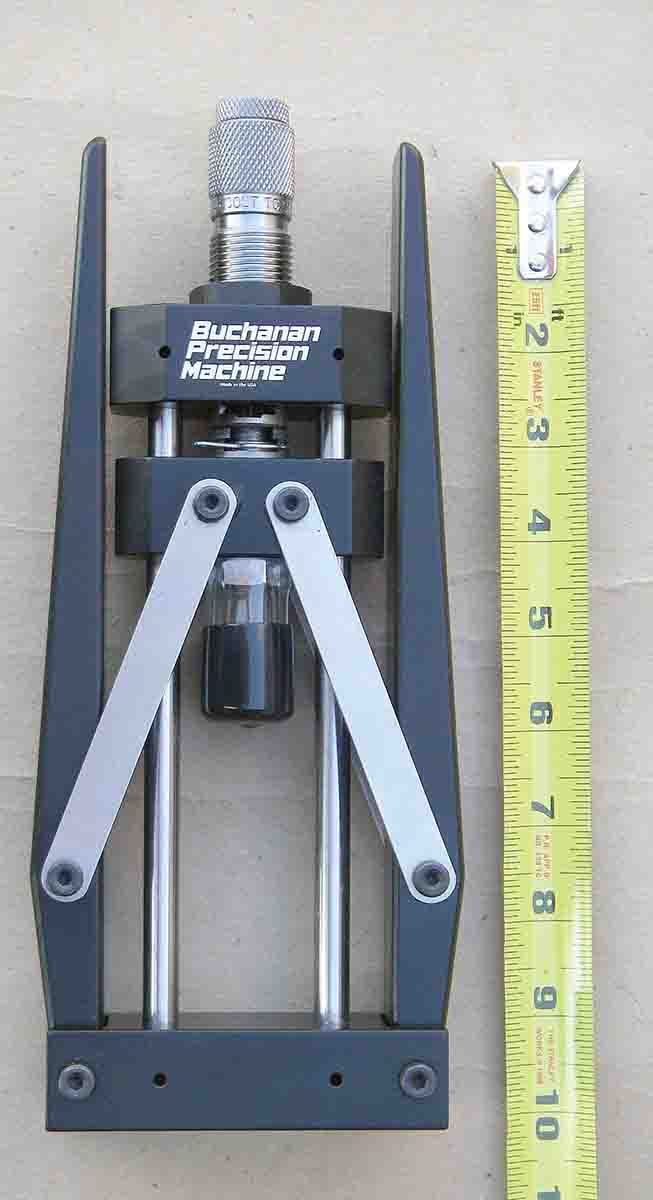 Modern shooters (myself included) still find portable reloading tools appealing. To have the option to handload precision cartridges using a lightweight, portable tool with modern dies is both practical and fun. Recently I have been loading ammunition on a modern Hand Reloading Press from Buchanan Precision Machine.
Many experienced (That sounds much better than "older.") handloaders will probably recall the Huntington Die Specialties Decker Compac Press that has long been discontinued. The Buchanan Hand Reloading Press is an updated and improved version. Its main body parts are constructed of 6061 bar stock aluminum with black anodizing, while the guide rods are constructed of strong 01 drill rod, with the connecting links being made of 303 stainless steel. This adds up to great strength and durability. The Buchanan press also accepts standard 7⁄8x14 dies and standard shellholders. Ram movement is roughly 3.10 inches, although with the primer catcher removed, ram travel is 3.75 inches, which allows it to reload most sporting cartridges up to .375 H&H Magnum length.
The Hand Reloading Press measures roughly 10 inches tall (with the ram up) and less than 4.5 inches at its widest point, while the press body (components) are 1.00 inch in depth; however, with the inclusion of the connection rods, it measures 1.675 inches in depth. Total weight is a mere 2.152 pounds, as weighed on a postal scale. These compact measurements allow it to fit easily in common soft pistol cases for storage or transport.
As can be seen in the accompanying photos, there are two handles that, when squeezed together, raise the ram to size cases while pulling them down will extract cases from the die. When sizing cases, be certain to cup the hands to prevent pinching your fingers, as the handles contact the upper receiver plate.
A variety of straight-walled revolver cartridges were loaded, which was easily accomplished and gave identical results as the same ammunition loaded on a large, bench-mounted press. For the record, a number of .45-70 cartridges were also loaded, with the press offering plenty of leverage to full-length size cases, expand necks and seat and crimp bullets. A few .30-06 cartridges were also loaded. It should be noted that when pulling the expander ball back through the case mouths of long, bottleneck rifle cartridges, the leverage system is positioned at its weakest point, which required a bit more force to pull and extract cases from the die. This is best accomplished by turning the press mostly sideways, then pushing with the offhand and pulling with the closest hand.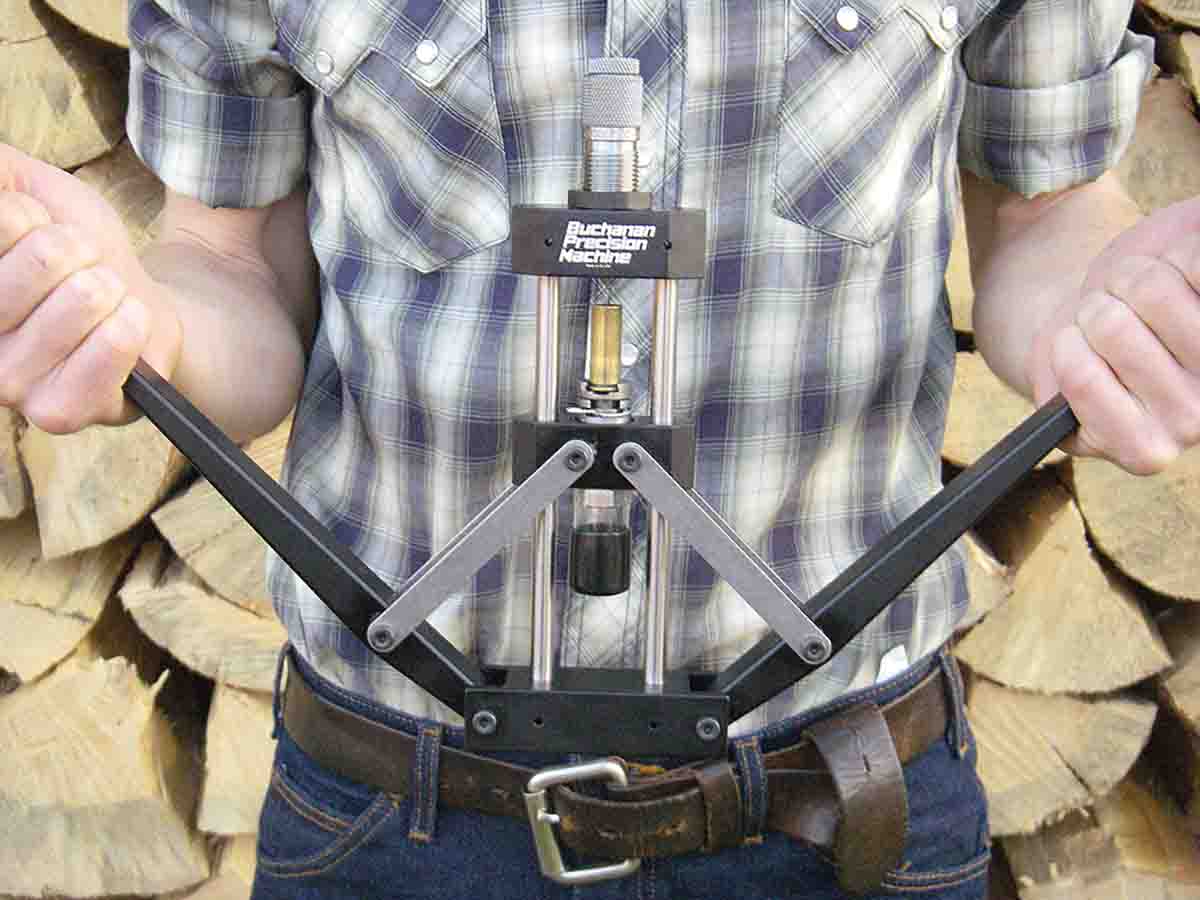 Incidentally, the alignment of the ram with the threaded (die) receiver was precisely centered, which allowed the assembly of precision-grade ammunition.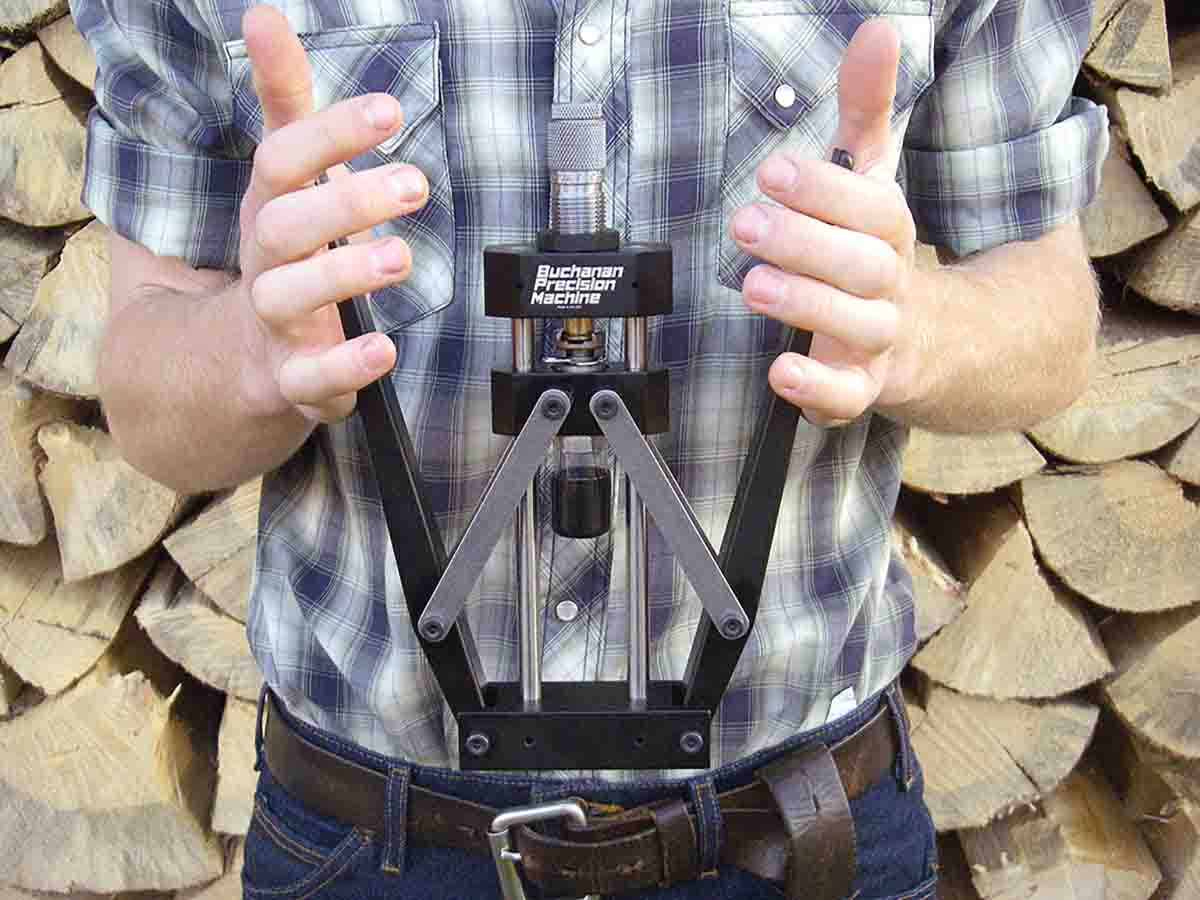 The Buchanan press can also be bench mounted (or mounted to any appropriate flat surface) by simply using a C-clamp on its base plate. When secured thusly, reloading efficiency is noticeably increased.
The Buchanan Hand Reloading Press is top quality, modern in every respect and is heartily recommended by this shooter. It is available factory direct for $200 from Buchanan Precision Machine, 2040 Los Encinos Road, Ojai CA 93023; or email: buchananprec@roadrunner.com.

* * *
Flitz Tumbler Media Polishing Compound Additive
Flitz International, Ltd. is well known for offering a variety of metal polishing products, as well as items for marine use, automobiles, etc., but the company also offers bore-cleaning products and waxes designed specifically for firearms.
One of its latest firearms-related products is a liquid paste Tumbler Media Additive that can be used with corncob, walnut or any other common media used in tumblers. I have used about every readily available product designed to "reactivate" media that have produced a variety of results. To evaluate the new Flitz Tumbler Media Additive, I applied one ounce per pound of media. The corncob medium in this particular tumbler was extremely well used and was requiring several hours to clean cases, and even then they would come out rather dull, and many tarnish marks were still present. After squirting in the Flitz additive, the tumbler was run a few minutes to allow it to completely mix, then a batch of 500 especially dirty .357 Magnum cases were placed in the tumbler. They were checked in a half-hour, and I was pleasantly surprised by the progress. After another half-hour, they all came from the medium bright and shiny as a new coin and ready to be loaded.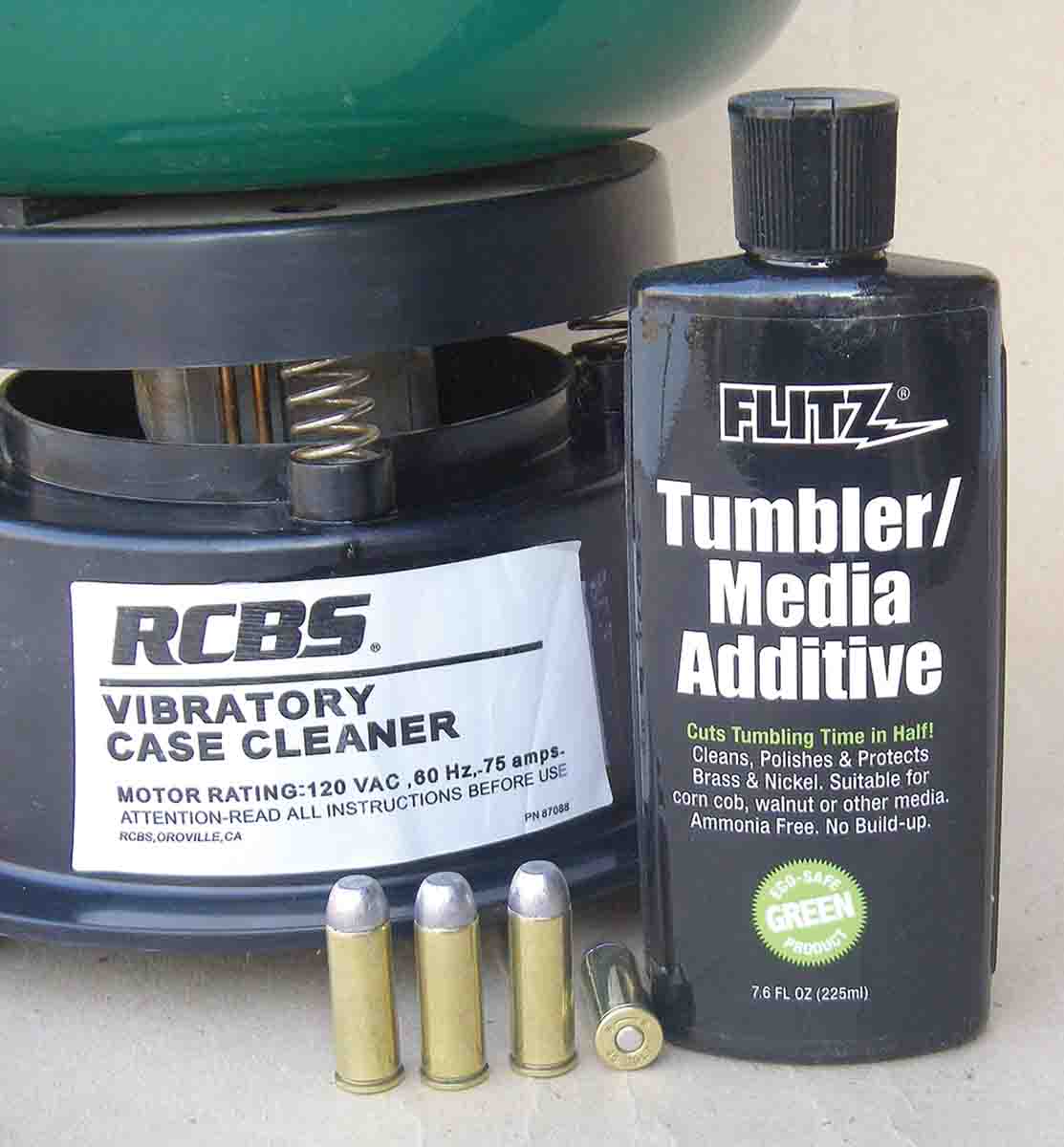 That was six months ago. I load ammunition daily and wear out considerable amounts of media. I have now "charged" all my tumblers with the new Flitz additive, which has continued to give excellent results with less case tumbling time and extended media life. If just a few cases need to be "shined," a drop or two of Flitz Media Additive on a shop towel or paper towel can be used to hand polish, which works quickly and gives an amazing shine.
The chemicals used in Flitz Media Additive are environmentally friendly and will not harm or weaken any metals. For more information or to find a dealer near you, go to www.flitz.com.