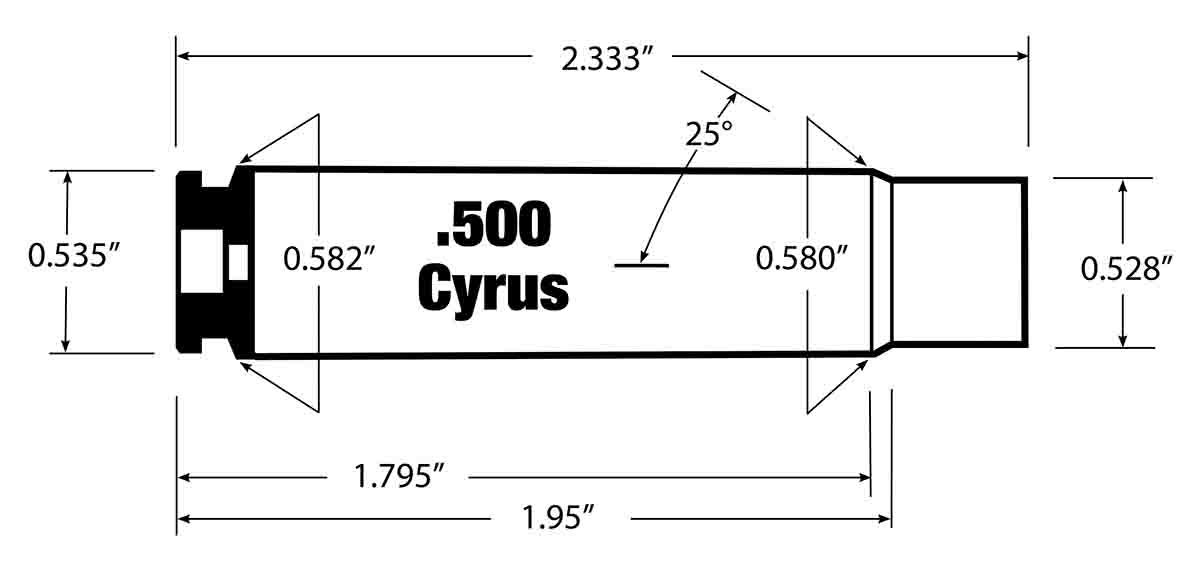 It's not that full-power loads from the .500 Cyrus pound your shoulder into gelatin, it's the neck-breaking sensation you get every time the trigger is pulled. The cartridge feels like a roll of dimes. When fired from the 8.5- pound custom rifle designed for it, you'll not only think it kicks like a mule, but you'll also be thinking of a name for that mule, which could not be repeated in church.
The .500 Cyrus is a true .50-caliber rifle cartridge designed to work in 3-inch, bolt-action rifles. At its base, the cartridge case is almost .60 inch in diameter and is 2.33 inches long. It's going to kick. It wasn't Michael Cyrus's idea to design a cartridge that generated 57 foot-pounds of recoil energy. His intention was to build a cartridge that would fire .50-caliber bullets suitable for hunting everything from deer to dinosaurs. He also wanted the cartridge to work in a compact rifle that was light enough to carry all day. Without some wizardry, that's a wish list not easily filled. Cyrus, on the other hand, figured it couldn't be any harder than cutting timber. (He used to make his living in the West Virginia hills as a logger.)
The first problem was finding a cartridge case to work with. Most wildcat designers simply neck an existing case up or down. Given what Cyrus wanted to do, there were no current cases suitable for this type of conversion. Originally, he modified .338 Dakota brass but eventually ended up working with basic Rigby magnum brass.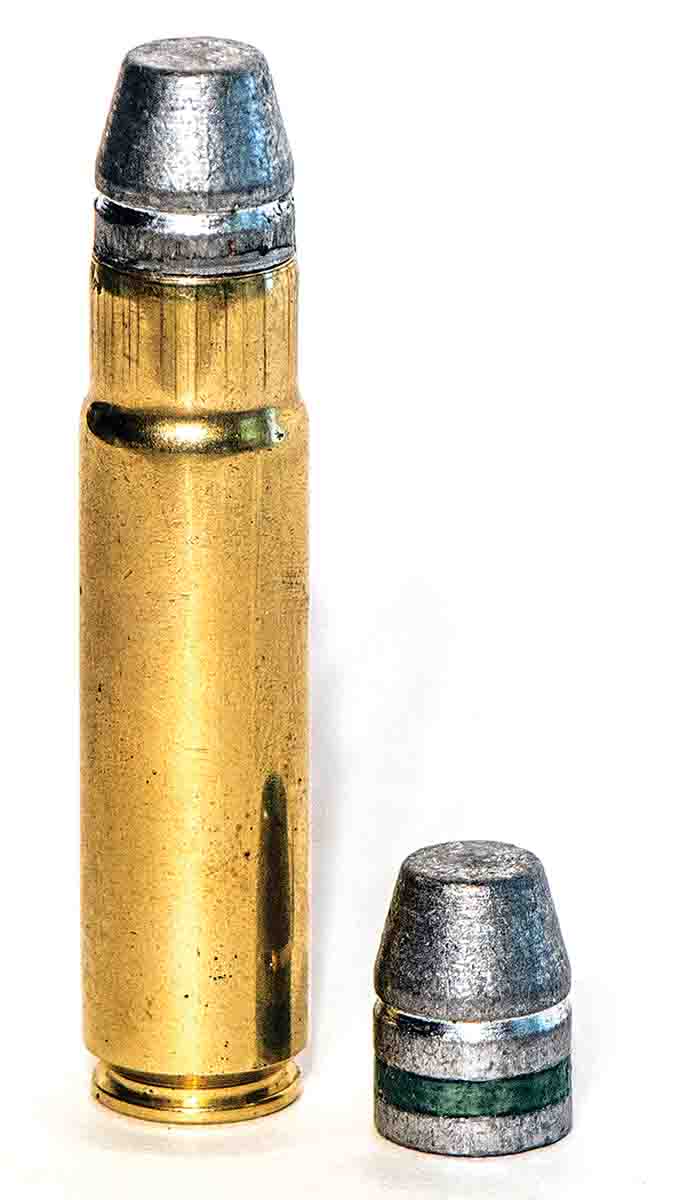 Next, the rim is rebated to .535 inch and a new extractor groove is cut. Then the brass is passed through a .500 Cyrus sizing die and trimmed to 2.33 inches. This is not exactly as simple as working with an Ackley Improved cartridge, but fortunately no one has to do any of that anymore, because properly headstamped .500 Cyrus brass is now available direct from Quality Cartridge (www.qual-cart .com).
The first rifle was built on a Savage action, and then Cyrus embarked on a yearlong load development experiment. When pleased with what he had, Cyrus asked Hodgdon to pressure test the cartridge. Unlike many wildcat cartridges with pie-in-the-sky velocity numbers at unknown pressures, .500 Cyrus performance has been ballistic-lab verified, and load data is available on the Hodgdon website. However, unlike many of the newest wildcat and factory cartridges designed to operate in the 60,000-psi range, the .500 Cyrus does what it does at pressures below 52,000 CUP.
There was no question the cartridge had the necessary power, but Cyrus wanted to make sure there were expanding .50-caliber bullets capable of withstanding the impact velocities it could produce. Cyrus thought the Barnes .50-caliber XPB bullet designed for the .500 S&W would be a good place to start, but it expanded so much and penetration was less than acceptable for dangerous game. He then took the same approach with the bullet that he did with his cartridge; he created his own.
After modifying several existing designs, Dave Fricke at Lehigh Defense was contacted. At the time Fricke was building custom, large-caliber match bullets. Working with Cyrus, the two soon had a proprietary bullet capable of massive tissue destruction and deep penetration. This 100-percent machined, all-copper, hollowpoint bullet shed its petals during expansion. The design was similar to the discontinued French GPA bullet and penetrated similarly to a 300-grain, .375 H&H bullet, but the Lehigh bullet created a much larger wound cavity.
This all came together about the time I was planning my third trip to Africa. I'd been helping Cyrus with some of his bullet testing, and we decided I should take the .500. Since an eland bull can weigh as much as 1,500 pounds, we figured that would be a perfect test for the .500 Cyrus and the new bullet. The cartridge and bullet performed exceptionally well on two eland and a wildebeest. All three went less than 50 yards after being shot.
This, of course, was all good news, but the latest incarnation of the Controlled Fracturing Lehigh bullet Fricke and Cyrus have been working on is all brass and creates even more dramatic internal damage. Because the brass will not bend as much, the petals break off sooner and travel out from, and forward of, the primary wound cavity. With this bullet, damage to vital organs with the secondary projectiles is possible, even if the primary path of the bullet misses them.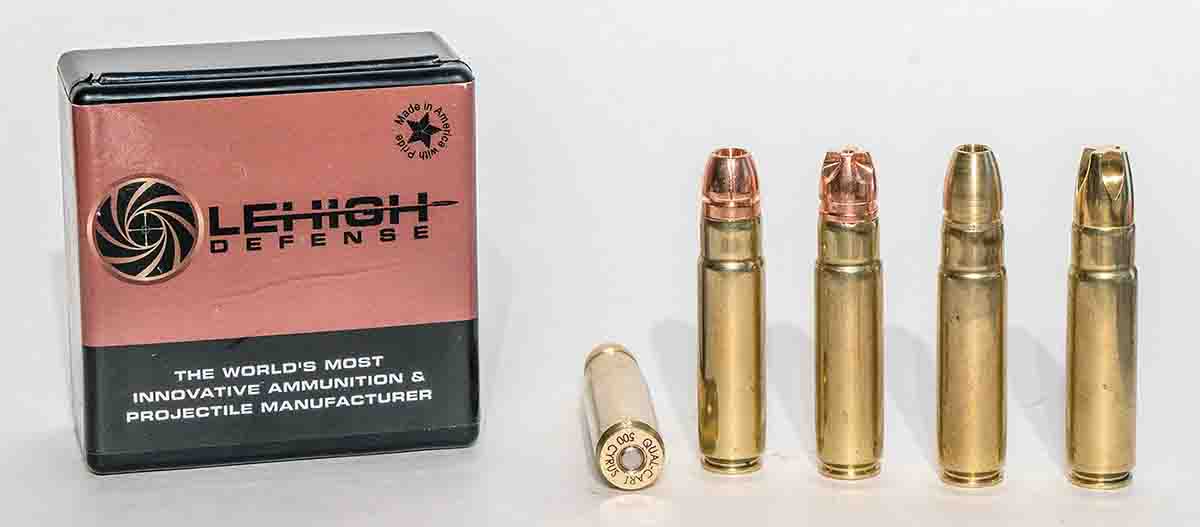 The development of this cartridge and the hunt all happened about 10 years ago. Thanks to Lehigh Defense, today other cartridges as small as .17 caliber are benefiting from the research and development that went into the bullets Cyrus conceptualized. Lehigh has also vastly improved Cyrus's original design and offers a variety of penetrating, controlled-fracturing copper and brass projectiles.
If it sounds as though the .500 Cyrus is only good for enormous animals or monsters, that's not true. Cyrus tested every .50-caliber bullet he could find and identified several suitable for a variety of applications. For example, the Hornady 300-grain FlexTip at about 1,500 fps makes an excellent deer bullet. However, what might be more interesting is using saboted muzzleloader bullets in the .500 Cyrus. The Barnes Spit-Fire TMZ pushed to around 2,000 fps with Trail Boss powder can duplicate inline muzzleloader performance with less recoil and mess.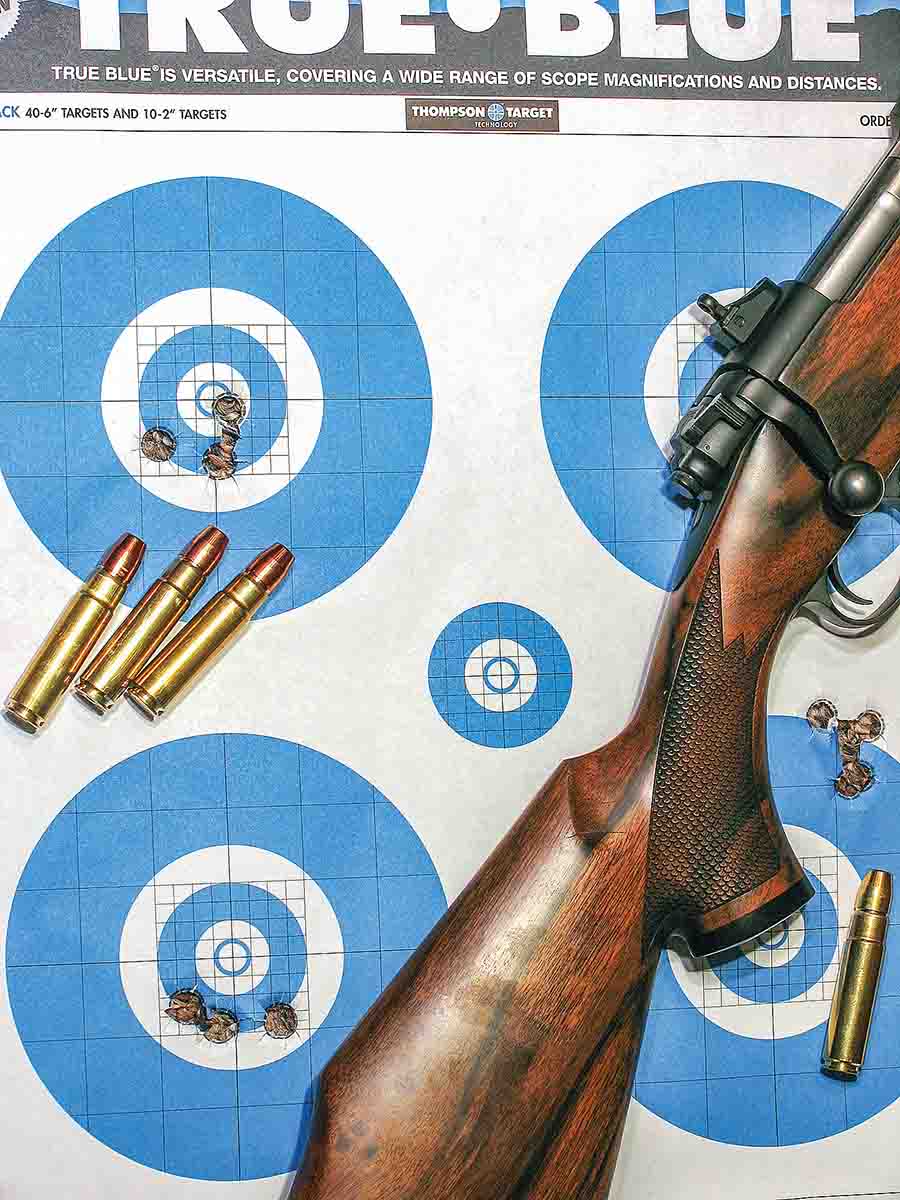 Cyrus's company is called Cross Outdoors (267-733-3569) and is the only place you can get a .500 Cyrus rifle. Currently he builds them on Savage or Montana 1999 actions. The Montana actions used are very similar to a controlled-round feed Winchester Model 70. However, Cyrus believes with a dangerous game rifle a hunter should be able to throw a round in the ejection port and close the bolt. These Montana actions have been modified to allow this and include an inline, box magazine.
The .500 Cyrus is not for everyone given the recoil of full-power loads. I've done it but don't like it. The good news is, I can't really think of anything that would require a full-power .500 Cyrus load, especially when using the Lehigh bullet. With that bullet and medium-power loads, you can hunt anything. The .500 Cyrus can be loaded down for a moderately recoiling rifle suitable for deer, other non- dangerous game or just practice.
All the loads assembled for thepresented data were built with Quality Cartridge brass and Federal Large Rifle primers. The cartridge is easy to load but will eat up a powder supply relatively quickly. With full-power loads, you'll get fewer than 100 shots per pound. My favorite loads were the Hornady 300-grain FlexTip and Lehigh 250-grain WFN solid copper bullets ahead of Accurate 5744. Recoil with these loads was mild, and performance was similar to the .45-70. Both would be ideal for deer and elk in the timber.
In the interest of full disclosure, I must admit Mike Cyrus conducted most of the accompanying accuracy and velocity testing; while he might be tougher than me, I may be a little smarter. No one in their right mind wants to shoot this rifle 60-plus times from a sandbag rest, and I had the added enjoyment of watching Mike's eyes cross and his body reel with every pull of the trigger.
The .500 Cyrus is a very versatile, wildcat cartridge. One main difference between it and many other wildcats is that with the .500 Cyrus you have the advantage of pressure tested reloading data that was assembled by the reloading technicians at Hodgdon.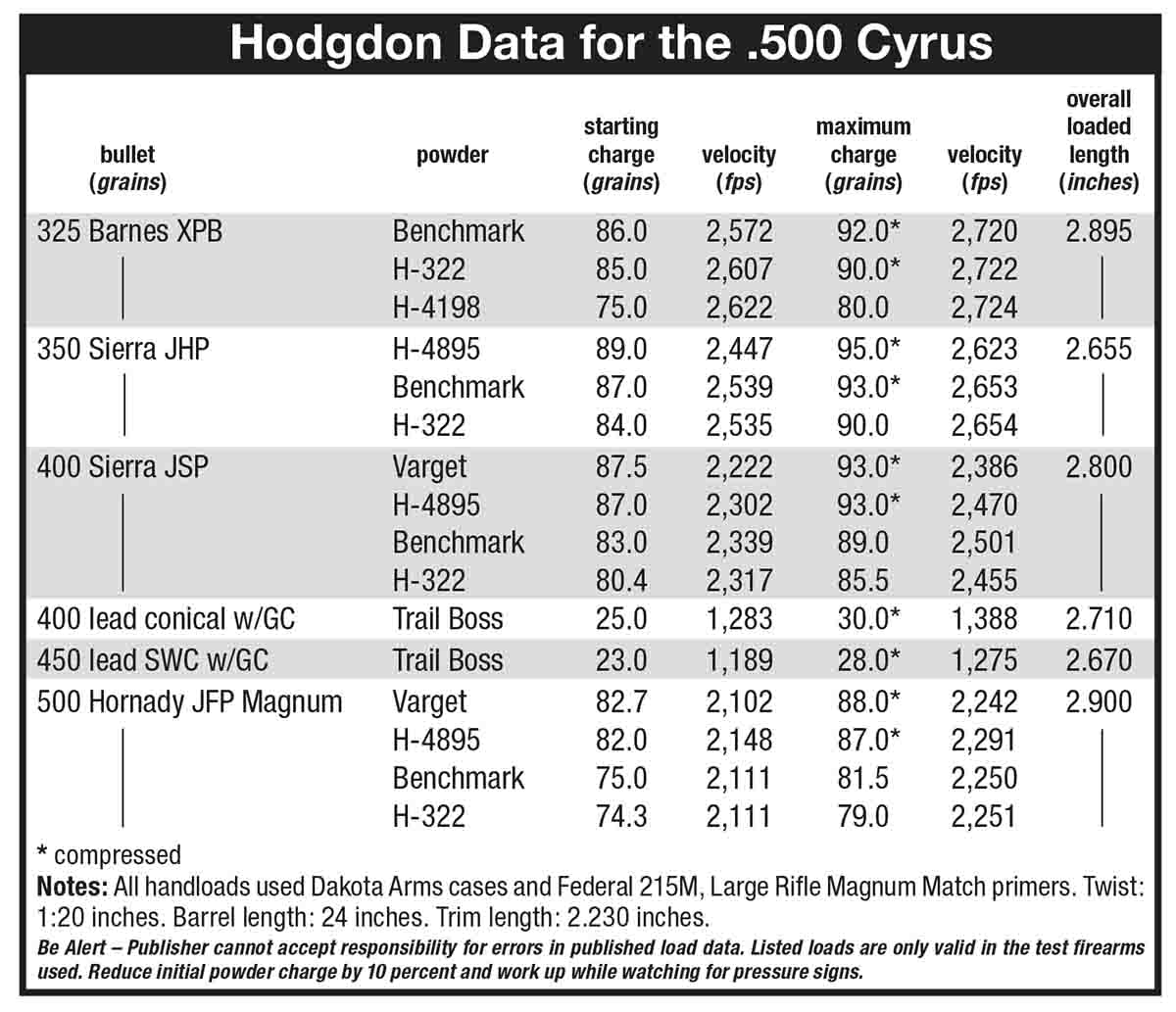 Accurate 2200 and 2300 are the best powders for full-power loads, and Accurate 5744 is ideal for reduced loads. Then there is the option of Trail Boss powder behind any number of saboted muzzleloading bullets. Now that brass can be purchased from Quality Cartridge and bullets from Lehigh Defense, it is not nearly as much of a wildcat as it used to be.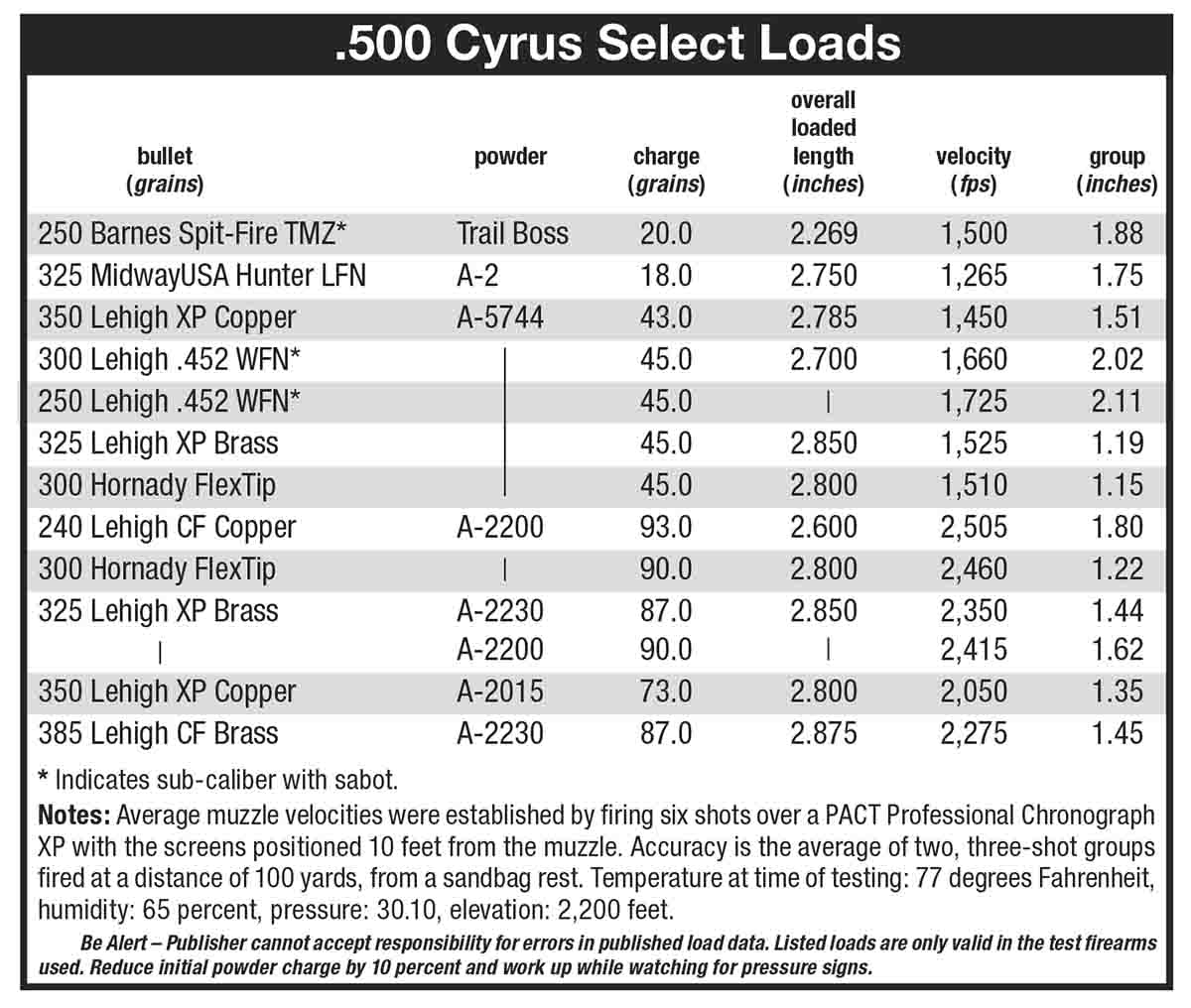 * * *
7mm Valkyrie AR Correction
The load data listed on page 27 in the "Wildcat Cartridges" column for the 7mm Valkyrie AR (Handloader No. 305, December- January 2017) contained three errors:
1. The overall loaded length for the 120-grain Hornady V-MAX load should have been 2.27 inches, not 2.777.
2. The overall loaded length for the 139-grain Hornady InterLock load should have been 2.251 inches, not 2.722.
3. The powder charge listed for the 140-grain Sierra/Benchmark load should have been 34.4 grains, not 43.4.
My apologies for the errors. – Richard Mann