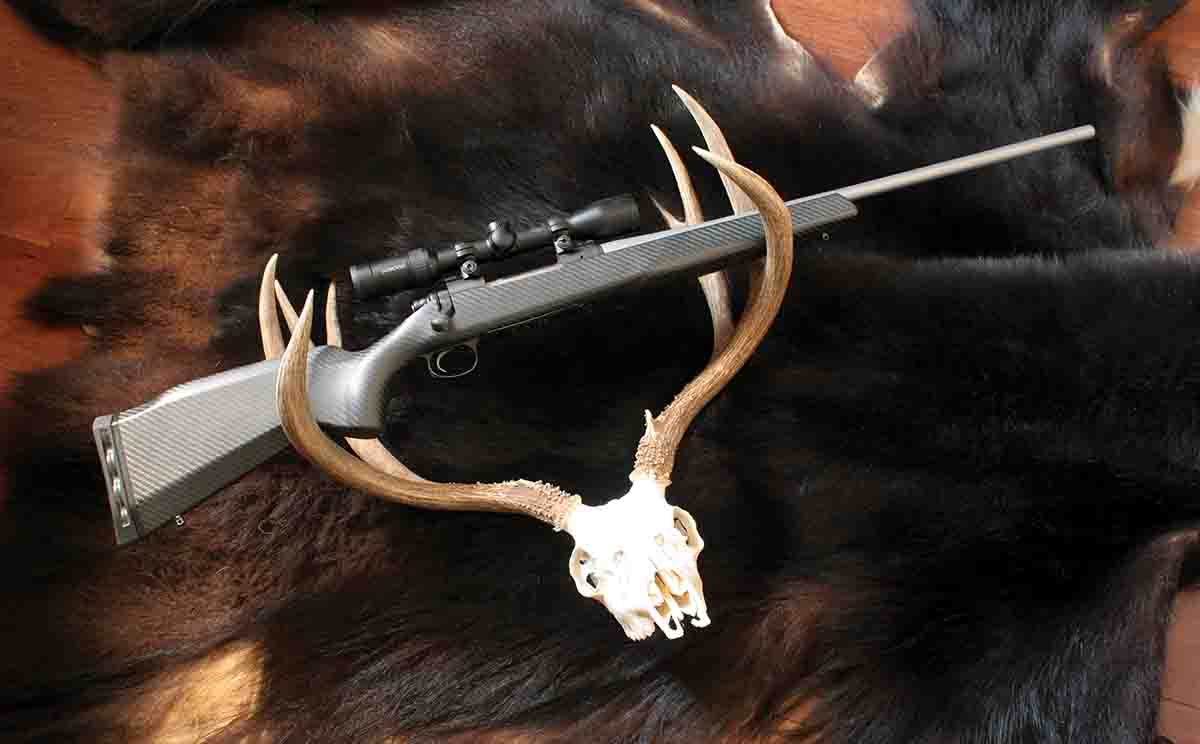 While many handloaders claim to be weary of amazing new 6.5mm rounds, about as many new 6mm cartridges have appeared since 2000. These newer 6mms have faster rifling twists to stabilize heavier, high-ballistic coefficient bullets, but 6mms with faster twists and heavier bullets did not suddenly appear during the past 20 years. In fact, America's earliest 6mm featured a 1:8 rifling twist, because the original bullet tested during the 6mm Lee Navy's development in the mid-1890s was a 135-grain roundnose. Why? For the same reason most other early smokeless military cartridges used heavy, roundnosed bullets: The black-powder cartridges they replaced used heavy, blunt bullets.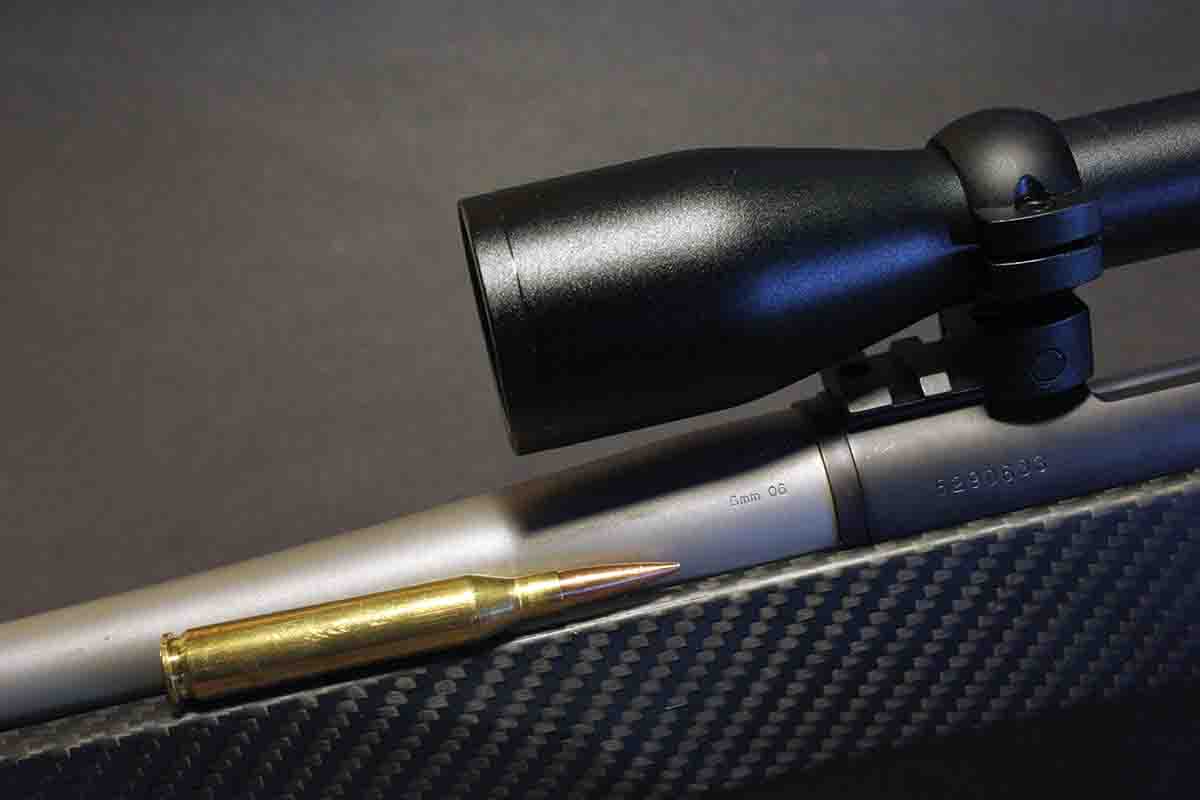 Several other 6mm rounds soon appeared, primarily designed for hunting, including the 6x57 Mauser – the 7x57 necked down and almost identical to the .244 Remington, which appeared in 1955, the same year as the .243 Winchester. However, the .244's factory "deer" bullet weighed 90 grains due to the 1:12 twist in the Model 722 rifle and the 6x57's factory bullet weighed 123 grains.
As smokeless hunting cartridges evolved, emphasis soon changed to lighter spitzers at higher muzzle velocities, often in slower rifling twists for better accuracy with the relatively poorly-balanced bullets of the day. The .250-3000 Savage is a classic example, originally featuring 87-grain spitzers in a 1:14 twist. The 6mm epitome of the light-bullet/high-velocity trend appeared in 1955 (apparently "The Year" of the 6mm) when Holland & Holland introduced its .244 Belted Magnum, the .375 H&H case necked down. The 100-grain factory load supposedly started at 3,500 fps, and may have in a longer test barrel (a common practice back then), but factory ammunition independently tested in a 26-inch barreled H&H rifle chronographed a little under 3,300 (fps).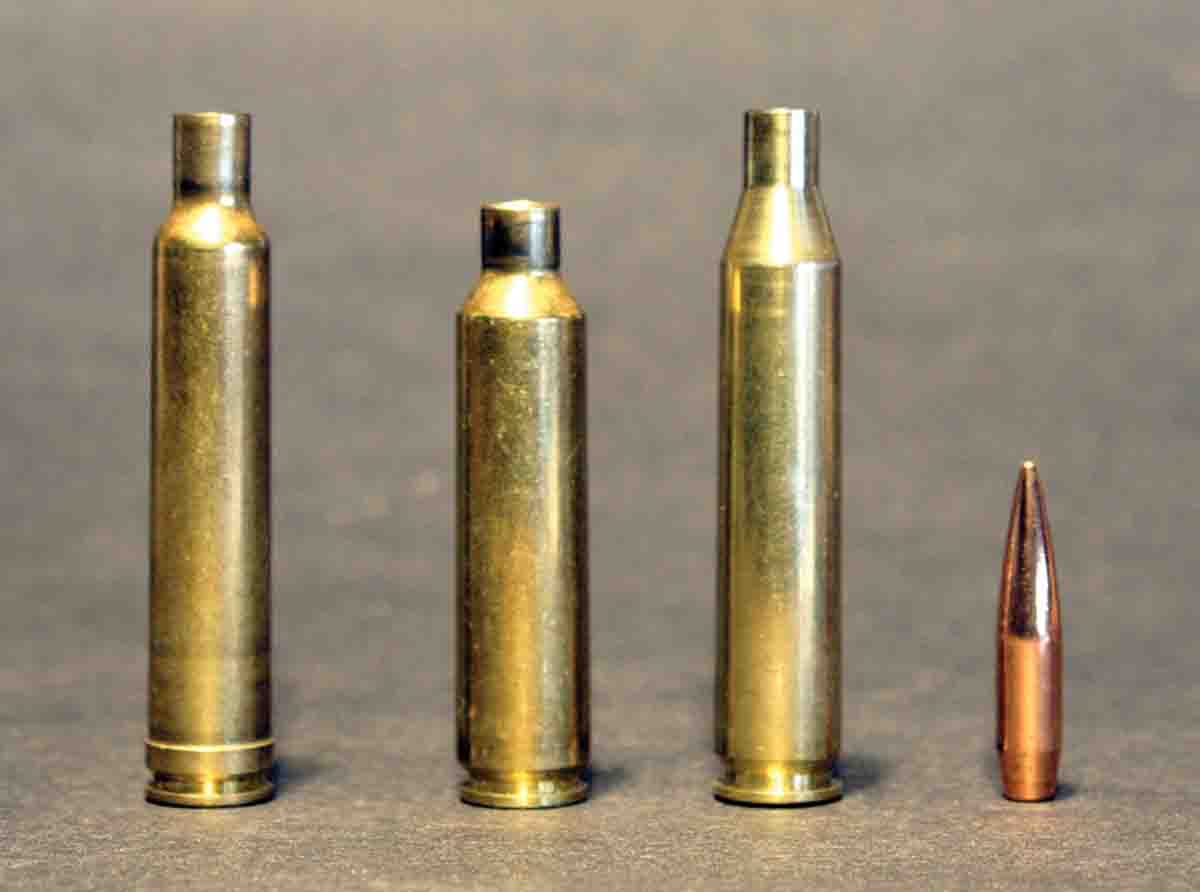 Remington changed the .244's name to 6mm Remington in 1963 and started offering a 100-grain factory load, even though the company had already (quietly) changed the .244 to a faster twist. In 1968, Roy Weatherby finally entered the 6mm market with his .240 Weatherby Magnum on what some shooters call a belted .30-06 case, claiming 3,395 fps with a 100-grain bullet.
Somewhere in there, the 6mm-06 wildcat also appeared, but apparently never became very popular. In fact, the wildcat section of my modest collection of Cartridges of the World, ranging from the 1979 to 2013 editions, does not mention the 6mm-06. Neither does P.O. Ackley's 1962 Handbook for Shooters and Reloaders, probably the most complete compendium of mid-twentieth-century wildcats, but it does include the .240 Super Varminter, the .270 Winchester necked down, essentially the 6mm-06 with a longer neck.
Shaw Barrels recently offered to rebarrel a rifle for me. I had been using its barrels since 1989 in chamberings from .223 Remington to .338 Winchester Magnum, and around 2000, visited the company's Pennsylvania factory. However, my last Shaw barrel was a 6.5-06 from 2008 on one of its Mark VII custom rifles, with a 1:9 rifling twist, the slowest twist Shaw then offered in 6.5mm. (It shot very well despite the "slow" twist, because I live in southwestern Montana, where the air is thin enough to allow bullets to stabilize with slightly slower twists.)
Shaw's 2019 chamberings included the 6mm-06, but none of the rifles in my collection were a good candidate. Instead, I visited Capital Sports & Western Wear in Helena, Montana, and found an early Remington 700 .30-06 on the used rack, from the era when Remington 700 safeties actually locked the bolt down, and their walnut stocks had impressed checkering.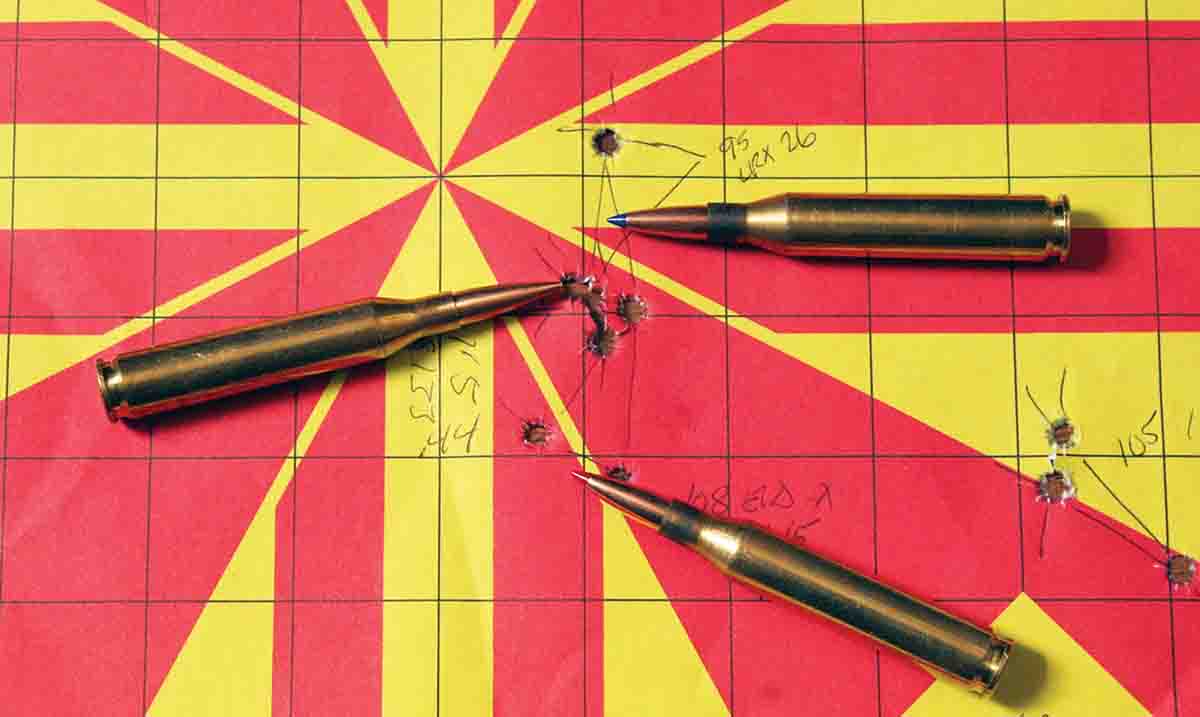 Early 700s tended to be very accurate, but like a good little rifle loony, I refused to "shoot the donor" and sent the barreled action to Shaw, asking for a stainless, 1:8 twist 6mm-06 barrel in the company's standard Remington 700 sporter contour. Shaw also faced-off the receiver and lapped the locking lugs, then bead-blasted and reblued the action.
This would be a hunting rifle, because smaller, sharper-shouldered 6mm rounds have taken over target shooting due to their longer barrel life and lighter recoil. Rather than use the relatively heavy 700 stock, I ordered a NextGen UltraLite Carbon Fiber M50 from Stocky's Stocks (stockysstocks.com) shaped like the Long Range Composite injection-molded stock reported on in "Synthetic Stocks, An Abbreviated History" in Rifle No. 311 (July-August 2020.)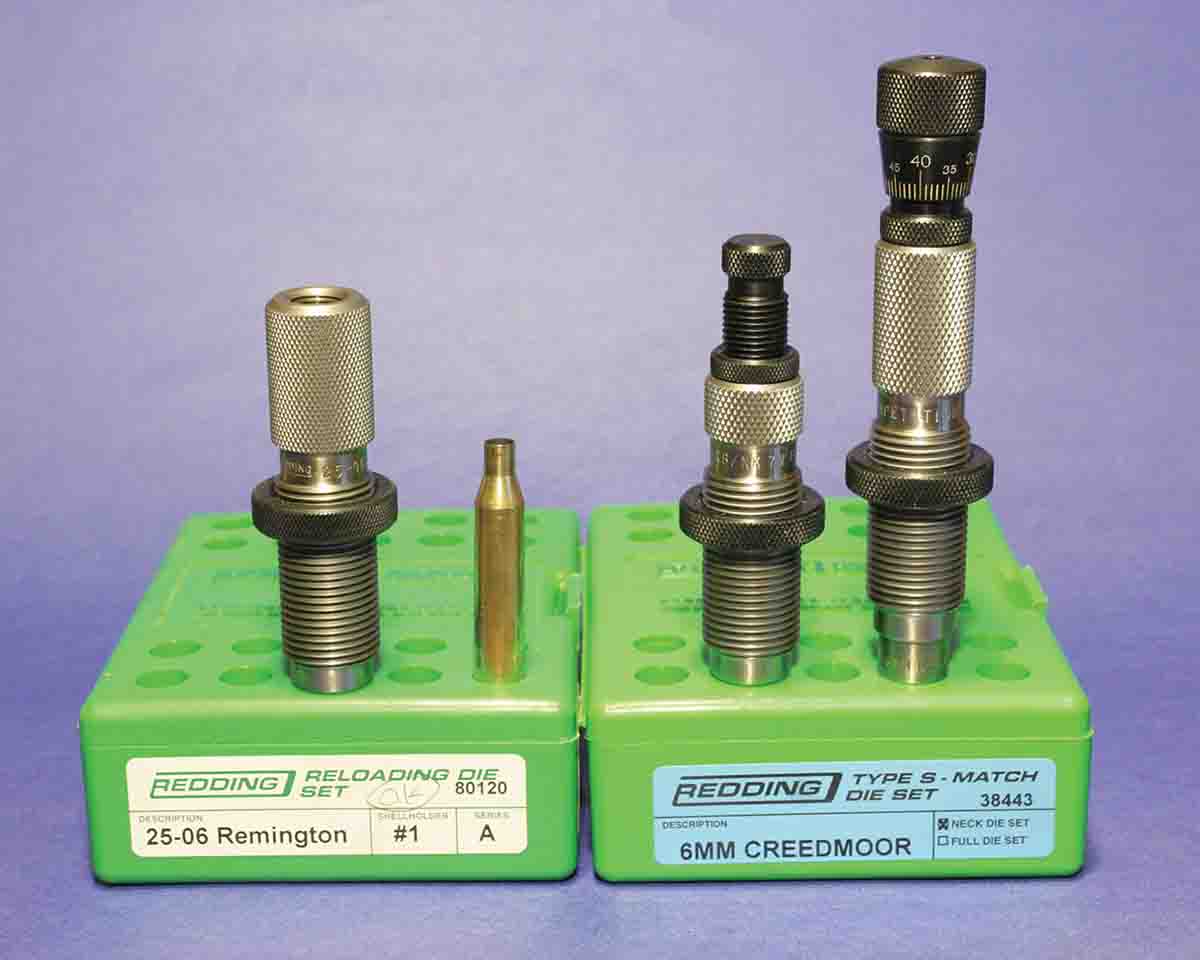 The new stock only weighed 27 ounces, less than half of the composite stock – and even less than listed on the Stocky's website. This may be partly because it came "bare," not painted in one of several camouflage options. This revealed the cross-hatched carbon fibers, which to me seem at least as attractive as any camouflage pattern. Its AccuBlock bedding block is also molded synthetic, instead of the aluminum AccuBlock in the composite, saving a little more weight.
AccuBlocks are essentially V-blocks at the front and rear of the action, reducing block/action contact considerably compared to the full-length bedding blocks used in many other stocks. Variations on this minimal action contact have become common over the last decade both in custom and factory stocks, and in my experience, usually result in fine drop-in accuracy, due to placing less stress on the action. This had proven true with the composite stock, so I simply screwed the 6mm-06 barreled action into the carbon fiber stock. My test-scope collection included a Swarovski 3-9x 36mm Z3. Since the 6mm-06 would be a relatively light hunting rifle, the 12-ounce Z3 seemed appropriate, and with the scope the rifle weighed 7 pounds, 13 ounces.
Shaw had test-fired the barrel with a necked-down .25-06 Remington case, included in the package with the barreled action, but Quality Cartridge makes properly headstamped 6mm-06 brass. It sent three bags of 20, and I weighed the cases from one bag, finding they averaged 181.5 grains, varying only 1.1 grain. Neck thickness was checked with an RCBS Casemaster gauge. Eighteen (90 percent) of the necks varied no more than 0.001 inch, and the other two only varied slightly more. This is indeed quality brass.
The next problem involved loading data. My office library contains several shelves of handloading manuals, including several with plenty of wildcat data. The only manual including any 6mm-06 loads was Ackley's, and I have always been a little leery of its data.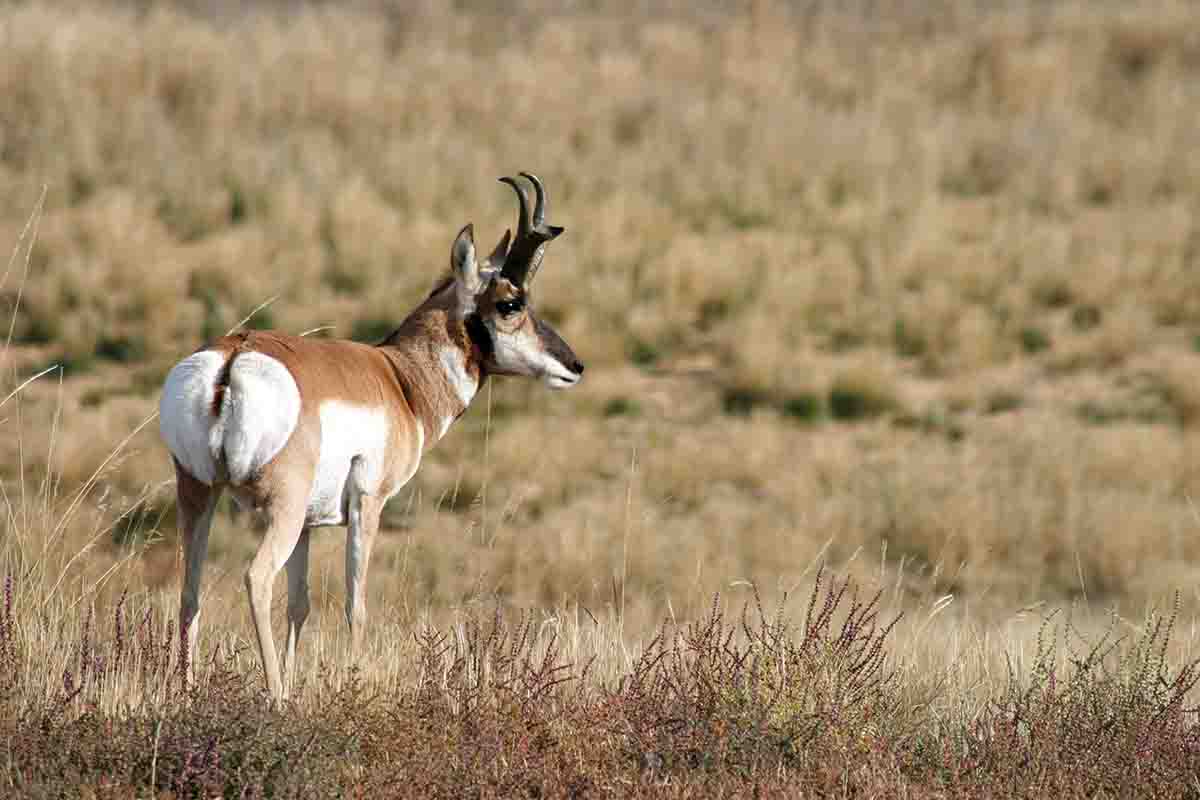 An internet search turned up an article written by Layne Simpson in 2011, where he suggested starting with 6mm-284 or .240 Weatherby data. I was already familiar with handloading the .240 due to owning a Weatherby Mark V Ultra Lightweight for several years.
However, data for newer powders in both the 6mm-284 and .240 is pretty scarce. Hodgdon lists 6mm-284 loads, but obviously only includes powders it distributes – and does not include some of the latest, such as the IMR Endurons. While several companies list .240 Weatherby data, the cartridge has never been as popular as the .257 Weatherby Magnum, so powder selection tends to be limited. Plus, most data only includes bullets up to 100/105 grains, due to the standard 1:10 twist in Weatherby's .240s. Hodgdon does list data for three powders with a 115-grain bullet, obviously a desired option in a 1:8 twist 6mm-06, but the bullet is the discontinued Barnes roundnose – and one of the powders is H-570, also discontinued.
Eventually I decided to add data extrapolated from the very popular .25-06 Remington, because powder and bullet companies keep updating the .25-06 with newer powder and normally list 115-grain bullets. It turned out that recommended starting loads for the 6mm-284 and .240 averaged around 92 percent of listed starting .25-06 loads with the same powders and bullet weights. The end result was a list of powders that would potentially provide the highest velocities with various bullet weights – and the 6mm-06 is definitely a high-velocity round.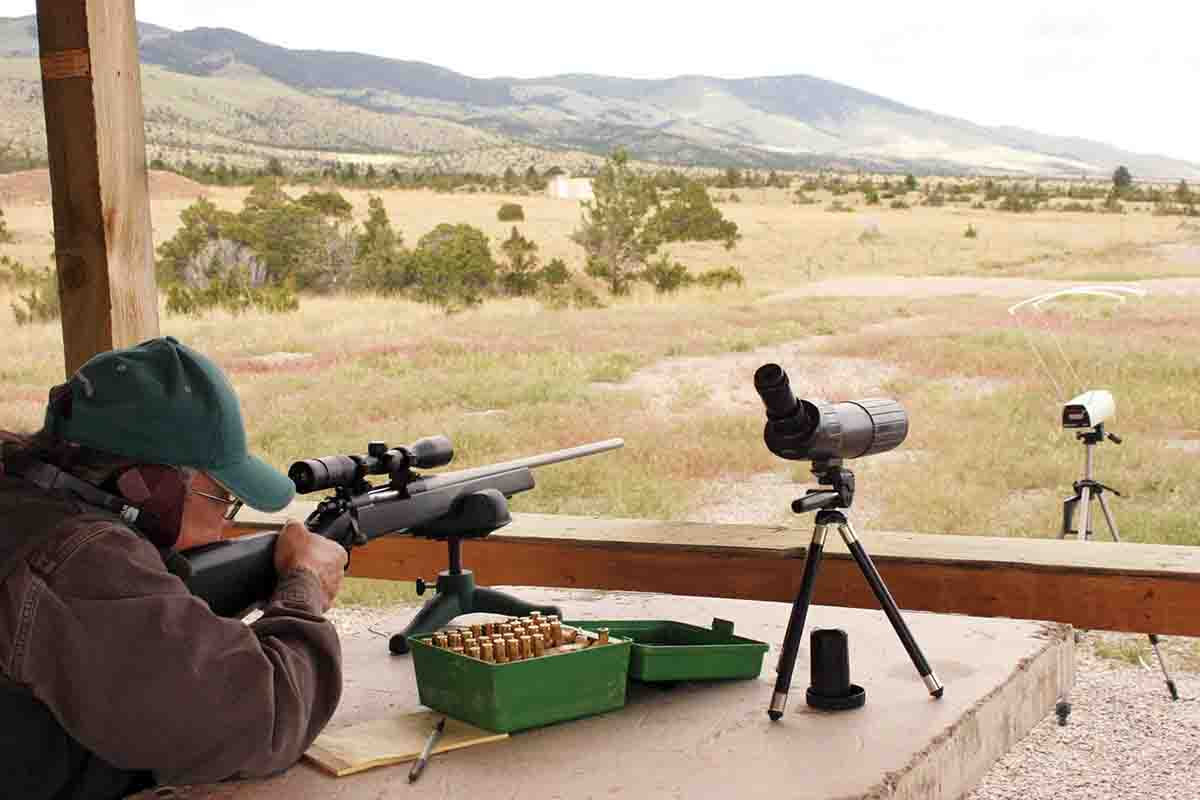 I also compared the 6mm-06 to the .243 Winchester, using my 4-to-1 formula developed a number of years ago by crunching the numbers from published, pressure-tested data. The results indicated any increase in powder room in cartridges of the same caliber would result in about ¼ as much additional velocity when handloading the same bullet weights to the same approximate pressure. (This rule does not apply to the same powder, but powders producing the highest velocities in each round.)
This required measuring the powder capacity of both the .243 and the 6mm-06, with a bullet seated in a fired case. Many handloaders (and some manuals) measure powder room by filling a case to its mouth with water, but case necks do not generally hold much powder – and vary considerably in length.
I compared the water capacity of a fired .243 Winchester case to a Quality Cartridge case (fired with a load from Layne's article), using a Berger 105-grain Hunting VLD. In both rounds, the bullet was seated just short of the lands in the Shaw-barreled 700 and Eileen's custom .243 Winchester built on a Husqvarna small-ring 98 Mauser action. Both rifles have magazines long enough for any bullet to be seated to the lands.

The .243 case held 48.4 grains of water, and the 6mm-06 case, 64.4 grains, an additional 33 percent. Thirty-three divided by four is 8.25, so the 6mm-06 should be safely capable of around eight percent more velocity than the .243 Winchester. Averaging maximum velocity loads from various sources of .243 data ended up with a list of potentially reasonable 6mm-06 velocities of approximately 4,300 fps with 55- grain bullets, 3,800 with 70s, 3,400 with 90s, 3,250 with 100s, 3,200 with 105s and 3,100 with 115-grain bullets.
I then compared powder capacity of the 6mm-06 with the 6mm-284 and .240 Weatherby. My friend Jay Rightnour owns a very accurate 6mm-284, built on a short Winchester Model 70 action by Helena, Montana, gunsmith Dennis Erhardt. Jay provided a fired case made from necked-down Winchester .284 brass, and I still had a few fired .240 Weatherby cases. Using the water technique with the 105-grain Berger, the 6mm-284 case held 61.4 grains, and the .240 case, 58.9 grains.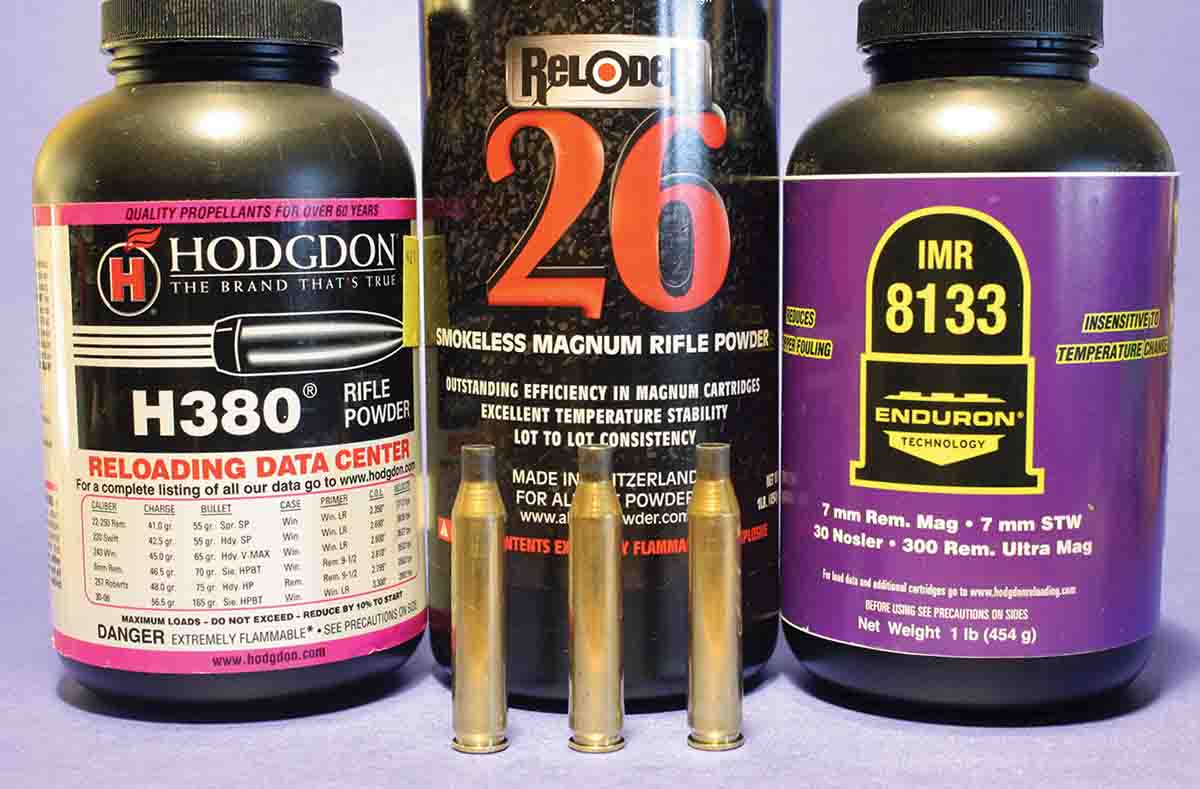 This may surprise handloaders who believe the .240 Weatherby is essentially a belted 6mm-06, but the .240's case body measures .453 inch in front of the belt, somewhat slimmer than the .473 of the .30-06 case. Many riflemen also believe the .240 chamber has the typical Weatherby "freebore," a longer throat/leade than most other centerfire cartridges, allowing more powder to be used without raising maximum pressure. However, the .240's factory throat is only .169 inch long, a little shorter than the SAAMI .25-06 throat length of .177 inch. Neither is as long the .236-inch throat of the Shaw 6mm-06 chamber, measured by seating a flat-based bullet backward in a case and closing the bolt.
During the first range session, I fired 17 rounds of cautious starting loads with bullets from 55 to 115 grains. The rifle shot accurately from the get-go – and also tended to put most bullets close to the same point of impact, probably due to the relatively stout barrel that measures .665 inch in diameter at the muzzle.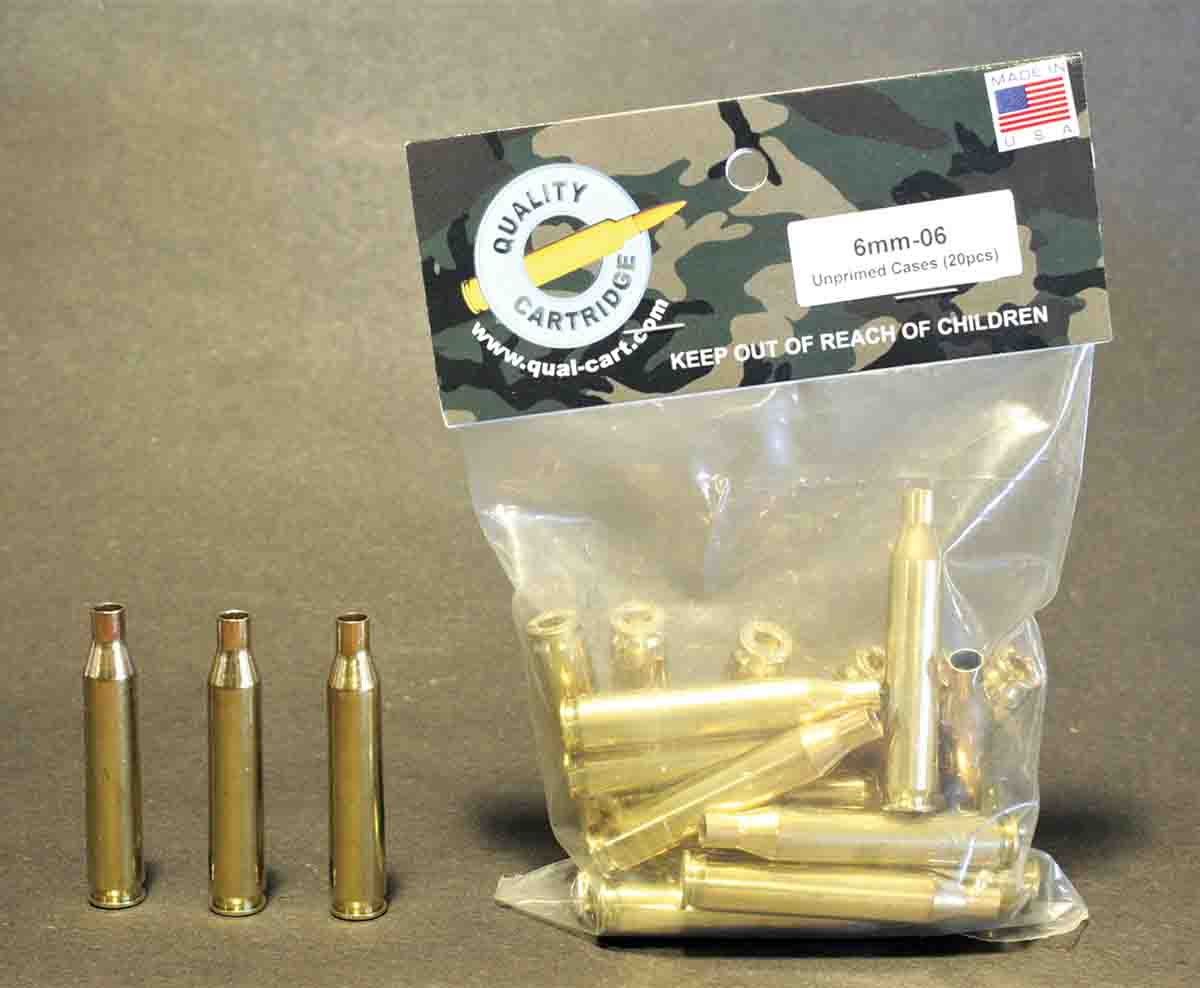 Afterward, I cleaned the powder fouling from the bore with rubbing alcohol and took a look with my Gradient Lens borescope, finding only faint traces of copper, which disappeared completely after a half hour soaking with Montana X-Treme Copper Killer. I had seen this general resistance to fouling in previous Shaw barrels, even though they are not lapped like some other custom barrels. Several more range sessions resulted in the list of handloads selected for both accuracy and reasonable maximum velocity in this particular rifle. In addition to chronograph indications, the primer pockets stayed tight, and the barrel never copper-fouled much at all – certainly not enough to affect accuracy, partly because some of the newer powders included a de-coppering agent.
As noted in the handload table, I did not use dedicated 6mm-06 dies, instead using the full-length sizer in my set of Redding .25-06 dies as a body die. However, that turned out to be necessary only once, before they were fired, since the Quality Cartridge cases' fit required considerable effort on the bolt handle to enter the Shaw chamber.
After the first firing, cases only required neck sizing with the bushing die from my set of Type S 6mm Creedmoor Match Dies, accomplished by screwing the die into the press until it sized the neck to just above the shoulder. This resulted in very straight case necks, and bullets seated with the 6mm Creedmoor micrometer die – screwed into the press above a stack of 0.1-inch thick washers – showed very slight runout on a Casemaster gauge, contributing to the excellent accuracy.

The 6mm-06 would obviously be a great round for open-country hunting of anything from larger varmints to deer-sized game up to black bears and caribou. I am also well acquainted enough with the performance of similar-sized cartridges on "meat" elk to have no qualms about taking on a cow or raghorn bull. Now I just have to decide exactly where the rifle fits into my fall hunting plans!