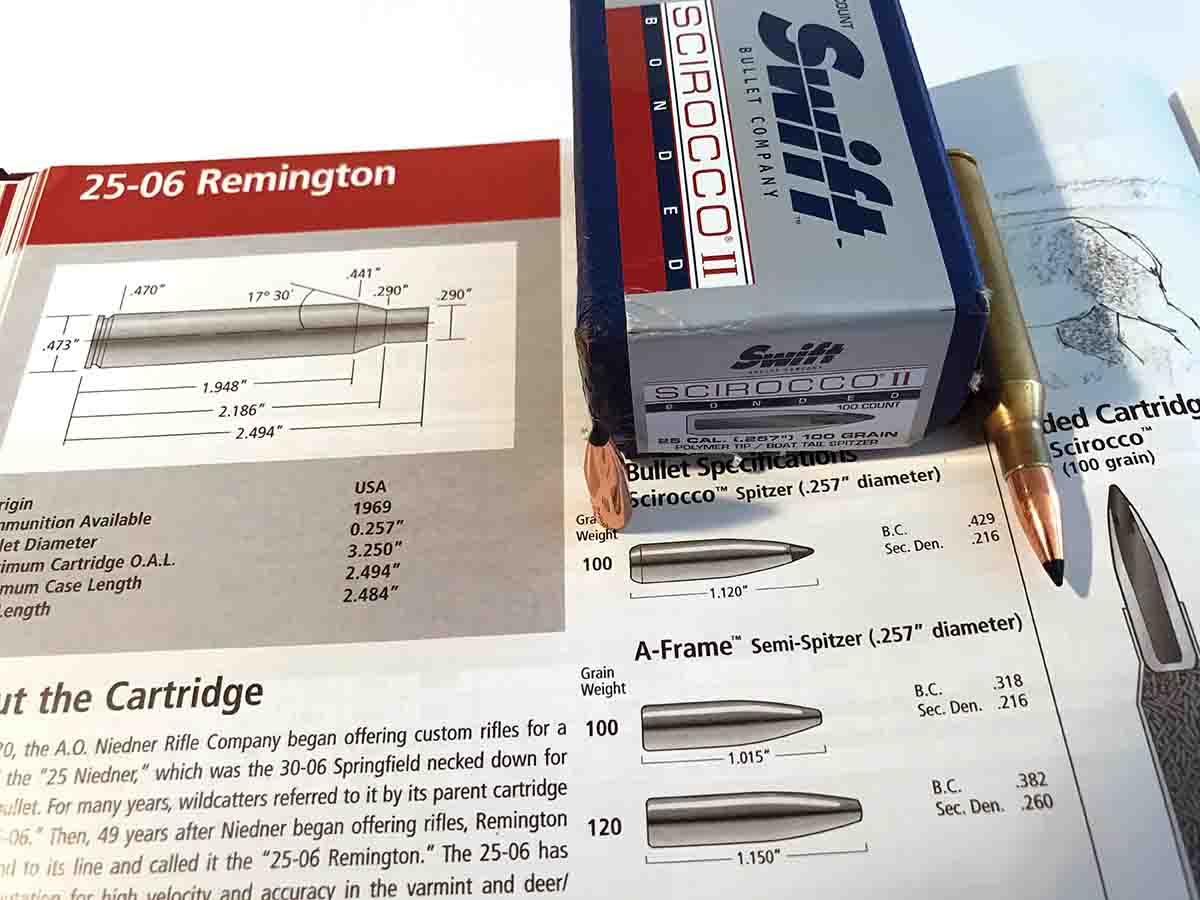 If looks could kill, a Swift Scirocco II bullet might kill big game just by lying in your hand. The bullet looks like a spear ready to pierce the air with its tapered base, long length and black plastic tip. But it's the Scirocco's construction that makes it deadly when it hits game.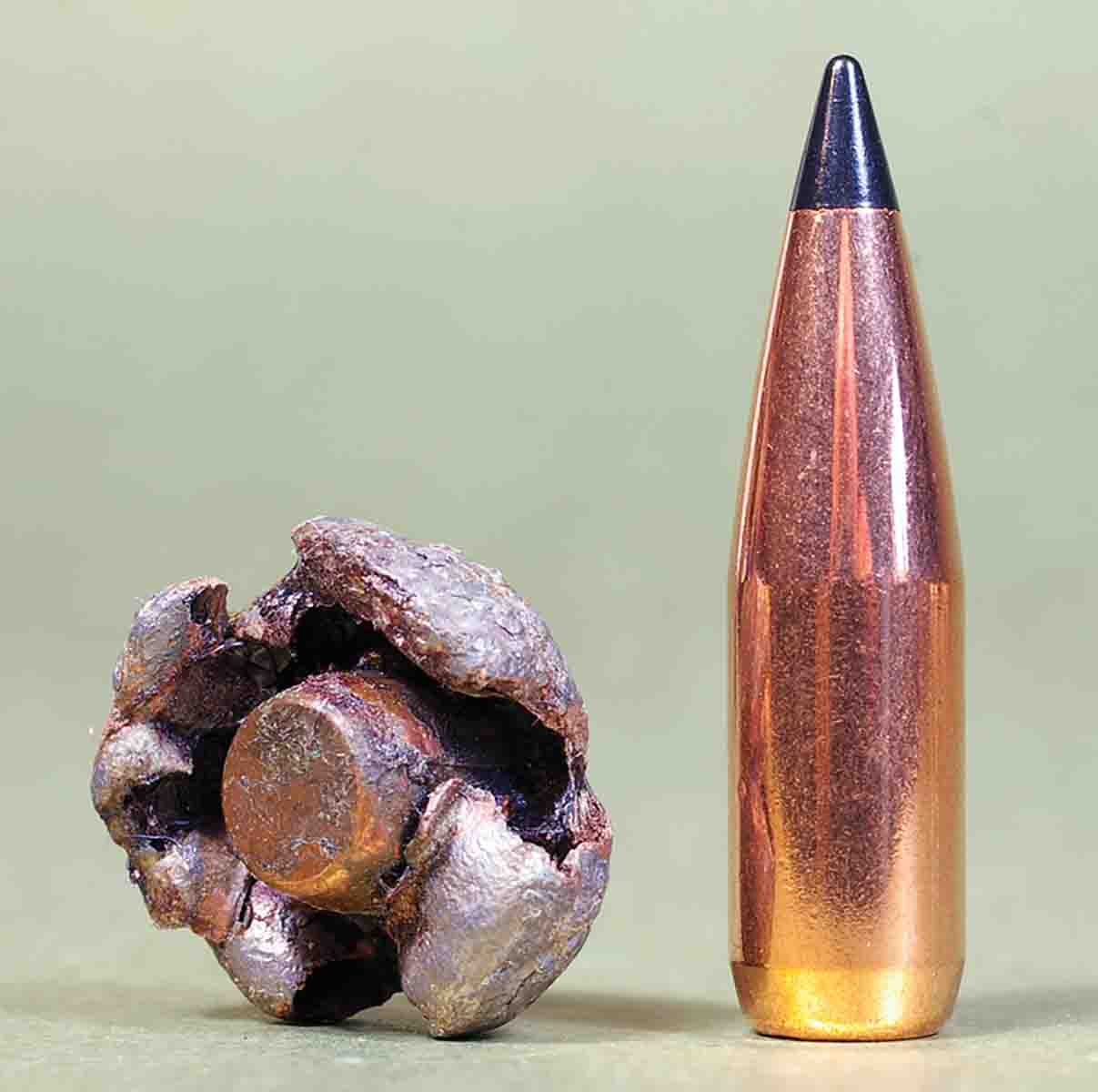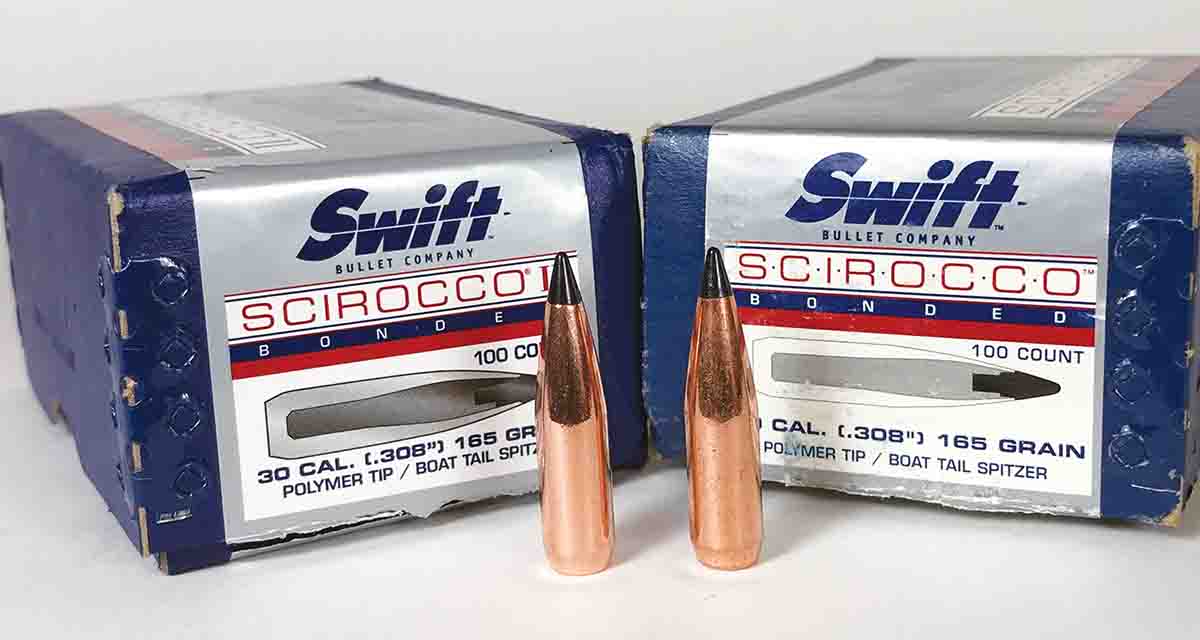 Swift began developing Scirocco bullets in 1997 and introduced the bullets in 1999, made with a pure copper jacket bonded to a pure lead core. "Most bullet jackets are made of copper with the addition of zinc," said Bill Hober, Swift's CEO. "What does zinc do to copper? The same with antimony added to lead, it makes it brittle." Pure copper and lead, though, are more elastic to better withstand the stress of expansion at high velocity.
Hober said original Sciroccos were really the first long-range hunting bullet on the market, "and were good out to 1,000 yards." To aid in that long-distance shooting, the Scirocco's polycarbonate tip, secant ogive and 15-degree boat-tail creates bullets with a high ballistic coefficient (BC). For example, Scirocco 6.5mm 130-grain bullets feature a .571 G1 BC compared to a .552 BC for the Berger 6.5mm 130-grain VLD Hunting bullet. Scirocco .30-caliber 180-grain bullets carry a .520 BC measured against a .507 BC for Nosler 180-grain AccuBond bullets.
A few years after Sciroccos reached the market, quite a few mega-magnum cartridges, such as the .300 Remington Ultra Magnum, were introduced. "I thought people with these big magnums would be mostly shooting big game at long range," Hober said. Instead, he started receiving reports of hunters using these magnum cartridges shooting Sciroccos at game at 50 yards or so. The mushroomed bullets often had a split in the jacket or had expanded out nearly flat.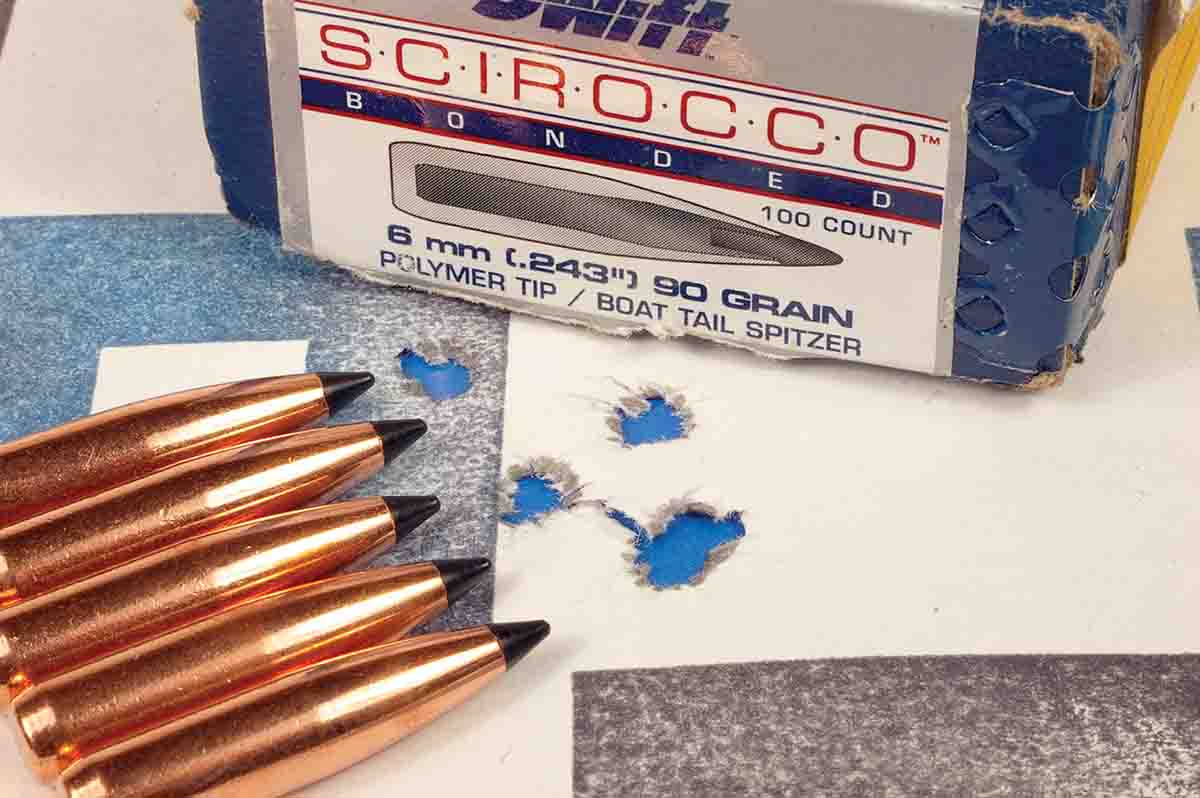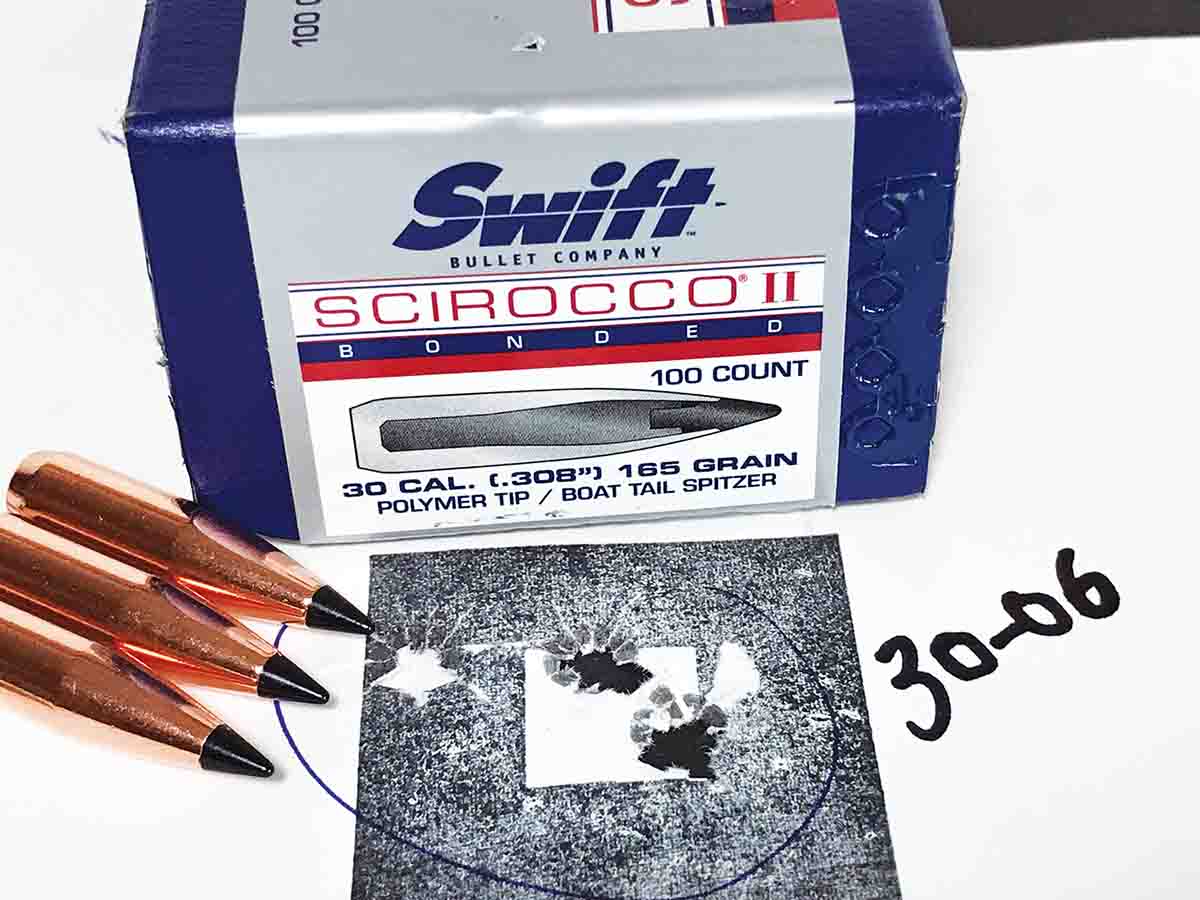 About 2006, Swift redesigned the bullet to better withstand high-impact velocities and called it the Scirocco II. (Enough time has passed that I'm going to just call them Sciroccos.) The bullets are constructed the same way and on the same machines as the original bullets. "The inside and outside shapes of the original and II are the same," Hober said. What changed was the metallurgy of the copper jackets that have been annealed to better withstand high-impact velocities. The result is today's Sciroccos still expand into a wide mushroom, but the expanded portion of the bullet and more of the shank remain intact for deeper penetration at high-impact velocities. The bullets expand at impact velocities down to 1,750 fps and stay intact at velocities up to 3,200 fps. "That makes the bullets good out to 800 and 900 yards," Hober said.
The copper jackets are heavy and thick, too. The jacket comprises approximately 71 percent of the weight of a 90-grain .24-caliber Scirocco and nearly 63 percent of a 150-grain .28-caliber Scirocco. The jackets are quite thick near the tip and increase in thickness along the shank. A plastic tip in the hollowpoint lessens air resistance in flight and initiates expansion on contact with game.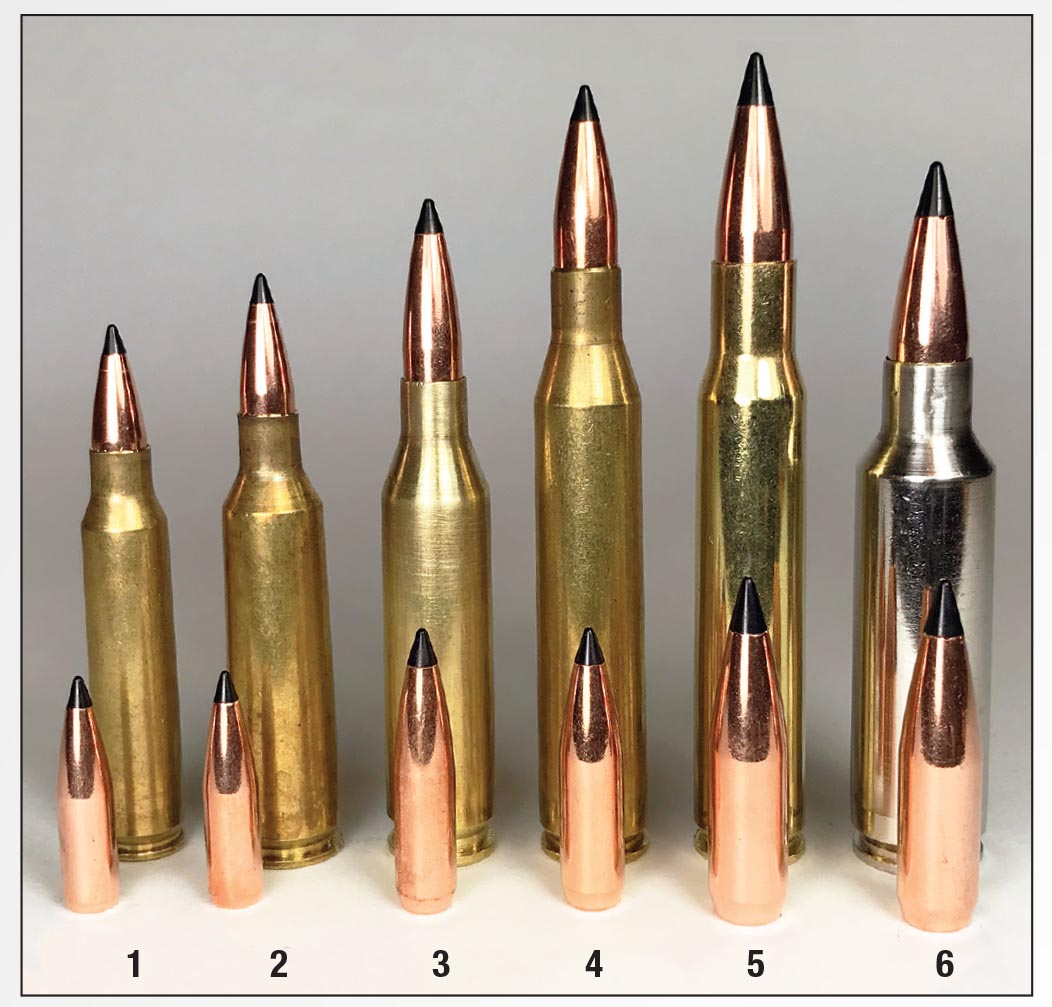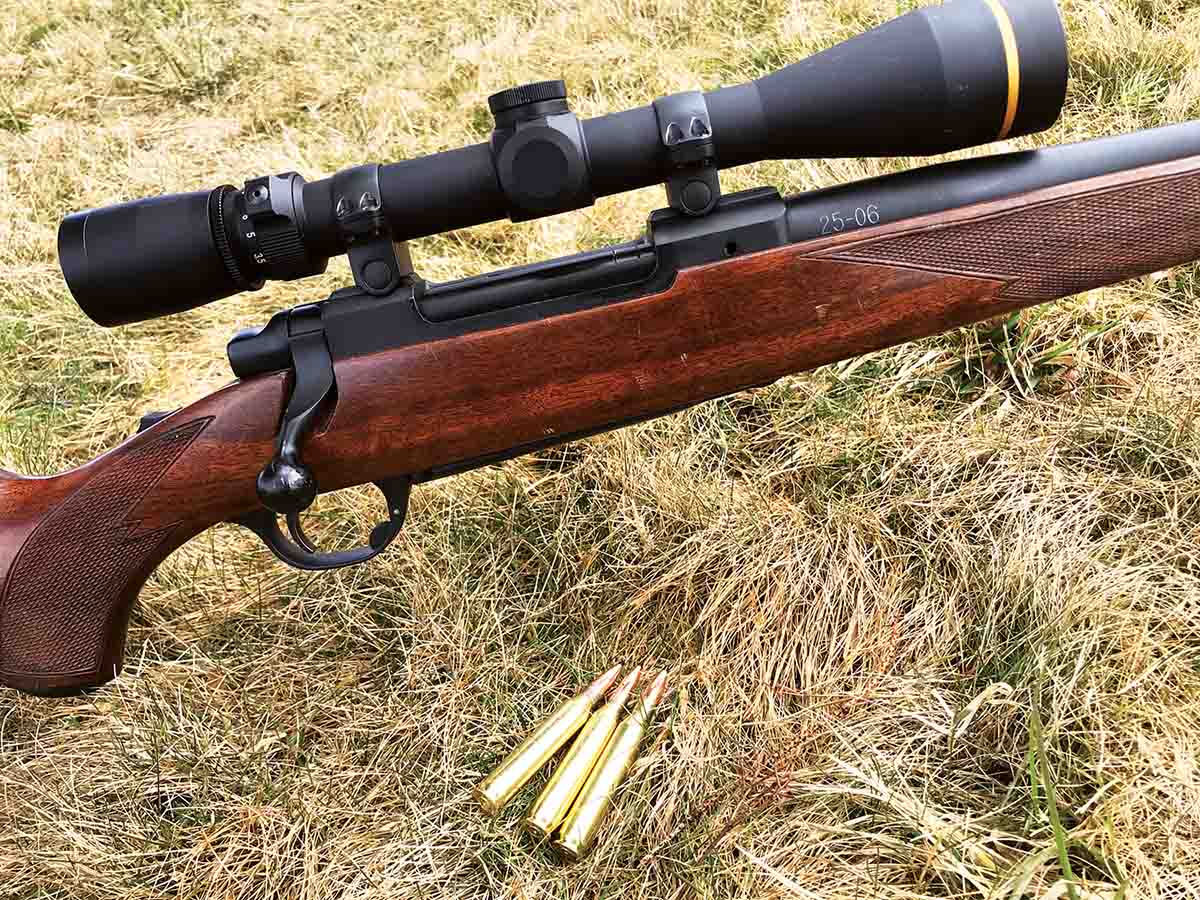 Sciroccos expand violently, increasing the terminal effect of more sedate cartridges. The 150- grain Scirocco is a great deer bullet fired from my .300 Savage. The bullet's velocity is only about 2,600 fps when it leaves the 20-inch barrel of my Savage 99 rifle, yet it still expands widely at the 2,300 fps it slows to at 150 yards. At the last of shooting light one November evening, my son and I stood side-by-side watching a band of whitetail does. I leaned against a tree and brought the Savage up and shot one of the does when it stepped into the open. I handed the rifle to my son and he shot a second doe. Both of the deer fell dead on the spot, with holes the size of a fifty-cent piece through the ribs behind the shoulder and out the far side.
Those same Sciroccos still hold together with increased velocity. From my .30-06 the 150-grain Scirocco has a muzzle velocity of 3,082 driven by 60.0 grains of Norma Universal Rifle Powder. I hit a bull elk through the ribs standing broadside at about 100 yards with that load, and the elk wobbled a few steps and pitched over on its nose. The bullet had turned both lungs into soup and stopped against the hide on the far side. The bullet had expanded widely, yet held onto 135 grains of its initial weight.
The secant ogive on Scirocco bullets requires some experimenting to find the correct distance from contacting rifling for the bullets to shoot accurately.
The Swift Bullet Company Reloading Manual Number Two states: "The fact remains that when it comes to producing a tight-grouping load, in a particular firearm, there is no way to predetermine the component combination and bullet seating depth that will do it best. You just have to shoot it to find out."
Hober said determining the correct seating depth of Scirocco bullets is the most important step in developing an accurate handload. "You could seat Scirocco bullets and another bullet, say a Sierra, both close to the rifling and the Sierra will probably shoot accurately," Hober said. "But chances are Sciroccos won't. Sciroccos must be set back a ways from engaging the rifling for them to shoot accurately, and a good place to start is .030 to .070 of an inch, and sometimes more, off the lands."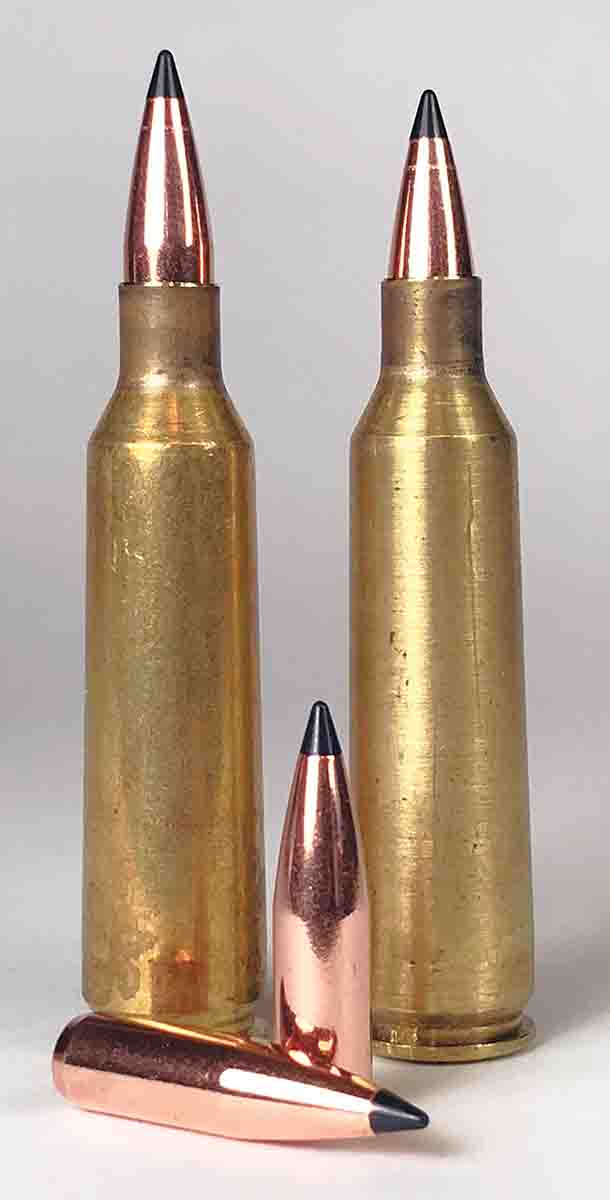 To start that process, Sciroccos can be seated fairly close to the start of the rifling in a rifle's barrel, say .030 inch from contact. From there, bullets can be paired with several powders with charge weights at least a few grains below the maximum listed in the Swift reloading manual and increase charges in half-grain increments as testing proceeds. Hober suggests using powders on the relatively slow-burning side for a cartridge, as those powders fill a case to produce even velocities. "When we started producing Swift High Grade ammunition, I was surprised such a slow-burning powder as IMR-7828 worked so well with 90-grain Sciroccos in the .243 Winchester," he said.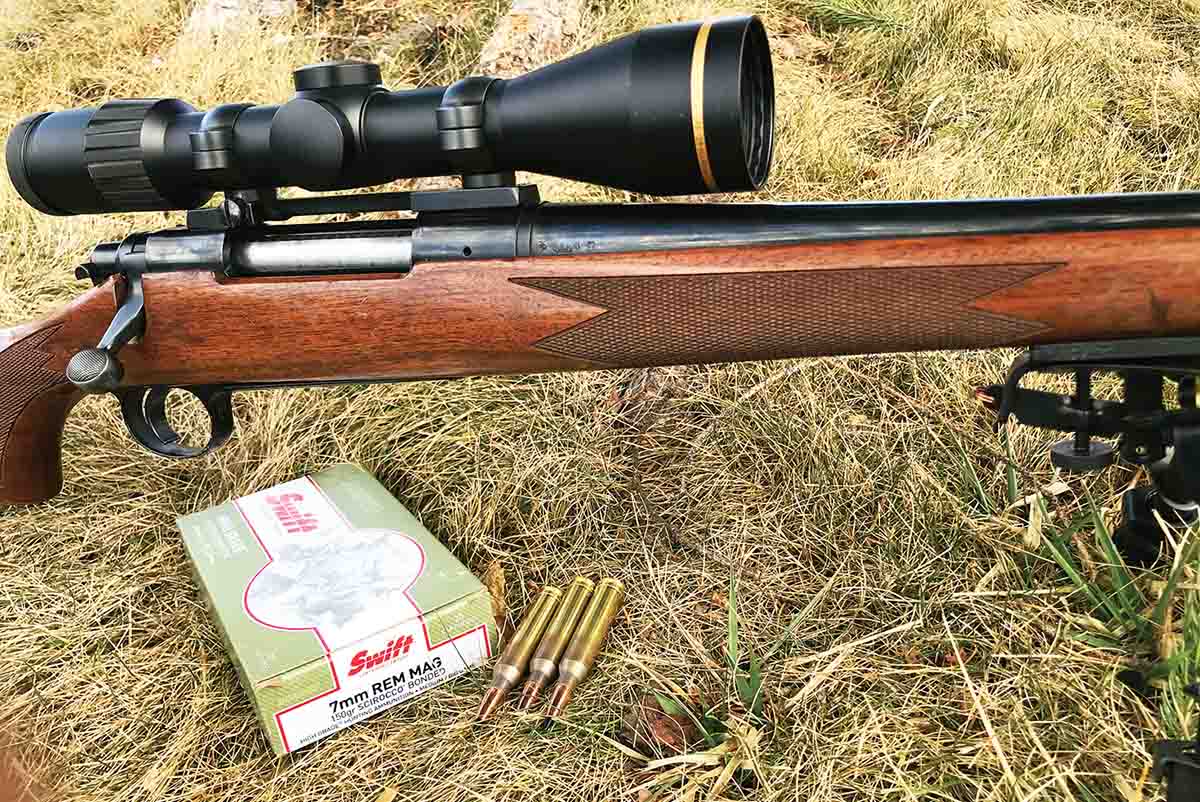 Once a powder is selected, bullets can be backed off the rifling in short increments. That's the route I took developing a load for 90-grain Sciroccos for a Cooper Firearms Model 22 chambered in .243 Winchester. In steps, I increased charge weights of Reloder 19 up to 44.0 grains. Instead of the 3,157 fps stated for that amount of Reloder 19 in the Swift manual, though, velocity was 2,891 fps from the Cooper's 24-inch barrel. Bullets set against the start of the Cooper's rifling resulted in a cartridge length of 2.90 inches. If need be, the single-shot Cooper's receiver contained plenty of room for that cartridge length. Cartridge length averaged 2.647 inches for Swift High Grade .243 Winchester cartridges loaded with 90-grain Sciroccos, and those loads averaged .97 inch for two, three-shot groups at 100 yards. I seated the bullets out some for a cartridge length of 2.75 inches and two groups averaged .71 inch.
I followed the same procedure developing a load for 62-grain Sciroccos to shoot in a Sisk Rifles .22-250 Remington with a 1:8 twist barrel. However, finding the correct seating depth for the bullets required much more experimentation and shooting. I settled on 33.0 grains of Varget, which produced a 20-fps extreme spread of velocity for six shots. A cartridge length of 2.460 inches, .054 inch off the start of the rifling, produced a somewhat acceptable 1.67-inch average for two, three-shot groups. Bullets seated for a cartridge length of 2.44 inches shot a 1.18-inch group, a 2.40 cartridge length provided a 2.05-inch group and 2.36-inch cartridge length gave a 1.63-inch group. All those bullets were seated straight in cases with runout of .002 inch at the most, gauged on a Hornady Lock-N-Load Concentricity Tool.
A relatively long leap to the rifling is not always necessary for Sciroccos to shoot their best. With a cartridge length of 2.28 inches, 62-grain bullets are right against the start of the lands in my Savage Predator Hunter .223 Remington with a 1:9 twist. To start, I seated the Sciroccos for a cartridge length of 2.26 inches over 25.0 grains of Power Pro 2000 MR. That load grouped three Sciroccos in .68 inch at 100 yards. A shorter cartridge length of 2.24 inches resulted in a 1.18-inch group and an even shorter cartridge length of 2.20 inches placed three bullets in a 1.89-inch group.
Sciroccos are quite long for their weight. The .30-caliber 150-grain Scirocco's length is 1.270 inches, compared to Swift's 180-grain A-Frame's 1.215 inches and Nosler's 150-grain Ballistic Tip of 1.24 inches. The 7mm 150-grain Scirocco measures 1.385 inches long, compared to 1.365 inches of the Swift 175-grain A-Frame. Even with those long lengths, there has never been a problem seating Sciroccos to the correct depth in cases or excessively compressing powder charges. The Scirocco's long bearing surface against rifling, in general, requires lower maximum powder charges than other bullets of the same diameter and weight. Although, perusing the Swift reloading manual that reduction is only about a grain.

Only .22-caliber 62- and 75- grain Sciroccos require a faster than standard rifling twist to stabilize. A rifling twist calculator determined a 1:8 twist was required to stabilize the 62-grain bullets fired at .223 Remington velocities, and a 1:9 twist for the bullets shot at .22-250 Remington velocities. My Savage Predator .223's 1:9 twist, though, accurately shot the 62-grain bullets and so did my Sisk Rifles .22-250 with its 1:8 twist.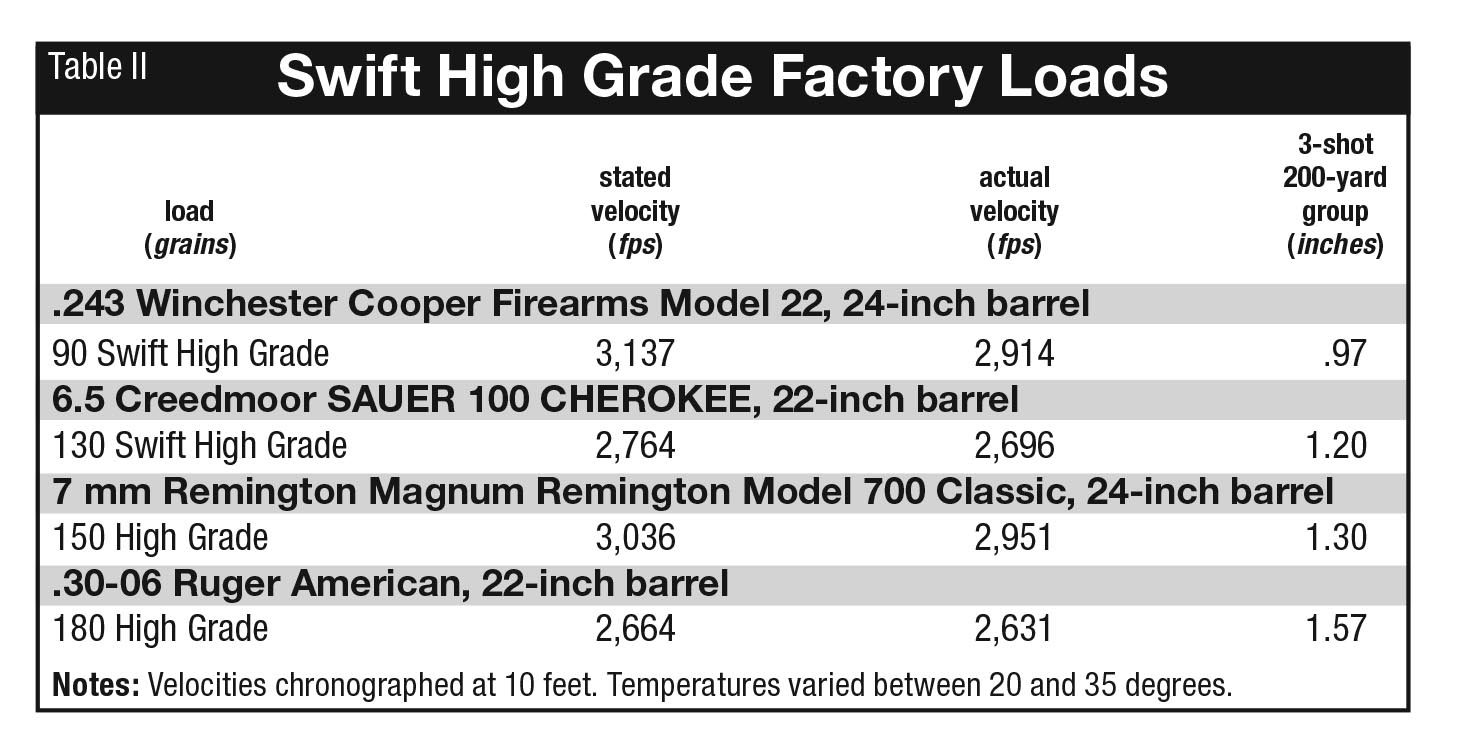 Thumbing through my handloading records, I counted 83 groups shot with rifles chambered in 17 different cartridges loaded with .22-, .24-, .26-, .27-, .28- or .30-caliber Sciroccos, beginning with 62-grain bullets fired from the .223 Remington up to 180-grain bullets shot from the .300 Winchester Magnum. Those mostly three-shot groups had an average size of 1.37 inches shot at 100 yards from ordinary hunting rifles. The .300 Winchester Short Magnum (WSM) chambered in a Winchester Model 70 Featherweight with a thin, 24-inch barrel shot 165-grain Sciroccos very well with three-shot groups of .95, .83 and .80 inch with three different powders.
A bull elk was the most recent big game shot with a Scirocco. The 165-grain bullet fired from a .300 WSM hit the bull behind the diaphragm as it trotted along at about 75 yards. That was a poor hit, yet it was enough to stop the elk. A second bullet hit the elk in the rear ribs and plowed forward through the lungs into the front of the far shoulder. It wasn't just looks that killed the elk.