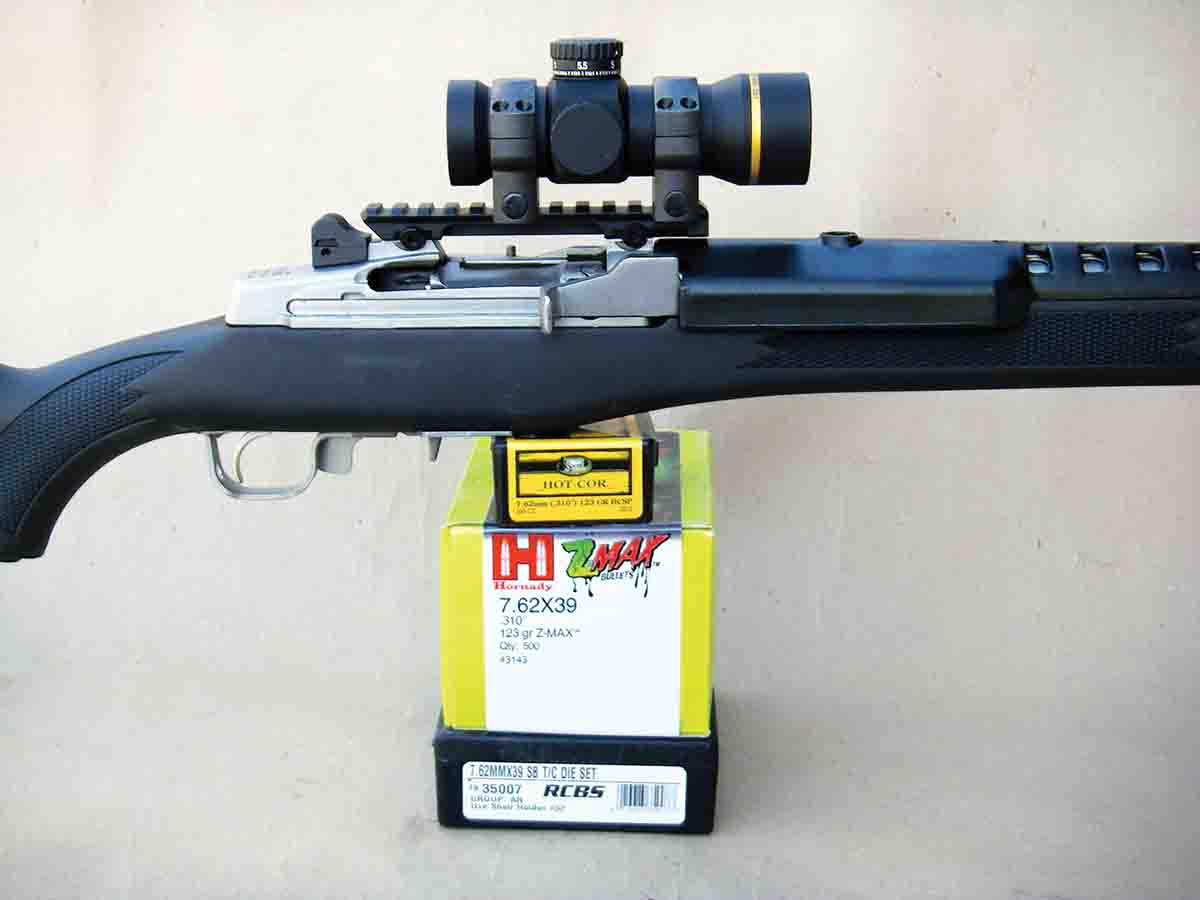 Q
: I enjoyed very much your article about the Ruger Mini-14 and Mini Thirty rifles in Rifle No. 308 (January/February 2020). I have a Mini Thirty that I received as a Christmas gift in 1986 or 1987. I believe it to be one of the first to leave the factory. I have read previously about the .308 inch groove diameter that you mentioned in your article. In slugging the bore it indicates that my rifle does indeed have a .308 inch groove diameter. I am very curious to know where you received your information. Best Regards.
S.R., Licking MO
A: This dates back many years ago when I was trying to develop handloads for a Ruger M77 Mark II chambered in 7.62x39mm. I contacted Ruger for some technical details and was told the company was in the process of changing the groove diameter for all rifles in that caliber to .308 inch, including the Mini Thirty and M77 rifles. That change would begin in 1990. Previously, Ruger used a .310- to .311-inch groove diameter.
As an interesting note, in the book Ruger & His Guns by R.L. Wilson, he indicates that the Mini Thirty was introduced in 1991, but most sources list 1987 as the year of introduction, which corresponds with your memory of the year you received your Christmas gift. Incidentally, you can contact Ruger Customer Service (603-863-3300) with the serial number of your rifle and they can give you the date it shipped from the factory.
As to why your rifle has a .308-inch groove diameter is open to speculation. It is possible that Sturm, Ruger & Company began changing barrel dimensions almost immediately after introducing the Mini Thirty. However, knowing production methodology and errors as I do, it is most probable that raw .308-inch barrel stock was inadvertently mixed in with .311-inch barrel stock.

Hornady FTX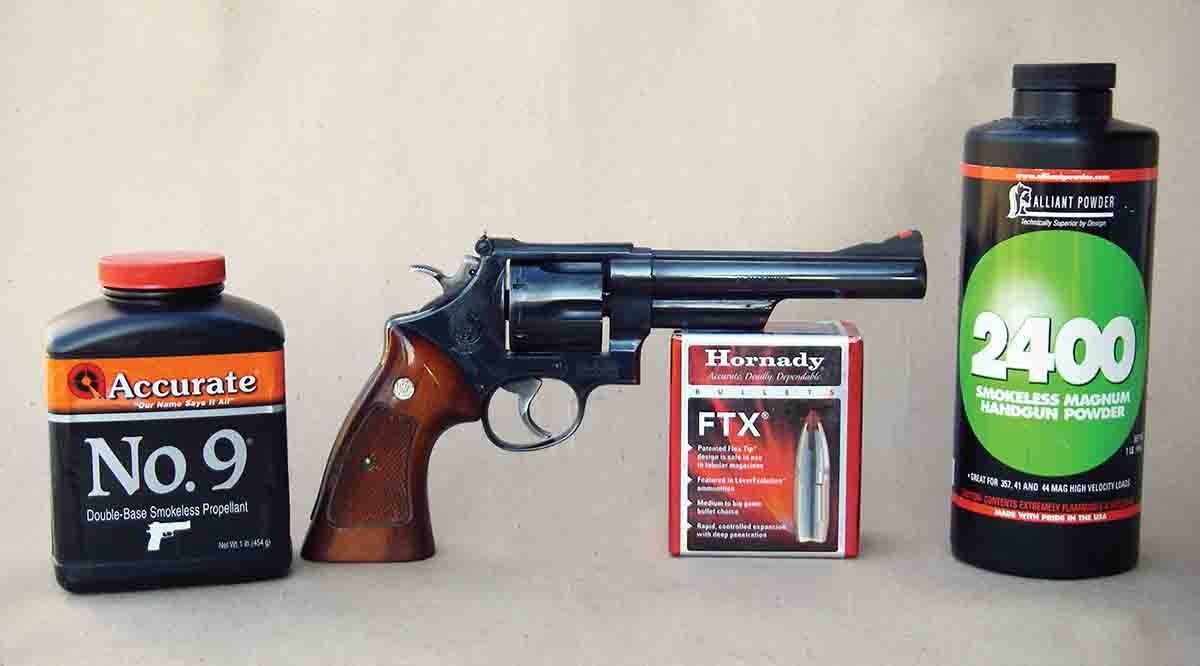 Q
: I always look forward to the next delivery of
Handloader
magazine. I especially enjoy your feature articles on "Pet Loads."
Your "Pet Loads" article for the .41 Magnum in Handloader No. 324 (February-March 2020), was of special interest to me since I handload for that cartridge. I was surprised to see the Hornady 190-grain FTX bullet missing in the list of loads. I realize that you can't cover every combination of bullets and powders, but I guess that I would have expected the FTX to be included.
Have you loaded the FTX? Can you provide any recommendations as to powder type, charge weights, etc.? Any guidance will be appreciated. Thank you.
R.J.M., Amsterdam NY
A: The Hornady .41-caliber, 190- grain FTX bullet is a relatively new offering and was not available at the time that "Pet Loads" for the .41 Magnum were developed and the text written. If it performs like the rest of the FTX product line, as expected, it is certain to become popular.
I suggest starting with 18.0 grains of Alliant 2400 powder and work up to a maximum load of 20.0 grains. Or try 19.0 to 20.0 grains of Accurate No. 9 powder. Use a standard large pistol primer (non-magnum), such as the CCI 300 or Federal 150. Velocity of either of the above loads will exceed 1,300 fps in most revolvers with a 6-inch barrel.
It should be noted that seating the FTX bullet usually requires a special seating stem (aka plug) that corresponds with the shape of the ogive. This serves to avoid damage to the rubber tip during seating. And as always, a roll crimp should be applied as a separate step after the bullet is seated to the correct overall cartridge length.
Furthermore, select FTX bullets designed for other calibers require shortening the case of a given caliber to help compensate for the long ogive – at least if the overall cartridge length is to be kept within industry length specifications. However, the ogive length of the 190-grain .41-caliber FTX allows it to be kept within SAAMI overall cartridge length specifications (1.590 inches) when seated and crimped in a standard length .41 Magnum case of 1.290 inches. As a result, it will function properly in any .41 Magnum revolver or rifle.
I hope that information helps, and thanks for taking the time to read Handloader.

.308 Deer Loads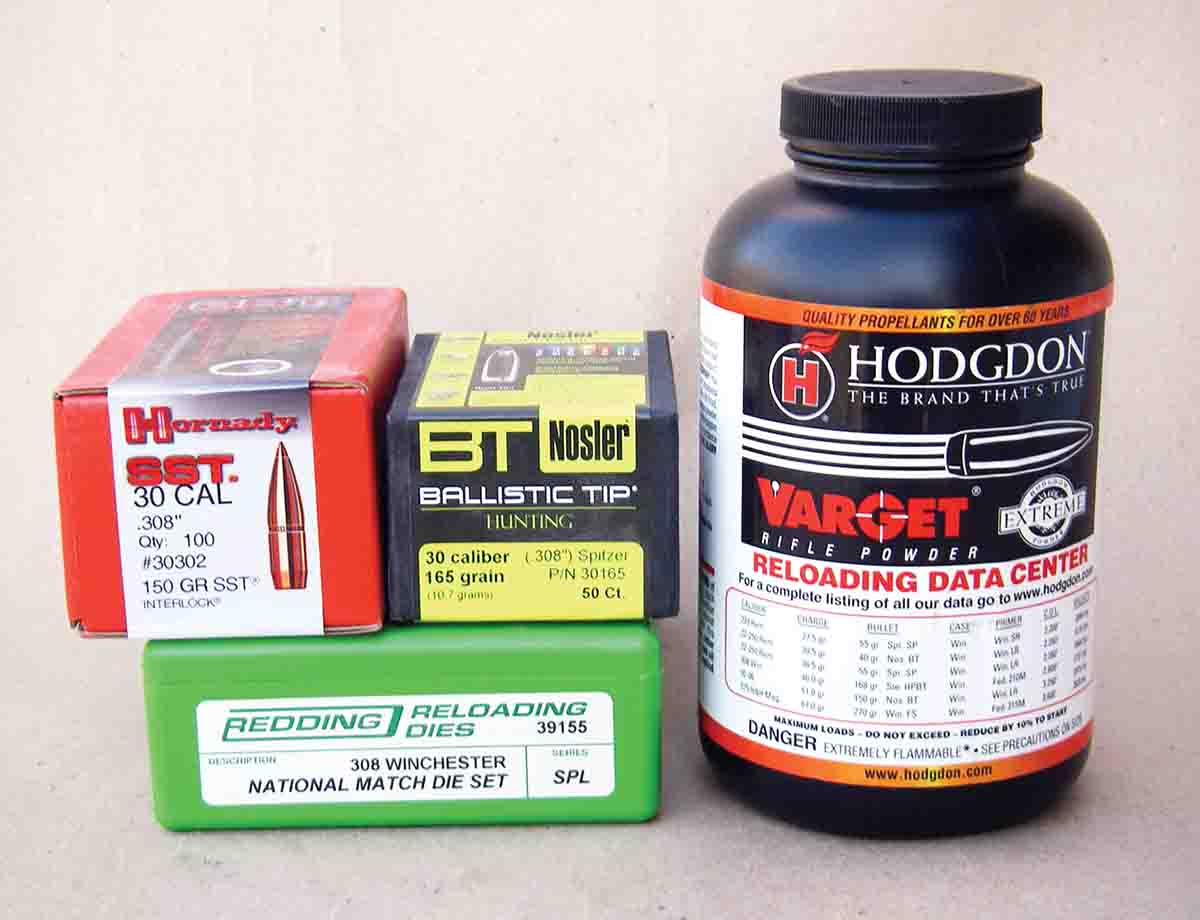 Q
: I have a Winchester Model 70 Featherweight chambered in .308 Winchester that was produced in the early 1980s. I have worked hard to develop good handloads, but have never been completely satisfied with its accuracy. It seems to favor select heavier bullets, such as the 180-grain Sierra RN Pro Hunter and similar RN bullets such as the Winchester 180-grain Power-Point. I have tried various 180-grain spitzer flat base and spitzer boat-tail designs from Sierra, Nosler and Hornady and accuracy is just mediocre. What I would really like is to use 150- or 165-grain spitzers such as the Nosler Ballistic Tip or Hornady SST for hunting whitetail deer here in Texas, but can't seem to get groups much smaller than 11⁄4 to 11⁄2 inch. The above 180-grain RN bullets will stay inside 3⁄4 inch for a 3-shot group. I am primarily using Hodgdon Varget powder (with charge weights being taken from their
Hodgdon Annual Manual
) and am hoping to obtain better accuracy with lighter bullets. A friend suggested that I try neck turning cases. What are your thoughts on neck turning? Do you have any other suggestions that might help with my accuracy?
S.T., Fort Stockton TX
A: The accuracy of 1.5 inches or less that you are obtaining with all bullets is fully adequate for hunting any whitetail deer in Texas. I have hunted in Texas many times and have taken dozens of deer there, including using multiple handguns that were not capable of that level of accuracy, but I digress. However, I do understand the satisfaction in obtaining top accuracy with your desired load.
Generally speaking, case neck turning is most beneficial when a rifle has a minimum dimension chamber. Often rifles with "production" chambers, such as yours, will lose accuracy when case necks are turned.
You don't specify the overall cartridge lengths that you have tried. But based on your rifle showing a preference for bullets with a roundnose profile, it appears that you need to seat spitzer bullets out farther, if possible. Roundnose bullets usually feature an ogive profile that places the contact point of the bullet closer to the leade (when compared to spitzer bullets) and may explain why your rifle is shooting them so well.
Good luck on your next hunt.

Heavy .45 Colt Loads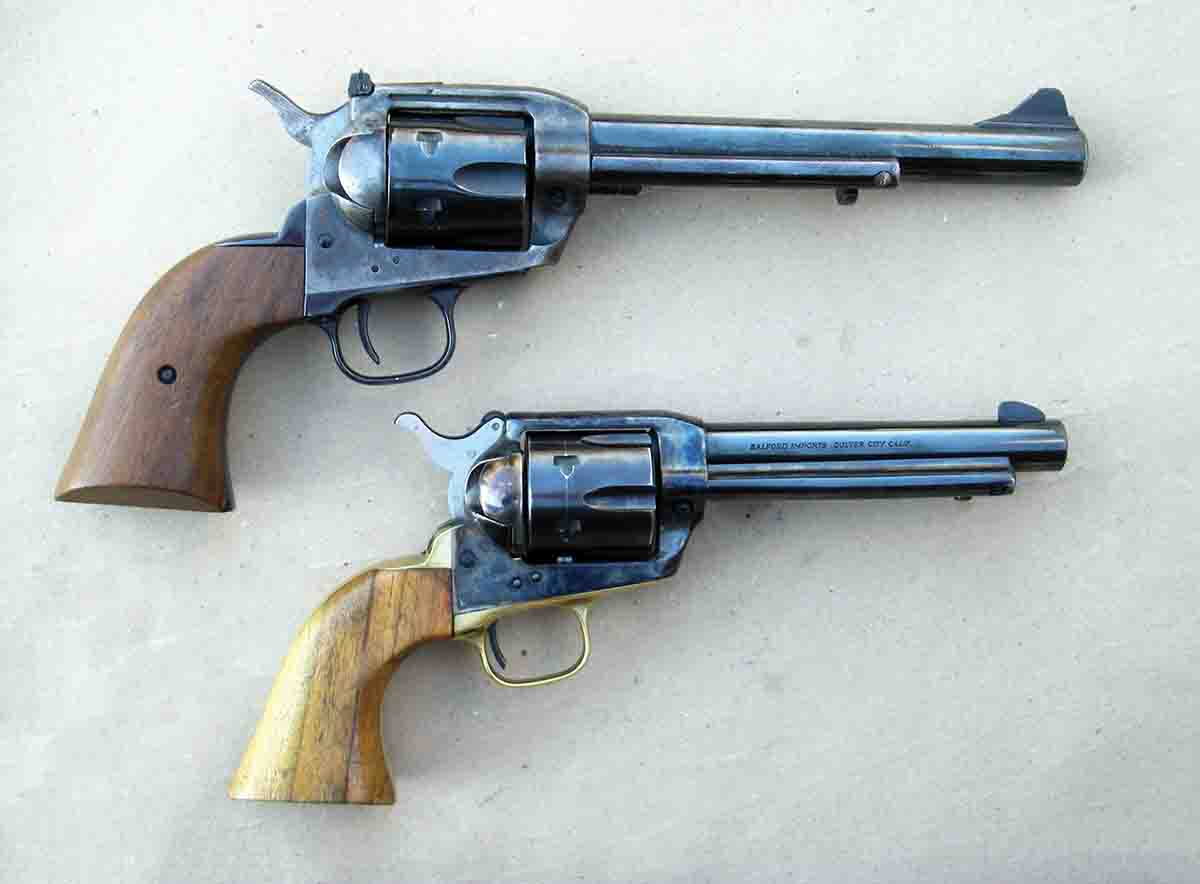 Q
: I have an Interarms Virginian Dragoon stainless steel revolver with 71⁄2-inch barrel that is chambered in .45 Colt. The gun works perfectly and offers a smooth action, crisp trigger action and is comfortable. However, I live in Alaska and spend considerable time in bear county and would feel much better using loads that are notably heavier than the traditional .45 Colt factory loads. I am particularly interested in heavy loads containing heavyweight 300-grain or heavier bullets, but would also like other options. My question is to what performance level can I load this gun? What loads can you suggest? Thank you.
B. Y., Eagle River AK
A: I purchased one of the first U.S. produced large-framed Virginian Dragoon revolvers made back in 1977 and have owned and fired several guns in the years since. They are strong, reliable revolvers, constructed of modern steels. They share nearly identical cylinder and internal frame dimensions, cylinder wall thickness, etc., as the Ruger Blackhawk and New Model Blackhawk revolvers, making them suitable for +P style .45 Colt loads.
Other than bullet weight, you don't really offer any specifics as to the load performance you are looking for. However, since you are carrying this gun in the event that you bump into an irritated grizzly/brown bear that may take exception to your presence, I personally would favor non-expanding solid bullets that will penetrate straight and deep. A heavyweight example would include the Oregon Trail Bullets (oregontrailbullets.com) 360-grain True Shot, an LFN gas check design, pushed with 19.0 grains of Accurate No. 9 powder for over 1,200 fps (capped with a CCI 300 primer).
Another worthy load includes variations of the LBT 330- to 335- grain LFN gas check (montanabulletworks.com) pushed with 23.0 or 24.0 grains of Hodgdon H-110 powder capped with a CCI 350 primer for around 1,250 and 1,300 fps, respectively. For a more moderate but still potent load, try cast bullets from RCBS mould 45-270-SAA that usually weigh around 285 grains (depending on alloy) pushed with 11.0 grains of Hodgdon Longshot powder for around 1,050 fps in most revolvers. In spite of its comparatively modest recoil and reduced muzzle report, this load is still very potent and offers respectable penetration on heavier game.
Readers should note that the above +P .45 Colt handloads are for U.S. manufactured Virginian Dragoon revolvers ONLY, and NOT for European manufactured Virginian revolvers from Hammerli and others that are based on the smaller Colt Single Action Army frame size.