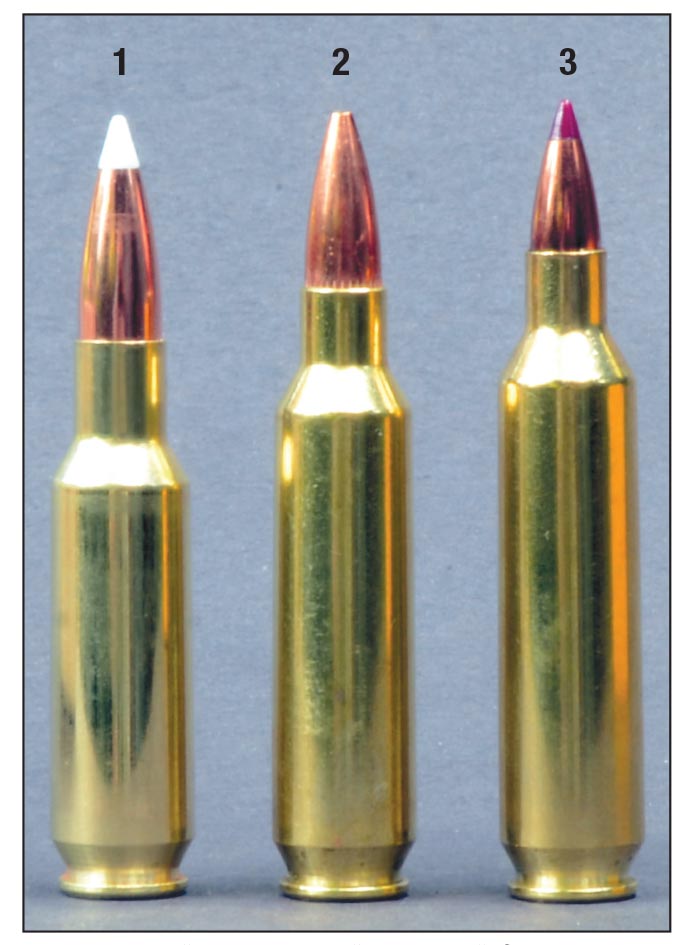 Like the .22 Nosler, the .24 Nosler was designed to fit into the magazine of the AR-15 rifle. Both were given a maximum overall cartridge length of 2.260 inches, same as for the .223 Remington/5.56x45 NATO. The two Nosler cartridges combine the rim diameter of the .223 Remington with the body diameter of the 6.8mm SPC. Converting an AR-15 .223 Remington for either cartridge is done by switching uppers and inserting a 6.8 SPC magazine.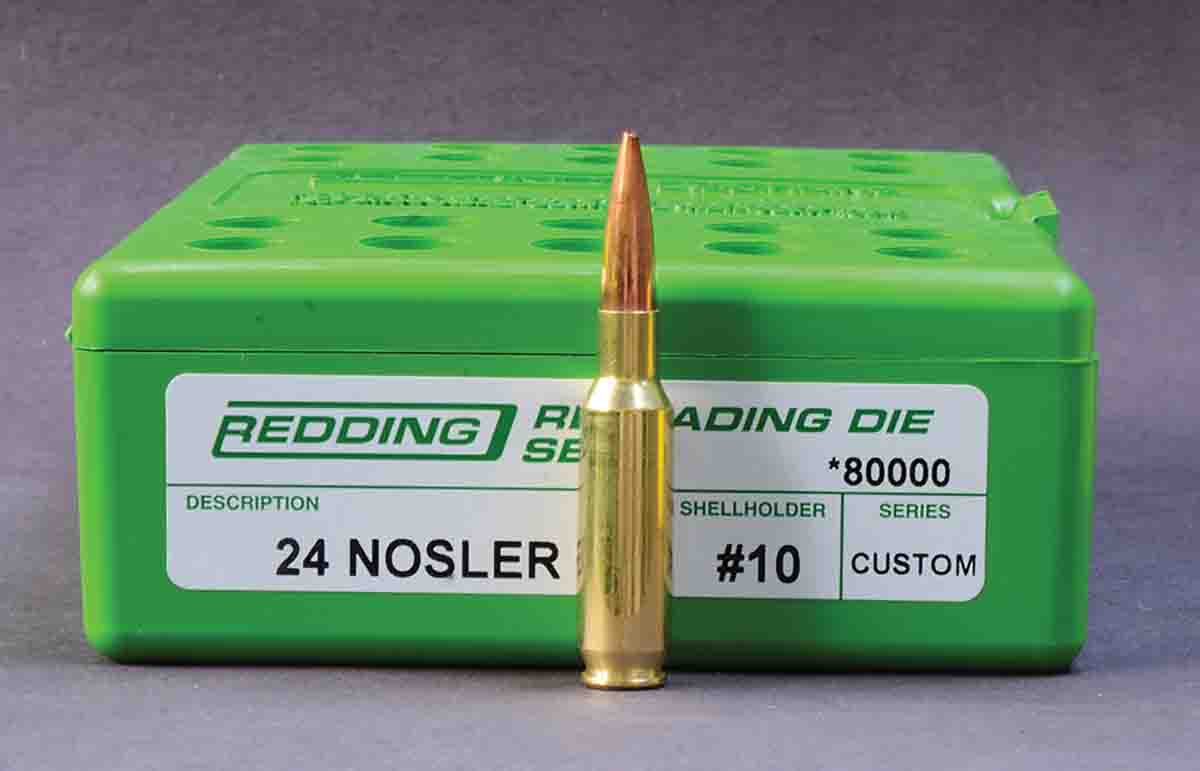 While Nosler has been offering .24 Nosler unprimed cases since 2018, there is no immediate plan to load the ammunition. The Model 48 Liberty used in this report is one of a few rifles built for a Utah pronghorn antelope hunt during autumn of 2017. That's when I became aware of the cartridge. The 24-inch barrel of my rifle has a 1:8 twist, and making it a standard-production item is not on the agenda at this time. The chambering is available in the Nosler Custom Handgun, which is built around a single-shot version of the short Model 48 action. The .24 Nosler is a high-expansion-ratio cartridge, and velocity in its 16-inch barrel averages only about 200 fps slower than in my rifle. I have that handgun in 6.5 Creedmoor and it consistently shoots five bullets inside .5 MOA with good handloads. Precision handloading pushes it close to .25 MOA.
The .22 Nosler came first so one might logically think its case was simply necked up for .243-inch bullets to create the .24 Nosler. The intent was to design an accuracy cartridge capable of handling the extremely long Nosler 105-grain and 107-grain match bullets, and if it had been designed for a bolt-action rifle with enough magazine length to handle a cartridge that long, a necked-up .22 Nosler case would have been the route to take. But had the .22 Nosler case in its original form been used, a maximum overall cartridge length compatible with the AR-15 magazine would have positioned the mouth of the case far out over the ogives of the long Nosler bullets. Shortening the .22 Nosler case to 1.600 inches put the entire neck in contact with their full-diameter shanks.
I will briefly mention one other member of the family. Bullets measuring .204 inch in diameter are considerably shorter than those loaded in the .22 and .24 Noslers, and while the .20 Nosler is held to the same 2.260 inches maximum length, its case is actually the longest at a maximum of 1.850 inches. That's the same length as the .204 Ruger case, but since the body of the .20 Nosler is larger in diameter, its gross water capacity is about 20 percent greater and velocity should be higher. A Redding die set for it has been impatiently sitting on a shelf in my reloading room since early 2018, but I have no idea when those cases will become available. Chamber reamers for it and the .24 Nosler are available from Pacific Tool & Gauge.

Back to the .24 Nosler, the SAAMI drawing I have shows a chamber throat diameter of 0.2435 inch and maximum chamber neck diameter is 0.270 inch. Neck diameter of my handloads is 0.266 inch. Respective bore and groove diameters are 0.237 and 0.243 inch. Chamber pressure was set at 55,000 psi, and velocity of a 105-grain bullet from a 24-inch barrel is listed as 2,575 fps.
The chamber throat of the .24 Nosler is long enough to avoid excessive intrusion of the longer bullets into its powder cavity. When shorter bullets suitable for use on varmints are seated one caliber deep, they have to travel through a great deal of space prior to rifling engagement, and accuracy with them is nothing to brag about. The neck of the case is long enough to exert adequate tension on all bullets for uniform propellant burn while offering plenty of length for eventually seating the 105- and 107-grain bullets longer to compensate for throat erosion. Due to the small charges of powder burned, throat erosion should be quite slow as long as the barrel is not subjected to a lot of rapid firing.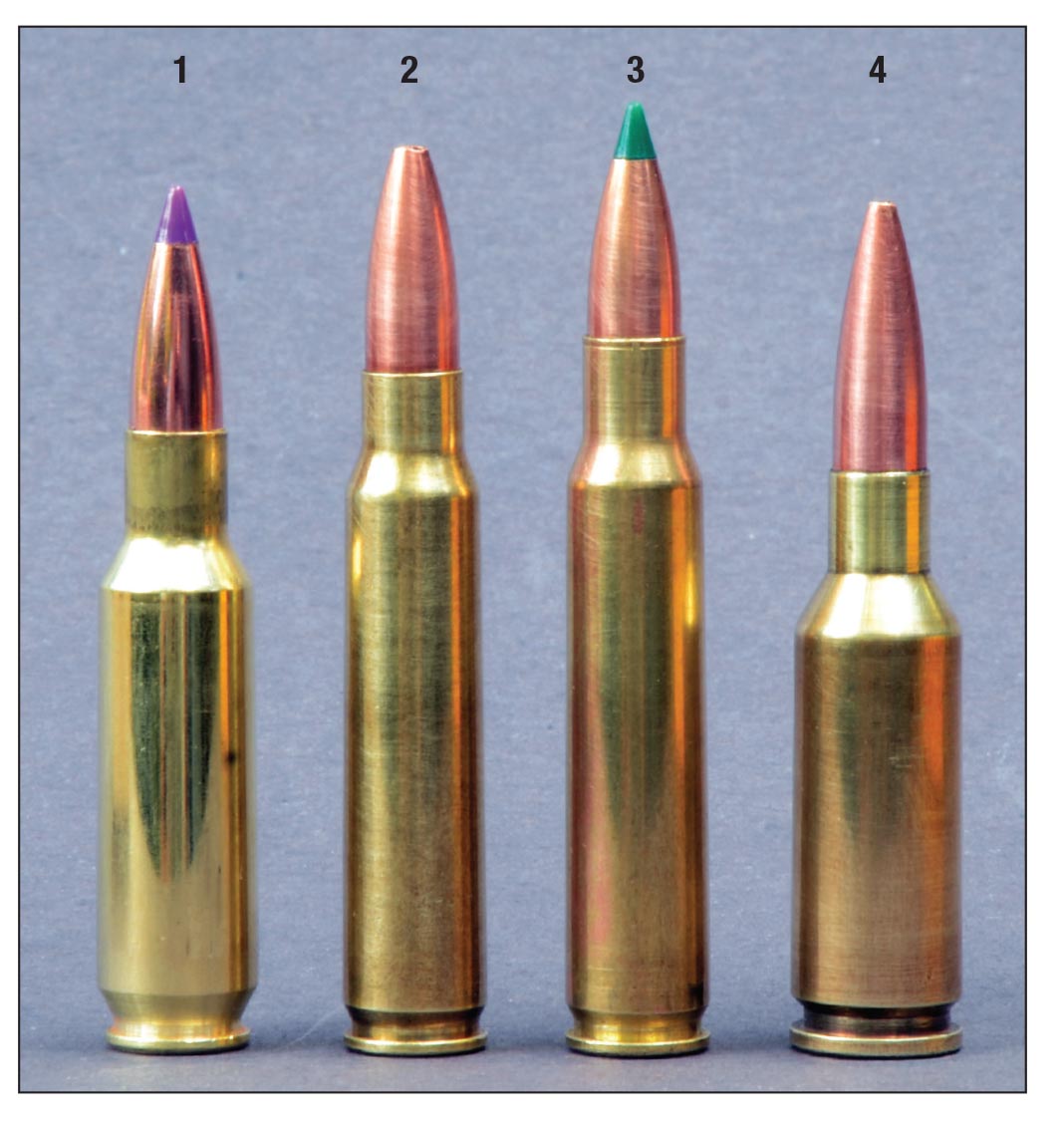 The powder capacity of the .24 Nosler puts it in very good company in terms of accuracy potential. It is quite close to the 6x45mm, which is formed by necking up the .223 Remington case. AR-15 rifles from Les Baer Custom, Inc., have been chambered for that cartridge, and while velocity is about the same with bullets weighing from 55 to 75 grains, heavier bullets increase overall cartridge length of the longer 6x45mm case beyond what the AR-15 magazine can handle. The same applies even more to the 6x47mm cartridge on the .222 Remington Magnum case. In the performance department, the 6mm PPC is a close competitor, but due to a rim diameter almost as large as the .308 Winchester it is not usually considered to be an AR-15 cartridge. In case you are wondering about accidentally firing a 6x45mm and 6x47mm cartridge in a .24 Nosler rifle, it cannot happen due to considerably greater length from head to shoulder of those cartridges.
I first received .24 Nosler load data for 55-, 85-, 90- and 105-grain bullets in May of 2018. Unprimed cases in 100-count prepped and 250-count unprepped packaging were in the works and those began to arrive soon thereafter. As far as I know, Redding was first out of the starting gate with reloading dies. So, by mid-2018 everything needed for handloading the .24 Nosler was available and gunsmiths across the country were ready to start rebarreling rifles or building complete rifles for the new cartridge.
The Nosler data sheets highlighted three powders as having produced the best accuracy with various bullets. They were Reloder 7 with 55-grain bullets, Varget with 85- and 90-grain bullets and Benchmark with 105-grain bullets. Best-accuracy charge weights were 25.0 grains of Reloder 7 with 55-grain bullets, 23.5 grains of Varget with 85- and 90-grain bullets and 22.0 grains of Benchmark with 105-grain bullets. The highest velocity generated with 55-grain bullets was 3,424 fps with Accurate 2230. The other speedsters were Ramshot TAC with the 80-grain Ballistic Tip (2,889 fps), CFE 223 with the 85-grain Partition (2,810 fps), CFE 223 again with the 90-grain Ballistic Tip and AccuBond bullets (2,771 fps) and CFE 223 once more with 105-grain bullets (2,665 fps). Those were from Nosler's 24-inch pressure barrel and due to its absolute minimum chamber and bore dimensions, velocities will be a bit higher than delivered by barrels with looser dimensions.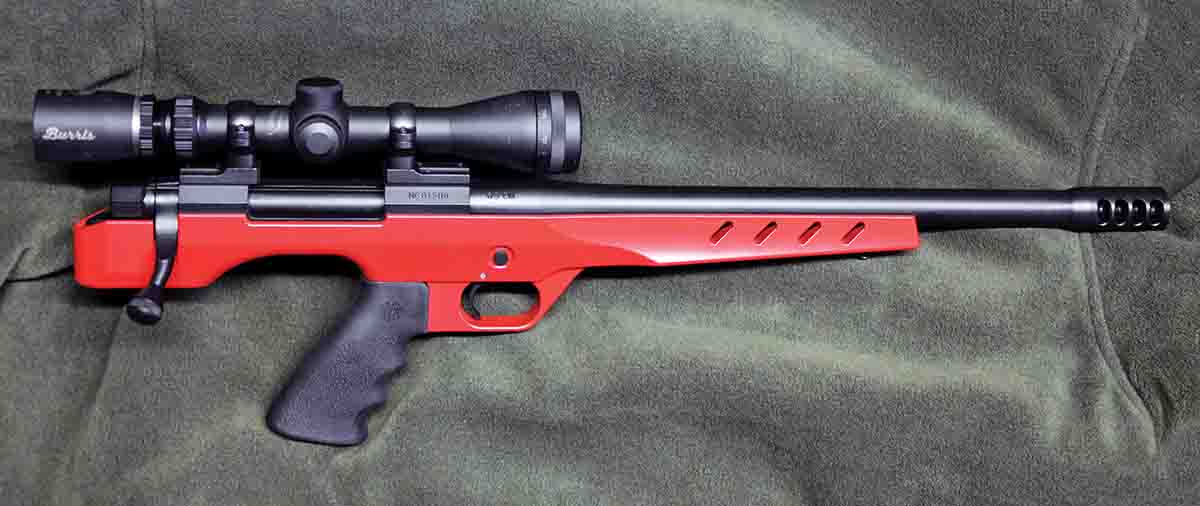 As mentioned, SAAMI maximum overall cartridge length is 2.260 inches, but that's for AR-15 rifles. When handloading for a rifle with a longer magazine as I am doing, that restriction can be ignored if the chamber throat is long enough to handle longer cartridges. My rifle handles cartridges exceeding 2.300 inches in length and that allows the extremely long match bullets to be seated for almost no intrusion on the powder cavity of the case. With the Nosler 105-grain Custom Competition seated for a cartridge length of 2.350 inches, its base is positioned only slightly below the body/shoulder junction of the case.
The smallest five-shot group I have fired to date was with the Lapua 90-grain Scenar pushed along by 24.5 grains of Varget. Four bullets snuggled into 0.157 inch and the fifth increased it to 0.480 inch. The four-group average was 0.644 inch. In a close second place with a 0.682-inch average is 27.1 grains of Winchester W-748 pushing the Nosler 80-grain Ballistic Tip to 2,810 fps. For shots out to 250 yards or so, that would not be a bad combination for bumping off a southern whitetail or a pronghorn antelope. I have taken several deer with the 6x45mm and friends have taken far more with the 6x47mm, both loaded with the Nosler 85-grain Partition at 2,800 fps or so. The .24 Nosler would do as well.
[The .24 Nosler is a SAAMI approved cartridge. Hopefully, Nosler will have rifles soon. – Ed.]