At one time, the .25-06 Remington was synonymous with long-range shooting. The cartridge's case contained plenty of powder to fire 100- to 120- grain bullets well above 3,000 fps to produce a trajectory sufficient to aim right on game well past 300 yards. Times change, though, and today that distance is considered by many just the starting point of far shots at game. Nevertheless, I'd be embarrassed to say I had shot at a game animal at 600 yards or farther, because that would imply I was lazy, or such a poor hunter I could not narrow the distance. For people who still consider a stalk and a sure shot the perfect end to a hunt, the .25-06 is a versatile cartridge for handloading, with plenty of bullet and powder combinations that deliver light recoil and good accuracy.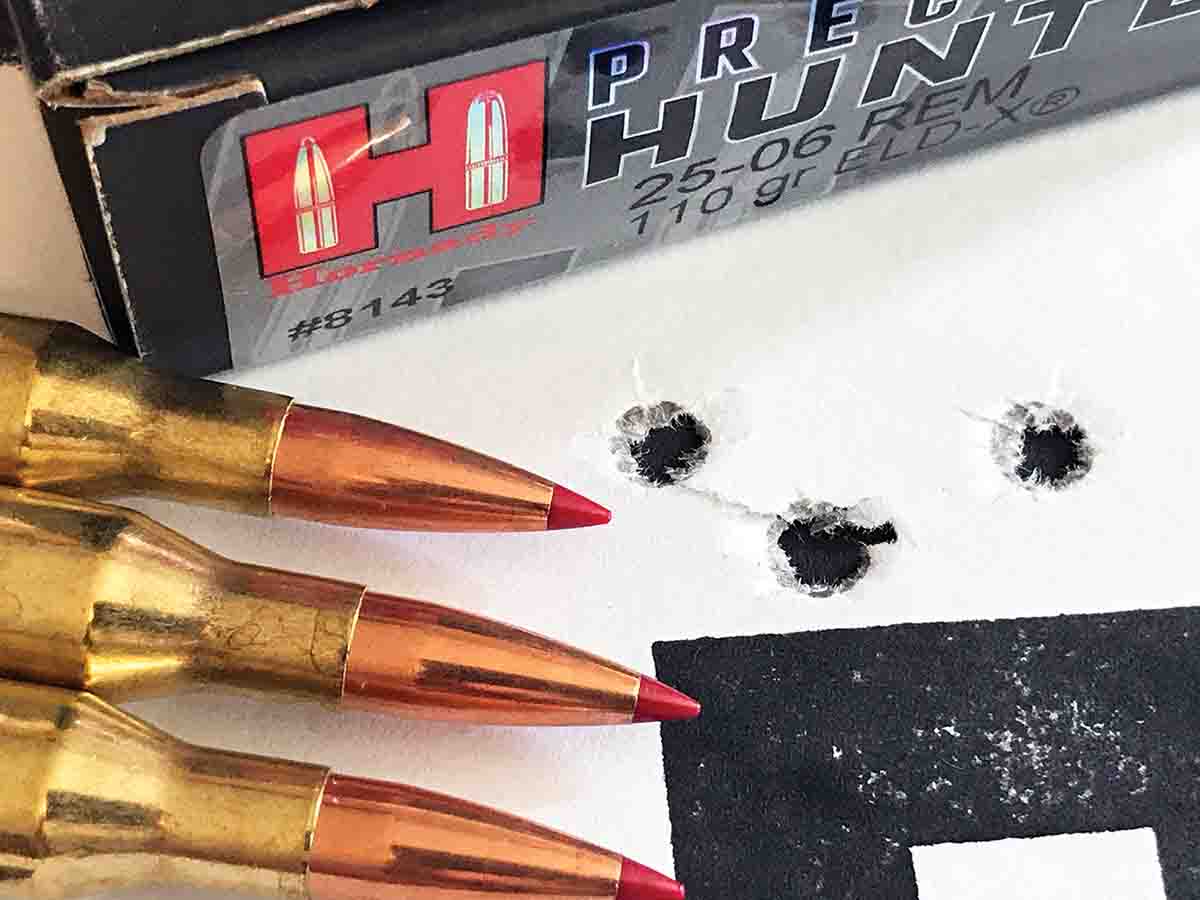 I bought my first .25-06 45 years ago, which dates me. The Ruger M77 .25-06 was my second centerfire rifle, and I bought it in part because of its wide popularity at the time and endorsement by gun writer Bob Milek, a regular contributor to this magazine. But mainly I bought the Ruger because when my brothers and I were boys, we had hunted deer and antelope with complete success shooting a .250-3000 Savage chambered in a Winchester Model 54, and I reasoned the .25-06 would be even more of a good thing.
The clerk at the local sporting goods store said I could sort through the Ruger rifles stored in the back room to find one with a nice stock. In the back room sat a stack of at least 10 boxes that contained Ruger rifles chambered in .25-06, which provided a hint of the cartridge's popularity. I picked a rifle with some nice flame and curl running through its stock butt and up into the forend.
Enough money remained in the checking account to either buy a few boxes of .25-06 factory loads or reloading dies and .25-caliber bullets. Reloading seemed to be the economical route, as I could form .25-06 cases by necking down .30-06 cases in the sizer die and load them with IMR-4350, the same powder I handloaded in my other rifle, a .30-06.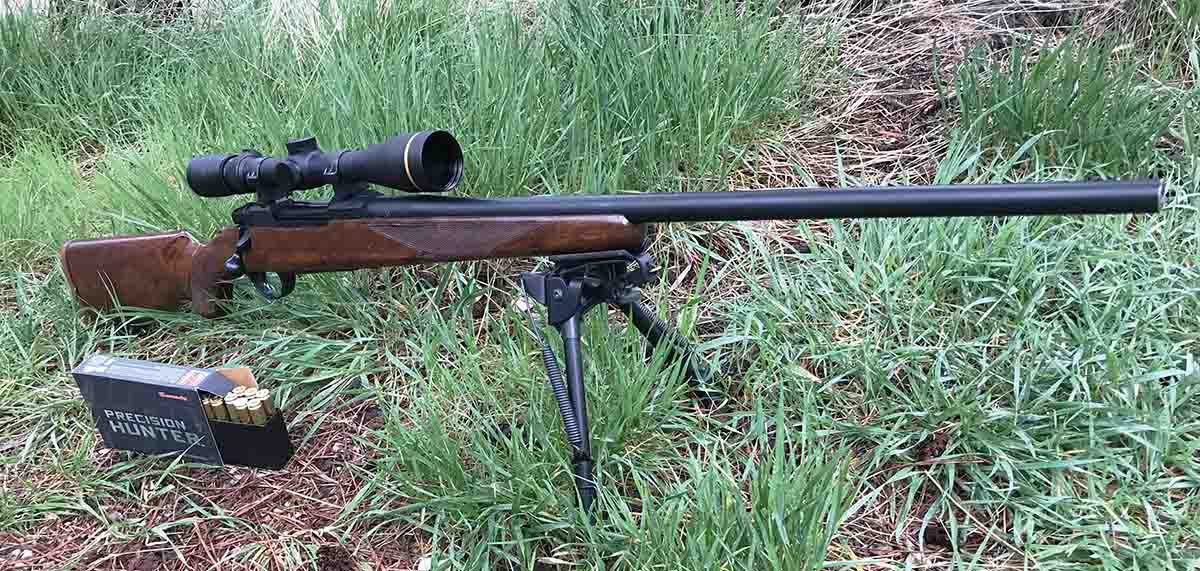 The first spring, I was set to use the rifle to shoot ground squirrels with Sierra 75-grain HP bullets handloaded with the maximum amount of IMR-4350 listed in the Sierra manual. The bullets had a guesstimated muzzle velocity of 3,600 fps. Why that high-velocity was necessary escapes me now, as "gophers," as everyone called them, are about the size of a pop can and they were difficult to see much past 200 yards through the 4x scope on the rifle. The Ruger's bore was as rough as old concrete, and after an afternoon of shooting a light shined inside the muzzle showed a glow of copper fouling. Cleaning the bore required several days of brushing and soaking it with solvent, with drops of solvent turned blue from the copper dripping out of the muzzle.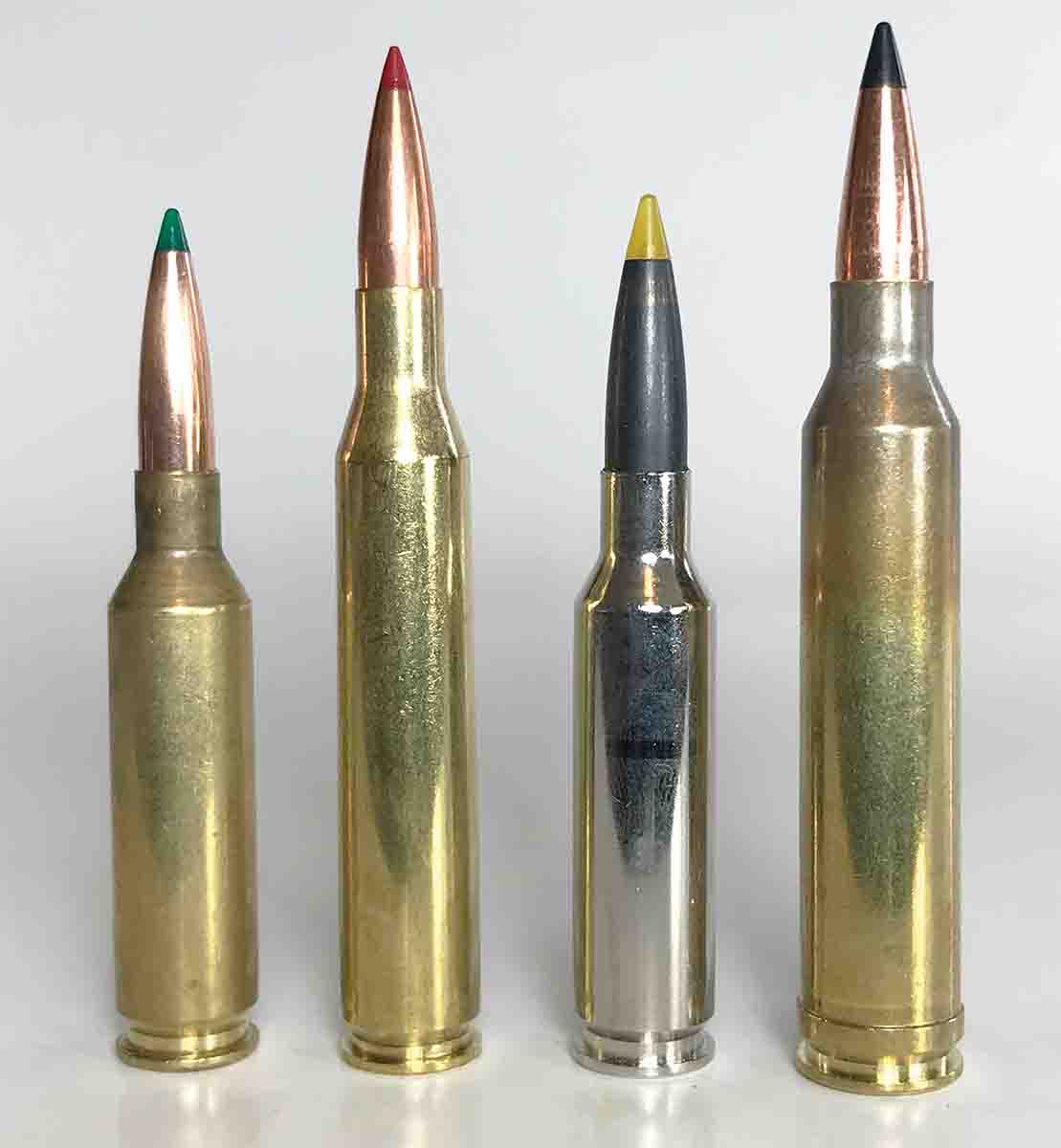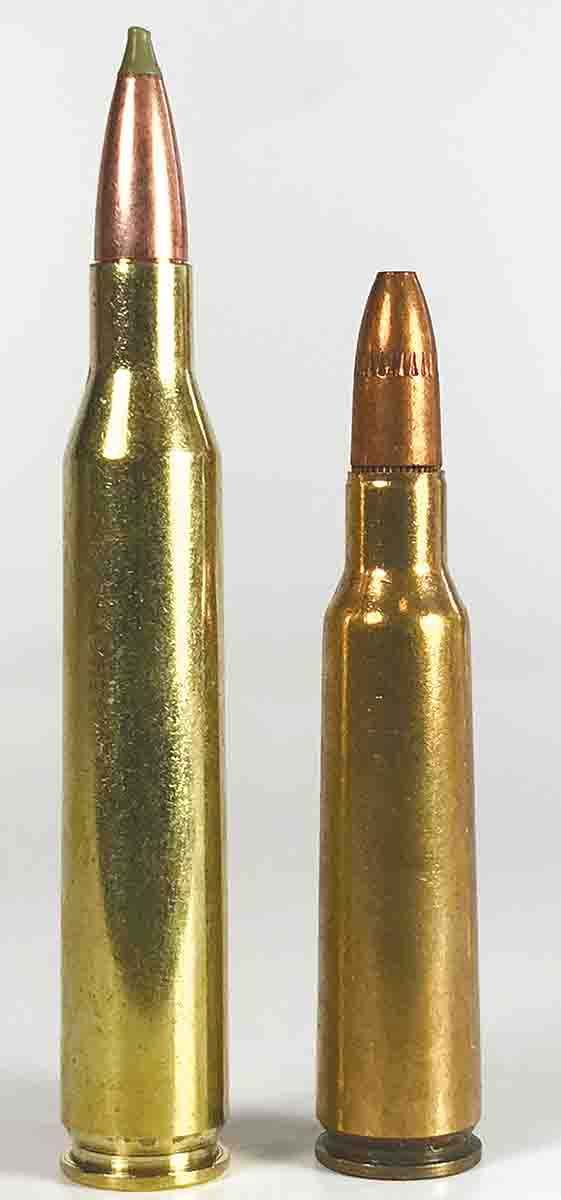 Sierra 100-grain spitzer bullets fired by 53 grains of IMR-4350 worked fine for deer and antelope hunting. The bullets had an estimated velocity of 3,300 fps and I used that load in the rifle to shoot my first antelope standing way across an alfalfa field. There were no landmarks in the field to divide it into segments to help estimate distance, so I aimed right on, hoping for the best. The buck fell over at the shot. Pacing off the distance, the buck was somewhat short of 300 yards. I was impressed, though, because I had never shot a game animal that far away.
Years later, I shot that 100-grain bullet and IMR-4350 load over a chronograph, and its velocity of 3,245 fps was pretty close to what I had estimated. IMR-4350 is still an okay powder for handloading the .25-06. Still, other and more recent powders also perform well in the cartridge.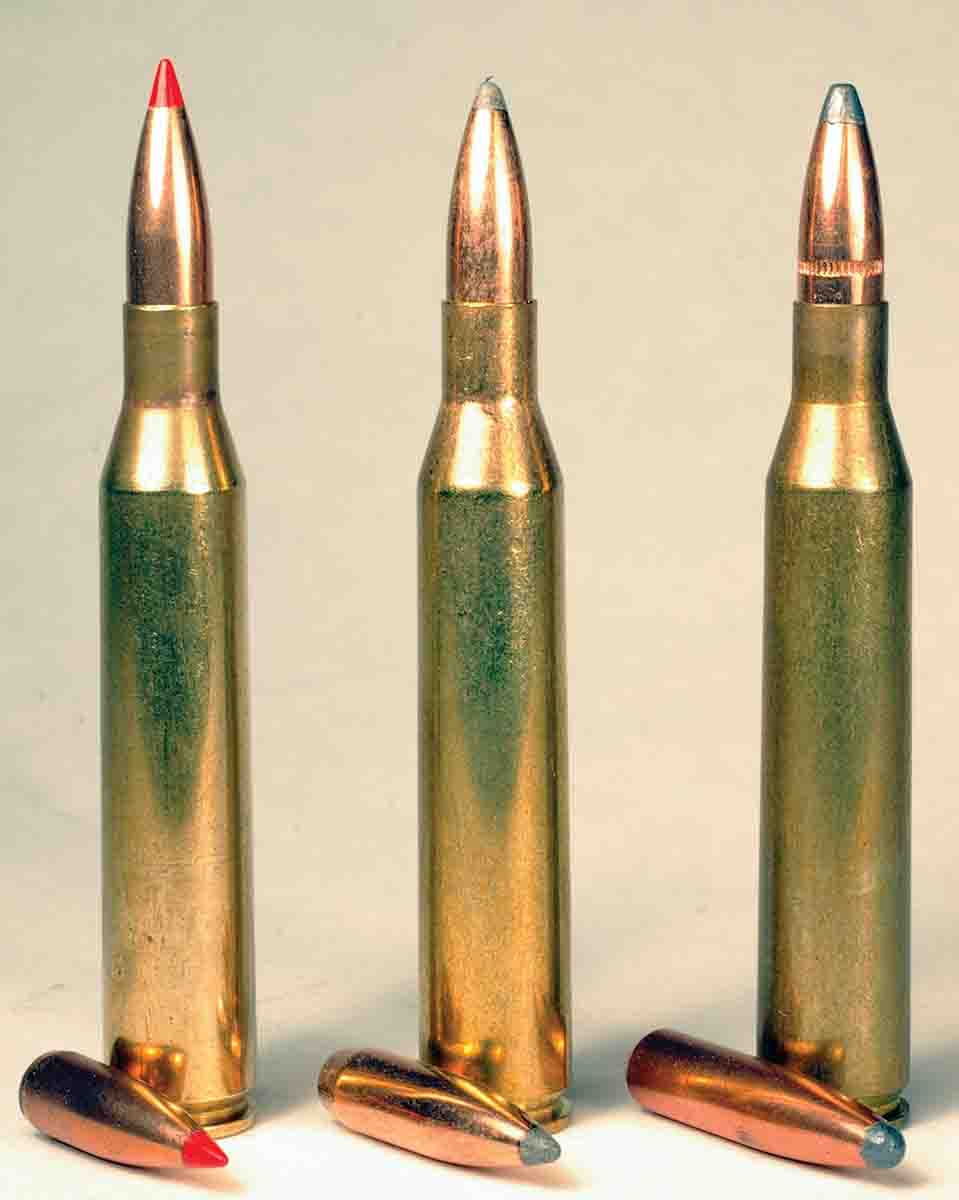 H-4831 has been a standard powder for the .25-06 years before Remington took the cartridge under its corporate wing in 1969. My regular load is 54 grains of H-4831, which fires various 117- and 120-grain bullets at 3,050 to 3,170 fps. That powder charge is a grain or two over the maximum listed in some of today's reloading manuals. Still, different brands of .25-06 cases and necked down .30-06 cases remain sound and primer pockets tight after being fired several times with that charge of the powder. That amount of H-4831 and a seated bullet fill a .25-06 case, and tightly confining the powder helps it burn evenly. Recently, I shot Nosler 120-grain Partition bullets with that charge weight of H-4831, and extreme spread of velocity was 32 fps over 15 shots.
Among others, Ramshot Hunter and Reloder 22 have also produced low extreme spreads of velocity. Sierra 100-grain GameKing bullets varied 49 fps for 15 shots fired by 55 grains of Hunter. Velocity fluctuated 39 fps with Barnes 100-grain Tipped Triple-Shock bullets fired with 55 grains of Reloder 22. However, velocity was somewhat slow at 3,199 fps.
Relatively slow-burning powders produce the highest velocities in the .25-06 due to its rather large powder capacity and narrow bullet diameter. Hunter, IMR-7828, H-4831, Magnum and Reloder 17 delivered top velocities for 100- to 120-grain bullets. Barnes 100-grain Tipped Triple-Shock bullets fired at 3,441 fps from 53 grains of Reloder 17 stands right on the heels of the much larger .257 Weatherby Magnum.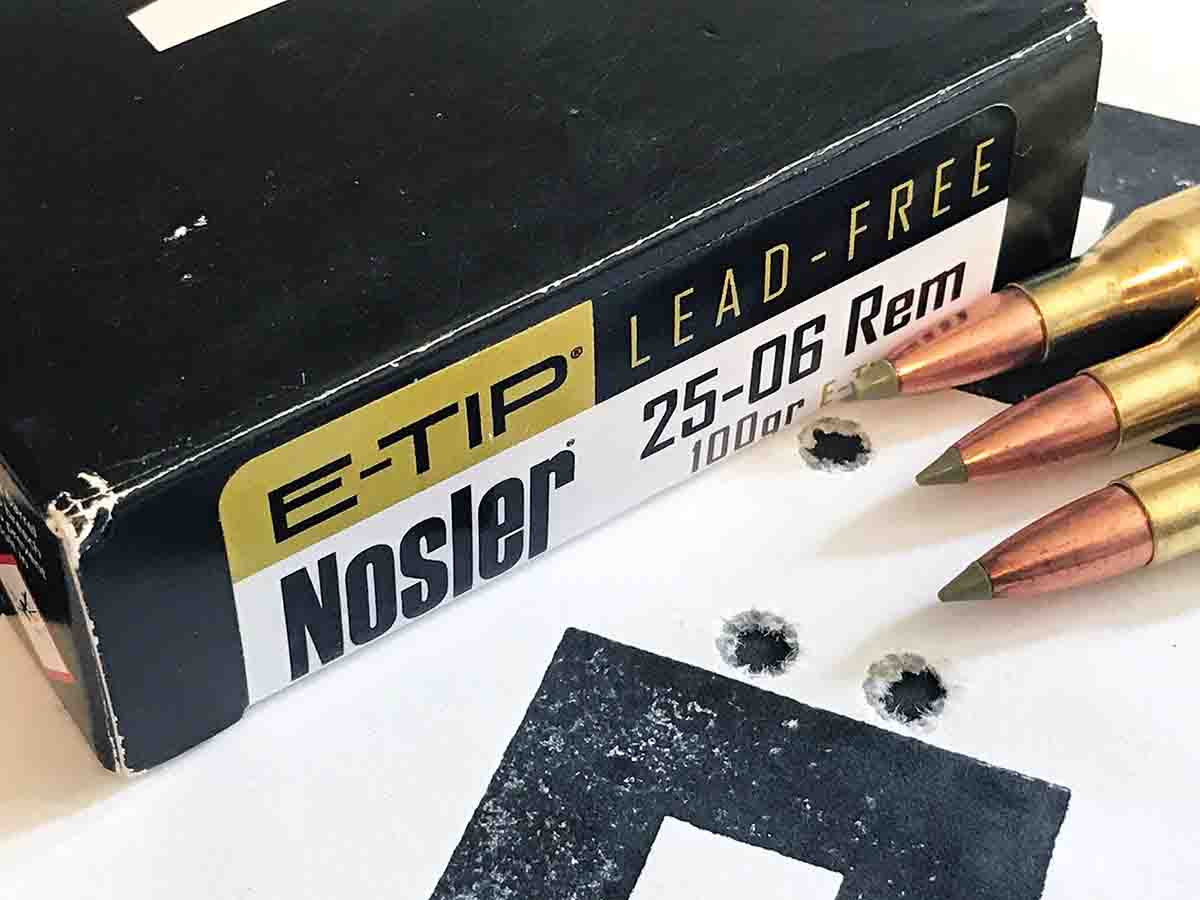 Another fast load includes Sierra 100-grain GameKing bullets fired at 3,405 fps from 55 grains of Hunter as shot from the Ruger's 24-inch barrel. My son shot that load when he carried the Ruger antelope hunting a few years ago. Thomas hiked up a coulee toward a band of antelope in the middle of a wide basin. Cover ran out far out of range. He could have determined the distance with a rangefinder, dialed up the elevation turret on his scope to compensate, and taken a shot, but that takes the fun out of hunting. Instead, he sat and waited. The band started drifting, as antelope often do for no apparent reason. They came Thomas' direction, and when they passed, he shot a buck bringing up the rear. The buck lagged behind the running herd, slowed and fell over. I met up with Thomas and the distance of his shot looked far. "I aimed up just a bit, at the top of the shoulder," he said.
All that bullet velocity is unnecessary for some shooting. After years of shooting lightweight bullets as fast as possible for varmint hunting, the first several inches of the Ruger's barrel bore looked like an eroded sewer pipe. So after the barrel was replaced, I started exclusively shooting reduced-velocity loads in the spring when gophers and marmots emerge from their burrows.
IMR-4320 has been a favorite powder for these easygoing loads, and accuracy has always been good shooting Hornady 75-grain V-MAX bullets. Yet extreme spread of velocity was often 80 fps over five shots firing 42 grains of the powder for a slow velocity of 2,960 fps. Extreme velocity spread has been much lower with other powders with burn rates similar to IMR-4320. Varget turned in a narrow velocity spread of 39 fps shooting five Sierra 70-grain BlitzKing bullets. Velocity spread was 30 fps for five Sierra 87-grain Varminter bullets fired by 43 grains of IMR-4166.
That amount of IMR-4166 pushes the Sierra bullets at 3,115 fps from the Ruger's 24-inch barrel. With the bullets hitting an inch above aim at 100 yards, they drop an inch at 200 yards, and 4 inches at 250 yards. That's about as far as the tiny target of a gopher is easily seen through the rifle's current scope, a Leupold VX-3i 3.5-10x 40mm.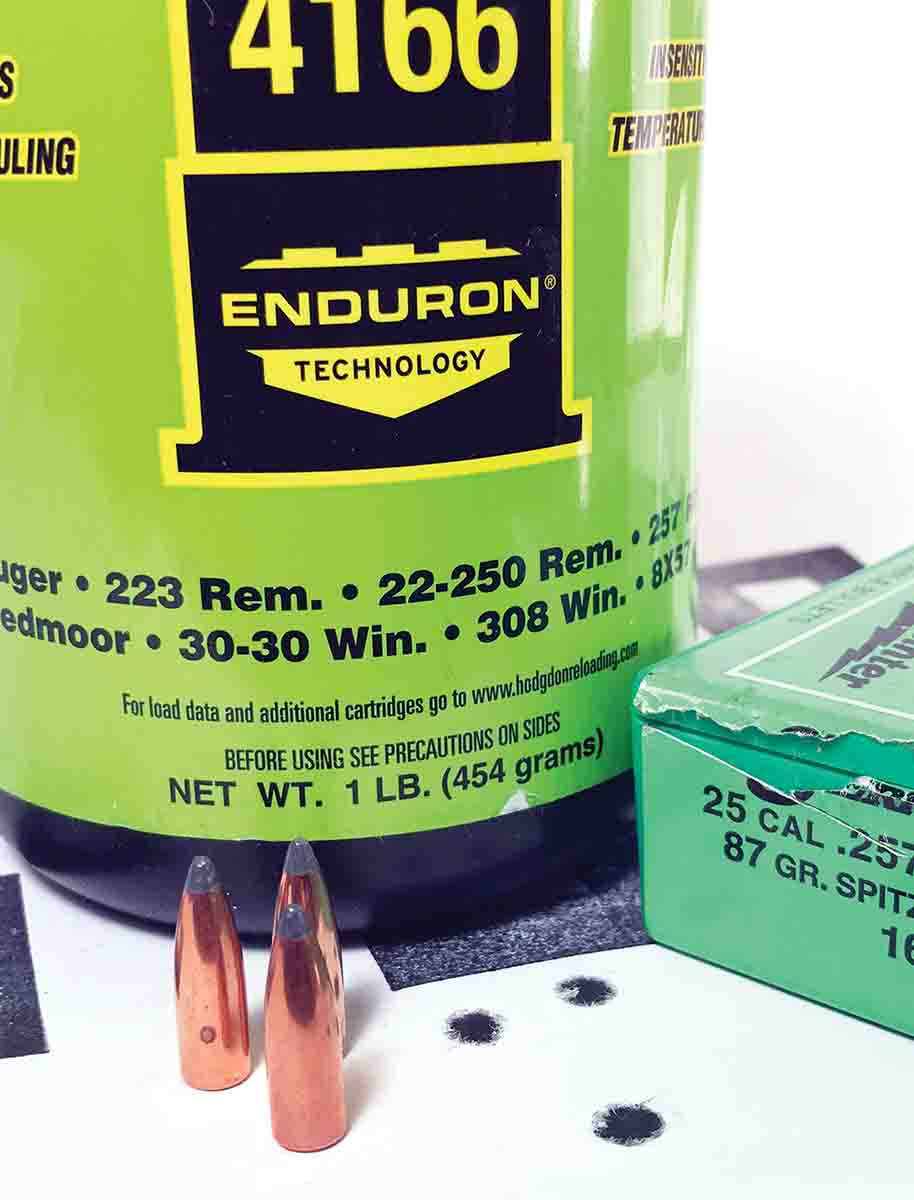 The .25-06 is so versatile because it's pretty much a cross between the .22-250 Remington and .270 Winchester. On the light side, the .22-250 and .25-06 shoot bullets with about the same ballistic coefficients (BC) at nearly equal velocities. Similarly, the .25-06 shoots 120-grain bullets at about the same speed as the .270 fires 130-grain bullets, with both bullet weights carrying approximately the same flight form.
I've carried my .25-06 hunting elk over the years with the same confidence as I do with a .270 in hand. I've shot two elk with Speer 120-grain Grand Slams and two with Nosler 120-grain Partitions. The elk were in the timber at no great distance, and all of the bullets plowed clear through the elk.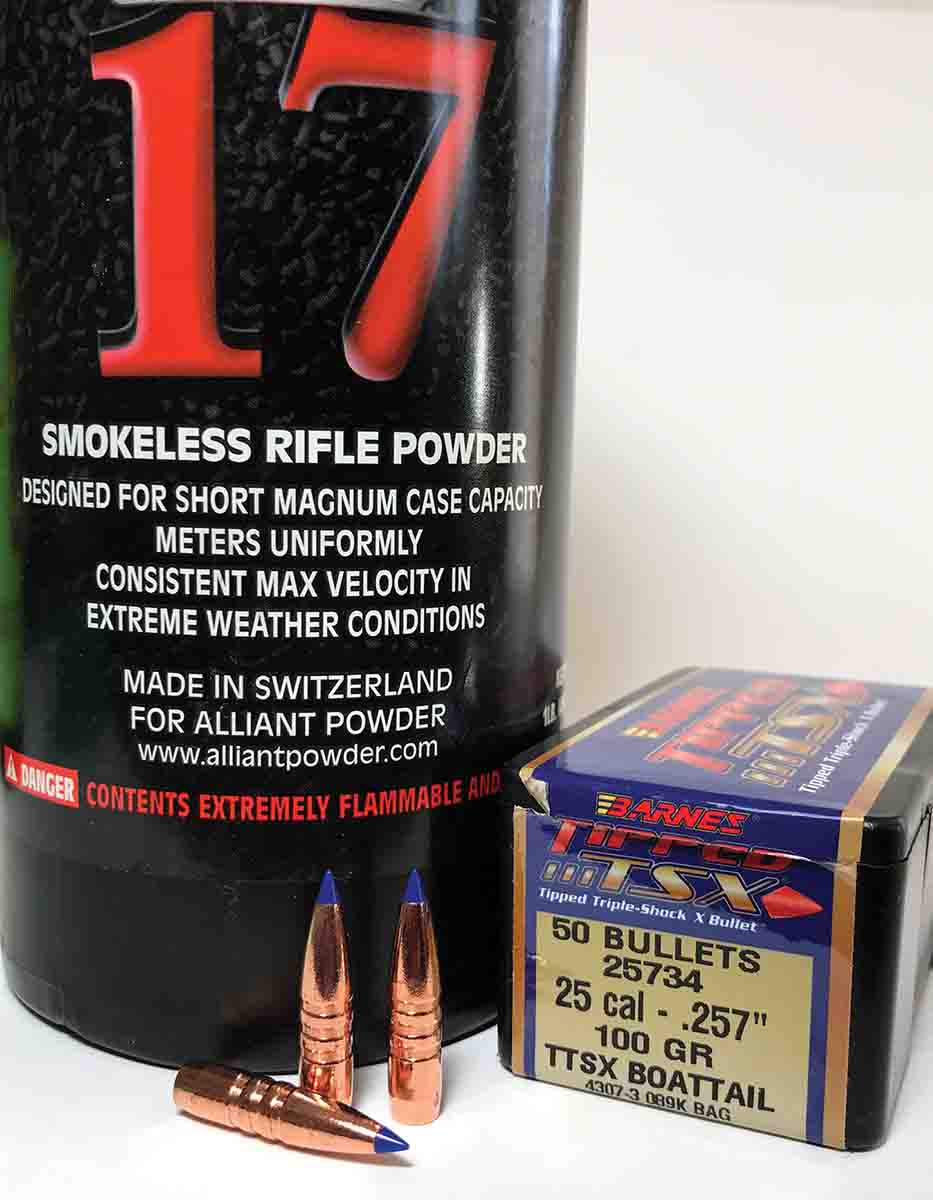 Like the .270, the .25 caliber has been neglected in the development of long and slender bullets for extreme long-range shooting. The .25 caliber is pinched on the narrow side by .22- and .24-caliber bullets, with a G1 BC in the upper vicinity of .450 for .22-caliber bullets to .530 for .24-caliber bullets. On the wider side, .25-caliber bullets are hemmed in by 6.5mm bullets with BCs upward of .625, and 7mm bullets featuring a BC of .672, such as the Nosler 175-grain AccuBond Long Range. The highest .25-caliber BC I've found is .483 for the Berger 115-grain VLD Hunting bullet.
Rifles that shoot cartridges firing these high BC bullets attained their rifling twists to stabilize long bullets through evolution. The faster than normal rifling twists for .22-caliber cartridges came from the 5.56 NATO's 1:7 twist that eventually transferred to the .223 Remington and the recent .224 Valkyrie. The .243 Winchester's standard 1:10 and 1:9.125 twist stabilizes slender bullets up to the Hornady 105-grain A-MAX. The 6mm Creedmoor, though, was intended as a target cartridge, and to that end has a 1:7.5 twist to stabilize bullets such as the Hornady 108-grain ELD Match and even Berger's 115-grain VLD Target bullets. The 6.5 Creedmoor took its twist from the ancient 6.5x55 Swedish Mauser. The 7mm cartridges' 1:9 twist has been standard since the 7mm Remington Magnum came along nearly 60 years ago, and even the rather new .28 Nosler uses that twist to shoot bullets such as the Nosler 175-grain AccuBond Long Range with a .672 BC.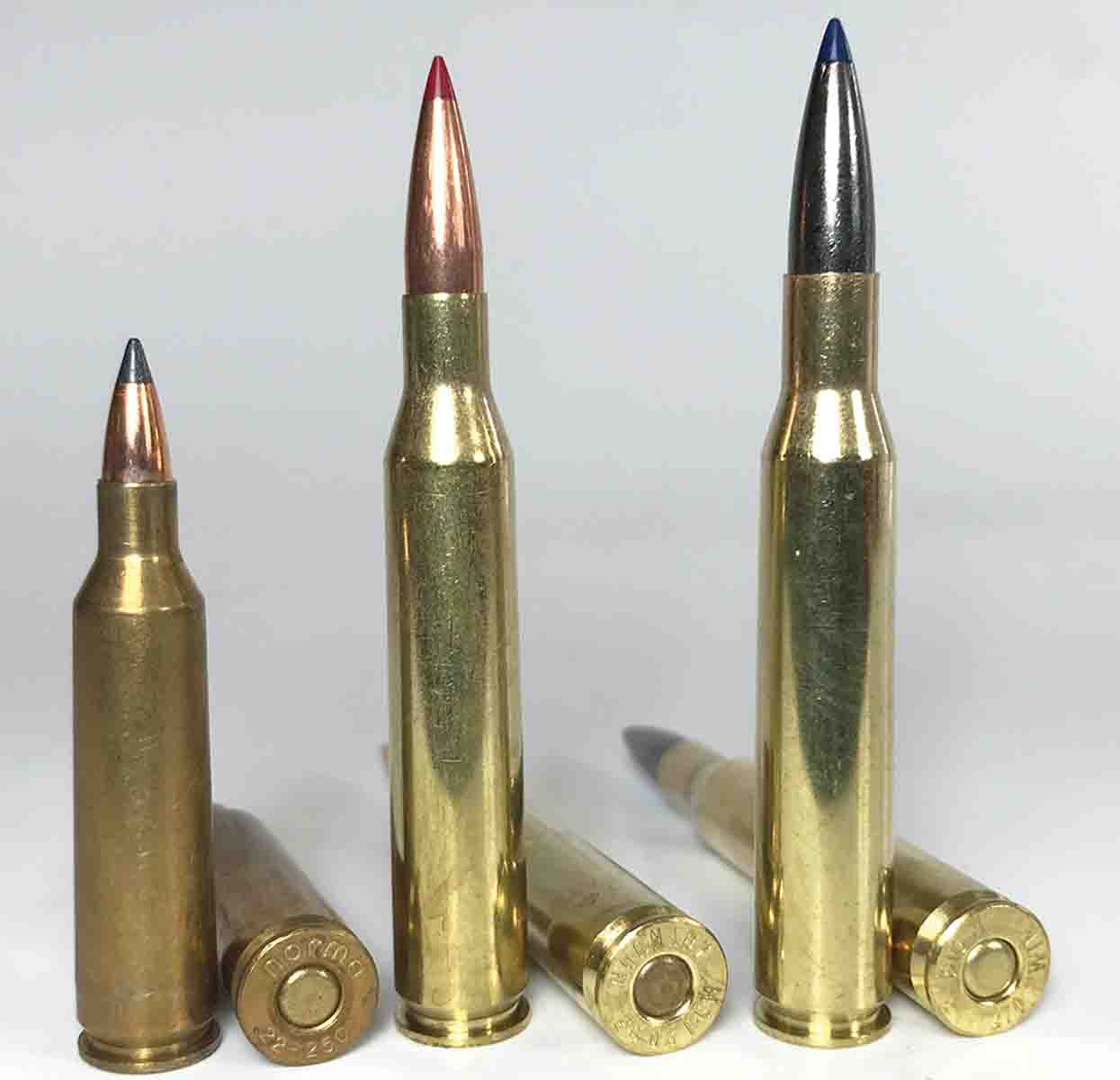 The .25-06's standard 1:10 twist marginally stabilizes Berger 115- grain VLD Hunting bullets. A much faster twist, though, would be required to stabilize, say, a 135-grain boat-tail bullet with a slender nose to update the .25-06 to compete for a share of the long-range market. However, enough cartridges already compete in that pastime, so little to no interest exists for such a fast rifling twist and sleek bullets for the .25-06.
So I'm going to keep handloading .25-06 cartridges and shooting the rifle the same way I have all these years. When the hills turn green with spring, the rifle will shoot lightweight bullets at a velocity gentle on the barrel, but hard on ground squirrels and marmots. As the quaking aspen shiver gold in fall, the rifle will be loaded with 100-grain bullets at top velocity to hunt deer and antelope, or a 120-grain Partition if an elk might appear on the menu. Once winter arrives, Hornady 75-grain V-MAX bullets flying fast from the rifle will help clear out the cobwebs of cabin fever when chasing coyotes. With some more time spent at the handloading bench, the .25-06 will be ready for another year.