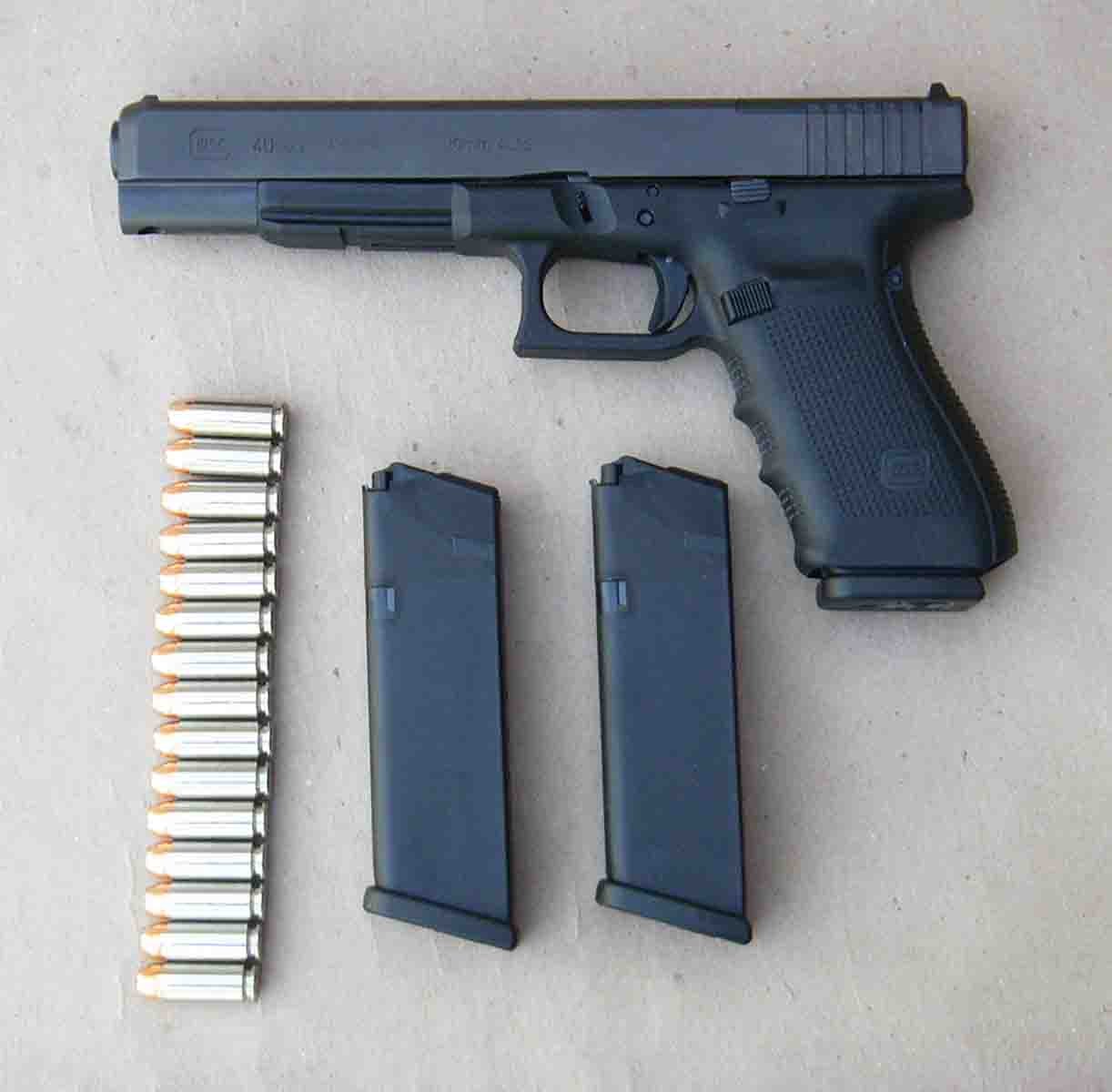 In 1980, the Austrian Armed Forces announced it was searching for a new sidearm for military use and outlined a rather lengthy criteria list. Gaston Glock had no experience at designing firearms; however, he did have extensive experience with synthetic polymers and engineering. He assembled a team of European handgun experts to help in working out design features and details of the new pistol. His first gun was the Glock 17, which was the first commercially successful handgun to feature a polymer frame.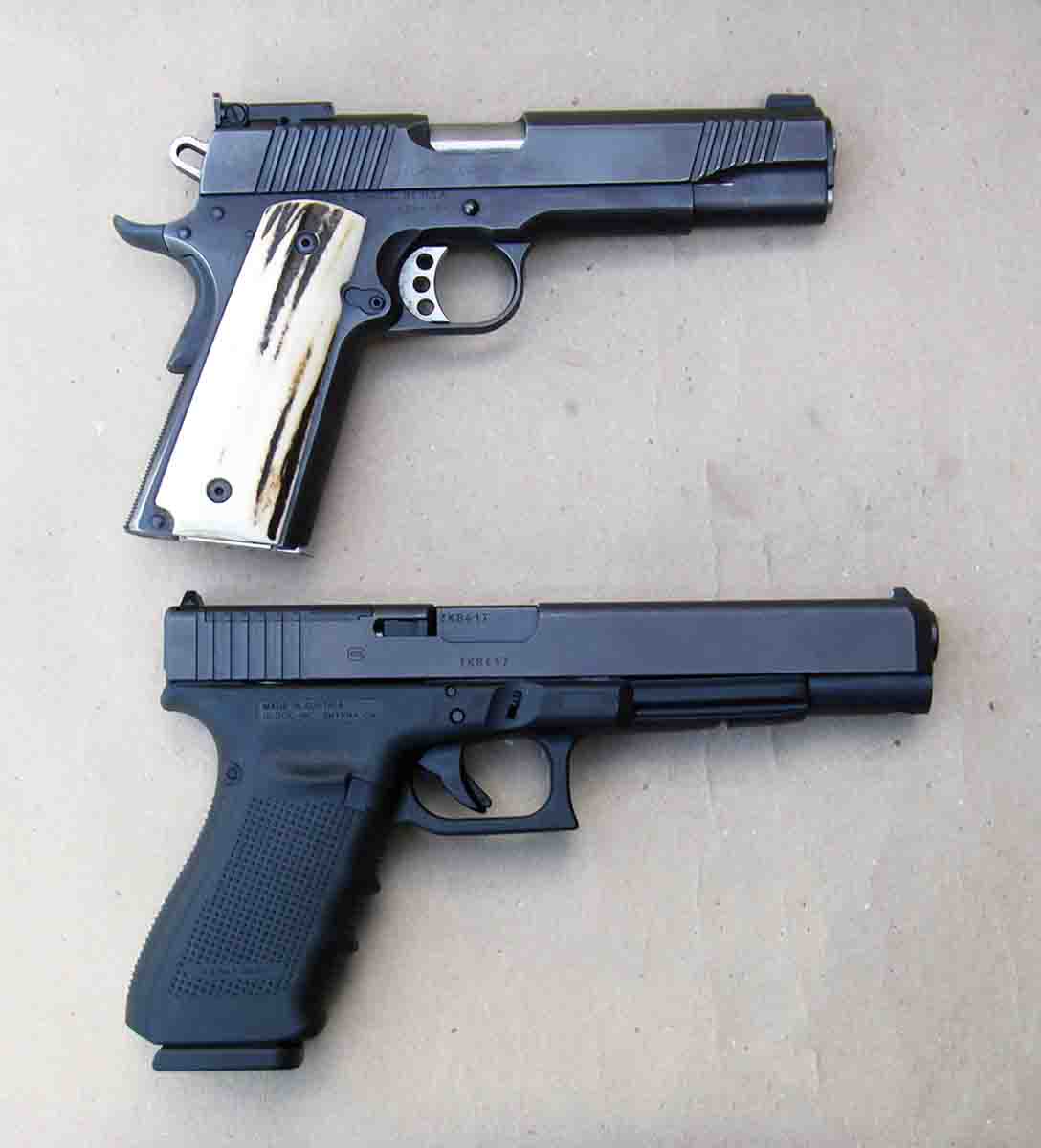 In spite of great skepticism from many sources to the effect that a pistol with a synthetic frame "could not possibly withstand the stresses necessary for endurance," the Glock 17 proved durable and reliable. After extensive testing, the Glock 17 was adopted in 1982 by the Austrian Army and police. In the decades since, Glock has introduced more than 170 variations of the original design, chambered from .22 Long Rifle to .45 ACP. Glock pistols have gained huge worldwide popularity with countless military and police organizations, but also civilians that use them for recreation, competition, personal protection, etc. To date, around 10 million guns have been sold.
For this column, I selected the G40 Gen4 MOS chambered in 10mm Auto, which is built on the large frame and is Glock's largest pistol. As such, it is probably not ideal for all shooters, especially those with smaller hands. It does offer a four-piece modular backstrap that allows the shooter to change the feel and size of the grip frame, but does not permit making it smaller than its original form. Other features include a 6.02-inch barrel and 15-round magazine capacity (with two extra magazines included). The flat black slide is gas nitride treated, which has proven rust resistant, tough and durable. And it has the familiar "safe action" that is a constant operating system that includes a trigger safety (with protected pivoting center), firing pin safety and drop safety. Like most out-of-the-box Glock pistols, trigger pull was heavy, even heavier than most others, at 6.5 pounds. For left-handed shooters, the magazine catch is reversible. In spite of its size, it weighs 35.45 ounces empty (with magazine installed).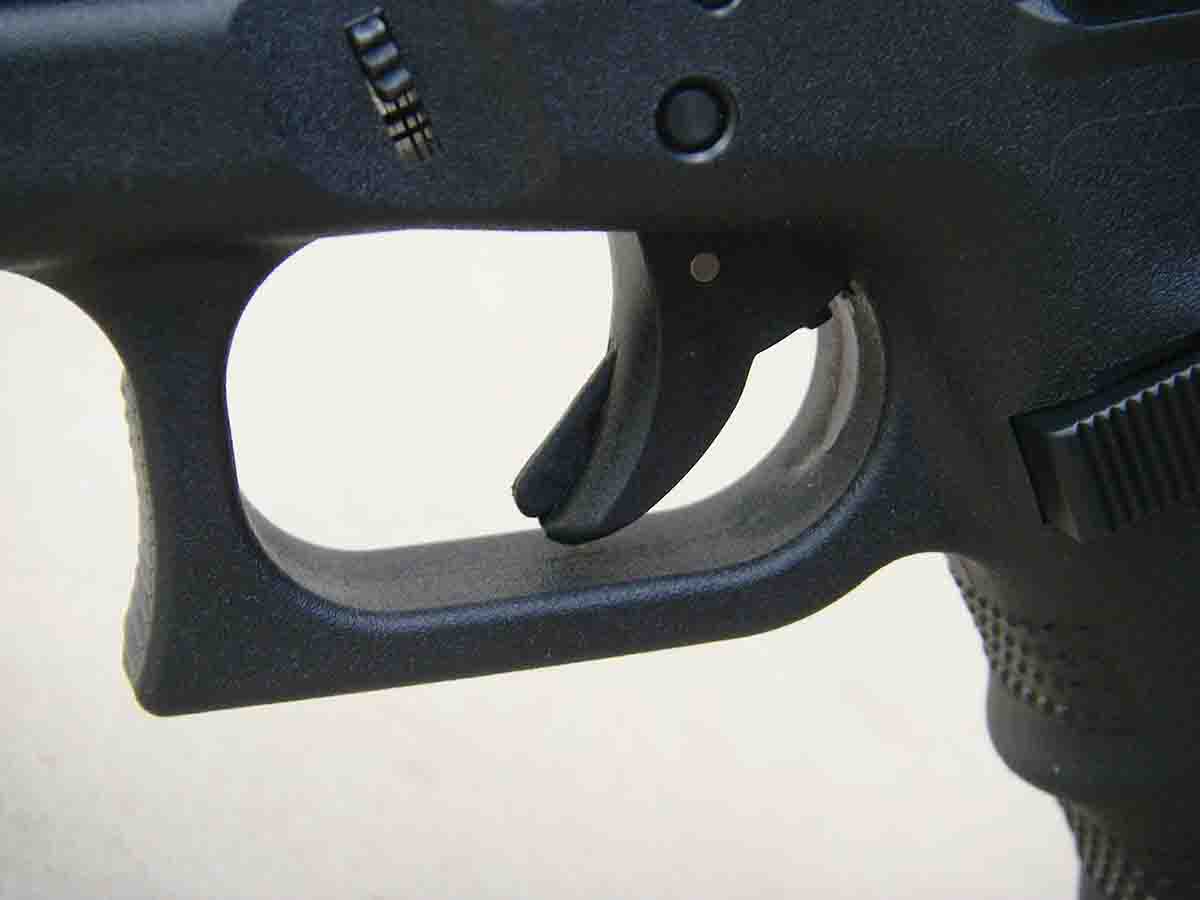 The G40 includes the Glock Modular Optic System (MOS) adapter set that offers four additional options (plus the factory installed plate) for mounting reflex sights and other accessories. The MOS mounts just forward of the rear sight on the top of the frame and is flush with the contours of the slide. This pistol is probably going to be pressed into action mostly by outdoorsman and hunters, and reflex sights are already becoming more reliable, practical and popular, which is certain to make the MOS even more appealing.
A brief discussion of the 10mm Auto cartridge seems appropriate. It was originally more or less the brainchild of Jeff Cooper and others, with early wildcats being based on cut down .30 Remington cases and loaded with .38-40 Winchester bullets (.400 inch), which became known as .40 Super and 10mm Auto. While it was primarily chambered in heavily-modified Browning Hi-Power pistols, it was also easily housed in the Model 1911. While Cooper loved the .45 ACP as a combat cartridge, he recognized that a powerful autoloading cartridge with higher velocities would offer certain advantages, including a flatter trajectory, increased range, better penetration (especially on car bodies, glass, barriers, etc.), but would still be controllable in rapid fire by strong and experienced shooters. And it could be housed in pistols of practical size and weight.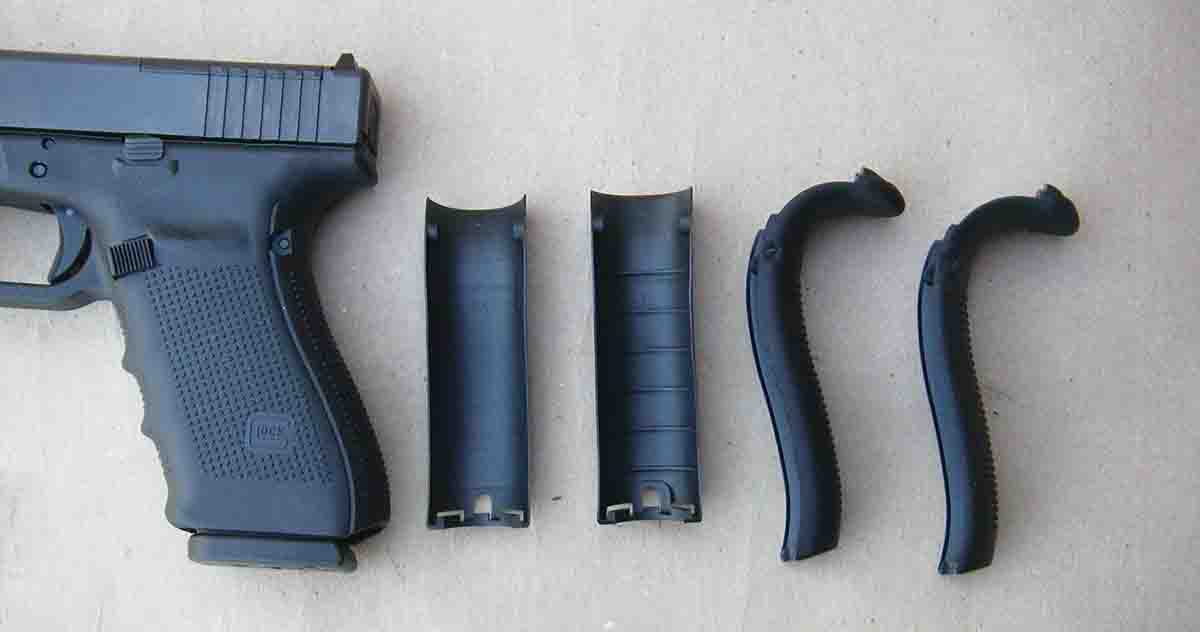 The 10mm Auto probably would have died, but Tom Dornaus and Mike Dixon finalized cartridge dimensions and introduced it in the Bren Ten pistol in 1983. Norma produced ammunition. Early factory loads pushed a 200-grain bullet at an advertised 1,200 fps. While demand was high, production and finance problems resulted in the end of the Bren Ten.
Colt was quick to recognize the demand for the 10mm Auto and chambered the Model 1911 Delta Elite in 1987, which resulted in a surge in popularity. The FBI tested the cartridge and adopted the newly developed Smith & Wesson Model 1076 in 1989. However, many agents felt that the recoil was too stout and requested lighter loads that would push 180-grain bullets at between 980 to 1,030 fps (known as FBI Lite or subsonic loads). Smith & Wesson quickly realized that by shortening the 10mm case and changing to a small pistol primer pocket, the FBI Lite ballistics could be duplicated, and the new cartridge could be housed in most 9mm-size pistols that were lighter and more compact. This resulted in the birth of the .40 S&W in 1990, which became widely popular and almost made the 10mm obsolete. I did not find great favor with the .40 S&W, except in compact pistols; rather, I wanted the horsepower associated with full power 10mm Auto loads in full-size pistols.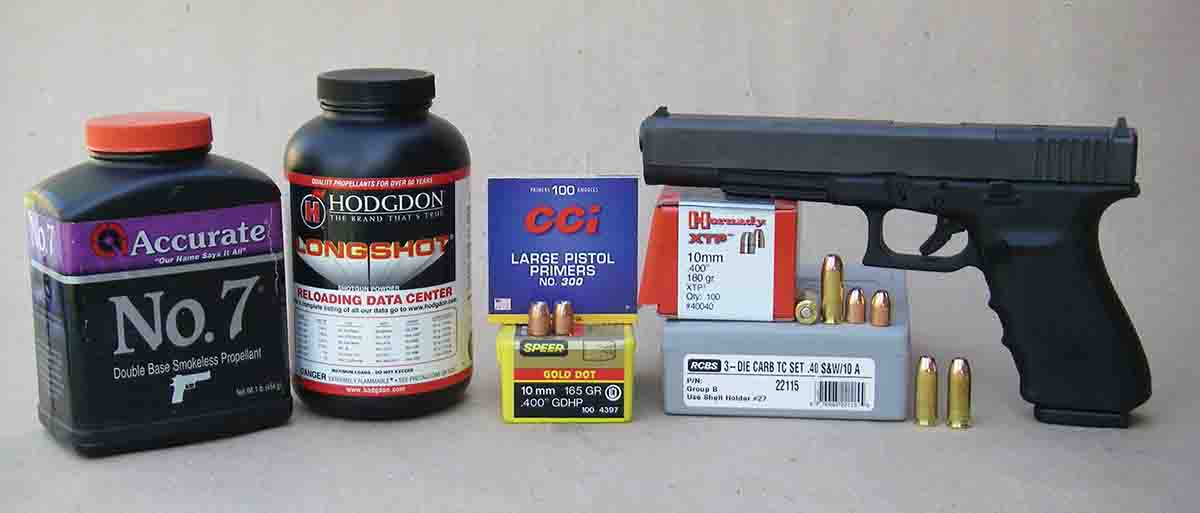 Shooters eventually began to once again recognize the 10mm Auto and its advantages over the 9mm Luger, .40 S&W and .45 ACP cartridges. Manufacturers have responded with many new pistols (and even revolvers), including Ruger, Colt, Smith & Wesson, Kimber, Springfield Armory, Glock, Remington, Dan Wesson, SIG SAUER and others. The 10mm Auto has truly made a comeback and has become a hot-selling handgun cartridge.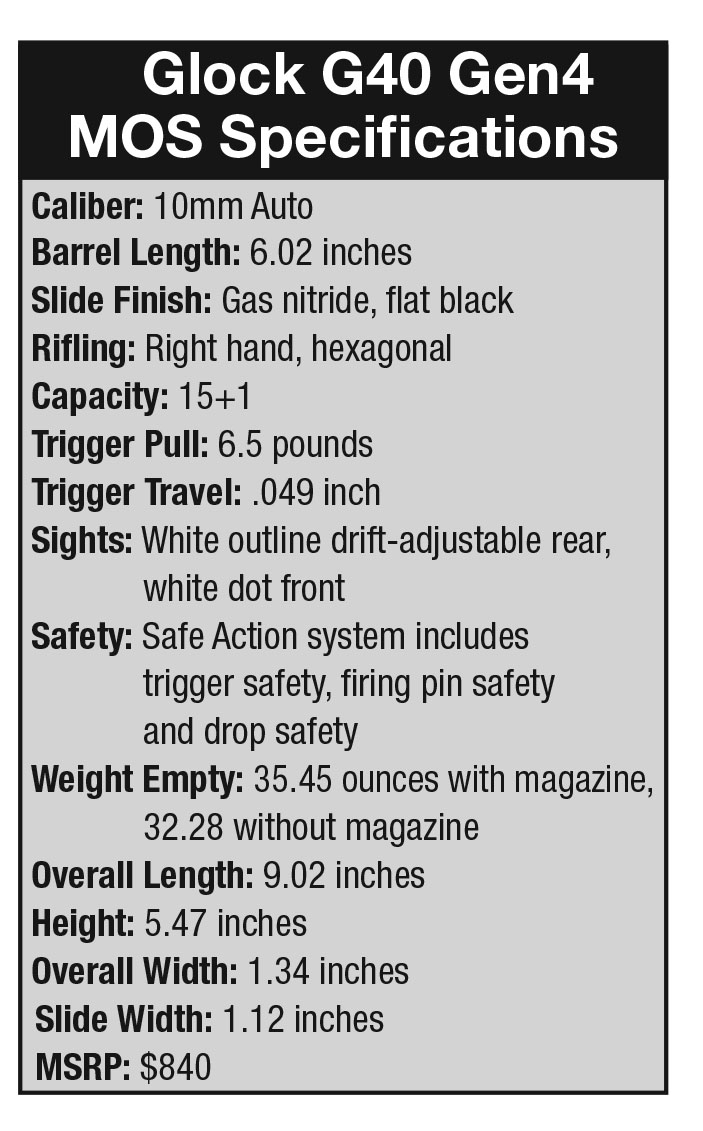 Current pressure limits from the Sporting Arms and Ammunition Manufacturers' Institute (SAAMI) list the 10mm Auto with a maximum average pressure of 37,500 psi. But in studying factory loads, including velocities and pressures, it seems as though nothing is standardized. Some companies still offer the FBI Lite or subsonic, but most offer loads that are supersonic; however, they are still well below maximum pressure limits. I have talked with several company representatives and ballisticians on this matter, and most are nervous about some of the early guns that had poorly-supported chambers. The feed ramps were excessive or poorly engineered, and full-power loads pose the risk of ruptured cases.
The second problem is that they ". . . don't have the perfect powder for ideal performance in the 10mm Auto." Therefore, most companies are limiting pressure to around 25,000 to not over 30,000 psi. Many handloading manuals do the same. (At least two major powder manufacturers are currently working on new powders designed specifically to maximize the 10mm Auto, with pre-production samples on their way here. If those products turn out as expected, perhaps handloaders will have a high performance 10mm powder by year's end.)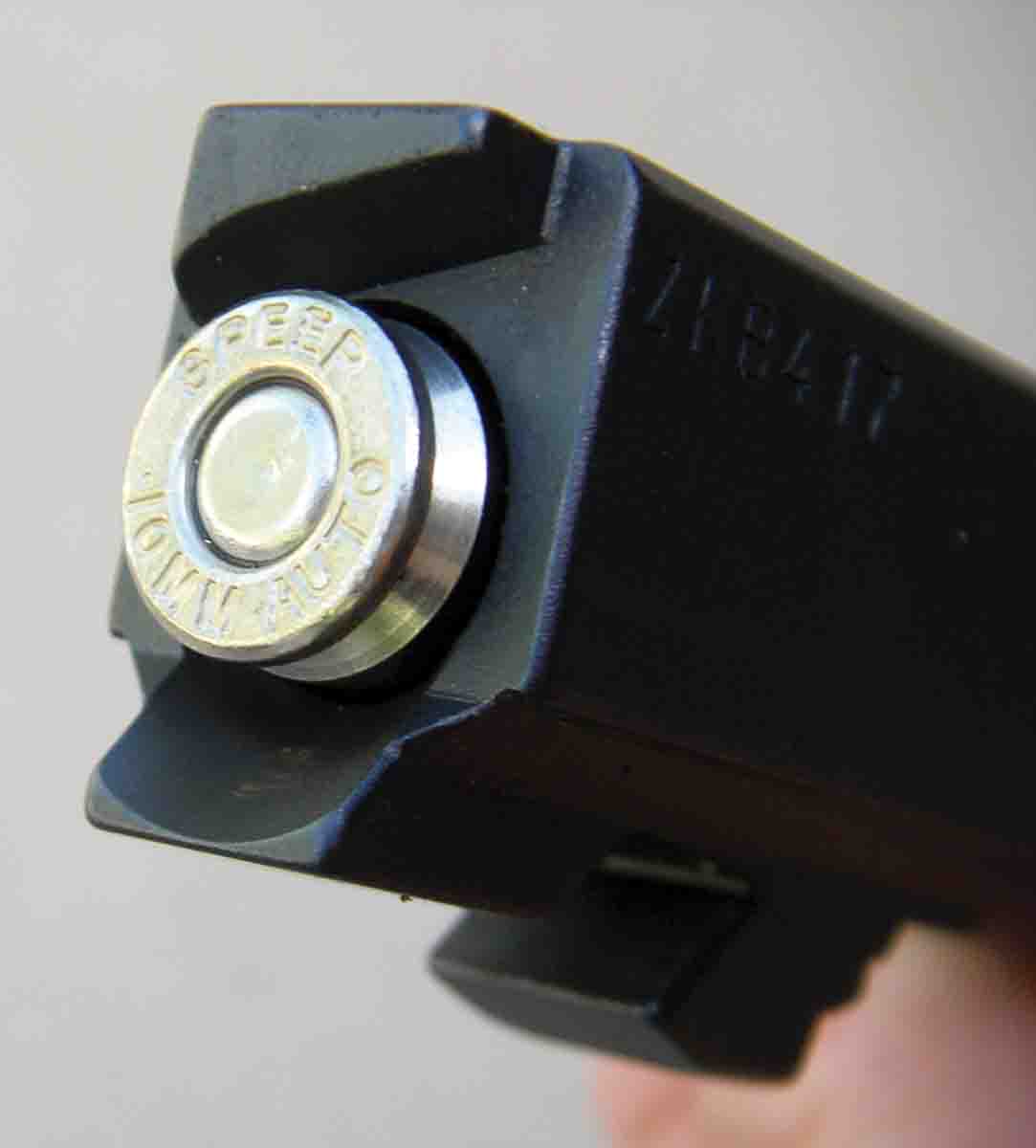 As indicated, when the 10mm is loaded to its full potential, it is capable of pushing a 200-grain bullet at 1,200 fps, or a 180-grain at nearly 1,350 fps (even with currently available powders), but it's best if these near maximum loads are used in guns with proper chambers, barrel lockup, etc. At least two companies are still offering high performing loads, including Winchester with its 175-grain SilverTip HP at 1,290 fps, and Buffalo Bore with a 180-grain JHP at 1,350 or 200-grain TMJ at 1,200 fps. The G40 features better chamber support than previous Glock 10mms I have worked with; however, I suggest limiting handload data with 180-grain jacketed bullets to between 1,275 to 1,300 fps maximum in the G40, but those velocities can only be reached safely with select powders that offer the correct burn rate.
Six factory loads were tried in the G40, with all offering perfect feeding and functioning. Overall, accuracy was only fair, but I noticed that accuracy increased throughout the shooting sessions, which is common as pistols wear in.
The two most accurate factory loads include the Speer Personal Protection 200-grain Gold Dot HP (1,094 fps) and Buffalo Bore 180-grain JHP (1,348 fps). Twenty-five-yard five-shot groups hovered around 2.5 inches with each load. Not outstanding, but good enough to tag a buck at 50 yards.
Handloads were assembled in new Starline cases that were full-length sized then capped with a CCI 300 primer. After bullets were seated to the correct overall cartridge length, cases were taper crimped as a separate step. While industry specification lists a .423-inch crimp, I chose to crimp cases to .421 inch, which is actually similar to most factory loads.
The Nosler 150-grain JHP bullet loaded with 9.5 grains of Alliant Power Pistol reached 1,385 fps and grouped into 2.70 inches at 25 yards. The Speer 165-grain Gold Dot HP bullet pushed with 12.0 grains of Accurate No. 7 powder reached 1,266 fps with groups around 2.5 inches. The Hornady 180-grain XTP bullet proved the most accurate of all (including factory loads), with 8.0 grains of Hodgdon Longshot powder producing 1,170 fps and groups as small as 2.20 inches. As expected, all handloads functioned flawlessly.
Overall the G40 performed well. It is reliable, moderately lightweight and is certain to catch the attention of anyone wanting a powerful autoloading pistol with a high magazine capacity.