Q: I am handloading for the 6.5 Weatherby Rebated Precision Magnum and using select data based on your handloads presented in your article in RIFLE magazine (March/April 2020). I am having trouble ejecting spent brass. I am hoping you can offer some insight into what I might be doing wrong. I am using factory once-fired cases, Nosler 140-grain AccuBond bullets and Alliant Reloder 25 powder with loads containing 62.0 to 66.0 grains. Any help that you can offer will be appreciated.
J.G., via email
A: If you are having trouble ejecting spent brass, that is a mechanical problem with the rifle, not a problem with the ammunition.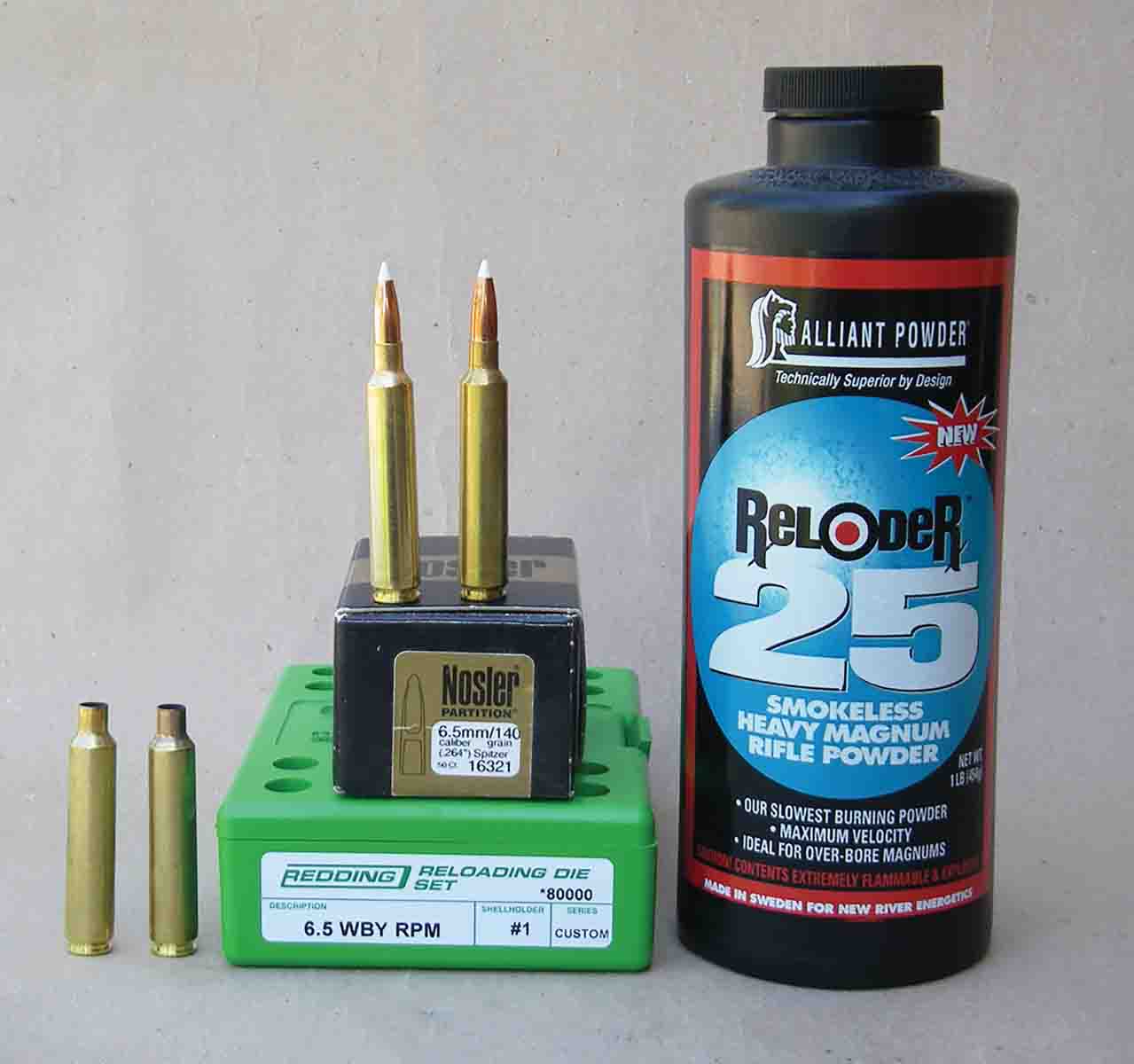 However, if you are having trouble extracting cases (sticky extraction) from the chamber, then you are probably experiencing high pressure. My maximum load for the 6.5 RPM using the 140-grain Nosler Partition bullet was 66.0 grains of Alliant Reloder 25 powder. This load was working fine in my rifle, as extraction was easy (or normal), and neither were there any signs of excess pressure.
By you changing to the 140-grain Nosler AccuBond bullet, pressures will be different. Also, you do not specify what primer you selected. Please note that I chose the CCI BR-2 primer to develop my data, which is a standard non-magnum primer. If you are using a magnum primer, pressures will increase, and the powder charge will necessarily need to be reduced. Another factor may have to do with burn rate variances within powder lot numbers. For example, if my lot number of powder has a slightly slower burn rate than is targeted for this particular powder, and yours has a slightly faster burn rate, then your loads will produce greater pressures and usually higher velocities. This is a good example of why handloaders are generally encouraged to begin with reduced or "starting" loads, then work up carefully to maximum charges while watching for signs of excess pressure. This advice likewise applies every time a new lot number of powder is obtained. And last, perhaps your rifle is showing signs of higher pressure due to a shorter leade, tighter throat, tighter bore, etc.
Incidentally, using the Nosler 140-grain Partition bullet with 64.0 grains of Alliant Reloder 25 powder produced 2,955 fps, which more or less duplicates the factory load pressures and velocities.
.27 Nosler Duplication Loads
Q: I recently obtained a new Nosler Model 48 chambered in .27 Nosler. I am very pleased with the accuracy and consistent velocities that I am obtaining with the Nosler factory loads containing the Nosler 150-grain AccuBond bullet. I am getting around 3,260 fps, and extreme spreads are usually between 10 and 20 fps for a five-shot string. I would like to duplicate their loads. Can you tell me the powder type and charge weight that they are using? In addition to the 150-grain AccuBond, I will probably try the 150-grain AccuBond Long Range bullet at about the same velocity. Any insight that you can offer will be appreciated.
J.T., Rifle CO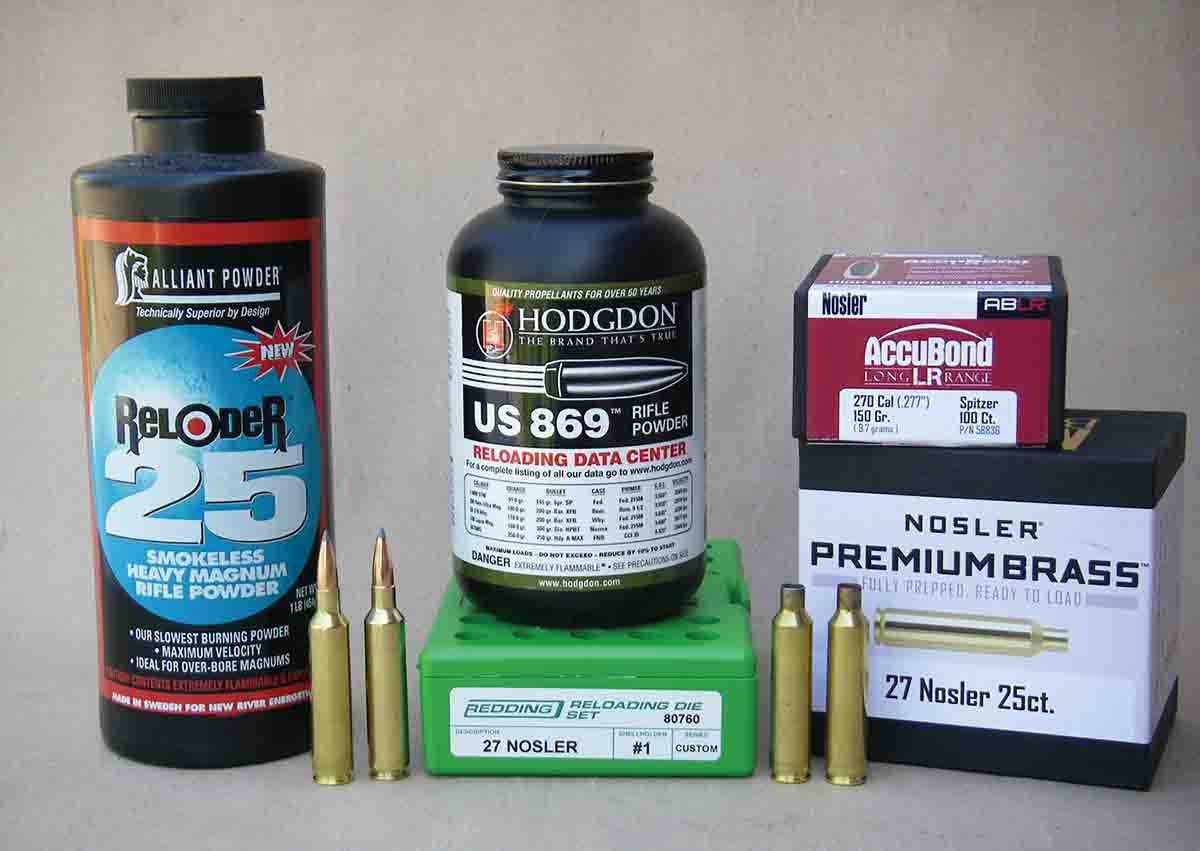 A: I do not know what powder (or powders) Nosler is using in its factory loads. Usually, ammunition companies select bulk OEM products that are not available to handloaders, or at least have a different name or number and a slightly different burn rate. It is also common that different powders are used for a given load or cartridge, depending on current availability and other factors. The point is that you could purchase the same factory load, but with a different lot number, and the powder used could be different.
I suggest using either 87.5 grains of Alliant Reloder 25, or 89.0 grains of Hodgdon US 869 powder to duplicate factory load velocities with either the 150-grain AccuBond or AccuBond Long Range bullet. Naturally, you will want to use a large rifle magnum primer, such as the Federal 215, or for lower extreme spreads, try the Federal 215GM Match. You can seat bullets to the same overall length as factory loads, which is around 3.315 inches; however, by seating bullets out, closer to your rifle's leade, you will probably further increase accuracy.
.500 S&W Reduced Loads
Q: Several years ago I purchased a Smith & Wesson Model 500 chambered in .500 S&W Magnum with the 4-inch barrel to take on Alaskan fishing trips. When I first purchased it, I fired it enough to become reasonably competent, but I never really liked shooting it due to its recoil. Unfortunately, since my last fishing trip, it only rests quietly in the safe. After reading your comments on reduced magnum revolver loads, I thought that perhaps I could enjoy the gun with a load that is going around 800 to 900 fps with a 350- to 400-grain cast bullet. And I would like a second load that will push the same bullet to around 1,200 fps. Do you have any suggestions for bullet choice and powder type and charge weights?
J.S., Hermiston OR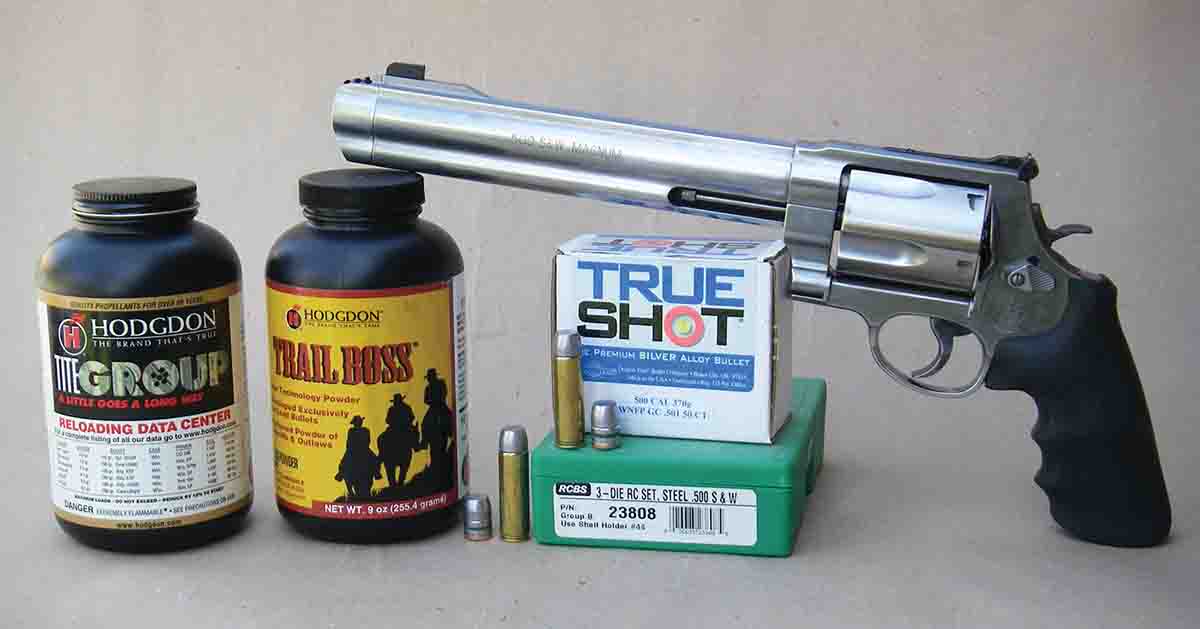 A: For your light load I would suggest using the Oregon Trail Laser Cast True Shot 370-grain WNFP with 14.0 grains of Hodgdon Trail Boss powder, which produced 995 fps from my revolver that has the 83⁄8-inch barrel, and is probably within your targeted 800 to 900 fps when fired from your revolver with a 4-inch barrel. For a bit more velocity, try 15.0 grains of Hodgdon Titegroup powder, which produced 1,258 fps from my gun and is probably around 1,200 fps from your gun's shorter barrel. Incidentally, the above loads were assembled in Starline cases with the "R," which indicates that primer pockets are designed for rifle primers. Both loads were ignited with CCI 200 primers. Hope that helps!
.44 Magnum Options
Q: I very much enjoyed your "Pet Loads" piece for the .44 Magnum, which is the most extensive, informative and useful article I have ever read on this subject. I have read it three times and learn something each time. Please keep up the good work.
I have been shooting the .44 Magnum since 1957 and reading Handloader magazine since 1976. In recent years, due to my age and weakened grip and forearms, I have stopped shooting my pet .44 Magnum revolvers as I simply can't take the recoil anymore. With your suggested light target loads containing cast bullets, I have been renewed and am thoroughly enjoying my guns again. I have had pretty good results with the Rim Rock Cowboy 240-grain RNFP bullet with 6.0 grains of Accurate No. 2 powder. However, as you indicate, the same powder charge behind the 250-grain Lyman/Keith 429521 bullet is even more accurate.
I would like to try the Hornady 240-grain XTP HP bullet at around 1,000 fps from my Smith & Wesson pre-Model 29 .44 Magnum with a 6½-inch barrel. Now to my questions; do you think this bullet will expand at such low velocity? And if so, can you suggest a powder and charge weight? Thanks so much for your many fine articles and insight on so many different subjects.
S.D., Laramie WY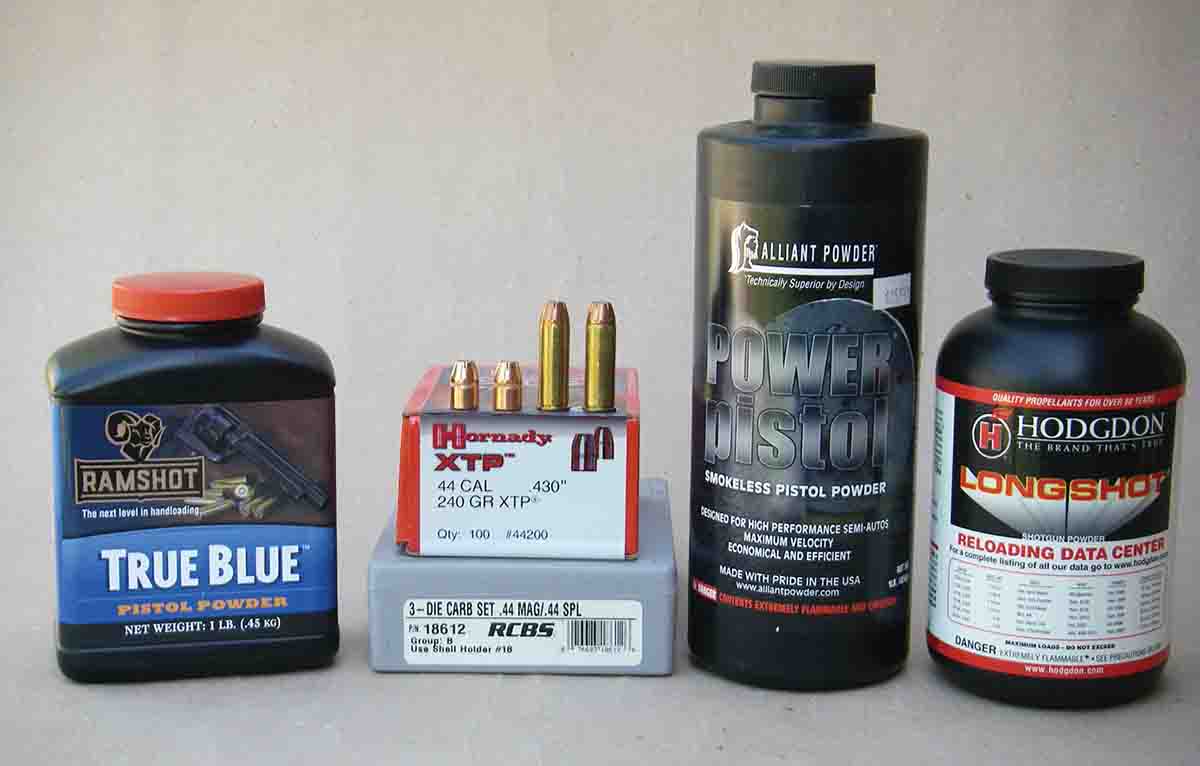 A: First, thank you for your kind remarks and I am glad that you enjoyed the "Pet Loads" article. The Hornady .44-caliber 240- grain XTP bullet will expand reliably at 900 fps or higher velocity, which I have determined through testing in various mediums, and is what Hornady states as well. You don't specify any particular powder you would like to use. I suggest using 10.5 grains of Hodgdon Longshot powder, which will produce the 1,000 fps you
desire. Other options include 12.0 grains of Ramshot True Blue or 9.3 grains of Alliant Power Pistol for approximately the same velocity. I suggest using a "standard" large pistol primer, such as the CCI 300 or Federal 150 which will serve to lower pressure and reduce extreme spreads when compared with the same loads used with magnum primers. All loads will give excellent accuracy in a good sixgun.
I hope that you continue enjoying your "pet" .44 Magnum sixguns for many years!