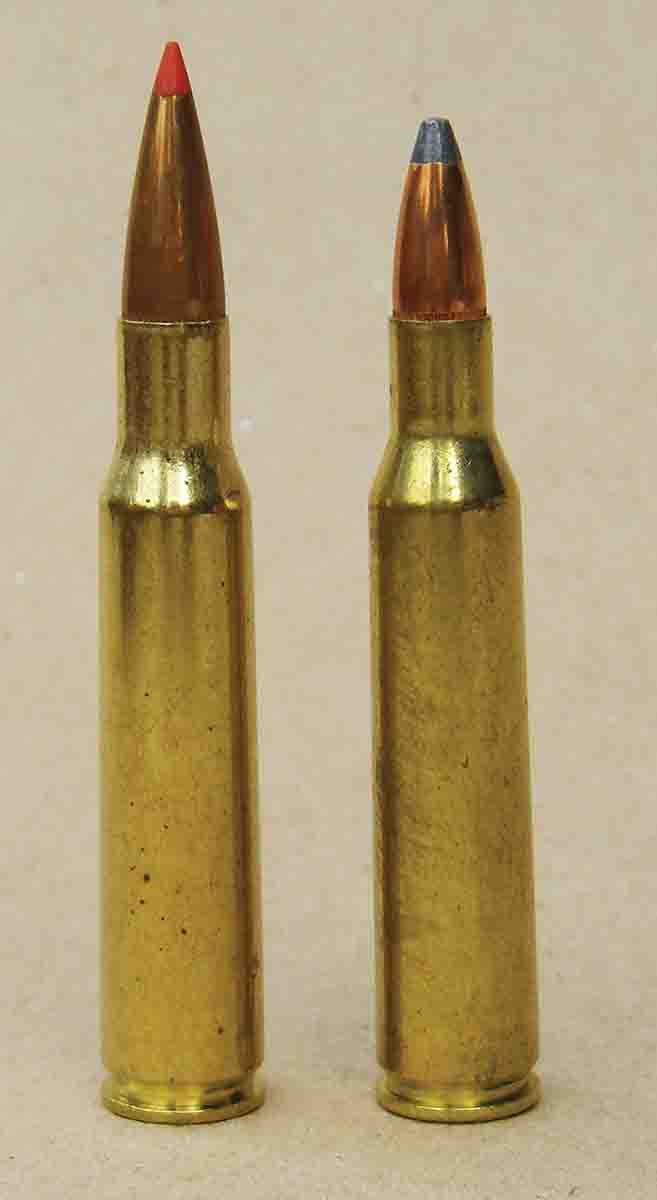 During the 1920s, experimenter N.H. "Ned" Roberts shortened the 7mm Mauser case, necked it down to accept .257-inch bullets and changed the shoulder angle from 20 to 15 degrees. Roberts was a well-known writer, and his new .25-caliber wildcat cartridge quickly became popular among custom rifle builders and hunters. While Roberts was known to change the specifications of his wildcat, they were all known as ".25 Roberts."
Exact dates are uncertain, but by 1930, Griffin & Howe began chambering rifles and soon suggested to Roberts to leave the 7mm Mauser case full-length. After extensive testing, he agreed. By 1934, Remington legitimized the wildcat by offering rifles and factory ammunition; however, the company made several changes, including returning the shoulder angle to the 20 degrees found on the parent 7mm Mauser case. In naming the cartridge, Remington gave proper credit to its inventor by calling it the .257 Roberts.
The Roberts was way ahead of its time and was something of a sensation. In addition to easily outperforming the landmark .250/3000 Savage cartridge, the first U.S. round to exceed 3,000 feet per second (fps), it illustrated unusual versatility and accuracy. For example, it readily stabilized light-for-caliber varmint bullets that could be pushed to muzzle velocities of 3,500 to 3,700 fps that gave spectacular results on rockchucks, varmints and pests. However, the .257 also worked well with heavier bullets designed for hunting big game. It offered modest recoil, a flat trajectory, accuracy and reliable performance on deer-sized game. "Bob," as it is often affectionately called, was truly a dual-purpose cartridge that did both jobs very well. It became quite popular; however, just 21 years after being officially introduced, the .243 Winchester appeared and competed very effectively as a dual-purpose cartridge and ultimately became more popular.

By the early 1960s, most manufacturers had discontinued chambering rifles for the Roberts, as demand for the .243 grew like wildfire. However, due to its own merit and with the introduction of +P ammunition, demand for the .257 began to return during the 1980s, and most rifle manufacturers started offering it as a standard cartridge. Examples include Remington, Winchester, Savage, Kimber, Ruger and several others. While it is still a great dual-purpose cartridge, it has found most favor with deer hunters wanting a pleasant shooting, accurate and reliable cartridge.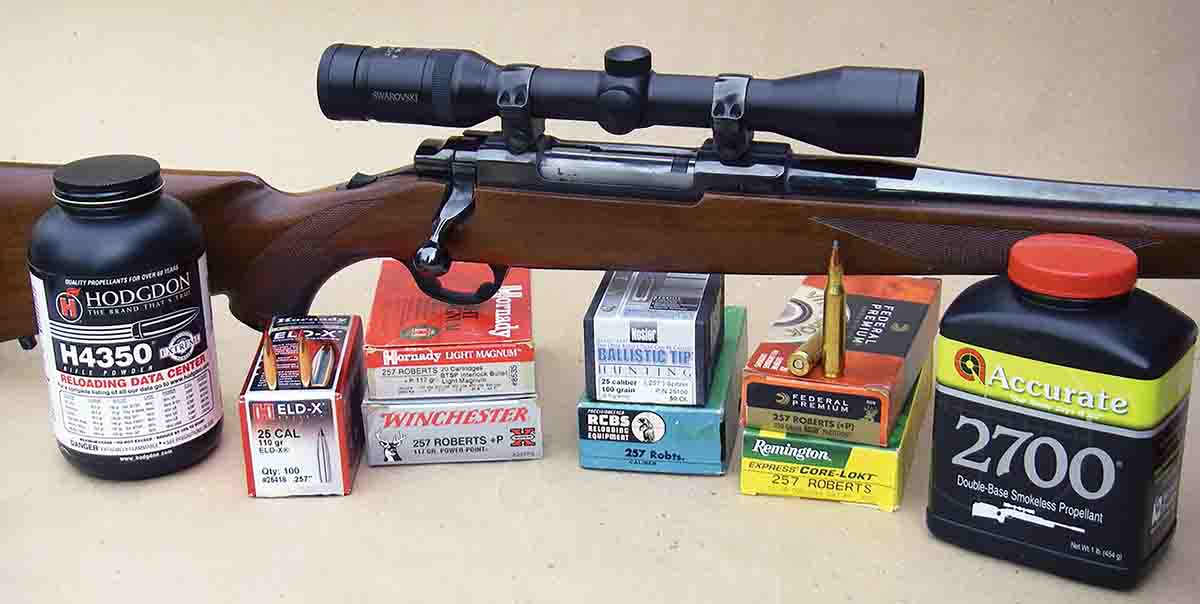 It is noteworthy that the .257 Roberts was originally loaded to a maximum average pressure of 45,000 CUP and was commonly listed with an 87-grain bullet at an optimistic 3,200 fps, or a 100-grain bullet at 2,820 fps (Winchester) or 2,900 fps (Remington) or a 117-grain bullet at 2,650 fps. This comparatively low pressure was established in deference to rifles that were built on actions that were less than robust, which included custom and factory built guns.
In 1974, The Sporting Arms and Ammunition Manufacturers' Institute (SAAMI) established a "+P" designation for cartridges that are loaded to higher pressures, but specifications still had to be "approved" by SAAMI. During the 1980s, Winchester developed a .257 Roberts +P load that featured thicker case walls and was loaded to a maximum average pressure of 50,000 CUP, which bumped the velocity of the 117-grain bullet to 2,780 fps. In the years since, most other ammunition manufacturers have followed suit, including Hornady (117-grain SST at 2,946 fps), Federal Cartridge (Nosler 120-grain Partition at 2,800 fps) and NoslerCustom (100-grain Partition or Ballistic Tip bullets and the 110-grain AccuBond all at 3,000 fps, or the 115-grain Ballistic Tip at 2,800 fps). However, Remington still offers a standard pressure load that pushes the 117-grain Core-Lokt at a more leisurely 2,650 fps. Perhaps if the .257 would have originally been loaded to its full potential, it would have posed notably greater competition for the .243 Winchester. Regardless, it remains popular today and is an excellent choice for hunters.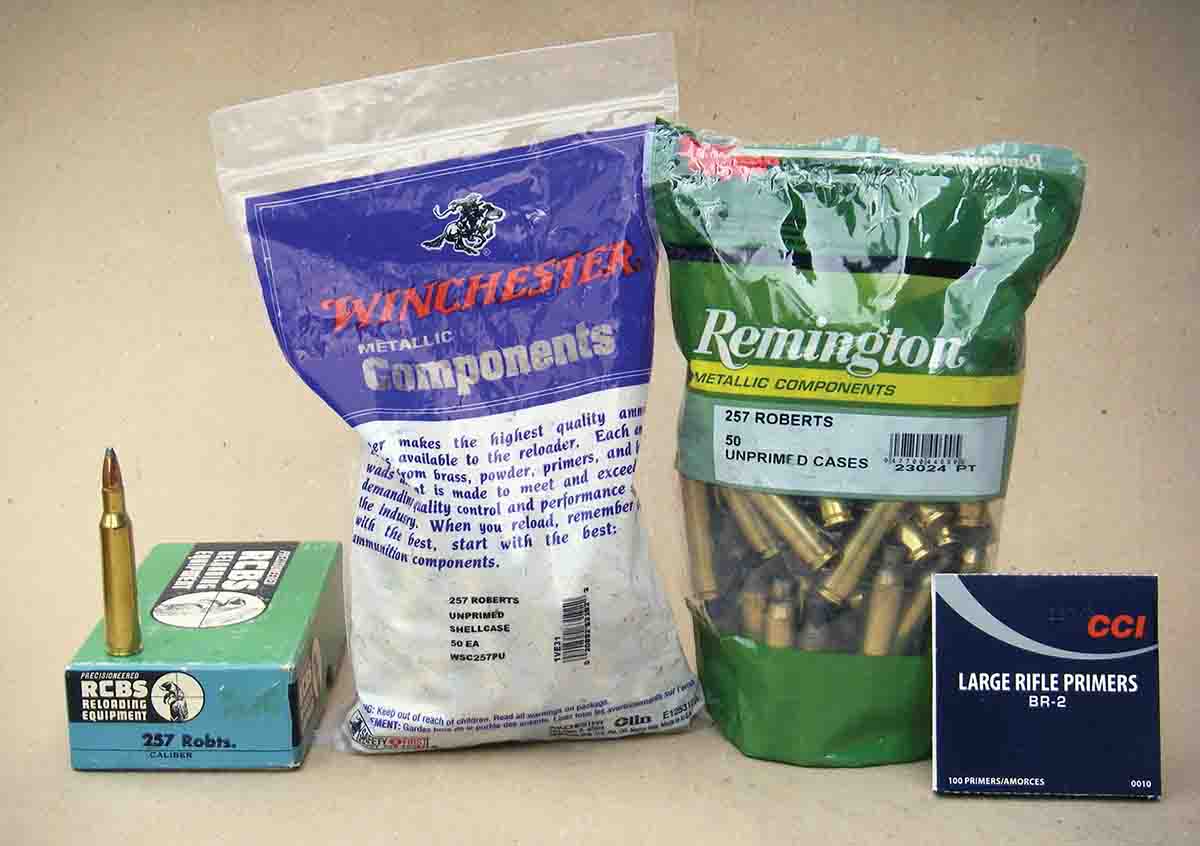 The .257 Roberts has (finally) been updated to piezoelectric pressure measurements, with standard pressure loads listed at 54,000 psi while +P loads are listed at 58,000 psi. The maximum loads in the accompanying data are almost all +P pressures. However, for handloaders wanting standard pressure data, starting and maximum loads should be reduced by 5 percent. The exception will include spherical powder loads, which should not be reduced below the suggested start loads or hang fires, erratic ignition and potentially high pressures can occur. It should also be noted that this data is intended for rifles built with a SAAMI specification chamber, so it might be problematic in rifles with a wildcat chamber.
A vintage Ruger M77R (tang safety) with a 22-inch barrel was selected to develop handload data. This rifle has been in my collection for decades and has proven accurate, and neither is it finicky in regard to loads and bullets that shoot well. Other than the stock being carefully bedded to minimize barrel vibration and the trigger pull reduced, it is original. Properly -tailored handloads will group under .75 inch. A Swarovski 3-9x 36mm variable scope was used.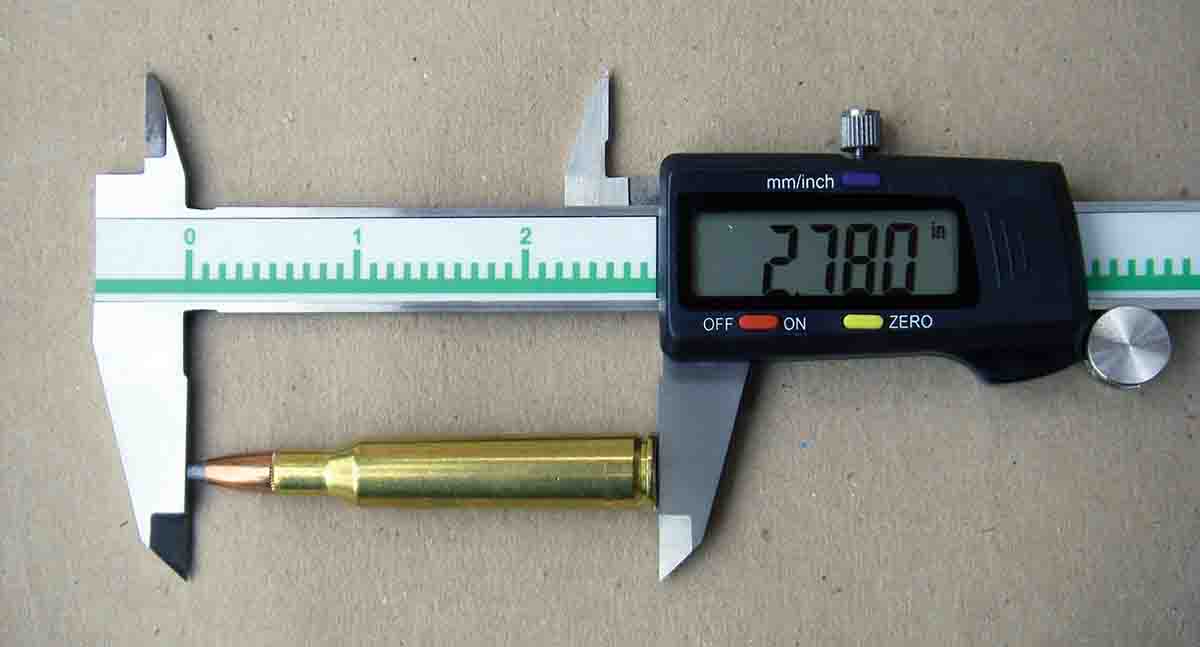 The .257 Roberts has a maximum overall cartridge length of 2.780 inches, which permits it to be chambered in rifles with a .308 Winchester-length (2.810 inches) action. Interestingly, it has been factory chambered in rifles with both .30-06 (3.340 inches) and .308-length actions. Shooters are somewhat divided on this subject. Some want the .257 chambered in long actions so that they can seat bullets out to increase powder capacity and usually increase accuracy. Others want a "Bob" built on short actions to shorten and lighten the rifle. My experience has been that the leade length of many of the rifles built on the .30-06-length actions will not allow bullets to be seated out much more than around 2.810 inches. In these instances, the .257 could be built on the .308-length action and still have bullets seated out close to the leade. If I were shopping for a new .257 Roberts, I would favor a rifle with the short action. For the record, the Ruger M77R used herein is built on the .30-06-length action.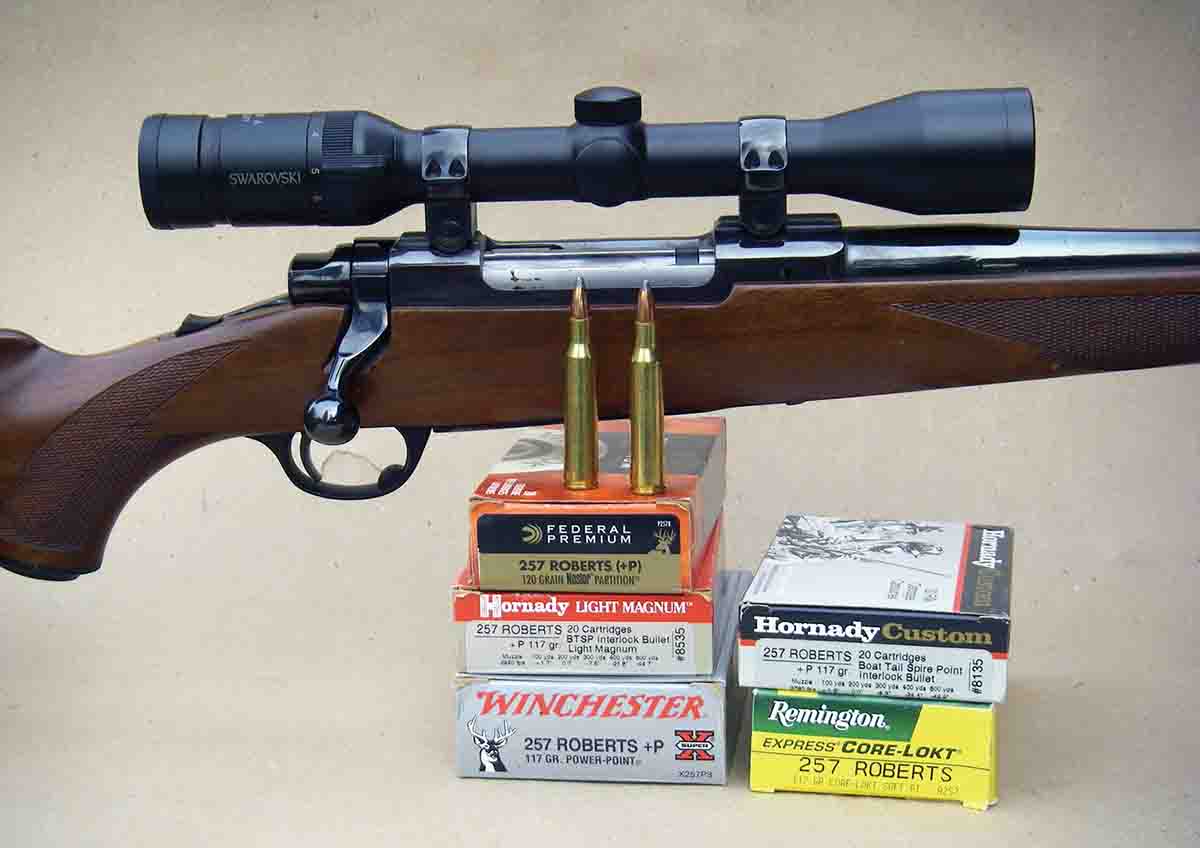 As this article is written, our nation is in the midst of COVID-19, political unrest, rioting, etc., all of which has resulted in ammunition shortages. As a result, I could not find .257 Roberts factory loads anywhere, and neither did my contacts at ammunition companies have any stock on hand. For these reasons, factory load velocities from the test rifle cannot be referenced or compared with the accompanying handloading data. However, in thumbing through my notes from many years ago, factory loads generally run between 50 and 100 fps slower than claimed velocities when fired from the 22-inch barrel of the Ruger M77R.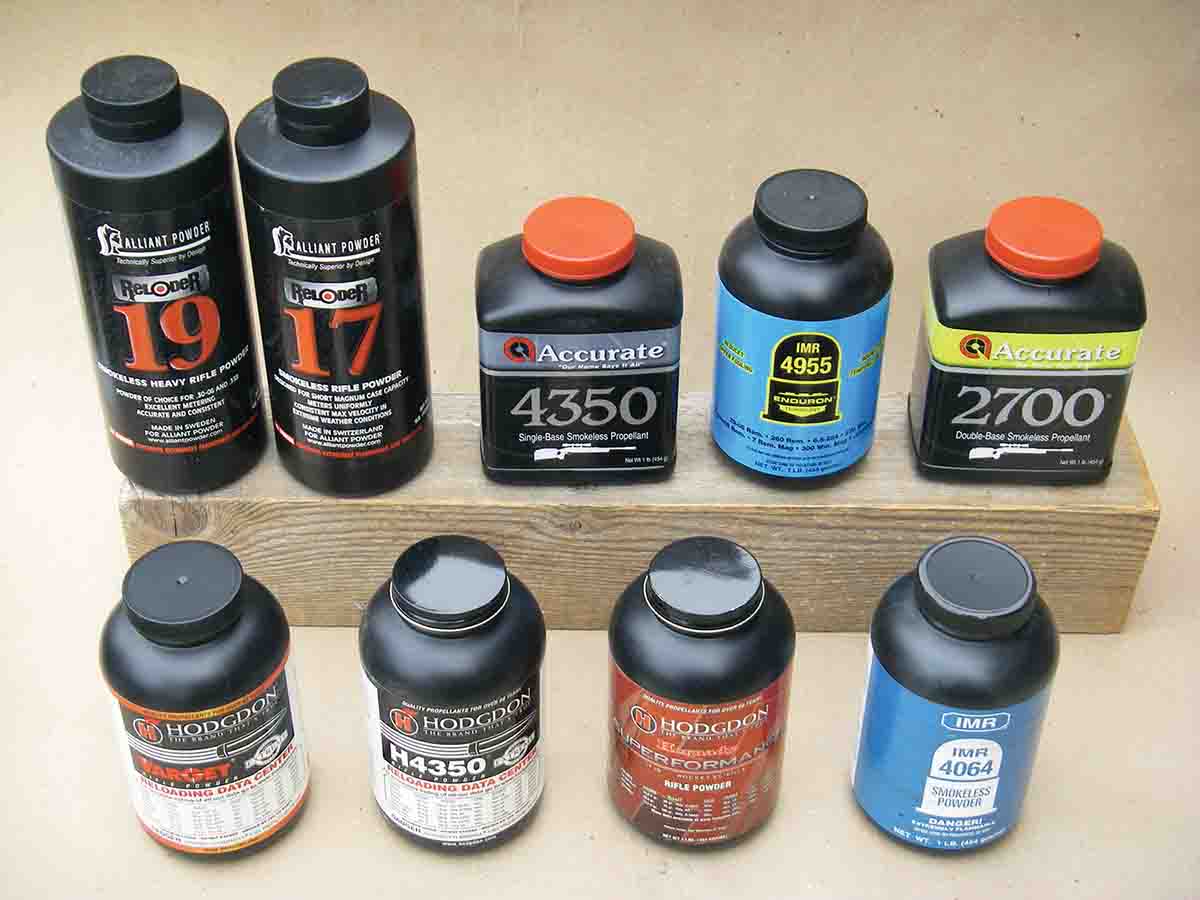 The accompanying data was developed with cartridges that were within SAAMI maximum overall length guidelines. It is suggested for the experimenter to seat bullets to find the accuracy "sweet spot" for a given rifle. However, when developing handloads for a hunting rifle, it is not recommended to seat bullets out until they touch the leade. If ammunition is so loaded, there is always the risk that a bullet may stick in the chamber when a live cartridge is removed from the chamber. Incidentally, seating bullets to different depths, at least in bottleneck rifle cartridges, has little effect on pressures. Opposite of straight wall handgun cartridges, seating bullets deeper will usually reduce pressures.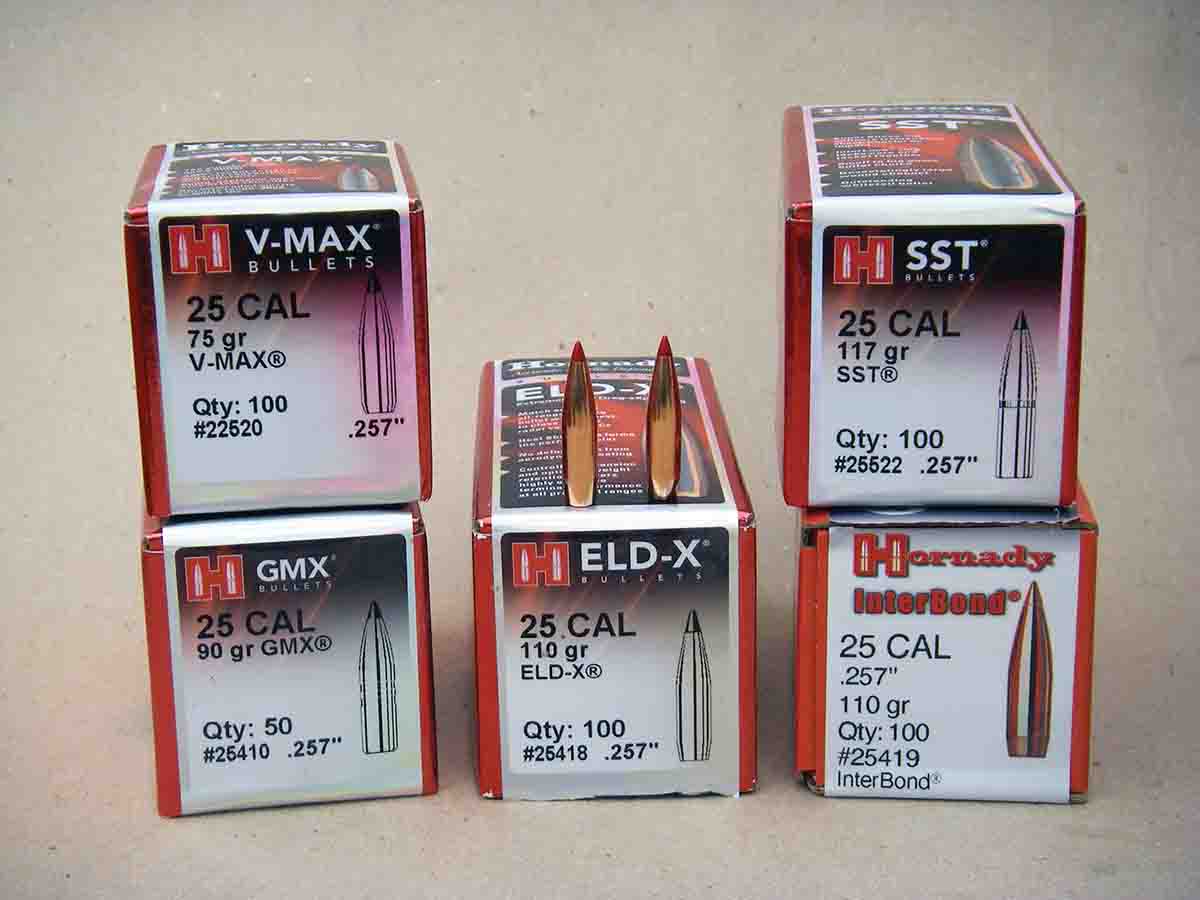 All handloads were developed using Winchester +P cases, which due to their thicker case wall construction have less capacity than standard pressure cases. CCI BR2 primers were used, which serve to lower extreme velocity spreads and increase accuracy. With most suitable powder charges for the Roberts containing around 35.0 to 45.0 grains and only a couple of loads exceed 50.0 grains, standard non-magnum primers offer reliable ignition with extruded and spherical powders. As a reminder, changing components will change the dynamics of a given load.
Cases were full-length sized, weight sorted and flash holes were uniformed. While neck sizing cases can increase accuracy, since I consider the .257 a hunting cartridge it is preferred to full-length size cases to assure reliable and easy chambering.
There is a wide selection of .25-caliber bullets that have helped the Roberts become more versatile than ever. For varmint shooters and coyote hunters, the Hornady 75-grain V-MAX is explosive and accurate. Select loads reached over 3,400 fps. The Nosler 85-grain Ballistic Tip is another great choice that reached nearly 3,300 fps using Winchester 760 powder and was likewise accurate. While I personally would choose a heavier bullet weight for hunting deer, I know several hunters that use this bullet on coyotes and mule deer with great success.
Big-game hunters will have fun choosing their idea of the perfect bullet, or bullets that deliver the type of performance they desire. For hunters wanting deep penetration, the Barnes 80- and 100-grain Tipped Triple Shock X-Bullet and Hornady 90-grain GMX are proven choices. Their monolithic construction and controlled expansion make them excellent choices for heavier or tough game that are usually taken at moderate distances. Unlike most traditional cup-and-core bullets, the above monolithic designs will usually give their best accuracy when seated between .040 inch to .090 inch off the lands. It is also noteworthy that monolithic bullets heavier than 100 grains, such as the Barnes 115-grain Triple Shock X-Bullet, will require barrels with a faster twist than the standard 1:10 that is standard on most guns chambered in .257.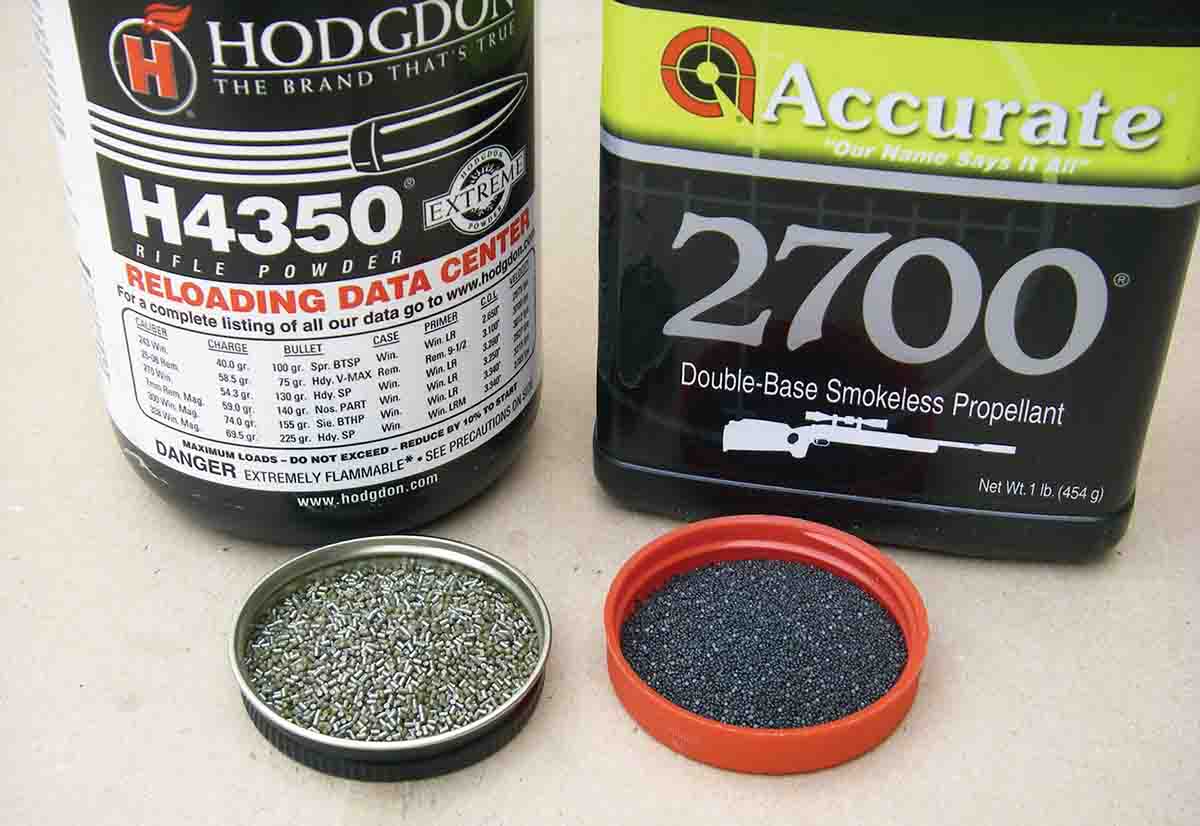 The proven Nosler 120-grain Partition offers deep penetration and boasts of being accurate in almost all rifles. Especially popular choices for deer hunters include the Nosler 100- and 115-grain Ballistic Tip, Hornady 117-grain SST and Swift 100-grain Scirocco II.
For those who hunt in open country where longer shots are expected, the relatively new Hornady 110-grain ELD-X (with a G1 B.C. around .465) is an excellent choice. Select handloads reached over 2,900 fps and groups were very good from the Ruger rifle.
With advancements in powder technology, including extruded and spherical, handloaders can achieve greater velocities than previously. Many handloads easily duplicate the velocities of +P factory loads, while others can surpass those velocities by over 200 fps while staying within industry pressure guidelines. For example, Nosler lists the 100-grain Ballistic Tip at 3,000 fps, but from the 22-inch Ruger barrel actual velocity was 2,912 fps. Using the same 100-grain Ballistic Tip bullet, 50.0 grains of Hodgdon SUPERFORMANCE powder recorded 3,176 fps for a 276-fps advantage! Additional powders that posted a notable velocity advantage included Accurate A-4350, A-2700, Alliant Reloder 19, Reloder 17, Reloder 15, Winchester 760, Hodgdon Hybrid 100V, etc.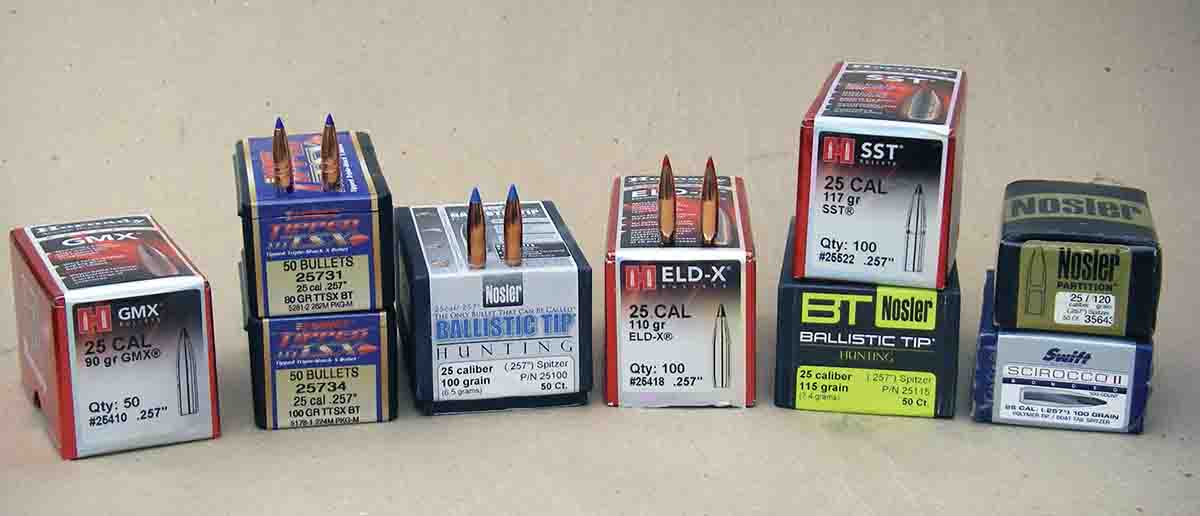 Virtually all powders listed produced respectable accuracy; however, some of the notable performers included Hodgdon Varget, H-4831, H-4350, IMR-4895, Alliant Reloder 15, Reloder 17, Reloder 19, Vihtavuori N140, VV-N150, VV-N160, Accurate A-2700, A-4350 and Winchester 760. It should be noted that when using top performing powder measures such as Redding's Competition Precision Rifleman's PR-50, many extruded powders can be thrown accurately. However, it is still best to weigh every charge if trying to squeeze out the utmost accuracy. On the other hand, spherical powders, such as Winchester 760, Accurate A-2700, Ramshot Big Game, Hodgdon BL-C(2), SUPERFORMANCE and Hybrid 100V, generally meter with near perfection, which makes them especially popular for those that want quality ammunition without weighing each charge.
Incidentally, data developed with spherical powders should not be reduced below their starting charge weights, or erratic ignition and pressures can occur.
The .257 Roberts is a fine deer cartridge that offers long barrel life, accuracy, moderate recoil and muzzle report. Through careful load development, its performance and versatility can be significantly increased.