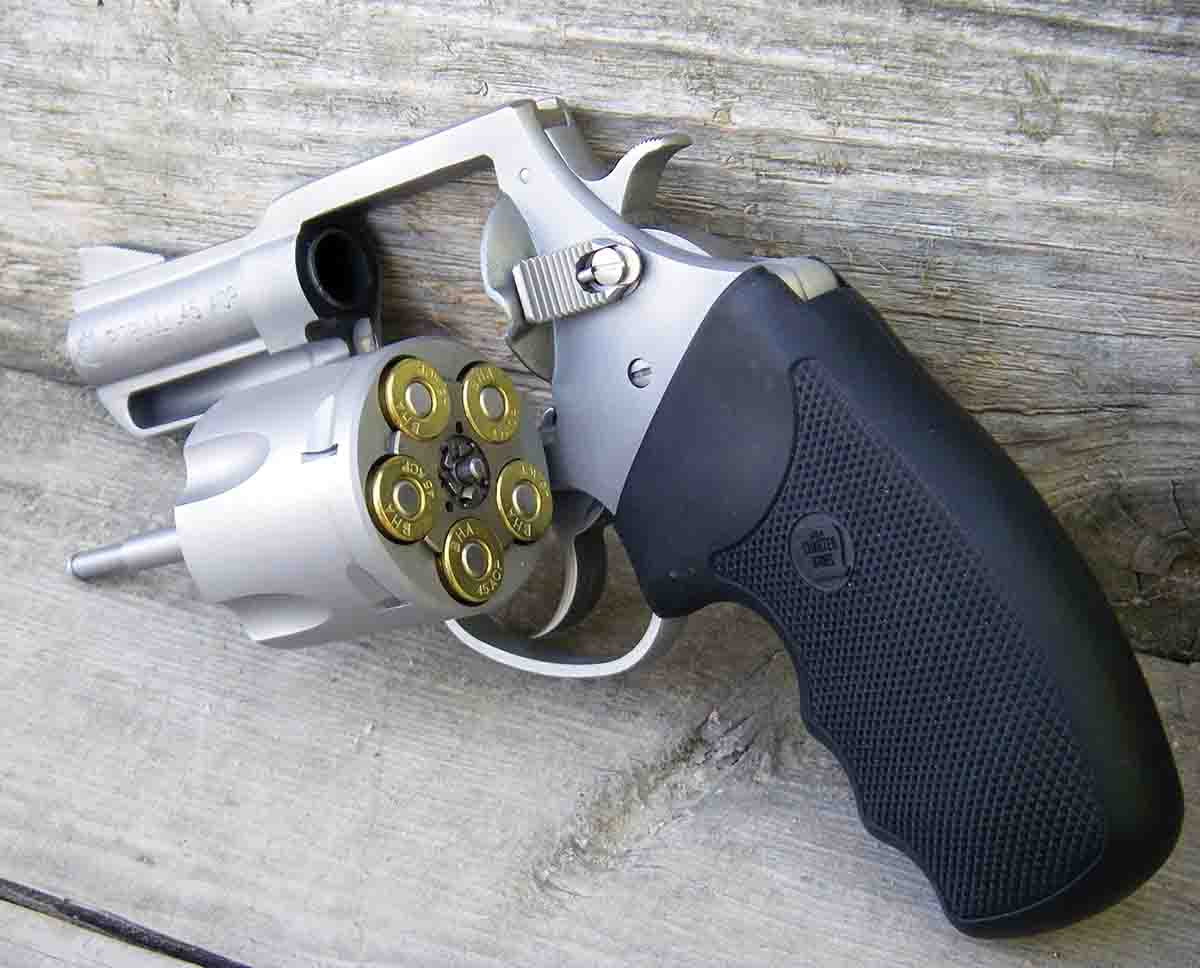 In spite of advancements and the widespread popularity of autoloading pistol designs in the past few decades, the demand for double-action revolvers remains strong. One example is the Charter Arms Pitbull .45 ACP, which is a medium frame, five-shot revolver with a 2.5-inch (actually 2.460) barrel and is stainless steel. It offers a modest price, reliability and is manufactured in the U.S. For this review, several hundred rounds were fired and it functioned flawlessly throughout.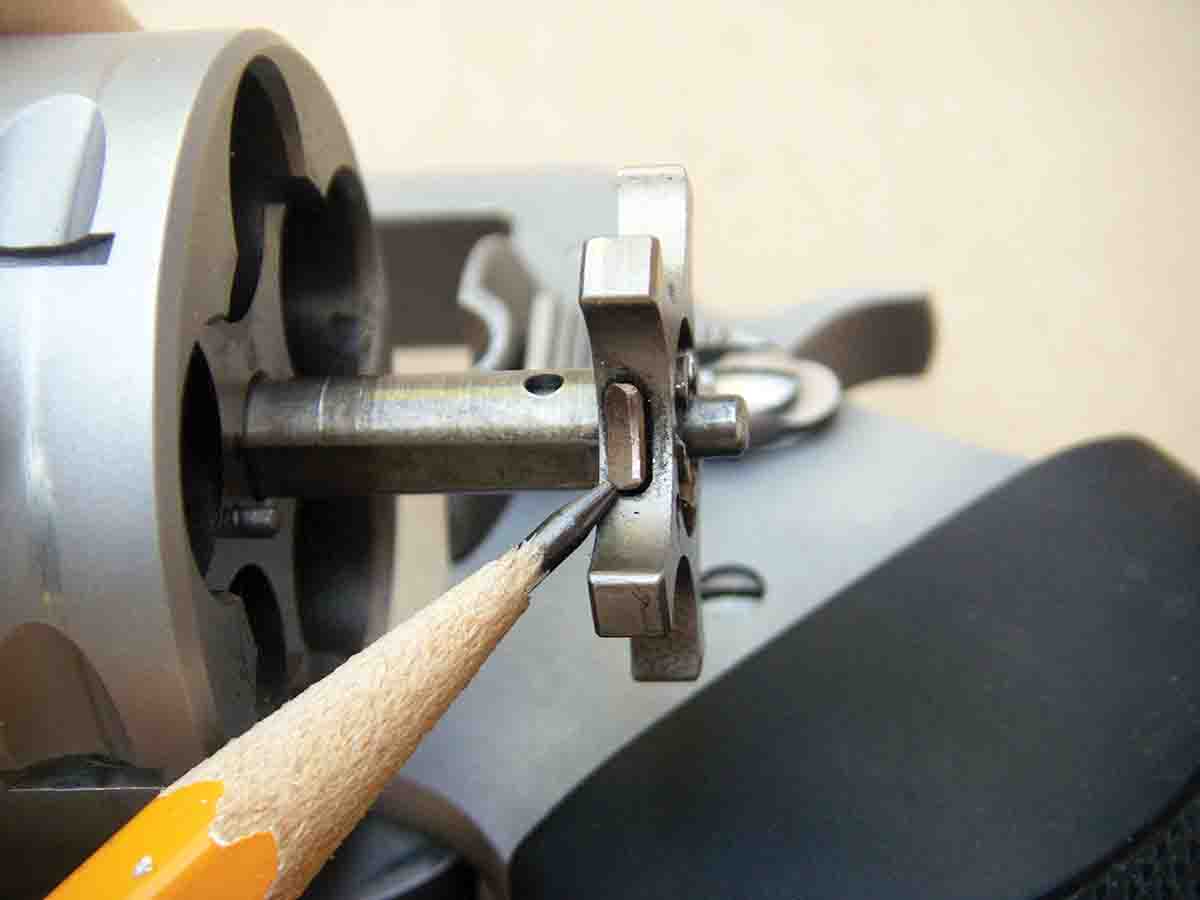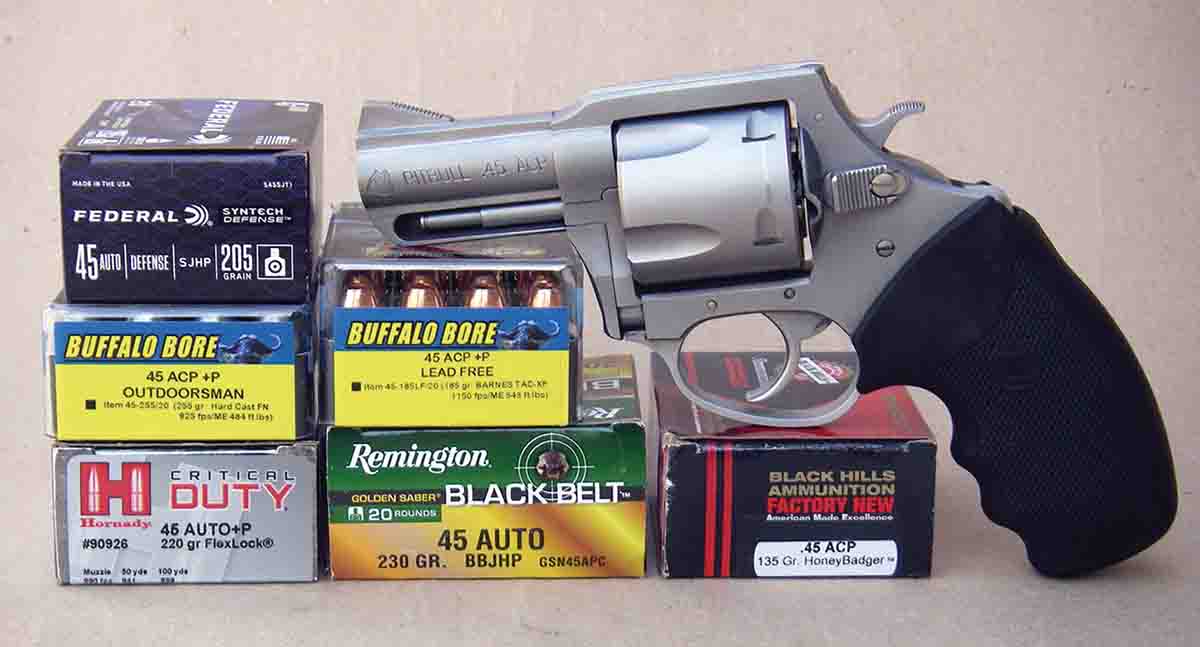 Charter Arms began producing firearms in 1964 with manufacturing located in Stratford, Connecticut. Its first gun was the Undercover, a small frame, five-shot double-action revolver chambered in .38 Special that competed directly with the Smith & Wesson (S&W) Chief Special Model 36, but at a notably lower price. The company enjoyed considerable success and soon introduced additional models that included the Pathfinder .22, Bulldog .44 Special and many others. For various reasons, the company ultimately moved operations to Ansonia, Connecticut, and unfortunately closed its doors in 1991.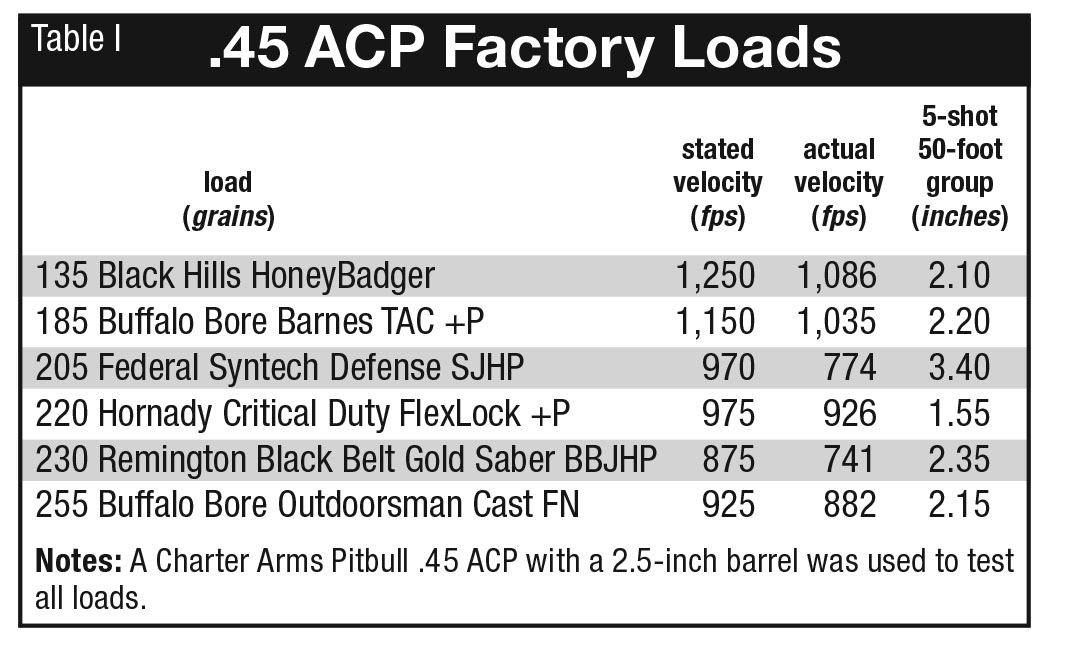 Beginning in 1998, Charter 2000, Inc., began producing guns, but today it's known as Charter Arms, and guns are produced in Shelton, Connecticut. While the basic design is very similar to the original, there are minor design changes, along with many new models that are chambered in a variety of calibers that range from .22 Long Rifle to .45 ACP. There are many finish options, colors, etc., and even lightweight alloy frame variants.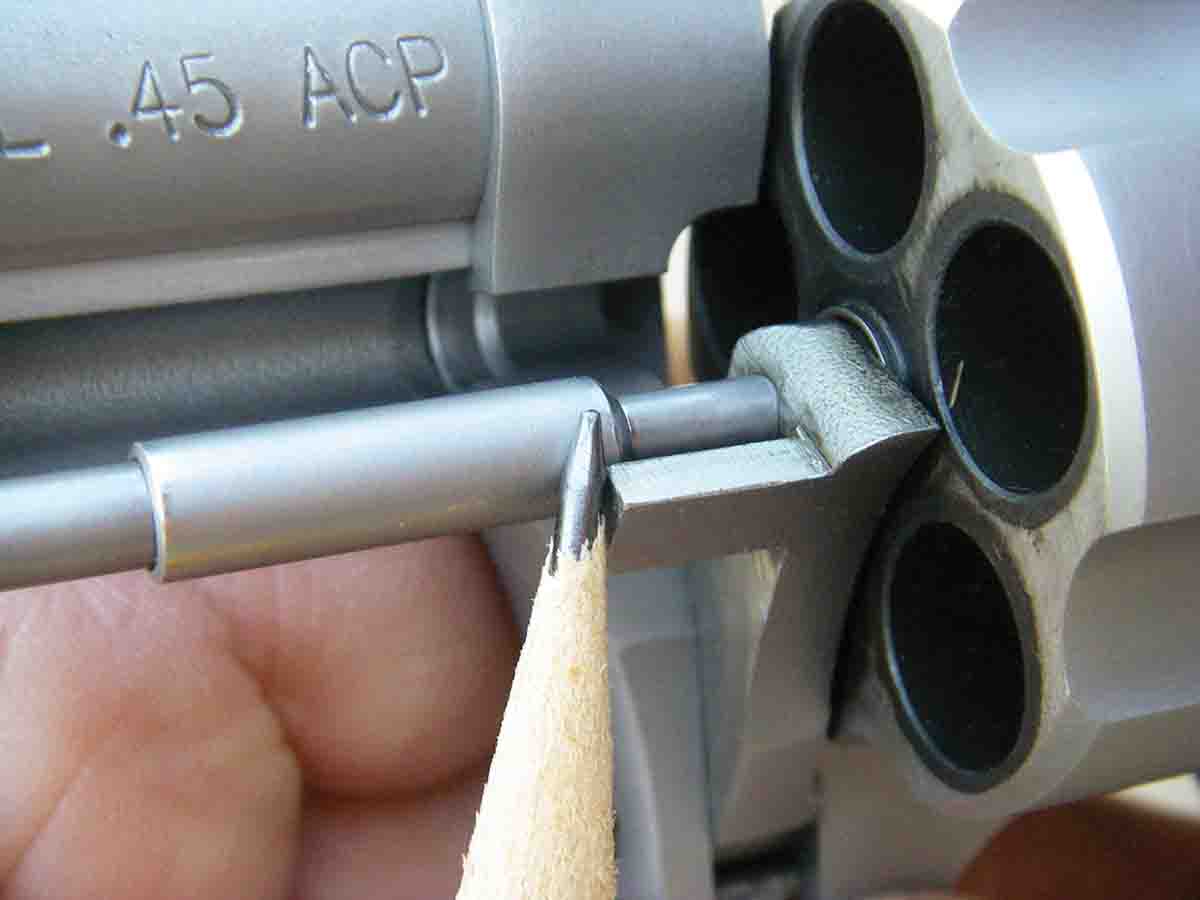 As indicated, this review is of the Pitbull chambered in .45 ACP, a potent and effective so-called snub-nose revolver. With so many excellent self-defense loads available for this cartridge, it makes perfect sense. Even if premium loads are not readily available, run-of-the-mill loads are still effective due to the large caliber and bullet weight associated with the .45.
The Pitbull is offered in several configurations, finishes and fixed or adjustable sights. In addition to the .45 ACP, it is chambered in .380 Auto, 9mm Luger and .40 S&W. Naturally, it can be fired in either single-action or double-action modes.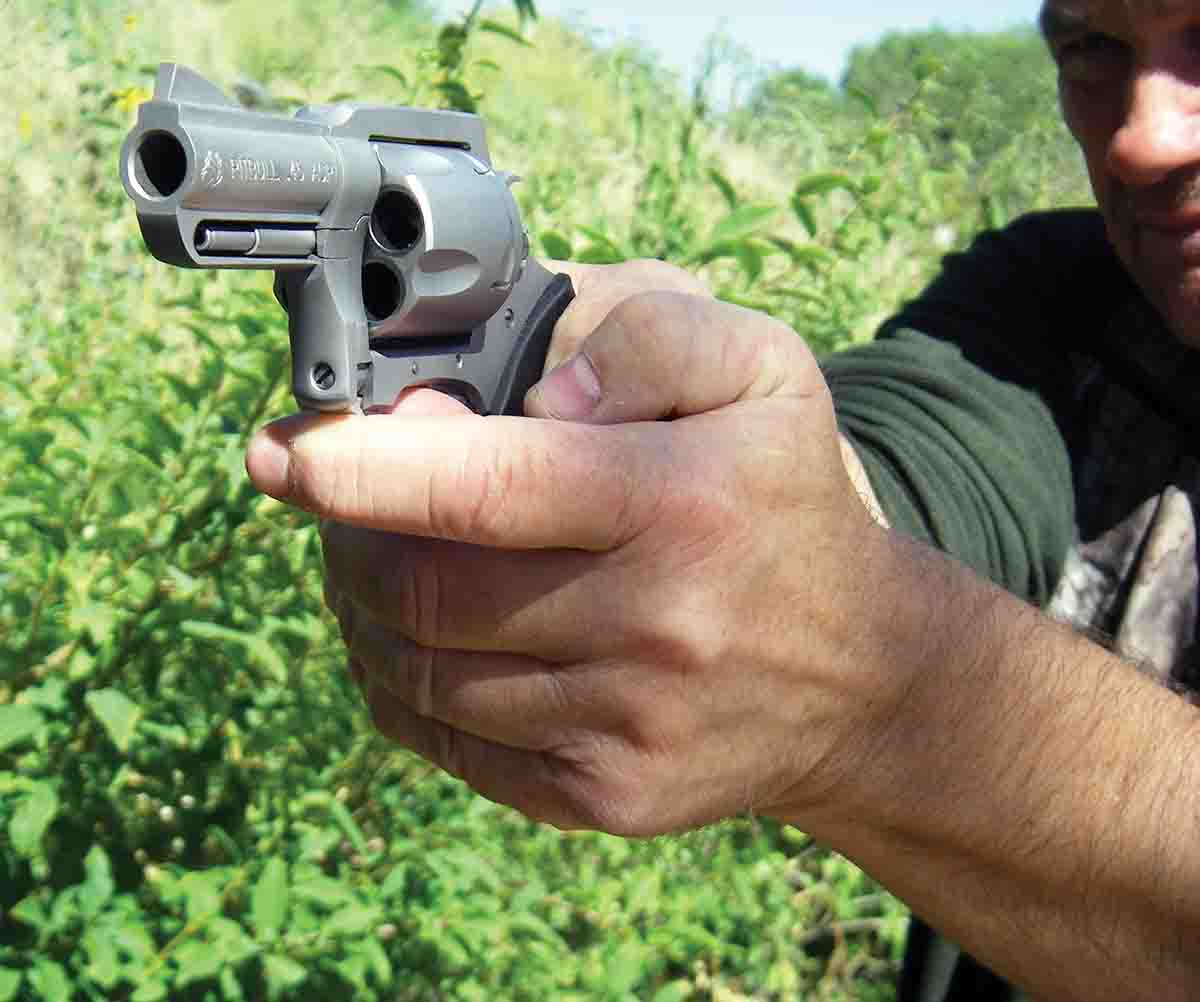 One of the Pitbull revolver's standout features includes a coil spring system located inside the extractor assembly that actuates small clips that automatically position in the case extractor groove when cartridges are inserted into the chambers. After cartridges are fired, cases can be reliably extracted with a single stroke of the ejector rod. In other words, there is no moon clip required. Rather, cartridges can simply be loaded directly into the chambers, fired and extricated, the same as rimmed revolver cartridges. Charter Arms also cuts the chambers for cartridges to headspace correctly on the case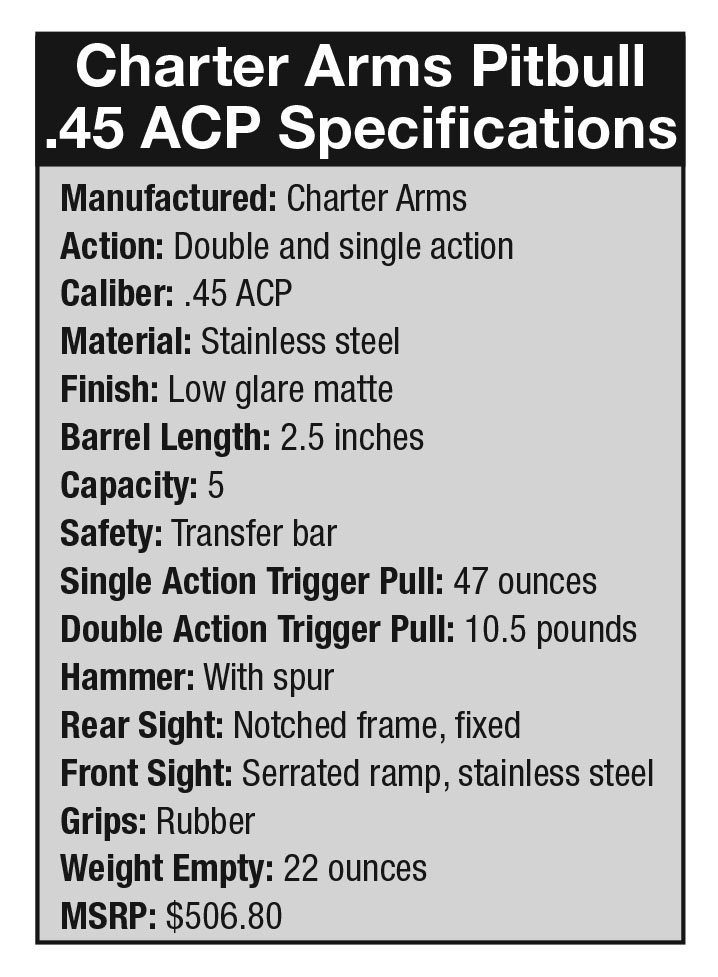 mouth, which results in reliable primer ignition, etc. The system worked positively on the sample revolver. It is noteworthy, however, that cartridges must be pushed into the chambers to get past the coil spring system. Occasionally, when ejecting empty cases, one would stay in the chamber; however, this was not a problem. In other double-action revolvers, when a case gets under the ejector it takes a moment to carefully remove it, but the Charter Arms ejector assembly will automatically slip back over the remaining case's rim. This allows it to then be ejected normally on the second stroke of the ejector rod. In short, it is a good design.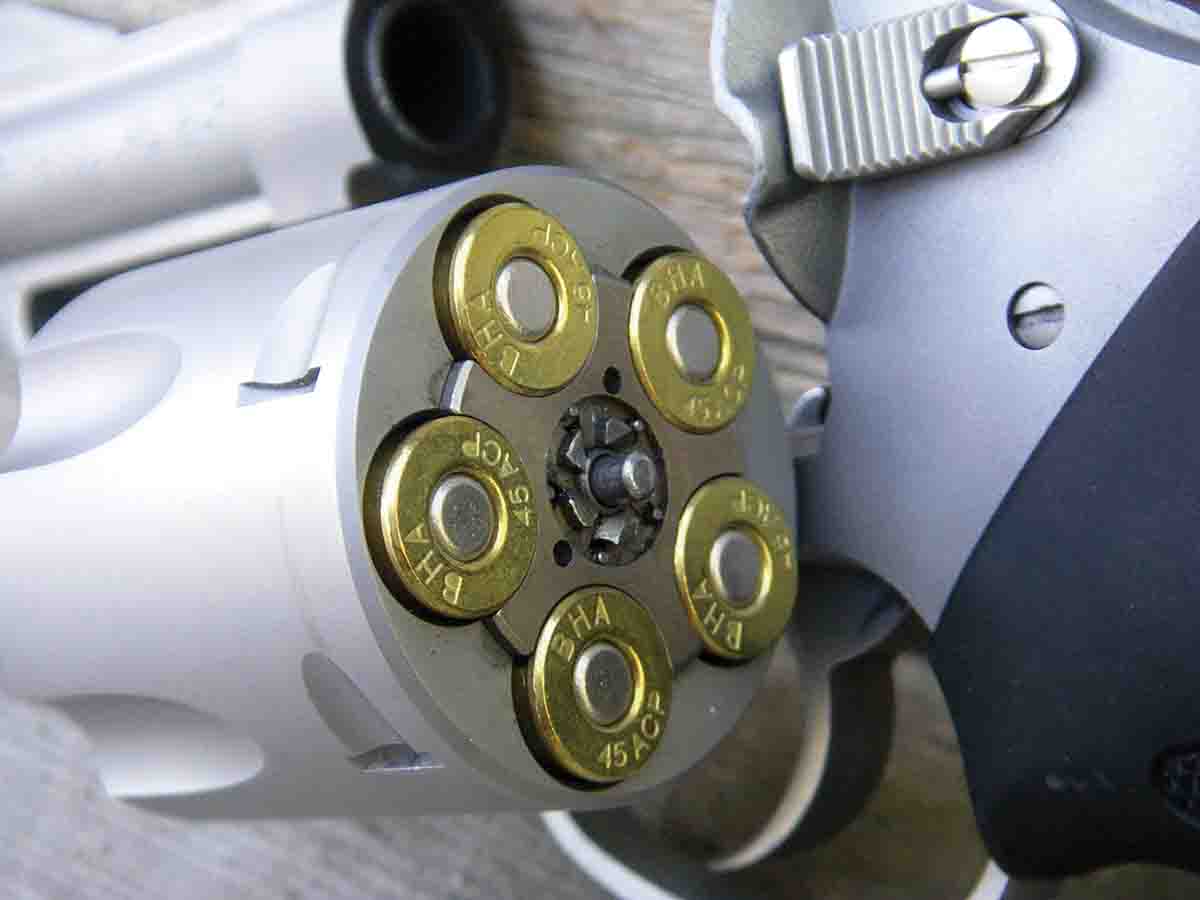 Like all Charter Arms revolvers, cylinder rotation is clockwise, which is the same as Colt double-action revolvers and opposite of S&W revolvers. The cylinder locks into the frame via the familiar spring-loaded center pin located at the rear of the cylinder while a shroud that encompasses the ejector rod locks into the front of the frame. The barrel/cylinder gap measures .008 inch and cylinder end-shake is acceptable. The chamber throats measure .453 inch. Empty weight is just 22 ounces. Single-action trigger pull broke cleanly at just under 3 pounds while the double-action pull was just over 10 pounds. Incidentally, when the gun was new there was just slight resistance midway through the double-action pull. However, after testing factory loads and handloads, the action smoothed out and is now working as slick as a whistle.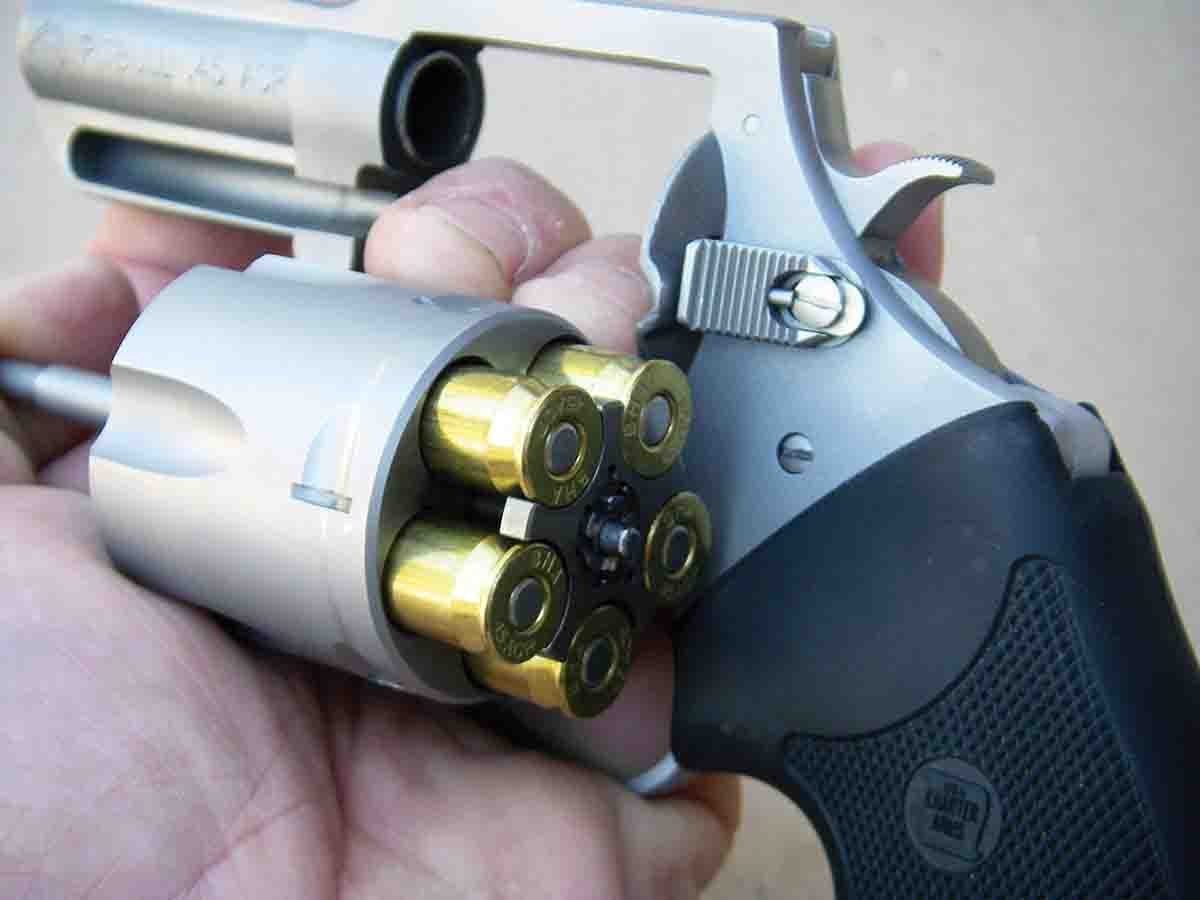 The ramped front sight is .150 inch wide and features crosscut serrations while the rear sight is .185 inch wide and .090 inch deep. This results in a good sight picture; however, being matte stainless, they are rather gray and not highly visible under all lighting conditions. I would like to see the front sight blackened, but there are several options for the do-it-yourselfer to color the sight as desired.
The first few shots fired only gave mediocre accuracy. However, as the barrel began to wear-in, the groups shrank and the gun began producing respectable accuracy, especially considering that it is a fixed-sighted gun with a 2.5-inch barrel. Using various 230-grain JHP bullets pushed to velocities of around 750 to 950 feet per second (fps), groups at 50 feet were slightly to the right, but not enough to be important in a defensive situation. For another shooter in my house, the gun shot right to point of aim.
Six factory loads were checked for accuracy. The most accurate was the Hornady 220-grain Critical Duty FlexLock +P at 926 fps that produced one five-shot group that was just over 1.5 inches at 50 feet. Black Hills Ammunition's 135-grain HoneyBadger load produced the highest velocity at 1,086 fps and also gave good accuracy. Another interesting factory load is Buffalo Bore Ammunition's Outdoorsman 255-grain cast FN at 882 fps that grouped into just over 2 inches. This load offers excellent penetration and might be considered if the Pitbull is used in the field.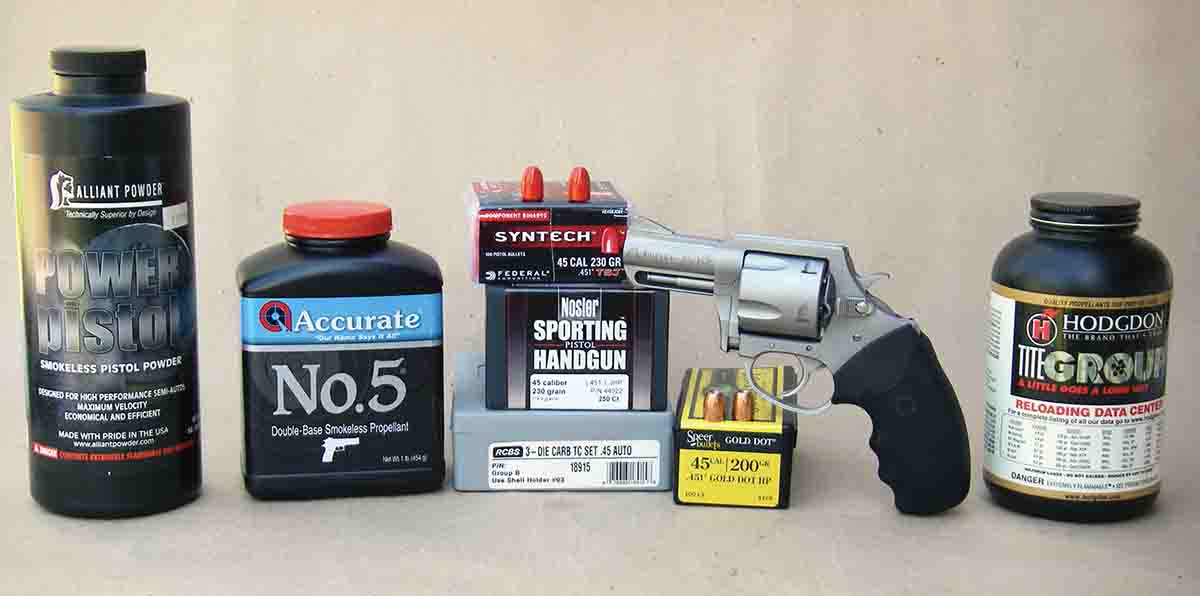 Moving on to handloads, Starline cases were used and were capped with CCI 300 primers. The new cases were full-length sized using RCBS dies with carbide sizing die, and case mouths were expanded just enough to allow bullets to seat without damaging the bullets. After the cases were charged with powder, the bullets were seated to correct overall lengths, then as a separate step, a taper crimp was applied that measured .470 inch at the mouth.
The 200-grain Speer Gold Dot hollowpoint bullet was pushed to 895 fps using 6.0 grains of Hodgdon Titegroup powder. Recoil was modest and one group was recorded that measured 1.25 inches at 50 feet. The 230-grain Federal Syntech bullet was pushed to 895 fps using 8.8 grains of Accurate No. 5 powder. Groups all measured well over 3 inches; however, accuracy was good enough for any personal defense situation. The most accurate load tried consisted of the 230-grain Nosler Sporting jacketed hollowpoint bullet pushed to 941 fps using 8.2 grains of Alliant Power Pistol Powder, which produced one group that measured 1.10 inches.
I was pleased with the overall function and performance of the Charter Arms Pitbull .45 ACP. There were no misfires and the gun proved reliable. While MSRP is $506.80, street prices, at least under normal circumstances, were running less than $400. If you are considering a reliable, big-bore, compact revolver with a modest price, it is worth a look.