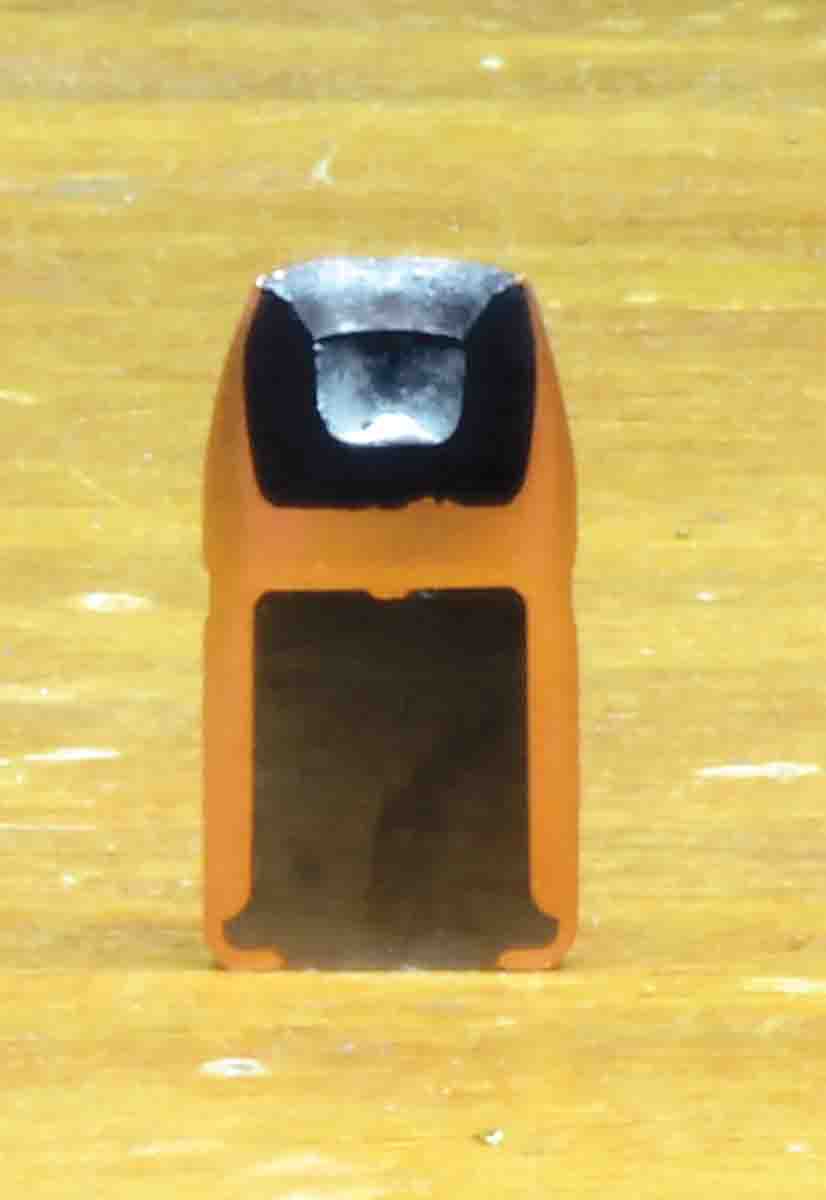 By offering the necessary tools and supplies for making premium-grade jacketed bullets, Dave Corbin of Corbin Mfg. has long blazed a trail for those with the ambition to produce unique designs and start their own small businesses. Among the more imaginative was Lee Reed of Quinter, Kansas, who introduced the A-Frame bonded-core rifle bullet around 1984. An integral frame in the thick copper jacket separates a soft lead core into two sections, with the front section bonded to the jacket.
Reed's timing was good because Bill Steigers was never able to come close to meeting the demand for his Bitterroot Bonded Core (BBC) bullets. I still have 19 of those 7mm bullets remaining from 20 received, along with a note often included by Bill to those of us who purchased them. "To conserve BBC bullets, sight in your rifle with a Nosler Partition of the same weight. Return any left over after your hunt for a full refund, as many other hunters are on my waiting list." Swift Bullet Company is now owned by Bill Hober with the production of A-Frame handgun bullets beginning in 1996.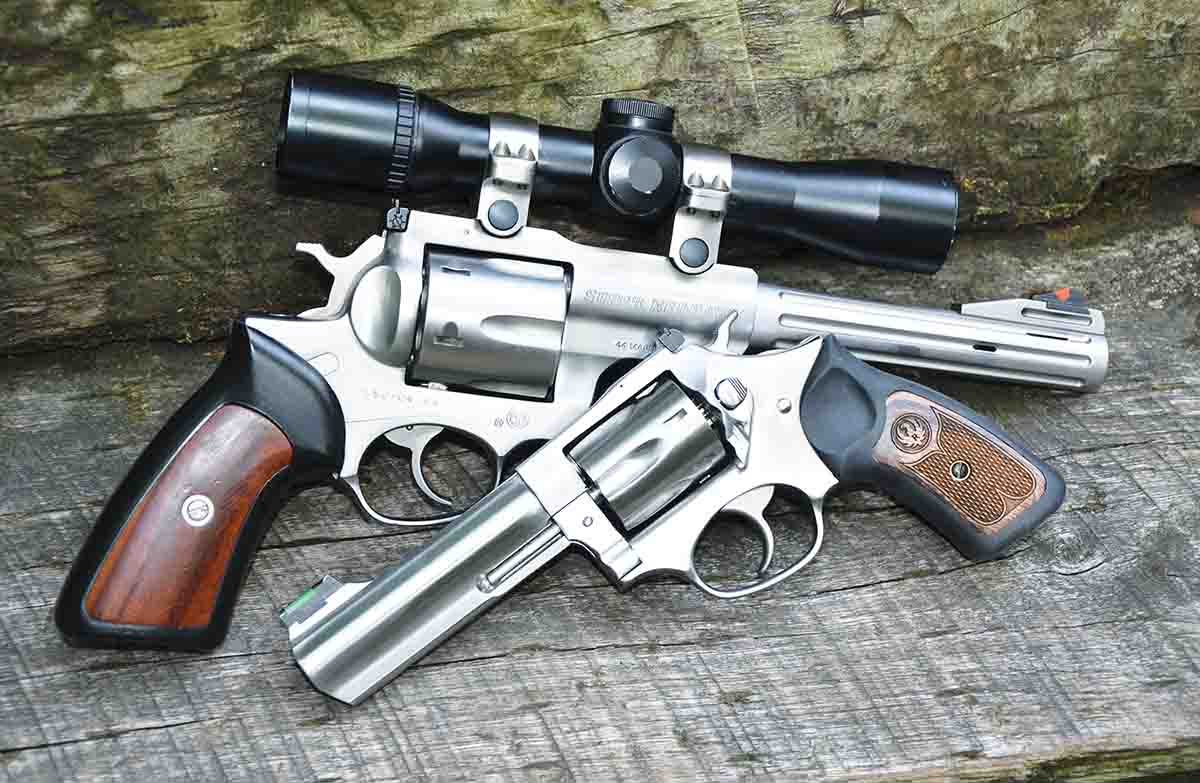 The ideal big-game bullet strikes a perfect balance between expansion and penetration at all reasonable distances. This is extremely difficult to achieve with a bullet of conventional, non-bonded, cup-and-core design. Build it soft enough to expand at the outer fringes of the effective range of a cartridge and penetration may suffer at close distances where velocity is high and expansion becomes excessive. Design the bullet to hold together and expand up close while driving deep, and it may expand very little or not at all at lower downrange impact velocities. Encountering heavy bone can virtually destroy such a bullet.

The A-Frame is a "do-it-all" bullet that accomplishes everything those of us who hunt with handguns could possibly desire. Positioning 80 to 85 percent of its weight behind an integral partition of the jacket along with controlling frontal diameter during expansion to no greater than about 40 percent larger than original bullet diameter, assures through-the-vitals penetration at distances ranging from muzzle-close to as far away as game is commonly taken with handguns. This also applies to the higher velocities of rifles chambered for handgun cartridges. And yet, at low-impact velocity, the frontal surface area of an expanded A-Frame remains large enough to plow a devastating wound channel through tissue and heavy bone.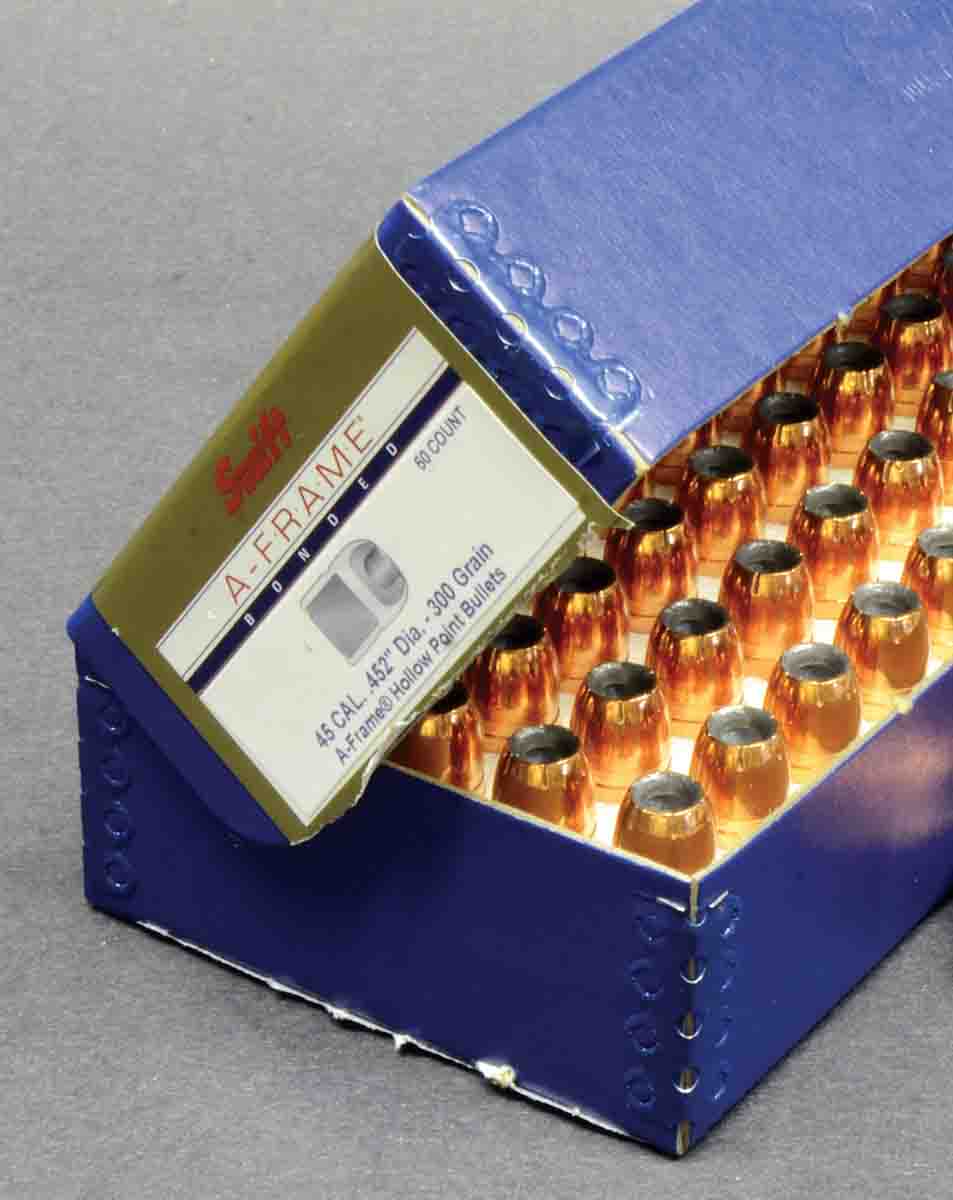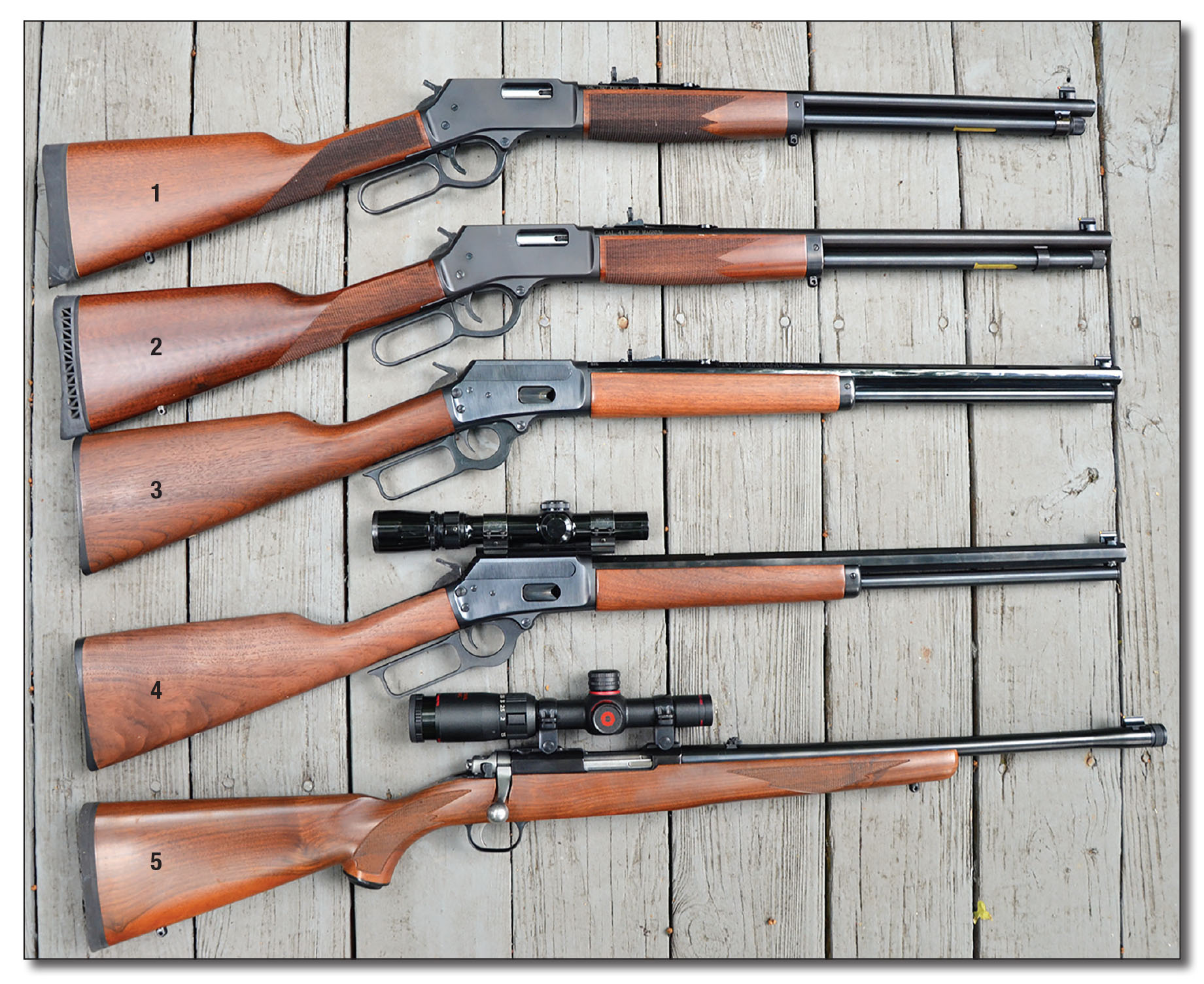 Due to a wide and deep nose cavity along with thinning and skiving the jacket at the nose, the A-Frame expands quickly on soft targets such as deer. And with 90 percent or so of retained weight continuing to push the expanded section forward, hunters will find most resting against the offside hide of larger game such as moose, elk and big bears. The expanded section of a bullet with a brittle gilding metal jacket has a tendency to shear off when encountering bone, with the result being a long but narrow wound channel. Bonding the soft front core of the A-Frame to the thick copper jacket causes it to fold back while remaining intact with very little difference in expanded frontal diameter at both high and low impact velocities.
Add it all up and you have a bullet that performs as well on a 100-pound whitetail deer in South Texas as on a 1,000-pound Alaska-Yukon moose. The unique design makes A-Frame bullets equally suited for cartridges capable of wide variations in velocity. As an example, the .44-caliber, 240-grain A-Frame performs the same when fired at high velocity from a .444 Marlin rifle as it does at slower velocities from revolvers in .44 Special and .44 Magnum. A-Frame performance can also increase the effectiveness of some cartridges enough to possibly move them up a notch in the size of game they can reliably handle. A pig-shooting friend of mine swears this is true when the new 100-grain A-Frame is fired from his Henry Big Boy rifle in .327 Federal Magnum.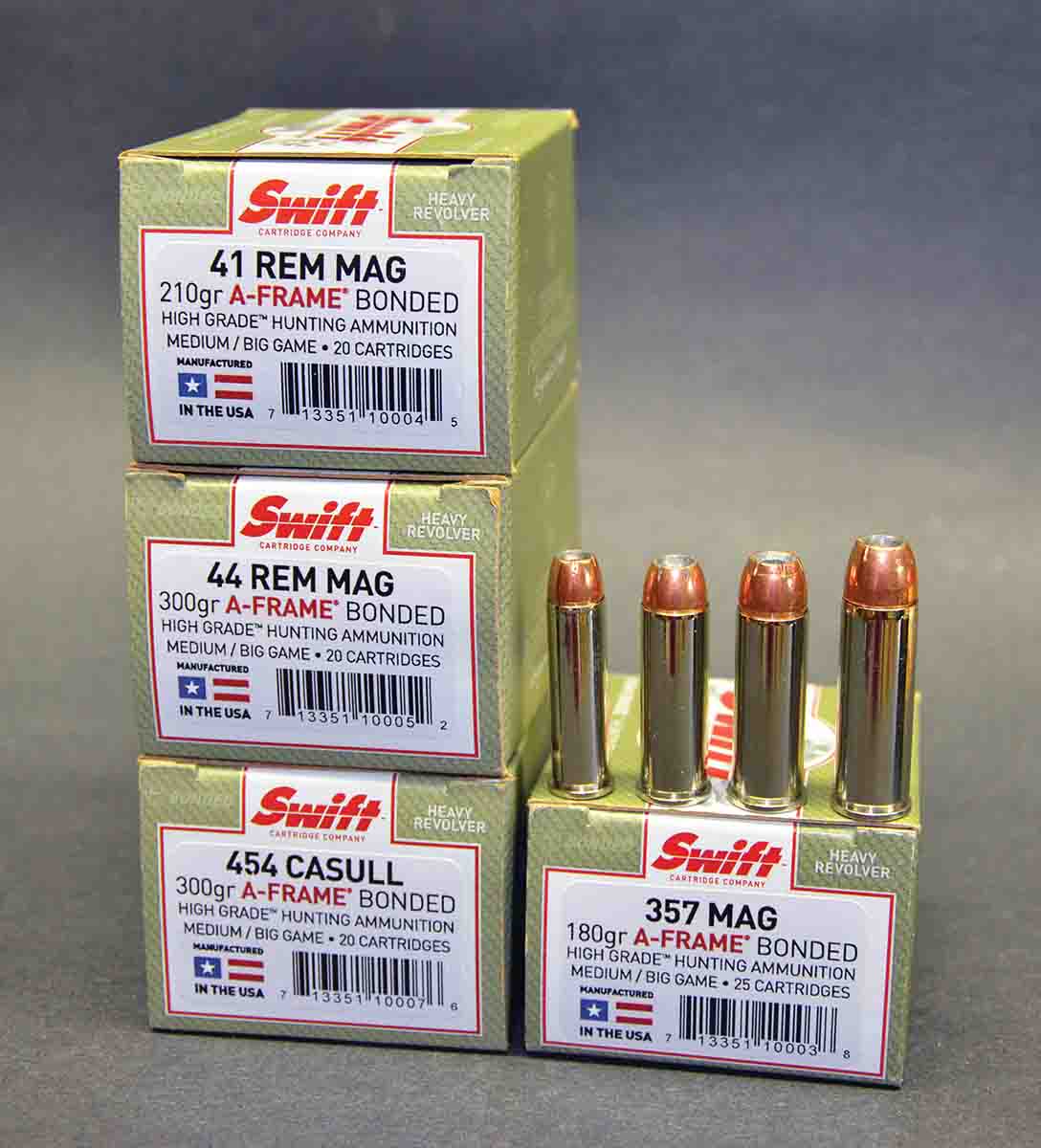 A-Frame handgun bullets are not for handguns only, as they are also excellent choices for taking game with other types of firearms. My best whitetail deer fell to a .50-caliber inline muzzleloader and two, 50-grain Triple-7 pellets pushing a saboted .45-caliber, 300-grain A-Frame from its muzzle at 1,500 fps. The buck was quartering slightly away at a laser-ranged 223 yards and the A-Frame came to rest against the offside shoulder. The deer stumbled three steps forward and dropped. Impact velocity of the bullet was about 975 fps and it had expanded beautifully. I never cease to be impressed by the amount of damage delivered by a slow-moving, large caliber bullet that expands to a large and relatively flat frontal surface.
A friend who was hunting in the area heard my shot and arrived to shoot photos and assist in field dressing the deer. While his description of the interior damage as equivalent to a .300 Winchester Magnum might have been an exaggeration, he was not far off.

Then there was a hunt for barren-ground caribou in the Northwest Territories of Canada. Having previously taken good bulls with flat-shooting rifles and long-range handguns, I decided that getting close enough to take one with a Marlin Model 444 in .444 Marlin would be both challenging and fun. My handload with H-322 pushed the Swift 280-grain A-Frame along at close to 2,200 fps, and prior to the hunt I had checked its trajectory by shooting targets placed in 50-yard increments out to 300 yards. Five-shot groups at that distance averaged around 5 inches. Residual velocity and energy were 1,040 fps and 900 foot-pounds. Zeroing the rifle 3.5 inches high at 100 yards and using the first and second hash marks on the lower quadrant of the Ballistic Plex reticle of a Burris 3-9x Fullfield scope put me dead on at 250 and 300 yards.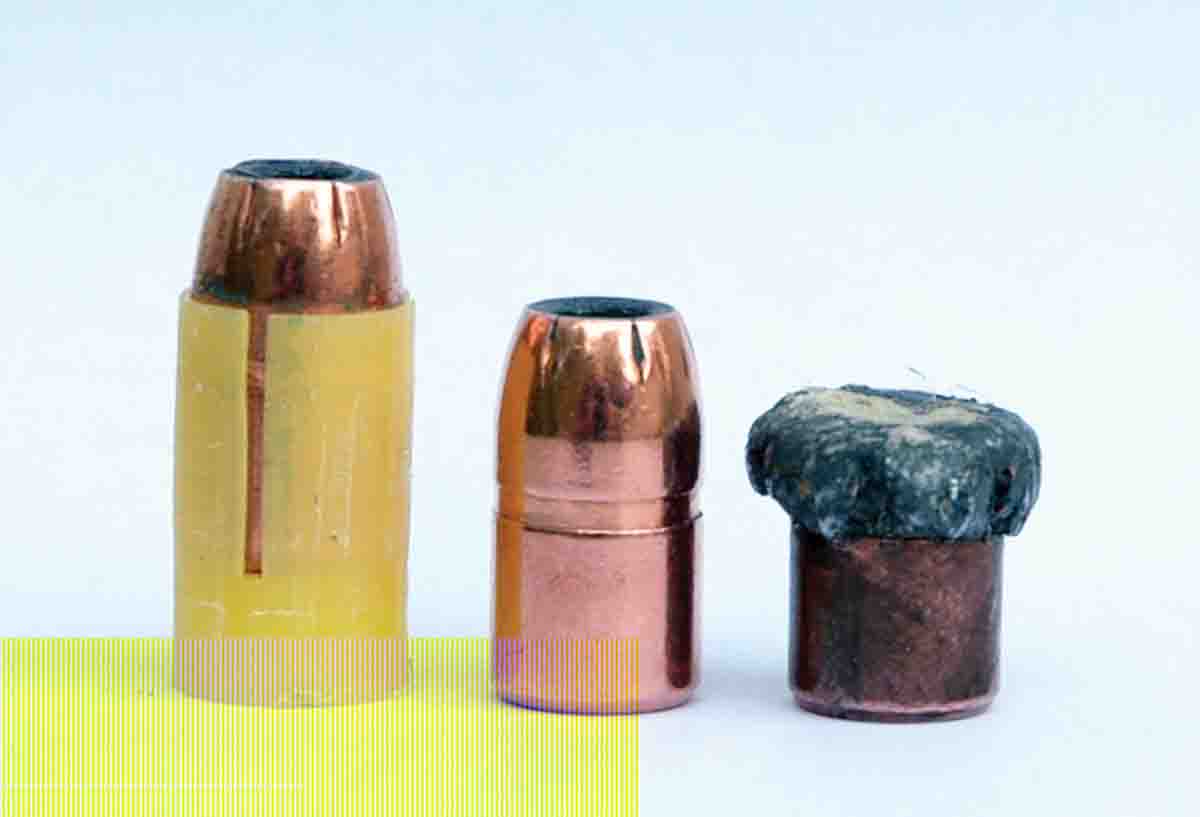 With a laser rangefinder in my pocket along with bit of luck in judging drift on windy days, I felt confident in my ability to place a bullet where it had to go at distances not commonly associated with a rifle and cartridge designed for fairly close shots in wooded country. On our fifth day out, my guide and I spotted a magnificent bull with my name on it and managed to close the distance to 240 yards. Going prone and resting the Marlin on my daypack, I placed the first hash mark on the bull's shoulder, held about six inches into the wind and concluded a wonderful hunt.
The 180- and 200-grain 10mm bullets and the 100-grain .312-inch bullet are the latest A-Frames to be introduced by Swift. While the latter was developed specifically for the .327 Federal Magnum and .32 H&R Magnum, it should work equally well in the .32-20 Winchester. It delivered excellent accuracy from a Ruger SP101 and a Henry carbine in .327 Magnum. Federal Premium ammunition loaded with this bullet is in the works.
Designing an expanding bullet to be fired from a revolver is a piece of cake compared to coming up with one that will feed reliably in dozens of semi-automatics of many different designs from many different companies. It presents no big hurdle for a company with the capital to acquire a room full of pistols to use when determining what bullet shape feeds reliably in all of them. Federal long ago did just that when designing and developing bullets for the 10mm Auto. For many years, Federal Premium .357 Magnum, .41 Magnum, .44 Magnum and .454 Casull ammunition has been loaded with A-Frame bullets, and after making the decision to add a Premium loading of the 10mm Auto with a 200-grain A-Frame, the company shared optimum ogive profile information for a 10mm bullet with Bill Hober. Except for the difference in weight, the 180-grain version is the same.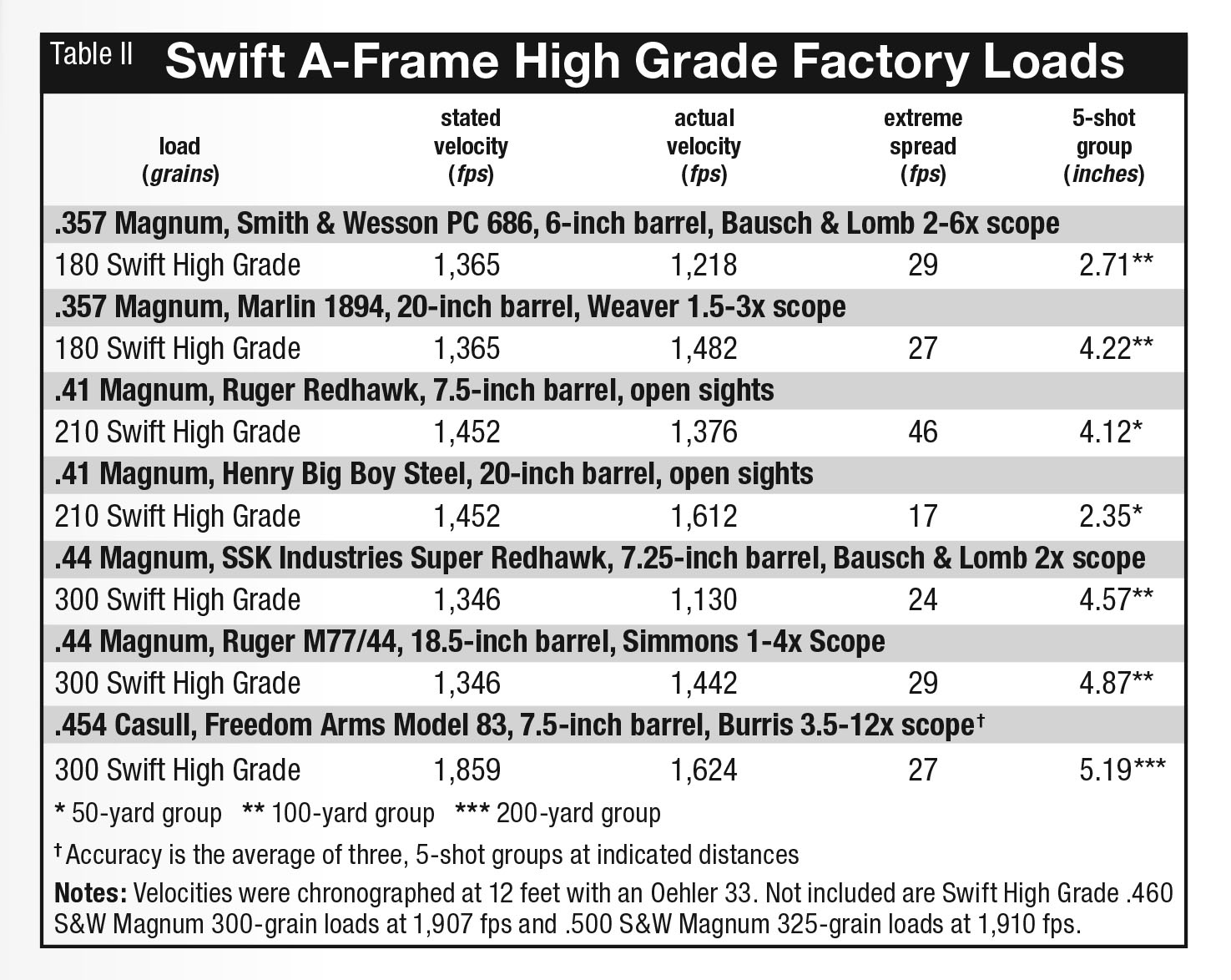 I have several 10mm handguns and while a Colt Delta Elite has always been quite finicky about the bullets it will feed reliably, it has not missed a lick with my handloads with the two A-Frame bullets. The Ed Brown 1911 LS10 test gun also proved to be fond of this bullet. The Ruger Super Redhawk and Ruger Blackhawk Convertible are available in 10mm Auto, and the Swift bullets also proved to be quite accurate from my Super Redhawk with a 6.5-inch barrel.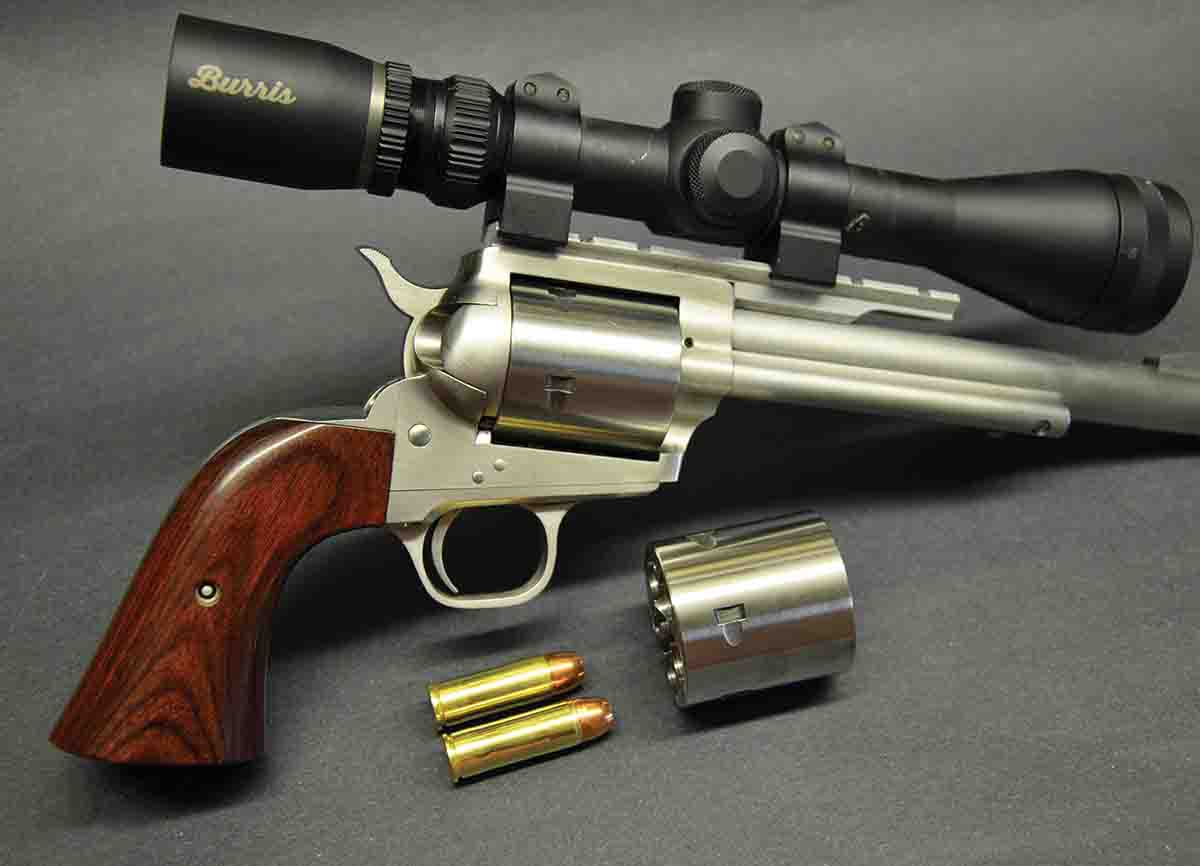 Due to A-Frame bullet construction along with the softness of its jacket, accuracy is often best with loads that generate maximum, or near-maximum, chamber pressure. That level of pressure and velocity can sometimes be reached with a grain or two less powder than required behind bullets of more conventional design and construction, although maximum powder charge weights for some A-Frame bullets in the Swift reloading manual are about the same as in the latest Hodgdon Annual Manual.
As an example, maximum charges of H-110 behind the 280-grain A-Frame in the .44 Magnum are 20.3 grains in the Swift manual and 20.5 grains in the latest Hodgdon manual. On the other hand, maximum charges of H-110 behind the 325-grain A-Frame in the .454 Casull are 28.7 grains in the Swift manual and 26 grains in the Hodgdon manual. Data published by both companies were developed in pressure barrels with Sporting Arms and Ammunition Manufacturers' Institute (SAAMI) minimum chamber and bore dimensions, so this proves that even pressure barrels don't always agree. When shooting the various A-Frame bullets, I used Starline cases exclusively, and they were the excellent quality handloaders have come to expect from that company.
Perhaps a few comments on the test guns would be of interest. Many years ago, I placed an order for a Freedom Arms Model 83 in .454 Casull to be used on an upcoming hunt for moose and bear in Alaska. The only one with a 7.5-inch barrel in stock was in .45 Colt, so I had the company ship a second cylinder in .454 Casull. To make them quick and easy to identify, the front of the original cylinder was given a tiny "45C" marking. Exterior lengths are the same but as to be expected, the chambers of the .45 Colt cylinder are a bit shorter, making their throats longer. The chambers of both cylinders have throat diameters of .452 inch.
The Ruger SP101 .327 Magnum and the Ruger Redhawk .41 Magnum are factory-original, while the Model 686 .357 Magnum was built by the Smith & Wesson Performance Center. The Super Redhawk in .44 Magnum was fine-tuned by SSK Industries. Cylinder gap was reduced to minimum by setting back the factory barrel. Cylinder end shake is undetectable and it locks up with zero rotational looseness. Chamber throats are .430 inch. Double-action trigger pull is quite smooth, and single-action breaks consistently at 42 ounces with no creep or overtravel.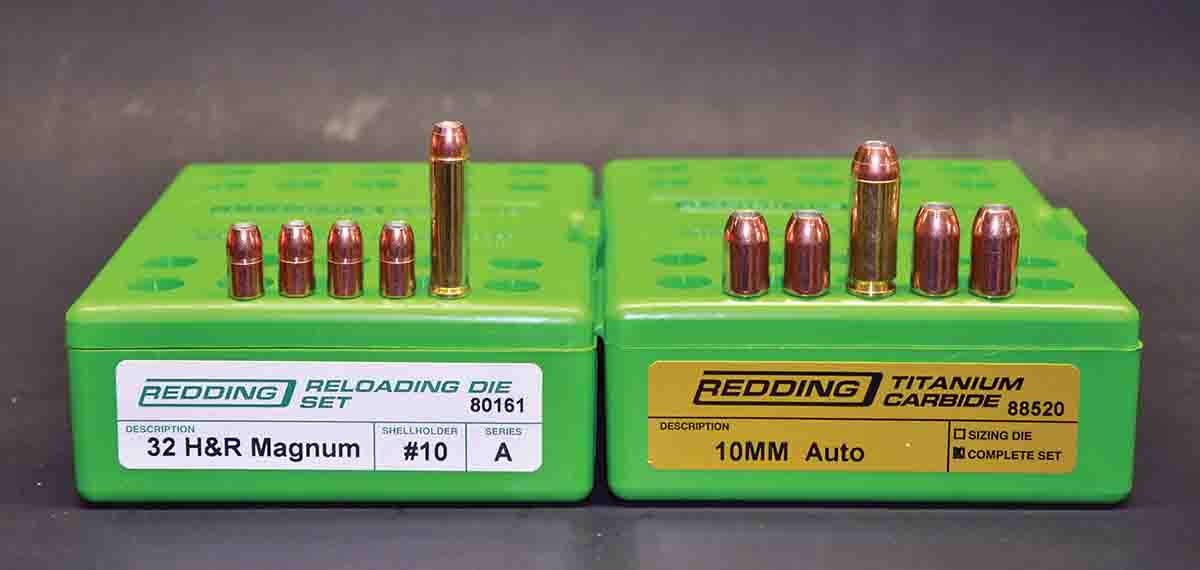 Moving to longer barrels, the Marlin 1894, Henry Big Boy Steel and Ruger 77/44 carbines were included for Handloader readers who reside in states where only straight-wall cartridges are allowed for hunting, and for people who do not live under such a restriction but simply love to hunt with handy little woods rifles.
The Ruger 77/44 .44 Magnum was chosen because its 1:20 twist does a good job of stabilizing the 300-grain A-Frame bullet.
I have Henry rifles in several calibers and have noticed confusion on how the passive safeties work. Unlike the Marlin, the hammer of the Henry does not have a half cock position. With the hammer cocked, pulling the trigger cams a steel transfer bar upward into a vertical slot in the face of the hammer. As the hammer speeds forward, the bar remains in position to transfer the blow from the hammer to the firing pin. If the trigger is released just as the hammer is manually moved forward, the transfer bar drops to its lowered position and the hammer is unable to make contact with the firing pin. If the trigger is held back while the hammer is being carefully lowered to its full-forward position, the transfer bar remains in its elevated position and will contact the firing pin. But since the firing pin is inertia-driven, it is not long enough to make contact with the primer of a chambered round. Releasing the trigger with the hammer down allows the transfer bar to drop to its "safe" position. On the Henry and Marlin rifles, the trigger is mechanically blocked from movement until the finger lever is completely closed.