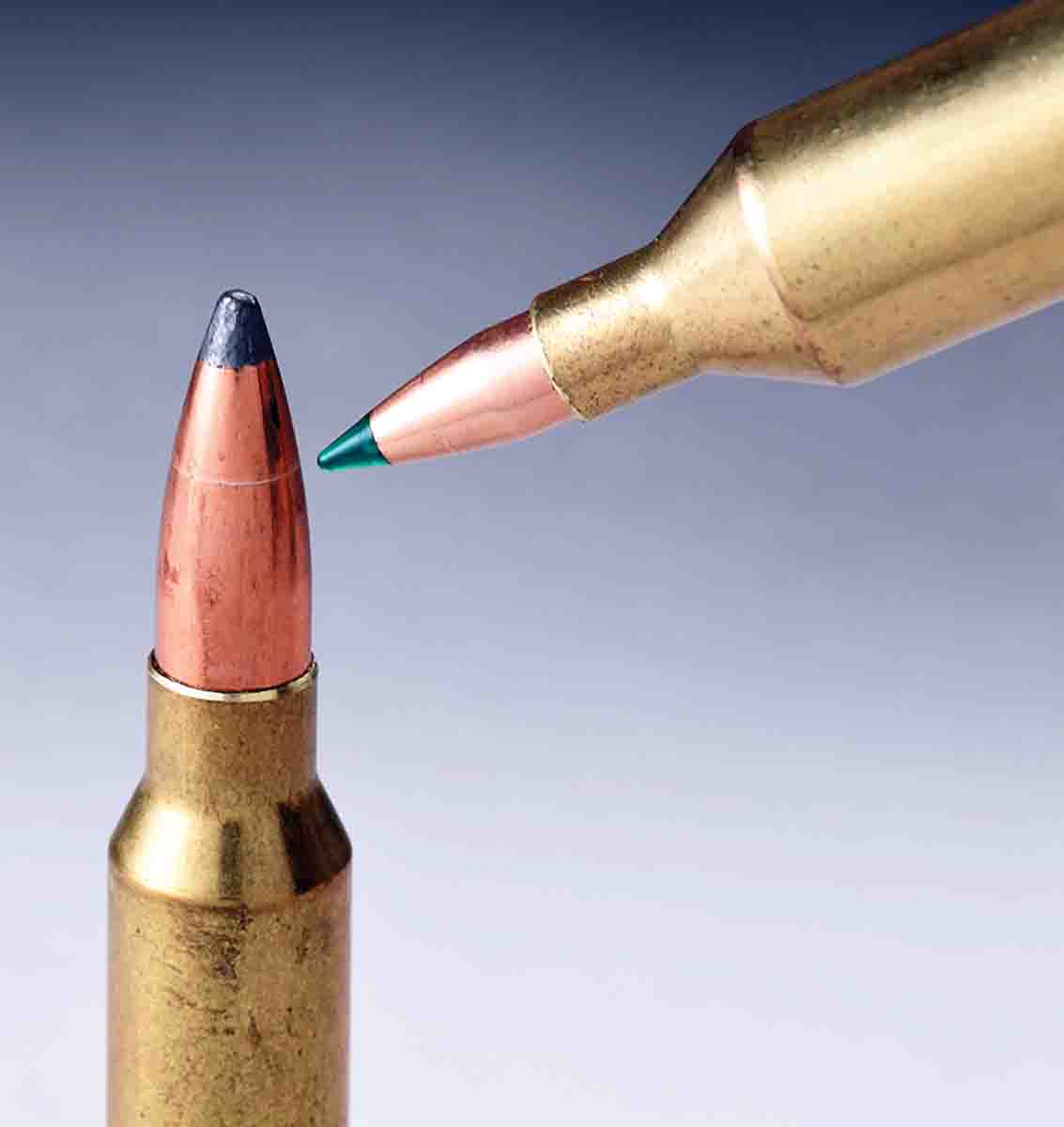 There is nothing like the feeling of gazing on a new box of shining bullets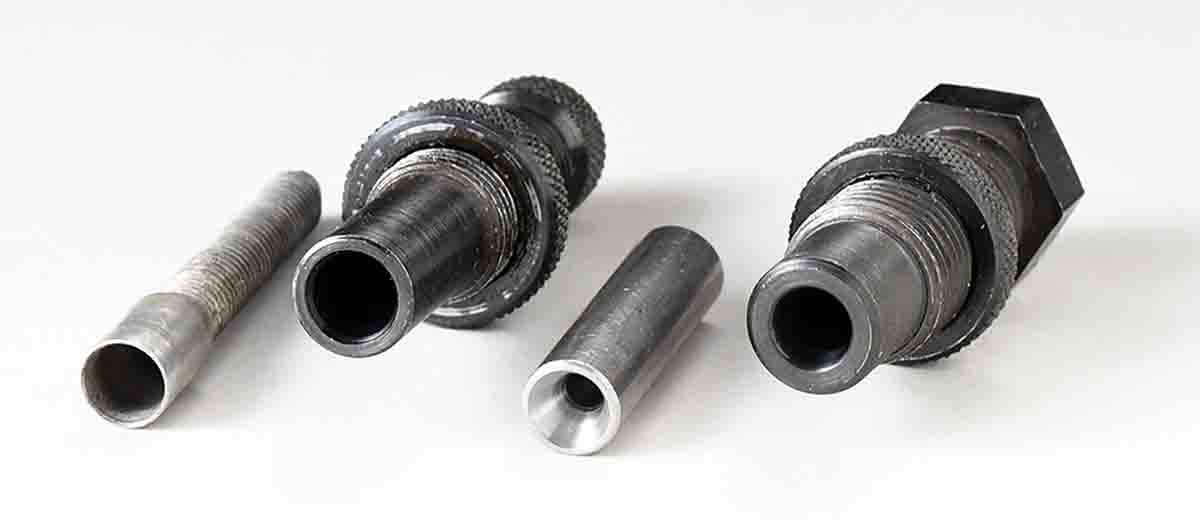 that are perfectly formed with polished surfaces unblemished by human touch. Handloaders are almost giddy with anticipation of how the exquisite gems will perform, and can hardly wait to pull a loaded round out of a seating die to admire the full cartridge. Suddenly, the future is marred by the sight of an ugly scratch or indent plowed around the tip!
The first thought comes in four letters and the next ones are not good. Will the indent affect bullet flight? Will it degrade ballistic coefficient? Could it cause broken petals on expansion? When recovered from the big downer, thoughts go to why it happened and how to prevent it.
One cause of the ring could be lack of an inside case mouth chamfer. This causes a lot of resistance in starting a bullet base into a case mouth, often scraping off some bullet jacket as well. Remember to chamfer new brass and even once-fired factory cases. One exception is Nosler brass, because it comes already chamfered.
The cutting angle on your chamfer tool could be too abrupt for your bullet, again requiring too much force to start it into a case neck. Chamfering tools come with different cutting angles. One is for conventional bullets and another cuts a shallower angle for starting VLD-type bullets.

Another cause for the circular mark could be a case neck and mouth sized too small. Case neck bushing dies are available in .001-inch increments from Redding, Hornady, RCBS and Forster, which allow controlling the amount of neck diameter reduction. Redding recommends .002 inch of neck tension. That means sizing a case neck so that it's unloaded outside diameter (OD) is .002 inch less than the diameter of a neck with a seated bullet. If your sized case necks (without a bullet) are more than .003 or .004 inch under, it could be a problem.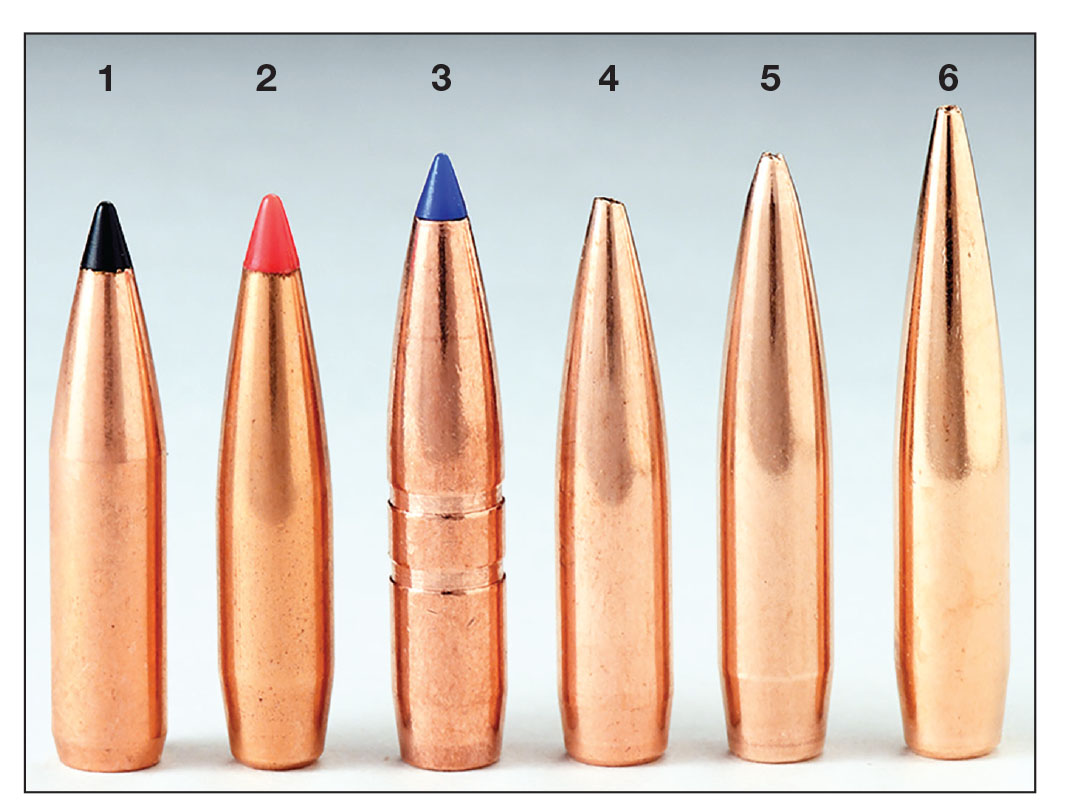 If you think bullets are entering case mouths smoothly, without notable or undue resistance, and are still getting a ring in the nose of the bullet, the culprit is likely the seating stem itself. This problem has come up a lot in recent years with the proliferation of more streamlined bullets having elongated frontal regions. Seating stems in days of yore were shaped for more blunt bullets than many of the ones available today. The convex shape of the nose punch in the seating stem is simply at odds with the shallow-angled shape of a VLD bullet tip. They do not mate up well, and it can work in reverse. A VLD stem might leave a mark on a more blunt bullet.
Some of the newest bullets with the highest ballistic coefficients have extremely elongated and small tips. These bullets bring up another and likely more serious problem in that the unusually slim tips extend so far into a seating stem cavity that bullets are pushed on the tip or meplat during seating. This can cause a cocked bullet, and pushing on a lead or plastic tip can deform it so that bullets are seated to different bullet-to-lands distances. Hollowpoint bullets often have burrs or irregular meplats that further cause an inconsistency. While bullets from a given batch usually have a pretty consistent base-to-ogive length, overall bullet length can vary quite a few thousandths. Pushing only on the tip can cause additional seating depth variation. None of the above deformations and seating depth inconsistencies do anything positive for accuracy.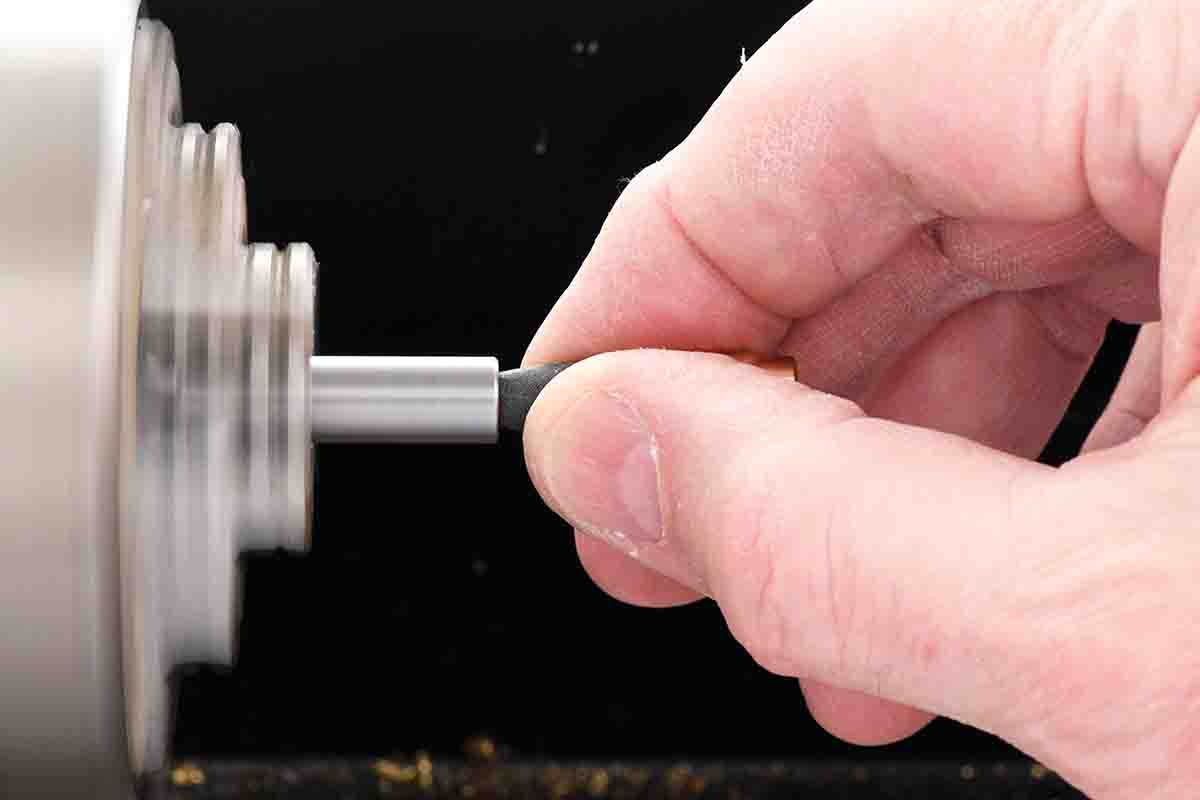 Years ago, when I got the dreaded bullet ring, I fixed it with Brownells Acraglas. I removed the seating stem, degreased the cavity, coated the exterior of the seating stem and bullet with release agent, and then put a small amount of bedding material into the upside-down seating stem cavity. I then inserted the release agent-coated bullet and cleaned off the excess bedding material before it was completely hard. Unless a bullet is resting on its meplat in the cavity, it is held square in the cavity while the bedding material hardens.
The tip of the newly-formed cavity can be relieved with a small drill in a lathe so that seating force is not applied to the meplat. The result of all this was no more ring. Robin Sharpless at Redding said that hot glue also works well, using the same basic principle. Hot glue has some "give" to it so that it may not be necessary to relieve the tip in the cavity.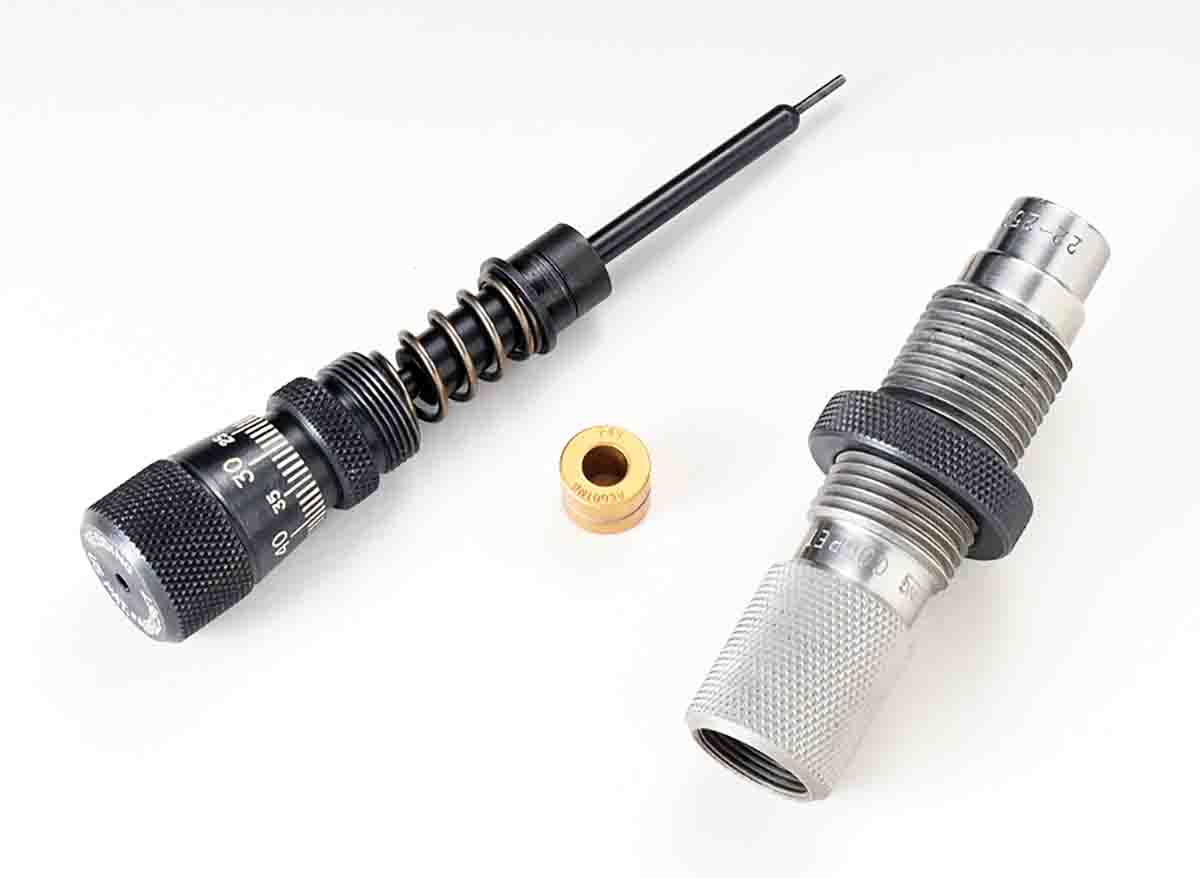 Modifying a seating stem as mentioned results in near perfect contact with only one bullet. However, I have found that such a modified stem also eliminates the ring on bullets other than the one cast into the bedding material. Seating stems are inexpensive and easy to remove so that an original factory stem can replace the modified one if desired.
If you do a bedding material modification, make sure to not get bedding material on the die or seating stem threads, especially where there is no release agent. It's a good idea to check runout on a seated bullet from a modified seating stem before loading a large batch of ammunition. This is a good idea when using any set of loading dies.
It is possible that a bullet ring may be eliminated simply by smoothing off the sharp edge at the stem cavity mouth. Chuck the seating stem in a lathe or drill with the cavity facing out, then wrap a bullet with 600-grit emery paper and push it into the stem cavity to smooth any sharp edge or roughness. Use care not to overdo it and also to maintain alignment.
In recent years, loading die companies have recognized the ring problem and solved it in a couple of different ways. Redding and other loading die makers supply a seating stem specifically for VLD bullets with elongated tips. Only two different seating stems made with the proper interior angles and contact points will cover the problem with most bullets. Tip cavities are also elongated to prevent pushing on bullet tips.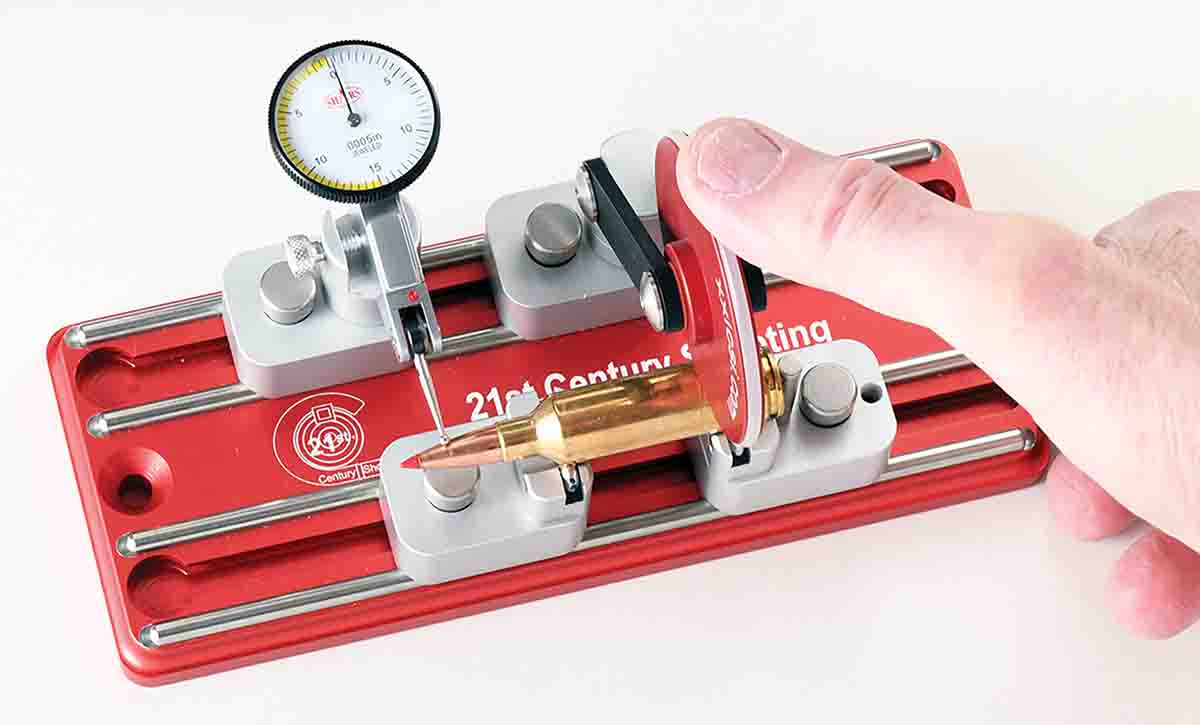 Hornady has gone all out to address the problem by offering multiple seating stems for Hornady dies that are specific to Hornady bullets. These custom seating stems are available for the A-MAX, A-Tip, ELD Match, ELD-X, FTX and MonoFlex bullets.
Lee Precision has an unusual neck sizing die that utilizes a four-petal collet to press a case neck inward onto a mandrel as a press ram is raised, reducing neck diameter. This die has a feature suggested by M.L. McPherson and introduced in 2019 that allows a portion of the case neck to extend above the collet, leaving it slightly larger to allow all bullets to easily enter the case mouth.
The expedient fixes mentioned above using conventional seating stems continue to be viable if you cannot find the seating stem that you want locally, or if you want the most precise bullet fit possible. The exception, of course, to the most precise bullet fit in a factory offering is the Hornady bullet-specific custom stem.