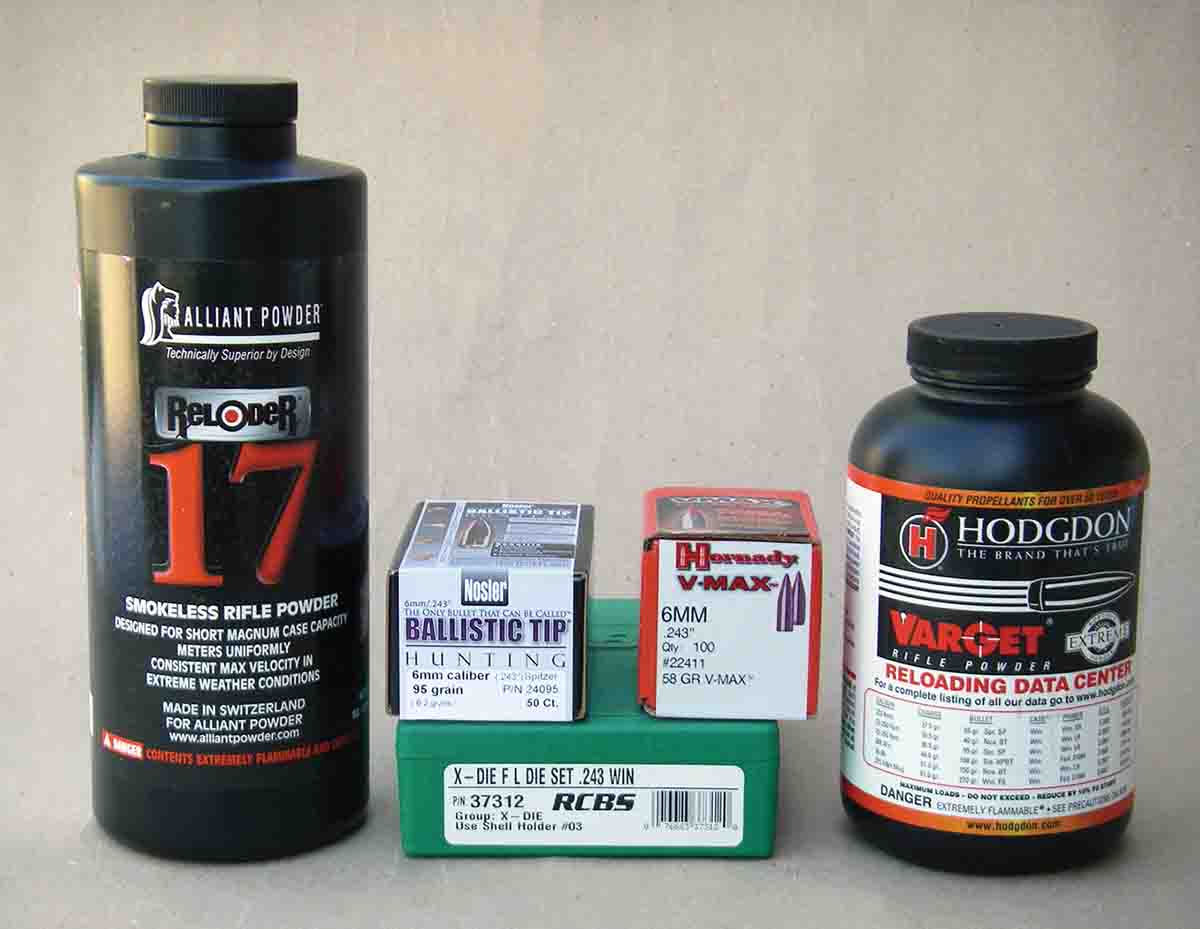 Q: First, let me say how much I enjoy Handloader magazine. There is no other publication that contains so much information for shooters like me.
My main question is: I have several rifles chambered in .243 Winchester. My favorite is a Savage Model 110 with a 24-inch Shilen custom barrel that is used for varmints. I have been using the 58-grain Hornady V-MAX bullet with Hodgdon Varget powder for around 3,700 fps. It is devastating to prairie dogs and other varmints and is very accurate.
I also have a Winchester Model 70 Classic Featherweight and a Kimber Model 84M Montana that are each chambered in .243, which are used for hunting Texas whitetails. I initially developed a load using Varget powder with the 100-grain Nosler Partition bullet, but maximum loads fell short of desired velocities. Can you suggest another powder and load that will duplicate factory load velocities with either the 100-grain Partition or the 95-grain Nosler Ballistic Tip? To simplify my life, is there one powder that will give top performance with both the 58-grain V-MAX and the 100-grain Partition? Any suggestions will be appreciated.
J.B., Waco, TX
A: There are actually a host of top-notch powders that will duplicate .243 Winchester factory loads using 100-grain cup-and-core bullets listed at 2,960 fps (24-inch barrel). A few examples include 41.0 grains of Winchester 760, 41.0 grains of Alliant Reloder 17 or 45.5 grains of Hodgdon H-4831. Naturally, you will want to use a large rifle standard primer and begin 5 percent below those charges, then increase the charge weight while watching for signs of excessive pressure.
Questions similar to your last one are often asked in conjunction with many different calibers, and the answer is usually the same. While there are powders that can give mediocre performance with the 58-grain V-MAX and the 100-grain Partition, the end result remains compromising performance for both loads. One of the primary reasons that we handload is to achieve top accuracy and performance. On my bench, compromises are unwelcome. I suggest choosing a powder that will offer top performance for each task and will be most satisfying. In other words, stick with Varget for your 58-grain varmint loads, but use a slower burning powder for the heavier bullets.
.45-70 Loads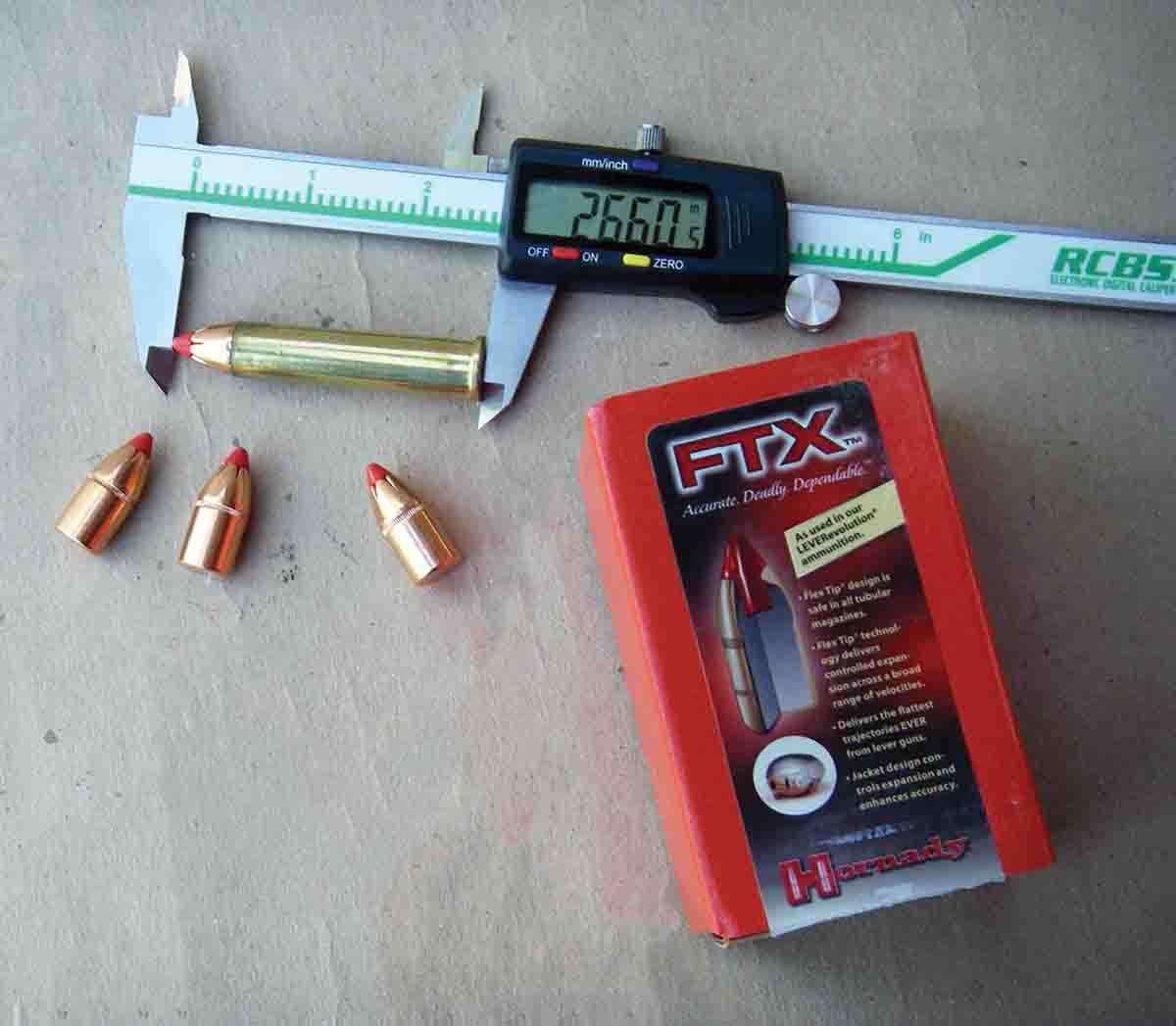 Q: First, I don't have the words to describe how awesome Handloader magazine truly is! Even if I hadn't been stuck in bed the last four years, I always anxiously await each issue!
I recently purchased one of my "bucket list" guns, a Pedersoli Model 71 chambered in .45-70. Due to my injury, I have not yet fired it, but will soon. I would like to use the Hornady 325-grain FTX bullet, and Hornady suggests shortening the .45-70 case to 2.040 inches for an overall length of 2.590 inches. Since the Model 71 action is based on the Winchester Model 1886 action, which was chambered for longer cartridges such as the .45-90 W.C.F., is it possible to not have to trim cases down to 2.040 inches?
I would like to congratulate and thank you, Mr. John Barsness, Mr. Mike Venturino and the Handloader magazine staff for the fantastic work that you do.
J.D.M., via email
A: First, I am sorry to hear about your misfortune, but it is great to hear that you will soon be ready to begin shooting and hunting again. And thank you for your compliments.
I cannot give you a decisive answer regarding the maximum overall cartridge length that a Pedersoli Model 71 chambered in .45-70 will accommodate. I have examined these guns but have not had the opportunity to test and evaluate one. I contacted a Pedersoli importer, but the company could not offer any insight other than that the action is designed for Sporting Arms and Ammunition Manufacturers' Institute (SAAMI) specification .45-70 Government cartridges that are within a 2.550-inch overall length.
Keep in mind that "replica" guns are not always true replicas. It really depends on the specifications that the engineers settled on. At this point, I suggest loading a couple of dummy cartridges using the 325-grain Hornady FTX bullet assembled in full-length .45-70 cases, which will have an overall length of around 2.660 inches if crimped in the middle of the cannelure. Incidentally, you may need to install a primer to prevent the pointed FTX bullet tip from hanging up in the primer pocket of the cartridge in front of it.
If your rifle will not accept or "lift" the longer cartridges up for proper function, you will either need to trim cases or have the rifle modified to feed the longer cartridge. This is not difficult to do, but it's best to have the work performed by a professional.
I hope that you make a full recovery, and thanks for taking the time to read Handloader! And good luck on your hunts!
Reducing Recoil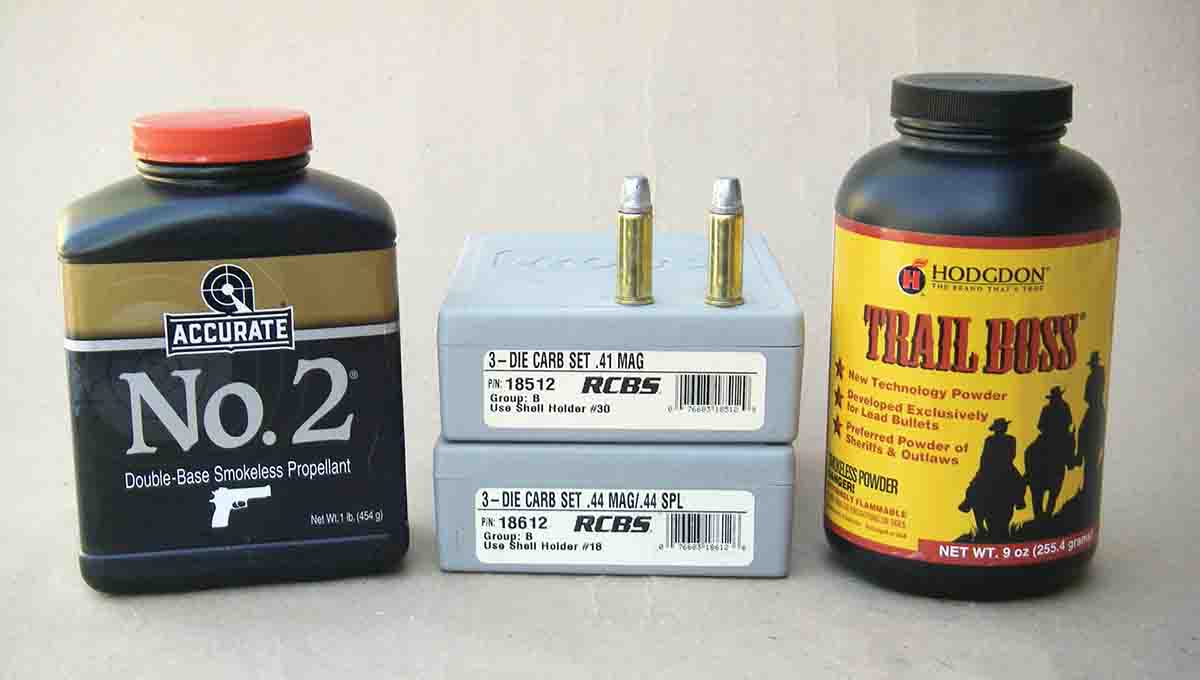 Q: I really would appreciate some vital advice from you. First, I would like to give you some of my background. I came home from Korea (Seventh Marines 1950 and 1951) rather damaged. As an arthritic 91-year old, there is naturally no improvement. Therefore, I am seeking the lowest possible recoil from the .38 Super, .41 Magnum, .41 Action Express, .44 Special and .44 Magnum.
I possess containers of Hodgdon Trail Boss, Accurate No. 2 and Clays. Trail Boss is preferred, but I will obtain whatever you recommend. I also have 500 pieces of Berry's Manufacturing .356 plated bullets. I am not sure if I should use cast bullet or jacketed bullet data with these. Also, I would like to purchase cast bullets from Rim Rock or Oregon Trail bullets.
C.M., Powell, WY
A: First, thank you for your service to our country! Second, thanks for taking the time to read our magazines and for writing. Regarding loads for the .38 Super, I suggest using a 115-grain jacketed bullet behind 4.5 to 5.0 grains of Power Pistol powder, which will reach around 850 and 920 fps, respectively. You can reduce the charge even further, but you probably will experience failures to cycle. If necessary, you can use a reduced recoil spring for lighter loads, or if the above loads will not cycle the action of your pistol.
For the .41 Action Express, try the Sierra 170-grain JHC bullet with 4.5 to 5.0 grains of Accurate No. 2 powder. You don't give any specifics about your gun, but this should cycle.
For the .41 Magnum, try 215- grain cast bullets from RCBS mould 41-210-SWC, the 215- grain SWC from Oregon Trail Bullets or the 220- to 225-grain original Keith design as offered by Lyman or Hensley & Gibbs (all of which are offered by several commercial bullet casters including Montana Bullet Works, Rim Rock Bullets, Oregon Trail Bullets, Missouri Bullets, etc.). Use 4.0 to 4.5 grains of Accurate No. 2 powder for around 725 to 760 fps from most revolvers.
For the .44 Special, try the 200- grain RNFP cast bullet (as offered by Oregon Trail Bullets or Rim Rock Bullets) with 4.7 grains of Accurate No. 2 powder for around 700 fps in most sixguns. For the .44 Magnum, use the same 200-grain RNFP bullet and up the powder charge to 5.0 grains for about the same velocity.
Trail Boss is unlikely to cycle the action on your autoloading pistols; however, it will work fine in your revolvers. I will not offer data, as I do not know what cast bullets that you will ultimately settle on. Rather, I suggest using a charge that just touches the base of the seated bullet, or is 100 percent capacity. It should be noted that Trail Boss powder should never be compressed.
I hope the above information helps and that you enjoy the next shooting session.
Smokeless or Black Powder?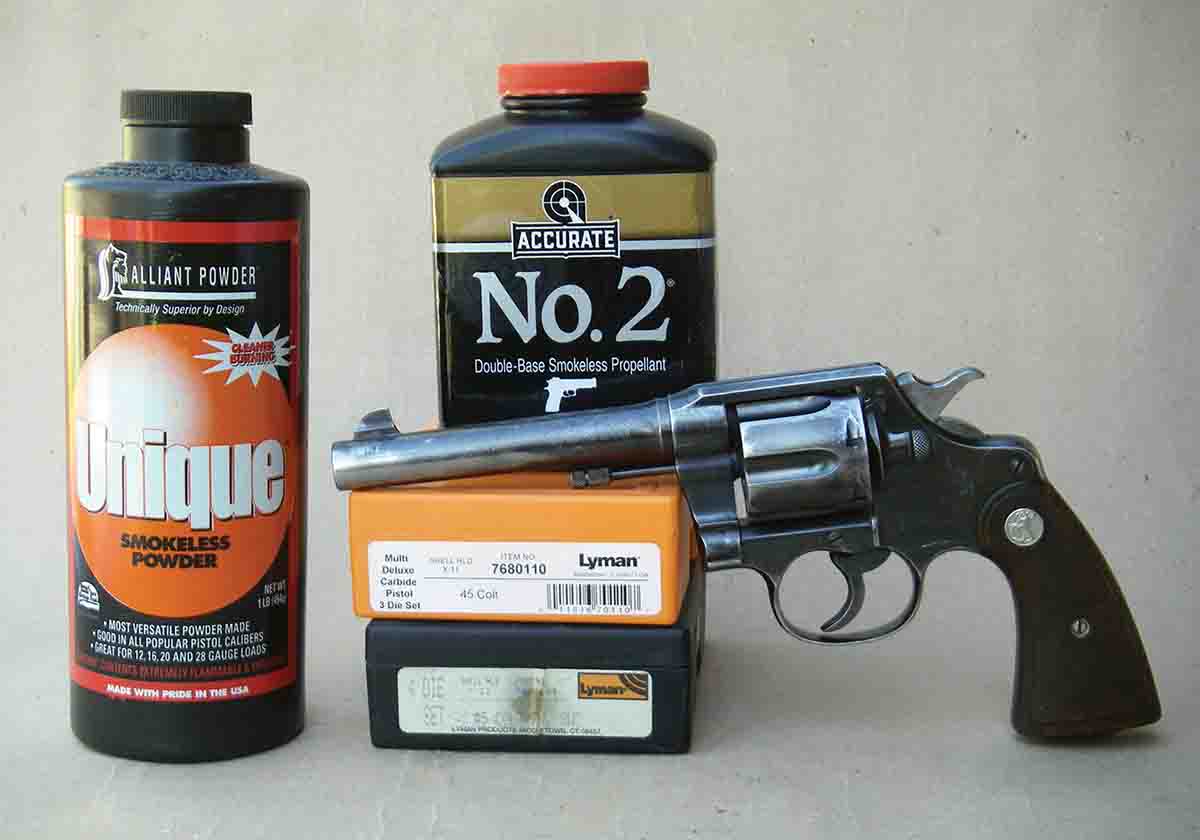 Q: After reading your "Pet Loads" article on the .45 Colt Handloader No. 320 (June-July 2019), I began sorting through my collection of guns and realized that I might have a revolver intended for black-powder loads in spite of having fired it with many smokeless factory loads and handloads since I purchased it in the late 1950s. The gun is a Colt New Service .45 with serial number 2XX, which based on its serial number places its manufacture date in 1898. In your article, you indicate that Colt did not warranty the Single Action Army for smokeless powders until 1900. Is my New Service a black-powder gun only?
Thanks in advance for your answer. I marvel at the information that you are able to provide and all of your handloading insight. I greatly look forward to each issue of Handloader.
S.C., Flagstaff, AZ
A: First, thank you for your kind remarks. While the Colt Single Action Army was not warranted for smokeless powders until 1900, the Colt New Service was designed and warranted for smokeless powders from the very beginning, which started in 1898. Its design was stronger than the Single Action Army, as it featured a larger diameter cylinder with thicker chamber walls and featured period state-of-the-art steels. As long as your gun is in good mechanical condition, you are safe to use appropriate smokeless powder loads that are within SAAMI pressure guidelines.