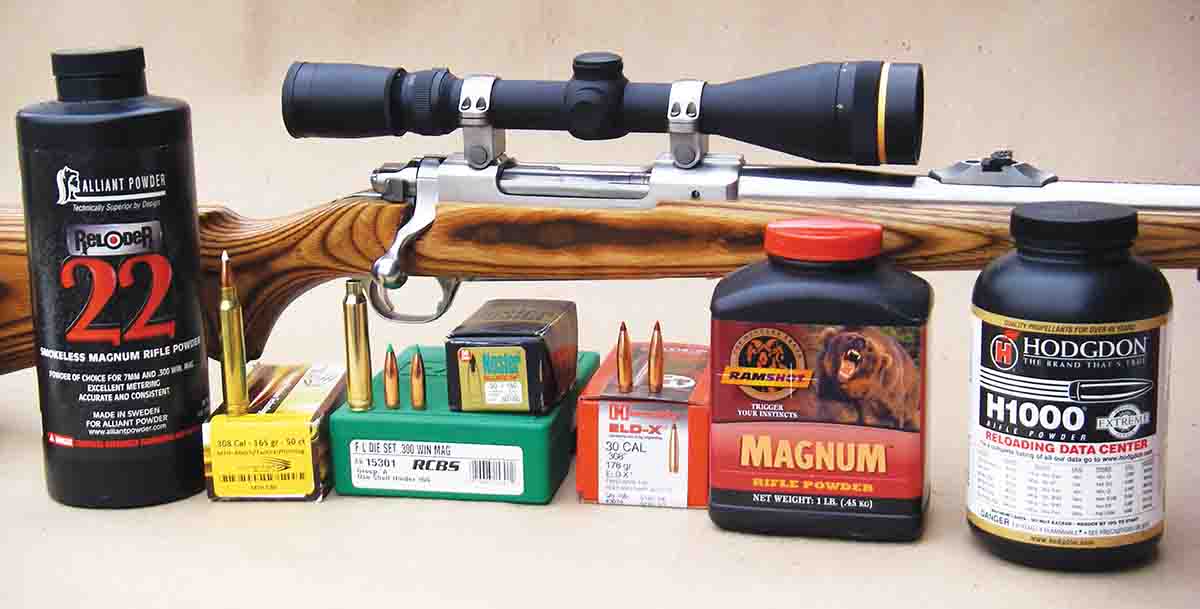 The .300 Winchester Magnum is currently enjoying greater popularity than at any time in its 57-year history, and in spite of many newer, excellent .30-caliber magnums appearing, it remains the most popular of all. It was originally conceived as a modern hunting cartridge suitable for taking all North American big game including moose and brown bear, but it also offers a flat enough trajectory and downrange power to hunt in open and mountainous country where long shots are common. In addition to widespread acceptance among hunters, it has proven a worthy long-range match cartridge. The U.S. government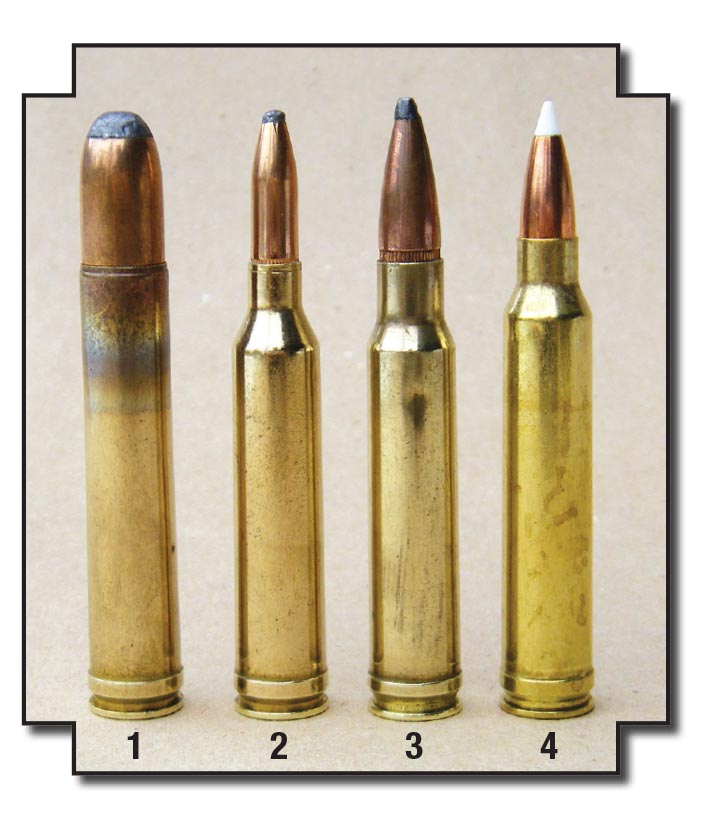 even adopted the .300 Winchester for use in the M24 Sniper Weapons System and Mk.13s rifles. There is a wide selection of components readily available that permit handloaders to fully duplicate and often exceed factory load performance.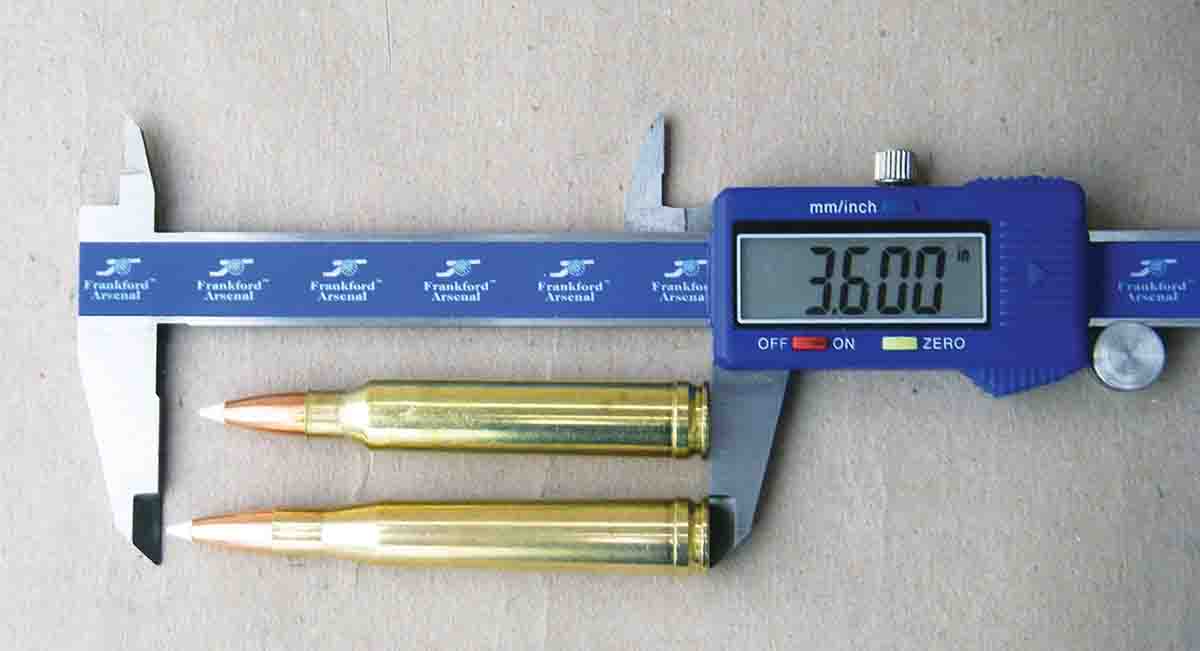 The history of commercial .30-caliber magnum cartridges developed prior to the .300 Winchester is noteworthy and helps explain the design features of that cartridge. The .30 Newton, developed in 1913 and based on the German 11.2x72 Schuler case, is generally considered the first .30 caliber with magnum type performance, but its success was limited. The .300 Holland & Holland (H&H) Magnum appeared in 1925 (known then as the Super-Thirty) and was based on the .375 H&H Magnum belted case.
There are minor technical variances between the .300 H&H and the .30 Super Belted Rimless H&H cartridges, but they are not pertinent here. However, it should be noted that .300 H&H ammunition should not be fired in a .30 Super rifle, but the latter can be fired in the former.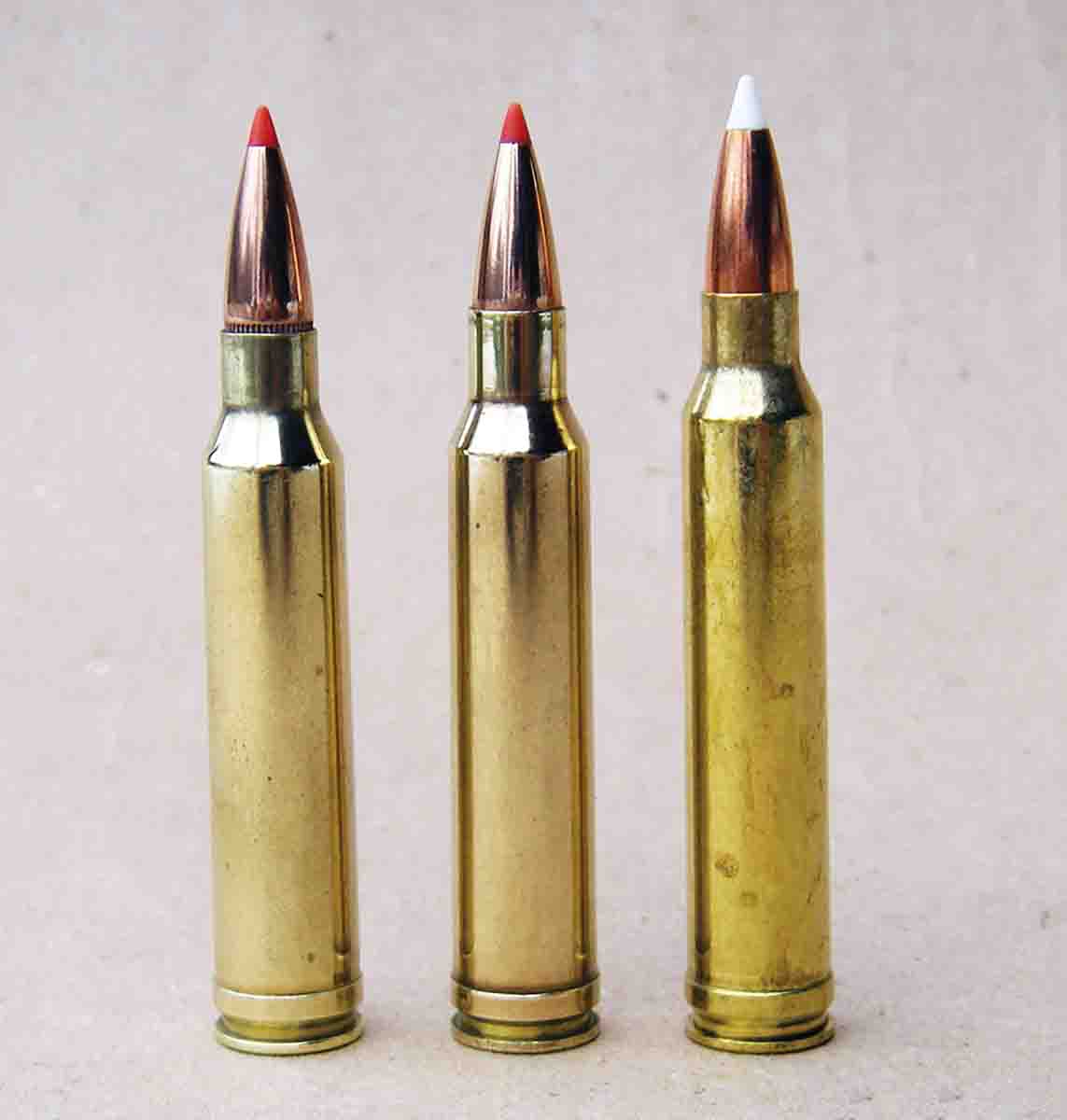 Due to the long sloping case, the belt was necessary to provide positive headspace control. Like the .375 H&H, the .300 H&H had an overall length of around 3.600 inches and could not be housed in most .30-06 length actions. The .300 remained somewhat exotic to U.S. shooters; however, in 1935 Ben Comfort won the prestigious 1,000-yard Wimbledon Cup with a custom rifle so chambered. As a result, its fame soared and within months Winchester announced the brand new Model 70 rifle along with that caliber as a standard offering and began producing ammunition domestically.
The .300 H&H became widely popular in the U.S. and established a superb reputation as a general purpose big-game cartridge. During World War II, Roy Weatherby sought to improve its ballistics and blew the case out to significantly increase the powder capacity, which became the .300 Weatherby Magnum. Like the H&H, the Weatherby cartridge required a long, 3.600-inch magnum action.
With a booming post-war economy, during the 1950s Winchester began developing new cartridges such as the .458 Winchester Magnum in 1956 and the .264 and .338 Winchester Magnums in 1958. Each of the above cartridges is based on the .300/.375 H&H belted case, shortened to function in a standard length (3.340-inch)
.30-06 action. By comparison, they were "short action" magnums. It is important to note that the belted magnum case was chosen because it offered the powder capacity to reach the desired performance, but also because Winchester was already making cases and retooling would have been costly. Incidentally, the .458 is more or less a straight case and needed the belt for proper headspace control; however, the .264 and .338 feature a 25-degree shoulder for positive headspace and the belt was not necessary. Since Winchester was already manufacturing the belted magnum case, it was the logical choice to develop new cartridges during that era.
There was an obvious void in the new Winchester magnum cartridge lineup, as it lacked a .30 caliber, which has been popular with U.S. shooters and hunters since the 1890s. Almost all shooters anticipated a new .30 caliber from Winchester, but when that didn't happen immediately, they necked the .338 Winchester down to create the .30-338 wildcat. Norma recognized the value and widespread appeal of a .30-06 length, .30-caliber belted magnum and introduced the .308 Norma in 1960 and even "loaned" reamers to gunsmiths wanting to convert an existing .30-06 rifle to .308 Norma. Although very similar to the .30-338 wildcat, the .308 Norma offered slightly greater powder capacity. Both of the above cartridges became relatively popular, but that was short lived.
Winchester finally announced the .300 Winchester Magnum in 1963 chambered in the pre-64 Model 70 rifle, with actual production only lasting a few months until the post-64 Model 70 appeared. Design specifications were something of a surprise to many rifleman, as it was expected to be more or less identical to the .30-338 wildcat. However, its shoulder was moved forward to increase powder capacity, the case neck shortened and the case length stretched from 2.500 to 2.620 inches. Maximum overall cartridge length remained 3.340 inches to accommodate function in all .30-06 length actions, while the shoulder angle is 25 degrees.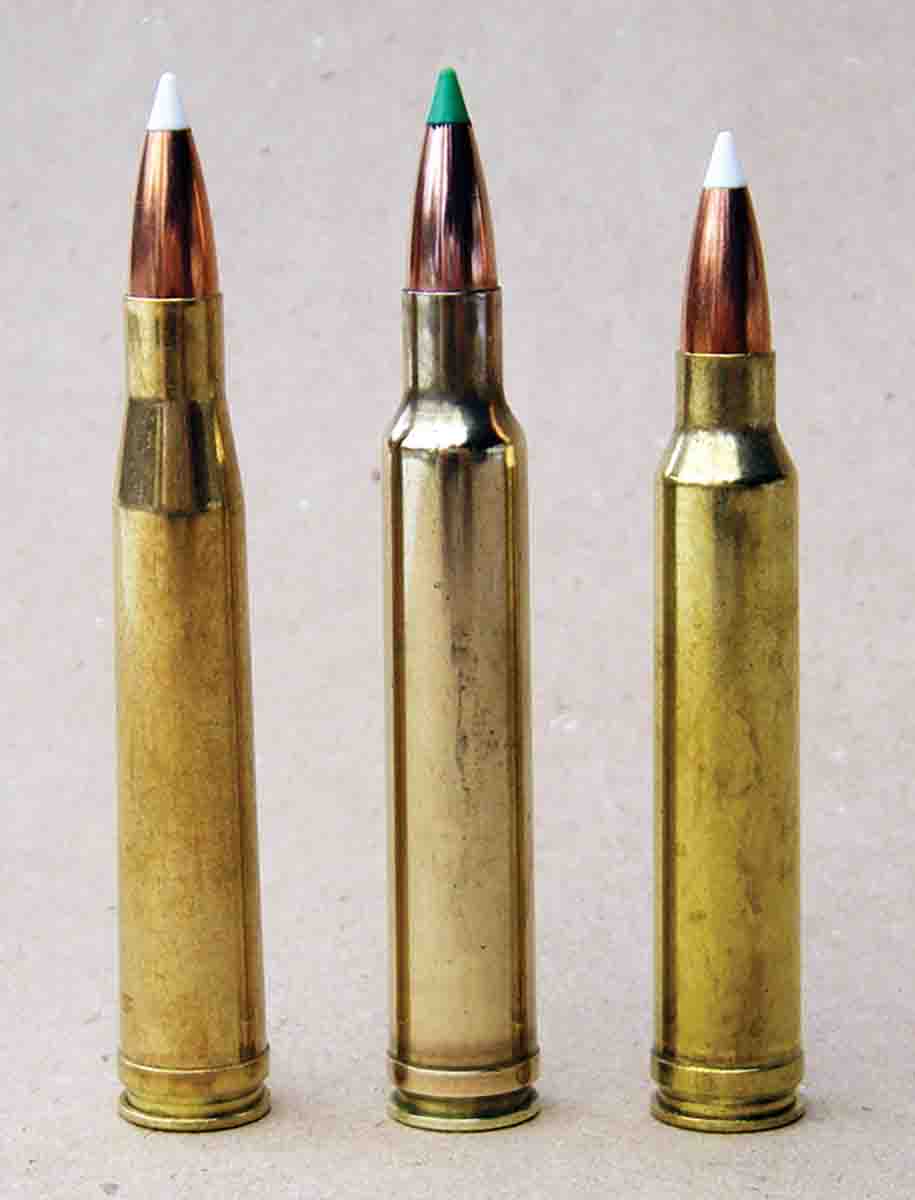 Critics were quick to point out that the comparatively short neck, measuring around .264 inch long, was shorter than caliber (or bullet diameter), which was expected to hinder accuracy due to incorrect alignment with the bore, and they also expected it to fail to provide sufficient neck tension. Regardless, the .300 Winchester Magnum has proven to offer outstanding accuracy in 1,000-yard competitions and has proven to produce enough accuracy for U.S. military sniper work.
Modern critics are quick to point out that the belted case is unnecessary. This is true; however, it is not the monumental problem that so many people indicate. Simply stated, it feeds well and there are no issues when firing factory ammunition. Handloaders can adjust the sizing die (or use a neck sizing die) to allow the cartridge to headspace on the shoulder if desired for match work etc., while full-length sized cases are preferred for hunting ammunition.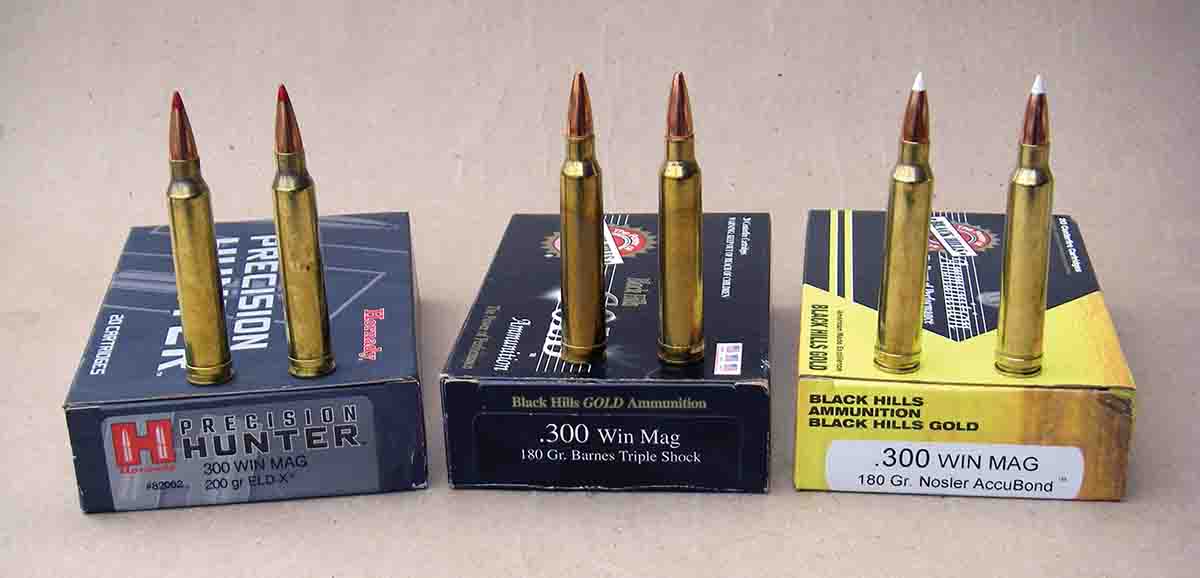 Period advertised ballistics list a 150-grain bullet at 3,400 fps or a 180 grain at 3,070 fps, which was a bit more velocity than the fine old .300 H&H and .30-338 but fell short of .300 Weatherby performance. The popularity of Winchester's new .30 caliber grew rapidly and soon every major U.S. rifle manufacturer began offering rifles. It provides enough horsepower to hunt all North American big game including moose and Alaskan brown bear (naturally with correct bullets), but the cartridge is a special favorite among hunters who pursue elk, mule deer, black bear, antelope, sheep, etc.
While recoil is notably greater than the .270 Winchester or .30-06, it is manageable. Due to its flat trajectory and downrange power at practical hunting distances, it is often considered a top candidate as an all-around cartridge for hunting in North America. Ammunition is readily available in many parts of the world. For example I have been in tiny remote Canadian and Alaskan villages where .300 Winchester Magnum ammunition was available in quantity, as well as Africa and other distant places, which is something to consider when traveling abroad.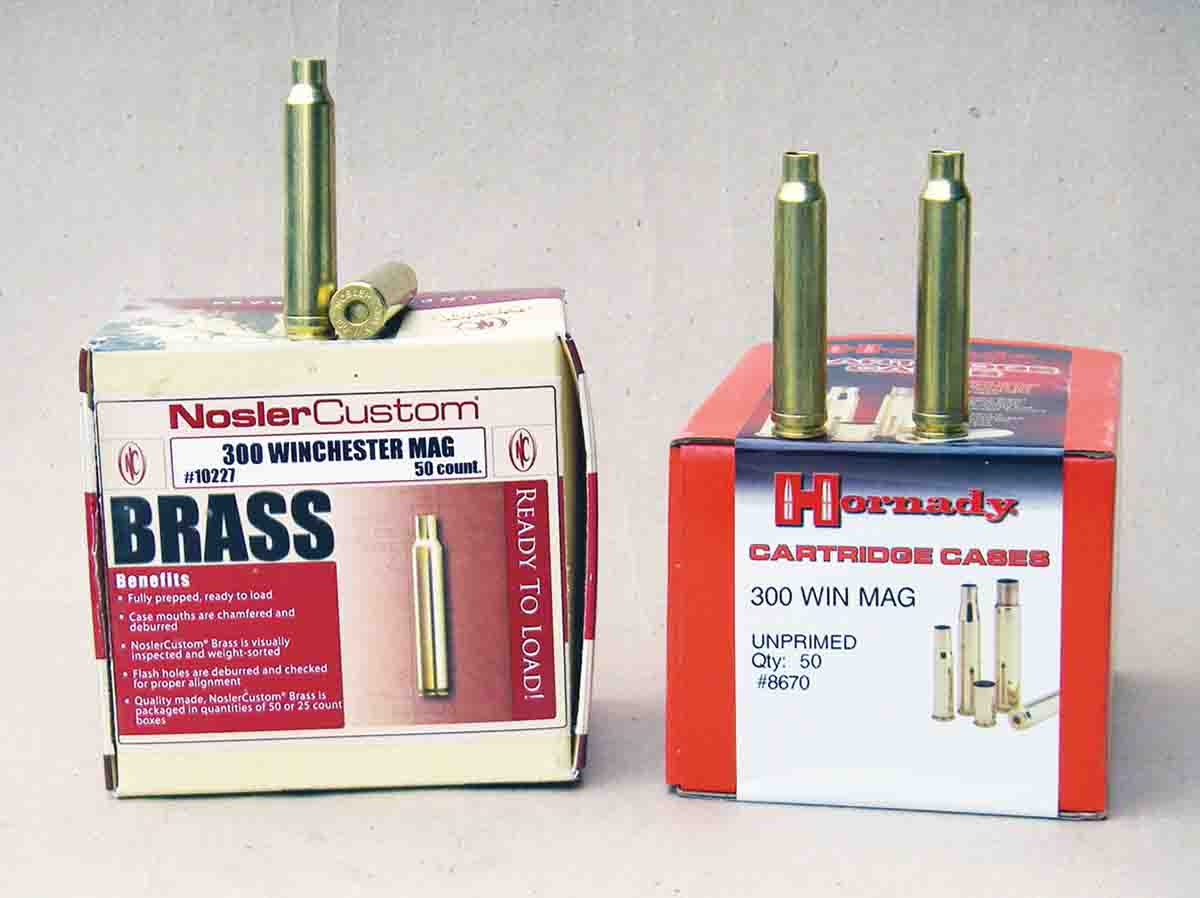 Around 20 years ago, several serious efforts were made to develop new .30-caliber magnums intended to supplant the original Winchester cartridge. Those cartridges are primarily based on beltless cases, but at least one is belted. A few examples include the .300 Remington Ultra Magnum, .300 WSM, .300 RSAUM, .300 RCM, .30-378 Weatherby Magnum and several others. Most recently, the .30 Nosler and .300 PRC are very promising versions that in my humble opinion have the potential to supplant it, but as of this writing the .300 Winchester Magnum is still by far the most popular.
Today's advertised ballistics have changed from the original loads and are more realistic as to actual velocities from a production rifle with a 24-inch barrel. For comparison, various 150-grain loads from Winchester list muzzle velocity at 3,260 fps and 180 grainers at 2,960 fps. As can be seen in the accompanying table, factory loads have become much more specialized with many additional bullet styles and weights when compared to the simplistic 1963-era loads. In virtually every instance, the performance of factory loads can be duplicated and often exceeded if handloaders will select the correct components and stick with proven data.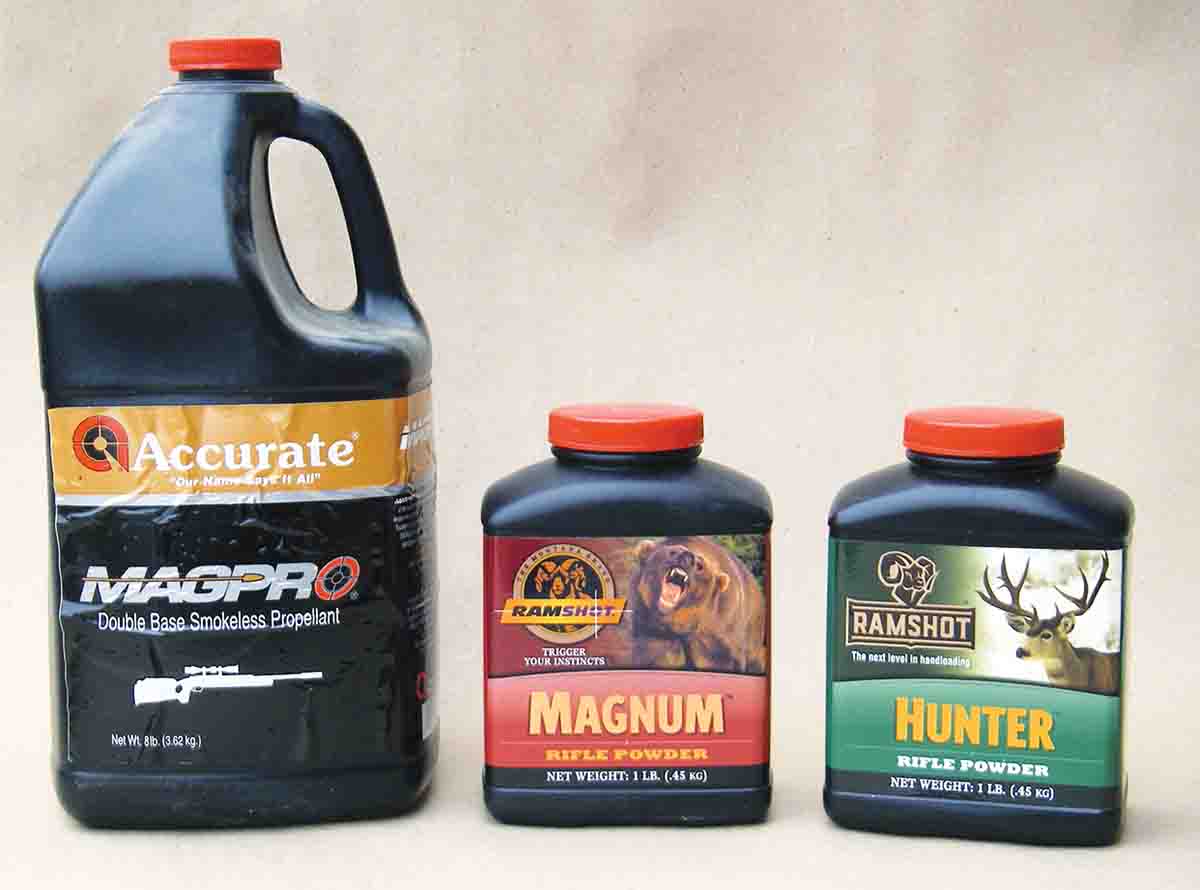 To develop the accompanying loads, a Ruger M77 Mark II All-Weather with a laminated stock and 24-inch barrel was selected. This rifle has accompanied me on many hunts and has proven accurate, with select handloads grouping into around .5-inch. In spite of digesting thousands of rounds, it has never shown any sign of breakage or failure. While it has been used with more than a half-dozen different scopes in at least three different countries, it is currently fitted with a Leupold VX-3 4.5-14x 40mm variable, which is especially rugged, reliable and a common sense big-game hunting scope.
Originally, SAAMI maximum average pressure was listed at 54,000 CUP. However, today that figure has been updated to 64,000 psi, due to the industry changing to more accurate piezoelectric pressure measurement methodology.
In randomly checking the water capacity of cases including Winchester Western, Super-X, Remington, Federal Cartridge, Hornady, Frontier, Black Hills Ammunition, PMC and Nosler Custom, there was more than a 6.0-grain variance. This is important as identical loads assembled in cases with smaller capacity versus those with greater capacity will show significant pressure increases. In some instances, cases with less capacity may not even hold maximum charges of slow burning powders. I always suggest loading a single brand of case, preferably of one lot number and weight sorted. Proper case preparation plays an important role in achieving top-notch accuracy. In developing the accompanying loads, Nosler Custom cases were selected because they are weight sorted, sized, trimmed, primer pockets are uniformed, etc. With the volume of handloading that I do, these cases save significant time. Incidentally, this particular lot of Nosler cases had a water capacity of around 91.9 grains when measured level with the case mouth.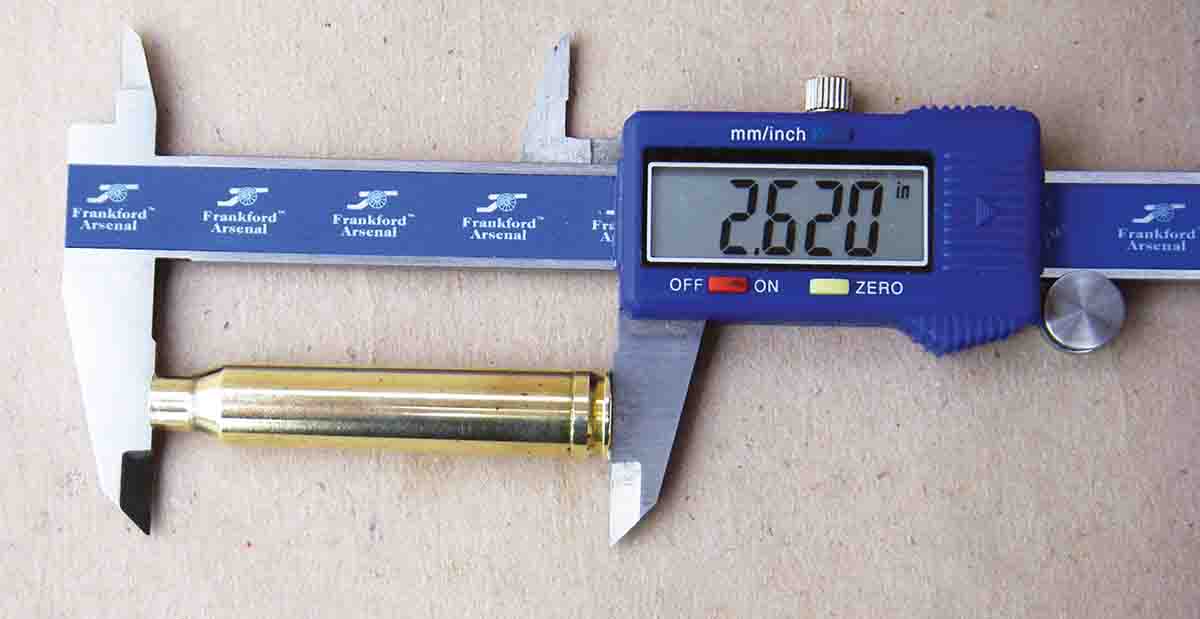 As indicated, fired cases can be sized to headspace on the shoulder to best correspond with the chamber of the rifle they will be used in. Typically, the full-length sizing die is adjusted so that the case is sized just enough to allow them to re-chamber in the rifle they were fired in. If done properly, the case will positively chamber on the shoulder, case life is generally increased and there can be accuracy gains. However, if the ammunition is to be used in more than one rifle, full-length case sizing is suggested. I prefer all big-game hunting ammunition to be full-length sized to assure easy chambering in the field.
Depending on bullet style, weight and other factors, the .300 Winchester typically uses between 60.0 and 80.0 grains of powder (although some loads reached 90.0 grains). For reliable ignition of all loads in all temperatures, a large rifle magnum primer is suggested, such as the Federal 215 Gold Medal selected to develop the accompanying data. It is noteworthy, however, that when shooting in warm weather only, a standard large rifle primer can provide reliable ignition with many powders, particularly when using heavy weight bullets, and can produce low extreme spreads. But for general use, magnum primers are strongly suggested.
With a huge interest in long range shooting, powder companies have regularly introduced new products that offer optimum performance in the .300. Extruded powders such as Alliant RL-17, RL-19 and RL-22, Accurate 4350, IMR-7828, IMR-7828ssc, IMR-4831, Hodgdon H-4831sc, H-4831, H-1000, Vitahvouri N-165 and N-560, Norma MRP and several others are often preferred based on match-type accuracy and overall performance. IMR's relatively new Enduron powders with their copper fouling eliminator feature were also tried, including IMR-4955, IMR-7977 and IMR-8133. They gave good overall performance; however, there seems to be a specific charge weight "window" where pressure and accuracy work best. In other words, when maximum charges are tried they can show an almost sudden pressure increase. As always, never begin with maximum listed charge weights.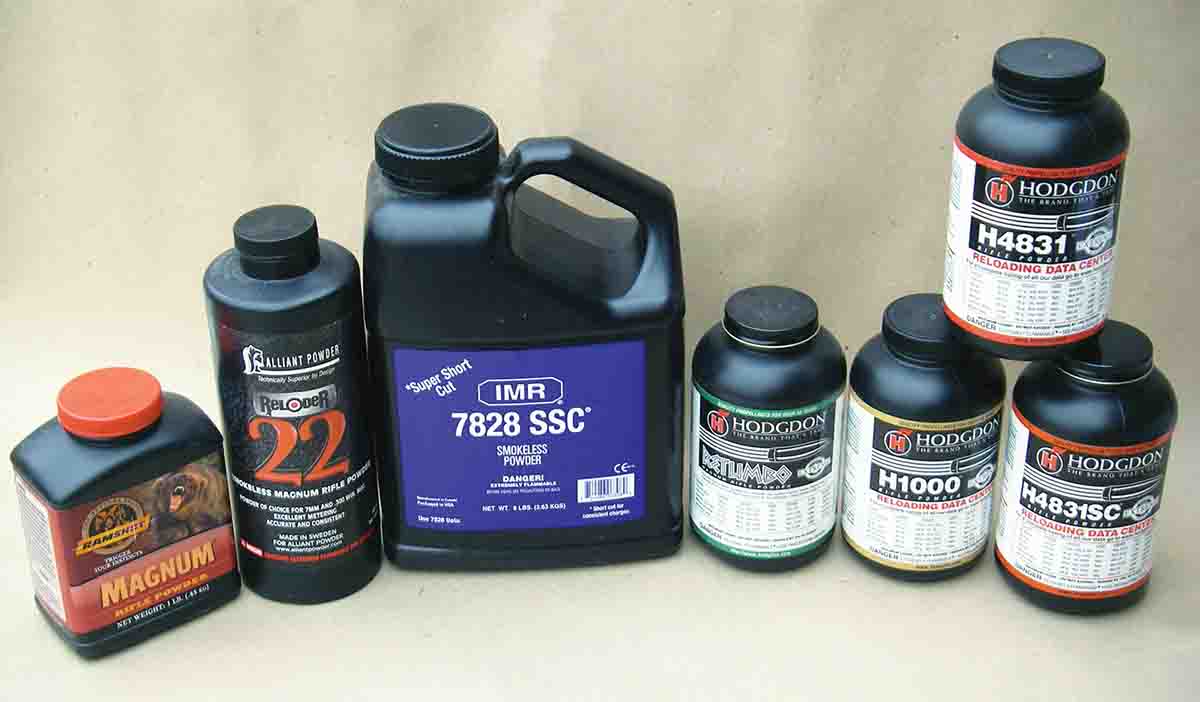 Regarding IMR-7828 and IMR-7828ssc powders, many handloaders assume that the SSC version is for easy metering and that load data is interchangeable, which is only partially true. The ssc version definitely meters much better and the burn rate is the same. However, the density of the ssc powder is much less – 4 to 5 percent. In other words, if data is listed with the SSC powder, the same charge weight of the original long cut version may not fit into the case.
There are several excellent spherical powders that offer precise metering, good accuracy and factory load duplication. Top performing examples include Alliant Power Pro 2000-MR (for lightweight bullets), Power Pro 4000-MR, Hodgdon Hybrid 100V (which is something of a blend of extruded and spherical), Accurate Magpro, 2700 and Ramshot Magnum and Hunter. Generally speaking, a large rifle magnum primer should be used in conjunction with the above powders to assure reliable ignition and to prevent hang-fires. Lastly, suggested starting loads should not be further reduced.
For those wanting a very light load, try 26.0 grains of Hodgdon Trail Boss (formerly IMR) with a 150-grain jacketed bullet for around 1,850 fps. Sound and recoil are both substantially reduced. While extreme velocity spreads were a bit higher than I would like to see, accuracy at 50 yards was respectable.
Thirty-caliber bullet selection is extensive and includes lightweight, frangible varmint versions to heavyweight long range hunting and match bullets, all of which adds to the .300's versatility. Construction of cup-and-core bullets varies considerably, which can change pressure when substitutions are made. In other words, when making bullet substitutions that are of the same weight but of different design or manufacturer, be certain to reduce the powder charge and then work up carefully to maximum loads. Expanding monolithic bullets, such as the Barnes Triple Shock X-Bullet and Cutting Edge MTH, produce distinctly different pressure curves than cup-and-core bullets and should generally be avoided when making substitutions. Incidentally, they generally produce their best accuracy when seated around .040 to .090 inch off of the leade.
The .300 Winchester Magnum has become better with age. It offers a desirable blend of power, accuracy and versatility for hunters and target shooters. With new components, it has become better than ever, especially if handloaded.