Q: Based on your articles in Rifle Magazine and Handloader it is obvious that you have extensive experience with Marlin rifles. I have a Marlin Model 1894 chambered in .44 Magnum that I purchased new about 15-years ago. The first thing that I did was ship it to Brockman (Brockman Custom Gunsmithing, 2165 South 1800 East, Gooding ID 83330) for an action job and to lighten the trigger pull to 3-pounds. I thinned the fat forearm and installed an X-S aperture sight and white stripe post front. Using Speer and Hornady 240-grain jacketed bullets pushed with 21.5 grains of Accurate No. 9 powder with CCI #300 primers (a load that I got from you) I often get groups measuring around 1½ to 2-inches at 75-yards. It is a ton of fun just to shoot offhand rolling cans and rocks, but I have also taken two Kansas whitetail deer with it, both with a single shot.
I have been very pleased with the rifle, but have one problem. I have a friend in Montana that wants me to come hunt black bear with him in the fall of 2020. He suggests that we can possibly find a 350 to 400 pounder or maybe larger. I would like to use a heav-ier bullet, such as the Hornady 300-grain XTP. But when I loaded these bullets, I could not get the same accuracy as my proven 240-grain handloads. And in order to get this bullet to function correctly, I had to seat the bullets deep to the upper crimp groove for an overall cartridge length of around 1.600 inch to permit cartridges to function through the Marlin action. As a result, powder charges had to be reduced from published "revolver" loads that permit that bullet to be seated out and I could not get the velocities that I had hoped for.
Is there anything that I can do to get the 300-grain XTP bullets to shoot well in my rifle? Is there another bullet (or bullets) that I should be considering? Thanks in advance for your help.
F.C., Dodge City, KA
A: The core problem you are experiencing with heavyweight bullets is the rather slow 1:38 twist rate of Marlin .44 Magnum rifles, the same twist used on the Remington 788, Ruger Deerstalker Carbine, Winchester Model 94, Browning 92 and others. For more than 20 years I have met with Marlin representatives, visited their plants and have attempted to convince them to change the twist rate to 1:20, but I have been unsuccessful. Interestingly, other companies, including Ruger, have changed their twist rates, but not Marlin.
The 1:38 twist will give okay accuracy with standard 240- grain bullets; however, with 300- grain bullets, accuracy is often mediocre at best. You don't offer the powder charge or velocity that you tried. The best chance of obtaining respectable accuracy is to push the bullets as fast as possible while staying within industry pressure guidelines. For example, I often see good accuracy from .444 Marlin rifles using the Hornady 300-grain XTP bullets at 2,000 fps or more, and that cartridge uses the same barrel twist as the .44 Magnum (except very recent production). However, the additional velocity this cartridge can produce helps with stabilization. I suggest using 19.5 grains of Hodgdon H-110 capped with a CCI 350 Magnum primer for around 1,500 fps in your .44 Magnum.
Another option is to use the Hornady 265-grain InterLock FP bullet or Speer Deep Curl SP (formerly Gold Dot SP) 270 grain. The added velocity and lighter weight will generally produce respectable accuracy in the 1:38 twist. I suggest using 23.0 grains of H-110 powder for around 1,700 fps. Seat the Hornady bullet to 1.610 inches and the Speer bullet to 1.600 inches.
I would like to hear how these loads work for you, and I hope that you have a fun and successful bear hunt.

.44-40 Crimping Problems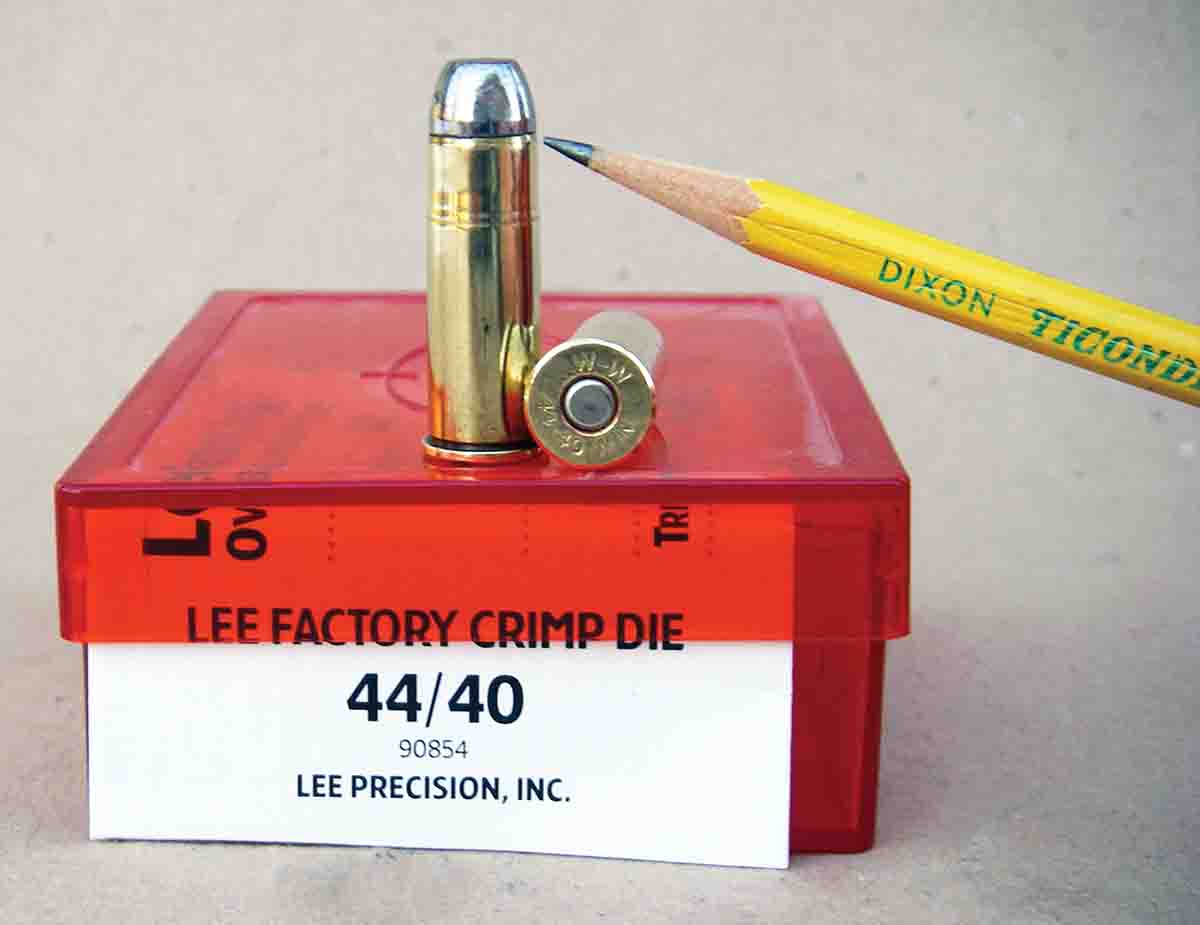 Q: I have followed your handloading advice and suggested load data several times over the past five years and have learned much from you. Thanks for all of your great articles.
Recently I purchased a Uberti (imported by Stoeger) Model 1860 Henry rifle chambered in 44-40 Winchester. I occasionally attend a local cowboy action shoot, mostly for the friendship and free use of the range.
The rifle works perfectly with factory loads and is amazingly accurate, but occasionally I have a problem with my handloads. I have about 500 cases comprised mostly of Winchester and Remington, but there are a few Starline mixed in too. I am using the 200-grain RNFP as offered by Rim Rock Bullets with 8.0 grains of Alliant Unique powder. Dies are RCBS. I full length size cases and expand the case mouth. Then prime and throw powder charges and seat the bullet and crimp in a single step.
At the last shoot I was firing on the long range course and happened to glace down at the action between shots and noticed that a cartridge didn't have a bullet, but upon closer examination the bullet had been pushed down into the case until the tip was almost even with the case mouth. Since then I am watching much closer and have now noticed that this is happening about once in every 100 rounds. Any idea why this might be happening and what to do about it?
S.D., e-mail
A: Without actually examining your handloads it is difficult to analyze your problem. However, from your description I have a couple of "best guesses." Using mixed cases can be problematic in the .44-40, especially when crimping cartridges at the same time as seating bullets. The 200-grain RNFP bullet (a Magma design) features a rather short crimp groove, and cases should be of the exact same length to seat and crimp in a single step as you describe. If you have either too short of a case or too long of a case, the problem you describe can occur.
If it is too short, it may fail to receive the proper roll crimp in the crimp groove. If the case is too long, it will usually buckle upon crimping, but not always. In some instances it will crimp on the bullet's ogive.
Without powder to support the base of the bullet, which was the case during the black-powder days, bullets can potentially become deep-seated when placed in a spring loaded magazine, or dropped into the magazine tube (which should be avoided in 1860 pattern Henry rifles).
The first solution is to use cases that are exactly the same length and be certain that the case is roll crimped fully into the crimp groove. If you aren't willing to trim cases or use cases that are uniform from the start (such as those from Starline), try seating bullets to their correct depth, but do not apply a crimp. Then, as a separate step, use a Lee Factory Crimp Die, which works well with cartridges that have varying case lengths.
One last suggestion: You didn't state the bullet diameter, but make certain that your expander ball is at least .003 inch smaller than bullet diameter.
.40-50 Data
Q: I have a 40-50 Sharps Straight. Your LoadData.com website only shows one smokeless powder load, but many loads for the 40-50 Sharps Bottleneck. Can I use load data for the 40-50 Bottleneck for my 40-50 Straight?
Many thanks for your help.
H.C., e-mail
A: The .40-50 Straight and .40-50 Bottleneck use different cases (.303 British, .30-40 Krag or .405 Winchester cases for the Straight, and .45-70 Government for the Bottleneck). However, their capacity is more or less identical at around 45.0 grains of FFFg black powder for each. So yes, you can use data interchangeably. As always, when using smokeless powders loads in black-powder era cartridges, start around five to seven percent below maximum charge weights and work up carefully to maximum listed data while watching for signs of excess pressure. Be certain to use credible data, and if possible, use a chronograph.

.350 Legend Loads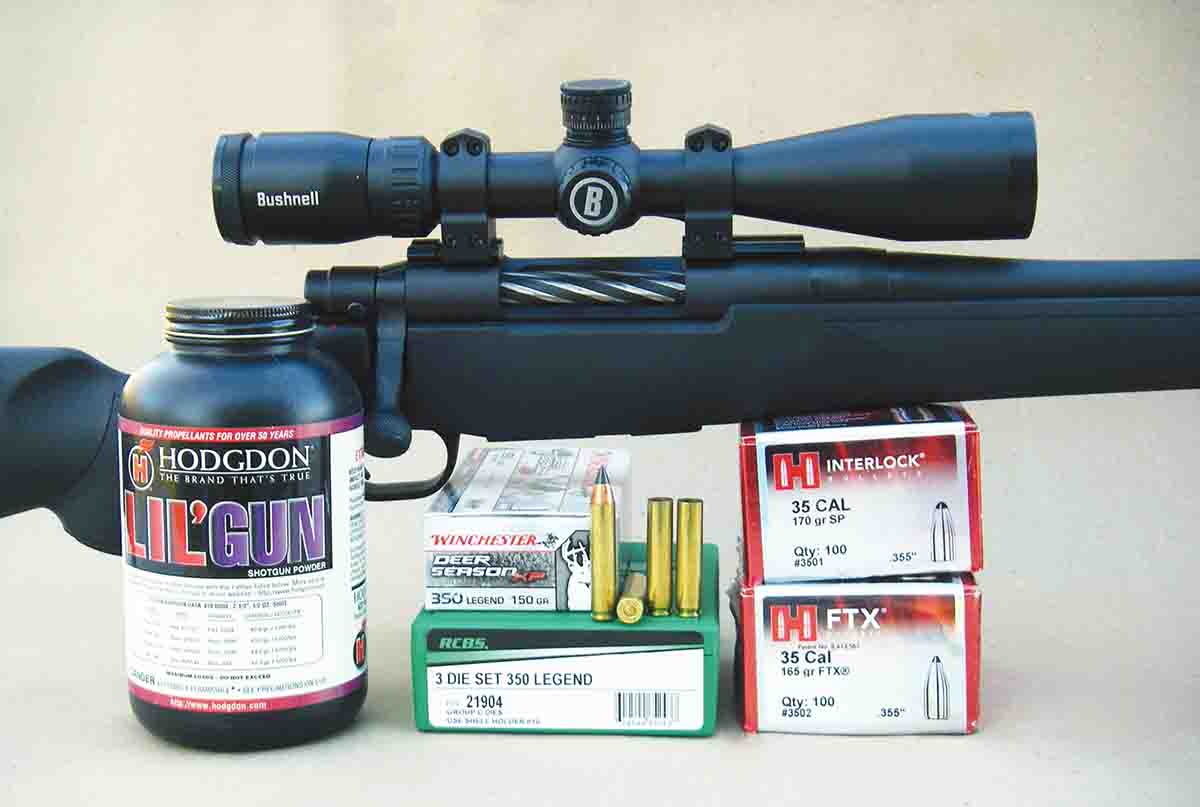 Q: I recently purchased a Mossberg Patriot rifle chambered in .350 Legend and have on order a Ruger American in the same caliber that will each be used for hunting deer in areas that only permit straight wall cartridges. I finally found dies and have Hornady 165-grain FTX and 170-grain Interlock SP bullets on hand. The problem is I cannot find any load data. Can you suggest a powder and charge weight for the above bullets?
J.S., Kettering, OH
A: Using either the Hornady 165- or 170-grain bullets, I suggest starting with 26.0 grains of Hodgdon Lil'Gun and work up to a maximum charge of 28.0 grains, which is well below industry maximum average pressures for this cartridge. From a 22-inch barrel, velocities will reach between 2,200 to 2,300 fps. A standard small rifle primer, such as the CCI 400 or Winchester Small Rifle, will offer proper ignition with this powder and bullet combination. Good luck hunting.