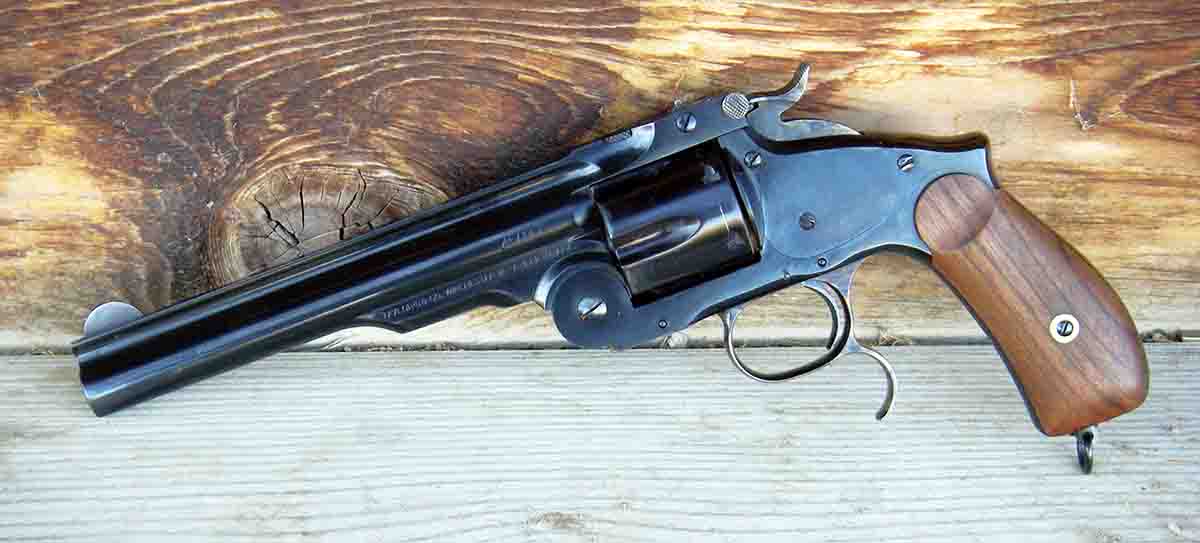 As early as 1862, Smith & Wesson began making plans to manufacture a .44-caliber, top-break single-action revolver containing a cartridge (rather than cap and ball). However, producing arms for the Civil War and other factors stalled its production for several years. After considerable development of various models and continuous design changes, the Smith & Wesson Model 3 (indicating frame size) First Model American chambered in .44 Henry Rim Fire finally appeared in May of 1870 and was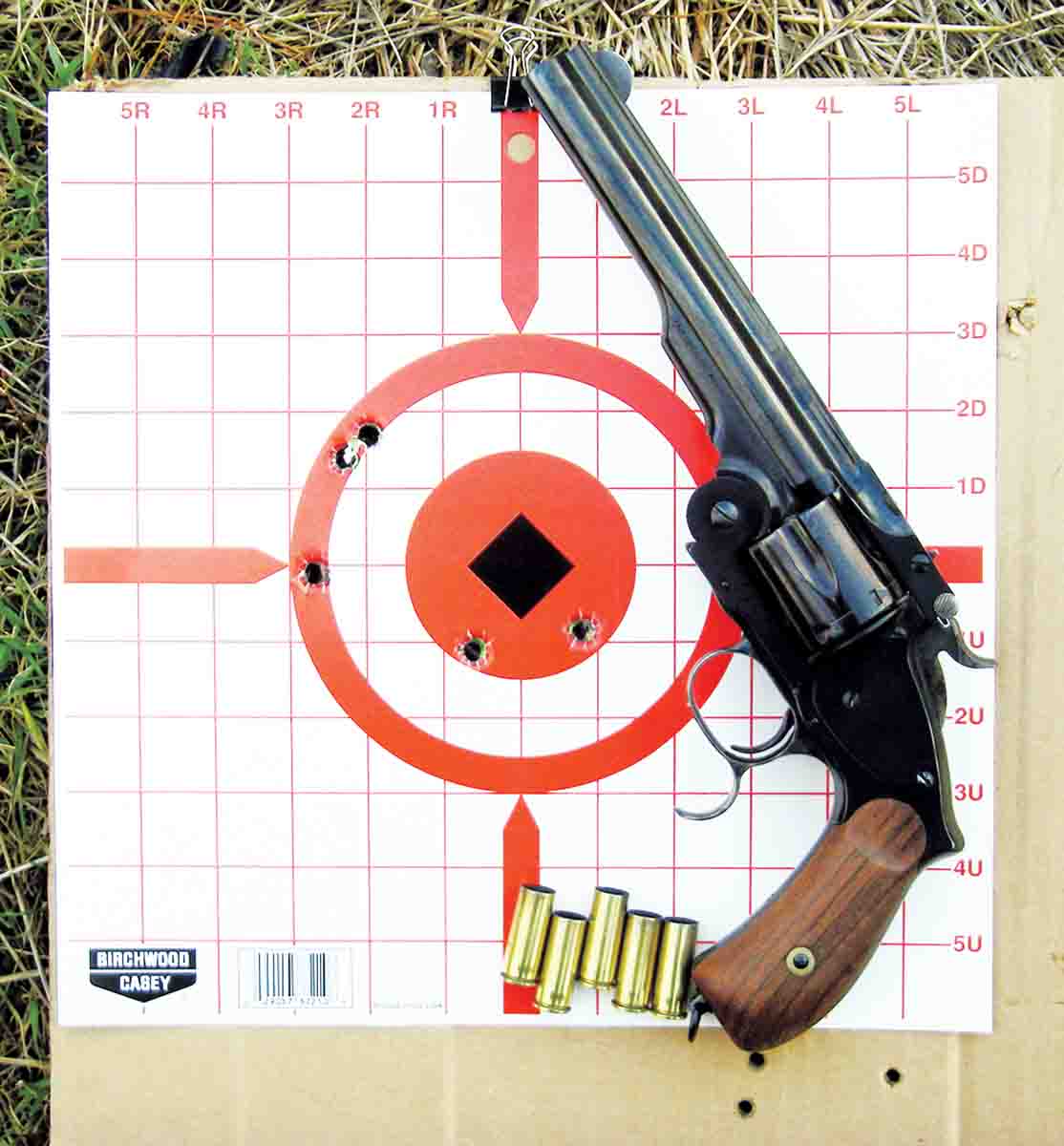 subsequently submitted to the U.S. Army Small Arms Board. The board reported "that the Smith & Wesson Revolver was superior to any other revolver submitted." On December 28, 1870, the U.S. government signed a contract for 1,000 guns (800 with blue finish and 200 with nickel), but chambered in .44 S&W American, the first cartridge-firing revolver adopted by the U.S. military. Inspection was performed by the notable O.W. Ainsworth.
Although the Army Ordinance Board liked the new gun, it recommended that it be changed from a rimfire to centerfire cartridge. The S&W "partners," as they were known, took the army's recommendation and created a new centerfire cartridge featuring a slightly longer case than the .44 S&W American. And rather than boring the chambers straight through, a typical chamber for outside lubricated heel-type cartridges, the new cartridge featured a larger case than bullet diameter (a stepped chamber arrangement) and an inside lubricated bullet, which was a huge step forward in modern sixgun cartridge development. In fact, this was the first modern sixgun cartridge so designed and has remained a standard feature among all modern handgun cartridges.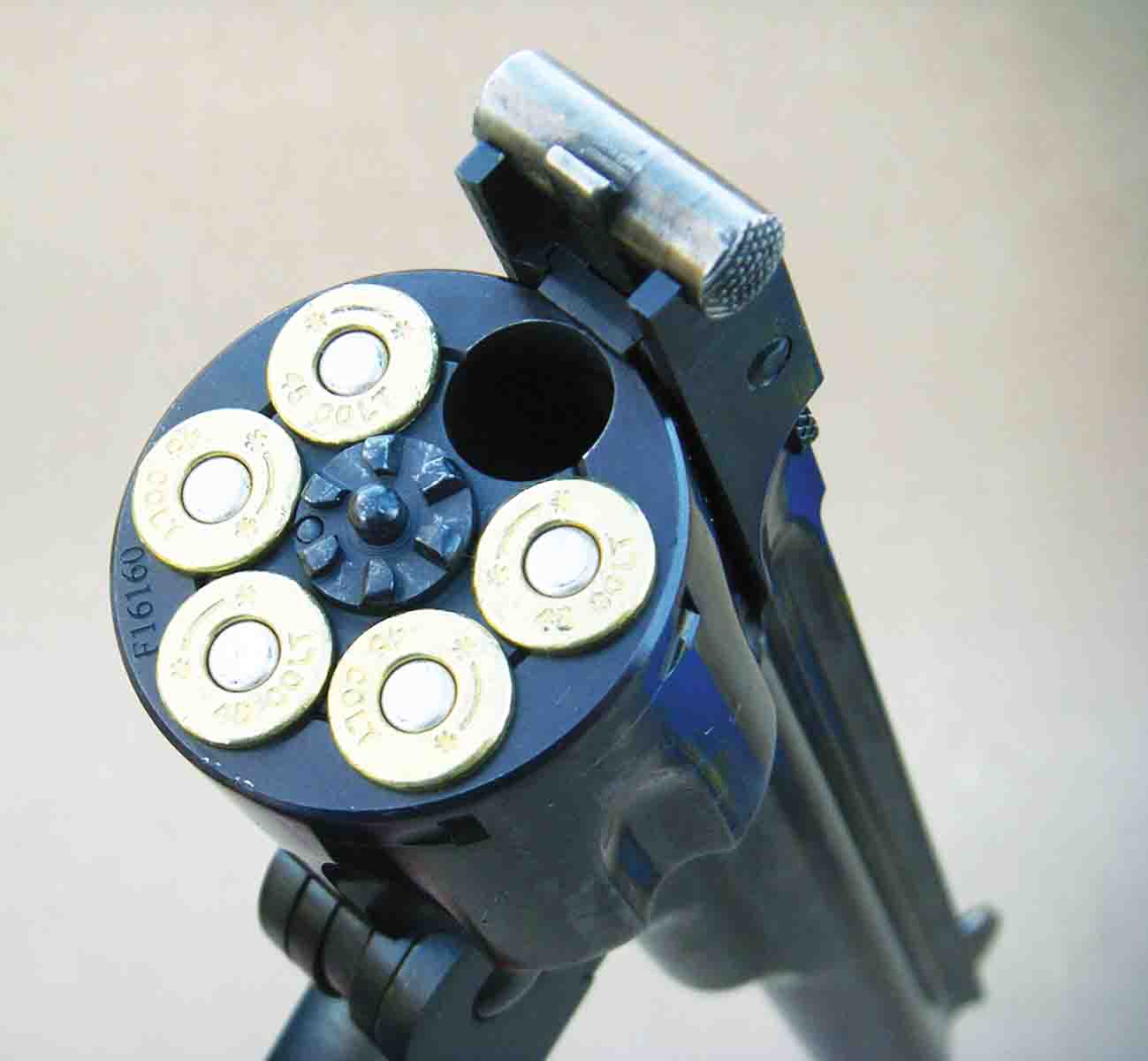 Perhaps readers will know the above U.S. designed cartridge (and not Russian designed) as the .44 S&W Russian that became a proven battle round. Original loads contained a 246-grain bullet behind 23.0 grains of black powder. The .44 Russian also earned an outstanding reputation as a target cartridge known for accuracy, and it set many world records that are still impressive. It is the parent cartridge of the .44 Special (first offered in 1907), which is the parent cartridge of the ever popular and potent .44 Magnum (1955/56).
The history of the S&W Model 3 revolver is extensive and can literally fill volumes but can only be discussed briefly here. It was produced from 1870 until around 1915, which was around eight years after the introduction of the Smith & Wesson Hand Ejector First Model (aka Triple Lock, N-Frame) chambered in .44 Special. With many variations and sub-models with remarkable fit, finish and overall quality, these guns receive considerable attention from collectors.
On May 1, 1871, Smith & Wesson signed a contract with the Russian government for delivery of 20,000 Model 3 Russian revolvers (to be paid in gold) for the grand sum of $13.02 each. These revolvers served through World War I and were a much superior battle arm than Russia's chosen replacement.
In History of Smith & Wesson by Roy Jinks (1977), he stated: "The Russian Model completely changed the Smith & Wesson position in the world, for it established the factory as a world-famous arms manufacturer, helped the company to establish financial stability and also precipitated orders from other nations."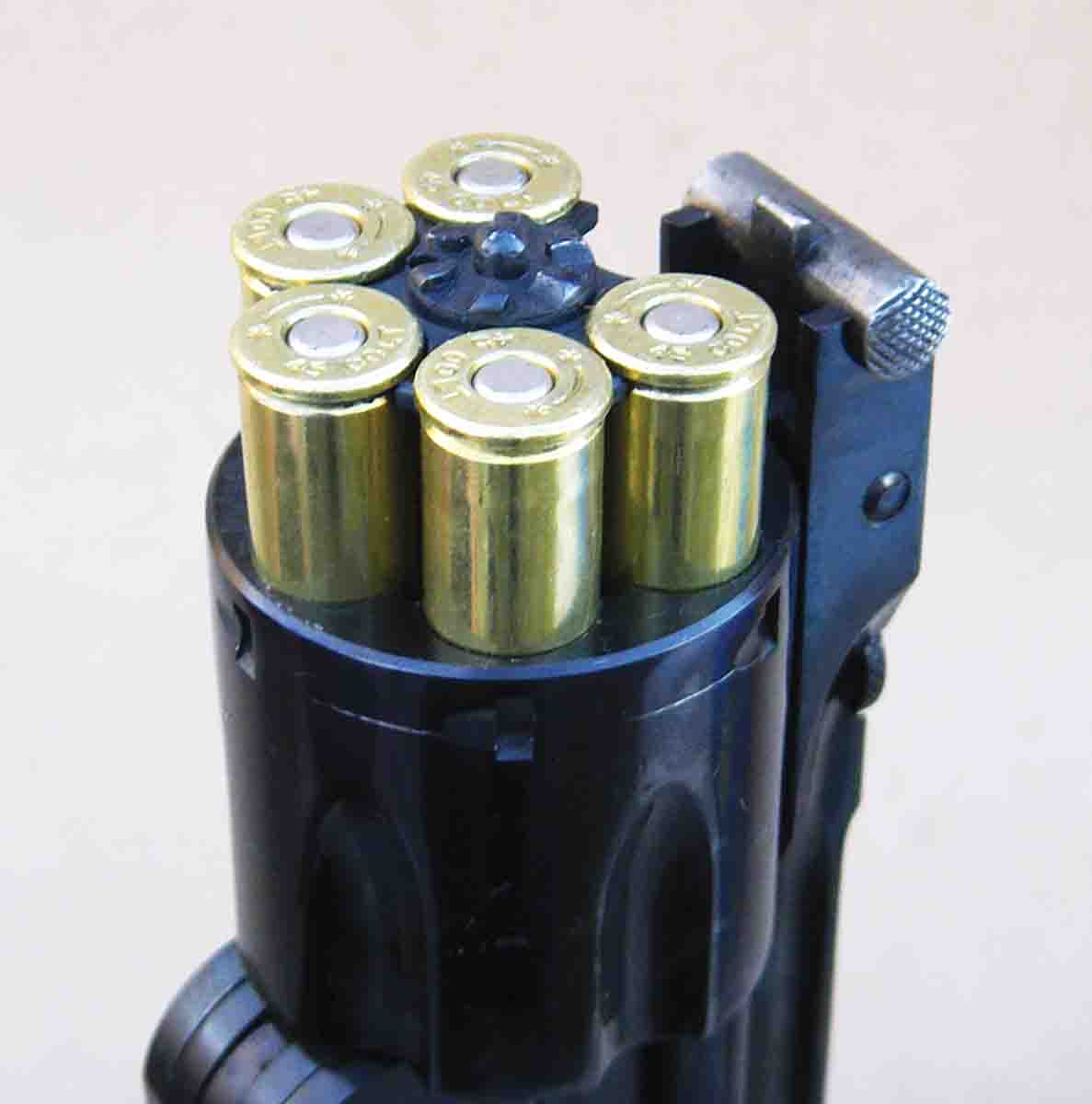 Although Russia was paying Smith & Wesson in gold, it ultimately had the Russian-based Tula Arsenal and the German firm Ludwig & Loewe reverse engineer the Model 3 and begin production. The former produced around 300,000 units and the later around 100,000. Other countries copied the Smith & Wesson sixguns, including Spain, Belgium, Mexico, Turkey, Pakistan and others. Some copies were even roll marked in a blatant effort to counterfeit Smith & Wesson guns. In spite of the above being a severe financial hardship, Smith & Wesson's reputation for building quality guns was well established, and it managed to move forward with additional contracts.
The Model 3 competed directly with the Colt Single Action Army revolver. Like the Colt, the Model 3 was well received by the military and civilians alike, and the list of famous military brass, soldiers, lawmen, outlaws, gunfighters and cowboys that used and often endorsed this fine sixgun is rather lengthy. A few notables include the Russian Grand Duke Alexis, Jesse James, Bob Ford, Teddy Roosevelt, Dallas Stoudenmire, Pat Garrett, Billy the Kid, Pawnee Bill, Annie Oakley, Virgil Earp and his brother Wyatt. Many sources indicated that Wyatt used a Model 3 during the famous shoot-out with the Clanton's at the O.K. Corral (which is debated). Perhaps the most feared and one of the deadliest of all gunfighters, John Wesley Hardin was known to have used a Model 3.

A version that is important here is the S&W Model 3 Russian Third Model (aka New Model). Suffice to say that there were three distinct versions delivered to the Russian Empire. In short, the Russian inspectors were extremely thorough and wanted constant design changes that served to make the revolver stronger and more robust. For instance, they requested a larger trigger pin, larger cylinder retainer, improved extractor gear, the hammer needed to lock the action closed when in the down position, stronger sights and a firing pin recoil plate. In the evolution of the design, the Russians requested several changes to the grip frame, but most notable were the hump just above the web of the hand and a "finger rest" incorporated into the bottom of the trigger guard. All are features found on the Third Model.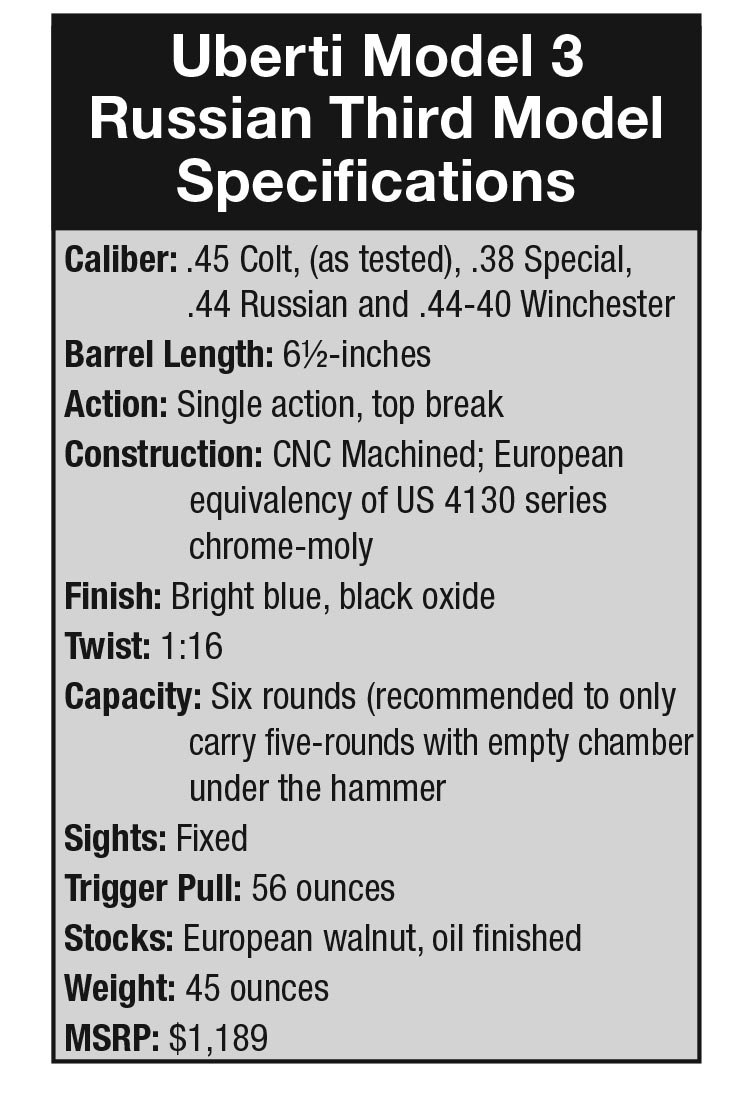 The Russian contracts were extremely important, as the country was by far the largest customer, so Smith & Wesson quickly responded to continual requests for design changes. According to Roy Jinks, Smith & Wesson's official Historian, there were 41,138 Model 3 Russian Third Model revolvers delivered to Russia, 5,000 produced for the Turkish government, 1,000 units for Japan and 13,500 commercial versions. However, the total number of Model 3s shipped to Russia exceeded 150,000 and total production exceeded 250,000 guns.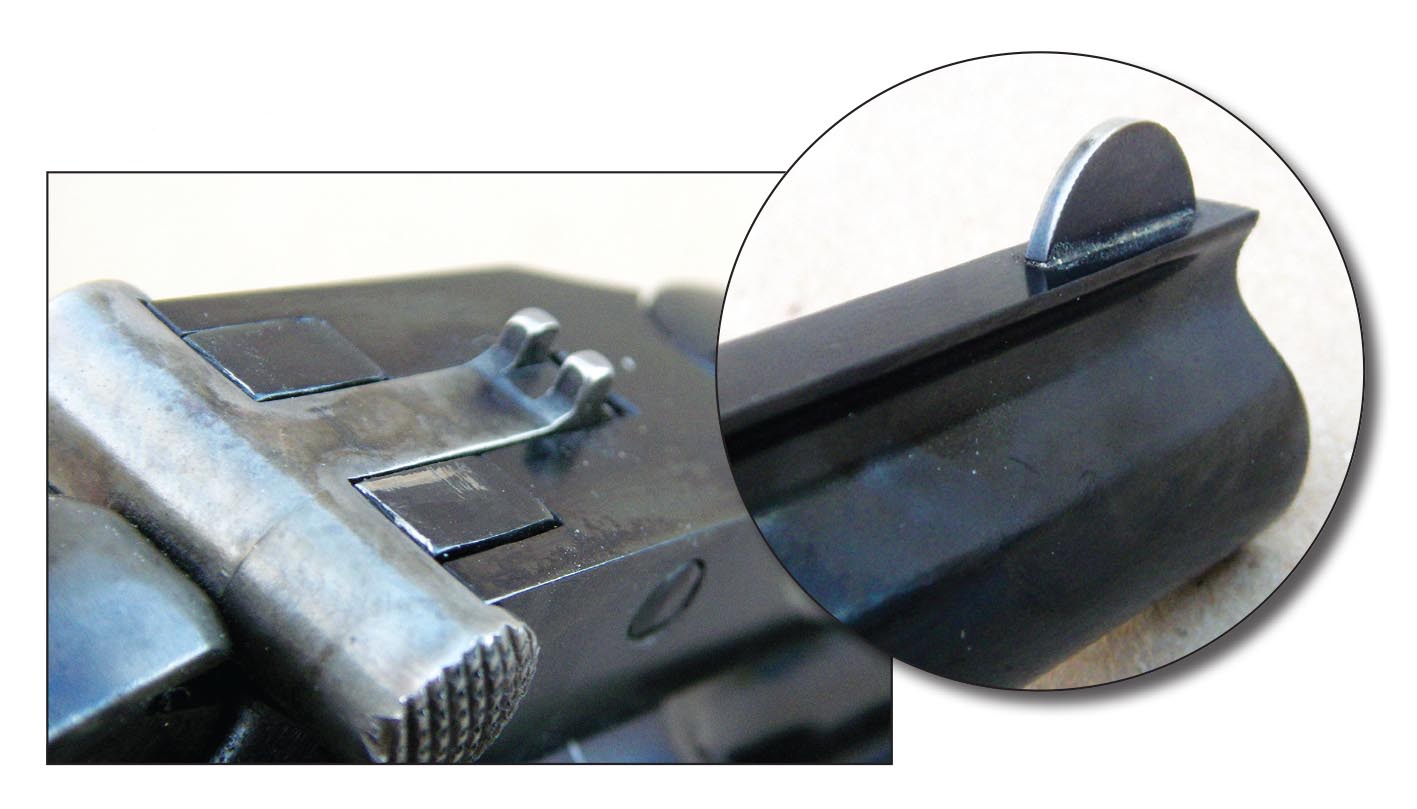 For shooters, there are several problems with period revolvers. First, they are black-powder guns and should not be used with smokeless powder loads. Second, many are in very poor condition and are often not in safe shooting condition. Third, good examples have escalated in value and are generally investments rather than shooters.
Beginning around 2000, the Italian based manufacturer Uberti began offering modern reproductions of the S&W Model 3, starting with the Schofield. Some of the early revolvers had locking latch issues that have been corrected. A subsequent addition is the Model 3 Russian version, with one chambered in the ever-popular .45 Colt being selected for this review.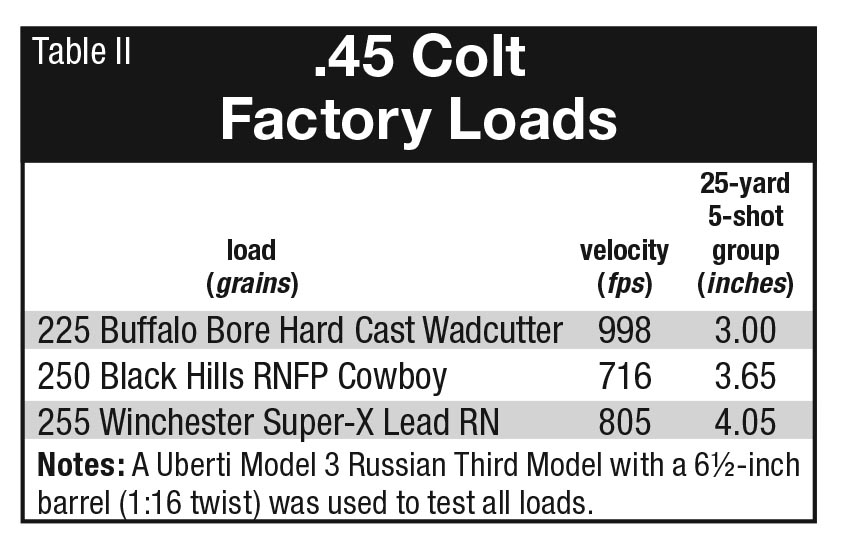 To house the larger caliber and length of the .45 Colt cartridge, these guns feature a larger cylinder and frame. They are also constructed of modern European steels that are similar to U.S. 4130/4140 chrome-moly, making them suitable for all smokeless- powder loads manufactured within SAAMI specifications. It is notable that these guns feature lock-work engineering changes that allow them to pass required import safety regulations. Nonetheless, I strongly suggest to only carry the revolver with five cartridges with the empty chamber resting directly under the hammer.
The sample gun was imported by Taylor's & Company but is also available from Cimarron Firearms. It is well made, fit and finish are good and the cylinder locks solidly with minimal end-shake. While there are necessarily small departures from the originals, it certainly has the flavor of an original, but it can be shot without concerns for safety or damaging a valuable piece of history. The top latch and hammer are case colored while the remainder of the gun is blued. Additional features include oil finished walnut stocks, a lanyard ring, a 6½-inch barrel and the barrel rib is appropriately roll-marked in Cyrillic. Interestingly, the rear sight is far enough forward that it is in front of the trigger finger, which results in natural pointing and sight alignment.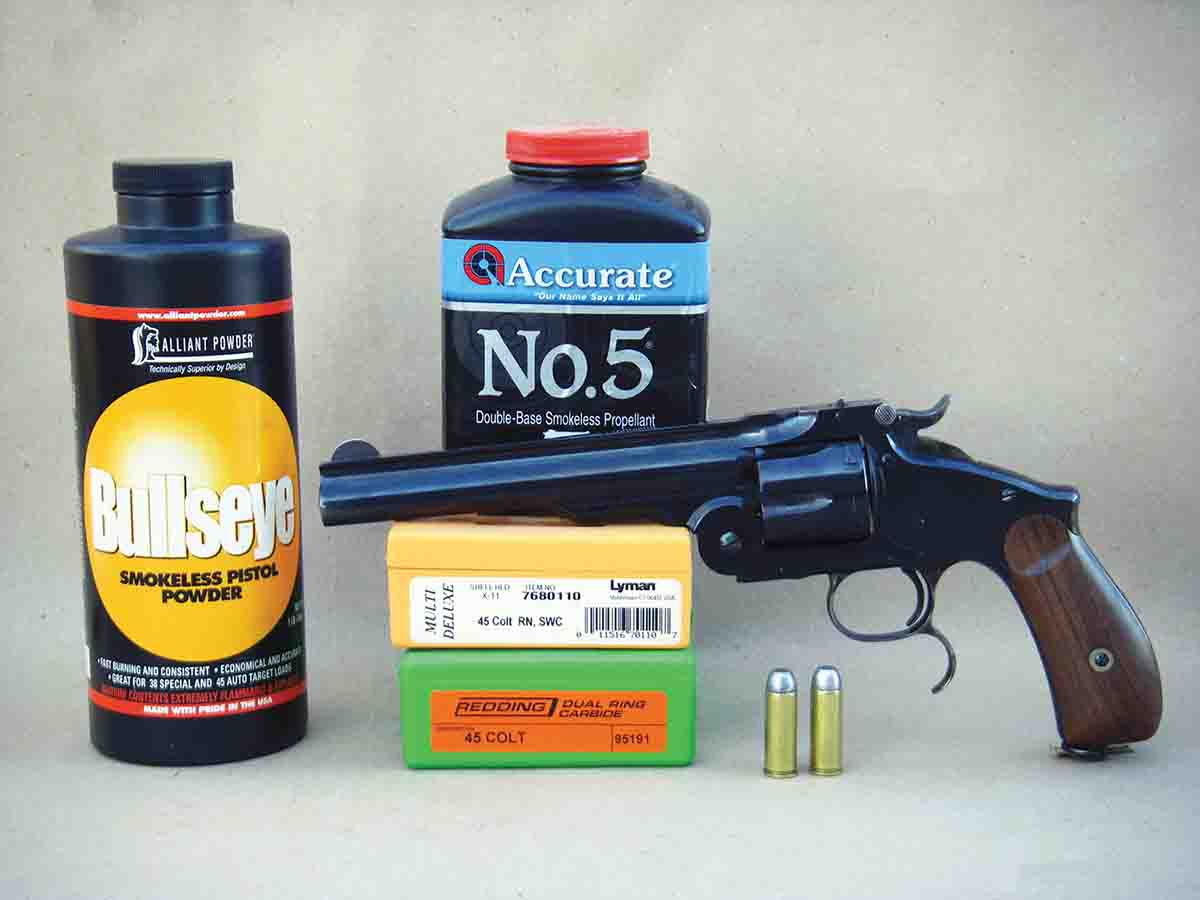 Shooting the revolver is enjoyable. The action worked smoothly and the trigger pull broke with only slight creep at 56 ounces. The chamber mouths measure .453 inch and each chamber ranges correctly with the bore. With the rear sight being housed as a part of the top-latch and the front sight being staked into the barrel rib, there is no sight adjustment. Nonetheless, the gun shot very close to point of aim at 25 yards, with the center of groups being only slightly to the left when using 250-grain factory and handloads.
Fired cases ejected without issue, but due to the comparatively long case length of the .45 Colt, the gun had to be tipped upside down during opening for cases to clear the chambers.
Factory loads from Winchester, Black Hills and Buffalo Bore were checked for function and accuracy. For whatever reason, the widely popular Magma designed 250-grain RNFP bullet (used in factory and handloads) only produced mediocre accuracy. From a rest, 25-yard groups typically measured 3 to 4½ inches, which is good enough for most recreational shooting.
Uberti has been building important replica firearms since 1959 and has steadily improved its quality. The Model 3 Russian Third Model is a modern piece of history that functioned flawlessly and was fun to shoot. With street prices around $1,000, it is within the budget of most shooters.