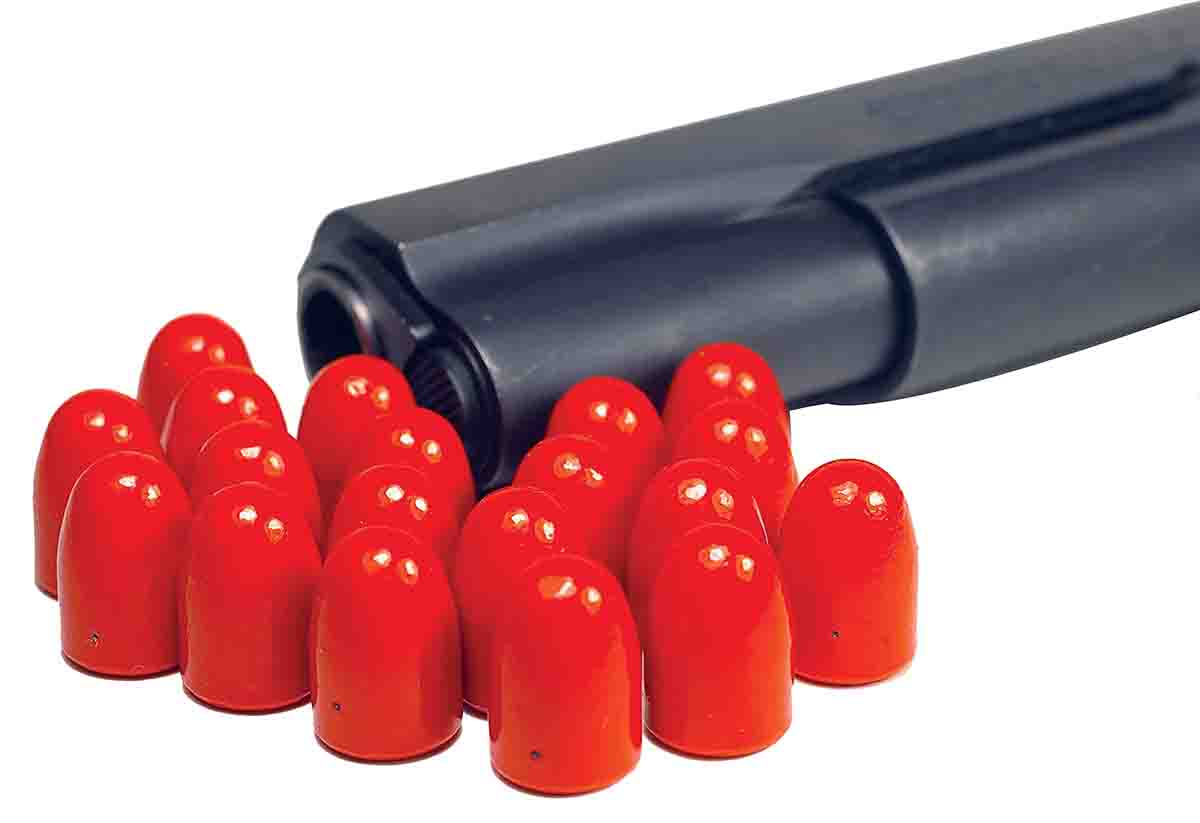 Shielding a bullet from damage caused by friction against a barrel bore has evolved over the centuries. During the Revolutionary War, Americans loaded their rifles with a lead ball slightly narrower than a rifle's bore, encircled within a patch of linen or animal membrane. During the Civil War, lead Minié ball bullets were dipped in tallow and beeswax, or their cannelures were filled with lubricant. Berdan and Whitworth rifles used during the Civil War and years after, fired paper-patched lead bullets consisting of two turns of moistened paper tightly wrapped around the bullet.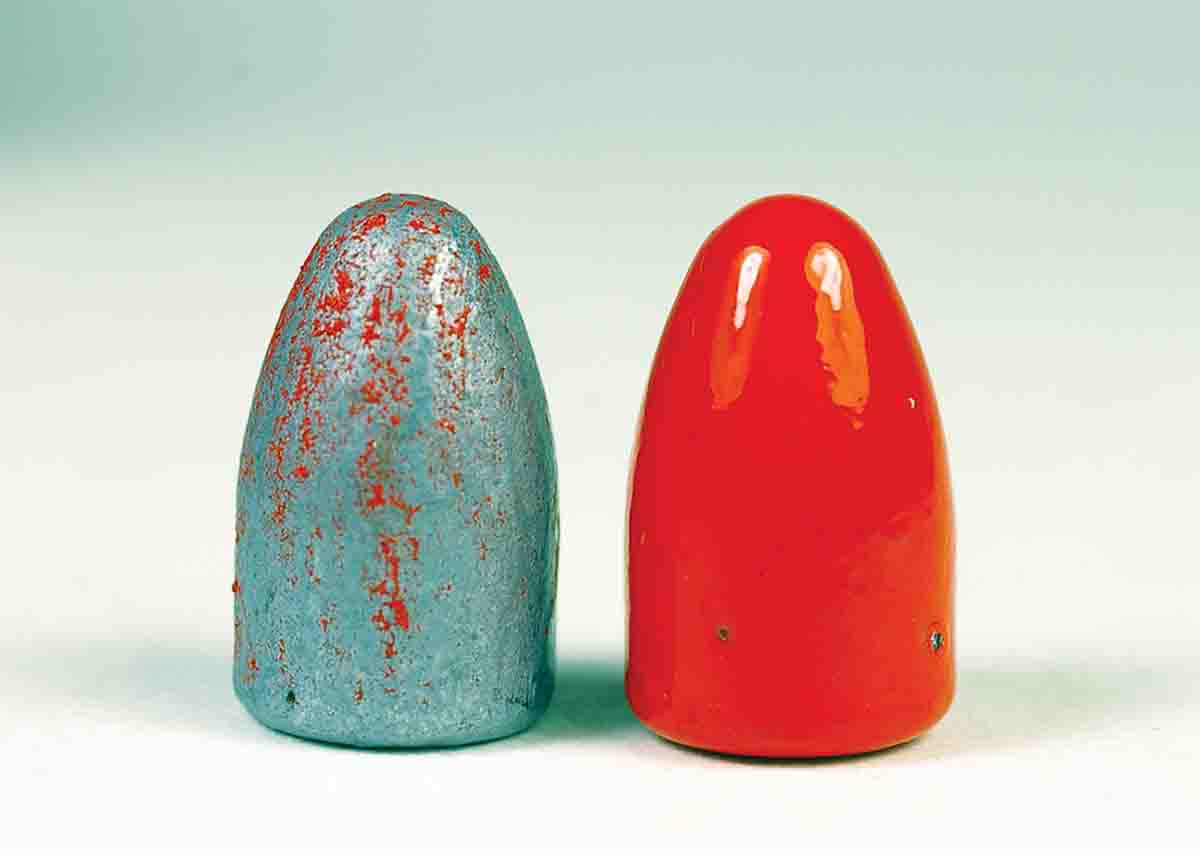 Lead bullets, even hardened lead bullets, could not withstand the higher velocities and temperatures produced by smokeless powders. The solution over the years was to encase the lead in a hard jacket of bronze, copper, cupronickel, steel or gilding metal. Gilding metal is the preferred jacket material today.
However, gilding metal's main component is copper, which makes bullets expensive for high-volume handgun shooting. Bullet velocities top out at about 1,500 fps fired from traditional handgun cartridges, so there is really little need for such an expensive jacket.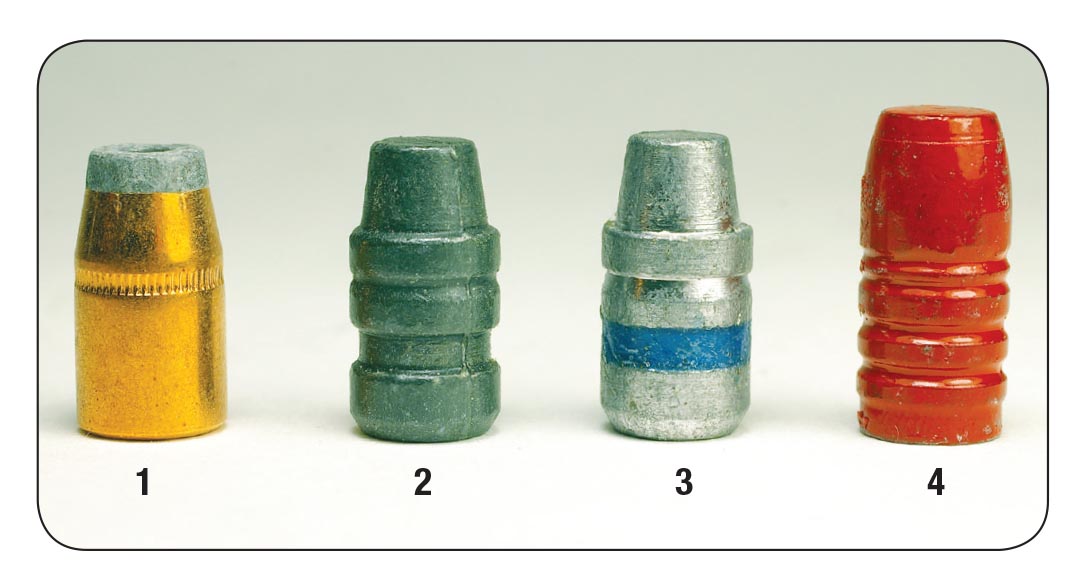 Even though jacketed handgun bullets came into somewhat general use in factory cartridges with the arrival of the 9mm Luger and .45 Auto just after 1900, cast lead-alloy bullets with cannelures filled with lubricant remained the dedicated handloader's standard handgun bullet well into the 1960s. Ammunition companies have stayed with swaged lead handgun bullets for the low cost of lead and machines that efficiently produce the bullets.
Over the years, many coatings on swaged lead bullets have been used with varying success to reduce bore leading, including mica, molybdenum disulfide, nylon, various waxes, silicone, Teflon and electroplated copper.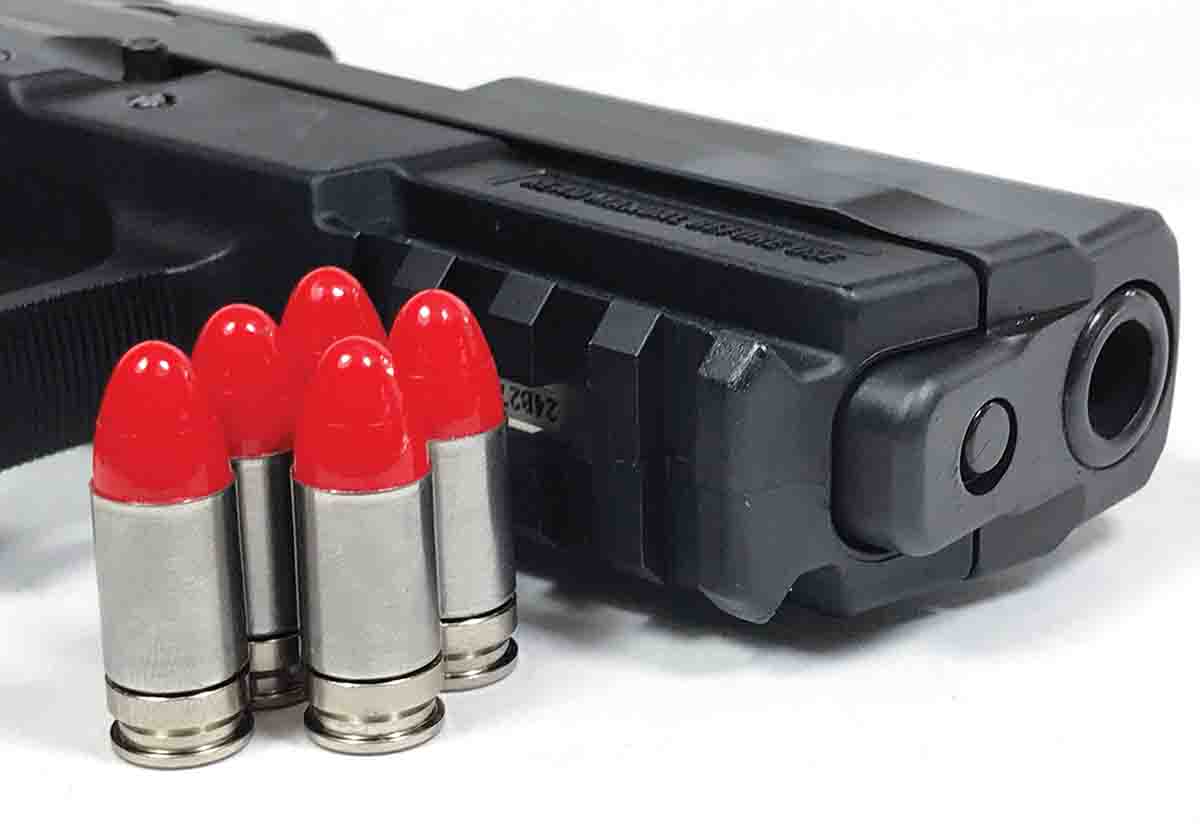 When I first started handloading, I bought a 500-count box of swaged, 158-grain semiwadcutter bullets to shoot in my .357 Magnum revolver. The powder lubricant on the bullets left a dust of white on my hands, and nearly everything on the bench. Bore leading was tolerable when firing the bullets at an estimated 750 fps. It turned severe when firing the bullets at a still relatively slow 1,000 fps, the suggested maximum in the bullet manufacturer's reloading manual.
That started me buying cast bullets and eventually casting my own. Some of the lubricants on those bullets were gooey or sluffed off bullets on warm days, and wax lubes produced a great deal of smoke. Nearly all lubricants eventually accumulated enough in seating dies that the dies required cleaning after seating as few as several hundred bullets.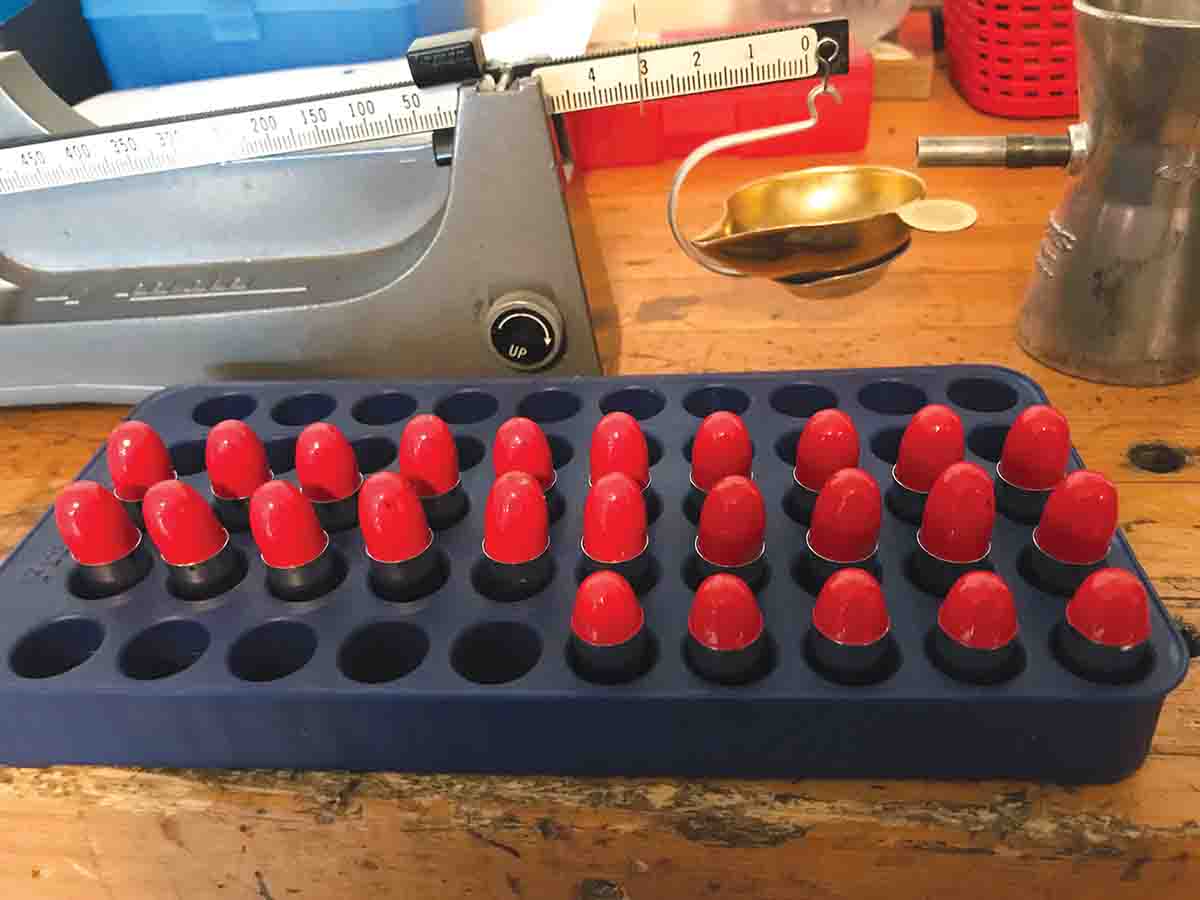 A number of years ago, some handloaders started experimenting with polymer coatings on lead-alloy bullets under the general term "powder-coating." The process gained popularity because it was easy to perform and provided several benefits over other coatings. After a short time, many bullet companies joined in and started selling polymer-coated, swaged lead and cast lead-alloy bullets.
Federal started making its polymer-coated Syntech Total Synthetic Jacket (TSJ) bullets in 2016 and loading them in its American Eagle Syntech line of 9mm Luger, .40 S&W and .45 Auto ammunition. Federal has now started selling TSJ 9mm 115-grain, .40-caliber 165-grain and .45-caliber 230-grain bullets for handloading. The TSJ polymer jacket completely covers Syntech bullets, which prevents metal-on-metal contact in the bore to eliminate lead fouling and decrease bullet friction and heat, according to Federal. Airborne lead from bullets is also eliminated when shooting.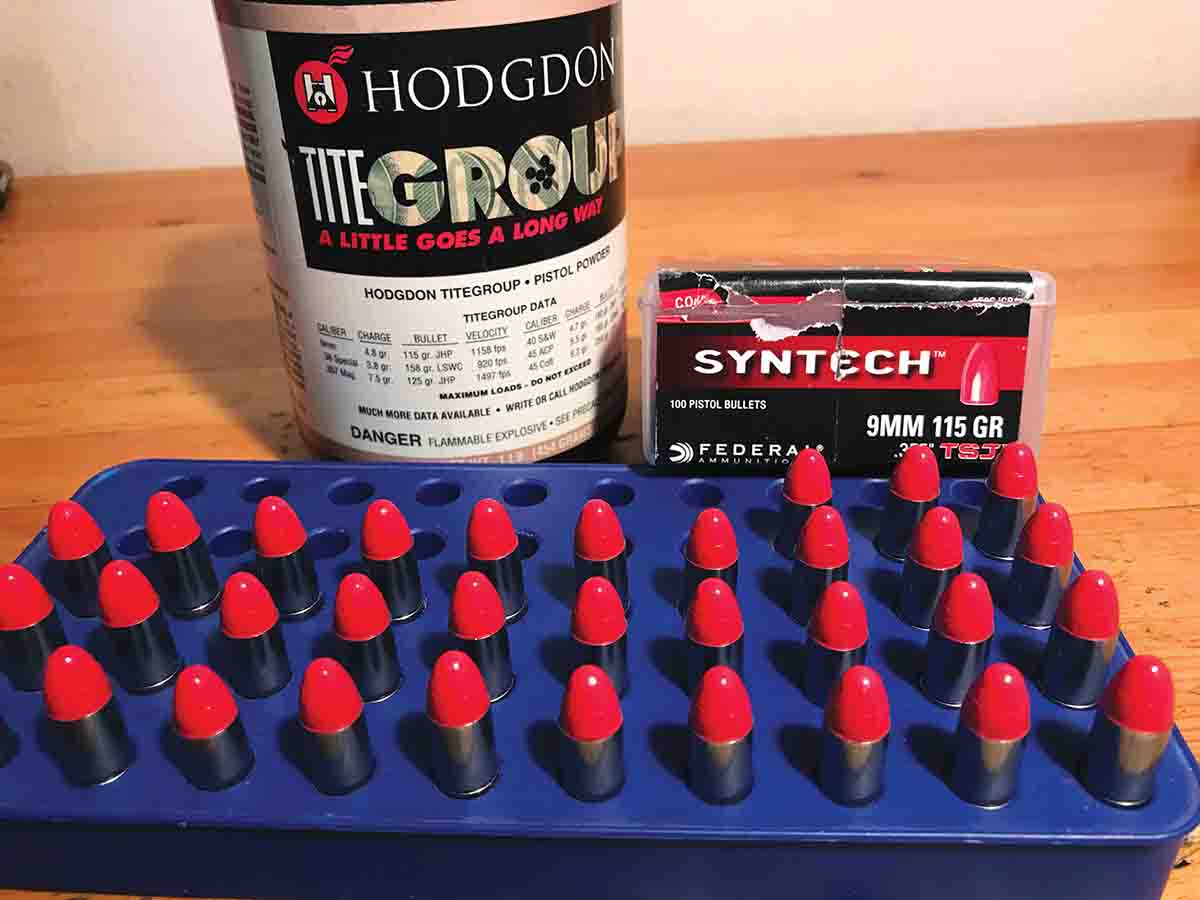 The polymer coating strongly adheres to Syntech bullets. I shot a few .45-caliber, 230-grain Syntech bullets at a velocity of about 800 fps into a bundle of paper at 25 yards. The nose of the recovered bullets had been deformed and the coating wiped off. However, the coating remained on the base of the bullets and also where the rifling lands had ironed into the bullet shanks. Syntech coating is very slippery, and I was concerned bullets might slip or strip in the rifling. The rifling lands engraving showed this was unfounded. To add some fuel to the .45 Auto versus 9mm Luger debate, I shot a few Syntech 9mm 115-grain bullets at about 1,200 fps into the same paper bundle. The bullets plowed clear through the paper.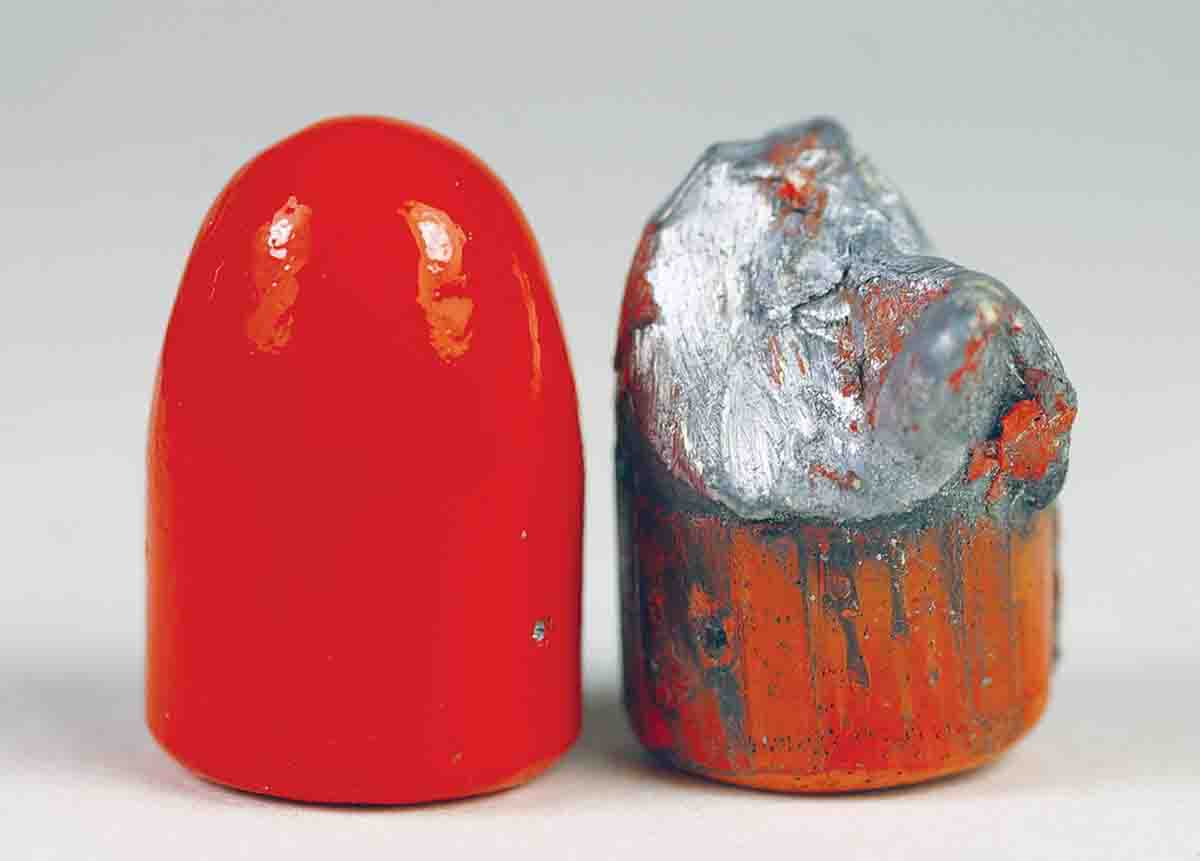 To determine the thickness of the polymer coating, I soaked several 9mm Syntech bullets in a strong bore solvent in an attempt to melt and remove the coating. The bullets came out no worse for wear after soaking for a day. Zip-Strip Paint & Finish Remover did soften the coating on a 9mm bullet enough so it peeled off. The polymer jacket measured .003 inch when comparing the bare bullet with a coated one. That jacket thickness is about the same as my homemade powder-coated cast bullets. A rough surface on the lead core presumably helps the polymer coating adhere. Pinprick holes in the coating on opposite sides of the bullets indicate where the bullets are held while the coating is applied.
Syntech bullets are formed of a lead alloy. However, the bullets are much harder than plain lead bullets. A SAECO Lead Hardness Tester recorded a hardness comparable to a Brinell hardness number of 15, which is about three times harder than lead.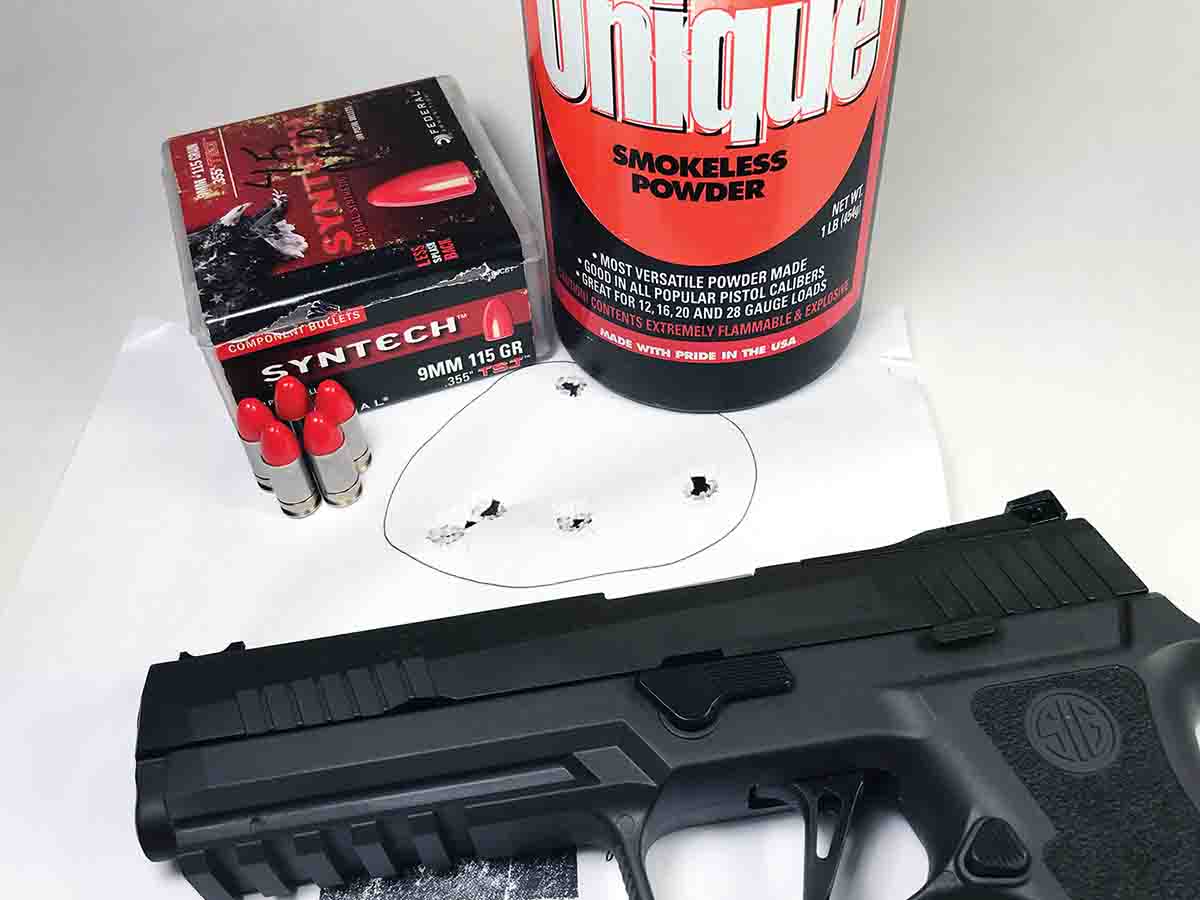 Handloading Syntech bullets is straightforward. A hundred bullets come in a plastic box with a card printed with load data for a dozen powders and the overall cartridge length, primer and case used by Federal. The Syntech coating easily scrapes off, so flaring case mouths an adequate amount before inserting bullets is important. I seated a Syntech bullet in a .45 Auto case with its mouth expanded not quite enough. Shaved off coating collected around the case mouth and prevented the cartridge from chambering. The load data card lists a .45 Auto cartridge length of 1.235 inches. That length was a touch long and prevented my Colt Gold Cup from fully-closing. A slightly shorter 1.230-inch cartridge length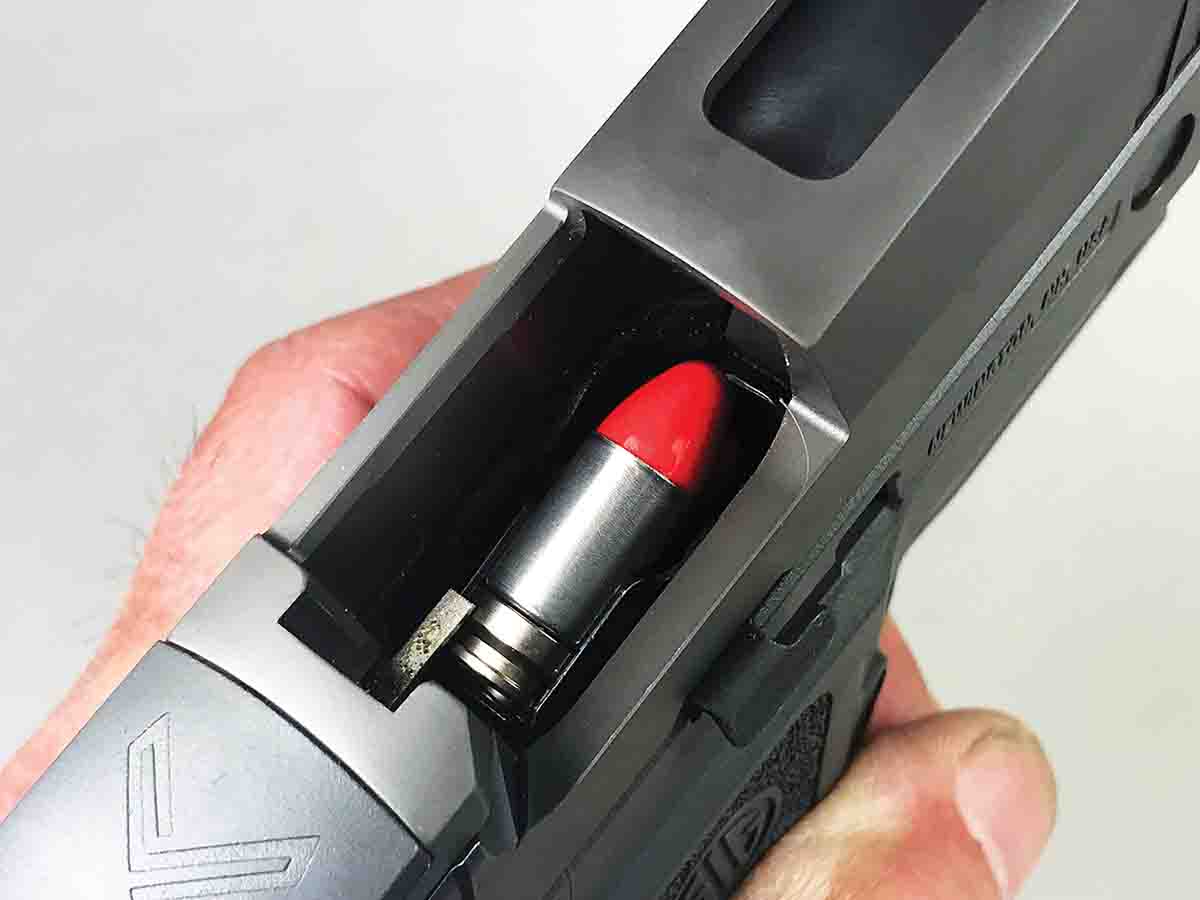 was a perfect fit.
The Colt .45 Auto fired five-shot groups slightly smaller and larger than 2 inches at 25 yards with Syntech 230-grain bullets with six different powders. Those group sizes are about on par for the Colt with 230-grain bullets with gilding metal jackets, uncoated cast bullets and my powder-coated cast bullets. The Colt's 5-inch barrel delivered velocities about 50 fps slower than those listed on the load data card produced by the 5-inch barrel Federal used to the create the data.
The SIG Sauer Legion P320 XFive and SP2022 9mm Luger handguns were a bit finicky with the loads they shot best with Syntech 115-grain bullets. Unique provided the tightest groups with the bullets from both SIG handguns.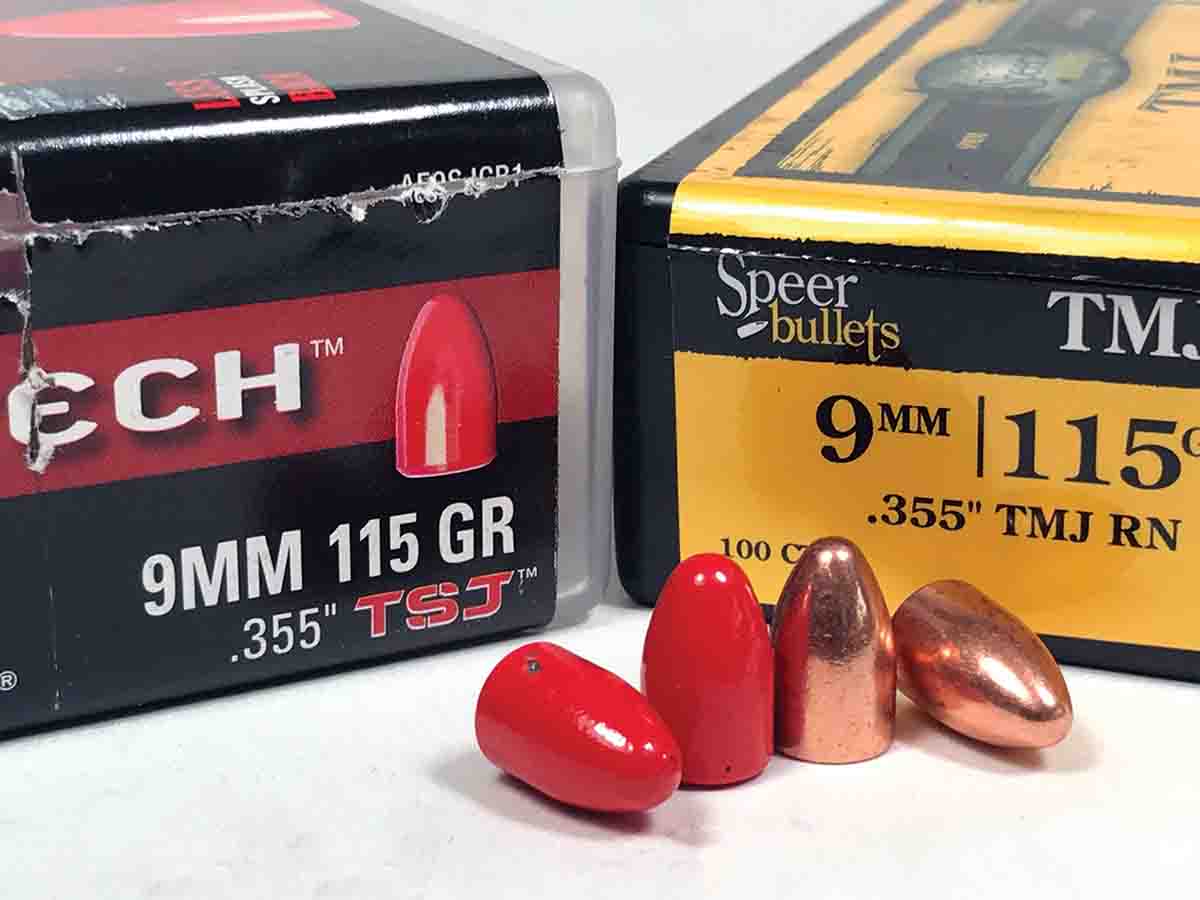 After shooting 75 bullets through both guns, some streaks of red from the Syntech coating covered the first inch or so of the rifling in front of the chamber in the bores. That can be attributed to the bullets requiring that much barrel length to fully expand and seal the bore. Farther down the bores, only primer and powder fouling was visible, but no streaks of red or smears of leading.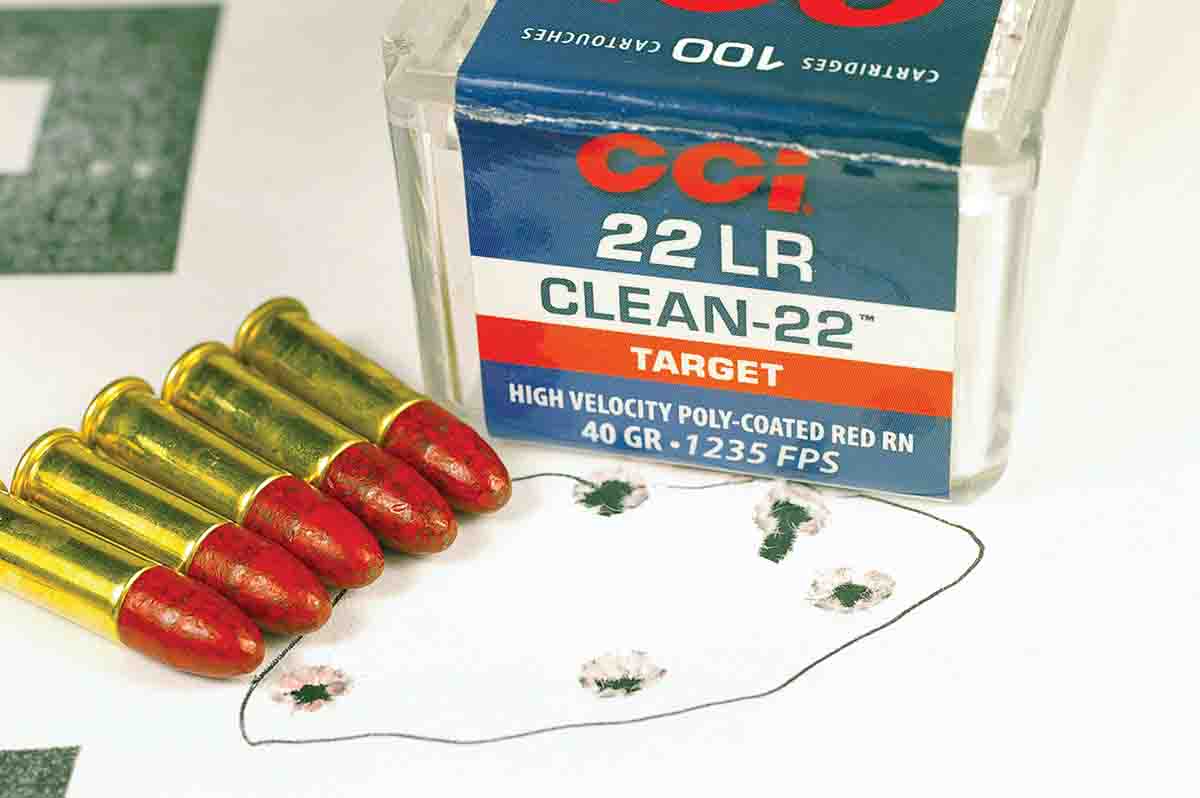 Federal said the Syntech coating decreases bullet friction against the bore, but with no further explanation. Usually, velocity is somewhat slower for a bullet that creates less friction compared to a bullet of the same weight and shape, if both are fired with an identical load. Syntech 115-grain and Speer 115-grain Total Metal Jacket roundnose 9mm bullets are very similar in shape.
Fired from the SP2022, velocity of the Syntech bullet was 1,212 fps compared to the Speer's 1,195 fps with both bullets loaded with the same case, primer and 6.6 grains of Power Pistol powder. The same loads fired from the XFive pistol shot the Syntech bullets only 8 fps faster than the Speer bullet. Switching to 4.3 grains of Titegroup powder, the SP2022 fired Syntech bullets at 1,162 fps and Speer bullets at 1,064 fps. The XFive fired Syntech bullets at 1,175 fps and Speer bullets a touch slower at 1,122 fps with the Titegroup load.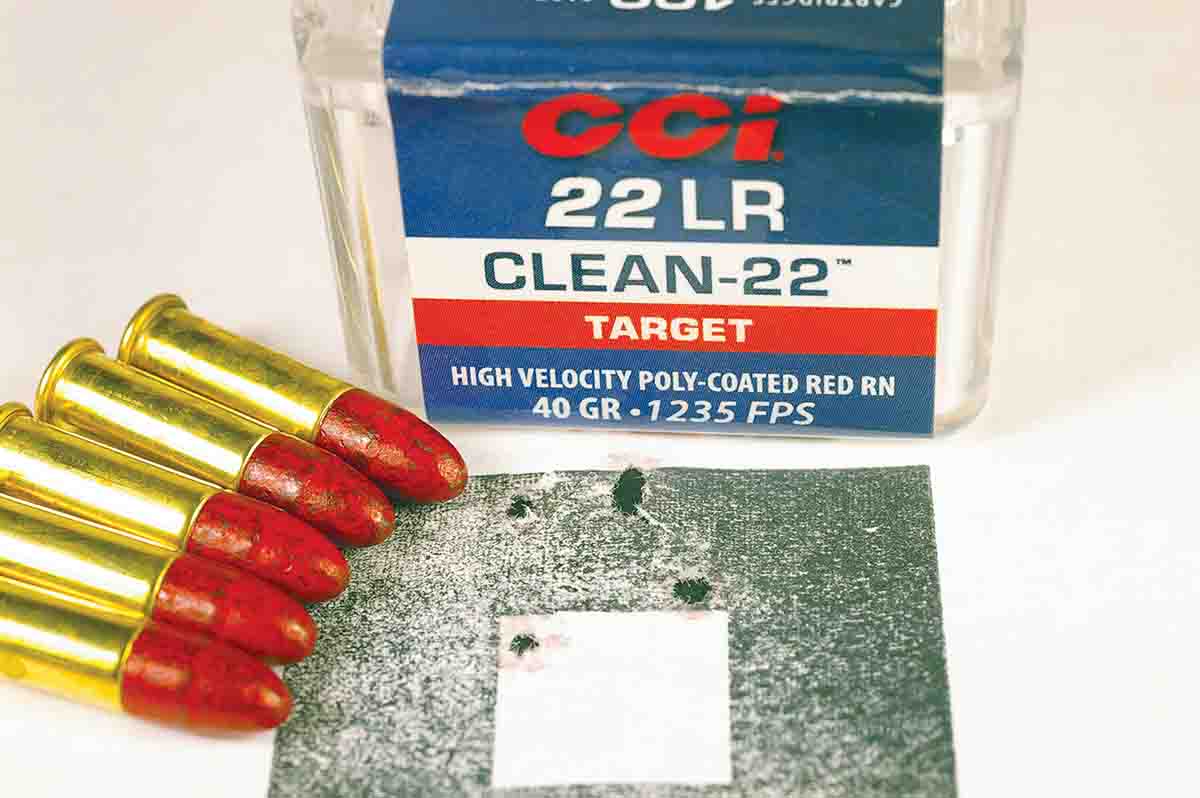 In the end, Syntech coating does provide several benefits for handloaders. For one, the price of Syntech bullets is similar to copper-plated and full metal jacket bullets, and a few pennies more per bullet than cast bullets with a cannelure filled with a traditional wax-type lube and swaged lead bullets.
The .45 and 9mm handguns emitted barely a wisp of smoke when shooting Syntech bullets. Conversely, smoke pours out of a barrel like an industrial smokestack when shooting lead bullets covered with some wax lubes. The polymer coating covers the entire bullet, which eliminates exposure to lead while handling the bullets and airborne lead fumes while shooting. The bullets also leave next to no fouling other than a few streaks of coating on rifling in the first inch or so ahead of the chambers. With all those merits, Federal Syntech bullets have lead handgun bullets well covered.

CCI Clean-22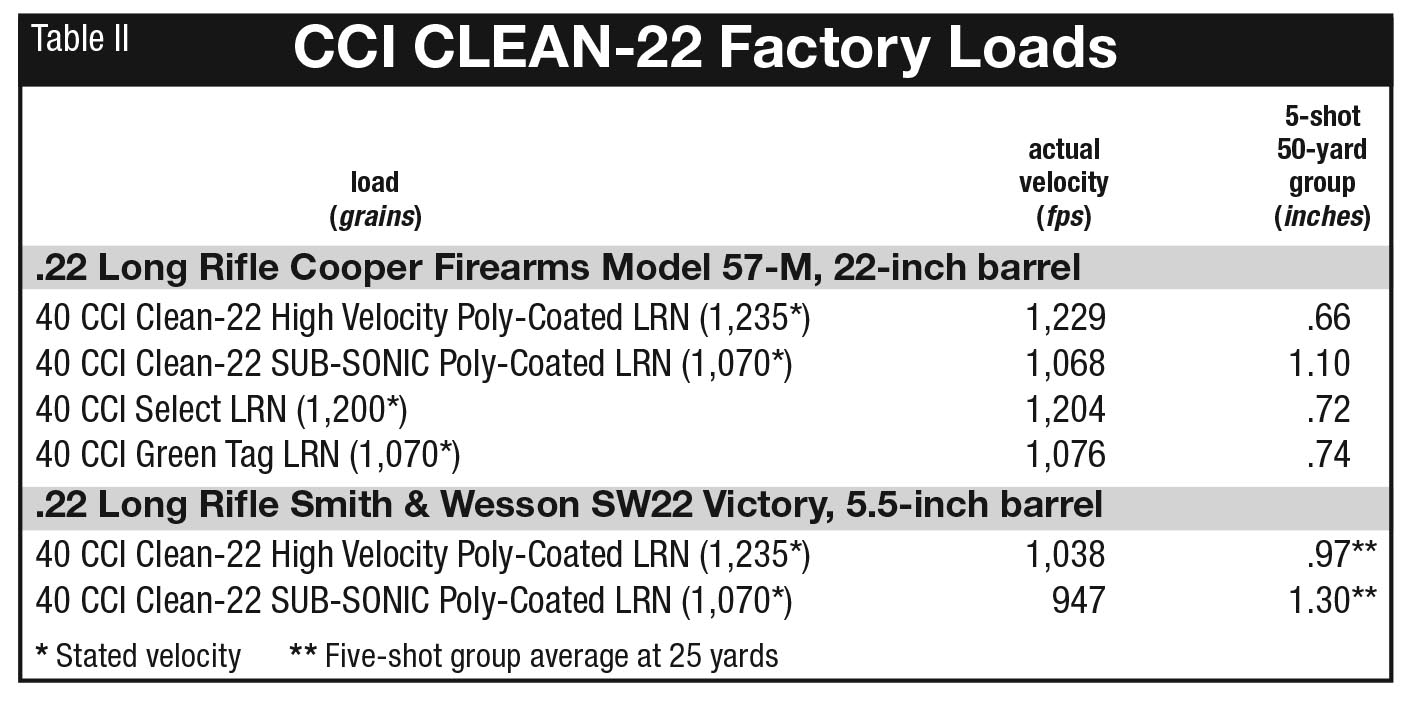 It was natural for Federal to share its Syntech polymer coating with CCI, its sister company. CCI Clean-22 .22 Long Rifle cartridges are loaded with 40-grain polymer-coated lead roundnose bullets. High Velocity cartridges are distinguished by a red coating and SUB-SONIC loads with a blue coating. According to CCI, the coating greatly reduces lead fouling in barrels, leaves no residue and decreases lead buildup in suppressors by 60 to 80 percent.
I shot both Clean-22 loads in a Cooper Firearms Model 57-M rifle and a Smith & Wesson Victory pistol. High Velocity cartridges averaged .66 inch for three and five-shot groups at 50 yards from the Cooper. SUB-SONIC loads failed to shoot quite as precisely. For comparison, groups shot with CCI Select averaged .72 inch and CCI Green Tag cartridges .74 inch. The Victory also preferred the High Velocity cartridges with a one-inch average for three groups compared to 1.34 inches for the SUB-SONIC loads.
After shooting 50 High Velocity cartridges through both the Victory and Cooper .22s, streaks of red coating smeared the first inch of rifling in front of their chambers. The smudges diminished over the next inch to clean bores with some powder fouling but no sign of leading. A couple solvent-soaked patches and 10 passes of a bronze brush removed the coating from the bores.