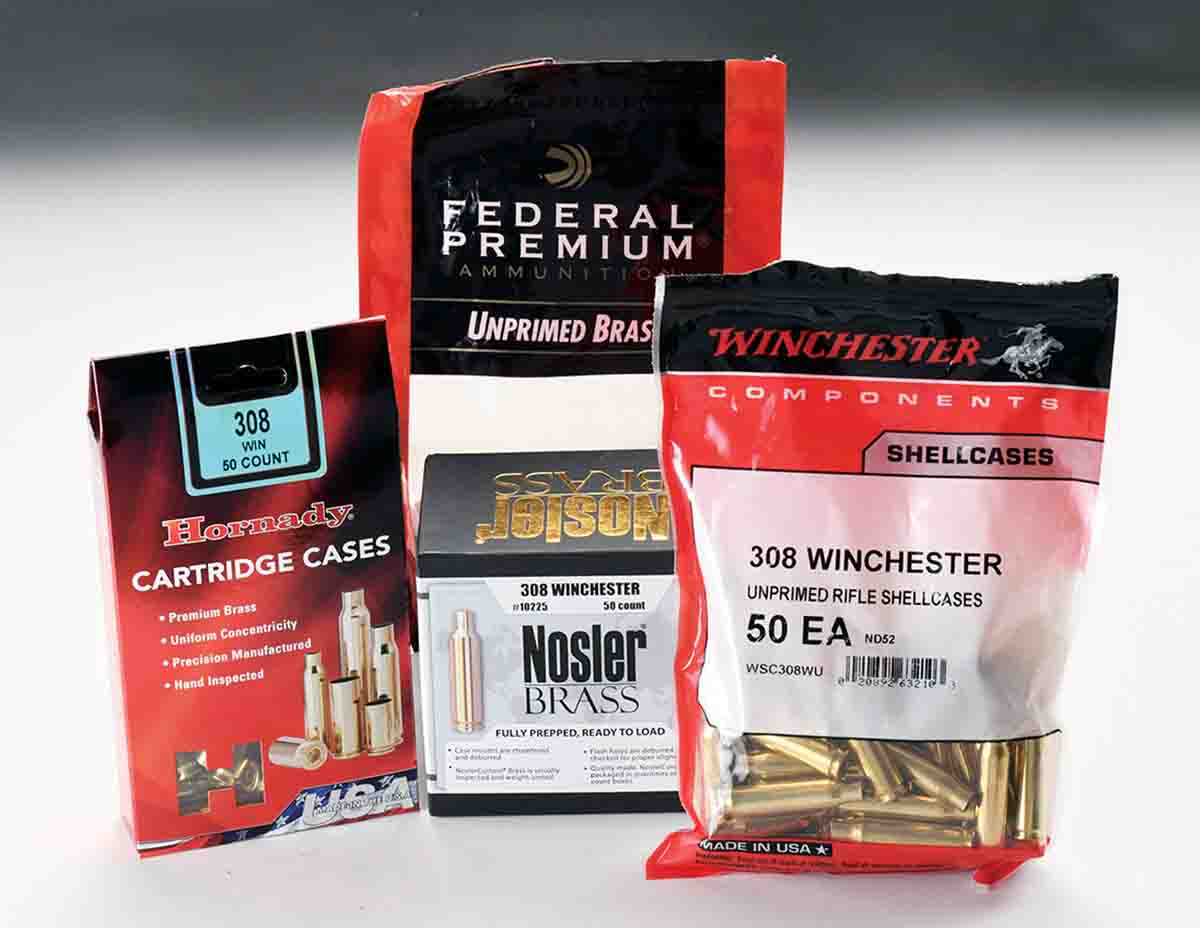 A brass cartridge case holds and contains a primer, propellant and projectile in a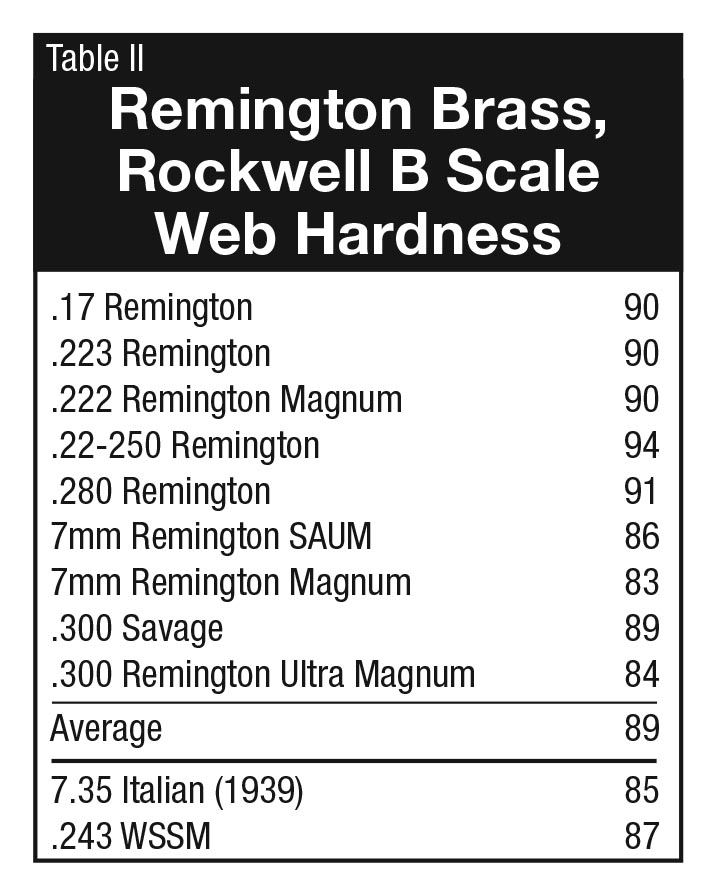 durable near-waterproof, compact package. It aligns the bullet with the bore, provides a seal for high pressure gases when fired, acts as a heat sink to reduce the amount of heat transferred to the barrel steel, and then recovers after firing to permit easy extraction. The brass case is not only the basis for a round of factory ammunition; a fired one provides the ability to reconstruct another shot. A new component case lets the handloader assemble his own recipe from scratch without the expense, chamber throat erosion or time required to find, purchase and shoot a factory round. A brass case can be resized, reformed, blown out, work-hardened, annealed, shortened, reamed, trimmed, turned, chamfered, weighed, measured, sorted and polished.
With all the attention on new bullets and powders, the focus has gotten away from what is arguably the most critical component of a handload. The brass case offers so many opportunities for improving performance, it deserves attention.
Let's start with a brass basic, the tradeoff between hardness and ductility. As hardness goes up, yield strength increases and ductility decreases. The often-overlooked rifle cartridge case is really a marvel. To paraphrase The Armament Research Development and Engineering Command at Picatinny Arsenal: The case mouth is relatively thin and ductile to permit easy bullet seating and provide effective expansion. The shoulder is tapered to improve extraction. Sidewalls are progressively thicker and stronger toward the case head so that it takes higher pressure to force the case wall against the chamber toward the base of the case. This is called "progressive obturation." A too-brittle case with reduced ductility produces ruptures and splits. A too-ductile case can produce extraction problems. The case head is the thickest and strongest part of the case because it is partially unsupported or backed by steel and must resist the deformation of firing pressures and contain the primer in the pocket. As chamber pressure subsides, the steel chamber recovers fully, and the brass case partially. If the brass case is not made with the proper strength and ductility in the proper places, it causes a malfunction.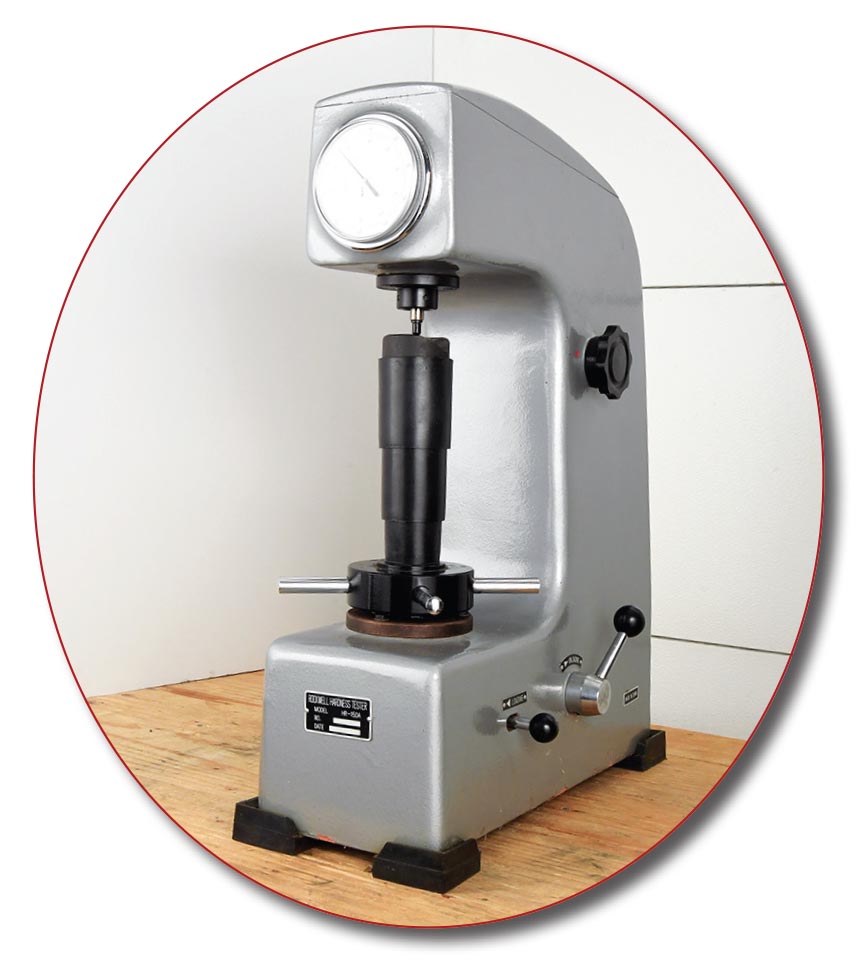 All shooters have a vested interest in the thickness and hardness of the base and web section because it must contain very high chamber pressure without failing. While the forward sidewalls are backed by steel, the base section alone must contain the high pressure. Handloader interest revolves around case life as well. If a primer pocket expands so that it does not provide a normal press fit for a primer, that case is ruined for reloading. If brass sets back into an ejector hole or slot, the load is too hot (excessive pressure) for that case, and again case life suffers.
Most handloaders, while concerned about case life, often do not realize how much of a cartridge case head is unsupported by steel in a rifle chamber. There are areas around a case's extractor cut, and even slightly ahead of it, where there is no steel backing. Thickness and hardness at the rear of the case is important from a safety standpoint. Fortunately, manufacturers have made sure that everything is safe in this regard.
So we know that brass must be hard in the head section of the case, but how hard?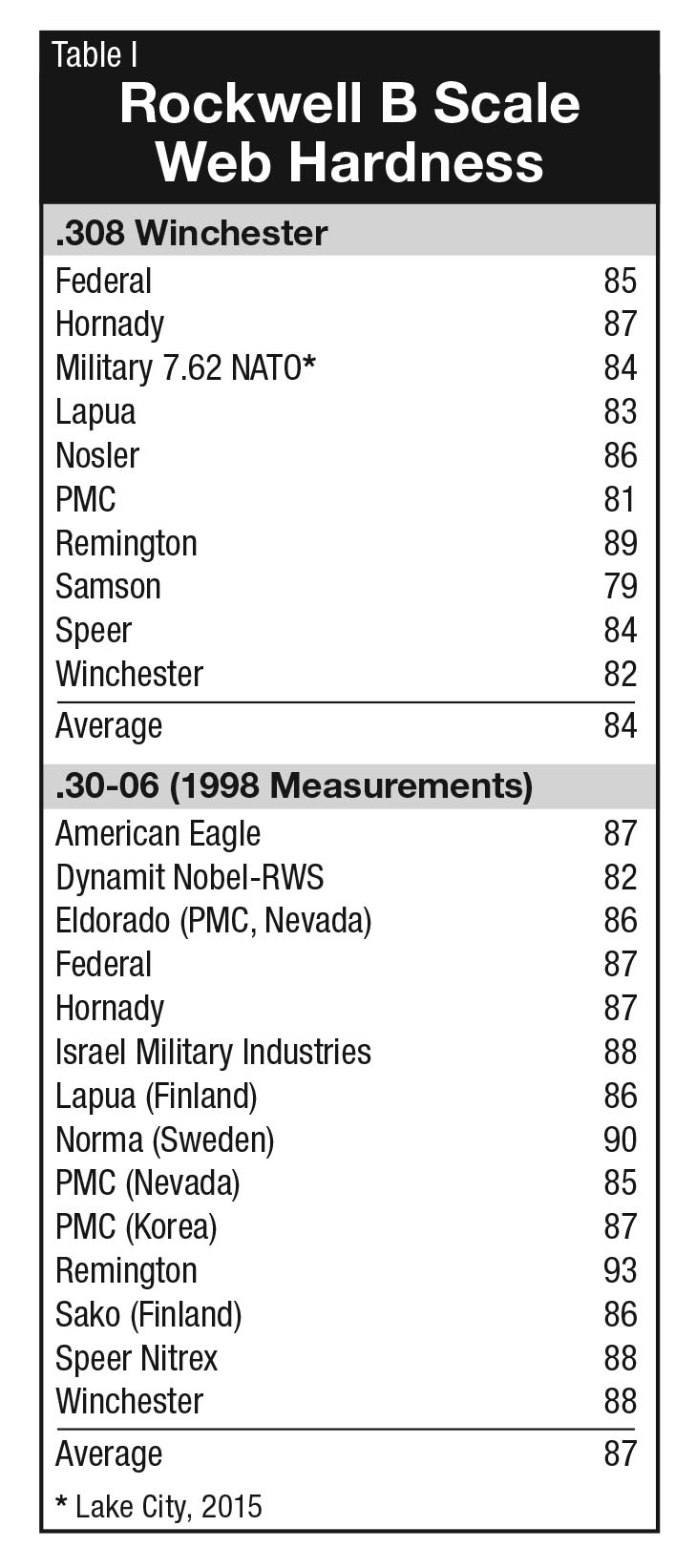 Handloaders comment that this or that cartridge brass is "soft." What is "soft," or "hard"? Recently, on an internet blog someone commented that Lapua cases lasted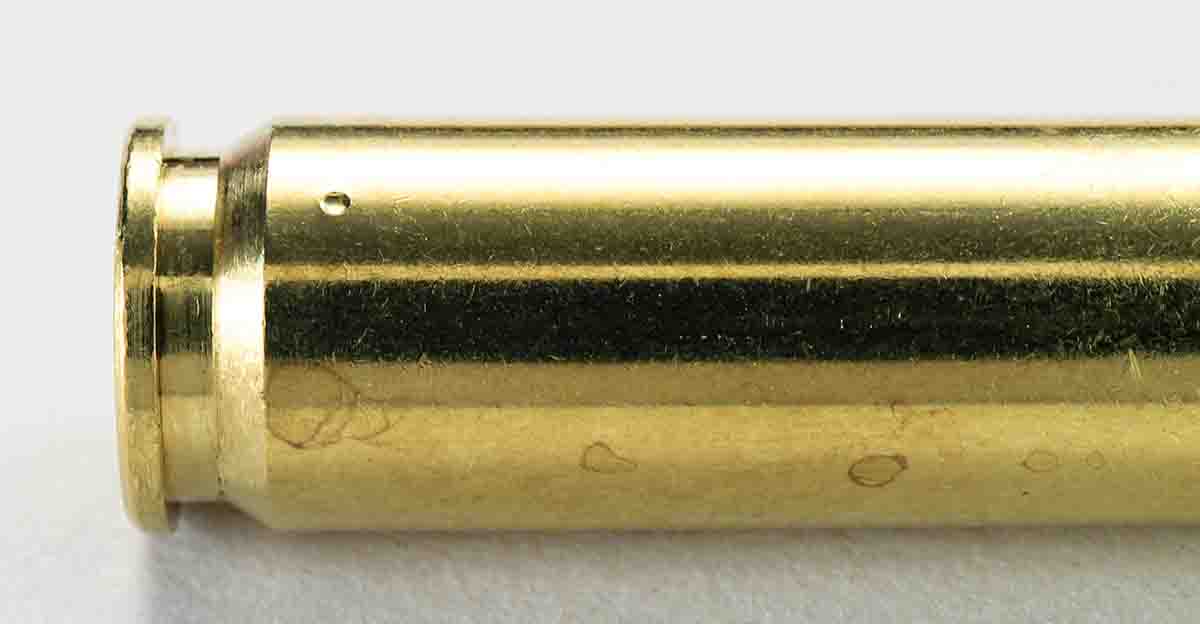 much longer before primer pockets loosened because they had a Rockwell hardness of 95 on the "B" scale in a given caliber while Remington brass measured only 61 on the same scale. Measurements were said to be taken near the bases of the cases. Most of us have heard that this or that case is "soft," but the comment on the blog elevated eyebrows. I had not seen such a wide hardness range with any cases.
For someone not familiar with Rockwell hardness testing, it is done with a standardized measuring device used to determine the hardness of metals. A penetrator of a prescribed size, shape and material is pressed into the material to be tested under a specific force. Then, based on penetration into the material, hardness is determined and expressed as a number on a scale. The "C" scale is commonly used with a diamond penetrator for steel, and the "B" scale is used with a small steel ball penetrator for soft steel and brass. I have seen it written that brass measurements on the B scale ranging from 40 to 65 are "quarter hard," 60 to 77 is "half hard," 72 to 82 is "three quarters hard," 79 to 86 is "hard," 85 to 91 is "extra hard" and 89 to 93 is "spring hard."
I have taken lots of Rockwell measurements on a variety of cases and have not seen the wide 61 to 95 hardness range mentioned on the blog. To check it out, I dusted off my Rockwell tester. It came with sample materials of a known hardness to test and make certain that the unit is returning proper readings. After verifying that it was, I measured 10 .308 Winchester cases of different headstamps using the B scale as mentioned in the blog. I tested the solid web section just forward of the extractor groove at three locations on each case, rotating it between measurements about a third of a turn, or roughly 120 degrees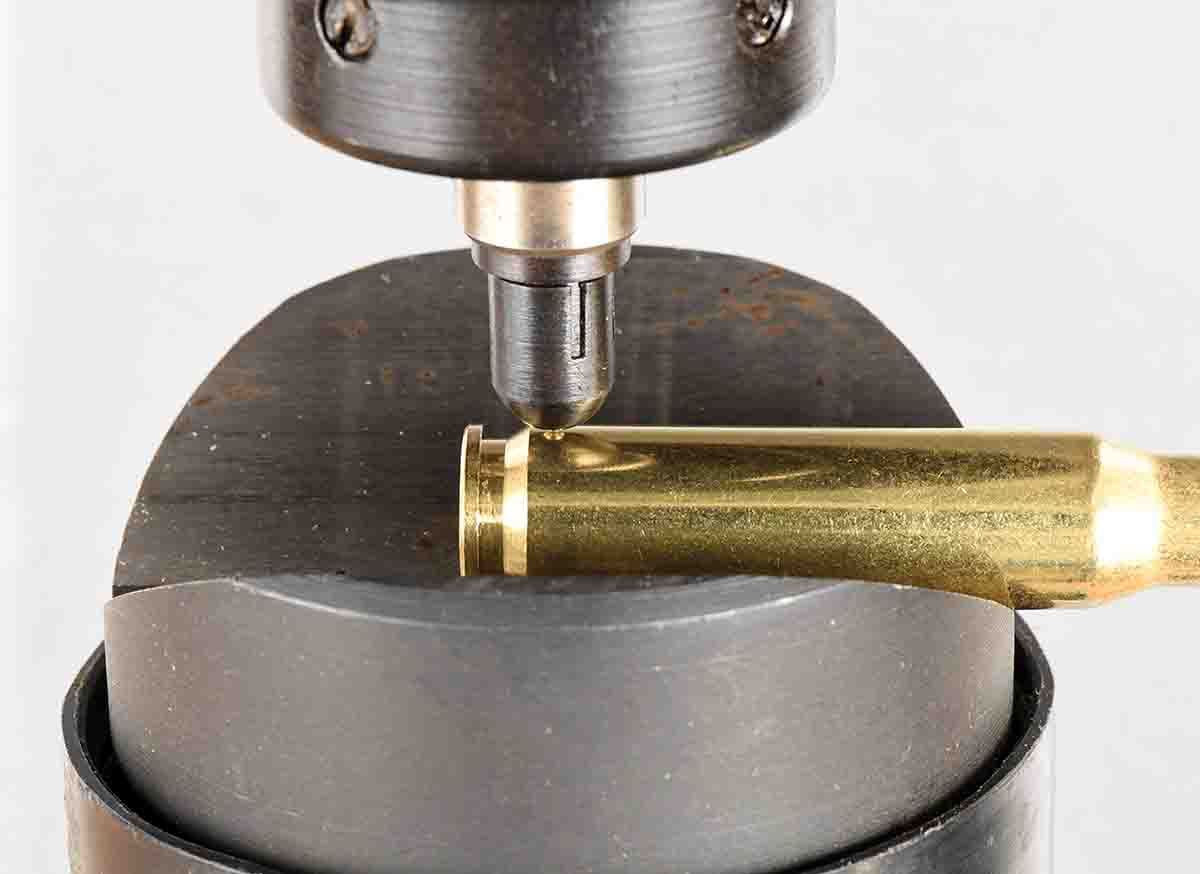 of circumference. I then averaged the three measurements to get a hardness value for each case. The result from all 10 cases was 79 to 87.
I then looked at past records and found where in 1998 I had gauged 14 .30-06 cases of different headstamps and found that the hardness range went from 82 to 93.
Just for drill, I then tested nine different calibers, all Remington brass, from the .17 and .223 Remingtons to the 7mm Remington Magnum and .300 Remington Ultra Magnum, including the relatively low pressure .300 Savage. The measurements ranged from 83 to 94 on the B scale. I grabbed a 7.35mm Italian round from a very old box on my shelf and measured it at 85. I had heard that brass in Winchester Super Short Magnum (WSSM) cases was exceptionally hard, so I placed a .243 WSSM case in the V-block under the penetrator. It came up 87. All 35 cases from different eras, different calibers, different diameters, different countries and different headstamps ranged from a low of 79 to a high of 94. I was surprised that the old Italian case (1939?) was right in the middle of it all at 85.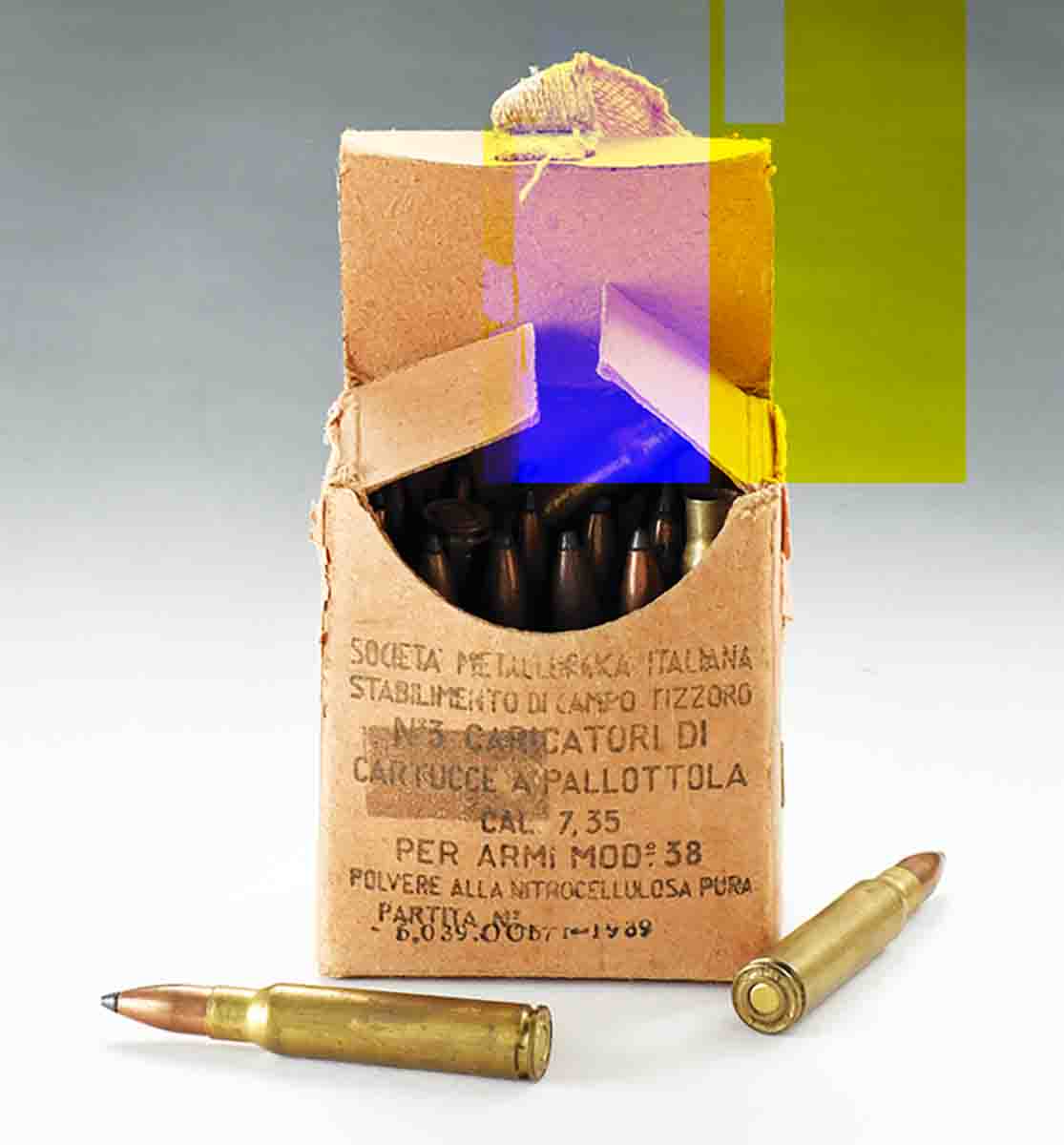 Hardness measurements on each individual case sometimes varied by two or as much as three points. Often, all three measurements were identical. Frequently, two were identical and one varied by one point of hardness. Indications are that cartridge brass hardness in the web section where I checked is pretty consistent. Multiple measurements on individual cases were consistent, and measurements on all cases fit within a relatively narrow range. It is interesting to note that reportedly "soft" Remington brass actually leans to the high side in hardness.
I then wondered if case brass would become harder in the web section with repeated firings. I located some well used Federal .22-250 cases that had been fired with some high-pressure loads as noted by brass setback (ejector hole). These cases measured 89, same as new ones from the same box. It makes sense because while primer pockets enlarge, the web section is not repeatedly reduced by sizing during reloading and does not work harden as a case neck does.
This should provide a mental picture of case hardness values specifically for the head section, how much it varies and why brass hardness is important. There is too much to discuss about cartridge cases for a single short column. The plan is to continue this next time.