The .303 Savage is now 125 years old. In its lifetime, it was chambered in only one major rifle – the Savage 99 – and has not been chambered by anyone at all for the last 80 years. It's often said it won't do anything the .30-30 won't do, and vice versa. Ammunition in .303 Savage has not been produced since the 1990s, so brass can be difficult to find, and being an odd size, it's almost impossible to fashion from any other case.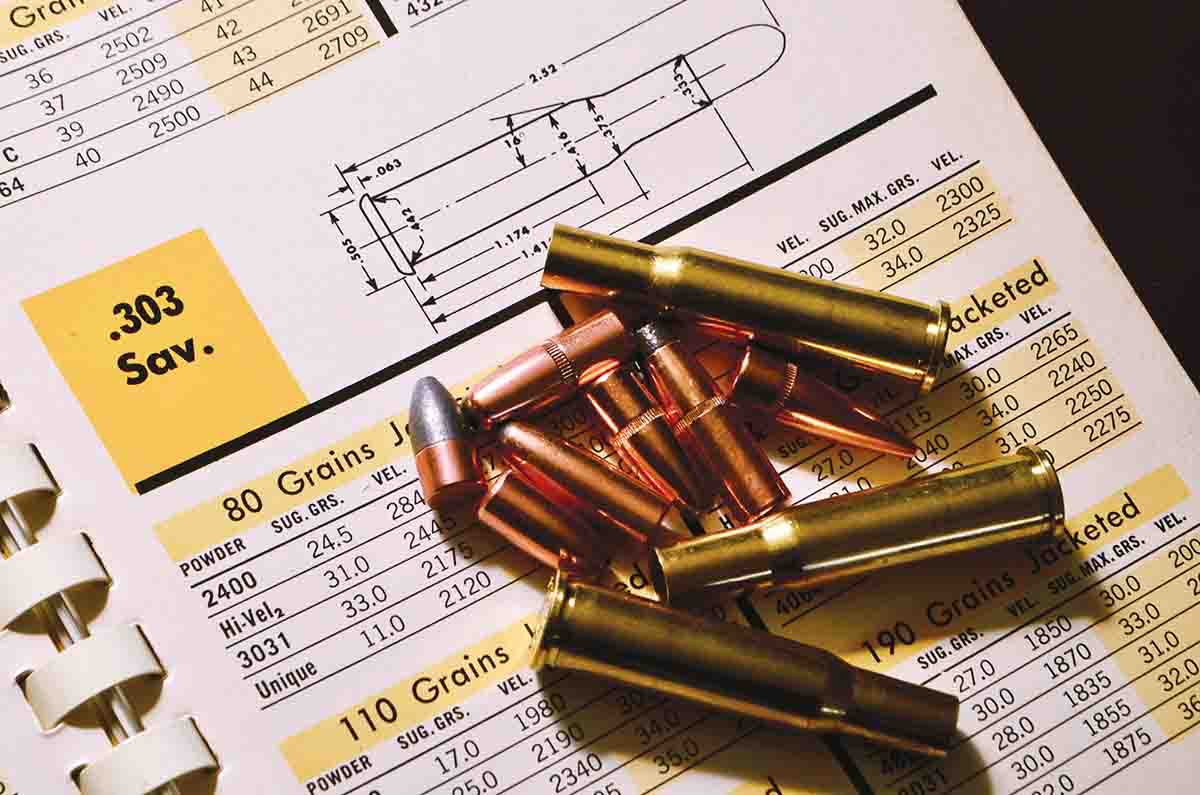 Altogether, the .303 Savage is a lot of trouble for not much return, or so the story goes. So why would anyone bother with it? There are two reasons.
One, it's not exactly a .30-30 clone, and it can do quite a bit more than it's given credit for. Two, the rifle in which it was chambered, the venerable Savage 99, is stronger and generally more accurate than other lever rifles. Savage produced about a million 99s in various configurations over the course of a century, and the best guess is that 150,000 of those were .303s. Shooters who own 99s love them, and want to shoot them, and those rifles would want to be shot.
The history of the .303 Savage is replete with misunderstanding and misinformation. While there is not room here to peep into all the historical nooks and crannies, a couple of points need to be made before getting into the intricacies of loading it. For anyone who wants the whole story, Ken Waters in Handloader No. 10 (November-December 1967) and Mike Nesbitt in Handloader No. 115 (May-June 1985) covered it all, and then some.
Let's take the problems one by one. First, bullet size: The name ".303" has confused several generations of shooters, with more than one article and loading manual stating that some rifles have .311-inch groove diameters and others have .308 grooves. According to Mike Nesbitt, who researched this extensively, all .303 Savage groove diameters measure .308, but some loaded ammunition had bullets that measured .311 inch, including Remington and Savage. This was because of the early American belief that with jacketed bullets, a tighter fit would reduce bore erosion and increase velocity.
Feel free to slug your barrel, but it's almost certainly .308 inch. This means there is a plethora of bullets available. It would be a good idea to also check your loading dies, because some are made to accommodate .308, others .311, and die manufacturers will ask which you want.
Brass cannot be fashioned from .30-30 because it is fatter at the base, although the rim is the same size. Fortunately, around 2005, Huntington Die Specialties (HDS) prevailed on Norma to produce a run of brass, which is still available. Jamison (now apparently out of business) also produced some, but there is little of it around. Twenty years ago, Australia's Bertram Brass regularly produced .303 Savage, but it seems to have disappeared. A-Square also made one run of .303 Savage around 2004, but there was never very much and, of course, A-Square is long gone.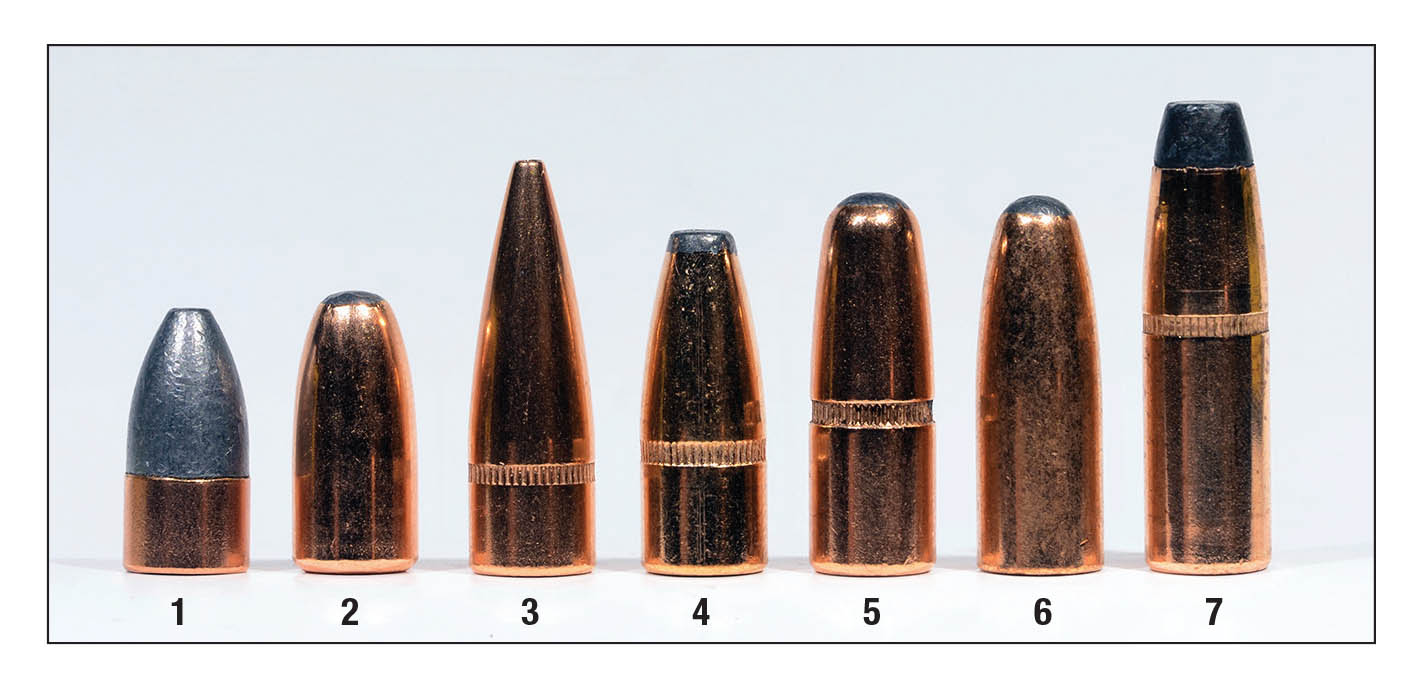 Kurt Schuttenbergkurt, a long-time .303 Savage aficionado, advises me that he has worked up loads using Prvi Partizan brass, which is available from Buffalo Arms. As well, Buffalo Arms offers .303 Savage brass fashioned from .30-40 Krag cases. Combined with the vagaries of rifles and chambers, this all adds up to a stew which should be tasted very carefully. Cases may have different capacities and chambers of different dimensions. Kurt mentioned that he encountered case stretching and primers backing out, probably due to headspace variations. He suggested that with initial loads, seating the bullet out far enough to engage the rifling can prevent the cases stretching near the web, which eventually leads to case separations.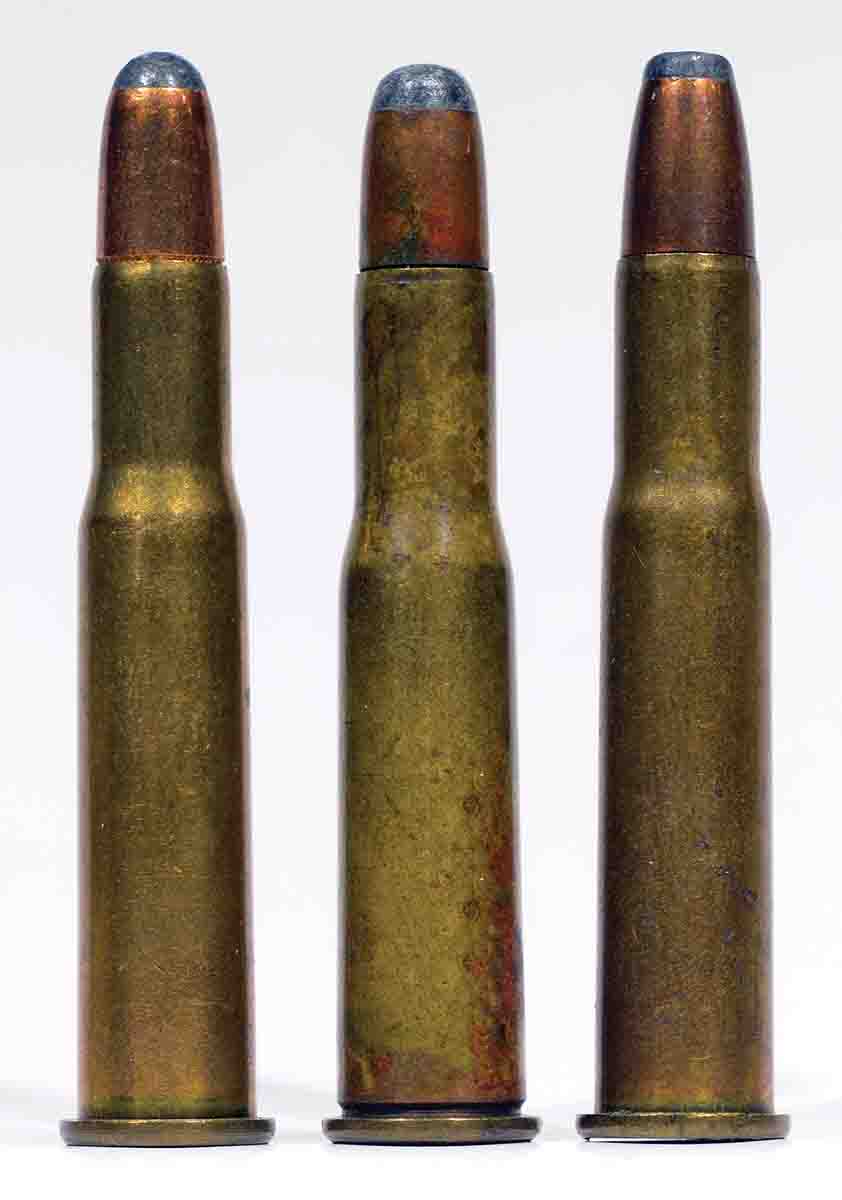 The .303 Savage, being a rimmed case, headspaces on the rim, which normally prevents such difficulties. A too-thin rim – or a too generous rim portion of the chamber – can lead to problems. Kurt has worked with many Savage rifles and has found that tolerances tended to be tightened up as the years progressed. My rifle was made in 1912 and appears to be almost perfect in this regard, but with older rifles, you never know whose hands they've passed through, or what atrocities might have been perpetrated.
All of the data included in this article was produced using Norma brass. Therefore, if using any other brand, proceed with caution until you get a feel for how much it will take without telltale pressure signs. None of the loads given here displayed either adverse pressure signs or indications of case stretching, but all were worked up with great caution.
The most recent loading data I can find is in Lyman Reloading Handbook, 45th Edition (1969), in the "Obsolete Cartridges" section. All is still good, but of course it uses only powders available back then. What I have tried to do is give a variety of good loads using newer powders. In one instance (IMR-4320), I included an older load which was the heaviest recommended back then, in order to have a comparison.
While there are all kinds of .308 bullets around, not all will work. The Savage 99 has a rotary magazine, so spitzer bullets can be used. This is not possible in a .30-30 with a tubular magazine. However, the 99's magazine box is not long, so options are limited by overall cartridge length unless you want to use it as a single shot. If you seat a long bullet deeper, powder capacity is reduced. Instead of trying to cover every possibility, I stuck to what I consider useful, usable loads with appropriate bullets.
According to Mike Nesbitt, early .303 Savage ammunition was available in dazzling variety. Bullets ranged from 80 to 200 grains and included cast, jacketed, FMJ and even wire-wound options; although it was an early smokeless cartridge, factory ammunition was even available loaded with black powder.
Today, handloaders can duplicate most of those, if not all. One intriguing variation was known as ".303 Miniature." This ammunition was loaded with light bullets (80 to 110 grains) at modest velocities. It was intended for small game, plinking or finishing shots on big game.
Where the .303 Savage really made its big-game reputation was with a 190-grain bullet. This gave it the edge for animals larger than deer, and Canadian moose hunters loved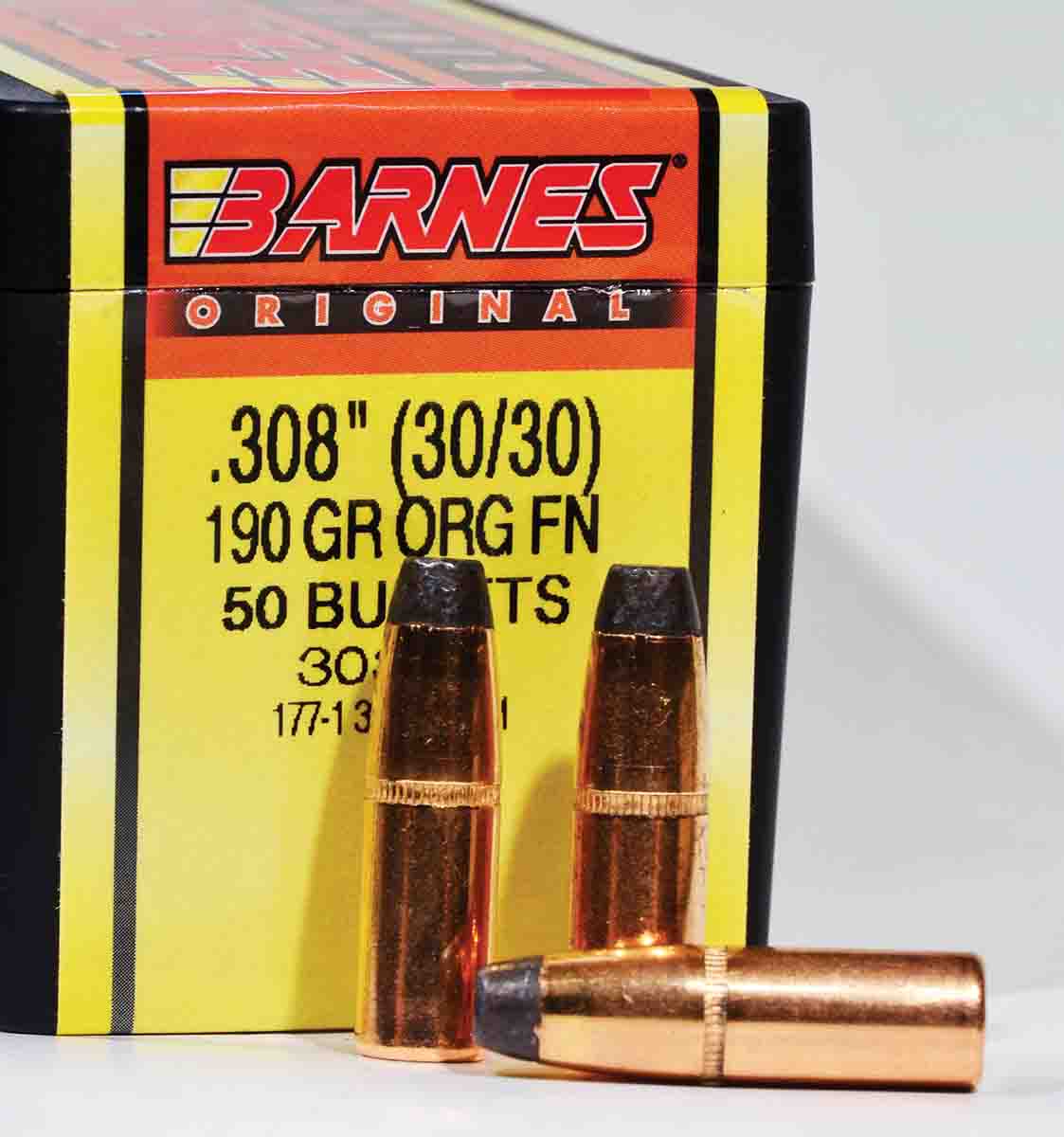 it. Dominion Cartridge in Canada produced .303 Savage ammunition for a decade after American companies abandoned it. As might be imagined, 190-grain roundnose or flatnose bullets for reloading are not too common today. Fortunately, Barnes offers its Original in exactly that configuration, and it works in the .303 like it was made for it.
The bullets I've used include the Hornady 100-grain semi-jacketed softpoint, Hornady 110-grain roundnose, Speer 130-grain flatpoint, both Speer and Hornady 150-grain roundnoses and the Barnes 190. I tried the Hornady 125-grain hollowpoint spitzer but found I had to seat it too deeply, with the curve of the ogive below the mouth of the case. Nothing's really wrong with that, but there's not much to recommend it, either. Results were erratic, so I abandoned it in favor of bullets with more promise.
Notice there are no cast-bullet loads. This is because the old data for cast bullets is still perfectly valid and calls for powders like Unique and 2400. These are still available, and no new powder has come along that will outperform them.
Older powders recommended for the .303 Savage with jacketed bullets that are still available include IMR's 3031, 4064 and 4320, and Hodgdon 4895. The IMR-4320 load of 36.0 grains with a 190-grain bullet is listed as "maximum" in all the old manuals, with a muzzle velocity of 2,145 fps. It is an excellent load.
Savage 99s were made in many configurations, with standard barrel lengths ranging from 20 to 26 inches. On special order, Savage would make 18-inch barrels, or 28 inches. Barrel length plays a huge part in load performance. My current .303 was made in 1912 and has a 26-inch barrel. This allows me to go with heavier bullets and heavier charges of slower-burning powder, and get higher velocity instead of more muzzle flash. If I still had the old takedown with its 20-inch barrel that was my first .303 Savage 20 years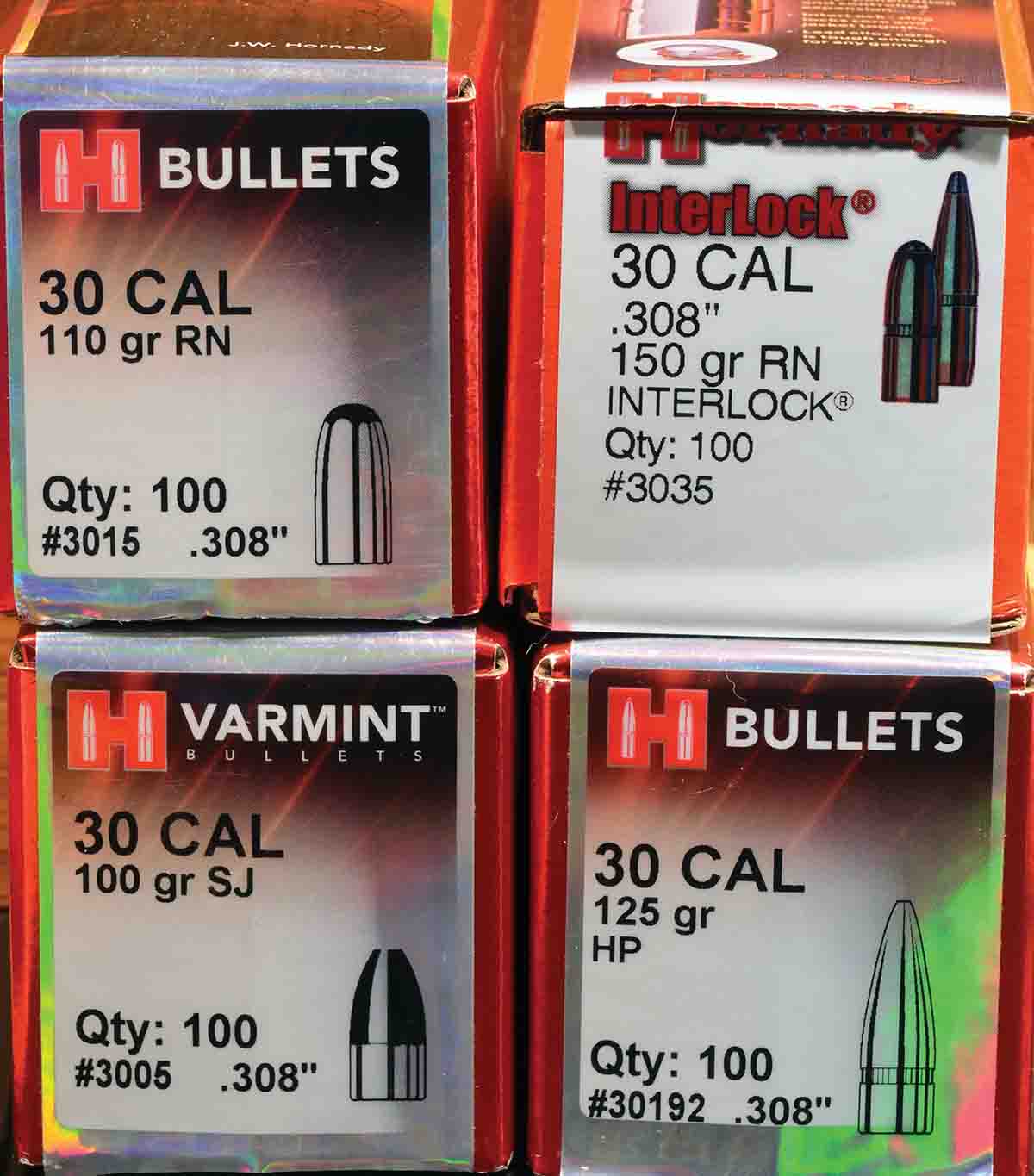 ago, I would concentrate on 150-grain bullets and use faster powders.
Several new powders offer potential with this cartridge. These include IMR-4166, CFE 223, 8208 XBR and Hodgdon's LEVERevolution. H-4895, one of my all-time favorite powders, is still useful because it can be reduced substantially and still provide a perfect small-game or plinking load with a variety of bullet weights.
This brings me to the starting point. One has to start somewhere, and my starting point was published loads for these powders in the .30-30 with comparable bullet weights. I tried the Powley Computer, but it advised a load of IMR-4064 that I considered imprudent. There were enough "ifs" in the calculations already. Backing off 10 percent from starting loads, combined with the .303 Savage case's greater capacity, resulted in low velocities, inadequate gas seals, and sometimes wild extreme spreads. But, they got me started.
The loads given in the accompanying table are all well within safe limits based on observations in my rifle. If I were trying them in a different rifle, I would back off 5 percent with all of them to be on the safe side.
It seemed to me that Hodgdon's LEVERevolution offered the greatest potential in the Savage 99, which is, after all, a lever rifle. The maximum load given for the .30-30 with a 170-grain bullet is 36.3 grains, and that's compressed. In the .303 Savage, I did not reach a compressed load until well beyond that. Proceeding with my usual excessive (not to say fearful) caution, LEVERevolution provided the best results in three different bullet weights, including the all-important 190 grain.
In the Norma .303 Savage case, 42.0 grains of LEVERevolution fills it to within .20 inch of the mouth, and compresses from there quite comfortably with 130- and 150-grain bullets.
The accompanying table includes all the relevant information about the loads tested, but I did draw some conclusions. The old IMR-4320 maximum load works as well today as it ever did, and delivered more than 100 fps greater velocity in my rifle than the original data predicted. A 190-grain bullet at approximately 2,250 fps is no slouch, then or now, for hunting bears and moose, and far outperforms the best a handloader can expect from a .30-30 in a 20-inch carbine barrel. If hunting bears and moose, it is very important to have reliable extraction every time, so keeping pressures down and case expansion minimal is critical. Both the IMR-4320 and LEVERevolution loads do that, so if I had to choose between them, it would depend on accuracy.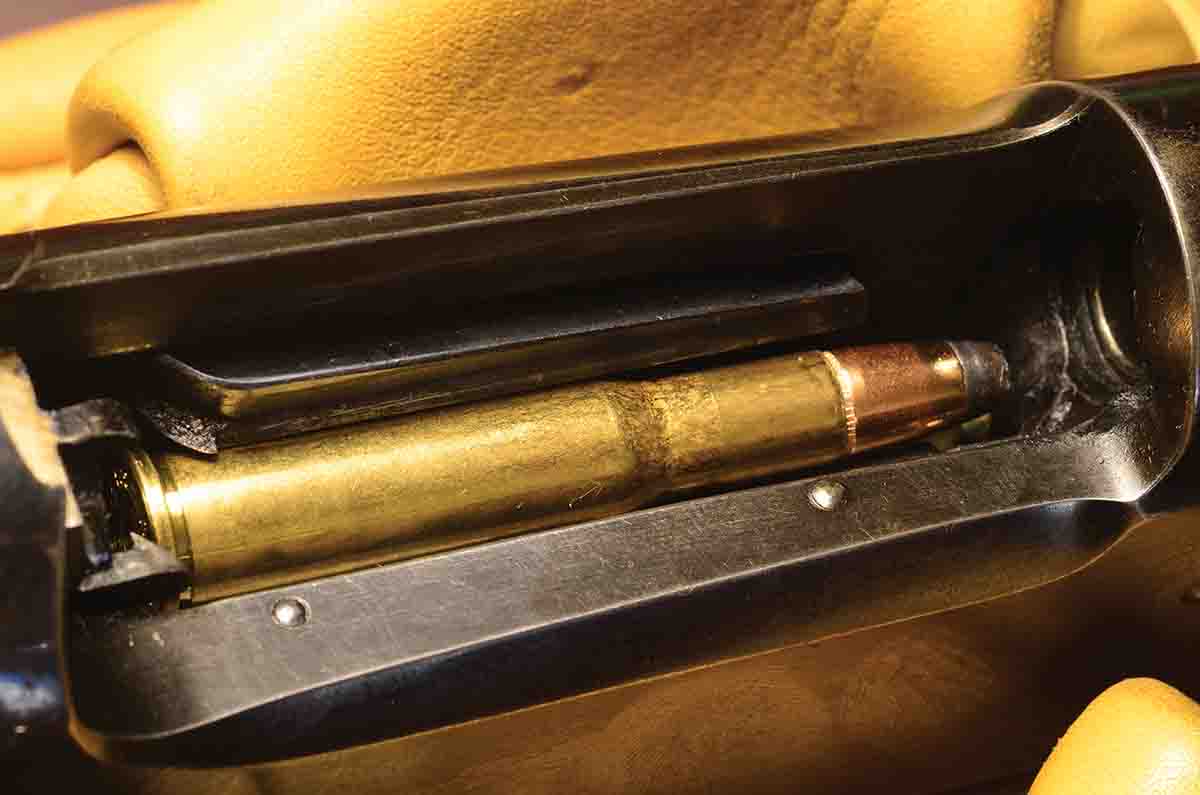 For deer, instead of dropping to the standard 170-grain bullet used in the .30-30, I'd go down to 150 grains for greater velocity. Speer's 130-grain flatnose would be outstanding for coyotes and the like, and finally there are Hornady's 100- and 110-grain bullets. They are quite different designs for quite different purposes, and they add greatly to the .303 Savage's versatility.
Generally speaking, because of the limited overall cartridge length with any given bullet weight, roundnose or flatnose bullets work better than spitzers. Working with the .300 Savage a couple of years ago, I found the same thing – and for the same reasons. Speaking of which, the older .303 comes close to matching the performance of the .300 Savage that, when it was introduced, was touted as offering ".30-06 performance in a lever rifle." It never really did, but that's beside the point.
There are probably one hundred thousand nice old 99s around in .303 Savage that are still usable and begging to be shot. Since the cartridge can obviously deliver the performance, they are worth going to all the trouble.