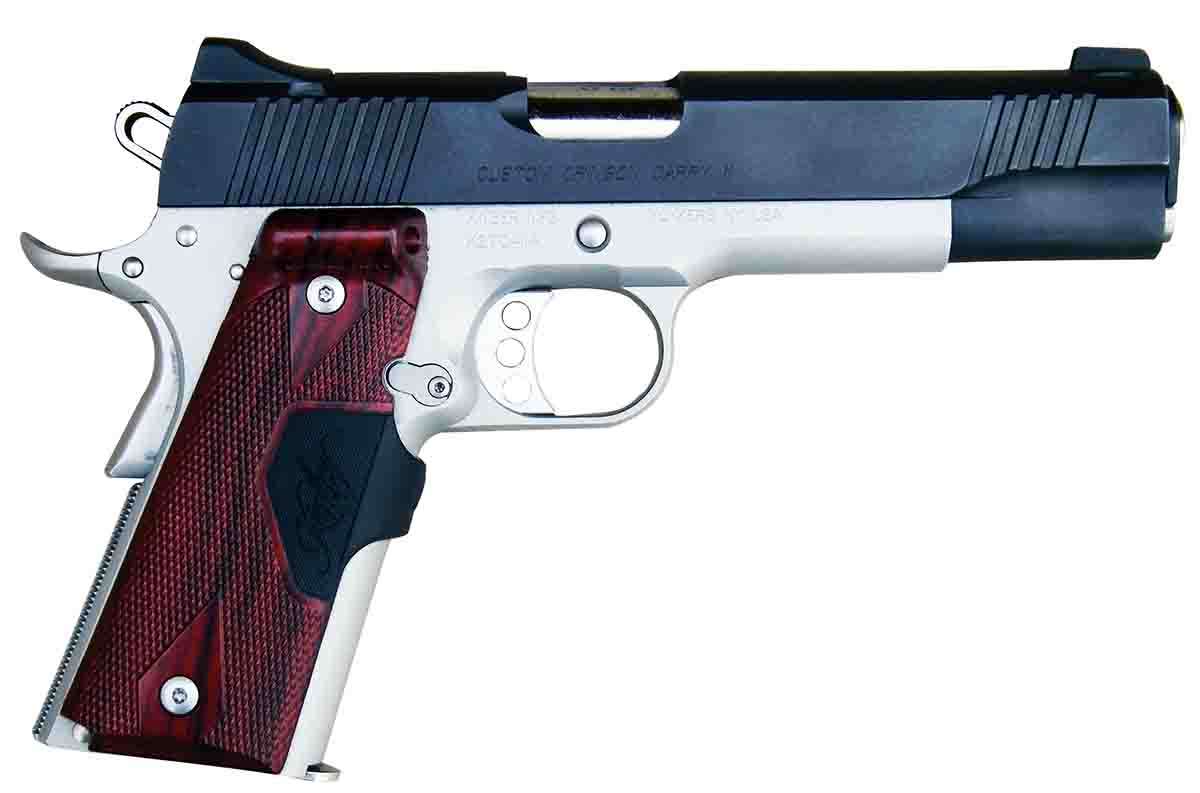 Kimber Manufacturing has been building high-quality Model 1911-pattern pistols since 1995. Although this classic John Browning design had previously earned a remarkable reputation in many roles, including combat in two world wars along with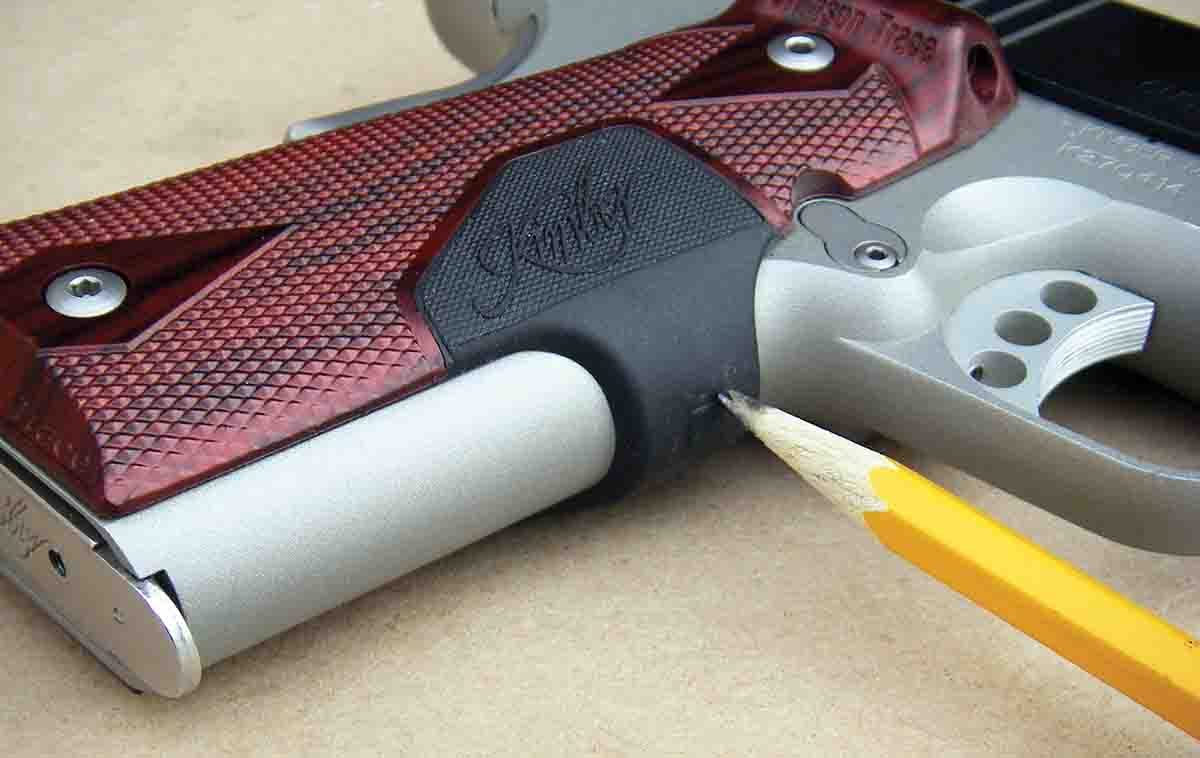 other wars and skirmishes, it has also served admirably in slow-fire target and action-shooting competitions, personal defense and hunting.
However, in its original out-of-the-box "Government Model" configuration, it left room for improvement, with custom gunsmiths making careers modifying guns accordingly. Kimber recognized the need to offer custom features in production pistols as desired by shooters while improving quality, accuracy and reliability. Essentially, the goal was to offer a fully customized pistol that was ready to go right out of the box while keeping costs in check, which was accomplished by employing relatively new manufacturing technology.
Kimber's first pistol was the Classic Custom .45 ACP, which remains in the product line today as the Custom II. I was forwarded one of the first produced, which was closely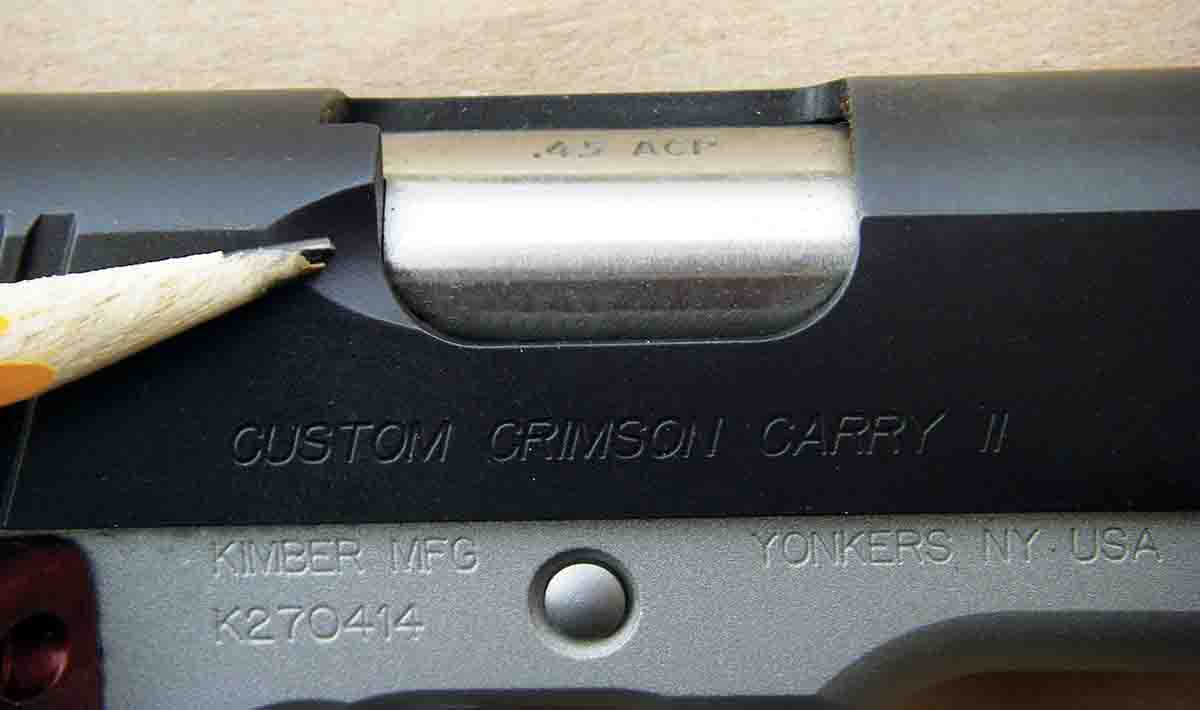 scrutinized and fired with more than 5,000 rounds using both jacketed and cast bullets to check reliability and accuracy. I was extremely impressed as it proved reliable and capable of around one-inch groups at 25 yards with a variety of ammunition. Remarkably, it carried a suggested retail price of less than $600, a fraction of the cost of a custom-built pistol with the same level of quality, accuracy and features. The new Kimber became an instant success. In nearly 25 years, Kimber has significantly expanded its 1911 product line to include every practical configuration, from Compact and Ultra models to the top-of-the-line Custom Shop Super Match II, and other popular calibers have been added, including .22 Long Rifle, 9mm Luger, .38 Super and 10mm Auto (.40 S&W has been discontinued).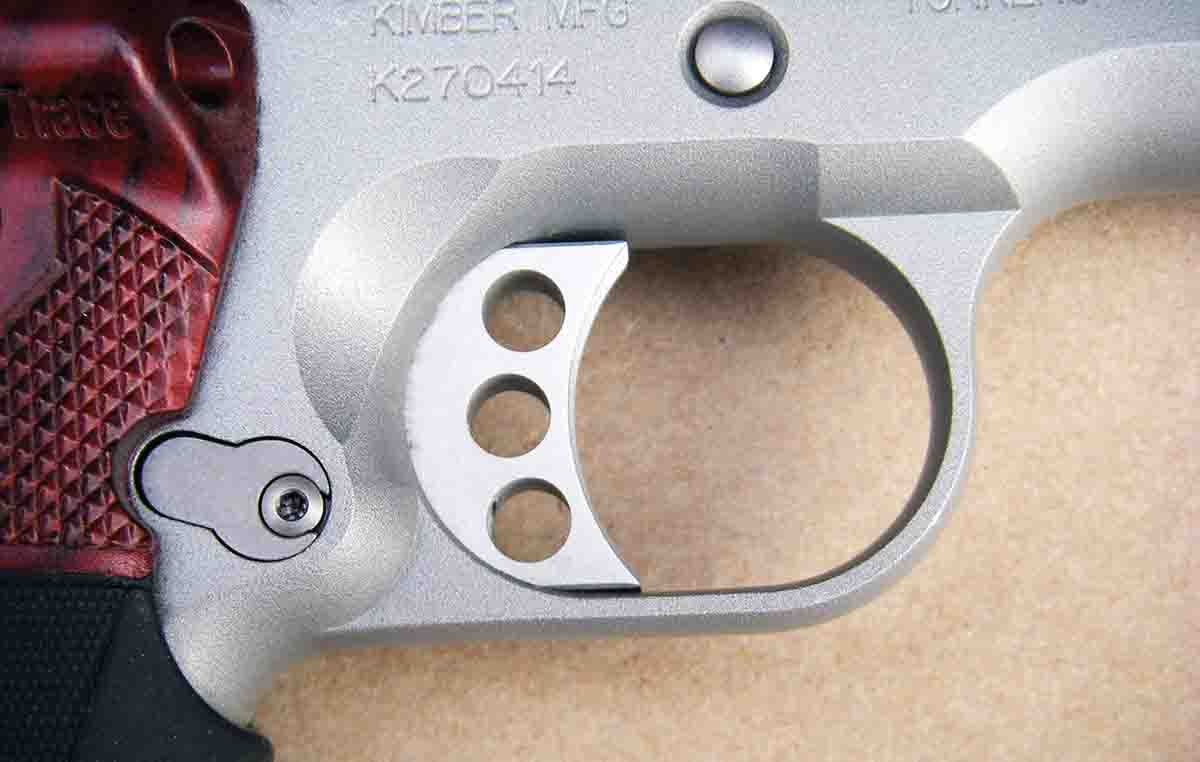 A Kimber Custom Crimson Carry II .45 ACP was selected for review, which is one of the company's most popular pistols. It is "Government Model" size with a 5-inch barrel and full-size grip frame; however, the frame is constructed of aircraft-grade aluminum, which brings weight down from 38 ounces to 31 ounces. In essence, it only weighs a few ounces more than the classic Colt Lightweight Commander but has the advantage of the full-length sight radius with increased muzzle weight, a longer barrel for increased velocity, etc. For a daily carry gun in the field or in town, many people find the longer barrel and slide highly desirable.
The slide assembly is hammer-forged carbon steel finished in matte blue, while the frame is in the white with a bead-blasted nonreflective finish to help reduce glare.
As its name implies, the grips are produced by Crimson Trace with a rosewood finish and a classic diamond checkering pattern. Combined with the two-tone pistol, it's an attractive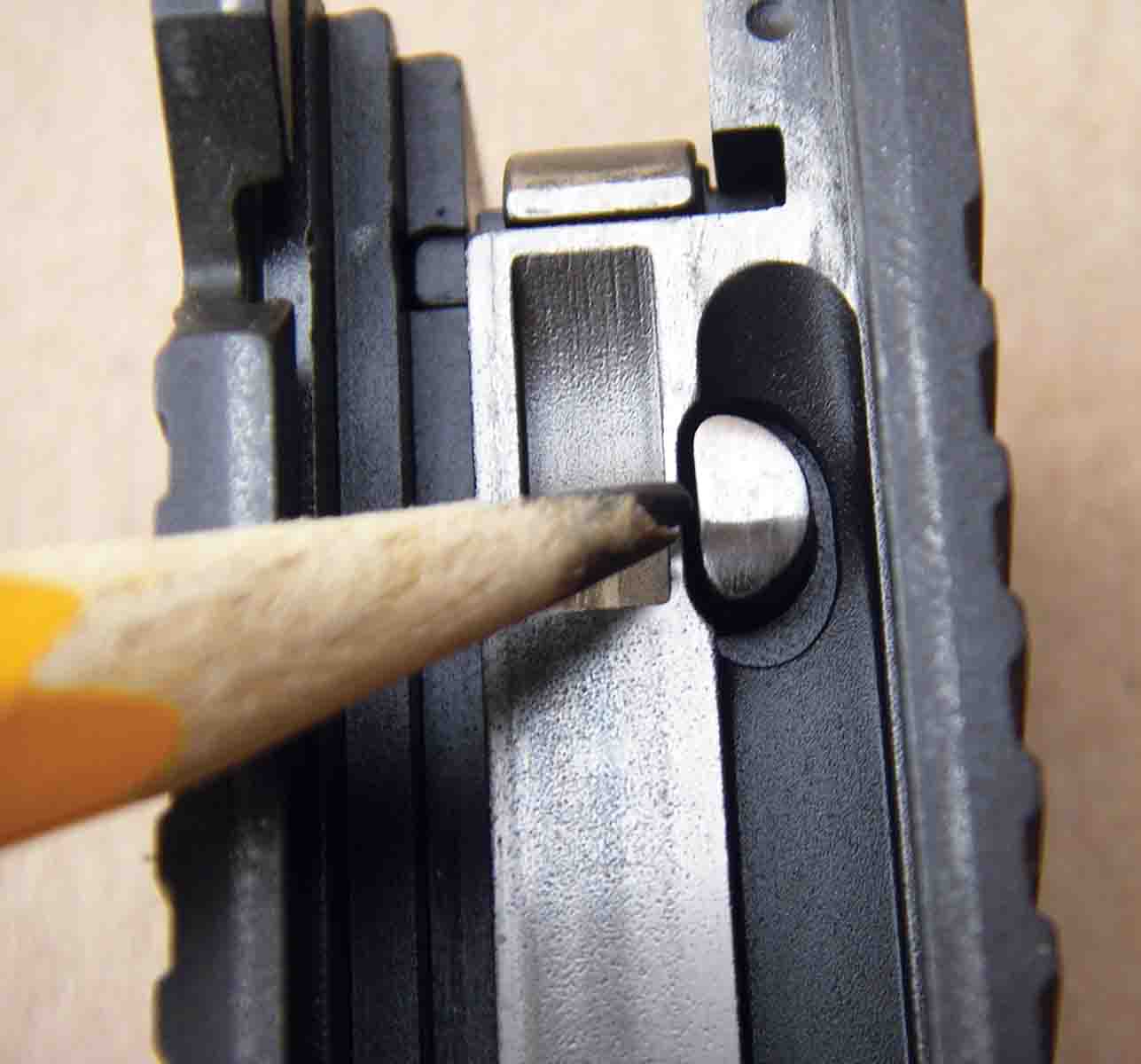 package. Crimson Trace laser grips have become an industry standard in quality and design, and they are worth considering on a pistol used in a variety of circumstances, including defense. Sighting-in is accomplished with a small hex wrench, which is easy and only takes a few minutes. The latest generation features a positive laser activation button centered in the front of the grip frame that works equally well for right- and left-hand shooters. The laser can also be turned off as desired to save batteries. Run time is an impressive four hours with the red beam.
As indicated, from the very beginning Kimber engineered its pistols to be ready to go right out of the box. For example, standard features included Chip McCormick front and rear sights dovetailed into the slide for increased durability.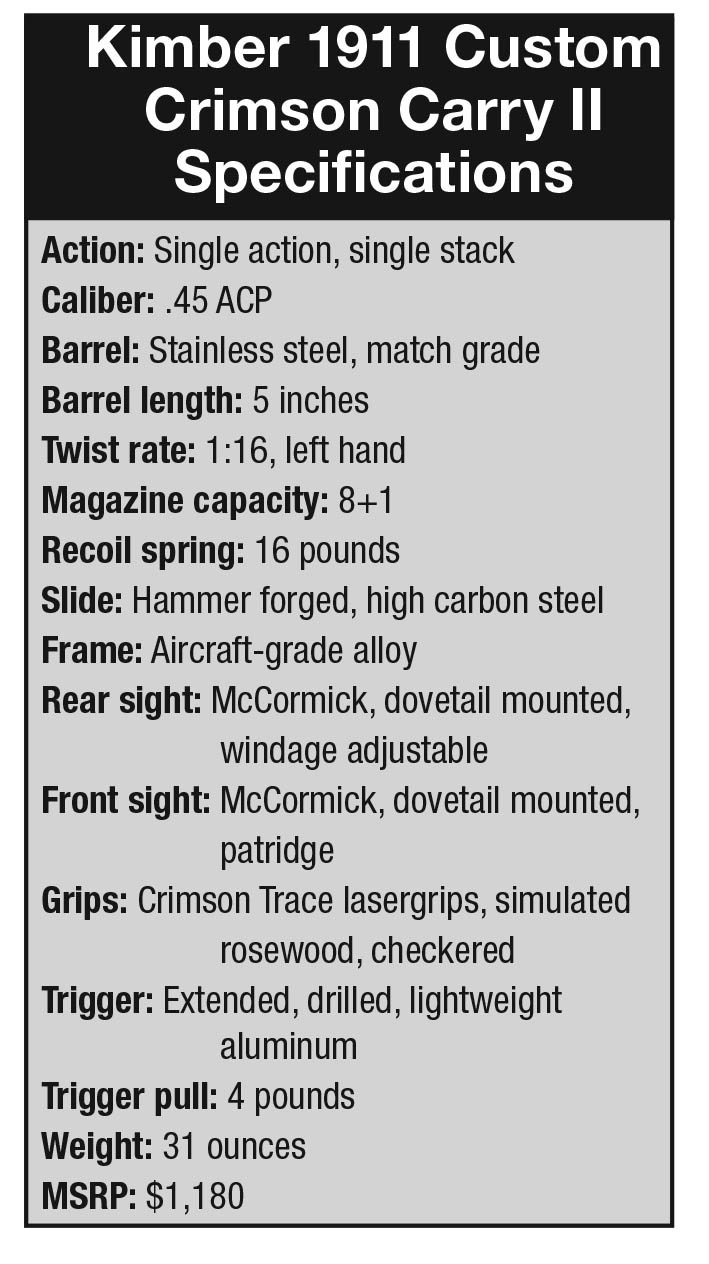 They are mostly "snag free" but still offer an excellent sight picture. (Fully adjustable target rear sights are available on select models.) Additional McCormick parts include an extended grip safety and corresponding slotted hammer that result in the desirable high grip, eliminating the slide and hammer from "biting" into the web of the shooter's hand when the pistol is fired.
The lightweight extended trigger is factory rated to break between 4 and 5 pounds, with the test pistol breaking cleanly at exactly 4 pounds. The slide stop and slightly extended magazine catch are knurled. The mainspring housing is flat, and the slide is slotted to assist the shooter's grip. The high-quality springs are manufactured by Wolff Gunsprings. The barrel is match grade, while the ejection port is lowered and angled to further increase reliability.
These features (and many not mentioned) may not sound so outstanding today; however, when Kimber first began producing pistols, to have all of these features on a production Model 1911 was unheard of from a major manufacturer. Previously, custom pistolsmiths were retained to install similar features (along with improving accuracy and reliability), all of which cost significantly more. As a result of Kimber's outstanding pistols, other manufacturers were forced to improve quality and increase features in order to compete.
Part of Kimber's manufacturing process includes metal injection molding, or MIM. This permits major parts to be constructed of high-carbon steels, as well as stainless steel, at a comparatively modest cost while being held to very tight tolerances. While some gun designs and their small parts (especially revolvers) can be problematic with MIM parts, the major parts of the Model 1911 are perfectly suited to this process, resulting in a product that is tough and durable. Final machining of Kimber pistols is remarkable and results in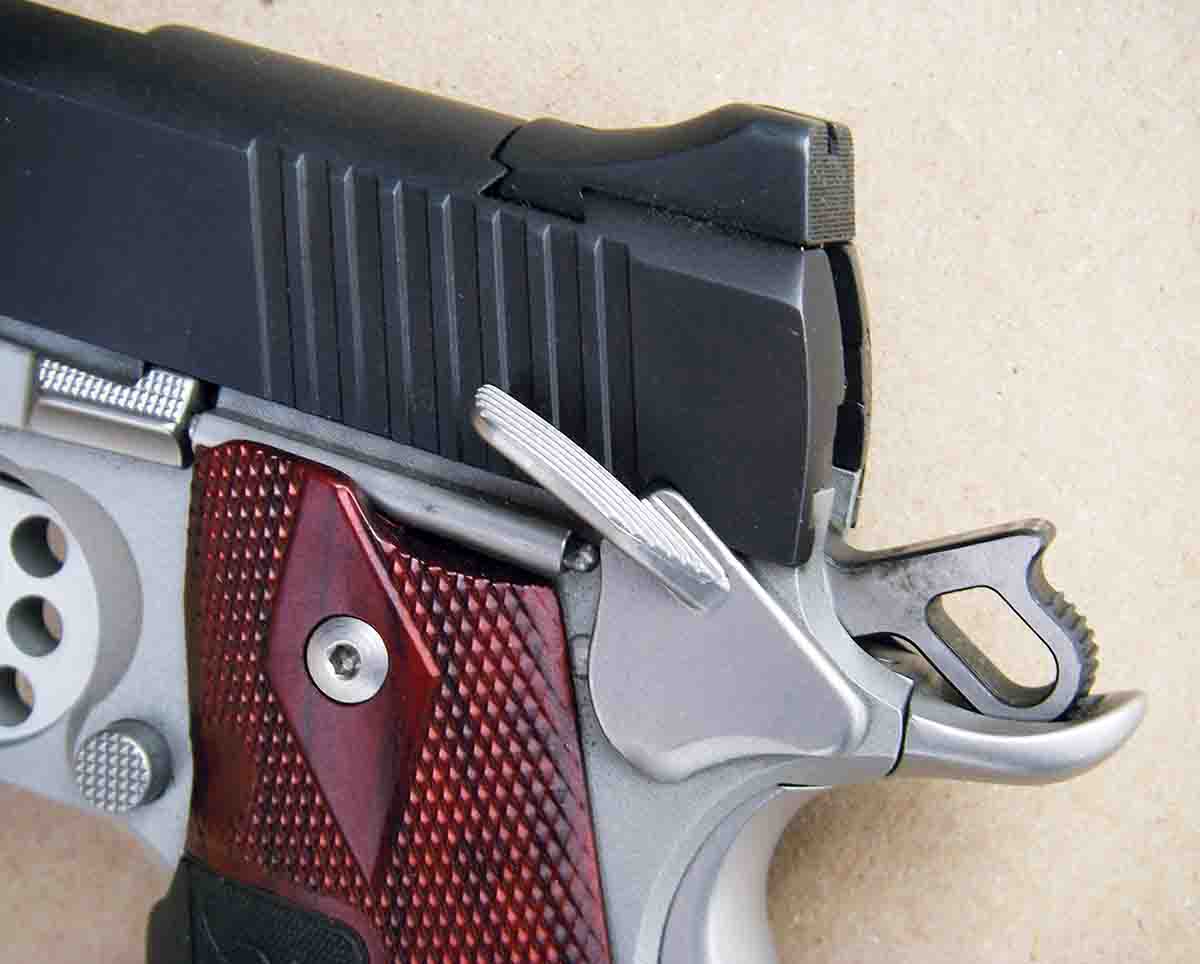 precise fit, finish and the appearance of a nearly perfect gun.
Over the years, I have used dozens of Kimber pistols rather extensively, and I am always impressed with the precise manner in which the slide and frame are fit, as well as the barrel, barrel bushing, linkage, etc., which results in outstanding accuracy. The Custom Crimson Carry II is no exception.
Beginning in 2001, Kimber introduced "Series II" pistols fitted with a Firing Pin Safety System located within the slide. It effectively blocks the firing pin from firing a cartridge in the unlikely event that the gun is dropped on a hard surface.
Initially, 200 rounds of Speer Lawman 230-grain TMJ (a roundnose ball-style cartridge) were fired through the new Custom Crimson Carry II to allow the gun to "settle" and break-in. It was then cleaned, lightly oiled and checked for velocity and accuracy using six factory loads. Notable performance came from Black Hills' 135-grain Honey-Badger load, which features a solid copper bullet with a flat point and four large flutes cut into the ogive. This bullet offers a remarkable blend of tissue displacement and deep penetration. Muzzle velocity reached an impressive 1,232 fps which, with the bullet's solid construction, also results in a high rating for barrier penetration. Accuracy was good, as select 25-yard groups hovered between 1.00 to 1.55 inches. Hornady's Critical Duty 220-grain FlexLock reached 1,009 fps with groups measuring between 1.20 and 1.65 inches. Cutting Edge Bullets' PHD 150-grain solid copper hollowpoint load recorded 1,102 fps and grouped between 1.30 to 1.70 inches. A more traditional load, but very proven, includes Buffalo Bore Ammunition's 230-grain JHP that reached 963 fps and produced groups that ranged from 1.40 to 1.65 inches.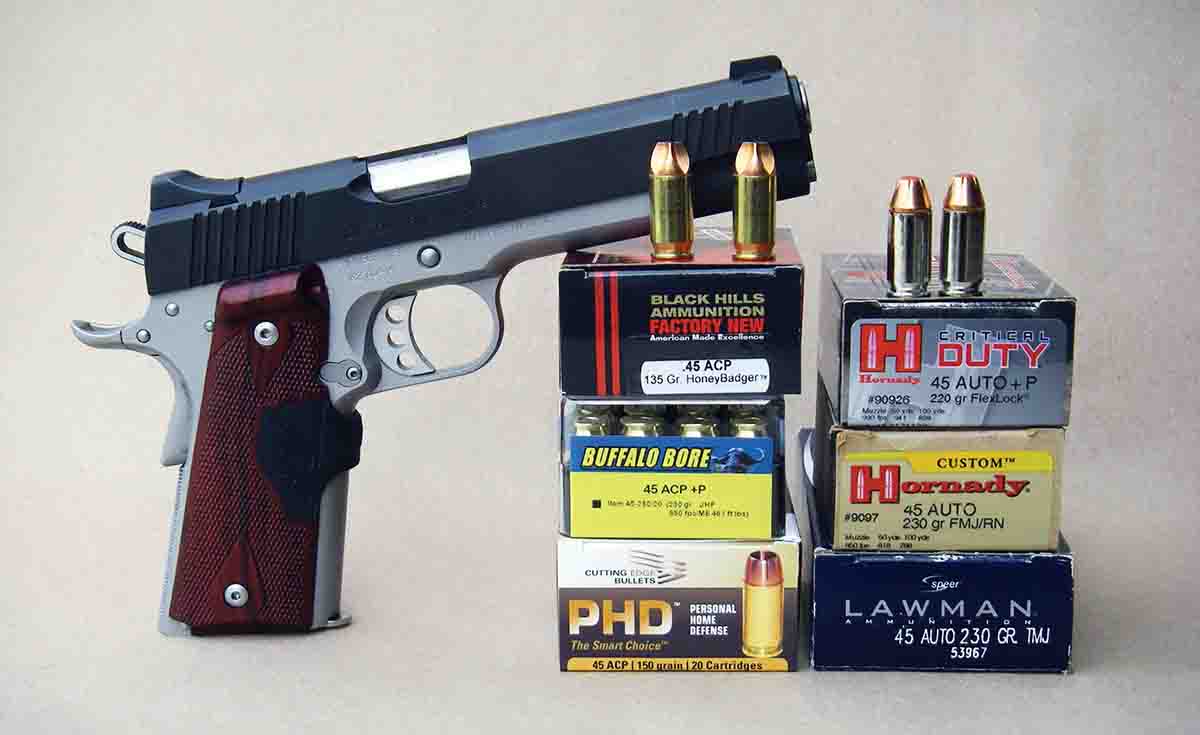 For handloads, new Starline cases were selected and were first full-length sized, neck expanded and then primed with CCI 300 primers. Bullets were seated to the correct overall cartridge length then taper crimped in place as a separate step.
Using Hornady's 230-grain XTP bullet, 5.0 grains of Accurate Nitro 100NF reached 874 fps and grouped four shots into 1.10 inches. With Nosler's Sporting 230-grain FMJ-FP bullet pushed to 855 fps using 5.4 grains of Hodgdon Titegroup powder, the tightest group measured 1.15 inches. For a mild-recoiling target load, Oregon Trail's 200-grain Laser Cast SWC bullet was pushed to 866 fps using 5.0 grains of Accurate No. 2 powder. Accuracy was respectable, with groups typically hovering between 2.10 to 2.65 inches.
Throughout testing, the Kimber Custom Crimson Carry II never failed to feed, fire, extract or eject cartridges and cases. It has proven to be reliable, accurate and ready-to-go right out of the box. The trigger is excellent and has the advantage of a crisp, clean pull with minimal take up and reset, all of which aids with accuracy and quick follow-up shots.
Kimber has earned the title of being the "world's largest producer of 1911 pistols." They are 100 percent manufactured in the U.S. and offer a custom level of accuracy and reliability, and they come standard with many desirable features.