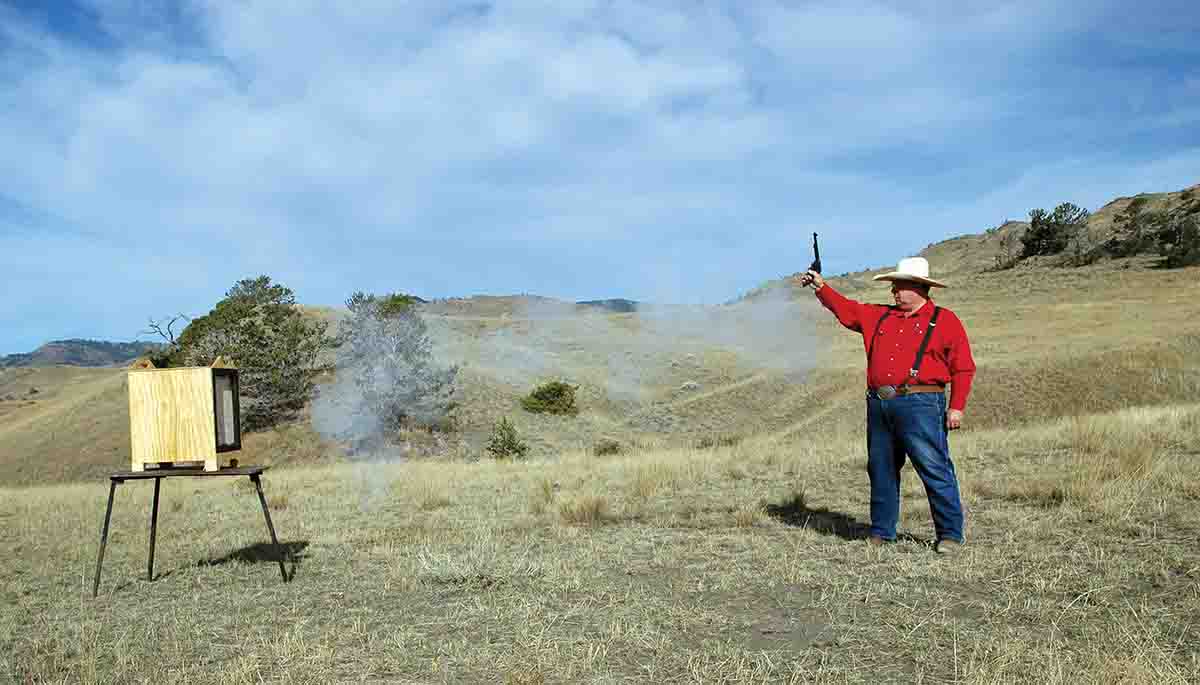 Anyone who gets their knowledge of frontier ballistics from television and movies is bound to be misled. Upending a card table to stop bullets fired from a big-bore sixgun is one example; or when someone is "safe" in a ramshackle cabin because its thin plank walls protect them from Winchester levergun bullets.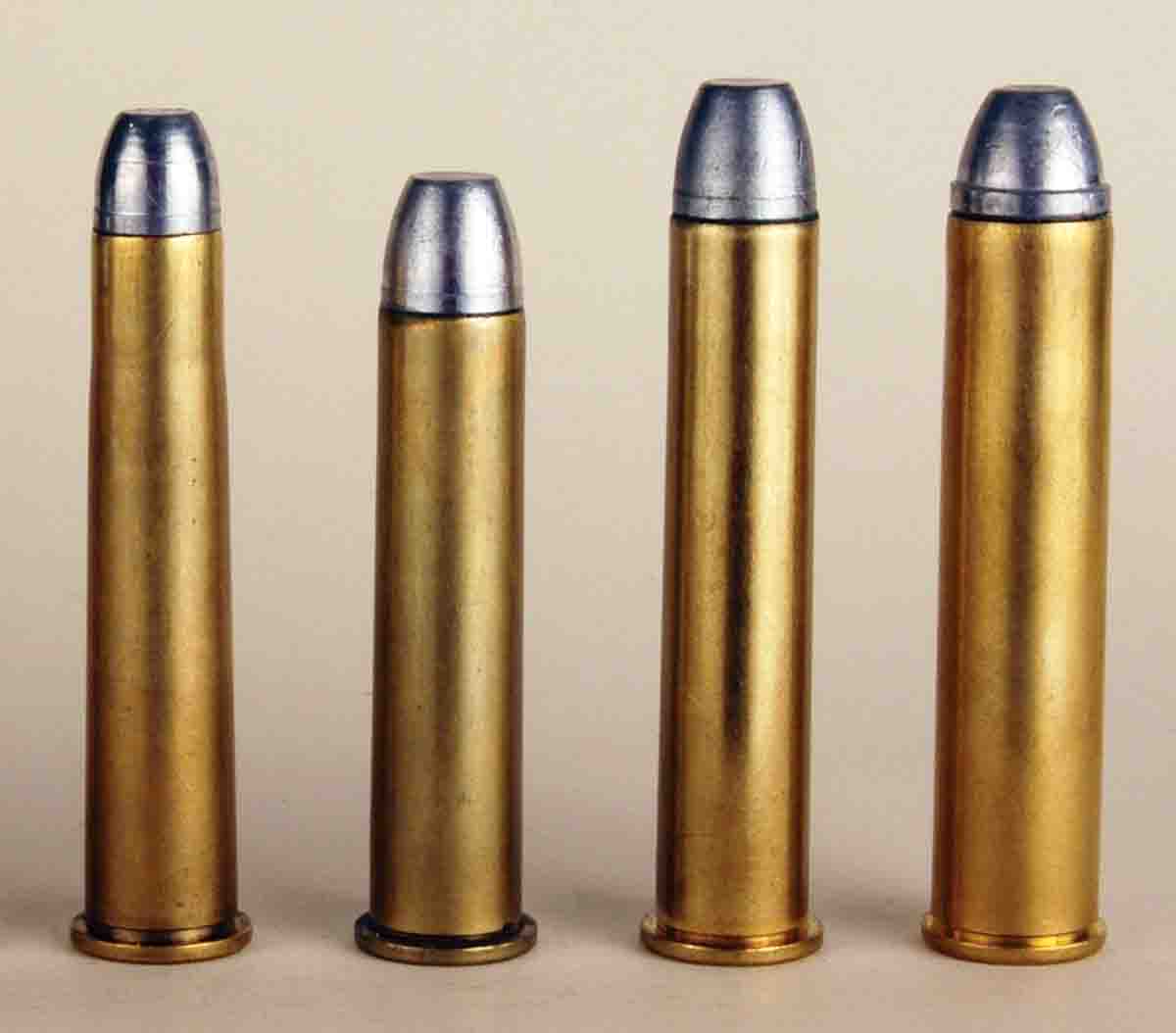 On the other side of the cinema coin, there was the time in Dances with Wolves (1990) when Kevin Costner's puny .44 Henry rimfire slug drops a bison in its tracks. I've shot deer and elk with several different caliber Sharps rifles and never once saw them blown out of their tracks. With another 1990s movie I cringed even though I had been paid for helping in its production. That was when Tom Selleck's big Sharps .45 bullets were knocking bad guys about like bowling pins.
So, what was reality compared to make-believe? First let's set some parameters for this article. I'll start with metallic cartridge guns using black powder. That would have been the mid-1860s for rifles and 1870 for revolvers. Then I will quit circa 1890 before smokeless powders made their American appearance. By necessity, only centerfires will be covered; and by choice the sixguns that mostly rode in leather holsters unconcealed and rifles used for big game or combat. That quarter century saw so much use of black-powder metallic rifle and handgun cartridges that movies and books are still being produced about people from that era and the guns they used. Sometimes they are based on fact, and sometimes it's legend.
Most early black powder metallic-cartridge guns were large, heavy sixguns, albeit weak in power. Here's a brief summary of some examples: The .38 Colt, .41 Colt or .44 S&W American would not likely penetrate much wood because they didn't push their soft lead bullets much in excess of 700 fps muzzle velocity.
Back in those early days of metallic cartridges, the only way to gain more power was to make bullets bigger and cartridge cases longer. As can be recognized in the accompanying tables, the earliest metallic revolver rounds used cases in the vicinity of one inch in length. When the truly powerful revolver rounds appeared, they used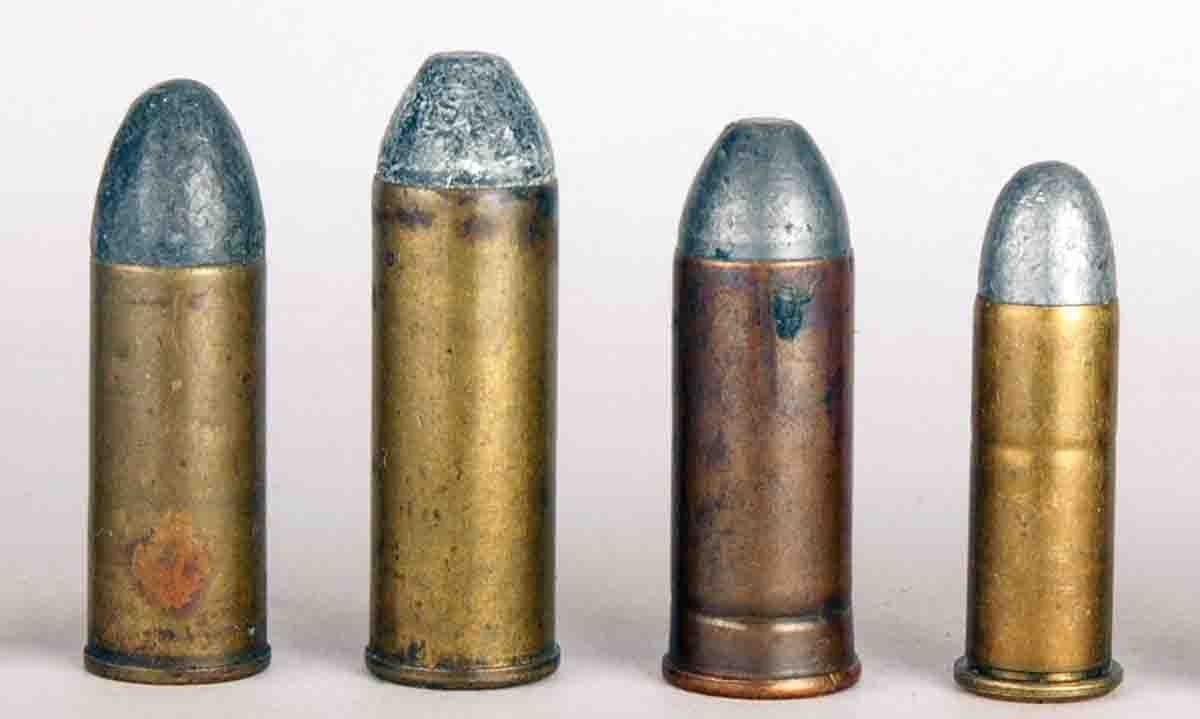 cases about 1⁄8 to 1⁄3 inch longer. With .38 WCF, .44 Colt, .44 WCF, .45 S&W and .45 Colt, velocities were higher and bullet weights heavier. It would take a heck of a thick oak card table to stop their bullets.
Regarding rifle cartridges, I have separated them into two basic groups. One includes those that were also chambered in revolvers. There were four worthy of note: .44 Henry, .32-20, .38-40 and .44-40. The second set of digits in the last three denote their black-powder charge. The .32-20 and .44 Henry will be excluded here, the first being too mild according to my parameters, and the other due to its priming method. Winchester had a monopoly on repeating pistol cartridge leverguns from 1866 until Marlin introduced its Model 1889. In between, of course, was Winchester's extremely popular Model 1873, of which about 750,000 were sold over a 50-year span.
For the sake of simplicity, the following full-size rifle cartridges are noted by their modern colloquial names instead of those formally bestowed on them in the 1800s. Hence the .45 Government is the .45-70 and the .44 (2¼) Sharps BN is the .44-77, and so forth. This second group of rifle cartridges comprises so many that an entire volume would be needed to cover them all. So here the high points will be hit judging by popularity. First was the .50-70 in the Model 1866 developed by the U.S. government's Springfield Armory. In several types of rifles and carbines, the .50-70 gained vast popularity "out west" with soldiers, Indians and buffalo hunters. Soon after the army adopted it, Remington chambered its No. 1 rolling blocks for this new centerfire cartridge. At this same time, the U.S. government was paying the Sharps factory to reline the barrels of its Models 1859 and 1863 percussion paper cartridge carbines from their original .52/.54 caliber to about .515 inch. They were then altered to centerfire from percussion ignition and chambered for .50-70. Then, in a strange move, those carbines were handed out to U.S. Cavalry troops and Indians alike.

Another round first chambered by Remington that gained vast popularity was the .44-77. No. 1 rolling blocks were made for it as early as 1867. Sharps made a few score of its Model 1869, with the majority being .44-77, and after the company remodeled it in 1871, the .44-77 was a top seller, with .50-70 second until the advent of the .45-70.
The year 1873 was a banner one in firearms history, largely due to the .45-70. The cartridge was introduced in Springfield's remodeled "trapdoor" Model 1873 infantry rifle and cavalry carbine. The carbine soon received a special load using only 55 grains of powder because troopers complained that the standard 70-grain charge's recoil was excessive. After 1881 the army adopted a 500-grain bullet with a 70-grain powder charge for infantry use. The fact that .45-70 ammunition has been in constant manufacture since adoption while other "buffalo rounds" became extinct is testimony that the government did a fine job.

That said, it's interesting how, in modern minds, the huge cartridges chambered by Sharps in the 1870s are so attractive. Those such as the .40-90 BN, .44-90 BN, .45-110 and .50-90 get so much press when in fact those cartridges were poor sellers (Sharps' factory records still exist, so this isn't just my opinion. The research has been done.) Remington couldn't put those huge rounds in the company's No. 1 because the pivoting block and hammer nose would interfere with chambering. The Sharps single-shot system could accommodate any cartridge length. So could Winchester's Single Shot (aka High Wall), but by its introduction in 1885 the buffalo herds were gone, as were battles with Indians.
Winchester tried to rival the big single shots in 1876 with its new "Centennial Model." Its first chambering was the .45-75, followed in the next few years by the .40-60, .45-60 and .50-95. Ten years later, the Model 1886 made its debut and pretty much put the '76 Winchester out of business. New cartridges were introduced for the very strong '86 until about 1903. The .40-82, .45-70, .45-90 and .50-110 will be covered here. The other six Model 1886 caliber options were either introduced too late to fit here, were not made in enough numbers to be significant or lacked power.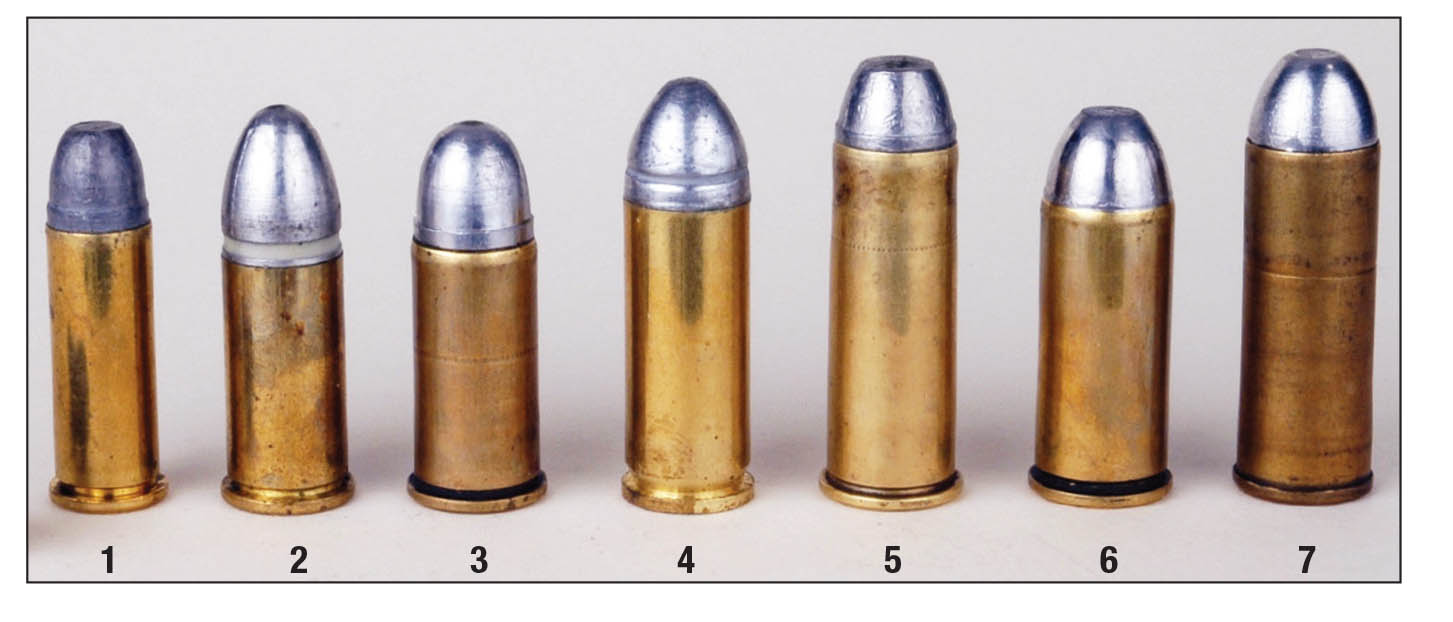 Let's return to revolvers. To determine that frontier-era pistol cartridges would or would not shoot through an oak card table or cabin walls, I used the same testing method as did Winchester and the U.S. Army. That was shooting through 7⁄8-inch soft pine planks spaced an inch apart. To do so, I had a baffle box built to hold 12 pine planks, put it out at about 15 yards and shot a variety of black-powder handloads through it. (While at it, I fired a few others for curiosity's sake: .31, .36 and .44 roundballs from percussion revolvers and a 180-grain .40 S&W FMJ and a 230-grain .45 ACP FMJ. Only those last two are of concern here for the sake of comparison.)

Handloaders who enjoy tinkering with these old black powder cartridge firearms have been greatly aided by Wolfe Publishing's reprint of the Winchester 1899 catalog. Among the fascinating facts found therein were particulars for most of the cartridges I have worked with. Black-powder charge weights in grains were listed, as were bullet weights. Bullet shapes were shown in accompanying drawings. This information included the temper of the bullets. All but a few for revolvers were swaged from pure lead, and most for rifles used blends of tin and lead.
Shooting a mix of handguns at the baffle box was fun and interesting. First came a Kimber .40 S&W 1911 and a Les Baer .45 Auto 1911. Each of their FMJ bullets made it through eight planks. Board No. 6 was popular: .38-40, .44 Russian and .45 S&W pressed through it. The .38-40 was a bit of a disappointment. I expected it to equal or better .44-40 penetration, but in fairness I must say that the .38-40 bullet exited a 4.75-inch SAA barrel while the .44-40's was shot from a 7.5-inch barrel. A surprise was the .44 American bullet, which planted itself in the seventh plank. I expect that slight bit of improvement was due to its pointed bullet and the fact that it was fired from an original Smith & Wesson No. 3 with an 8-inch barrel. The ninth plank had only two holes through it, one of which was from the flatnose .44-40 bullet. With no surprise, the best penetration of all was with the .45 Colt. Its 252-grain conical bullet lodged in the twelfth board. Its performance was also probably aided by the pointed nose shape plus being fired from a 7.5-inch Colt SAA.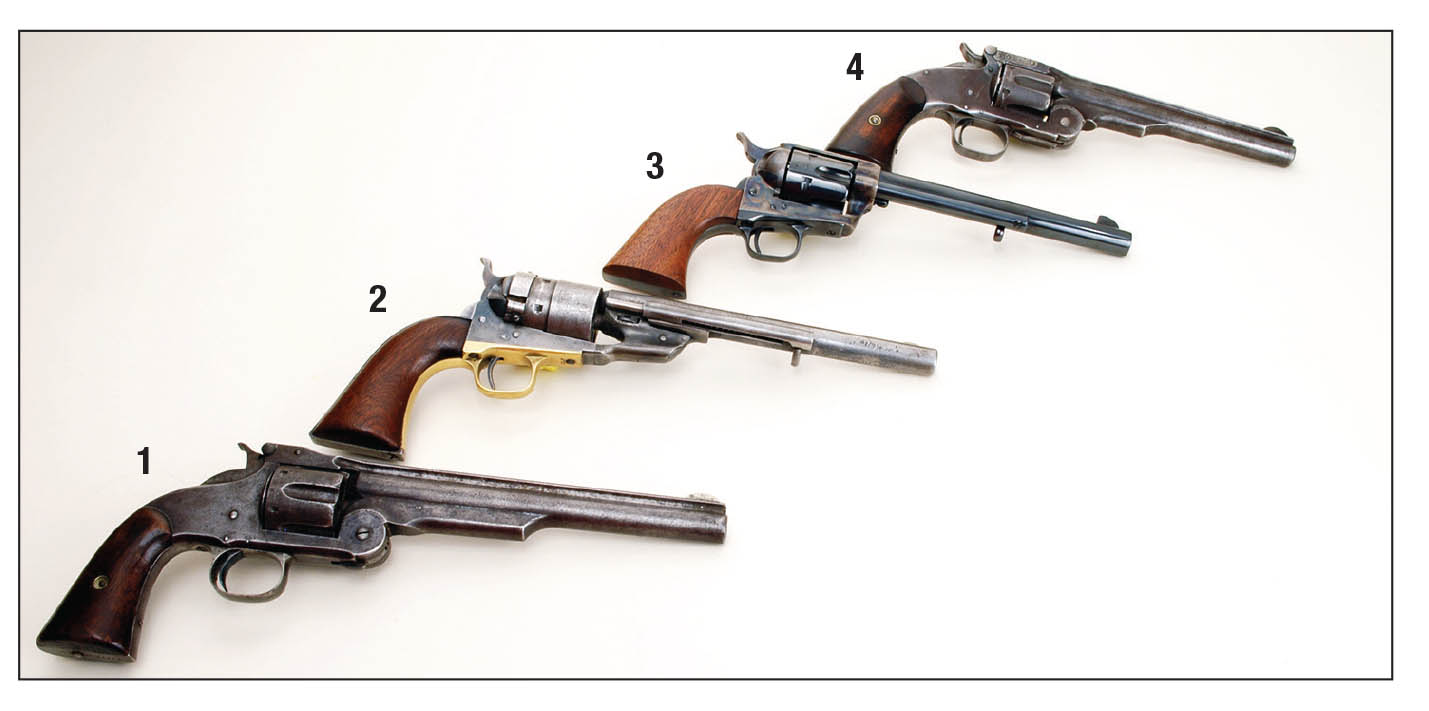 (I gave the baffle box one try with a black powder cartridge rifle – a Cimarron/Uberti Model 1876 .45-60. Distance was about 20 yards, and the bullet sailed through every board and out the box's back. I stopped then for fear of destroying it totally with even more powerful rounds.)
Here are some details for this "frontier ballistic" testing, which extended over several years. Tens of thousands of rounds have been fired in a huge variety of original and replica firearms. Many were mine, and some were loaners from friends. If I could not get them to shoot with at least adequate accuracy, they were not included in the table.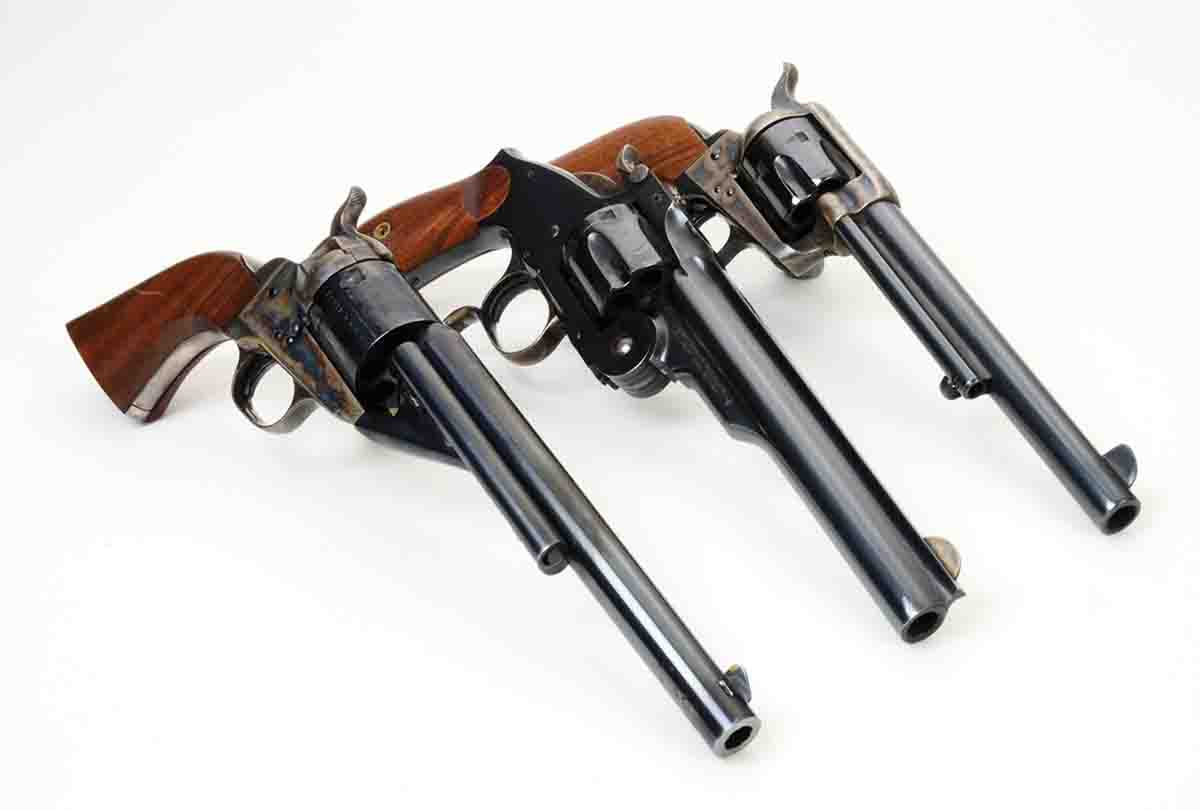 Also note that both GOEX and Swiss black powder were used. Because modern cartridge brass often will not hold a great quantity of black powder, don't be surprised when my test loads hold less powder than originally shown in old catalogs. For example, Winchester and Starline .45-70 brass would only hold 63 and 60 grains, respectively, with 400- to 550-grain bullets. On the other hand, sometimes even more powder fit. The .50-90 Sharps brass by Starline held 100 grains, and its .50-70 cases held the same 70-grain charge as did government loads in the 1860s and 1870s.
Some components were used for all the black-powder handloads shown here. Primers were always CCI magnum strength for both small and large pistol loads. Most of the full-size rifle cartridges were primed with Federal 215 Large Rifle Magnum primers. Only SPG lube was used on cast bullets, which were all poured of 1:20 (tin-to-lead) alloy.
The 1870s especially, and the 1880s to a lesser extent, were the great trial years of metallic cartridges. The U.S. government and both large and small ammunition factories constantly experimented and tested new ideas. Even the Russians "colluded" in 1872 by insisting the .44s sold to them by Smith & Wesson used a bullet the full diameter of which set inside the case. Prior to that, most factory handgun loads featured heel-type bullets with a reduced diameter shank that fit inside the cartridge case while the full bullet diameter was same as the outside case diameter. By about 1890 most heel-type bullet factory ammunition was dropped in favor of the Russian method. Hence the .41 Colt ended up being loaded with .386-inch hollowbase bullets, and the .38 Colt ended up with .357 diameter hollowbase bullets. Those cartridges shot very well with those soft lead-alloy hollowbase bullets – expanding .014 to .016 inch to grip rifling. As said, it was a time of experiments and learning.