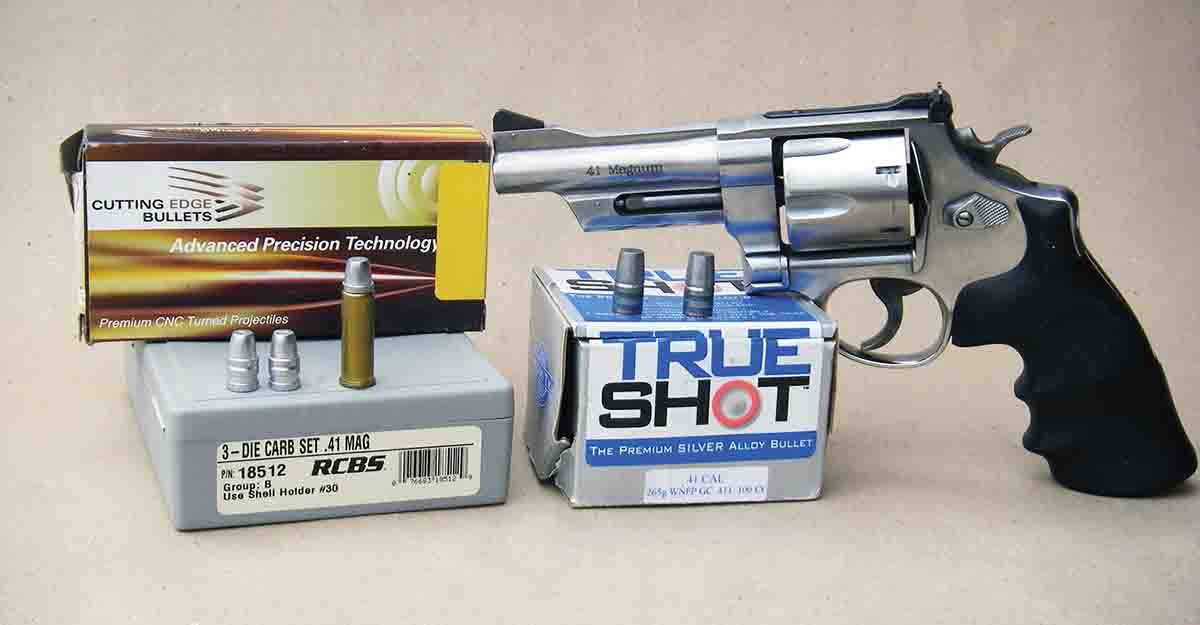 Q
: I am a long-time reader of your articles regarding handgun cartridges and hunting. I have duplicated and enjoyed many of your recommended load recipes for my .45 Colt, .44 Magnum and 10mm Auto, which have given me great success on many deer over the years. I frequently shoot Ruger New Model Blackhawk revolvers as well as Smith & Wesson Mountain Guns.
I have access to a local bullet caster that has excellent skills and a large selection of bullet moulds. I am preparing for my first ever spring black bear hunt and would like to use a new (to me) Smith & Wesson Model 657 Mountain Gun chambered in .41 Magnum. I have just started experimenting with this caliber using 215-grain Keith bullets at 1,000 to 1,200 fps.
My question is what bullet to use for black bear? Jacketed expanding type or cast? Can you suggest a load combination? Thank you so much. – J.M., Missoula, MT
A: I am glad that my suggested load data is working well for you. Regarding loads and bullet selection for your Smith & Wesson Model 657 Mountain Gun .41 Magnum, expanding bullets can work well on black bear; however, they do not offer the same deep penetration or bone-breaking qualities as solids, which is critical when the angle of the bear is less than perfect to allow the bullet to reach the vitals. In short, solids work better under a variety of circumstances and for these reasons are my choice in big-bore sixguns when hunting bear.
The original Keith design at around 220 to 225 grains, as offered by Hensley & Gibbs mould No. 258 (montanabulletworks.com) or Lyman No. 410459 are old, proven choices and are never a mistake for hunting big game. (Please note these are different than bullets from RCBS and Magma moulds that cast 215-grain SWC designs commonly referred to as "Keith" bullets.) Use 18.0 grains of Accurate No. 9 powder capped with a CCI 300 primer, which will provide over 1,300 fps from most 4-inch barreled Smith & Wesson revolvers; or 17.0 grains of Alliant 2400 for around 1,250 fps.
Other great options include various 240- to 265-grain LBT flatpoint designs for several reasons that, due to limited space, cannot be discussed in detail at this time. I generally favor the Long Flat Nose (LFN) style over the Wide Flat Nose (WFN), and select Long Wide Nose (LWN) designs can be acceptable.
With the Montana Bullet Works 240-grain LFN-GC, try 9.3 to 9.8 grains of Hodgdon Longshot powder for around 1,100 fps in most 4-inch guns.
Moving up in weight to Oregon Trail's 265-grain True Shot WNFP GC bullet (800-811-0548) or Rim Rock Bullets' 265-grain LBT-LWN, try 13.0 to 13.5 grains of Accurate No. 9 for just over 1,000 fps from Smith & Wesson revolvers with 4-inch barrels.
Another interesting option includes the Cutting Edge (cuttingedgebullets.com) .41-caliber 220- grain Solid, which gave superb accuracy in my test revolver while offering excellent penetration. Try 17.0 to 17.5 grains of 2400 powder for around 1,220 fps, or use 14.5 grains of Accurate No. 7 for more or less the same velocity – but with notably less muzzle report, which is nice when hunting. I hope that you have a successful and fun bear hunt!
.45 Colt Pressures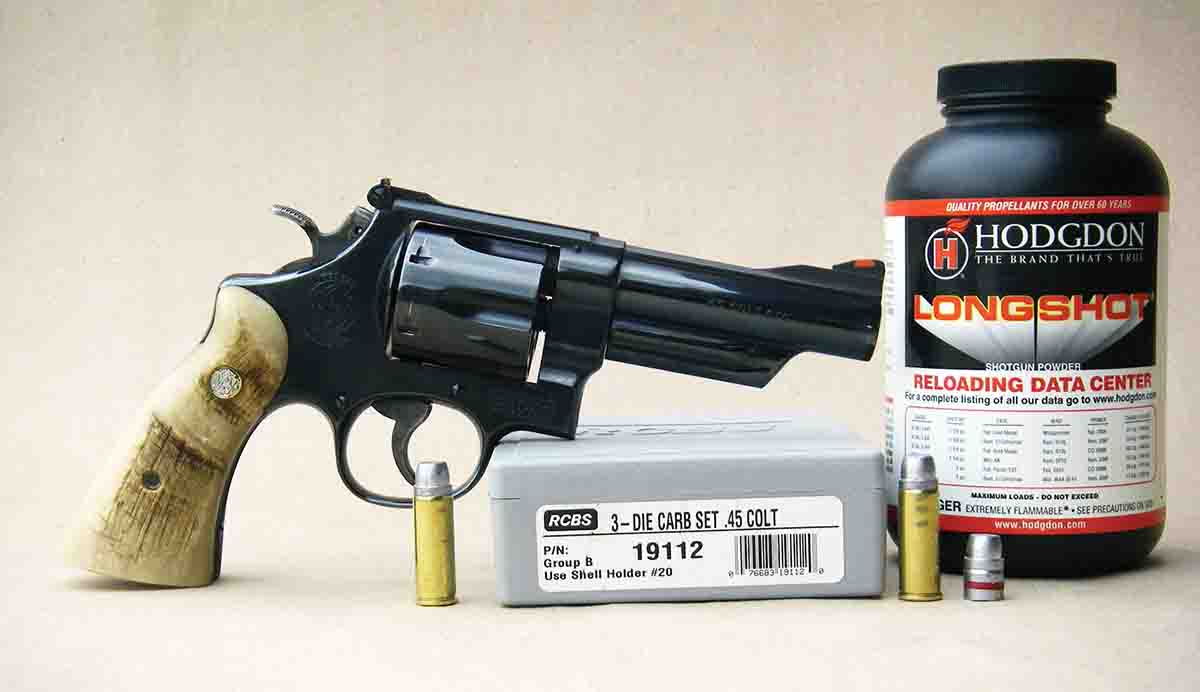 Q
: I have several large frame modern revolvers from Colt and Smith & Wesson that are chambered in .45 Colt. When I look at the handloading manuals, they all seem to divide handloading data into two categories. The first category is for older Colt Single Action Army revolvers, while the second category is for Ruger Blackhawk revolvers or Thompson Center single shot pistols.
I own a Colt Anaconda .45 Colt that was purchased new in the middle 1990's. It would seem that it could certainly use stiffer loads than vintage Colt SAA's and their replicas, as this same gun was chambered in .44 Magnum. My other revolver in .45 Colt is a Smith & Wesson Model 25-7 with 4-inch barrel (that was manufactured in 1988). Being built on the large N-frame, it seems to me that it should be stout enough to take loads stronger than what would be sensible for a Colt Single Action Army and replicas.
So my questions are: would it be safe to think that I could shoot similar loads listed for the Ruger Blackhawk and Thompson Center Arms Contender and Encore in either my Colt Anaconda or Smith & Wesson Model 25-7? Or would I be heading towards serious problems?
Would it be safe to use typical Ruger and Thompson Center "beginning" load data for both revolvers? Can I use the same types of indications regarding loads that are "too hot" like with rifle calibers? Or would the cylinders give way long before I reached those pressures? – K.E., e-mail
A: Trying to rely on "the same types of indications regarding loads that are 'too hot' like with rifle calibers" should never be applied to sixguns! They are completely different and display excess pressure in different manners.
Let's discuss each of your revolvers separately. You are correct in that your Anaconda can handle load data intended for the Ruger Blackhawk, which is generally listed at 32,000 CUP. However, every .45 Colt Anaconda that I have checked featured .458-inch throats, which result in poor accuracy with various .451- and .452-inch bullets, including cast and jacketed designs. My experiments with heavy "Ruger-type" loads resulted in severe barrel leading with virtually all cast bullets, including plain base and gas check designs. I ultimately purchased a .44 Magnum cylinder, fitted it to my revolver then re-chambered it to .45 Colt with minimum chamber dimensions and .452-inch throats, which greatly improved accuracy and corrected leading issues. This is mentioned because I suspect you will be disappointed with the performance of most "Ruger-type" loads in your gun.
For several reasons, your Smith & Wesson Model 25-7 is not suitable for "Ruger-type" +P loads. Regarding using it with "beginning" (start) loads, I do not suggest this approach as many published loads do not indicate pressures, and many are certainly excessive for the Model 25. My suggestion is to use it with loads that generate 23,000 psi, which is the same as .45 ACP +P loads that are recommended by Smith & Wesson for use in other N-frame revolvers offered in that caliber, and which share similar cylinder strength. To be clear, the Model 25-7 .45 Colt will handle loads that generate greater pressure; however, loads that generate 23,000 psi will substantially increase the performance of the .45 Colt cartridge. Furthermore, these loads will not pound the frame loose prematurely. For what it's worth, this is where I limit loads used in my personal Model 625s and 25s chambered in .45 Colt, which have been used to take deer, elk and bear with excellent performance.
.44 Special Loads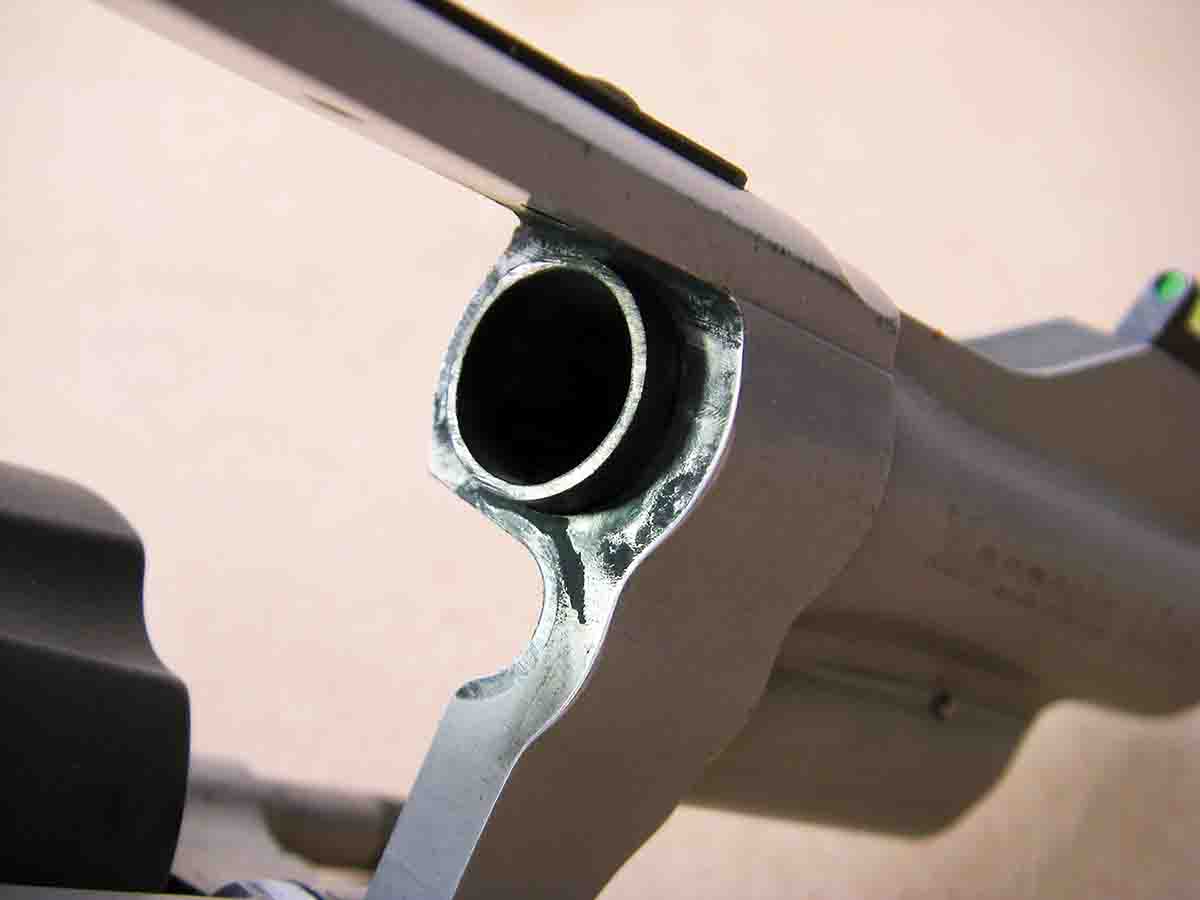 Q
: I own a Smith & Wesson Model 396 Night Guard .44 Special with 2½-inch barrel that I carry for defense in my hunting camp in Pennsylvania. I also own several .44 Magnums and .45 Colt revolvers, but they are too cumbersome for my application, whereas the 396 weighs in at a handy 24.3 ounces.
I would like to develop handloads for the above .44 Special and would like your thoughts regarding bullet, powder, primer and case choices. I am leaning towards loads that offer greater penetration rather than expansion, with recoil being of some concern in such a light weight revolver. Thanks for your thoughts and time. – R.M., e-mail
A: The various Smith & Wesson Model 396 and 696 L-frame .44 Special five-shot revolvers are strong and can handle loads generating much greater pressure than factory ammunition. However, their weak link is the rather thin barrel proper, or breech, which has been known to split with heavy loads. For these reasons, I generally recommend standard-pressure .44 Special loads that have an industry maximum average pressure of 15,500 psi. However, select loads that generate up to 18,000 psi can work satisfactorily. This is not a handicap, as loads at these pressure levels are plenty potent for defense and offer equal or even greater punch than the .45 ACP.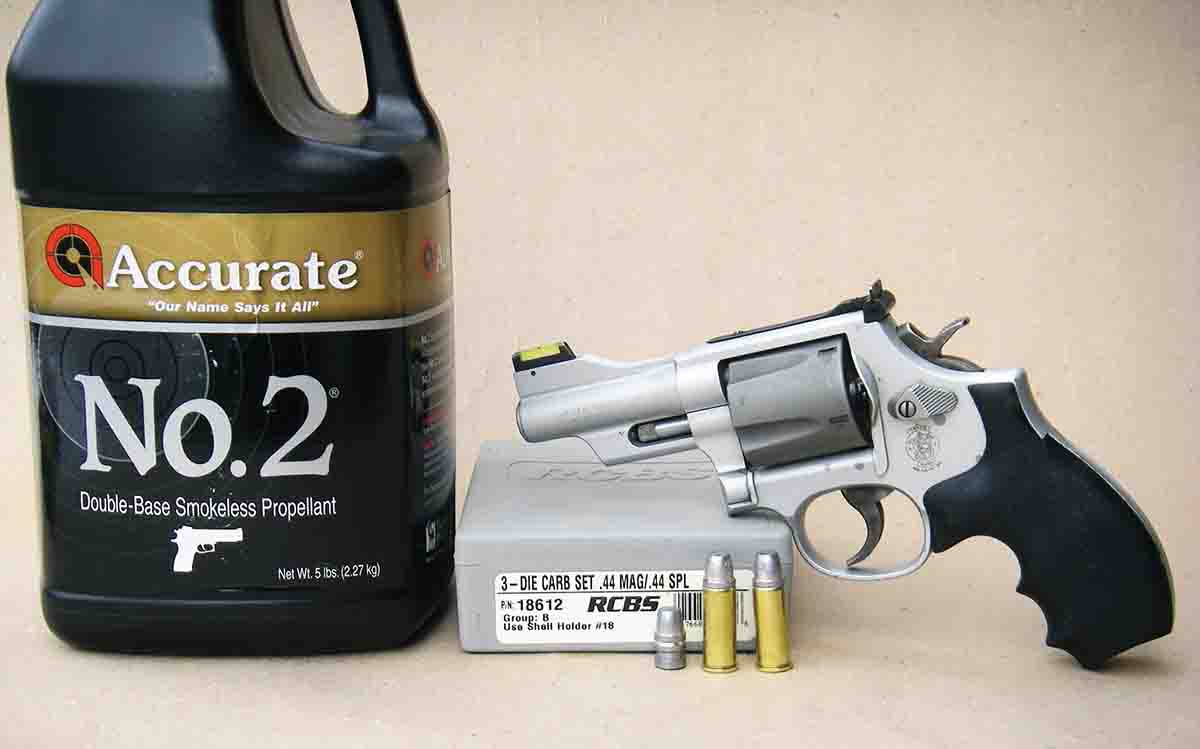 The Lyman/Keith No. 429421 bullet at around 250 grains is always a good choice for general use (including hunting and defense) in the .44 Special. I suggest trying 6.2 grains of Accurate No. 2 powder or 5.7 grains of Alliant Red Dot powder for around 800 fps. If you want a bit more velocity, try 8.2 grains of Alliant Power Pistol for almost 900 fps. These velocities were obtained from a Smith & Wesson Model 396 Mountain Lite AirLite Ti with a 31⁄8-inch barrel, so your gun will probably achieve slightly less velocity. I suggest Starline cases along with a heavy crimp, which serves to help prevent bullets from jumping crimp during the recoil of a lightweight, big-bore revolver.
The above data was fired using CCI 300 primers, but Federal 150 primers can be substituted. All three of the above loads are standard pressure and within SAAMI 15,500 psi guidelines.
.22-250 Remington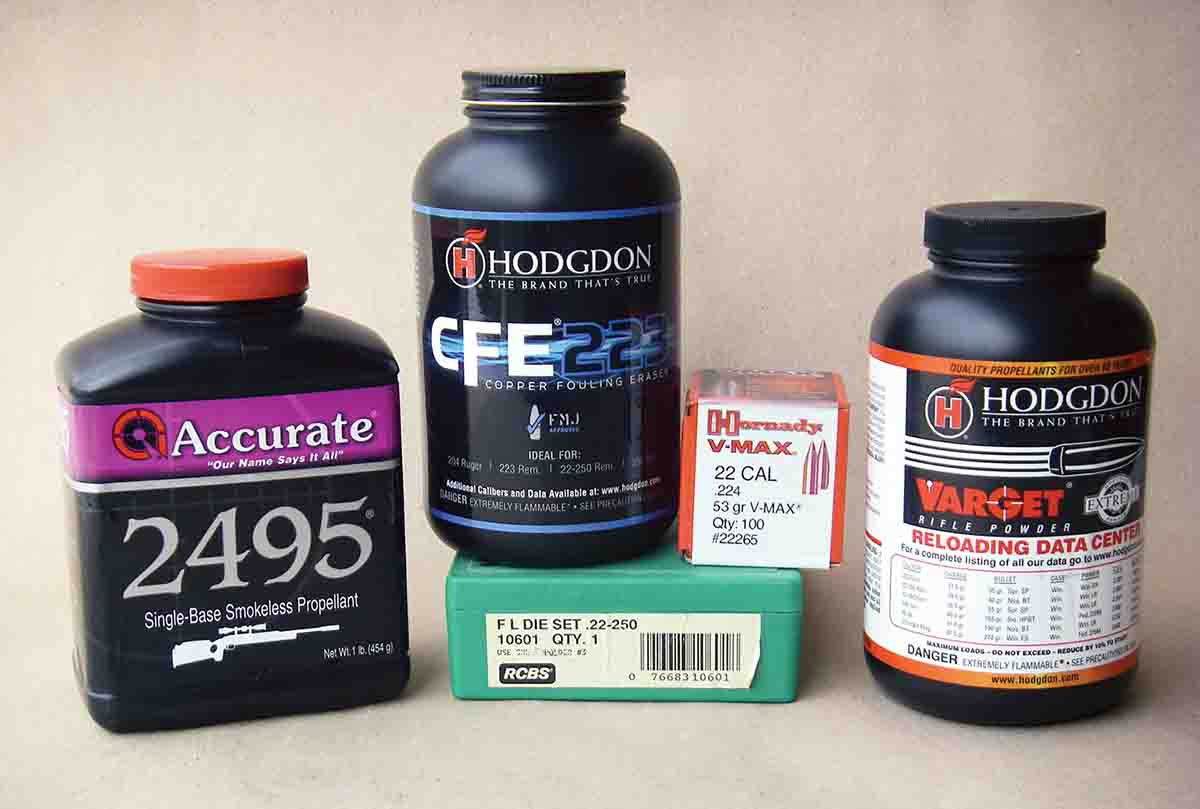 Q
: After reading your Pet Loads article for the .22-250 Remington (Handloader April 2019, No. 319) I became inspired to develop new and improved loads for my pet rifle. I found your comments and experience with the 53-grain Hornady V-Max bullet in different barrel twist rates fascinating. I have no idea how I overlooked a bullet with such a high ballistic coefficient. My rifle is a Remington Model 700 Varmint with 1:14 twist. In your most unique way of writing and sharing your knowledge, you might have already answered my question, but I just want to verify. With my rifle's slower twist rate, will I be ahead in terms of accuracy to push it full throttle with 39.3 grains of Hodgdon CFE 223 powder for over 3,900 fps? Or should I slow it down to 3,700 or 3,800 fps using your loads containing Hodgdon Varget or Accurate 2495 powder?
Thanks so much for your insight. I love reading Handloader and eagerly watch for each new issue. I always learn something new from your articles, even if you are discussing a gun or cartridge that I don't own. – F.C., e-mail
A: All three loads have proven accurate, and you will not miss (pun intended) with any one of them. If you have any of those powders on hand, try that load. Or if you enjoy experimenting and load development, try each one. As always, you will want to begin slightly below maximum and work up carefully to maximum loads. It will also be beneficial to try seating bullets to different overall cartridge lengths to see where the accuracy "sweet spot" is. It is noteworthy that Accurate 2495 and Hodgdon Varget produce notably less muzzle report.
Thanks for your compliment, and I hope that you keep enjoying Handloader.