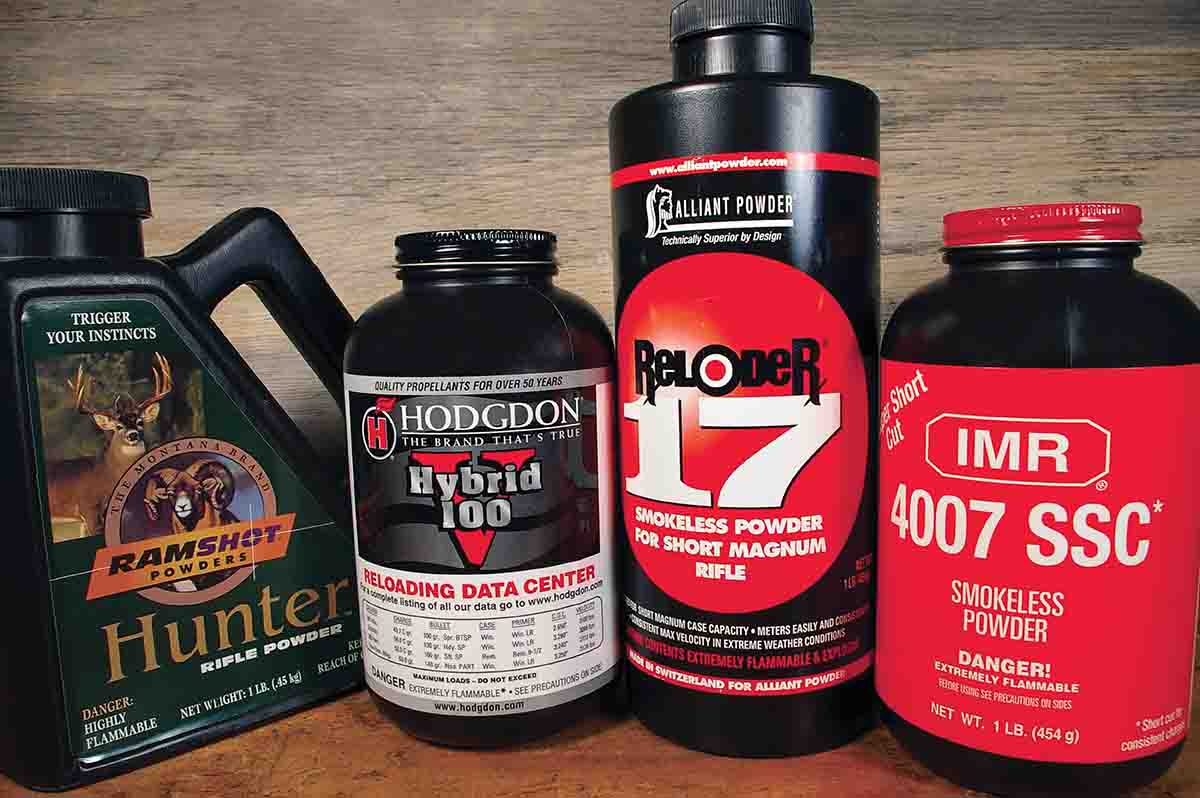 A handloader could remain safe and satisfied by giving no more thought to powder selection than picking a seemingly suitable option listed in a handloading manual for a particular cartridge, and let it go at that. But to make informed decisions about powders, handloaders should consider a variety of factors, including burn rates, single- or double-base composition, case fill and granule shape.
We might as well start at the beginning. Friar Roger Bacon is generally credited with concocting gunpowder sometime before 1300. Berthold Schwarz is often recognized with inventing firearms, and he is believed to be the first to apply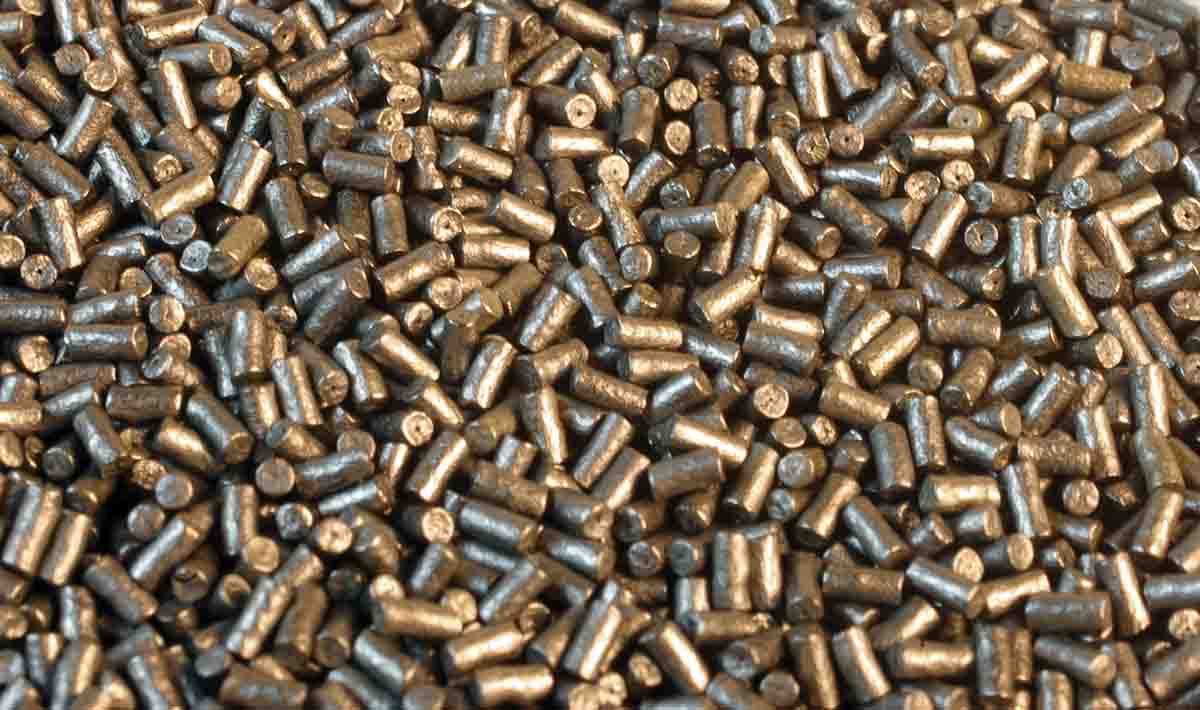 Bacon's formula to firing projectiles. Many formulas of black powder have emerged over the centuries. The basic recipe is 75 percent potassium nitrate (saltpeter), 15 percent charcoal and 10 percent sulfur. Potassium nitrate is the "energetic," or material that produces the energy.
It's said that America produced 1.5 million pounds of black powder in 1810. By the early 1900s the amount had grown to 1.483 million kegs annually. Today black powder is still burned in enormous amounts. The little amount used by handloaders, though, is mostly in traditional big-bore rifle cartridges such as the .45-70.
Black powder fails to fit into the general plan of handloading. It leaves bores extremely dirty and is corrosive to brass cases, which necessitates an immediate thorough cleaning. I've shot black powder with cast bullets in a Winchester Model 1886 and a Marlin 1895 lever-action .45-70. Its low pressure treated the cast bullets gently, and accuracy was good. But fouling found its way into every recess of the rifles' receivers and was a pain to clean.
I've also loaded black-powder substitutes, like Pyrodex and Black Horn 209, in rifle cartridges. It produced much less fouling, but it still had to be cleaned without delay. Most of the black-powder substitutes use some form of potassium, like potassium perchlorate, as the energetic. The lovely cloud of smoke created by black powder and black-powder substitutes is about their only redeeming feature for most handloaders.
There are smokeless powders that mirror the performance of black powder, sans the smoke cloud. Smokeless IMR-3031 or 4198 loaded in the .45-70 provide the same low pressure and accuracy, and what little fouling they leave is not corrosive.
Smokeless Propellants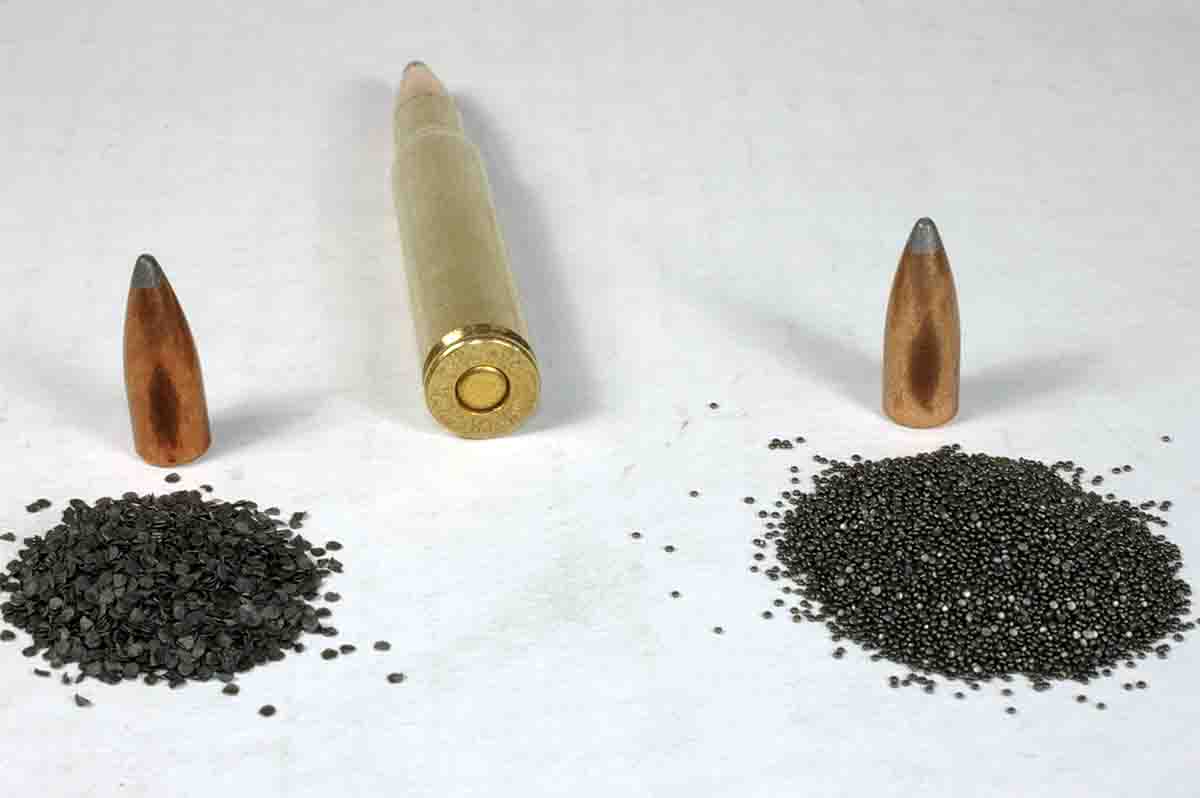 Smokeless powders should really be called propellants. Single- and double-base are the two basic types of smokeless propellant available to handloaders. Nitrocellulose is the energetic compound in single-base propellants. Double-base propellants include nitrocellulose and nitroglycerin.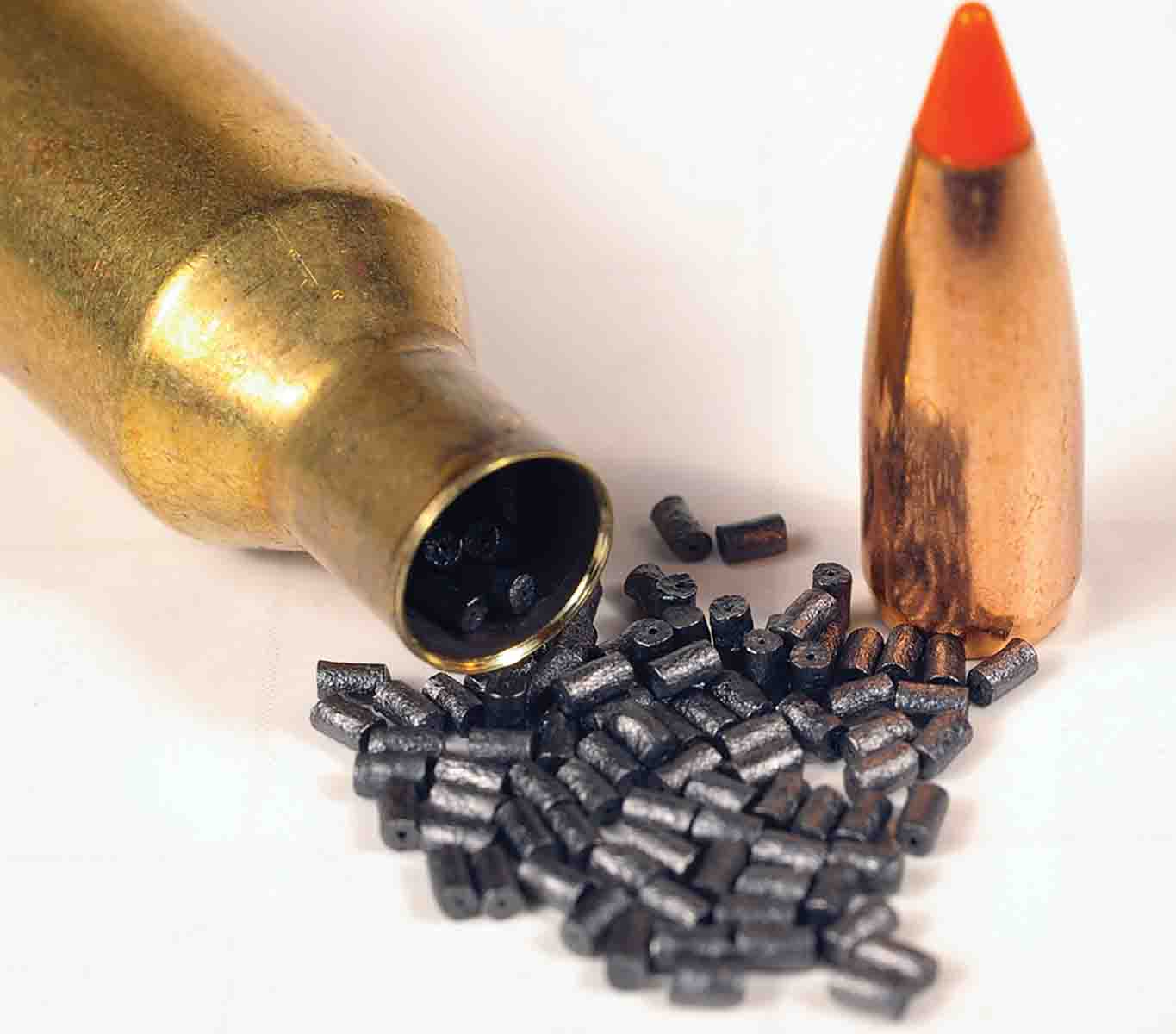 These propellants also contain additives. Dibutyl phthalate acts as a deterrent to control burn rate. Akardite II works as a stabilizer to prevent decomposition of the energetics. Potassium nitrate functions as a flash suppressant. Tin dioxide is an anti-coppering agent that reduces copper fouling in barrel bores. Graphite promotes propellant flow and reduces static electricity. "Those are just a few of the chemicals, but they cover the various roles other chemicals provide," said Rob Behr at Western Powders, which owns Accurate and Ramshot propellants.
Propellants are made in three basic shapes; cylindrical, flake and spherical (Ball is trademarked by Olin Corp.).
"Geometry is the most common way to control burn rate," Behr said. Flakes present a broad surface area and burn very quickly for this reason. This is why shotgun powders, which are the fastest burning, use this geometry. "Even our Ramshot Competition, which is technically a spherical propellant, uses this flattened geometry," Behr said. "The flattening of the spheres for these faster burn rates is done as an additional step in the powder manufacturing process."
Cylindrical propellants are usually, but not always, single base. The majority of Alliant propellants are extruded, but their finished shape may be tubular or flake. "Our Accurate 5744 is a double-base extruded powder, making it an odd duck," Behr said.
Burn rate for cylindrical powders is controlled by both the geometry and the addition of deterrents. Spherical propellants are almost always double base. Their burn rate is mostly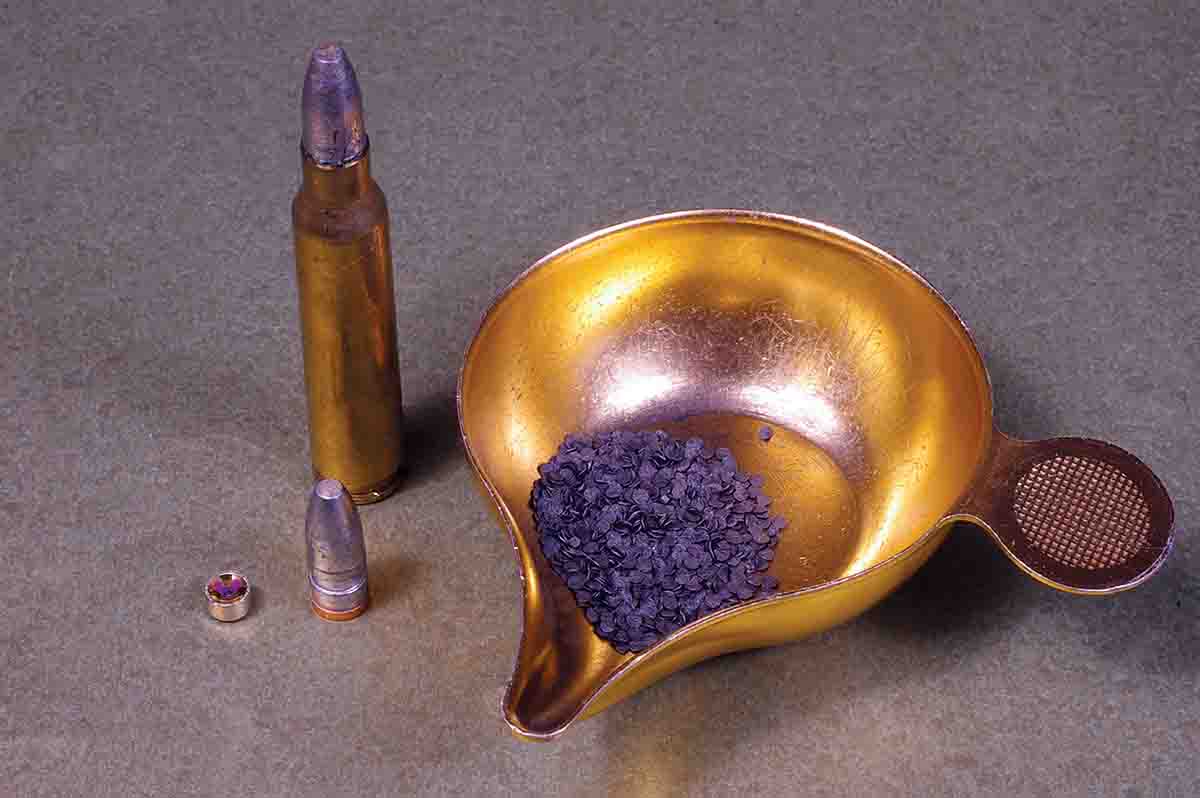 controlled by deterrents. Some original spherical propellants were manufactured with deterrents that gave them the reputation of being hard to ignite and more prone to wide swings in velocity as temperatures changed. "Modern sphericals have profited from military interest, which encouraged manufacturers to engineer solutions to these issues," Behr said. "Sphericals now handle ambient temperature extremes very well and are no harder to ignite than extruded powders."
A propellant's burn rate is ranked by how fast it burns under confinement compared to other propellants. There is no unit of measurement for this, but powders are listed on "Burn Rate Tables" from the fastest shotgun propellants to slowest magnum rifle propellants. A propellant's burn rate also changes depending on what cartridge it's loaded in and with what weight bullet. Burn rate also increases as pressures increase.
Picking Propellants
At least 150 propellants are currently available to handloaders. Add discontinued propellants still in circulation, and the choices are compounded. Choosing one propellant that works in a variety of cartridges simplifies handloading and cuts down on the number of stored propellants. For instance, Alliant Unique is a universal propellant that has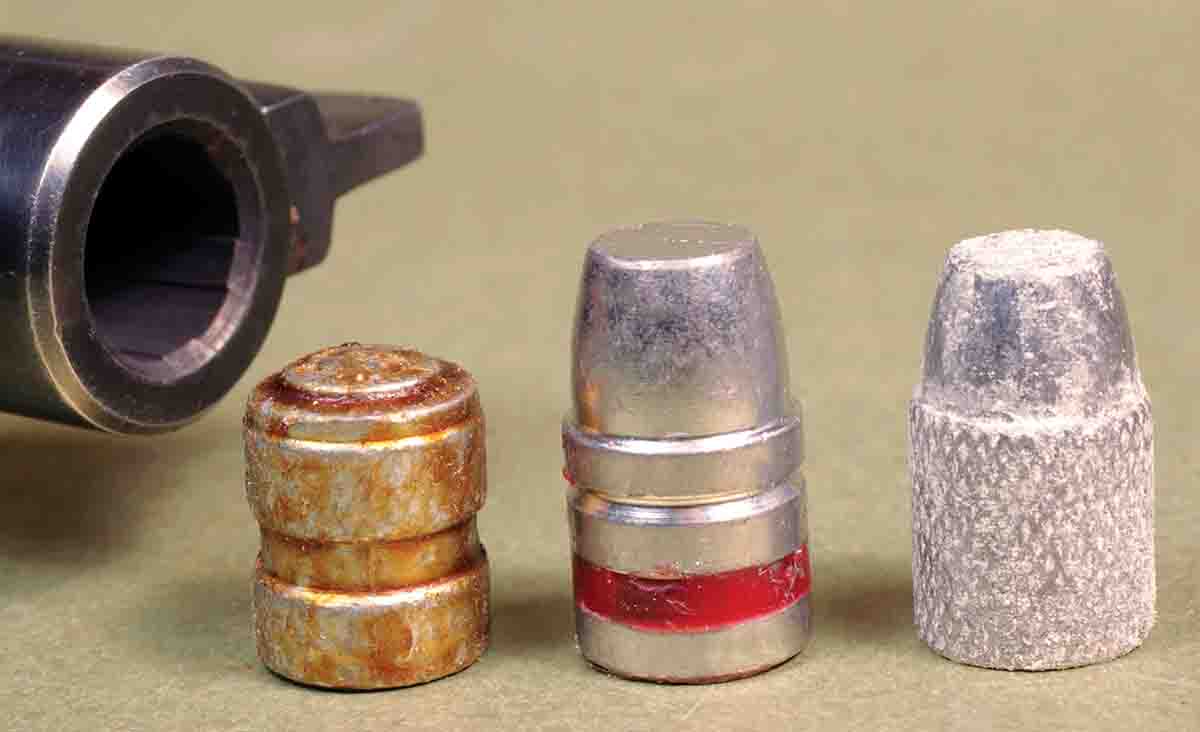 been in constant production for more than a century, for good reason, too, as it works in handgun cartridges from the .32 H&R Magnum to the .45 Colt, 12-, 16-, 20- and 28-gauge shotshells and in rifle cartridges from the .223 Remington to .35 Whelen loaded with cast lead-alloy bullets.
In standard handgun cartridges, relatively fast-burning propellants are the best for economical, light-target loads in handgun cartridges such as the .38 Special and even the .44 Magnum. Unique is always a good choice, as are Hodgdon Titegroup, Alliant Bullseye and Red Dot and Winchester 231. Stepping up in velocity to midrange loads, Unique is still good. Several propellants intended for shotguns, such as Winchester Super Field and Hodgdon Clays, also perform double-duty in handgun cartridges. Magnum loads require relatively slower-burning propellants that produce a large amount of gas to fire bullets at top velocity. These powders include Hodgdon H-110, Alliant 2400 and Accurate No. 11FS.
The same principle applies to shotshells. The 12-gauge 2¾-inch shell firing 7⁄8 to 11⁄8 ounces of shot uses a relatively fast-burning propellant like Alliant Red Dot. A heavier 11⁄4-ounce load of shot requires a more sustained push from a slower-burning propellant like Winchester Super Field. A 20-gauge's one-ounce shot column is comparatively long, and slow-burning Winchester Super Field or Hodgdon Long Shot is needed to overcome its inertia.
Propellants of the correct burn rate for rifle cartridges vary. Small cartridges like the .22 Hornet are loaded with relatively fast-burning propellants for their entire range of bullet weights. The same goes for the straight-walled .45-70. Standard bottleneck cartridges generally, with an emphasis on generally, provide best performance with gradually slower-burning propellants as bullet weight increases. The .30-06 produces its highest velocity with 150-grain bullets loaded with a propellant like IMR-4064, but slightly slower-burning IMR-4350 provides the highest velocity with 180-grain bullets. Cartridge introductions in most handloading manuals suggest appropriate propellants for cartridges.
Case Fill
Filling a case with propellant so the base of a seated bullet lightly holds it in place is a perfect fit, so long as the powder charge does not exceed the bullet and/or powder; manufacturer's suggested loads. This situation is often possible with rifle cartridges such as the 6.5 Creedmoor and .308 Winchester, and handgun cartridges such as the 9mm Luger. A propellant column held firmly against the primer flash hole promotes an even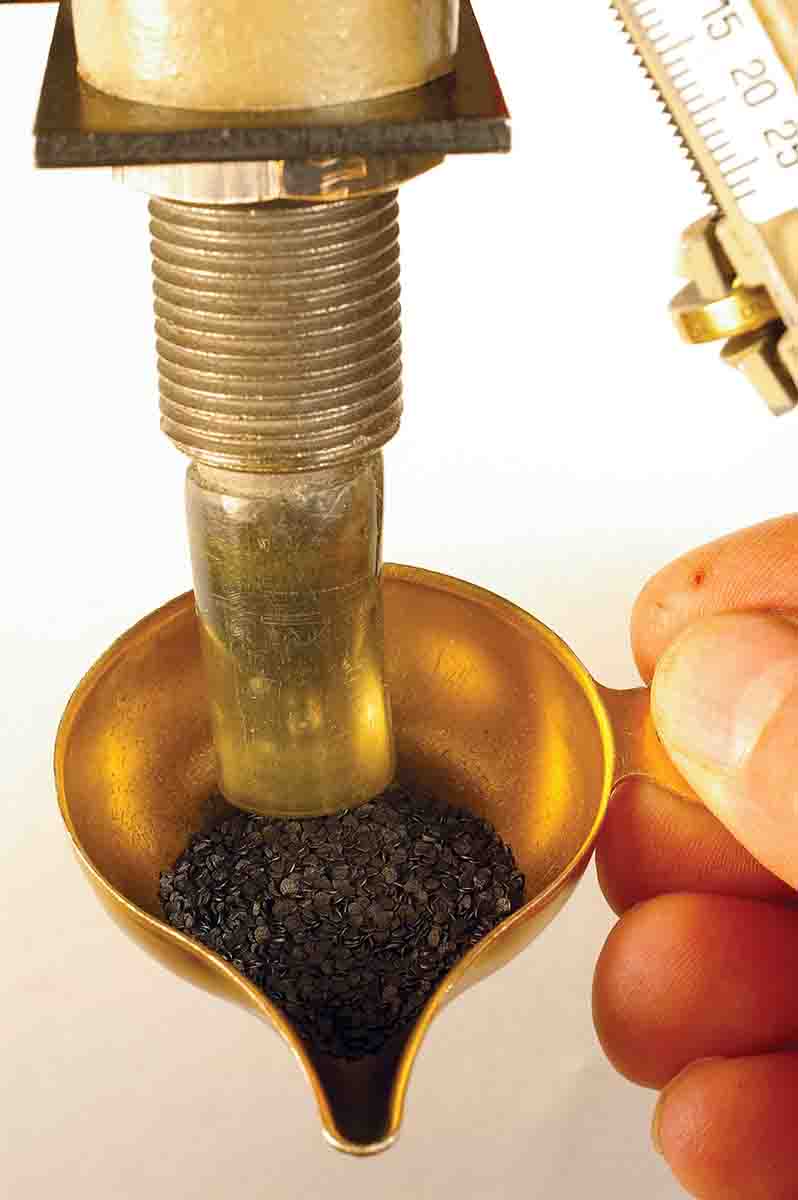 burn to produce low extreme velocity spreads.
Some handgun cases, notably the .38 Special and .45 Colt, were designed long ago to hold black powder; a charge of propellant only partially fills these cases. For these cases, easily ignited propellants like Hodgdon Titegroup or Alliant Red Dot work well. Red Dot is bulky for its weight and occupies more of a case.
However, a suitable propellant may only partially fill a case. One of my favorite .30-30 Winchester handloads includes a SAECO 140-grain plainbase cast bullet seated over 7.0 grains of Red Dot that partly fills cases. Extreme velocity spread is 18 fps for 10 shots, and groups average slightly over an inch at 100 yards.
That load was not picked out of the blue, but from the Lyman Cast Bullet Handbook. Specific loads should only been taken from reputable handloading manuals or LoadData.com. Loads suggested by even your best friend should be viewed with suspicion, and any load listed by an unknown source on the Internet is completely suspect. One such Internet load listed the 6mm Creedmoor shooting 100-grain bullets at 3,400 fps, or about 300 fps faster than normal – there's a problem here!
Names and numbers that identify propellants can be confusing. Only one number distinguishes IMR-SR4759 from IMR-SR4756. Incorrectly load and fire SR4756 with a charge weight for SR4759 in the .45-70, and you will never wake up from your mistake. The same goes for mistakenly loading IMR-4320 instead of IMR-4350.
Propellants with the same numerical designation but from different companies are similar in burn rate, but they are not exactly the same. Examples include Hodgdon 4198 and IMR-4198; Accurate 4064 and IMR-4064; and Accurate 4350, Hodgdon 4350 and IMR-4350.
I loaded 40 grains of the three 4350s in Winchester-brand .243 Winchester cases with CCI 200 primers and Sierra 100-grain GameKing bullets. The GameKings turned in an average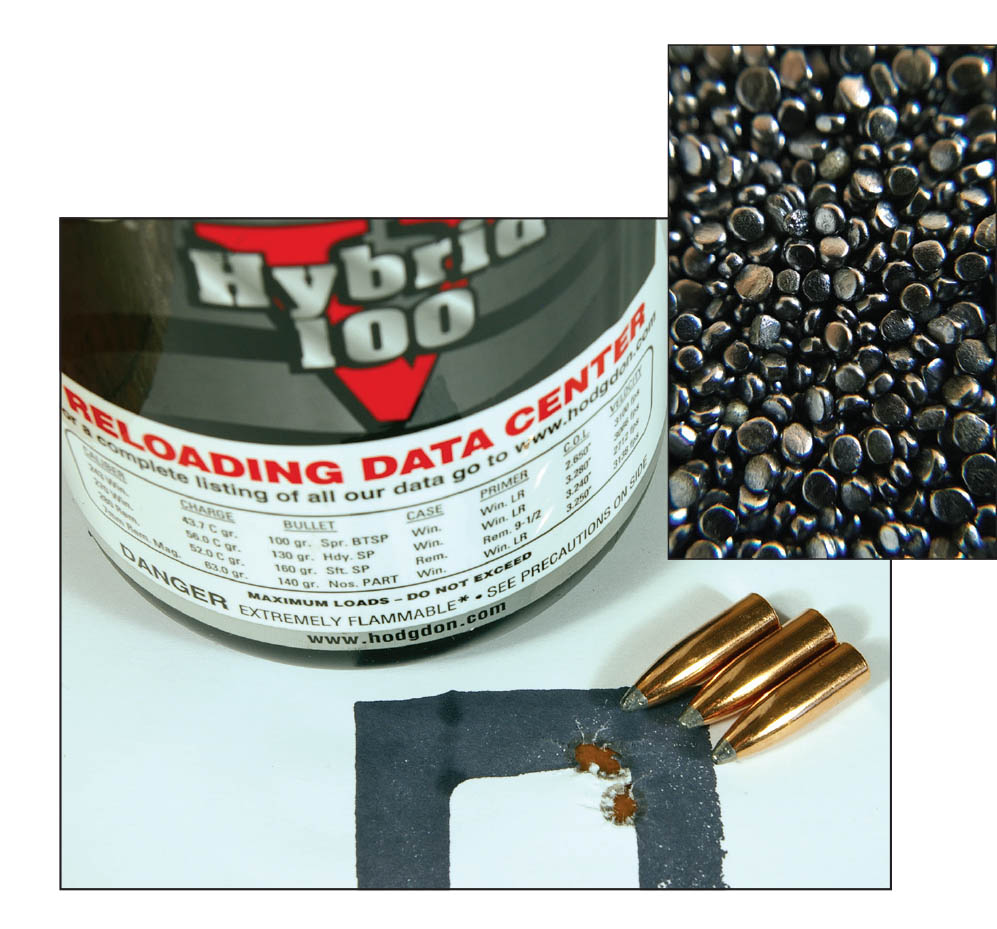 velocity of 2,632 fps with Accurate 4350, 2,730 fps with Hodgdon 4350 and 2,687 fps with IMR-4350.
I read the propellant name or number off a can's label. Then I look at my reloading recipe and back at the can and recipe several times. When I'm sure the powder is proper, I start loading. The advice is to start loading and shooting with the minimum propellant charge listed and work up from there in increments as little as .2 grain. That is appropriate for cartridges with only a .5- to one-grain difference between minimum and maximum. Increases of 1.0 to 1.5 grains are suitable for larger cartridges, such as the 7mm Remington Magnum, with 7 to 8 grains between start and suggested maximum charges. Desired velocity and accuracy may be reached before maximum charge weight is reached.
Loading toward maximum, signs of excessive pressure should be looked for after firing cartridges loaded with each increasing propellant charge. These include cratered firing-pin indents on primers, flattened primers, stiff bolt lift and difficult case extraction. The hitch is these signs appear not at acceptable maximum pressure, but at excessive pressure. That's why it is best to adhere to handloading manual warnings to never exceed maximum loads.
Even a maximum amount of propellant occupies only a small portion of cases such as the .38 Special and .45 Colt. In fact, two or three charges can fit in these cases with room left over to seat a bullet. To guard against this hazardous possibility, I weigh propellant and pour it into cases held in a loading block. Charged cases are then inspected under a light to make sure propellant, and the correct amount, are present.
A powder measure speeds up the loading process by dropping propellant directly into cases with a flip of a handle. How precisely a powder measure doles out propellant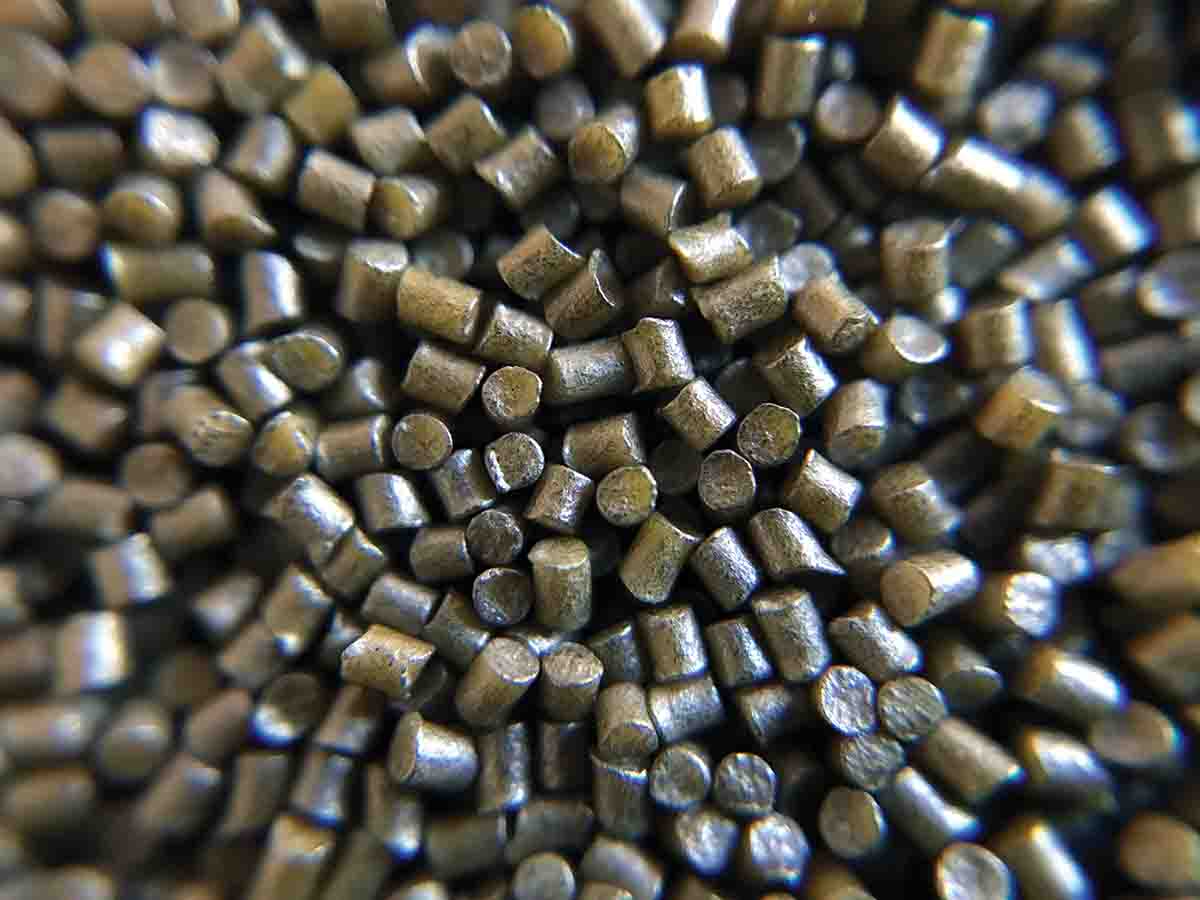 differs with the shape and size of the granules. Flake-shaped powders pack tightly in a measure. But some, like Unique, are fairly "fluffy" with varying weights. Cylindrical-shaped powders vary in length. Those with short granules, such as Hodgdon Benchmark, easily flow through a measure. However, cylindrical powders with longer granules, like Reloder 22, fail to compact densely in a measure's reservoir. These long granules tend to wedge between the edge of the measure's drum cavity and the measure. A push on the tool's handle to cut the granules vibrates the measure and causes dispensed weights to fluctuate. Spherical powders, such as Ramshot X-Terminator and TAC, tightly compact in a measure reservoir and their small granules precisely flow through a measure. Slowly draining a powder reservoir does tend to throw lighter charge weights. So every tenth charge thrown should be weighed to make sure weights have remained unchanged, and each case should be inspected for the proper amount of propellant.
Understanding the various types of propellants and their uses in specific cartridges allows handloaders to craft loads that meet their needs. For example, several different propellants make my .30-06 extremely versatile. On the thrifty side, I load the '06 with cast lead-alloy bullets and Unique that provide nearly 500 loads per pound. For top velocity when shooting summertime ground squirrels, I switch to 125-grain bullets loaded with IMR-8208 XBR. When fall and elk season arrive, I shift to 180-grain bullets fired at nearly 2,800 fps from a case charged with Hunter propellant.