Handloaders know uniformity is key to producing great ammunition. We use components of the same type and lot, trim cases to the same length, carefully weigh powder charges and seat bullets to the same overall cartridge length. Additional steps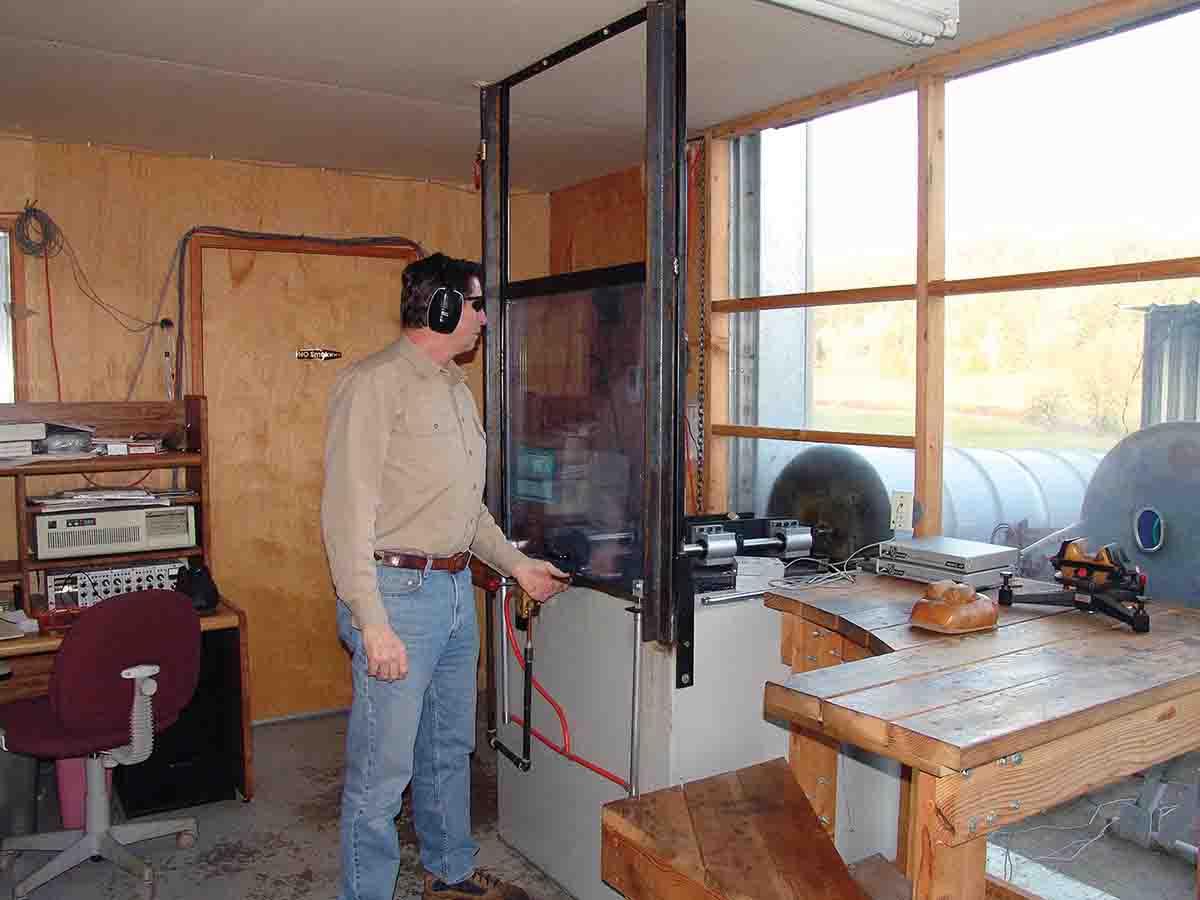 include segregating cases and bullets by weight, uniforming flash holes, separating out cases that do not meet neck wall thickness requirements or turning necks.
After assembling ammunition, we check it with a chronograph. The whole fascinating process leads to comparing velocities. Handloaders not only compare one load to the next, but we check the shot-to-shot consistency or velocity uniformity of each load. The numbers relied on for ammunition uniformity verification are standard deviation (SD) and/or extreme velocity spread (ES), and chronographs provide them. With either SD or ES, the lower the number, the more uniform the shot-to-shot velocity.
While both numbers are used to determine velocity uniformity, they
are different. Extreme spread is easily understood as the difference between the fastest and slowest shot in a string. Even without a chronograph providing it, you can subtract the fastest velocity from the slowest to arrive at ES. This is not so with SD.
Unlike ES, a "hard number" that represents the results of shots fired, SD is a statistical representation of a sample, the "probability" of subsequent shots falling within a range on a bell curve. SD is a measure of how much a set of numbers varies from the mean (in this case, average). It takes more than the space of this column to explain SD in detail. The math to calculate SD takes time, so a chronograph provides it; it is impractical for the average shooter to calculate. If a math buff wants to know more about it, the formula for SD can be found on the Internet.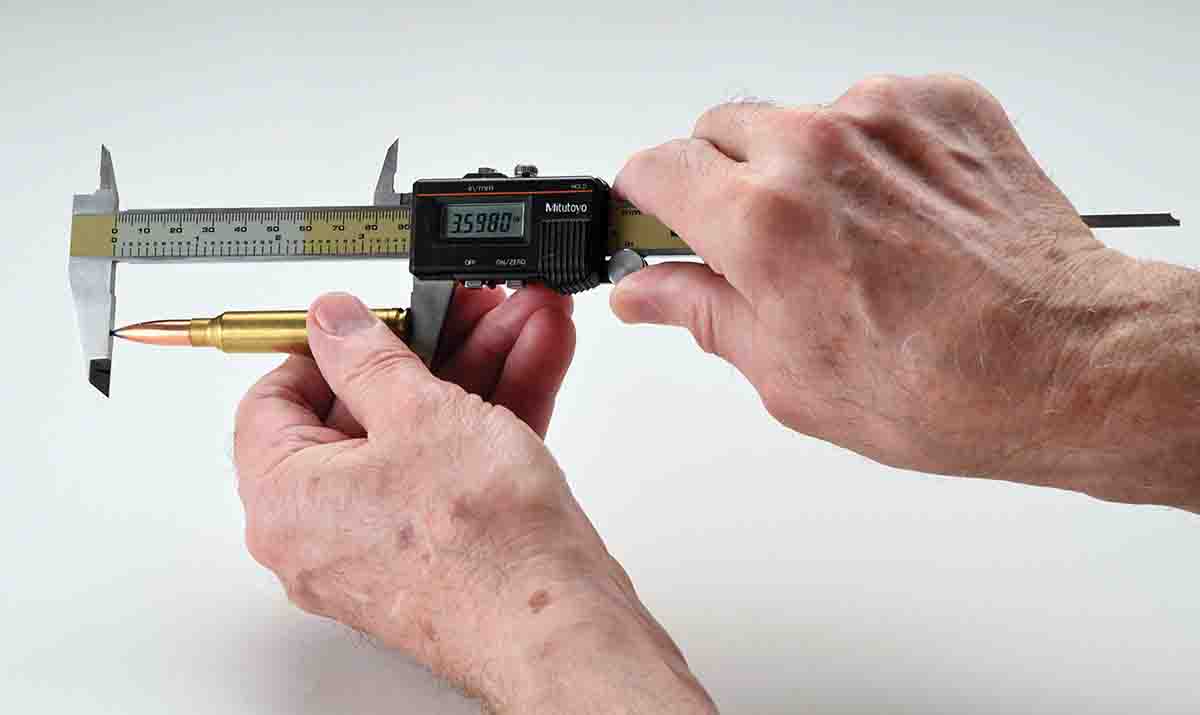 A handloader becomes familiar with SD or ES simply with use. Whether applying ES or SD, a shooter eventually acquires a "feel" for the significance of the numerical values relative to the number of shots in a string. ES is more influenced by the number of shots in a string than is SD.
I have used an Oehler Model 43 system for record keeping and chronographing over the years and, like most chronographs, the unit provides both ES and SD. With either measure of uniformity readily available,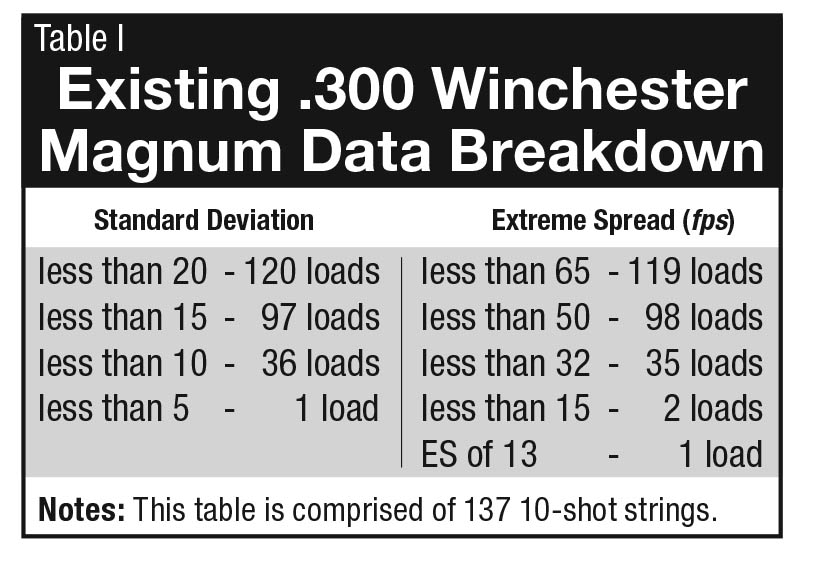 it seemed an interesting project to see if comparisons could be made between SD and ES. Would data line up in the same sequence whether SD or ES is used? Is there some way to correlate one with the other if a handloader is familiar with only one? For example, you may want some frame of reference if familiar with ES, but a friend or data source presents figures in SD, or vice versa. A method of comparison, if possible, would be meaningful and practical to use.
The search for answers started with my existing data for randomly assembled hunting hand-
loads and focused on the .300 Winchester Magnum. Records indicated that among decent loads (eliminating those outside of a normal pressure window or with unexplained variations), 137 10-shot strings were fired from one barrel. I then sorted those loads in ascending order of SD, then sorted for ES in the same manner and compared the lists. Table I shows how the two numbers roughly correlated.
A friend mentioned a rule-of-thumb method for comparing the two figures; that an SD figure should be approximately a third that of a number expressed as ES. Furthermore, if that is not the case, something is wrong. Likely, it would be a shot far out of the normal velocity range to elevate the extreme spread more than the standard deviation. Basically, the rule of thumb indicates that an SD of 10 equates to an ES of approximately 30. Table I bears that out. However, this rule-of-thumb does not always hold true.
Of the top 15 loads for low SD in the data, the first eight were in the same order or sequence from best to worst. After that, the orders were not the same. The lowest SD recorded for this caliber among my data was a 3. Extreme spread was 13 fps for the same 10 shots. That load came up number one in the .300 Winchester Magnum data on both extreme spread and standard deviation. The load was a Swift 200-grain A-Frame ahead of 70 grains of Reloder 19 in a Federal case with a CCI 250 primer. The overall cartridge length was 3.337 inches. The combination produced a group size of 1.19 inches for 10 shots. The first three shots went into .50 inch, and the first five went into .77 inch. By the way, the smallest 10-shot group did not coincide with this most uniform velocity. The smallest 10-shot group among the .300 Winchester Magnum data was 1.06 inches.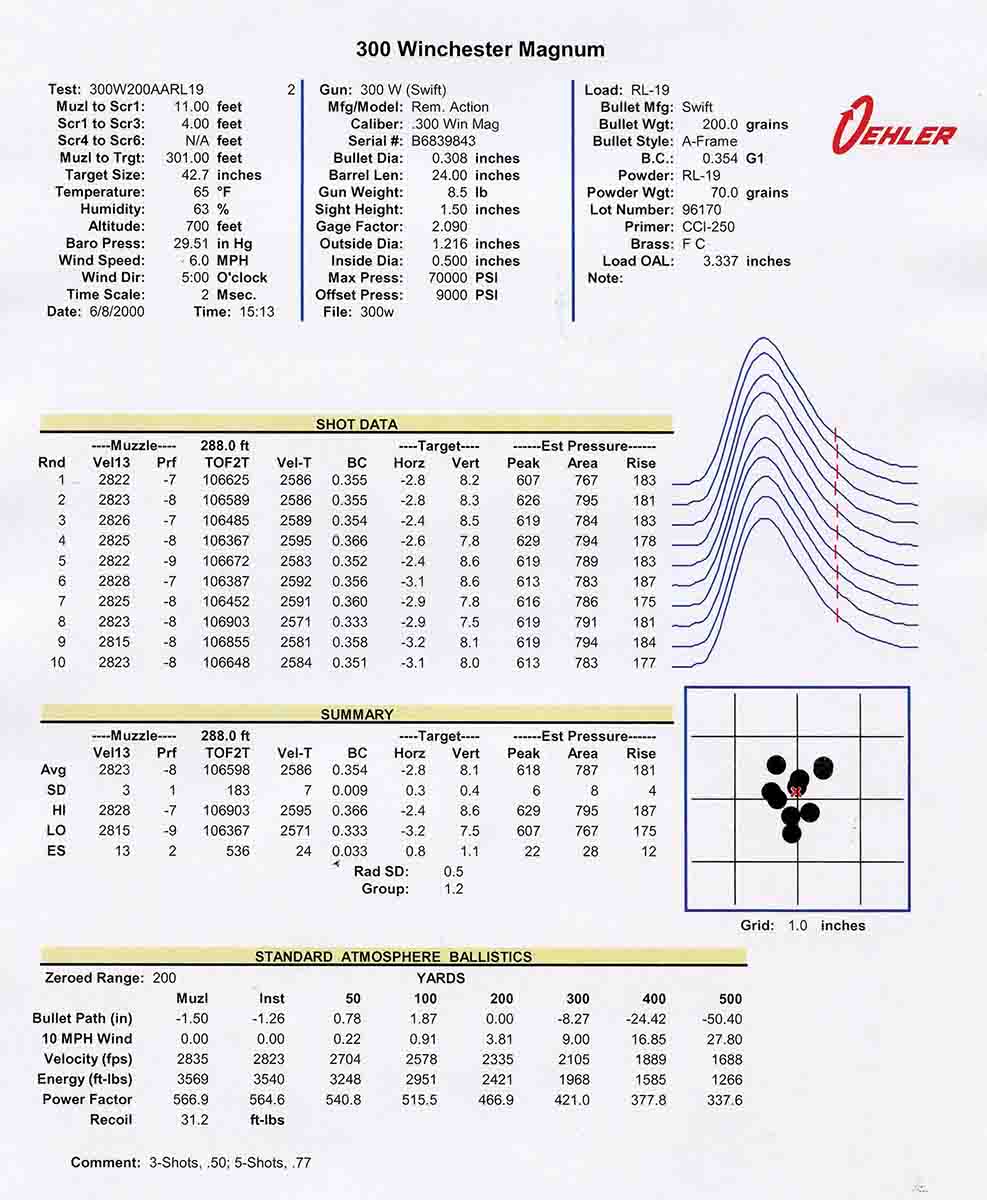 My data indicates that the original group was fired on June 8, 2000. I decided to shoot this same load again in the same barrel. The plan was to fire five 10-shot strings to see how the initial load compared today and how the SD and ES figures look with an increasing number of rounds fired. Would extreme velocity spread and standard deviation be close to the original test, and would they be close to the same as the number of rounds increased?
First, the results were not the same as in the original test. Charting all six 10-shot strings reveals that not only were ES and SD significantly poorer for the recent test, but velocity averaged 88 fps slower, and pressure was about 1,340 psi lower.
For one thing, while the components were the same, I used different lots back then. Also, records indicate that when the low SD and ES were provided back in 2000, only 212 rounds had passed through the barrel. At the start of the recent test firing, the barrel had 2,180 shots through it, and 22.61 pounds of powder as well. That is the better part of the life of a .300 Winchester Magnum barrel. All that erosion accounts for the lower pressure and velocity, and likely explains the poorer uniformity. It made sense to separate out the old test from the current 50 rounds in successive 10-shot strings.
Through the course of the shooting, the predictive SD relating to the mean velocity tends to be stable and close to its original statistical prediction regardless of the number of shots fired. Since ES encompasses the full velocity of each shot, it tends to increase with additional shots fired. If 50 shots are fired and only one abnormal round produces an excessively high or low velocity, it alters ES a lot – not so with SD.
In the end, SD and ES, while both provide a measure of uniformity, are totally different numbers and in a sense cannot be compared. To use both would be confusing, and that is a good reason why Handloader magazine has the policy of using only extreme spread when referring to velocity uniformity.
Insofar as the rarity or quality of an SD of 3, I have six of them among nearly 3,000 10-shot strings fired and recorded among all calibers. Each of these low SDs are in a different caliber. As for ES, the lowest is a 9, and there are four of them, again in four different calibers. If you have an SD of 3 or an ES of 9 fps for 10 shots in a rifle, you have a load with exceptionally uniform velocity. It is something to shoot for, a real challenge. If you have an SD less than 10 or an ES less than 35 fps, it is likely in the upper quarter of randomly assembled hunting handloads. It is worth experimenting with that combination if looking for a great load.