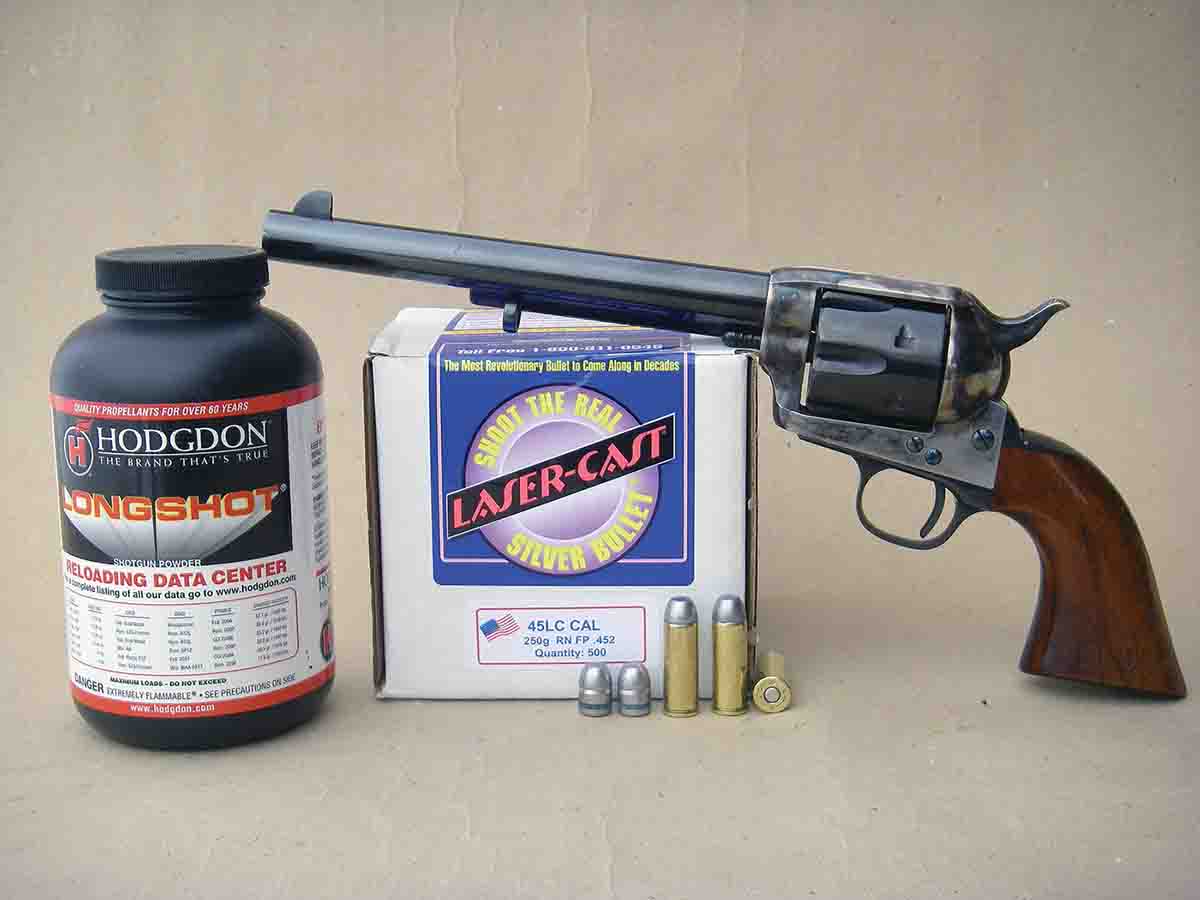 Q: I recently acquired a Uberti Model 1873 Single Action .45 Colt with a 43⁄4-inch barrel and in unfired condition. I have yet to acquire a set of plug gauges to determine throat dimensions. I would like to know your opinion on these firearms, and what pressure would you load it to? I am not one to push the envelope, as I am not a maximum velocity junkie, but rather load for safety and accuracy.
I have on hand a few hundred .45-caliber Xtreme Bullets in 250-grain RNFP Cowboy configuration with an approximate BHN (Brinell hardness number) of 15, and the 255-grain SWC Keith-style with an approximate BHN of 18. What velocities would you recommend for these bullets out of my Uberti?
I have several powders on hand that are all called out of the Lyman Cast Bullet Handbook, but after reading your article in Hand-loader No. 283 regarding .45 Colt loads for bear, I was wondering if you could recommend a starting load with these bullets using Hodgdon Longshot powder?
I would like to say that I find everything you write to be very informative and a pleasure to read, and have learned so much. One of my wishes in life would be to personally meet you, and all of the other writers for Handloader magazine, which is by far my favorite reading. Keep up the great work! – G.R., via e-mail
A: Uberti Single Action Army pattern revolvers have undergone continual changes since first appearing in quantity in the U.S. during the early 1970s, with one example being the poorly made Iver Johnson Cattleman offered from 1973 to 1978. In the decades since, these revolvers have been steadily improved both mechanically and cosmetically, with the latest versions being good guns.
To fully answer your question, I must elaborate on their history and discuss a few of their features that shooters should be aware of, which may influence what loads you choose to shoot. During the 1990s, many of these revolvers chambered in .45 Colt had larger than desirable throats, often measuring .456 to .458 inch, which is very similar to late model Colt SAAs. Sometime around 2000, I began noticing that Uberti throat dimensions changed to between .454 and .455 inch, while two recently manufactured revolvers were measured at .452 inch, which is ideal for obtaining top accuracy with both cast and jacketed bullets.
Also, until just the last couple of years, none of the Uberti SAs were fitted with a recoil plate, but the two above-mentioned, late-manufactured guns are fitted with recoil plates, which in my opinion is a significant improvement, as this increases their durability and are easily replaced when worn.
Uberti hammers fitted with an internal block sliding safety were a problem, as the cam was reduced in size and positioned differently, compromising reliability and timing. Eventually the safety was removed, but the small cam remained. Finally several importers (primarily U.S.F.A. and Cimarron F.A. Co.) demanded that the hammer be redesigned and improved with the full-size Colt pattern cam, which is common with most imported Ubertis today.
The spring quality has historically been poor in Uberti revolvers; however, they have been improved over the past 20 years. I suggest replacing them with top-notch Wolffgunsprings (www .brownells.com), which are available at a minimal cost. Incidentally, the lockwork is not all the same, with some guns featuring a coil handspring, which improves reliability. My latest revolver features a piano-wire trigger/bolt spring rather than the traditional leaf spring, which again is nearly unbreakable.
Barrel quality has varied considerably, with some only turning in mediocre accuracy while others have been very good.
I have tested a number of Uberti cylinders and have found them to have considerable variance in their Rockwell hardness. Most manufactured since the late 1990s have tested at 34 and are constructed of quality 4130 series chrome-moly steel.
The Uberti revolver features a more or less .020-inch larger diameter cylinder (1.670 inches) than the Colt SAA (1.650 inches); however, the distance from the axis of the cylinder and the center of the bore is the same. This adds significant steel to the outside of the cylinder, as well as over the bolt notch (effectively doubling that thickness), which is the SAA pattern revolver's weak link. If your Uberti is of late manufacture, it will handle .45 Colt loads that generate similar pressures as .45 ACP factory loads that are industry rated at 21,000 psi, or 23,000 psi for +P loads.
With those thoughts in mind, shoot your revolver first with a variety of loads to determine how well it performs before drawing any conclusions.
The .45 Colt handloads developed in a Lipsey's edition Ruger New Model Blackhawk for hunting black bear utilized 11.1 grains of Hodgdon Longshot powder with the 285-grain, Keith-style cast bullets from RCBS mould 45-270-SAA, which produced just under 1,050 fps. This is a plain-base bullet that when cast from Lyman No. 2 alloy, sized to .4518 inch and lubed with Alox is not prone to barrel leading. Due to its heavier-than-normal weight, as well as the pressure developed by this load, Longshot powder ignites properly. When used with lighter bullets, such as the 250-grain RNFP and 255-grain SWC Magma designs (as cast by Xtreme Bullets), velocities will need to be higher than these bullets were originally designed for in order to achieve reliable powder ignition. To elaborate slightly, both of these bullets feature a bevel base, and when pushed to higher velocities, barrel leading often becomes a problem regardless of alloy. That said, I would suggest a start load of 11.0 grains with either bullet, which produced 1,009 fps from my test gun with a 43⁄4-inch barrel, while 12.0 grains reached 1,086 fps. (For those interested in firing these loads in a rifle, from a Marlin Model 1894CB with 20-inch barrel, velocities were 1,292 and 1,378 fps, respectively.) The 11.0-grain charge produced modest barrel leading in the sixgun, while the 12.0-grain load leaded excessively.
To help prevent barrel leading, I limit the velocities of these two bullets to around 950 fps maximum. A factory duplication load with either of your Xtreme cast bullets is 7.1 grains of Accurate No. 2 powder for 860 fps. For a bit more velocity, try 9.5 grains of Ramshot True Blue or 9.0 grains of Alliant Power Pistol for 950 fps.
These comments hopefully help answer your questions, and thanks for taking the time to read our magazines. Perhaps someday our paths will cross.
9mm Hi-Power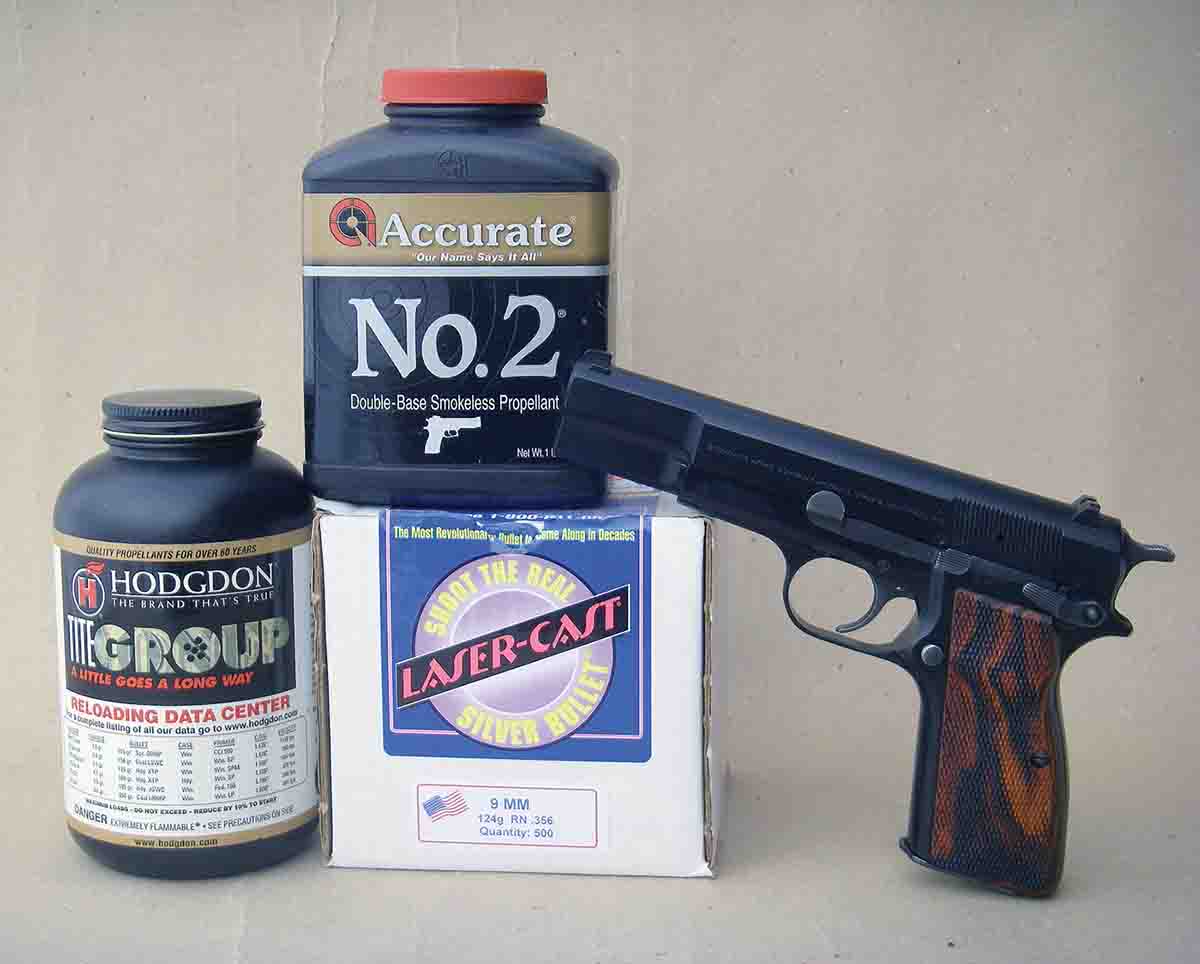 Q: I have a very early 1950's vintage Browning Hi-Power in 9mm that is in near mint condition. I have fired it very little as I am aware of the barrel wear associated with using jacketed bullets in quantity. Based on your suggestions, I would like to try cast bullets, which should minimize barrel wear and let me enjoy firing this classic pistol. I have on hand 500 of Oregon Trail's Laser-Cast 124-grain roundnose profile bullets. I am only looking for a plinking load that has enough pressure to reliably operate the slide and reach around 900 to 1,000 fps. Can you suggest a powder and charge weight? – J.I., via e-mail
A: Try 2.8 grains of Hodgdon Titegroup powder for around 930 fps or 3.2 grains of Accurate No. 2 for 975 fps. Use a standard (non- magnum) primer, with these two loads being developed with a Winchester Small Pistol primer.
.240 Weatherby Magnum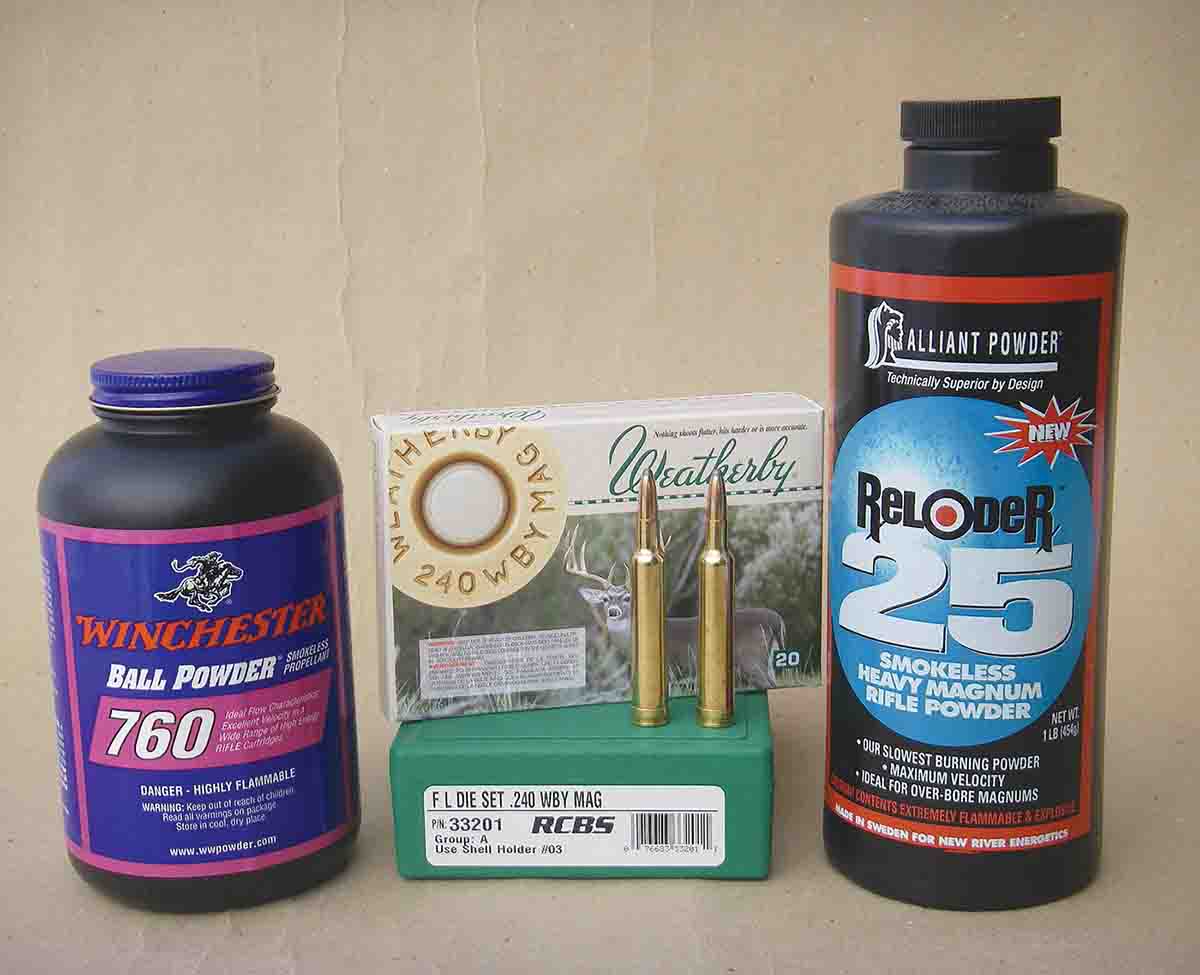 Q: Two hunting seasons back I purchased a Weatherby Mark V chambered in .240 Weatherby Magnum. It shoots very well and so far has accounted for three nice mule deer bucks and one Wyoming antelope, each taken with a single shot.
So far I have only been using the factory ammunition that I purchased with the rifle, but my supply is running low and I am ready to begin handloading for it. I have been using the 100-grain Nosler Partition bullet and would like to stick with it and duplicate factory load performance. Can you suggest a powder and charge weight? – C.R., Denver CO
A: Weatherby lists its .240 factory loads containing the Nosler 100-grain Partition bullet with a muzzle velocity of 3,406 fps from a 26-inch barrel. I have not tested this load, so cannot speak of its actual velocity. In developing .240 Weatherby handloads in a Weatherby Vanguard fitted with a 24-inch barrel, the Nosler 100-grain Partition was pushed around 3,250 fps using either 58.0 grains of Alliant Reloder 25 or 49.2 grains of Winchester 760 powder, with both loads being capped with a Federal 210 Large Rifle primer. I can only estimate how much additional velocity will be gained from the 26-inch barrel of your Mark V, but these loads should perform similarly to factory loads and are within SAAMI pressure guidelines.
.30-30 Winchester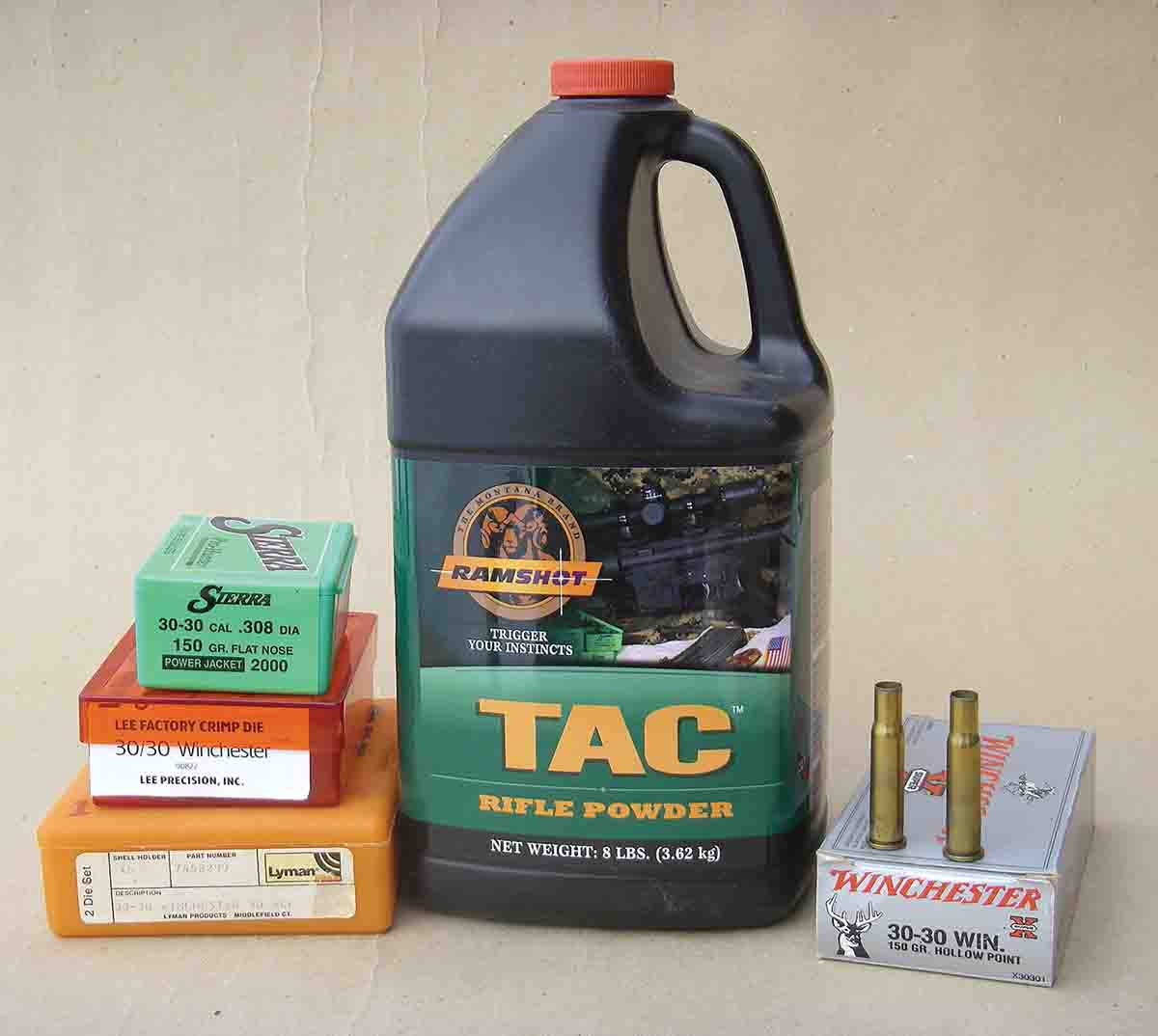 Q: I am a working cowboy in the vast country they call Jordan Valley, Oregon. I have a well-worn Marlin .30-30 rifle that is used for many purposes, but mostly to kill preying coyotes.
I am having two difficulties with my .30-30 handloads and am hoping you can offer solutions. I have been handloading for my .44 Magnum for several years without too many problems but am still not a master at this art.
First, occasionally some of the fired .30-30 cases are sticking in the chamber. I am using xx.x grains of Ramshot TAC powder with Sierra 150-grain bullets. I have owned the old Marlin Model 36 for many years, and it doesn't stick cases with factory loads. In other instances loaded cartridges stick in the chamber when I try to chamber them and must be forced when squeezing the lever closed. I can load a batch of ammo and some will easily chamber, but others will not and must be forced to chamber. Some of the rounds that do not want to chamber seem to have a slight bulge or are somewhat square at the base of the shoulder, but others that were loaded in the exact same process and same dies chamber normally. Any suggestions you can offer would be appreciated. – B.T., Jordan Valley OR
A: First, your charge of Ramshot TAC powder is excessive and probably explains why fired cases are sticking in the chamber. I would suggest a maximum charge of 33.5 grains for around 2,325 fps (20-inch barrel), but you should begin with a starting load of 31.0 grains.
The "somewhat square" shoulder that you describe is probably happening when you crimp the cases. This can occur if the bullets are seated and crimped as a single operation. The problem becomes most prevalent when crimping cases that vary in length using a traditional roll crimp, with the longer cases being over-crimped, which can cause the shoulder to slightly bulge as you describe. To confirm this diagnosis, try full-length sizing cases and see if they all chamber with ease. If they do, then the problem is occurring during the seating/crimping operations. If they don't, you probably need to make additional adjustments to your sizing die.
Assuming this diagnosis is correct, there are a couple of solutions. First, trim all cases to the same length, which will allow you to crimp uniformly, but be careful to not over-crimp, or the shoulder bulging will still occur. Another option is seating bullets to the correct overall length, but do not apply the crimp. Then, as a separate step, use a Lee Factory Crimp die. It offers reasonably uniform results with cases of different lengths, and neither will it cause the shoulder to buckle or bulge.
Good luck hunting those big eastern Oregon coyotes.