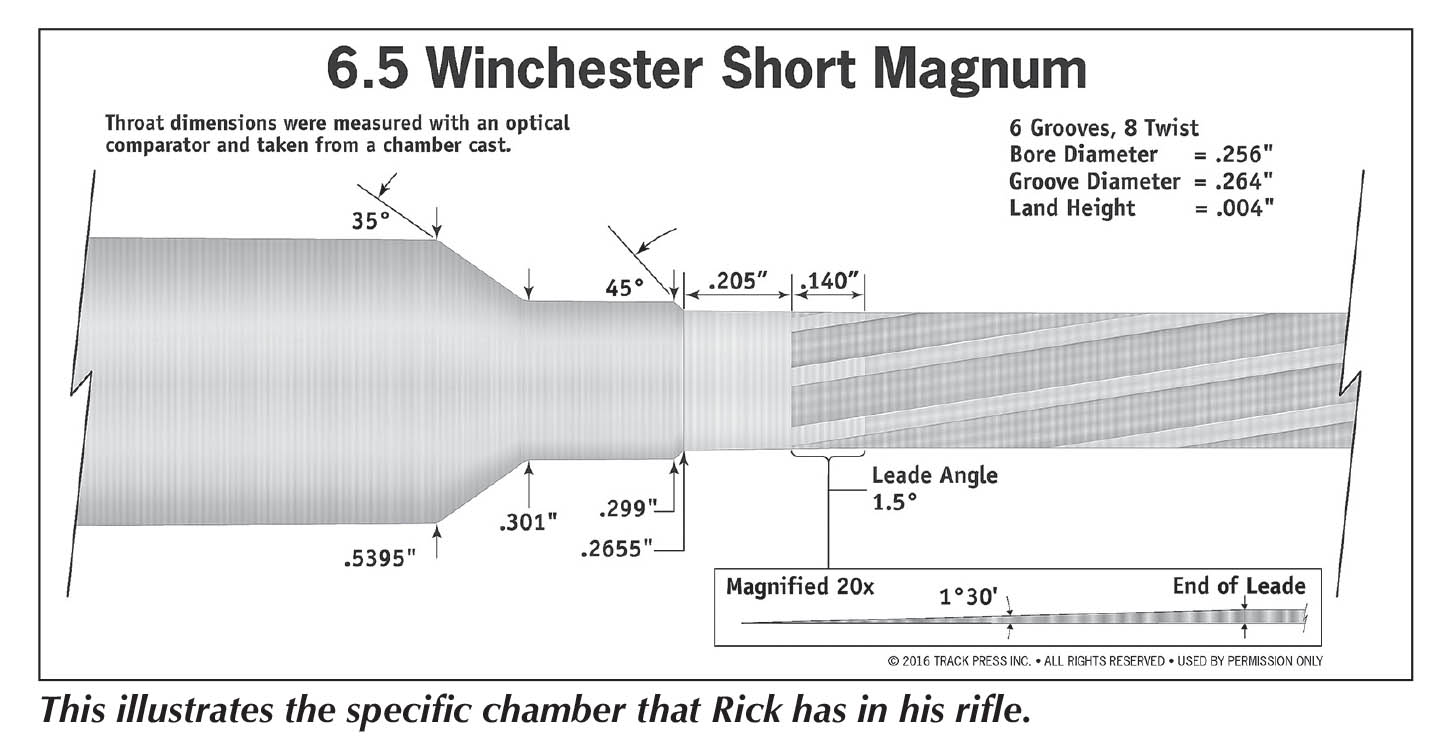 There are so many different rifle cartridges that there is no tangible reason to add expense and trouble by working with a wildcat, but the intangibles attract us. The anticipation in planning, the excitement in rounding up all the necessary dies and other equipment and the pleasurable expectation of how the round will perform cannot be measured. The fact is, making loads for any first-time cartridge is satisfying and fun.
While there may be no logical reason to work with a wildcat, the desire to do so is usually preceded by attempts to justify it in one's mind. In my case, in necking the .270 WSM down to 6.5mm was a hope for lighter recoil, greater accuracy and possibly better ballistics at long range. I have been shooting the .270 WSM a lot and have absolutely no complaint with it. We all know, however, that the 6.5 and 7 metrics are reported to have some "mystical ballistic advantage" that allows them to fly flatter and deflect less in the wind. This is known because some magazine articles tell us so. It is true that .270s are not being outfitted with an abundance of competition-class bullets. The 6.5 and 7mms are used in long-range matches, as well as the .30s, but not the .277. I wondered if I could get better accuracy in a new 6.5 rifle and see if there was some real ballistic advantage in the long, sleek 6.5 bullets so popular today in the 6.5-284 Norma, .260 Remington, 6.5 Grendel and 6.5 Creedmoor.
The basic WSM cartridge in a short action has a lot going for it. In my experience, the sharply angled, larger shoulder surface area of the WSM efficiently retards the forward movement of powder granules during firing. The deep bullet seating required in the WSM setup delays bullet base exit from the case mouth. The short, fat powder column ensures more of the powder is ignited initially. It all combines to cause a better propellant burn before the base of the bullet passes a rifle's throat, blasting it with partially burned and unburned granules.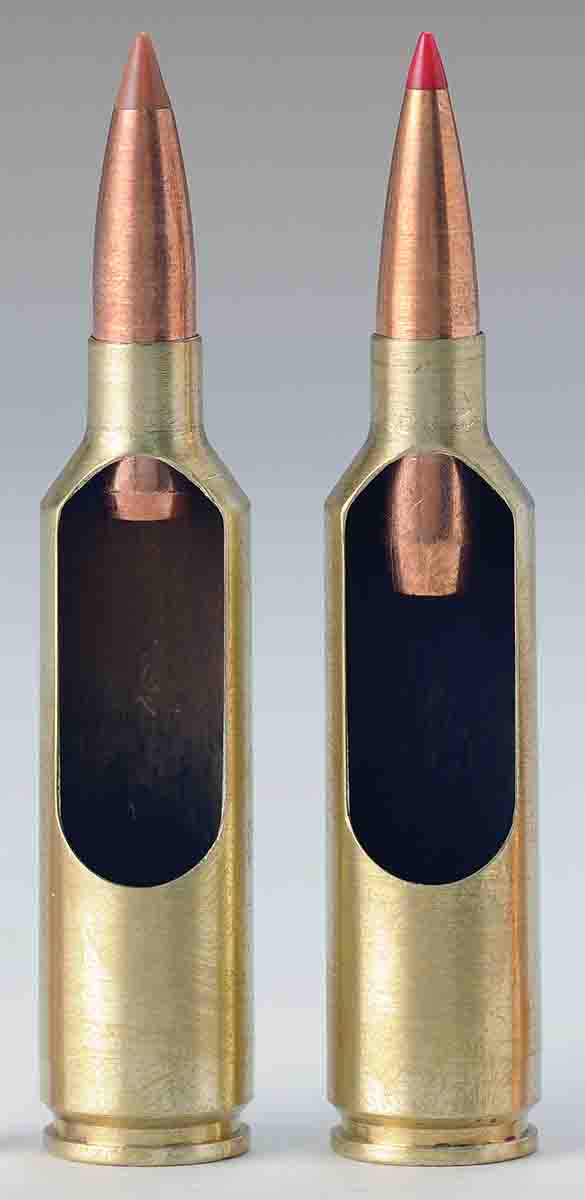 Barrels do not wear out; throats wash out. Unburned powder is abrasive. What's more, solid granules not yet converted to gas are dead weight. They act just like added bullet weight but without producing any advantage. Powder does not detonate. It burns, albeit rapidly. A bullet sits in a case neck with zero velocity and then accelerates rapidly. The two processes, powder conversion from a solid to a gas and bullet movement, are relative. It takes time for a bullet to gain velocity, and burning powder does not reach peak pressure until a bullet travels some distance down a bore. For this reason, the attributes of the WSM mentioned above are significant. Known from experience, with its long action, magazine and longer overall length, the leade of a .264 Winchester Magnum, for example, washes out faster than I like. If a person wants to practice by shooting 1,000 rounds or more during a relatively short period, a rifle's throat needs to last.
The 6.5 WSM wildcat is not new or even obscure. It must be somewhat in demand as evidenced by the fact that Lee Precision, RCBS and Redding all list this cartridge among their limited production dies calling it the "6.5-300 WSM." A set of RCBS loading dies was purchased along with a neck ream die, and they are labeled "6.5-270 WSM," as requested. Getting a chambering reamer from Dave Kiff at Pacific Tool & Gauge in White City, Oregon, was easy too.
Wildcats are not standardized. Frequently, there are variations. Simply necking down a WSM case is a straightforward process, but I wanted to illustrate the neck and throat configuration of the version on hand. To do this, a chamber cast of CERROSAFE (Brownells) was made, and a Fowler optical comparator was used to measure the cast after the specified set up and cooling time. The optical comparator allows precise measurement by magnifying an item so that dimensions can be recorded with its digital gauges. It was a little surprising to find that my reamer has a throat that does not correspond with a short action. I bought the reamer years ago and do not remember its original specifications. For example, the chamber of my 6.5 measures about .345 inch from the case mouth to the top of the lands. SAAMI specifications for the .270 WSM indicate about .158 inch, while for the 7mm and 300 WSMs, a .188-inch measurement is drawn. SAAMI specs for a WSM cartridge call for an overall length of 2.560 to 2.860 inches. What I have is a chamber for single loading; bullets cannot be seated out to touch the lands while using the magazine.
My interest for this cartridge is in both target shooting at long distance and hunting primarily mule deer, my passion. (When ordering the reamer, I was probably thinking of a single-shot competition rifle. I like to target shoot a lot and do not like recoil. I shoot more accurately with light-kicking rounds, and it does not require a big hard-kicker to deliver ample velocity and energy, even to 1,000 yards, as long as proper loads are used.
A Predator action from Stillers Precision Firearms (www.viperactions.com) was selected. It is designed to fit a stock for a Remington Model 700, and the same triggers that fit the 700 fit the Predator. While the $975 price tag might at first seem a bit rich, buying a Remington Model 700 action, for example, then blueprinting it, comes with an eye-opening price too. The Stiller Predator features an M16-type extractor and a smaller loading port for a stiffer action. The 3⁄16-inch recoil lug is pinned to the receiver and an excellent, simple lever-type bolt release is on the left side of the receiver rather than on the trigger. The machining precision and workmanship are second to none. The action is drilled and tapped for a one-piece rail-type scope base that Stiller makes, which is contoured beautifully with the receiver.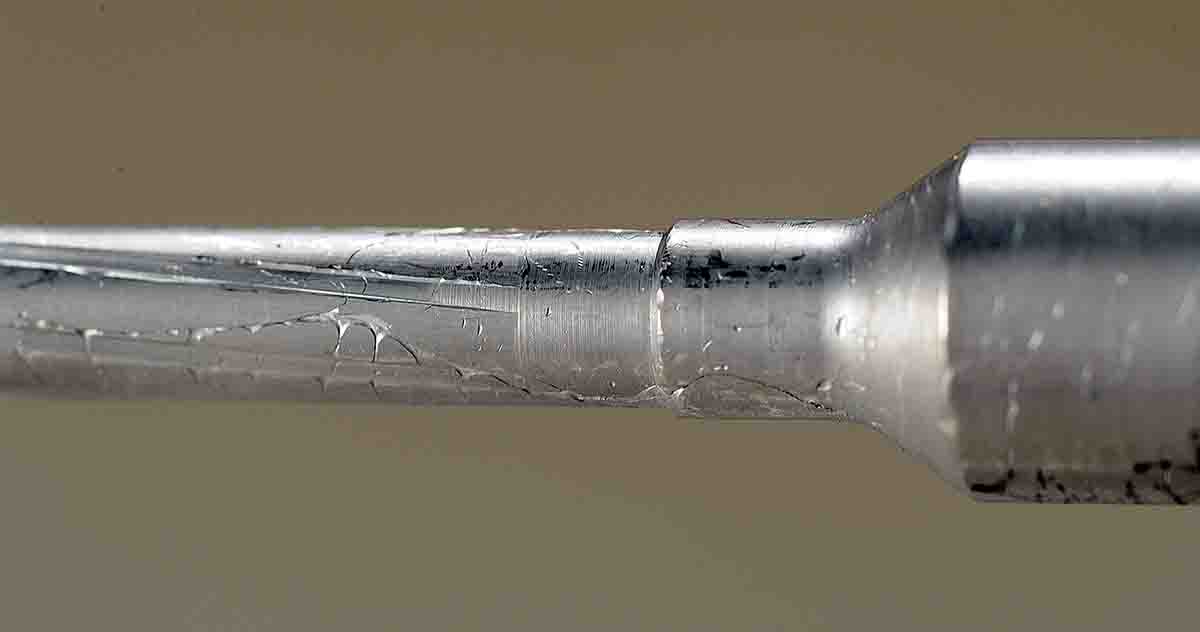 I bought 30mm rings from NightForce and mounted the company's 5.5-22x 56mm NXS scope with the MOAR reticle on the receiver. When used with a Gunwerks G7 BR2 rangefinder, the combination works extremely well for addressing bullet drop at distance. The barrel is a Shilen match grade, one-in-8-inch twist, contoured to replace a Remington varmint barrel and was cut to 24 inches. The stock is an H-S Precision with an aluminum bedding block and a barrel channel to match the barrel contour with plenty of clearance. A Timney trigger was installed as well.
I have four other WSM rifles built with this same combination and love them all. What's more, this blend of components makes for a simple rifle build. Richard Buss of Eugene, Oregon, fit and chambered the barrel, glass bedded the action and recoil lug and installed a Muzzlemaster muzzle brake of his patent. I always specify a brake with no ports on the bottom. If you have been blasted in the face, eyes and down your shirt with dirt and debris while shooting prone, you know why.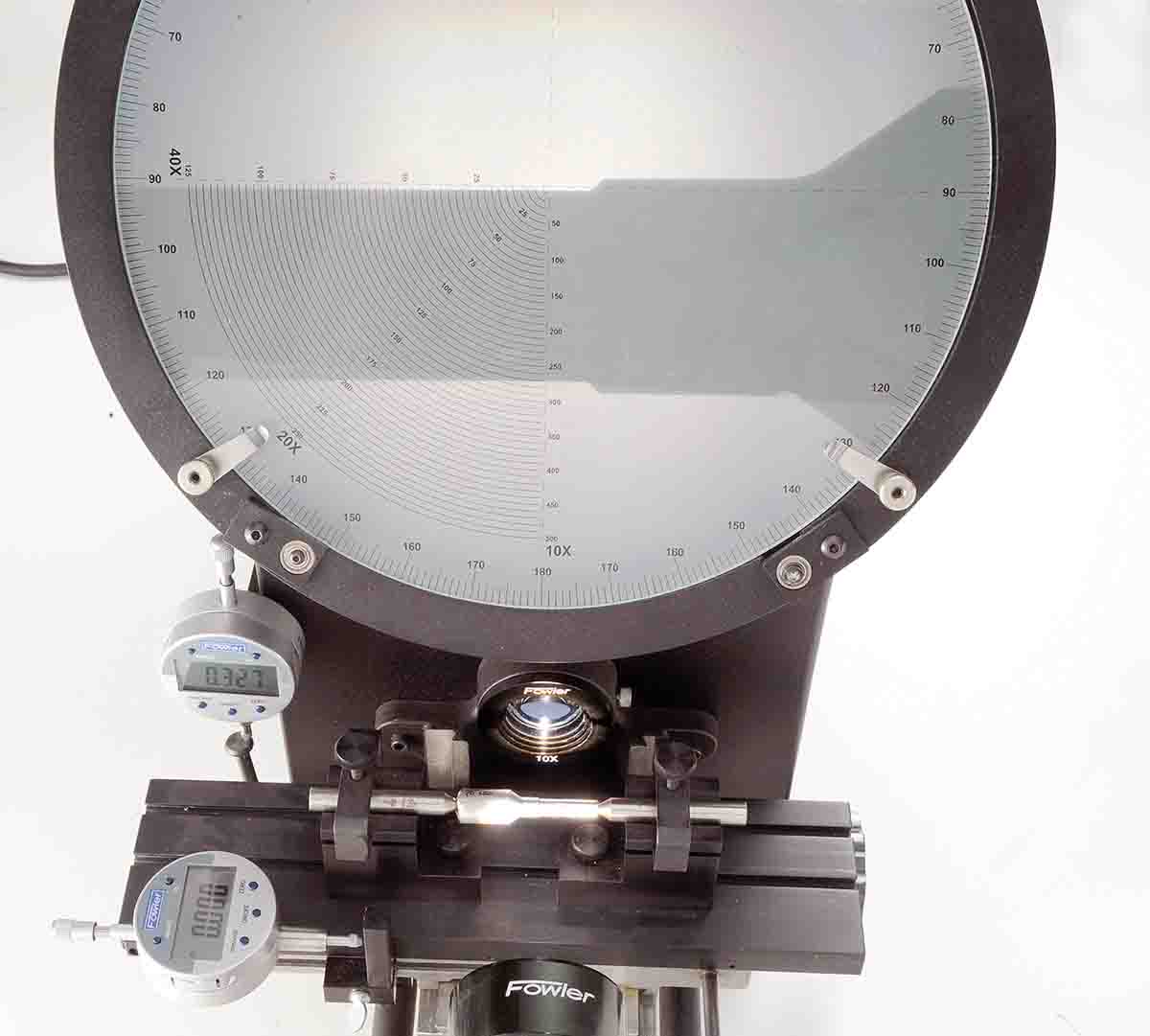 One characteristic of wildcat cartridges is that nearly all the load experimentation in years past was done without benefit of pressure measuring equipment. Famous wildcatters like Rocky Gibbs, P.O. Ackley and the A&M Rifle Company reported figures for loads that were not pressure tested. The equipment during that time was simply not available as it is today. It is one thing to experiment with powder charges within a range published in a recognized load manual (nearly all of which are pressure tested today), and it is yet another to start from scratch as the old-timers did using primer appearance, case extraction and case expansion as a guide. I have pressure measuring equipment, and it is an advantage in producing and recording data.
The systems used for load development here are the Oehler Model 43 PBL and the Oehler System 83, both used by most ballistics labs in this country. While no reference nor factory ammunition is available for a wildcat cartridge, I have found (with a lot of experience) that the Oehler system can be depended on to produce reliable data. The Model 43 PBL was chosen for this testing.
The chamber cast mentioned earlier indicates that the chamber neck diameter measures .299 inch at its smallest. Given a .264-inch bullet, this means case neck wall thickness needs to be no more than about .015 inch to allow .005 inch (or .0025 inch per side) for bullet release. After lubing and necking down .270 WSM cases from Winchester, Norma and Nosler, a Mitutoyo tubing mike indicated wall thickness runs from .014 to .018 inch, so case necks needed to be thinned and uniformed. An RCBS ream die cut neck walls .014 to .015 inch in thickness. This results in a loaded-round neck diameter of .292 to .294 inch, providing adequate room for bullet release in the .299-inch chamber.
With the cases reamed and chamfered, components were considered. There are so many excellent bullets, propellants and primers that making a choice can be overwhelming. I like to simplify whenever possible. First, bullet selection was narrowed to those in a variety of weights and brands designed specifically for hunting and with the highest ballistic coefficients (BC). While longer, heavier bullets have higher BCs, there is a velocity tradeoff; heavier bullets start out slower. How they compare downrange varies. Sometimes a lighter bullet at a higher initial velocity carries adequate velocity and energy, even to 1,000 yards. For this reason, streamlined bullets from 120 grains up were included.
Tests have shown that different primers can produce different results, but what I have noticed is that nearly all the results are good. Knowing that slow-burning propellants would be used in charges greater than 50 grains, magnum Federal 215 primers were used for all loads.
Propellant selection was dictated by results as shooting progressed. For me, a propellant should fill the case and possibly be a little compressed as a maximum load is reached. This situation generally produces the highest velocity at a given pressure level. From a safety standpoint, more important is filling a case when using slow-burning rifle powders. I have had instances in pressure testing where the lighter starting loads of slow-burning propellants produced erratic and sometimes extremely high pressure excursions. This brings up another load criteria of mine: uniformity. If a load is not reasonably uniform with a low standard deviation and extreme spread on both velocity and pressure, it is eliminated.
While most shooters develop loads with accuracy as the primary criteria, it makes sense to first develop a load that produces uniform velocity with a case full of powder. To me, this is an inherently "good load." Then among the good loads, one can experiment to produce the best accuracy possible and may even gain this accuracy information during load development. It does no good to have a recipe that shoots small groups at 100 yards but is inconsistent velocitywise. A load with a large velocity variation cannot shoot well at long range. Usually the most uniform loads are the ones that shoot well. If not, an accuracy problem is likely something other than the load. Possibly it lies with the firearm or the bullet seating depth. In the case of Richard's muzzle brake, it is like the Browning BOSS with a weight at the muzzle, making it possible to tune a rifle's barrel vibration to match a load's preference.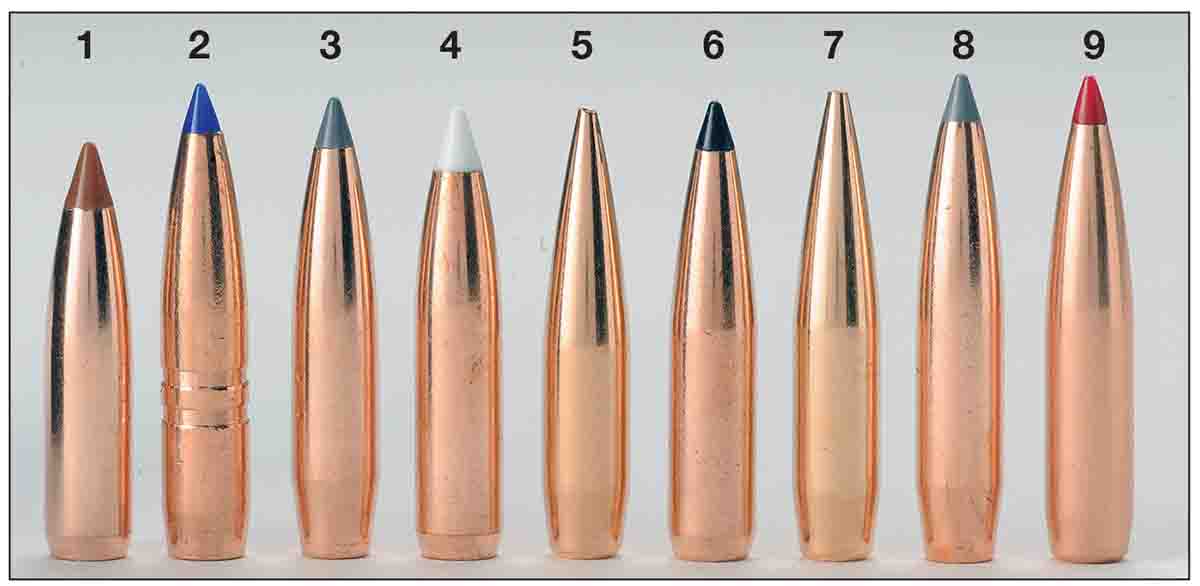 To assess a starting point for propellants, I measured the water capacity of fired cases, both in 6.5 WSM and the .264 Winchester Magnum. The 6.5 WSM holds about 80 grains of water when filled to the mouth, and the .264 Winchester Magnum holds about 84 grains. From this, one would think that powders developed for the .264 Winchester Magnum would be suitable for the 6.5 WSM. The .264 has been around since 1959. Today, we have powders that are less sensitive to temperature change and that even produce less fouling. Enduron propellants from IMR, for example, are reported to reduce fouling. I wanted to include these newer powders.
I soon found that propellants faster than the burning rate of Reloder 22, IMR-7828 and even MagPro were below the margin for my case-filling criteria. Data for powders requiring less than 63.0 grains at maximum pressure were eliminated. "Maximum pressure" refers to pressure levels normally deemed to be the top acceptable by ammunition, powder and bullet companies. The loads published here should all be deemed maximum and may be over maximum for a different 6.5 WSM rifle. The long throat likely allows greater powder charge weights. If you receive velocities similar to these published velocities from a 24-inch barrel, even if your powder charge is less, go no higher in charge weight.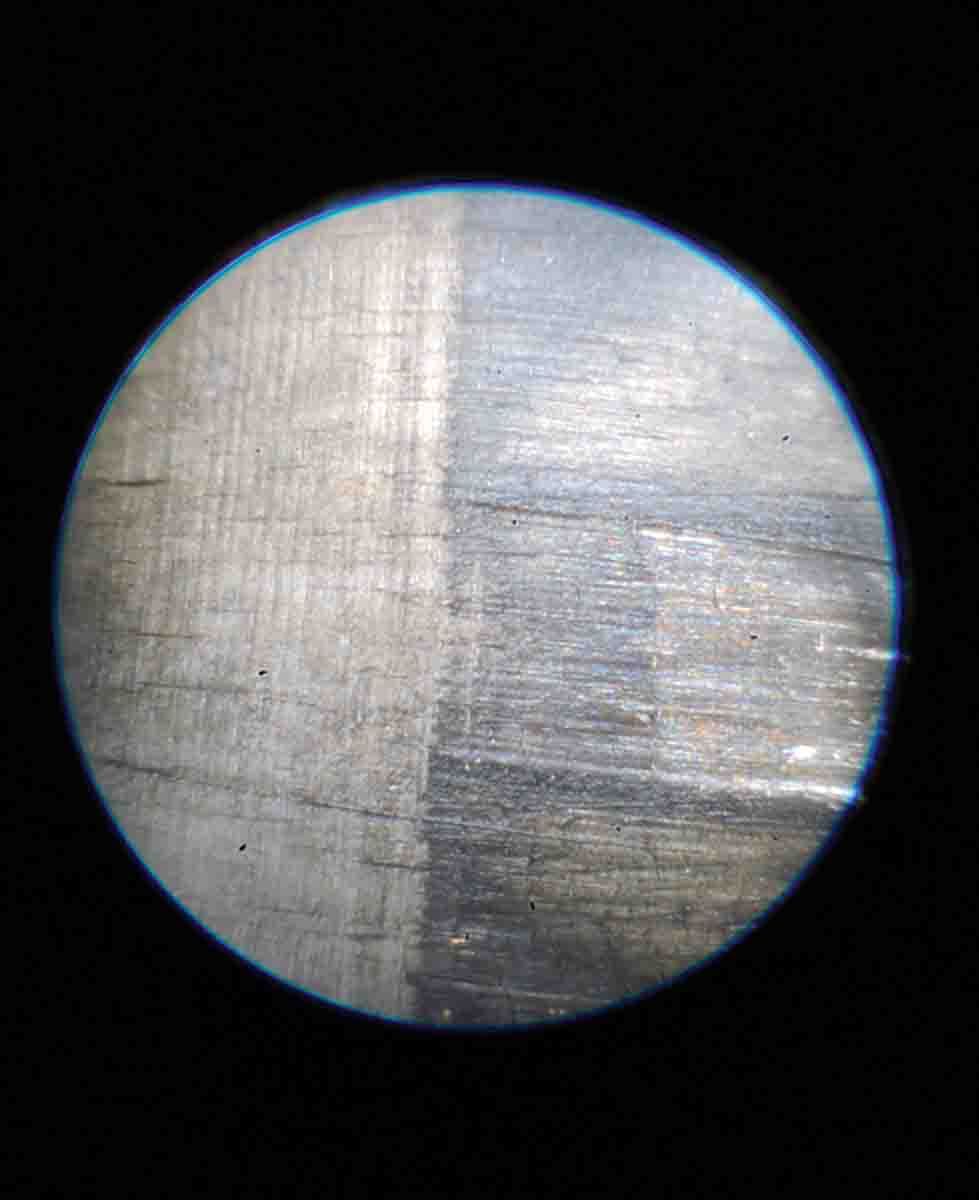 Ideal powders for this 6.5 WSM are on the order of Reloder 33, US 869 or Retumbo. Two of these propellants, along with VV-N570, produced single-digit standard deviations for 10-shot strings. Retumbo and IMR-7977 produced an SD of 11. US 869 was the only powder that completely filled the case with slight compression. Besides velocity uniformity, the accuracy received was a big plus. Three of the 10 strings with bullets from Hornady, Berger and Nosler clustered under one inch for 10 shots as can be seen in the table. Also listed is group size for three shots and five shots. No attempt was made to tweak loads for accuracy.
All the loads listed were kept within the SAAMI standard length for the .270 WSM, thus ensuring they would function through any standard short action. Because of my rifle's long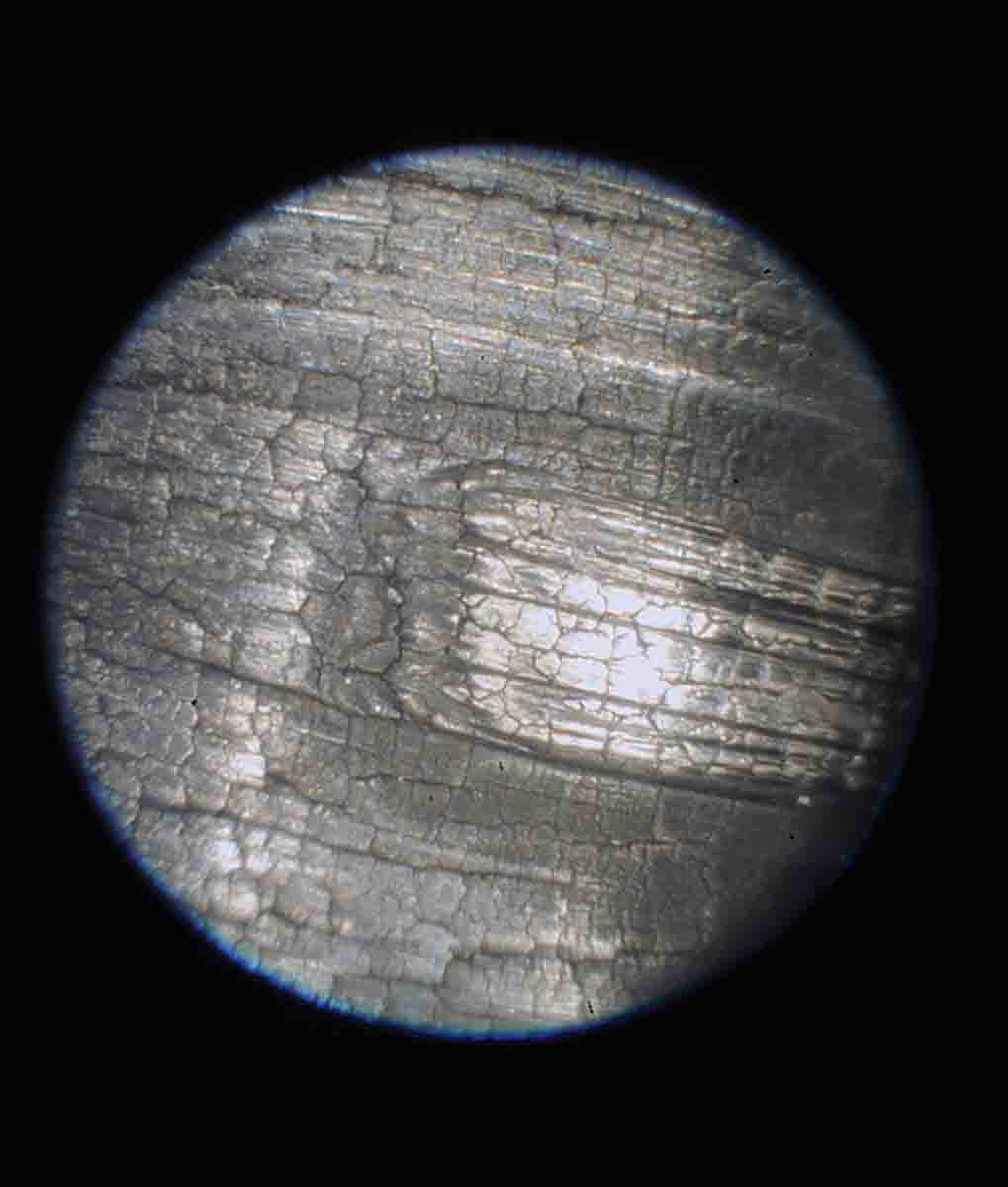 throat, the bullet jump required to reach the lands was listed. Contrary to what is often printed, a deterioration in accuracy was not seen with the bullet jump listed. I tried seating bullets out close to the lands and loading them singly in this 6.5 WSM with no improvement in accuracy or performance.
Beyond this point, there is more that goes into the selection of a long-range hunting load. One needs to determine the downrange velocity and energy to see that enough energy is delivered at the target. My rule of thumb is 1,000 foot-pounds (ft-lbs) of kinetic energy for deer and 1,500 for elk. In addition, a chosen bullet must expand adequately at the downrange velocity.
Loading the 6.5mm WSM was an interesting and enjoyable experiment. It produces velocity on par with the .264 Winchester Magnum and meets my criteria for a good long-range cartridge. However, with the existence of the .270 WSM as a standard commercial cartridge, I prefer it for a hunting round. And, by the way, the metric bullet diameter is not magic.