Winchester powders once covered the shotshell reloading scene like a blanket. Winchester 296 served the .410 bore well. Everything else was addressed with four powders; 452 and 473 were target powders for the 12 and 20 gauges, and 540 and 571 were field powders covering everything from the 12 to the 28 gauge.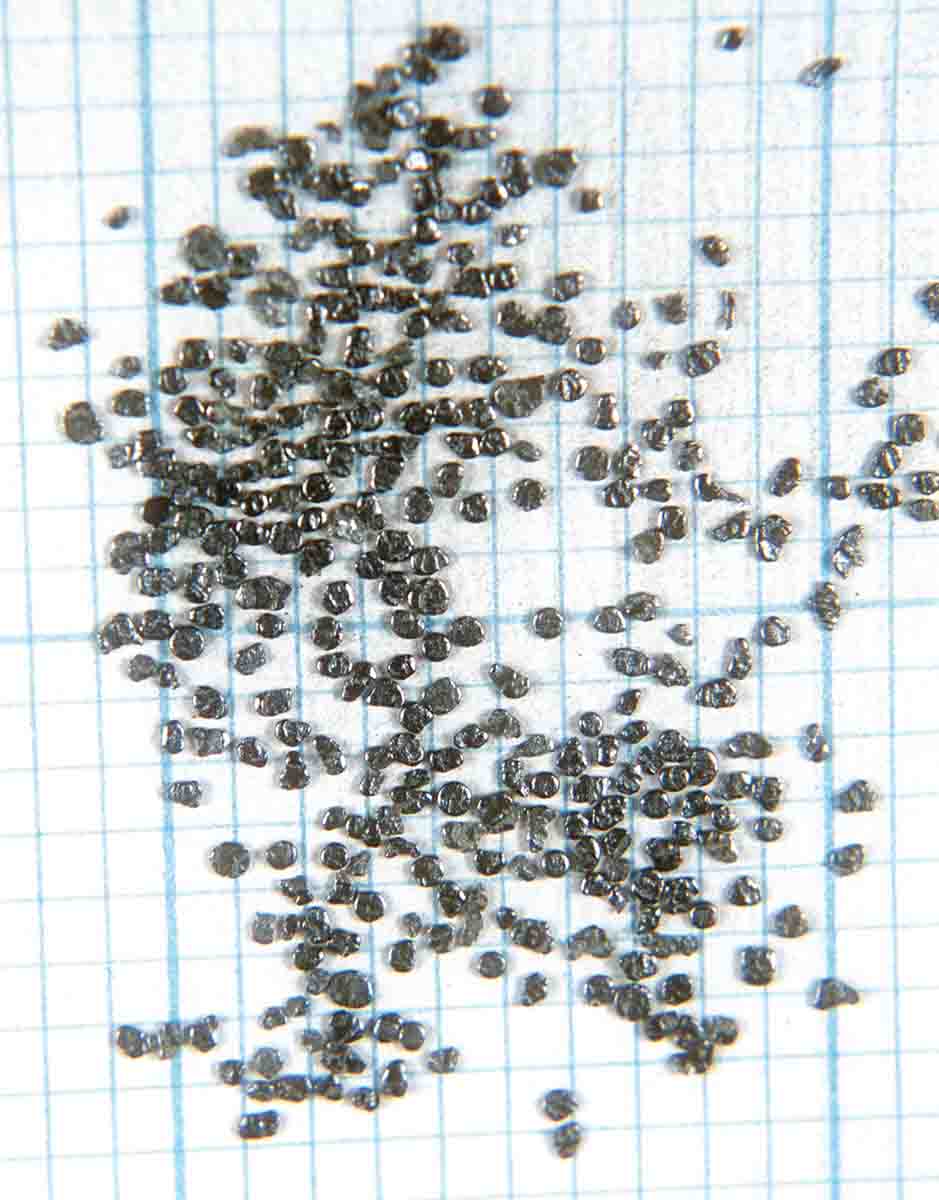 About 1990 Winchester introduced a new line of shotshell powders: Winchester Super Target (WST), Super Lite (WSL) and Super Field (WSF). Super Target was intended to replace 452, and Super Field, 473. Both 452 and 473 were dropped. Super Lite never quite gained acceptance, and it, too, was soon gone. Winchester 540 and 571 remained in the lineup for another decade before they were also dropped. Interestingly, for years Hodgdon had offered both under its own label as HS-6 and HS-7, respectively. When Hodgdon developed Longshot, HS-7 was discontinued and HS-6 remains as the sole survivor of the original four.
Around 2006, the Hodgdon Powder Company entered into an agreement with Olin Industries (Winchester's parent company) to develop and market Winchester powders and quickly introduced Winchester Super Handicap and WAALite. The former is a high-energy, 12-gauge target powder, and the latter is the powder Winchester used in its "feather" series of low noise/low recoil 12-gauge ammunition. A decade later, WAALite was also gone. In the interim, Winchester added AutoComp, a handgun powder specifically developed for semiautomatic pistol cartridges. A review of the "Powder Usage" chart in the Hodgdon 2016 Annual Manual clearly shows a void in the Winchester lineup with no suitable powder for the 28 gauge. Hodgdon, through its Winchester agreement, decided to fix that shortcoming and has introduced Winchester 572, a "Clean, Slow Burning Powder for Target loads in the 28 gauge and 20 gauge." Of greater interest here is that W-572 is suitable for a wide range of handgun cartridges from the .25 ACP to the .45 Colt.
Winchester 572 – in fact, all the powders mentioned – are, or were, manufactured by St. Marks Powders in Florida. Formerly an Olin facility, it was spun off into a separate subsidiary, Primex Technologies, in 1997, and subsequently became a part of defense giant General Dynamics.
Winchester 572 is a double-base, "flattened ball" powder with a nitro-glycerin content of 36 percent. It is a blend of granules of two different sizes: 95 percent are a diameter of .0469 inch; 5 percent are a diameter of .0117 inch. In the Hodgdon 2017 Annual Manual burn rate chart, Winchester 572 occupies a place between Ramshot True Blue and Accurate No. 5 on the faster side and HS-6 and AutoComp on the slower. Its bulk density is .800 g/cc. Interestingly, especially to shotshell reloaders, this density is the same as that of Hodgdon's Longshot. This means that any bushing chart that lists Longshot can be expected to throw the same weights of Winchester 572. Of course, powders can vary from lot to lot in density, and any selected charge must be verified on a scale to ascertain its accuracy.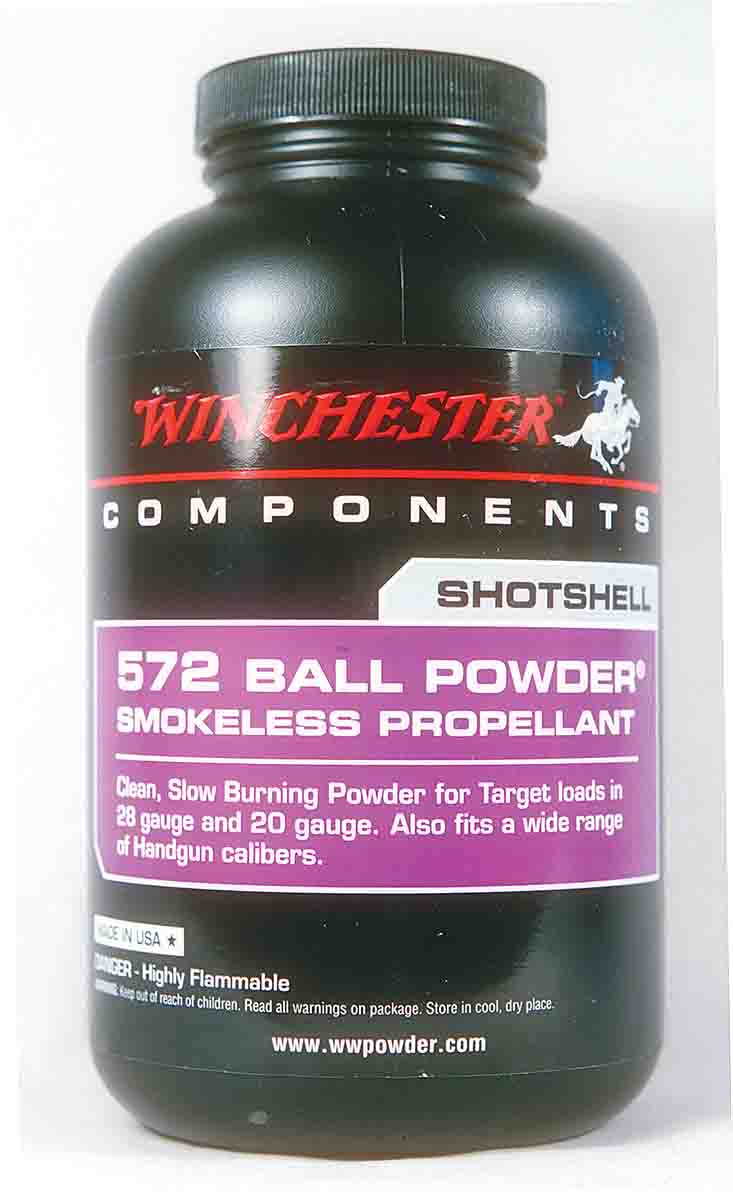 When it came to testing Winchester 572 in a variety of handgun cartridges, I noted Hodgdon had developed data for 14 cartridges and could have included that many more. I began with the diminutive .25 ACP. I have to admit I enjoy loading this cartridge but, alas, not searching around for the spent cases after a range session. Fortunately, a large supply was on hand. Testing is usually done at seven yards, and several powders, notably Winchester 231, have served admirably. With 572, I used a bit more powder and got a bit more velocity with about the same level of accuracy. Two-inch or smaller groups at seven yards impress but hardly reflect the point of the cartridge. The whole range of .32-caliber cartridges is well suited for W-572, I'm assured by Hodgdon, but I was unable to try any this time. My next cartridge was the 9mm Luger. Functioning and accuracy were excellent with both 115- and 125-grain hollowpoints from Speer and Sierra, respectively.
Revolver cartridge testing began with the .38 Special. A Speer 140-grain hollowpoint and a cast 148-grain wadcutter once again reminded me why I like them so. A 4-inch Ruger Security Six served as the platform. Perhaps Winchester 572 showed its best hand in the .40 S&W. With 165-, 180- and 200-grain bullets – all Sierras – performance was first-rate. The 180-grain JHP at 989 fps was especially impressive. A Smith & Wesson Sigma handled everything flawlessly.
In a custom Old Model Ruger Blackhawk .44 Special, I again resorted to cast bullets – a 240-grain Keith design. The 45⁄8-inch barrel gave up considerable velocity to Hodgdon's 8-inch test tube, but 6 grains produced 863 fps. This is a modest load that is very accurate and can be counted on to handle most handgun needs. Published data include the .44 Magnum as well, but it seemed to me a poor pairing, so I moved on.
Another exceptionally fine match for W-572 is the .45 ACP. A starting load of 6.5 grains under a 200-grain cast wadcutter produced a nice target/practice load. A Hornady 230-grain Action Pistol (HAP) bullet handled all the rest in a Colt Government Model.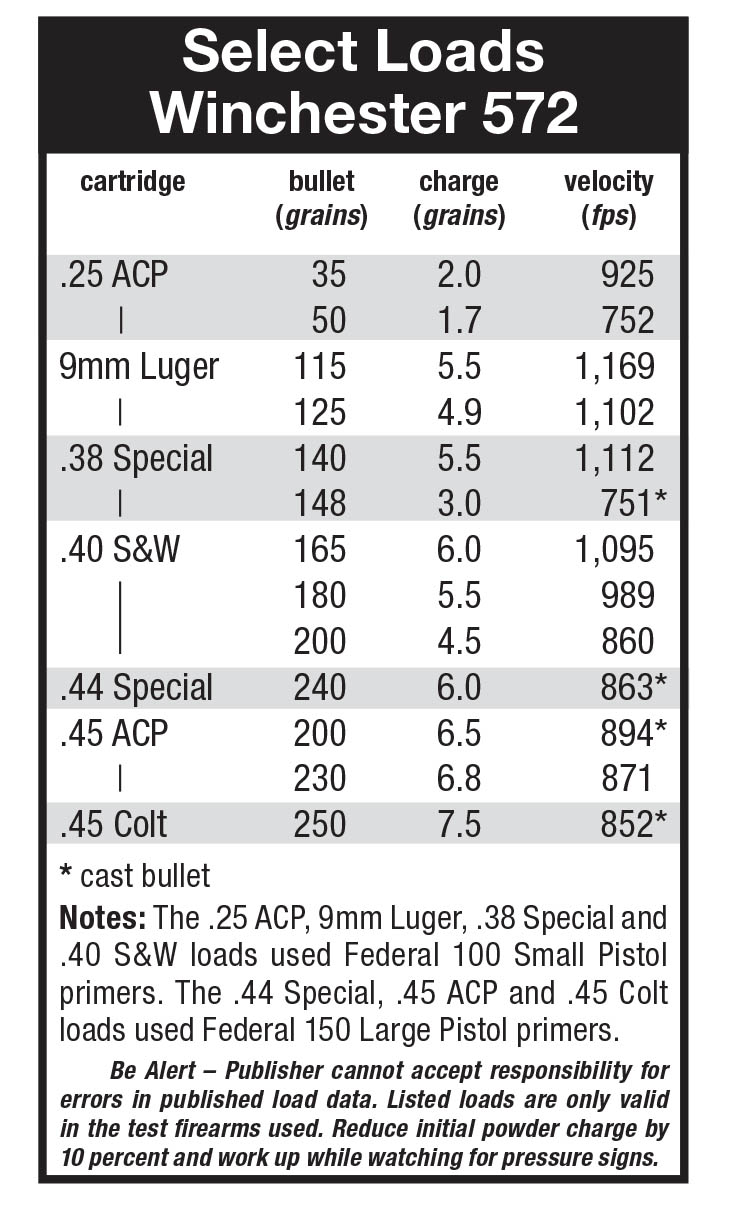 The final test included another revolver cartridge. Data is listed for the .45 Colt and a 71⁄4-inch barrel. My 43⁄4-inch Colt Single Action performed very well with a cast Keith-style, 250-grain bullet. Although Hodgdon lists data for the .45 Colt in two categories – standard (14,000 psi) and Ruger/Freedom Arms/TC (30,000 psi) – there are no W-572 loads listed in the latter category. You may, of course, shoot the lighter loads in stronger guns.
Looking back over all this, and including the shotshell reloading potential, I have to conclude that 572 is the most useful Winchester powder to have been introduced since those original four.