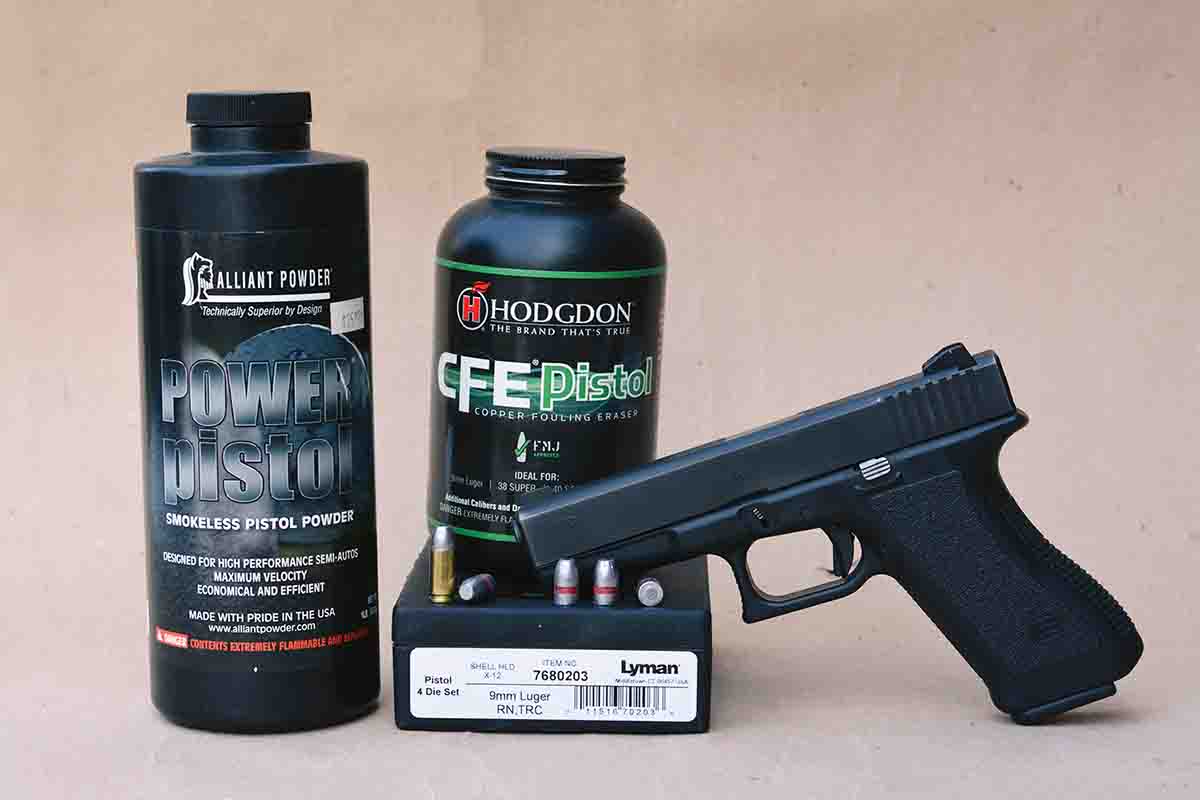 Q:
I love the magazine and kudos to you and the staff for all the useful information. I am trying to develop a +P 9mm Luger load with the Rim Rock Bullets' 148-grain Outdoorsman bullet.
I would like to reach around 1,050 fps, if possible, from a Glock 19 or Sig SP2022. The problem I'm having is finding +P data for the powders I have on hand, which are Hodgdon Longshot, CFE Pistol, Alliant Power Pistol and Unique. I have CCI 500 and Winchester WSP primers as well as Federal cases on hand. If you could give some guidance on this matter, I would greatly appreciate it!
As a side note, I was able to get the above bullet and a couple of others from Rim Rock Bullets with virtually no delay. Good work from them during this component and ammunition shortage! Keep up the great work and thanks for any guidance that you're able to provide.
M.M., Arvada, CO
A: First, thank you for the fine compliments, which are greatly appreciated! Second, yes, Rim Rock Bullets has done a great job of keeping up with an unprecedented demand for components and it offers a wide selection of cast bullets for most pistols, revolvers and calibers.
Of the four suitable powders that you have on hand, all are capable of achieving the ballistic performance that you desire; however, I selected Alliant Power Pistol and Hodgdon CFE Pistol to develop load data containing the 148-grain Rim Rock Outdoorsman 9mm Luger bullet pushed to around 1,050 fps. Using 4.6 grains of Power Pistol and primed with a CCI 500 yielded exactly 1,050 fps from a Glock 17. Switching to CFE Pistol, 4.4 grains reached 1,032 fps while 4.6 grains clocked 1,053 fps. From the slightly shorter barrels of your two guns, you may have to bump each of the above powder charges just one or two-tenths of a grain to reach the targeted 1,050 fps. Incidentally, both of the above loads are within SAAMI maximum average pressure for the 9mm Luger that is established at 35,000 psi.
Thanks for taking the time to write and for reading our magazine!
9mm Pressure Advice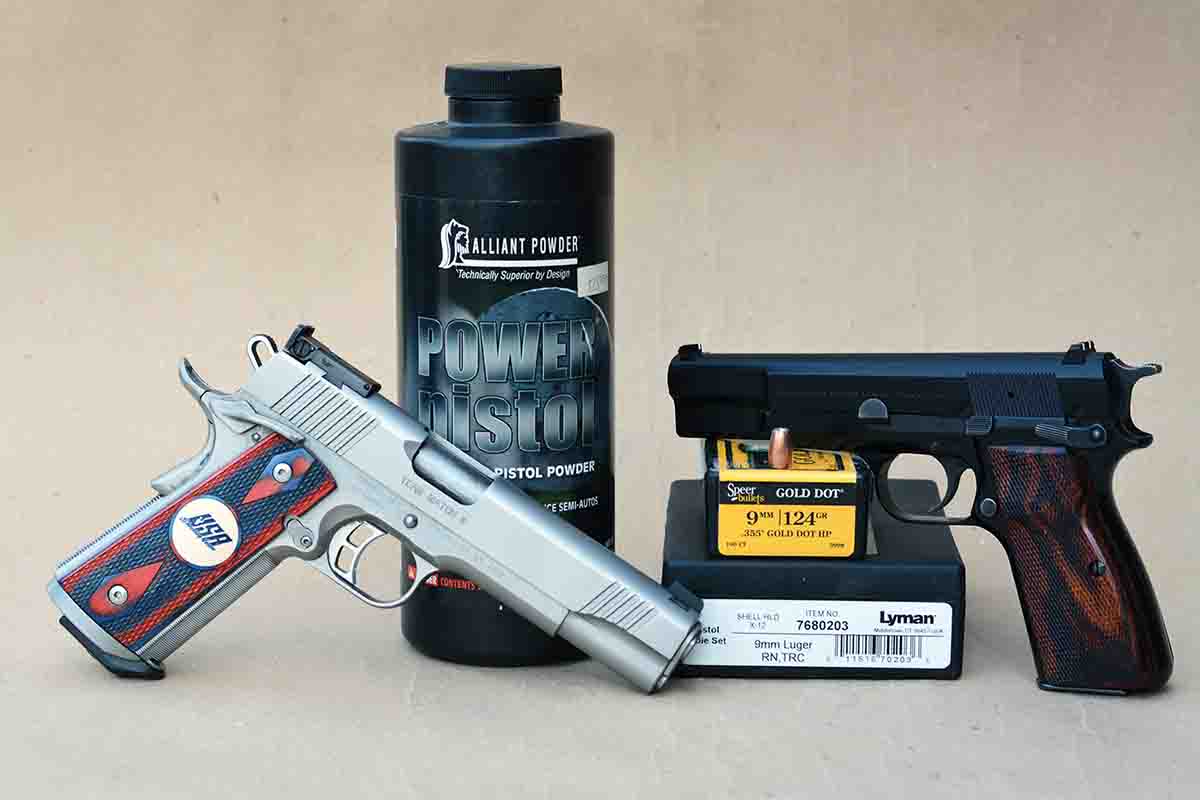 Q:
I have embarked on a project to load standard pressure defensive loads for my 1988 vintage Browning Hi-Power with a forged frame. I understand that it is prudent to avoid +P pressures in these fine, old pistols. So, I turned to your excellent "Pet Loads for the 9mm Luger" article in the
October/November 2019 issue of Handloader
with standard pressure loads. I want to load 124-grain JHP bullets and I noticed that you listed some loads with the Speer 124-grain Gold Dot HP with velocities as high as 1,300 fps. My understanding is that velocities that high produce +P pressures. You didn't mention whether you tested or calculated pressures with the loads in the article.
My question is: did you find that you could load the 124-grain Gold Dot HP to 1,300 fps with standard pressure? If so, I would like to ease up to about 1,250 fps with the same bullets, powders, seating depth, etc., that you used. What kind of pressure indications did you use for these loads?
Thank you for taking the time to respond. I find your work incredibly useful and interesting.
A.M., via email
A: In the "Pet Loads 9mm Luger" article that you referenced, I selected a Kimber Team Match Model 1911 with a 5-inch barrel as a test gun. This particular pistol has always produced comparatively high velocities.
Yes, in the above pistol, I was able to push the 124-grain Speer Gold Dot HP to 1,300 fps using 6.5 grains of Alliant Power Pistol powder, assembled in new Starline cases, capped with CCI 500 primers and loaded with an overall cartridge length of 1.120 inches. This load was tested in a pressure barrel (piezoelectric), which proved to be within industry maximum average pressures for the 9mm Luger that is established at 35,000 psi. Please note that any change, even small changes, in components or specifications will change the pressure. To reach the 1,250 fps that you desire in your Browning Hi-Power pistol, you will want to drop the powder charge to 6 to 6.2 grains. It should also be noted that the Speer Gold Dot HP bullet produces less pressure when compared to many other JHP bullets of the same weight.
Just for information, the Browning Hi-Power is a robust, strong and durable pistol that is often fired with +P pressure loads (and beyond) in Europe and elsewhere without issues.
Loading the .30 Carbine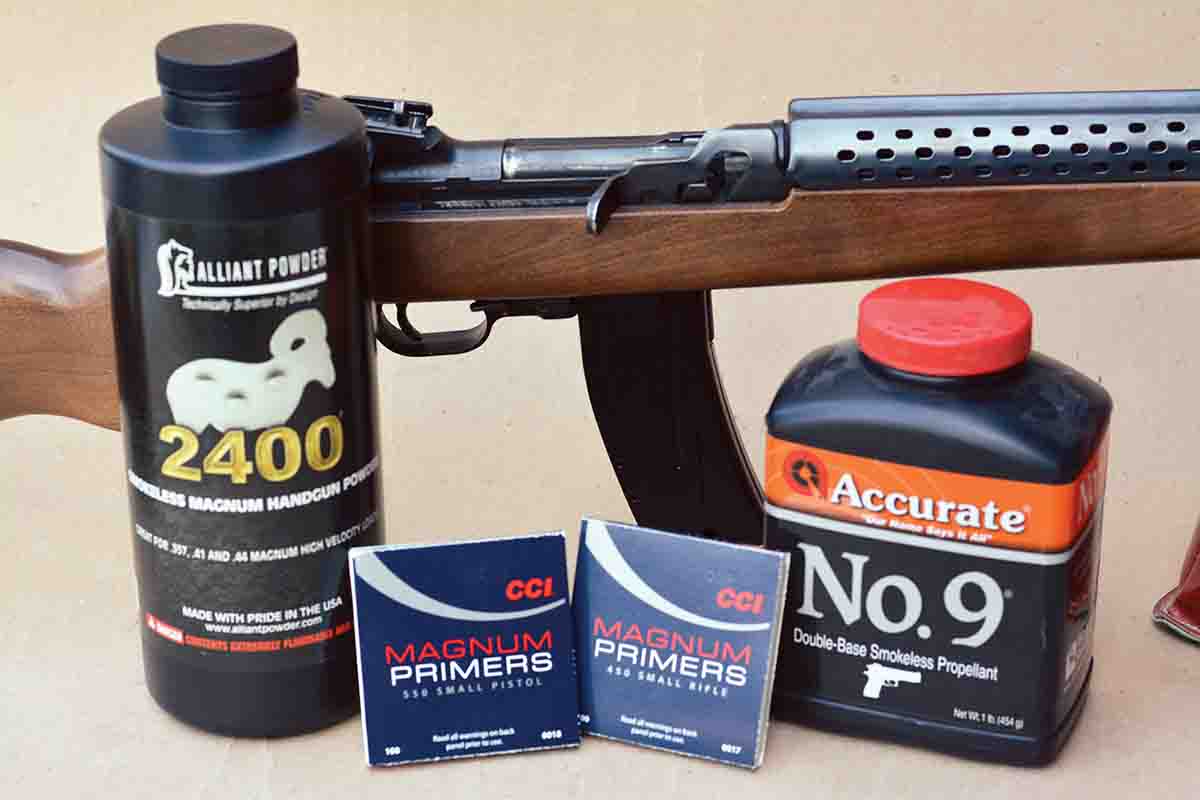 Q:
I have only reloaded for the .38 Special and .357 Magnum cartridges in both rifle and revolver, but recently began collecting the components to handload the .30 Carbine. I finally have all of the components needed, except small rifle primers. I have a large quantity of small pistol primers used in the .38 and .357, but in my locale, there are no small rifle primers available.
My query to you is if I can use small pistol primers rather than rifle primers in the .30 Carbine? I have tried searching information on internet forums, which proved to be a total waste of time. I received highly technical descriptions of the difference between the primers. Additional responses ranged from "they will work perfectly" to "they will not work at all" to that I would "blow up my rifle." As a result, I am turning to you for insight and help and will not load ammunition until I have a definitive answer.
Thanks in advance for your advice.
S.M., WA
A: First, don't feel special, as small rifle primers are not available anywhere! As a result, there is considerable primer substituting taking place among handloaders and even ammunition manufacturers.
As to substituting small pistol primers in the .30 Carbine, which normally utilizes small rifle primers, there are a few factors to be aware of. First, you don't state what powders or primers you have on hand, so I will address your question generally.
The most commonly loaded powders in this cartridge are Hodgdon H-110 and Winchester 296, which are identical powders and spherical (or ball) type. To obtain proper ignition under all temperatures, etc., it will be best to use rifle primers; however, small pistol magnum primers, including the CCI 550 and Federal 200 are comparatively hot and will provide the proper ignition with that powder, but should generally be used with standard weight 110-grain bullets. Both primers are designed to easily handle the 40,000 CUP pressure that this cartridge operates at. If you do not have those primers on hand, then consider using an easier one to ignite powder such as Alliant 2400, which is extruded, or Accurate No. 9, which is a spherical powder. I suggest keeping your powder charge near maximum or maximum, to keep the gas volume high enough to reliably cycle the action of your M1 Carbine. Also, be certain to use a heavy taper crimp that will aid with proper powder ignition.
Some handloaders claim that using pistol primers will cause the gun to fire with the bolt slightly out of battery (and explains some of the comments you received on the internet). This is not an issue with the primer choice; rather it has to do with the rifle. In short, some commercial reproduction rifles of the U.S. military M1 Carbine feature internal design changes that allow them to occasionally fire before the bolt is fully closed (which was not a problem with military guns). I could explain the proper test to determine if your gun can potentially fire while out of battery, but this is not the correct place. Rather, if you have a reproduction rifle, it is suggested to take your gun to a qualified gunsmith that is familiar with this problem to have it tested.
There are technical differences between small pistol and small rifle primer pockets, as well as the primer heights. To do this subject proper justice would simply take too much space. Suffice to say, whatever the primer and case combination you choose, be certain that primers seat with the anvil touching the bottom of the pocket and measure .003 to .005 inch below flush (which can be measured using calipers).
.375 Winchester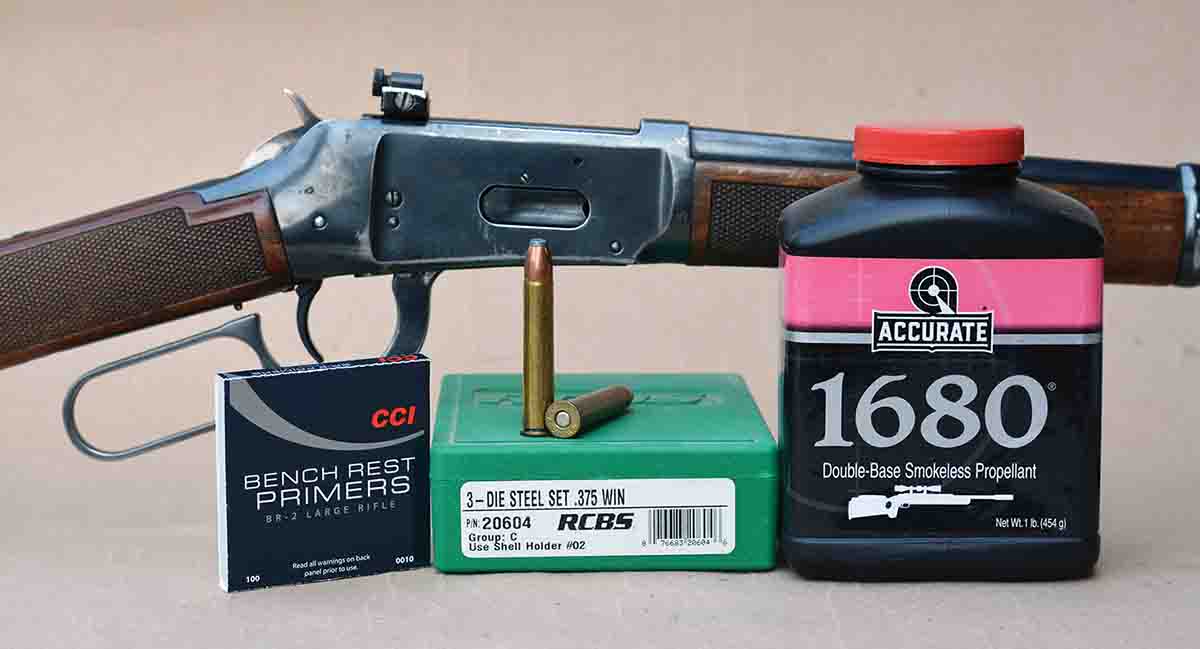 Q:
When loading hunting ammunition for use in subzero temperatures, such as using Accurate 1680 powder in my .375 Winchester, should magnum primers be considered or required? Thank you.
P.C., email
A: You don't specify your load, but with 200- to 250-grain bullets in the .375 Winchester, proper charge weights with Accurate 1680 powder are usually between 25 and 40 grains. The point is, this is not a large quantity of powder to ignite and it is doubtful that you will experience issues with proper ignition with standard large rifle primers in subzero temperatures. If you were using a cartridge with a larger volume, then there could be some merit in using magnum primers. I would suggest making sure that you are using powder charges that are maximum or near maximum and be sure to apply a heavy bullet crimp, which will aid with ignition. If possible, test your handloads in the subzero temperatures before heading into the field.
If you still feel the need for magnum primers, they can be used. However, maximum powder charges will need to be reduced slightly to compensate for the increased primer heat and resultant increase in chamber pressure.