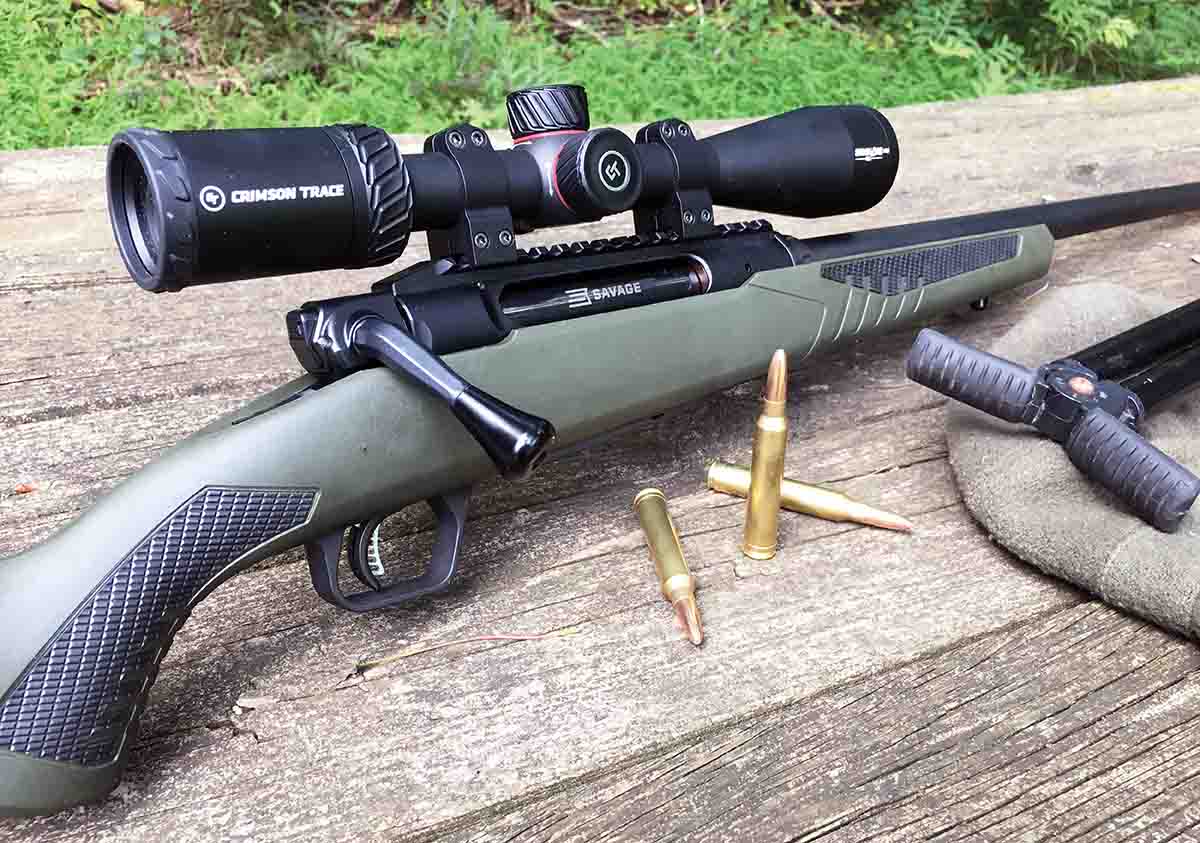 When stoked with heavy-for-caliber bullets, Savage's new Impulse Hog Hunter is not only ideal for pursuing pigs of the feral flavor, but also for most of the world's big game at close to midrange. In modern parlance, firearms manufacturers are "influencers" and "disruptors" – some more so than others. An example of a company that helps drive the marketplace, as well as regularly interrupts norms, is Savage Arms.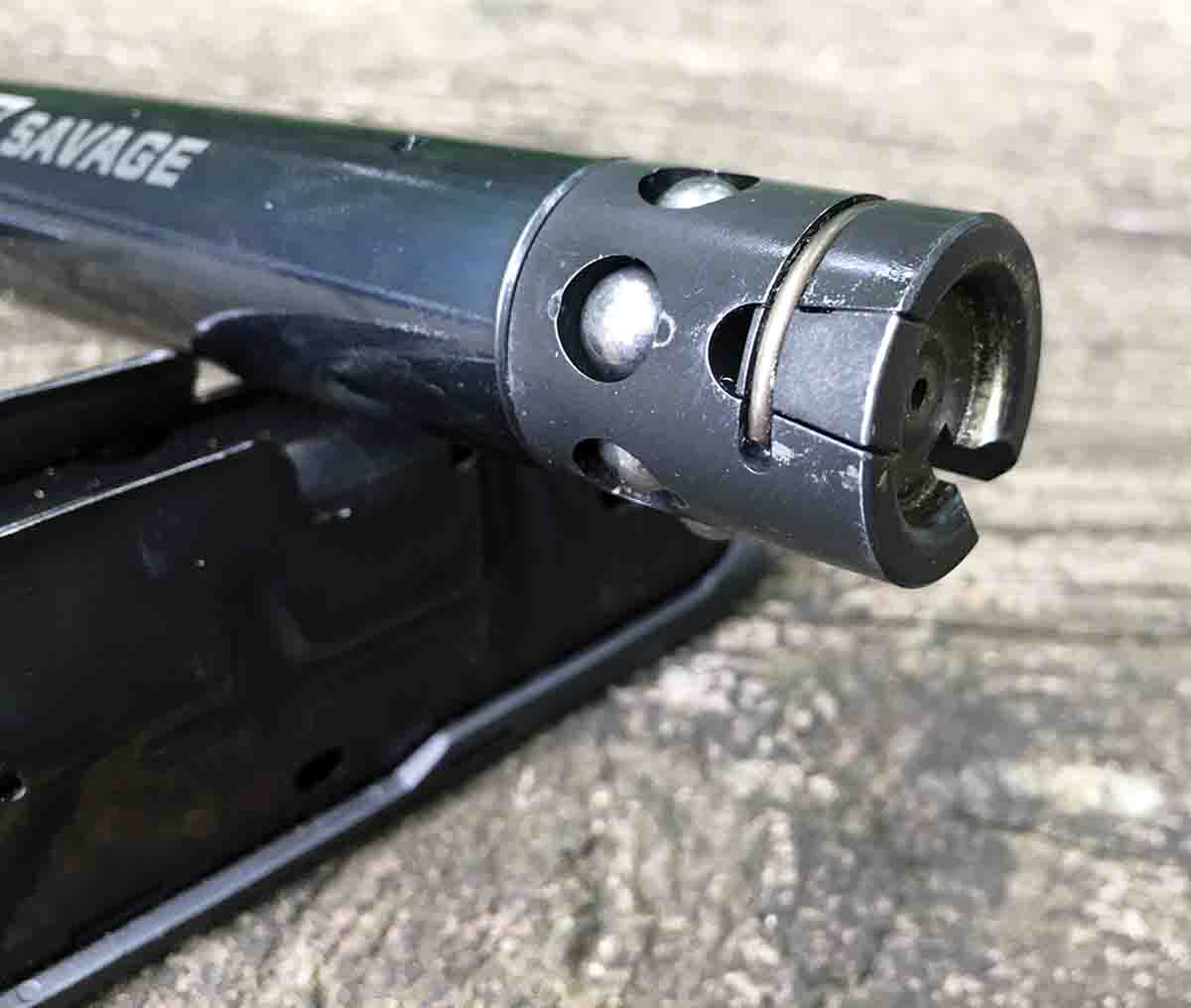 Need proof? In late 2020, the company announced that it would introduce an American-made, straight-pull rifle – coined the Impulse – in three variants: Big Game, Predator and Hog Hunter. The latter is the subject of this article.
Long popular in Europe, where the design's primary attribute – rapid cycling with uninterrupted sighting – is advantageous for their established, driven-style hunts. Straight-pull rifles have been decidedly less popular in the U.S. There are several noteworthy reasons for this. First, outside of the deep-rooted southern practice of pursuing whitetails with the aid of dogs, and a smattering of smallish, organized deer and bear pushes, driven hunts are relatively few in the U.S. As the loss of hunters and accessible lands continues, the tradition of hunting via drives will further diminish. Times are changing.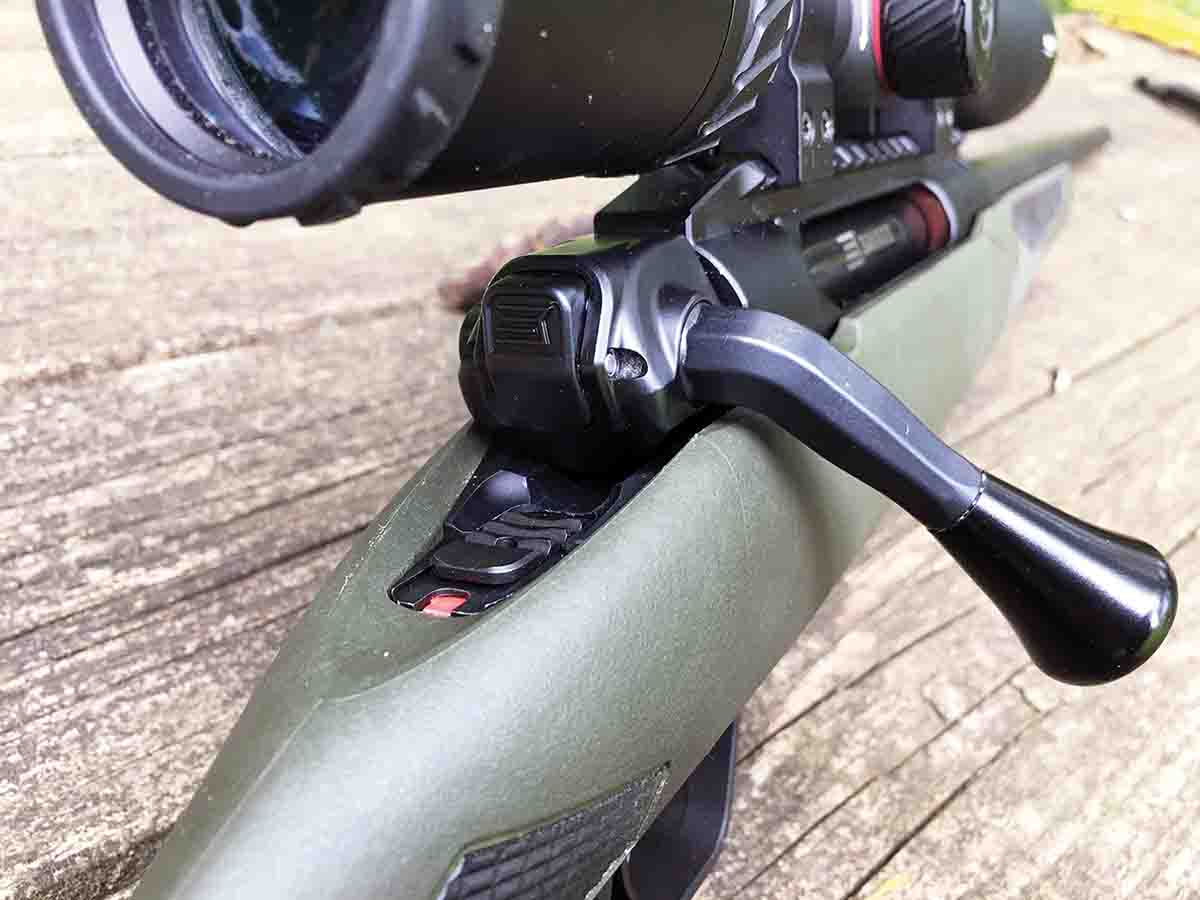 Moreover, concerning the shooting of running or fast-moving game, hunter-ed.com suggests, "Only shoot when you are sure you can make an effective shot." This begs the question: "Can you accurately place a bullet –
with certainty
– on a fast-moving target – especially at distance?" I can't. It's this uncertainty that, outside of nuisance species, such as flighty feral hogs, causes most American hunters to forego shooting at uninjured, running game. Frankly, most hunters are ill-prepared to do so, as it's a skill that must be practiced extensively to become proficient.
Given that Americans are unaccustomed – or unwilling – to shoot at fast-moving game, our firearm choices make sense; bolt-, pump- and lever-action rifles, as well as single-shots, all deliver upon the "one shot, one kill" axiom on stationary and near-still prey. If ultra-fast cyclic rates and high-capacity magazines are desired, a semi-automatic rifle is the go-to arm. Thanks to the proliferation of AR-type rifles chambered in cartridges suitable for big-game hunting, more hunters than ever have switched to them. They're the new utilitarian rifles.
But, as Savage observed, the straight-pull design has merit. Although bested by autoloaders, they're faster cycling than the other action types, and the sight picture is unaffected. As I experienced firsthand, the accuracy potential of a quality, straight-pull rifle, such as the Impulse Hog Hunter, is tantamount to bolt actions, and the rifles house modern, high-pressure cartridges – unlike most lever actions. For fans of traditional-type stocks, they have them.
Whether or not the American hunter is influenced by Savage and its new Impulse remains to be seen; breaking with tradition is difficult. Nonetheless, the company's take on the timeless straight-pull design deserves recognition.
As with its Impulse brethren, the heart of the Hog Hunter is its straight-pull action, which Savage modernized. The bolt features an innovative, interchangeable, free-floating head with six, large steel ball bearings called Hexlock. The bearings are flush (or below flush) until the bolt action is in the forward-most position, at which point, they are forced outward to achieve lockup. The unconventional design also promotes consistent breech face positioning.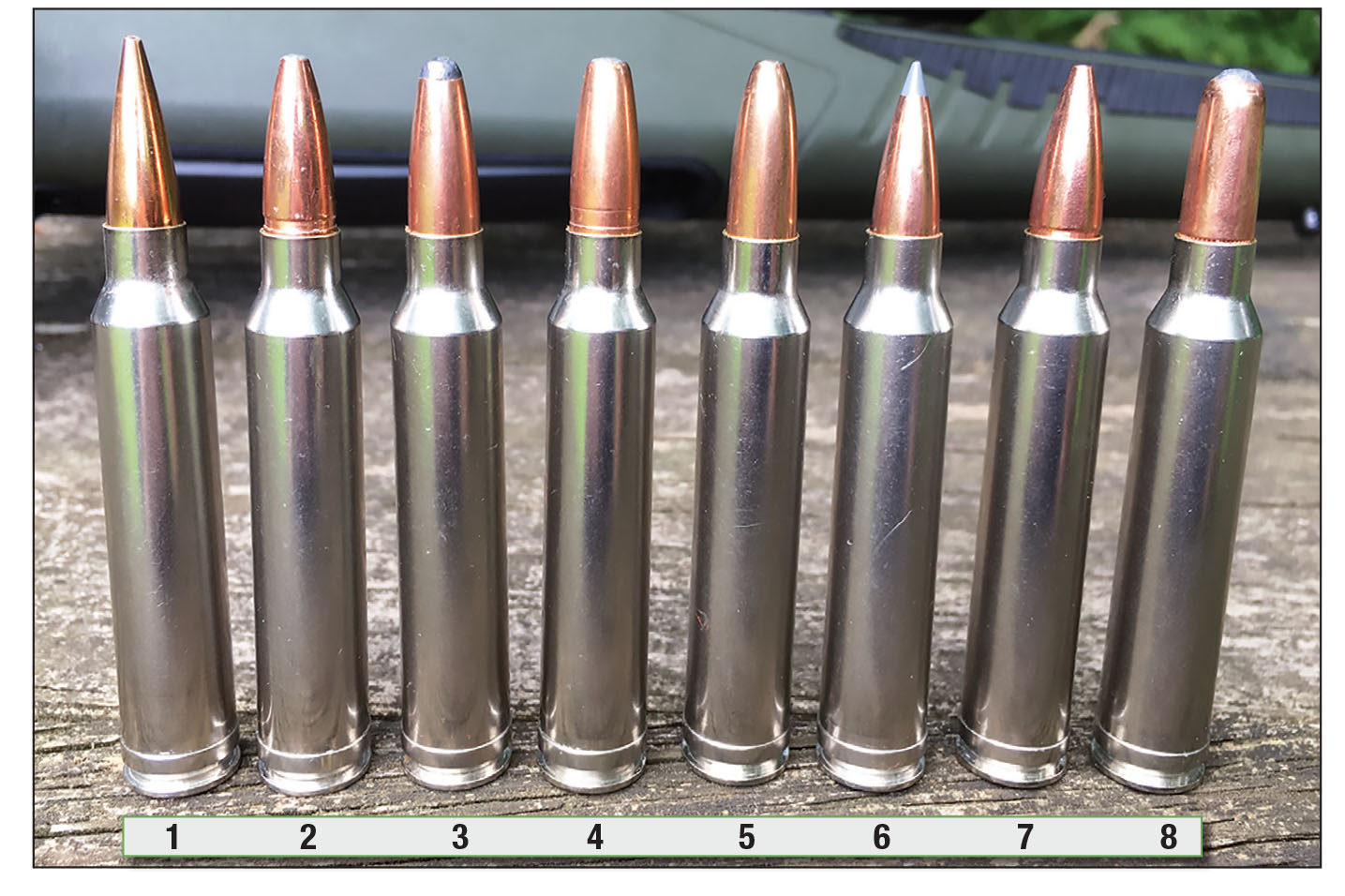 After firing, and when the bolt handle is pulled rearward, the ball bearings return to their at-rest positions while the bolt is retracted. Should the shooter wish to cycle the bolt once it's locked up, such as to remove a loaded round, he or she only needs to press the quick-release button on the back of the bolt while pulling rearward on the handle. It's less complicated than it sounds. The bolt handle is oversized for increased purchase.
The full-width bolt has minimal side-to-side movement, or slop; however, cycling it requires a concerted effort – nothing Herculean, but it won't accidently move, either. That being said, just prior to reaching the bolt's forward-most position, lockup is completed almost automatically.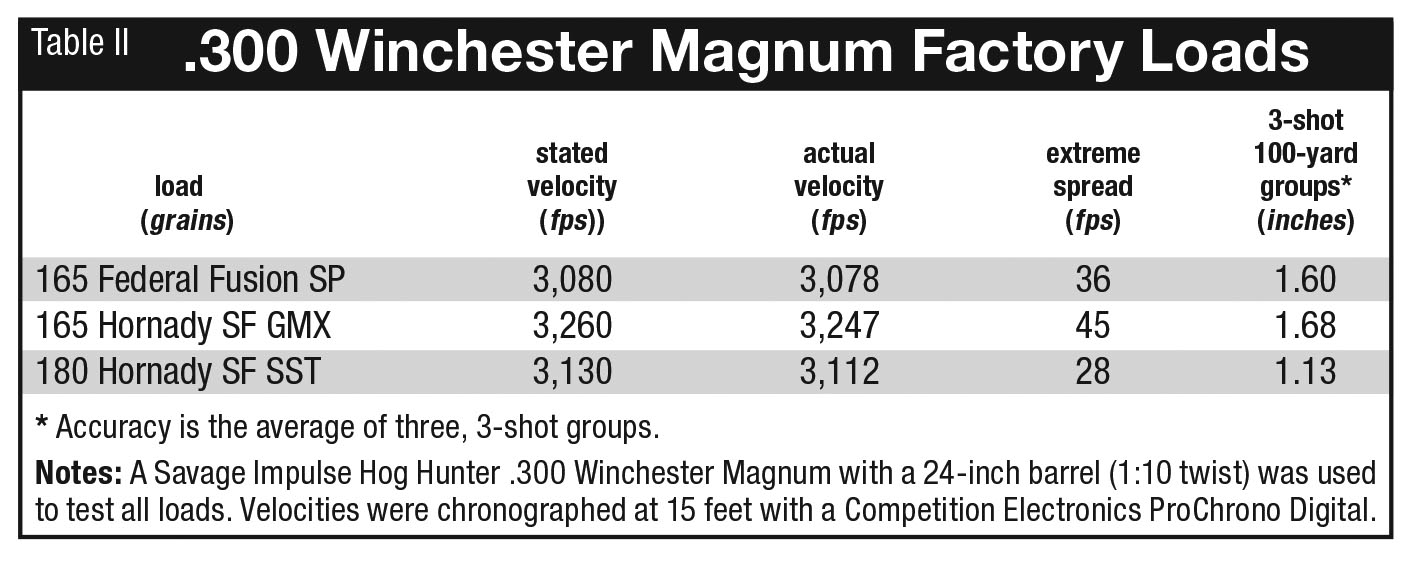 Whereas the extractor is found on the bolt face, the ejector is a spring-loaded unit situated on the wall of the aluminum receiver. Empties are sent several feet to the right and rear of the shooter. Interestingly, the bolt handle can be quickly and easily changed for left-handed shooters. Obviously, the ejection port cannot.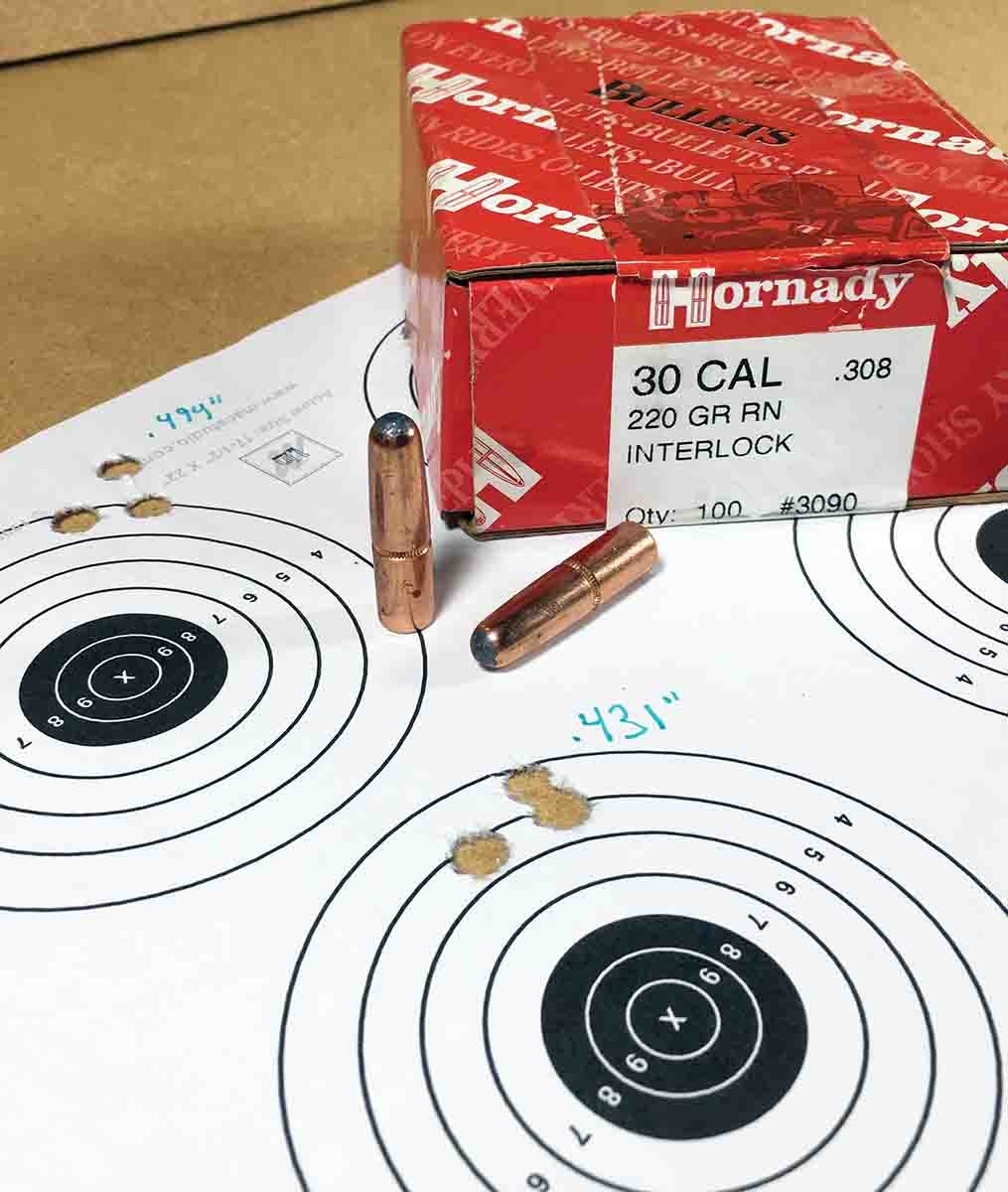 Topping the receiver is an integral 20-MOA rail with approximately 6.5 inches of mounting space. This benefits the shooter in that no base(s) are needed, and there are no screws to loosen. Smart. Affixed to the bottom of the receiver is Savage's renowned, user-adjustable AccuTrigger, which averaged a 3-pound, 12.6-ounce pull weight on the sample rifle. There was no discernible creep. All in all, it was a commendable trigger.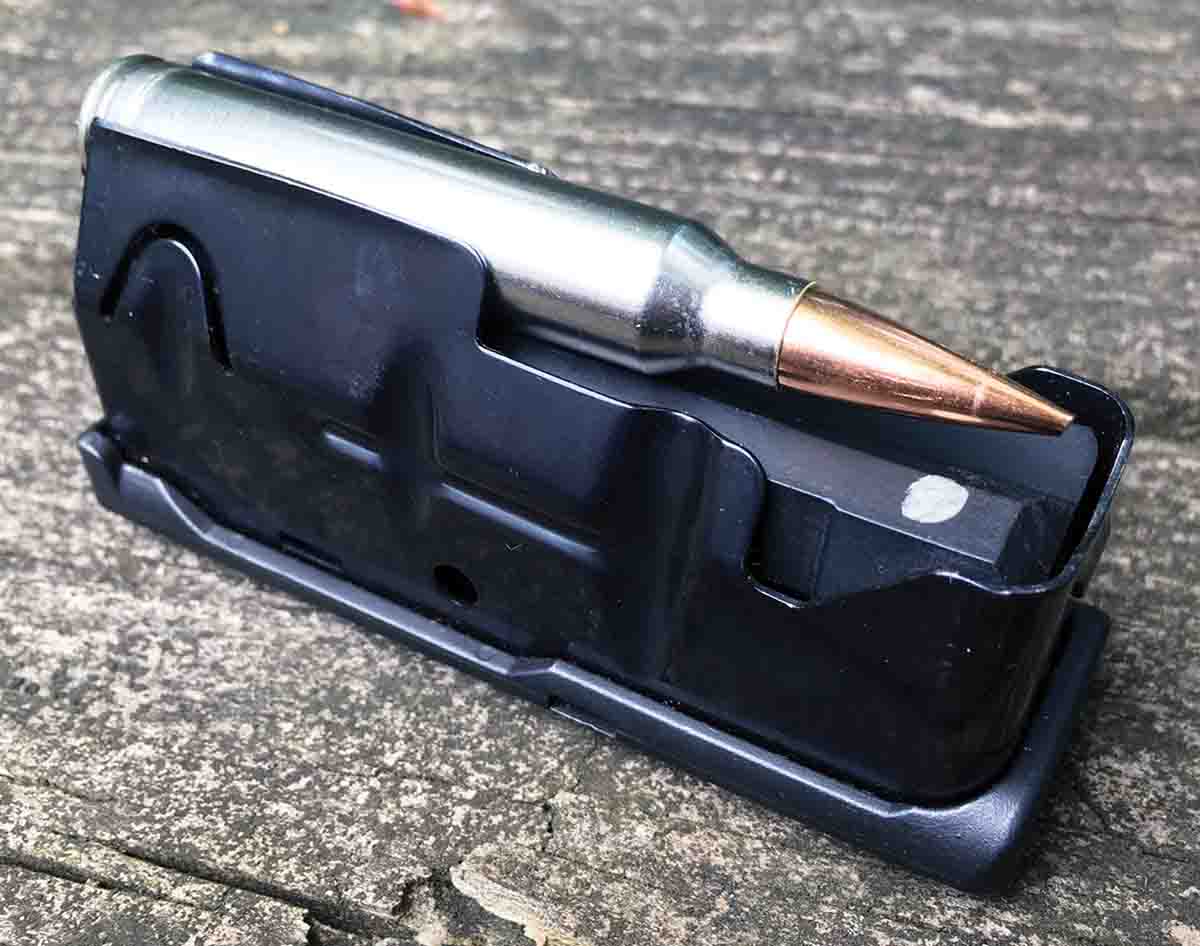 Like past iterations of Savage's Hog Hunter, the Impulse features a reduced length, matte-black, carbon steel barrel. The exception to this is the .300 Winchester Magnum, which, fittingly, has a 24-inch barrel. Hog Hunters in .30-06 Springfield and 6.5 Creedmoor have 20-inch barrels, while those in .308 Winchester have a highly-maneuverable, easily transported, 18-inch tube. All are medium-heavy in contour, devoid of open sights and end with 5⁄8-24-inch threading for the addition of a brake, flash hider or sound suppressor. A threaded steel cap is provided for when the aforementioned are not in use.
The barreled action is set into an OD Green AccuStock replete with AccuFit length-of-pull and comb height adjustments. The key to the former is an aluminum bedding system that eliminates play for increased accuracy. No doubt, though, that it, along with the hefty barrel and steel bottom metal contribute to the rifle's 9.1-pound (in .300 Winchester Magnum) to 8.41-pound (.308 Winchester) weight. Rubber panels on the pistol grip and forearm increase purchase, while dual sling swivel studs enable the attachment of a sling and/or bipod.
Lastly, feeding the Impulse is a detachable, staggered column magazine holding three (.300 Winchester Magnum) to four (all others) rounds. Concerning the magazine, it must be noted that the rear must be inserted first, and then the rest swung upward. Doing it any other way will cause the magazine to bind and not go into place.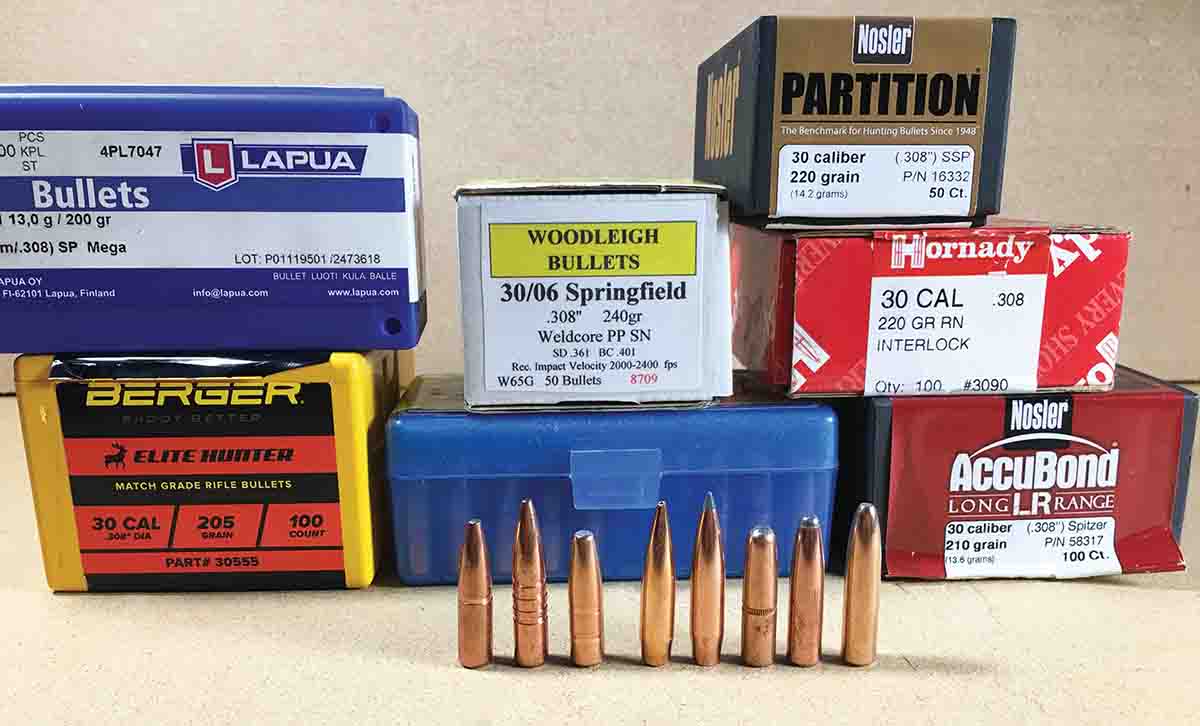 To test the sample Impulse Hog Hunter, I topped it with a Crimson Trace Brush Line Pro 4-16x 42mm scope and gathered what .300 Winchester Magnum loads I could find. These were Federal Fusion 165-grain SP; Hornady Superformance 165-grain GMX and Hornady Superformance 180-grain SST. Testing at 100 yards revealed that the rifle didn't care much for the lighter bullets, as it exhibited a clear preference for the heavier SSTs, producing an average of 1.13 inches for three, three-shot groups. The smallest averaged 0.82 inch. The full results are tabulated nearby, but suffice it to say, when a shooter finds the load he/she prefers, it'll create tight clusters. This particular rifle favored especially heavy bullets.
As a bolt-action aficionado, the Impulse's straight-pull action took some time for me to get used to; however, once accustomed to it, there's no denying that follow-up shots are faster than with a turn-bolt, and the absence of the bolt lift aided in keeping the target in sight. It's more instinctual, and simply ideal for hunting feral hogs.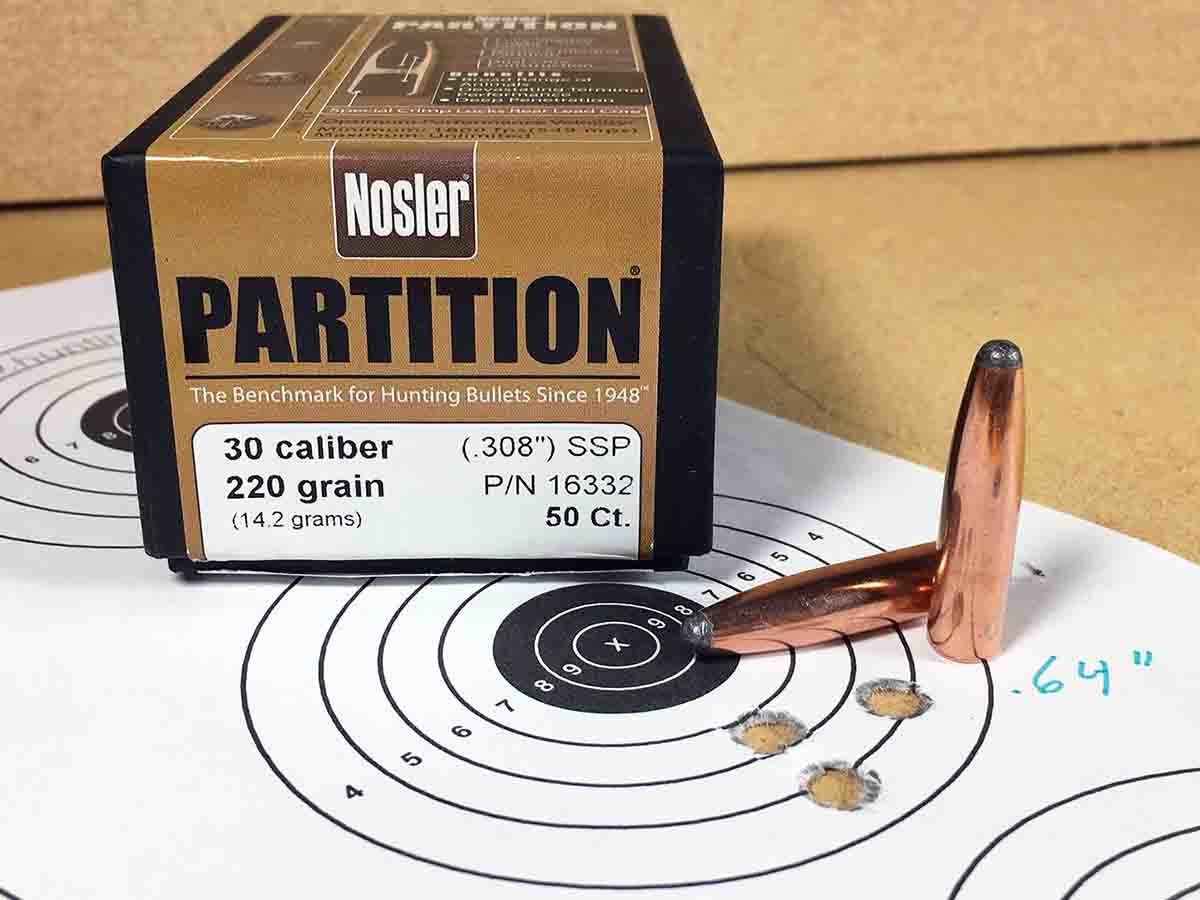 Given that the Impulse Hog Hunter is designed for, well, hog hunting, where shots are typically taken at close to midrange, and penetration is paramount, I decided to handload "heavies" – .30-caliber bullets weighing 200 grains or more. In the .300 Winchester Magnum sadly, few such options are loaded commercially, even though excellent projectiles are available in that weight range. Factory ammunition typically features bullets in the 150- to 180-grain range. Due to American shooters' penchant for speed above everything else, this is unsurprising.
Surveying MidwayUSA's website, of the 88 options in .300 Winchester Magnum, only eight utilized bullets weighing 200 grains or more. What's more, some of those were target-specific loads. Although any game animal that's within the realm of the .300 can be taken by most of the abovementioned loads, light isn't always right; there are advantages to using heavy-for-caliber bullets. For instance, as they're typically stout in construction and/or propelled slower, said projectiles often penetrate deeply – a boon if you're pursuing tough species, or are hunting in an environment where recovering a fleeing animal will be challenging; think hogs in the lowlands of the deep South, nilgai in the brush country of Texas, and moose or bear in the thickets of Alaska, among others. If material is shed, as it does in the Nosler Partition, terminal performance is enhanced. Yet, there is still plenty of bullet mass to drive deeply.
It could be successfully argued that, after expansion, the heavyweight projectile could weigh less than "premium" bullets that started out lighter but, due to their construction maintained most (if not all) of their weight. True. It's also correct that "premium" projectiles often penetrate deeply due to their high retained weights. Moreover, because of their lighter mass, they can be propelled faster for a flatter trajectory, less wind deflection and more on-target energy. No arguing there. So why then would a hunter use a heavier projectile, which increases recoil. In a word, results.
I've long favored heavyweight bullets in multiple cartridges, including a cherished .300 Weatherby Magnum. From whitetail deer and elk to feral hogs and black bear, the projectiles have served well. Best of all, across the board, the loss of edible meat was minimal. If you need to anchor a game animal, such as a bear, bigger is better.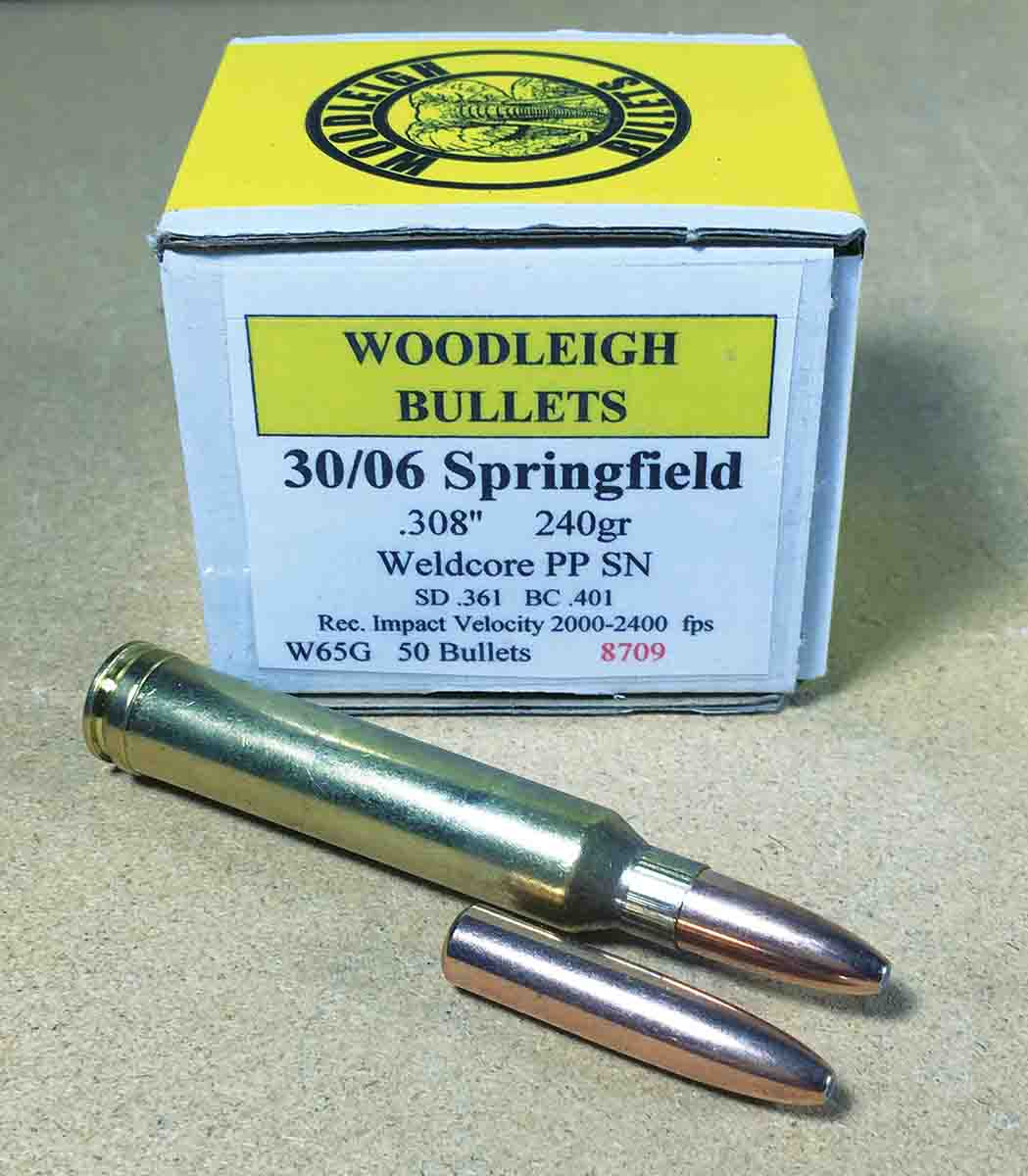 When compared to light- and mid-weight .30-caliber bullets, hunting-type bullets weighing 200 grains or more are few in number; however, there are some superb options from which to choose. For example, a quick search identified .308 200-grain bullets from Hornady, Sierra, Nosler, Lapua, Norma, Barnes, Swift, Federal and Woodleigh. These include some well-known products, including the Partition, ELD-X, TSX, A-Frame, Mega, and Weldcore, to name a few. Those who want wider expansion and/or less retained weight and top-tier BCs will find it in the Berger 205-grain Elite Hunter Hybrid HPBT and 210-grain Match Grade Hunting VLD, as well as the Nosler 210-grain AccuBond LR. Hunting-type projectiles weighing more than 210 grains are available from many of the companies previously mentioned as well. Fortunately, Hornady and Sierra have retained their time-tested 220-grain roundnose bullets, as they're the superb options for the .30-06 Springfield up to the .300 magnums.
One of the best options is in an atypical weight; Woodleigh makes a 240-grain Weldcore PP SN, which debuted in 2006 to celebrate the centenary of the .30-06 Springfield. Although it was created for the stalwart and has a recommended impact velocity of 2,000 to 2,400 feet per second (fps), it's still a great choice for the .300 Winchester Magnum. According to the Woodleigh Bullets Loading Manual, most propellants will push it from 2,265 fps to 2,680 fps. Due to its .401 BC, though, the 1.428-inch long bullet will shed velocity fairly quickly. The heavyweight fully stabilized in the Impulse's 1:10 twist.
Keep in mind that heavy-for-caliber bullets are generally lengthy – especially the all-copper Barnes lines – thereby encroaching into the useable propellant space. Unless you're restricted by the magazine, experimenting with cartridge overall length will yield additional space while fine-tuning accuracy. On the detachable box magazine-fed Impulse, I kept the loads to maximum Sporting Arms and Ammunition Manufacturers' Institute length. The exception was Berger's Elite Hunter Hybrid 205-grain HPBT, which, because of the data I referenced, tested it at 3.395. That posed no problem with the magazine or chamber. Also, some especially streamlined bullets require faster-than-normal twist rates. The Hog Hunter's 1:10 twist handled all without issue.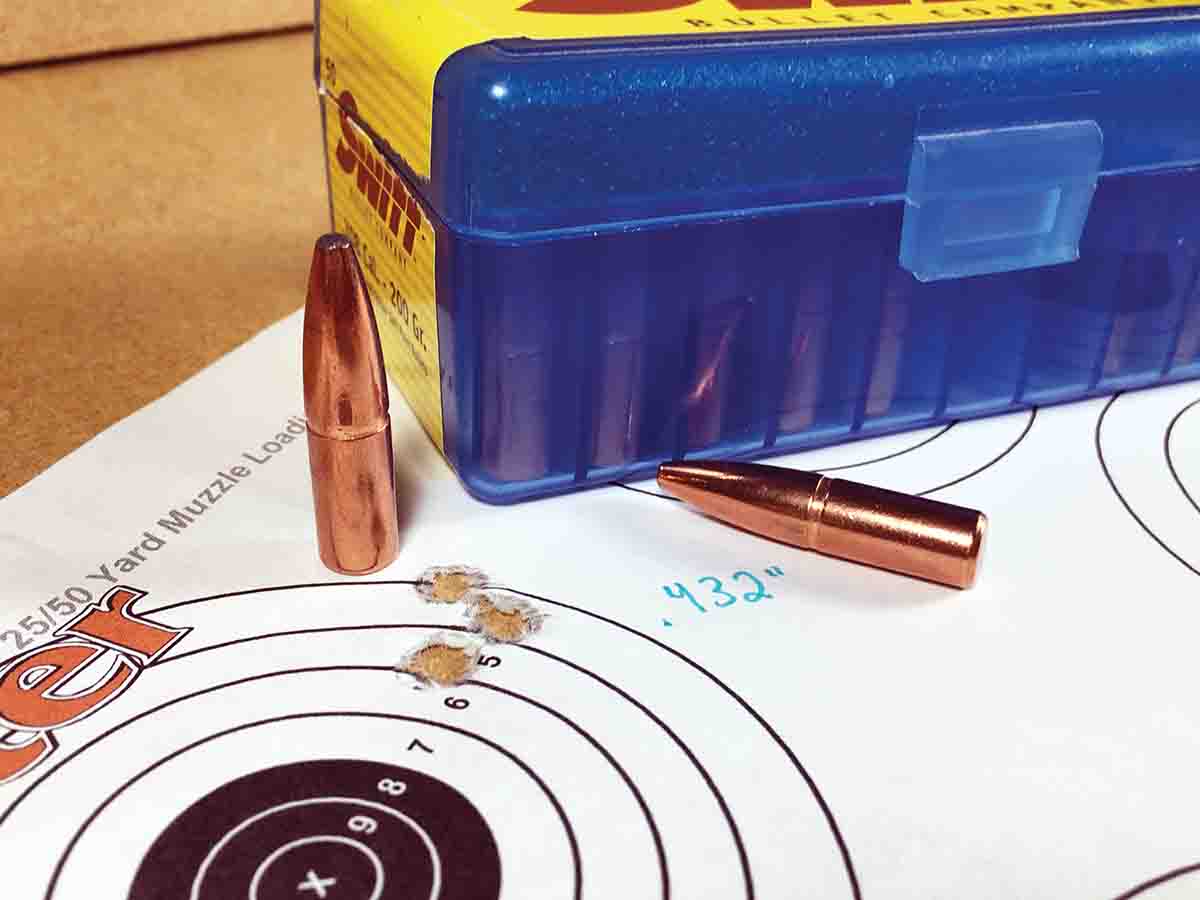 Propelling heavy bullets to reasonable velocities in the .300 Winchester Magnum requires a hearty charge of slow-burning propellant ignited by a magnum, large rifle primer (unless the data referenced calls for a non-magnum primer). Good options include Vihtavuori N165, N555, N560, N170 and N570; Hodgdon Retumbo, H-1000, H-4831SC; IMR-7828 and SSC, IMR-4831, 7977 and 4350; Alliant Reloder 19, 22 and 26 and Ramshot Magnum, to name a few. Keep in mind that if using a .300 Winchester Magnum rifle with a barrel length shorter than 24 inches, opt for a propellant with a speedier burn rate to maximize velocities.
Given the scarcity of components during the load development phase, I made do with what I had or could locate. As such, I used economical but perfectly serviceable Prvi Partizan .300 Winchester Magnum brass. Two, 50-count bags were enough. With primers and powder on hand, I then selected and ordered the projectiles. I selected the following: Berger Elite Hunter Hybrid 205-grain BTHP; Nosler 210-grain AccuBond LR and 220- grain Partition; Hornady InterLock 220-grain RNSP along with others.
Load development, accuracy testing and chronographing occurred during a span of several weeks in June and July. Unfortunately, the hottest, most humid days usually coincided with the testing days. For that reason, seldom did the barrel ever fully cool during testing. Still, from the very first load, it was apparent that attaining top-notch accuracy wouldn't be an issue; the unnoticed heavyweight, .30-caliber projectiles were capable of delivering uncanny accuracy.
Of the bullets, the Impulse favored the Hornady InterLock 220-grain RNSP; the average for three, three-shot groups was an impressive .59 inch. Only slightly larger were the Woodleigh and Berger loads, which had the means of .62 and .63 inch, respectively. The sample Impulse Hog Hunter obviously preferred 200-grain-plus projectiles, as the average for all 72 rounds – eight loads with nine shots each – was .70 inch.
If you own a rifle in .300 Winchester Magnum or plan to get one, you owe it to yourself to try the "heavies." Not only do they increase the terminal effectiveness of the cartridge, but, as can be seen in the accompanying handloading table, they can be phenomenally accurate. Team them with an Impulse Hog Hunter, and you have the perfect pair.