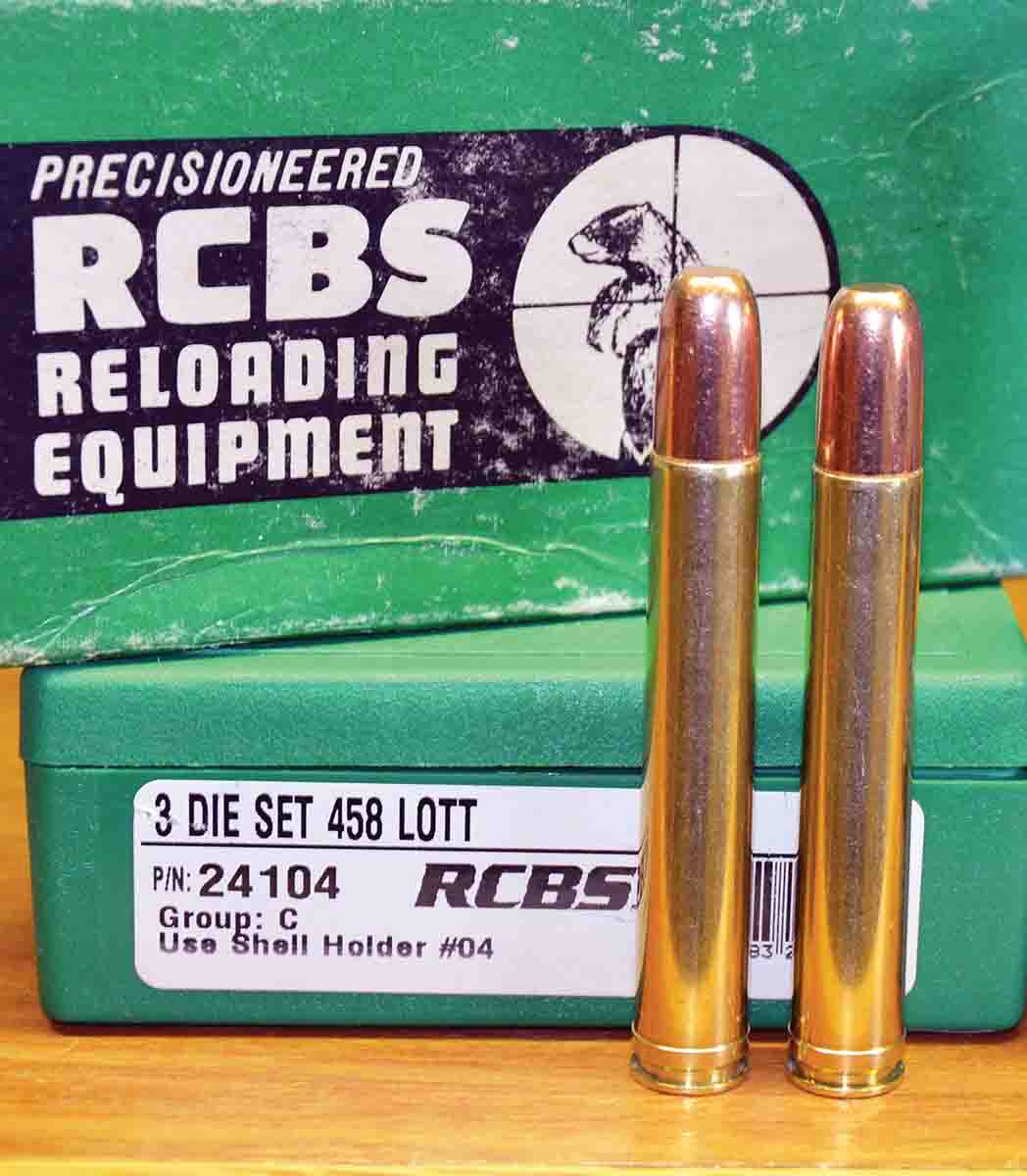 In his
Handbook For Shooters & Reloaders
, P.O. Ackley briefly wrote "The .450 Watts was developed by Mr. Watts and A.B. Anderson of Yakima, Washington." Digging a bit deeper, I learned that in addition to being a school teacher, James Watts was an experienced hunter who became a resident of Alaska in 1936. According to double-barrel rifle authority Cal Pappas, who also lives in Alaska, Watts developed the .450 Watts in 1948 and later used it to take elephant, buffalo and other game during a rather lengthy outing in Rhodesia (Zimbabwe), Africa. The case was formed by necking up the .375 H&H Magnum case for .458-inch bullets and fireforming to a straight taper with no shoulder. The 480-grain softnose and solid bullets Watts used were made by the British firm Kynoch for the .450 Nitro Express 3¼ inch. Muzzle velocity of his ammunition was around 2,250 feet per second (fps).

The rifle used by James Watts was built by gunsmith Harvey B. Anderson, whose shop was in Yakima, Washington. Anderson's first rifles in .450 Watts were on modified 1917 Enfield and Mauser K98 actions. He later rebarreled Winchester Model 70 rifles in .375 H&H Magnum. Barrel lengths ranged from 21 to 26 inches with various types of muzzle brakes quite common.
The .450 Watts became popular among professional hunters in Africa, possibly because Jack O'Connor mentioned using a rifle chambered for it in his books and magazine articles. The cartridge also got the attention of Winchester and a couple of experimental Model 70 rifles were chambered for it. But the case was eventually shortened from 2.850 inches to 2.500 inches and introduced in 1956 as the .458 Winchester Magnum.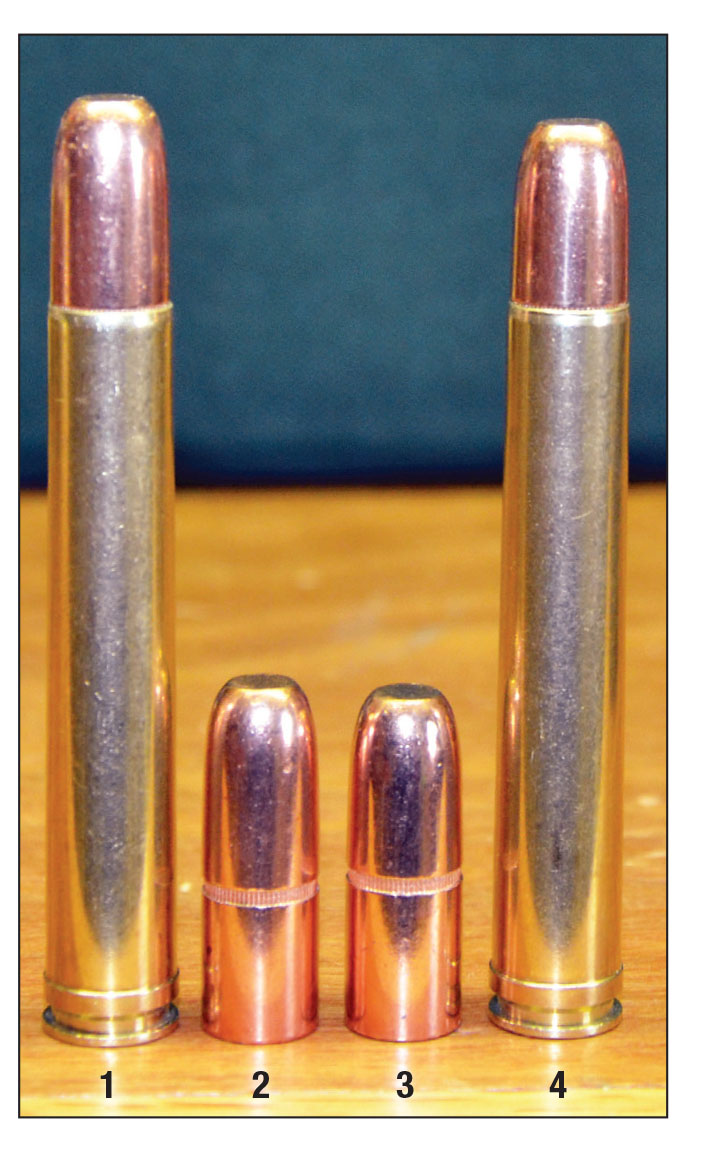 According to cartridgecollector.net, formed cases with the proper headstamp have been available from a number of sources. Some were stamped ".450 Watts," others ".450 Watts Magnum." Cases were offered by Dick Speer of Lewiston, Idaho, who founded Cascade Cartridges, Inc. (CCI) and was a brother to Vernon Speer, founder of Speer Bullet Company. Those headstamped "Barnes Ammo" were likely made by Dick Speer for bullet maker, Fred Barnes. Cases from sources I did not recognize were stamped "J.V.S." and "O.P.M." South African gunsmith Ken Stewart makes premium-grade bullets and a number of cartridge cases, including .450 Watts. The cases are also made by Quality Cartridge of Hollywood, Maryland.
Even today, rifles in .450 Watts built years ago, remain popular for backup use among professional hunters in Africa, with many using .458 Lott factory ammunition in them. The .458 Lott, introduced by Jack Lott during the early 1970s, was originally formed by necking up the .375 H&H Magnum case for .458-inch bullets and fireforming to a straight body taper with no shoulder. Maximum case length was set at 2.800 inches. The .450 Watts case was formed in the same manner, except maximum length for it is 2.850 inches, same as for the .375 H&H case. Except for the slight difference in length, the two cases are identical.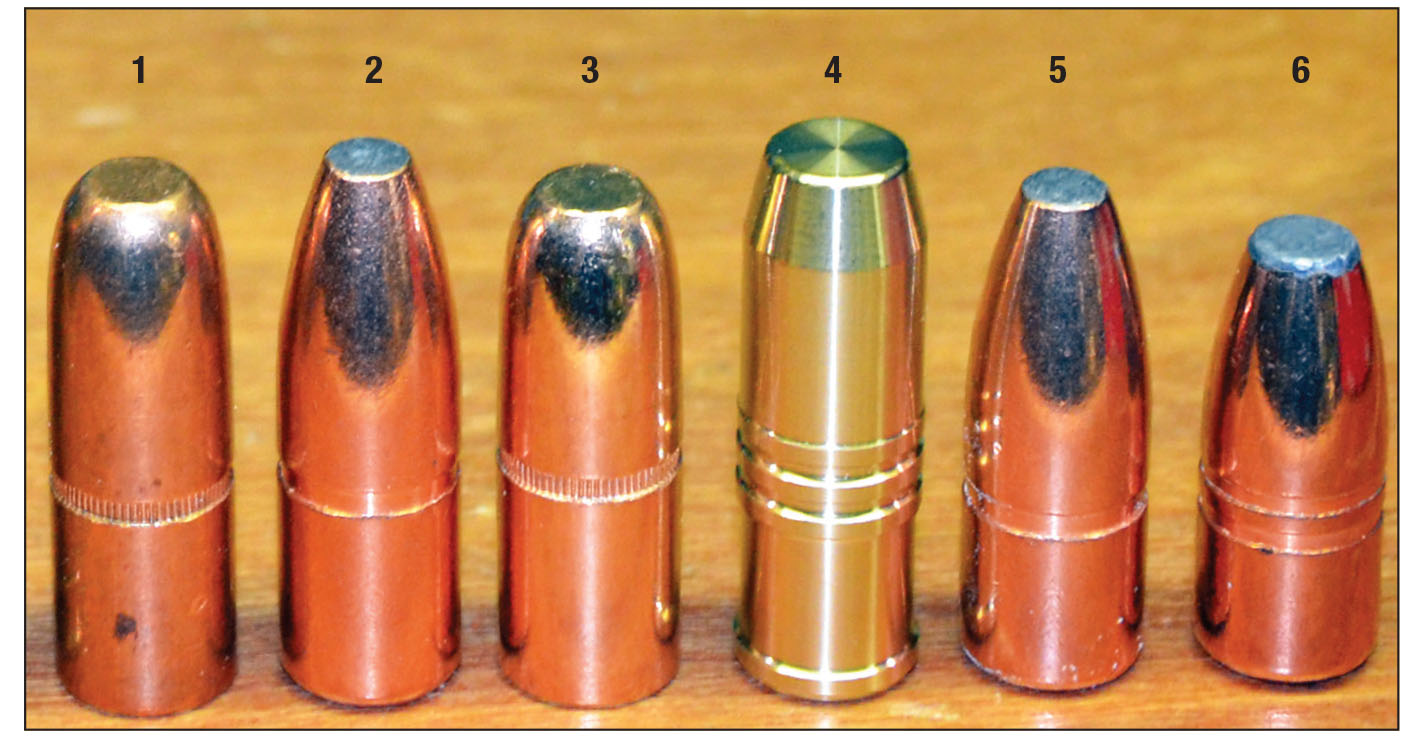 The .450 Watts case can still be formed the old way from .375 H&H Magnum brass, or the new way by running .416 Remington Magnum brass through a .450 Watts full-length resizing die. The easiest way is to use .458 Lott cases from Hornady. Should a hunter someday arrive in Africa and the .450 Watts handloads fail to make it, there may be some .458 Lott or .458 Winchester Magnum ammunition in camp to save the hunt. Both are more than accurate enough in my rifle, with groups quite a bit smaller than the vital area of a buffalo.
Earlier, I mentioned Jack O'Connor using the .450 Watts, so perhaps a bit of information on his rifle would be of interest. Three different craftsmen were involved in building it. Tom Burgess of Spokane, Washington, modified a 98 Mauser action to handle the long cartridge and also performed other metal work. Harvey Anderson of Yakima, Washington, installed the barrel and slotted its muzzle for an integral brake. While making the stock, Alvin Oslin of Clarkston, Washington, reinforced it with crossbolts, one just behind the recoil lug, another between the cutouts in the stock for the magazine and trigger assembly. Oslin also installed an aperture sight on the receiver and a large gold bead up front. After forming cases from Winchester .375 H&H Magnum brass, O'Connor seated CCI 250 primers, dropped in 82 grains of IMR-4895 and seated 480-grain softnose and solid bullets made by Kynoch. Muzzle velocity was 2,175 fps.
O'Connor first used the .450 Watts in 1953 while hunting in Kenya with professional hunter Don Ker. As he wrote in "Buffalos Shoot Back!" a good bull was spotted at some distance and after continuing on for a half-mile or so, the hunting car was parked and the stalk was on. All cartridges in Jack's rifle were loaded with softnose bullets. When located, the bull was lying down with its head turned away. Professional hunters usually prefer to wait until an animal stands before the initial shot is taken, but with a nod of approval from Ker, old Cactus Jack aimed for a high lung shot and squeezed one off. Upon receiving the bullet, the bull suddenly relaxed with its head falling forward. A second bullet for good measure rocked the animal with no other perceptible movement. Then, just as Jack ejected the case, he reached in a jacket pocket for another cartridge and pressed it into the magazine, the "dead" buffalo suddenly staggered to its feet, lowered its head and stormed toward its tormentors. Roars from Jack's .450 and Ker's .475 turned the animal and a fourth shot from Jack's rifle finished the job. Back then, large-caliber expanding bullets were not as good as those we now have and an autopsy revealed bullet failure from O'Connor's rifle.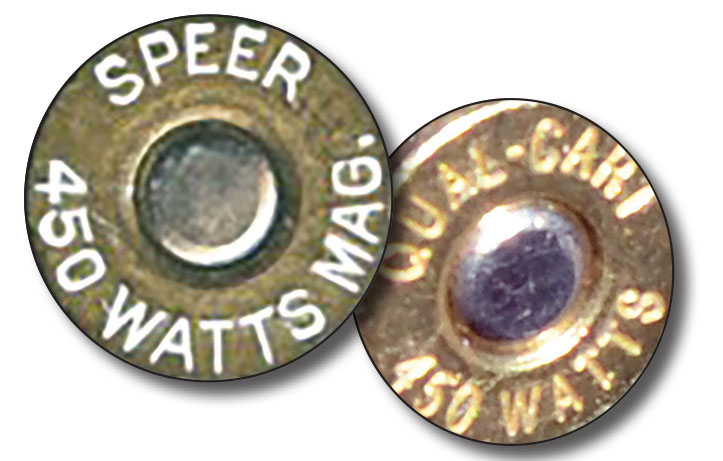 According to the previous owner of my Model 70, it was originally in .375 H&H Magnum and was rebarreled to .450 Watts a couple of years prior to his 1954 safari in Kenya. Its Lyman All-American 2.5x scope and its Buehler mount were later removed and given to a friend. He still had the RCBS die set as well as several cartridges loaded with Kynoch 480-grain bullets. While test-firing the rifle, it did not dawn on me to keep just one of those cartridges for history's sake. I also have a custom Remington 700 in .458 Lott. Ammunition loaded with the old .450 Watts dies or current .458 Lott dies is a perfect fit in both rifles.
Dimensional differences should be noted. The Sporting Arms and Ammunition Manufacturers' Institute (SAAMI) maximum chamber length for the .458 Lott is 2.810 inches and virgin Hornady cases usually average around 2.795 inches. Chamber length for my rifle in .450 Watts is 2.855 inches and .450 Watts cases from Quality Cartridge average 2.845 inches. Handloads in Hornady .458 Lott cases work fine in both rifles while handloads in Quality Cartridge .450 Watts cases are not used in my rifle in .458 Lott.
When trying a new powder in the .450 Watts, I use starting loads published in various reloading manuals for the .458 Lott. IMR-4895 is as good a choice today as it was for O'Connor during the 1950s. Depending on bullet weight, H-322, H-335, Accurate 2520, Reloder 15 and Vihtavuori N540 also work quite well. Maximum charges fill the case with enough compression to discourage recoil-induced setback of bullets in cartridges in the magazine. While 500 grains is today's popular bullet weight, the shorter .480-grain softnose and solid bullets made by Hornady for the .450 Nitro Express 3¼ inch are of the traditional weight for the .450 Watts. With the same construction along with sectional densities of .327 and .341, there should be very little difference in penetration. Bullets weighing 480 grains are also what made the .450 Nitro Express 3¼ inch one of the all-time great dangerous game cartridges for doubles. For less recoil, try the 450-grain Swift A-Frame and Cutting Edge Safari Solid of the same weight. They have a .307 sectional density.