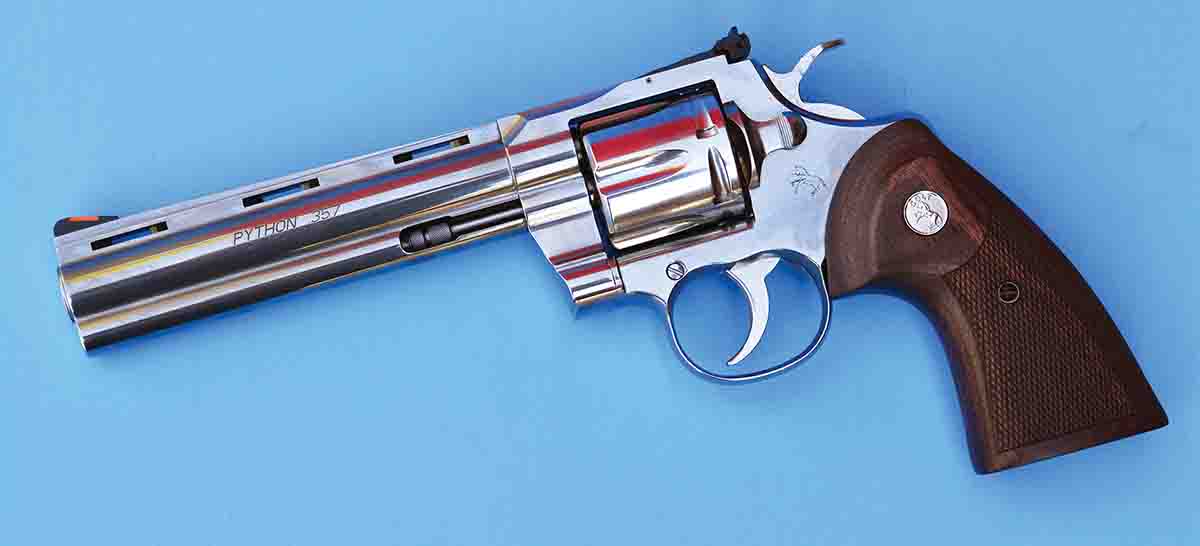 After considerable pressure from shooters and dealers, Colt has reintroduced its famous Python chambered in .357 Magnum which has been absent from its product lineup for around two decades. At a glance, it resembles the original Python .357 introduced in 1955, but it is crafted from stainless steel; however, there are notable design changes that Colt engineers employed that are reported to increase durability.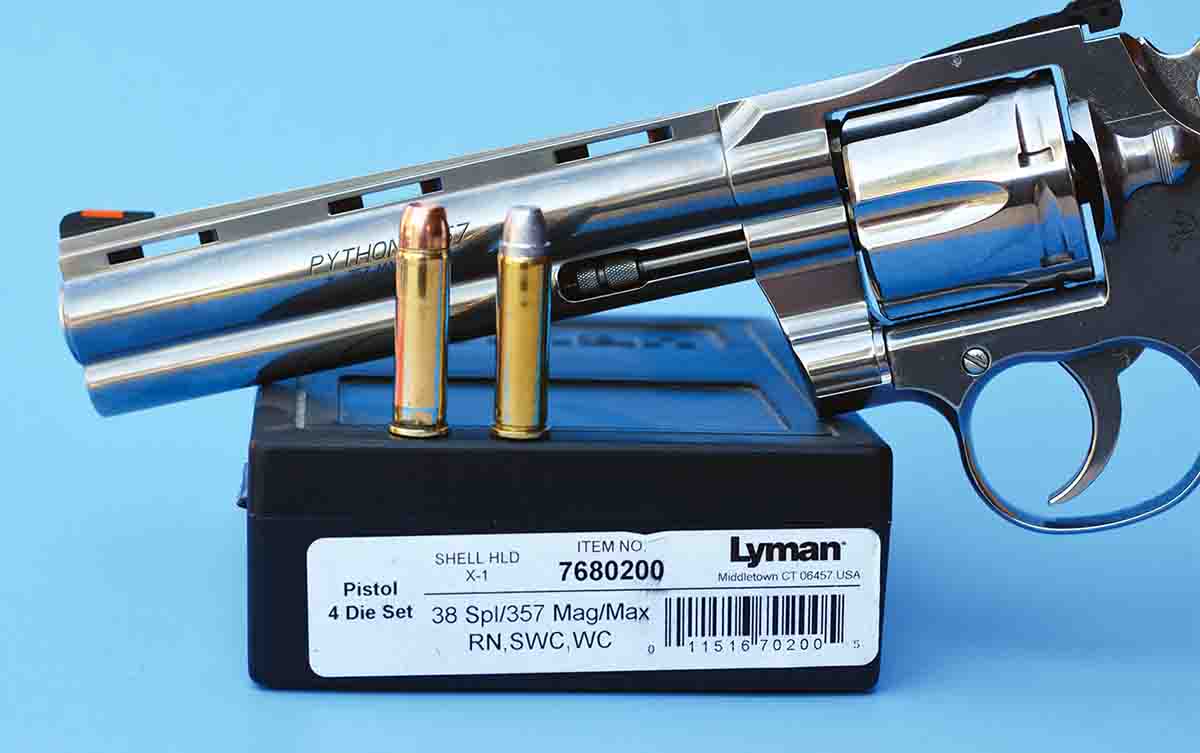 Before discussing the new Python in detail, let's take a brief look at the original and why it is in such great demand. The original Python was formally announced in 1955 and was based on Colt's "I-Frame" or what period gun writers commonly referred to as the ".41 frame" that had originated as the Model 1892. However, the best place to begin this story is the Colt Officer's Model second issue that was first produced around 1908 and was based on the I-Frame. It was essentially a modernized and improved version of the Model of 1889 (and variants) and Models 1892, 1894, 1895, 1896, 1901, 1903 and double action 38 New Army and variants that were generally chambered for .38 Short and Long Colt, .41 Short and Long Colt and the later .32-20.
The Officer's Model second issue was a target-sighted sixgun offered in .38 Special and .32 Colt (rare), while the fixed-sighted version was known as the Army Special Model that was offered in .32-20, .38 and .41 Colt calibers. These two models featured clockwise cylinder rotation and more durable actions than predecessor models that included single-locking notches on the cylinder, crisp trigger pulls and were beautifully fit, finished and polished with fire- blue accents until the outbreak of World War I.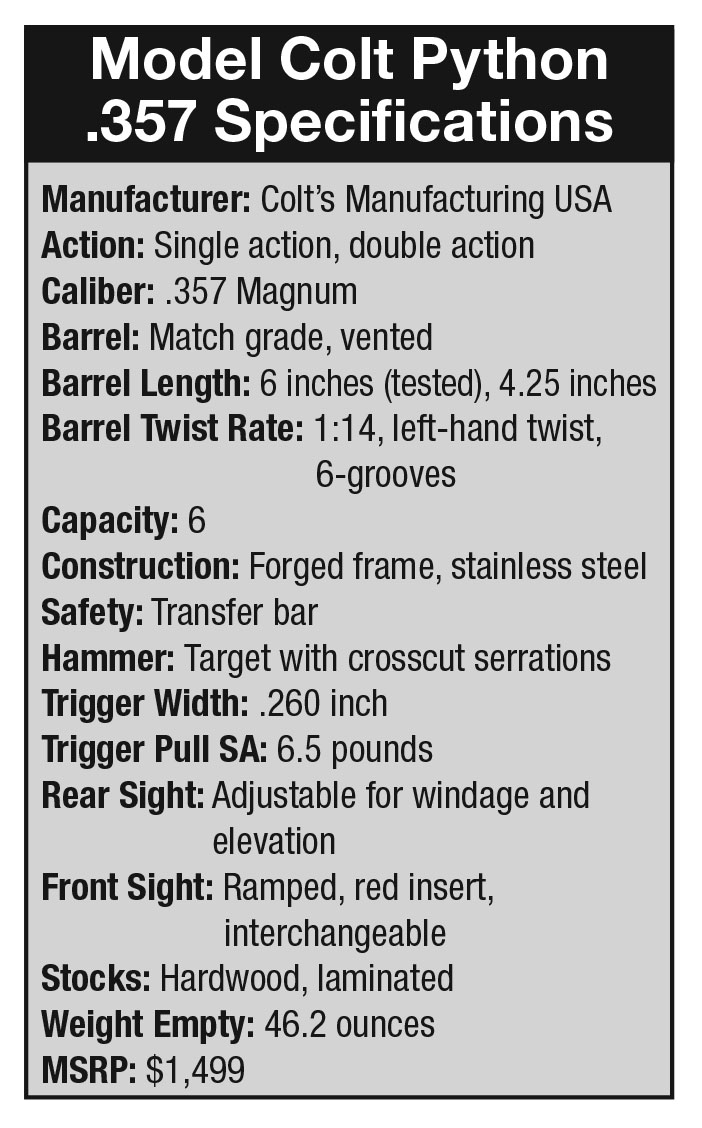 In my humble opinion, the Colt Officer's Model second issue was the finest finished, highest quality double-action sixgun that Colt ever produced on the I-frame. But war always takes a toll on arms manufacturers and firearm quality. In 1927, the Officer's Model evolved into the third issue, while the Army Special evolved into the Official Police with the .38 S&W and .22 LR being added.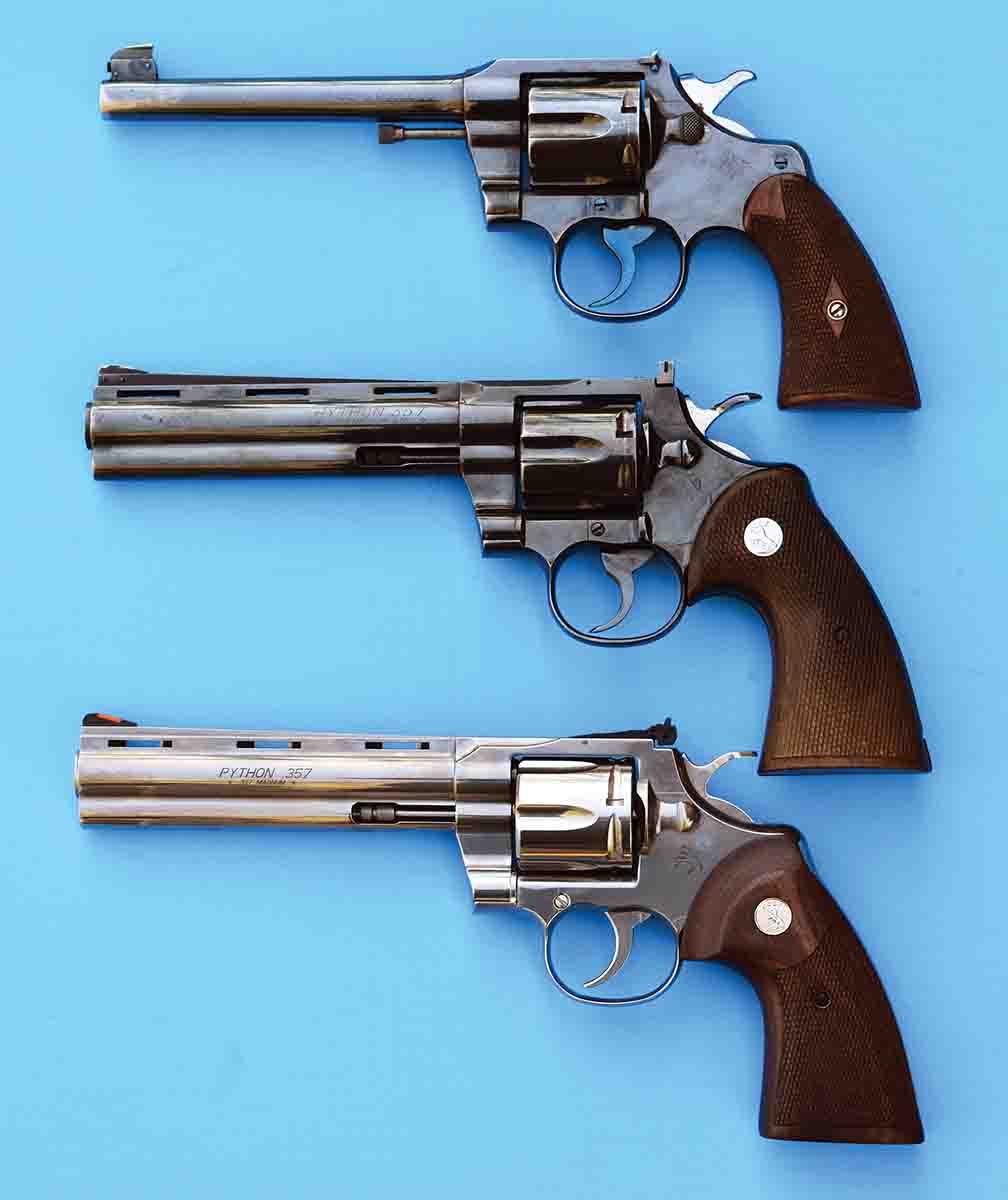 The above Colt sixguns became legends for their remarkable quality and accuracy, especially for guns produced prior to World War I. Nonetheless, Colt sold more than a million variants, which were popular with law enforcement, military, competitive target shooters and sportsmen.
With the advent of the .357 Magnum in 1935, along with great interest in this cartridge from shooters, hunters and lawmen, Colt responded with the Single Action Army and Shooting Master so chambered in that same year. However, both guns were soon discontinued at the beginning of, or during World War II. Consequently, Colt would need a new platform to house the .357 cartridge.
After the war, Colt reengineered the frame of the Officer's Model by strengthening it in the front of the frame, the top-strap, lengthening the cylinder and using upgraded steels, etc. to make it suitable for the high pressures associated with the .357. The result was the "Trooper" and "Colt .357," which were essentially identical guns and were each introduced in 1953 with prices running between $71.05 and $89.50, depending on caliber. These Colt sixguns shared the traditional round barrel and adjustable sights found on the Officer's Model, which were well received by shooters and law enforcement. However, Colt wanted to offer something truly unique, with a futuristic, yet stylish appearance. Colt really needed a top-of-the-line sixgun to compete with the beautifully built and finished Smith & Wesson .357 Magnum (later known as the Model 27).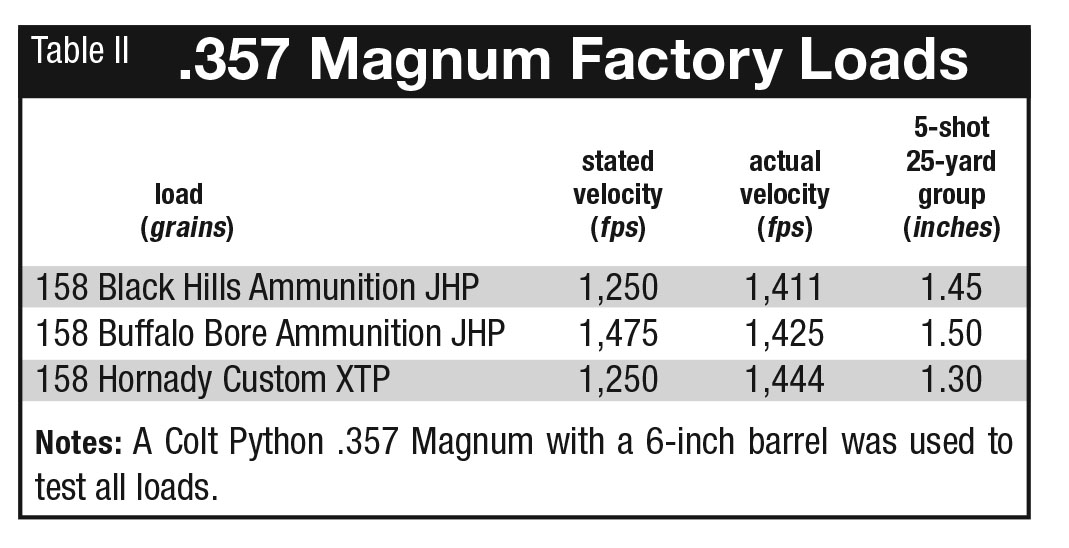 As early as 1954, Python .357 prototypes were seen by select individuals and writers; however, limited production began in 1955 (and continued through 1996 and then into 2005 as a limited production or custom shop item). The styling was unlike any other sixgun offered in the 1950s. However, it flowed like a sculptured work of art that included the curved, checkered, walnut target stocks to the protruding polished muzzle of the one-piece machined barrel and every detail in between. While the frame, action and cylinder were almost identical to the Colt .357, the Python .357 featured a wide, knurled hammer spur, a polished serrated trigger and a honed action that was super smooth, along with a crisp single-action trigger pull that broke at around 3 pounds.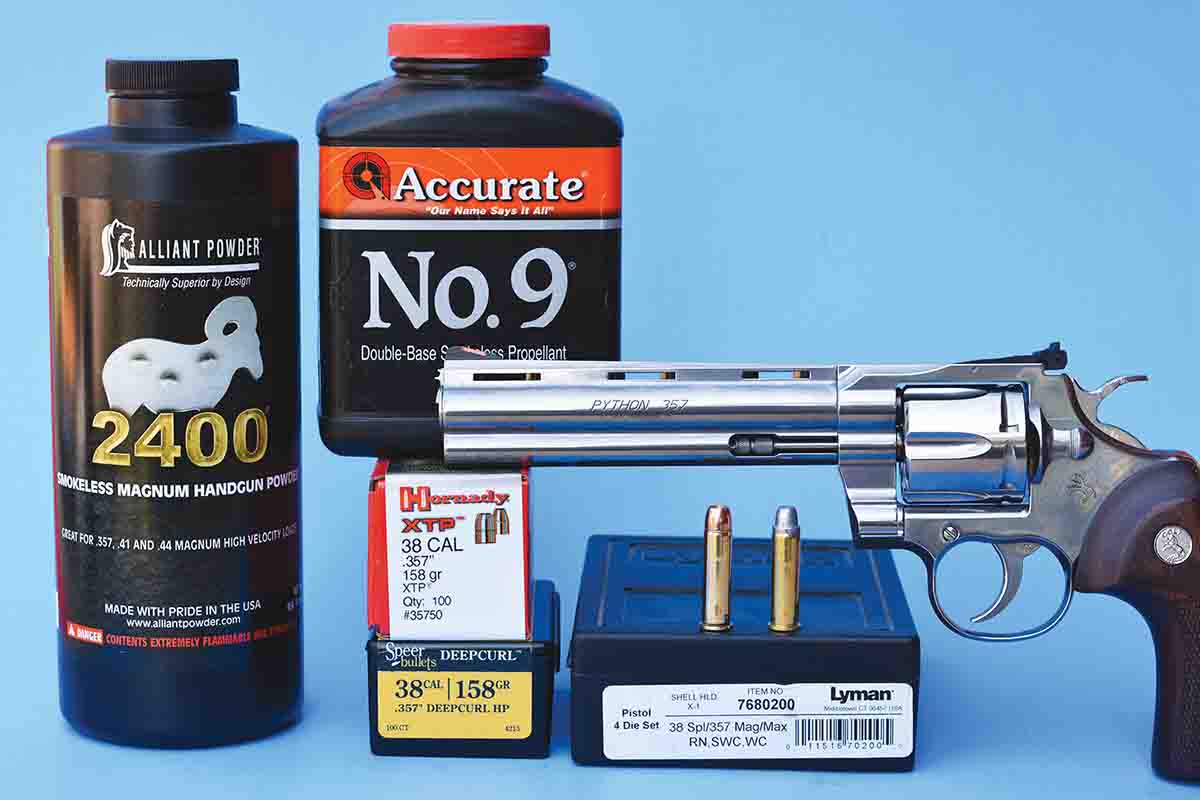 Naturally, the frame had to be sculptured slightly differently to correspond with the barrel rib. The barrel was fully machined with an integral, heavy underlug that is two-thirds round and contoured, while the barrel has no taper. Likewise a full-length ventilated rib with a raised solid rib is integral, which is matte finished to reduce glare, but also served to house the front sight blade. Naturally, the rear sight was fully adjustable. Finally, the metal was highly polished to accommodate Colt's famous Royal Blue finish. The standard caliber was .357 Magnum with .38 Special being offered late in the Python's career, but there are rare offerings in other calibers that were generally considered prototypes, experimental or rare special orders.
The Python earned a reputation for reliability and accuracy. I was fortunate to have spent much time with many Python .357s during my early years of mastering big-bore sixguns. With a good load, they will group inside 1.5 inches at 50 yards. I have used them for hunting big and small game and have even managed to run 10 rams straight at 200 meters on the IHMSA course multiple times. In spite of being very well accepted by handgunners and Colt's "crown jewel" double-action sixgun, it was costly to produce, which ultimately caused its demise.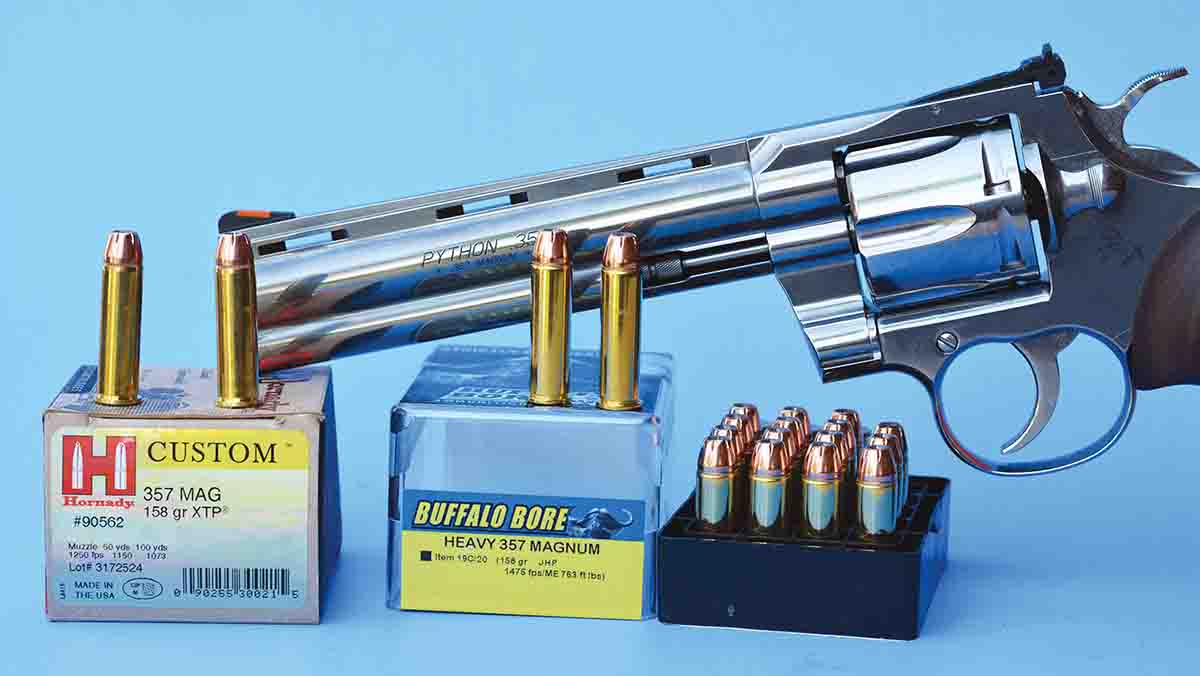 As shooters began to recognize the overall desirability of original Pythons, prices began to steadily soar, with rare finishes, barrel lengths, etc., bringing well north of $10,000. Colt engineers went to work to create a new Python .357 that would be less costly to produce and feature improved durability, with the first guns appearing in late 2019 and early 2020. There were a few minor issues that had to be worked out on early guns, but those have now been resolved.
Colt forwarded a test gun to me in mid-2021, which features a 6-inch barrel (and like all new Python .357s it is stainless steel). While it certainly resembles the original, there are some notable changes both internally and externally. The backstrap is smooth (without the serrations found on originals), the hammer spur is narrower and features crosscut serrations rather than the original knurling, the muzzle features a deep-cut crown rather than the protruding muzzle type of originals and the front sight is removable/ interchangeable. The rear sight is adjustable, but of a completely different design than originals and the trigger shape is notably straighter than originals. The stocks are laminated hardwood and while their profile is similar, they provide a different feel.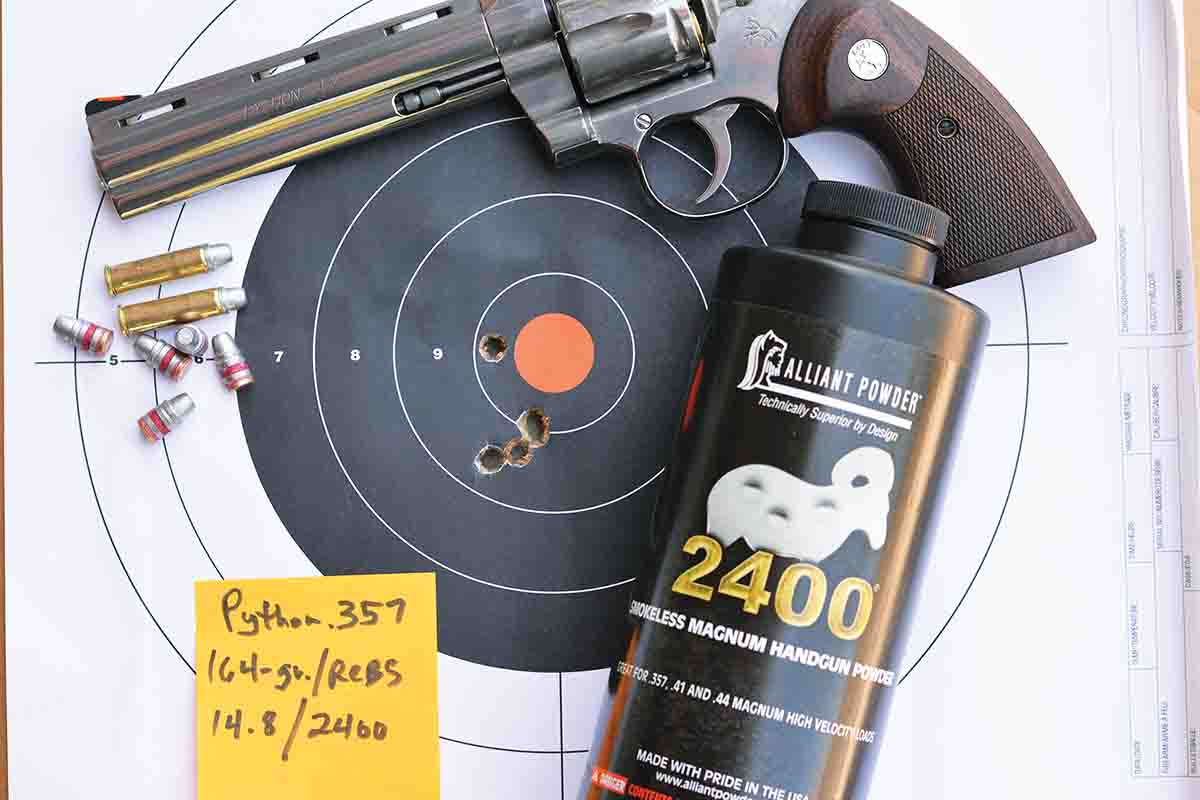 Internally, a transfer bar allows safe carry of six cartridges, which replaces the Positive Lock found on originals. The hammer arc is slightly shorter and the top strap is approximately 30 percent thicker to increase strength and durability. The leaf mainspring has been redesigned to correspond with other technical internal changes. The ejector star is machined with three flat sides in a similar fashion as CNC machined Smith & Wesson revolvers.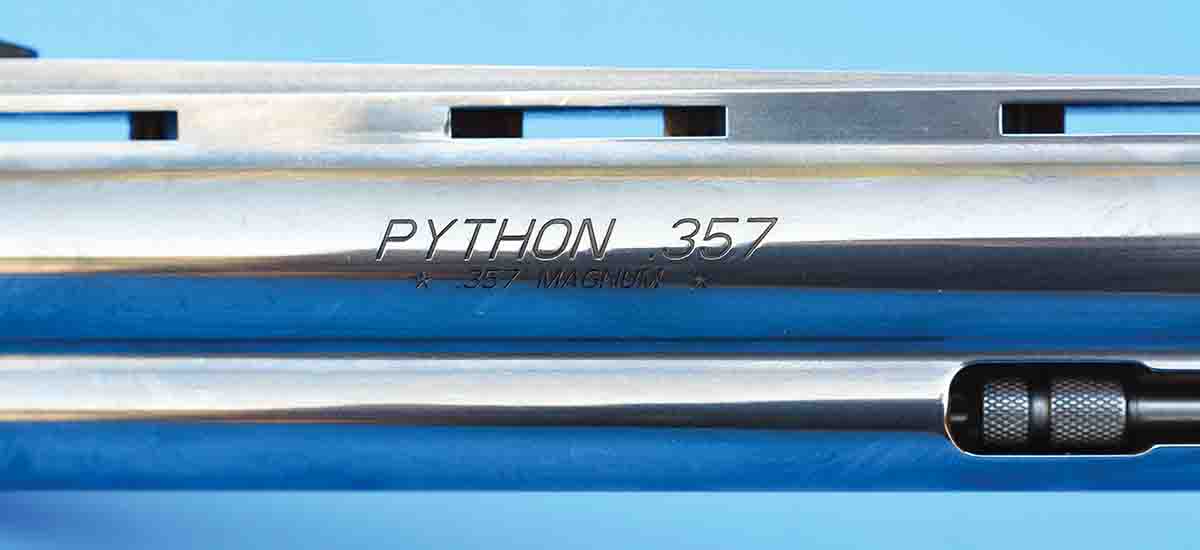 The new Python certainly feels different than my originals; however, it is a good gun based on its own merits. My biggest complaint was the single-action trigger pull that broke at just over 6.5 pounds! I shoot many different handguns over the course of a year and I learn to deal with heavy trigger pulls. However, I had to add a heavy dose of concentration when attempting to squeeze the utmost accuracy from this gun. The only other oddity occurs when the trigger is in the forward position and is just slightly pulled in the double action mode – the bolt drops and momentarily allows the cylinder to disengage before the cylinder begins to turn. There were no malfunctions associated with this feature, but it is a noted departure from originals.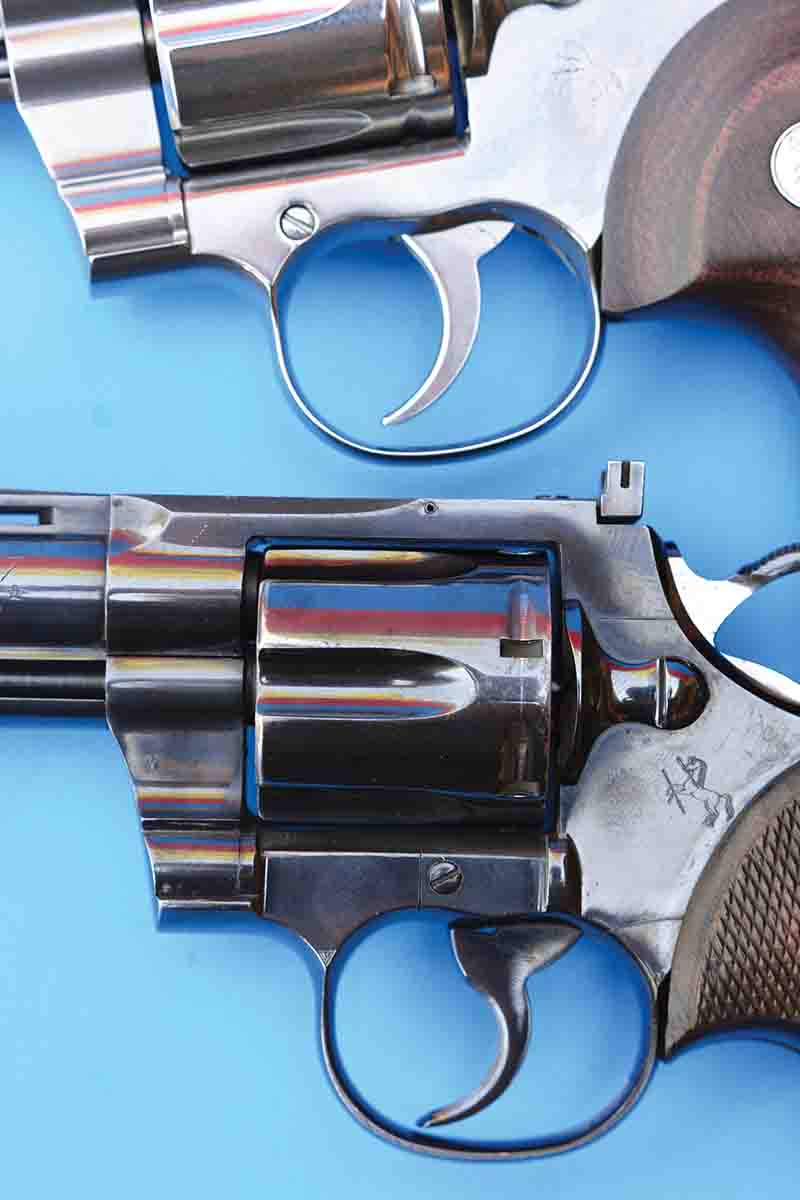 The barrel slugged very tight, even by Colt specifications, while the throats measured .3575 to .3580 inch and each chamber ranged perfectly (checked using a Brownells Range Rod). A feeler gauge was used to measure the barrel/cylinder gap at .006 inch. The forcing cone appears to be cut at 11 degrees and is lapped smooth.
After an initial barrel break-in, the new Python .357 was checked for accuracy with factory loads at 25 yards. Using loads containing various 158-grain jacketed bullets from Hornady, Black Hills Ammunition and Buffalo Bore Ammunition, each produced groups under 1.5 inches (see table). Checking the same loads across the chronograph, all exceeded 1,400 feet per second (fps), which suggest that this gun is on the fast side for velocities when compared to other revolvers with the same barrel length. There were no failures, barrel/cylinder gap spitting or issues that can occasionally surface in magnum revolvers.
Moving on to handloads, five loads were tested with jacketed and cast bullets that weighed from 125 grains to 164 grains. The largest group was 1.85 inches, while the tightest was 1.20 inches that was produced using the Hornady 158-grain XTP-HP bullet pushed to 1,391 fps using 14.8 grains of Alliant 2400 powder capped with a CCI 500 Small Pistol primer.
The new Python .357 shows good quality machining, is accurate and functioned flawlessly for upwards of 1,000 rounds using a variety of loads. It is a quality gun with a rich Colt lineage. While it is a departure from originals, it can stand on its own merits.